Founded in 1919, KLM is actually the world's oldest airline still flying under its original name. How do you keep an airline with that long of a history feeling fresh? New planes definitely help, and for KLM's long-haul fleet the freshest faces are its 787 Dreamliners.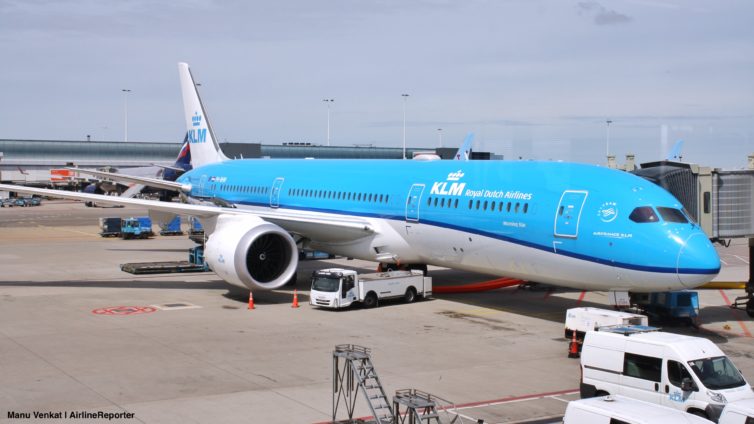 Since joining the fleet a few years ago, the 787-9 has been KLM's pride and joy. One of my very first AirlineReporter stories was a KLM pop-up exhibit in San Francisco back in 2016. Both then and now, folks at the airline are super proud of the Dreamliner fleet and its newest-generation onboard product. A few months ago, I scored a great deal on an award ticket from San Francisco to Amsterdam and on to Rio, and I'd get to try KLM's long-haul Dreamliner service along the way. And it ended up being one of the best international business class experiences I've had.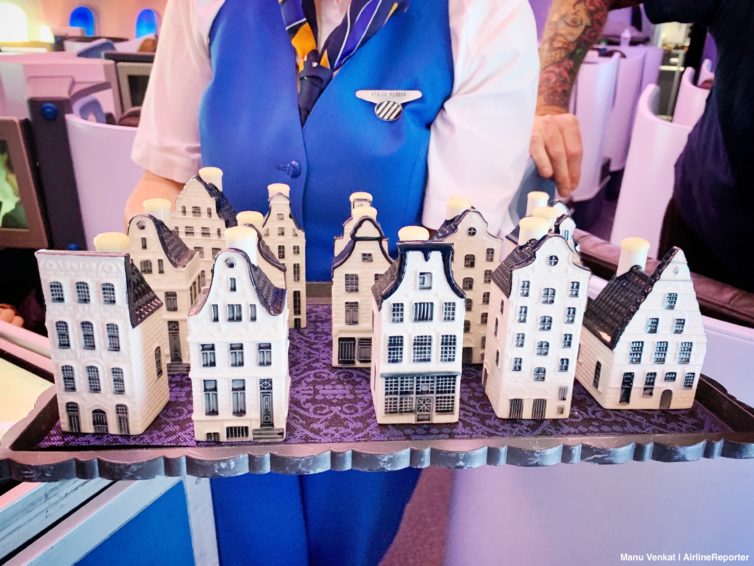 For more of the highlights — from gin-filled ceramic houses and fancy Dutch glassware, to bubbly flight attendants and incredible views of that Dreamliner wing flex — keep on reading!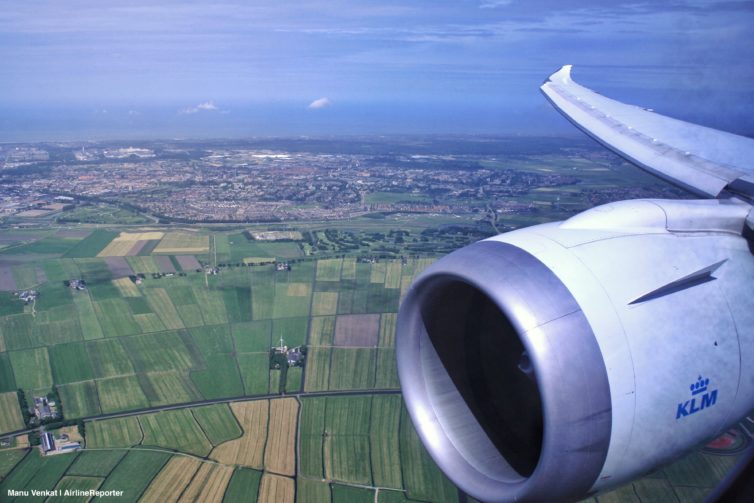 Saying Bye to SFO
For the last six years — the entirety of my time writing for AirlineReporter — San Francisco (SFO) served me well as my home airport. Sure, whenever a single rain cloud appears in the sky the entire place grinds to a halt, but with its super-close-up parallel-runway landings, new airside observation deck, some great lounges, and an aircraft maintenance megaplex, it was a great place to be an AvGeek. This KLM flight was my last flight out of SFO before my move to the east coast. Any of you AvGeeks / frequent flyers who have left home airports behind know it can be a sentimental moment.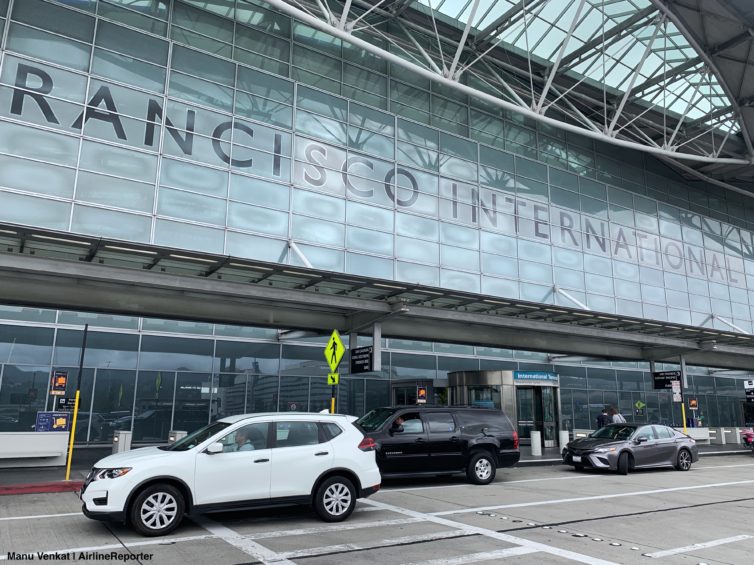 But I was still psyched to fly! I quickly traded away a check-in bag for a boarding pass and lounge pass at check-in.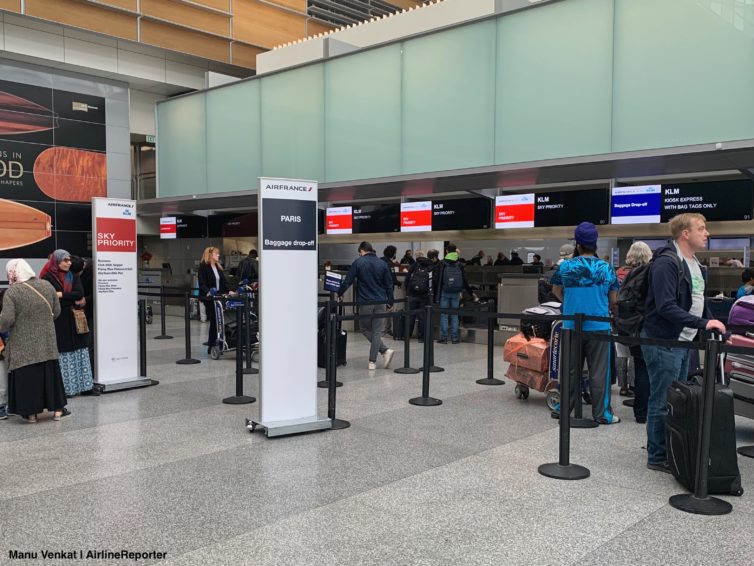 Air France/KLM operates its own lounge at SFO. It's also a Priority Pass lounge and during peak times Priority Pass members can get crowded out, but they should always let AF/KLM business class passengers in.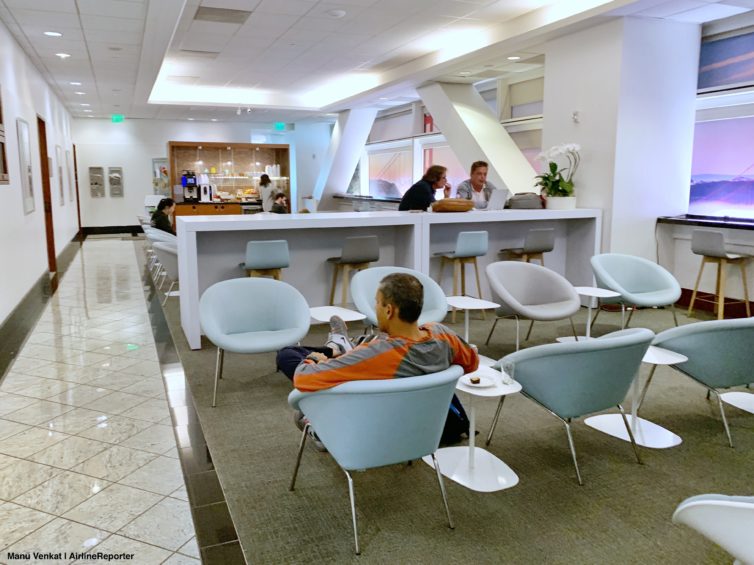 There's two main seating areas. The one up front has a coffee and snack counter.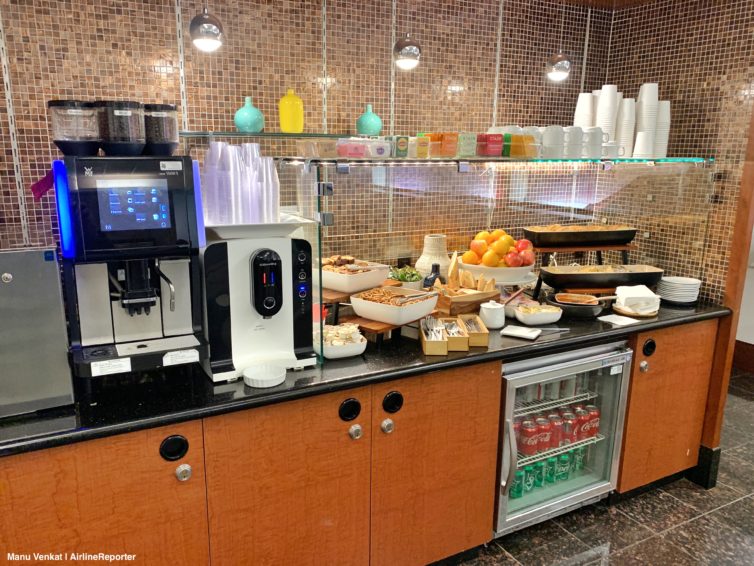 The one behind has the main food and drink spread.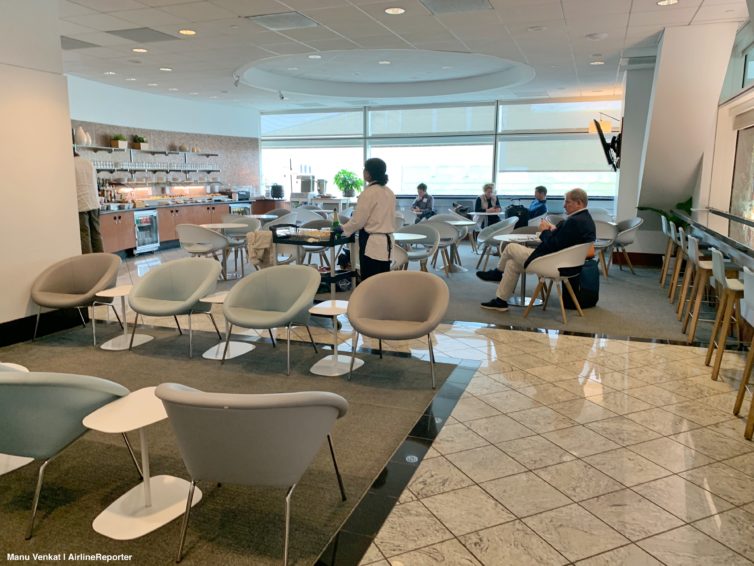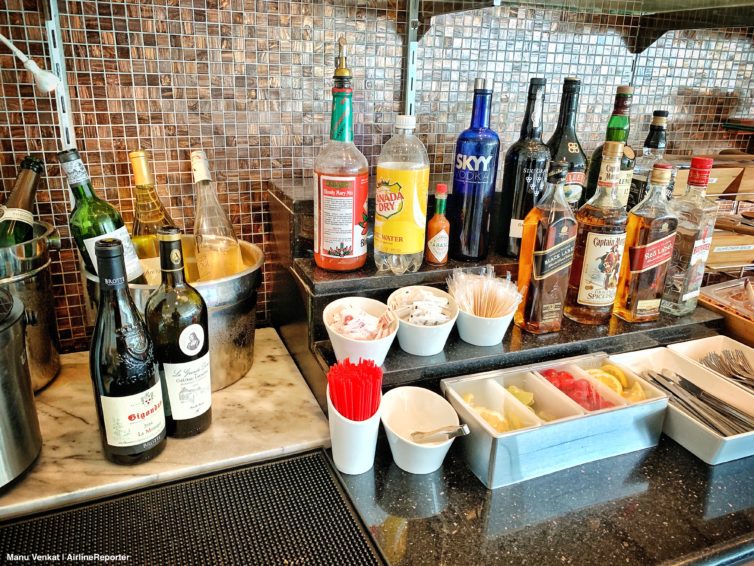 BONUS: Virgin Atlantic's Clubhouse at SFO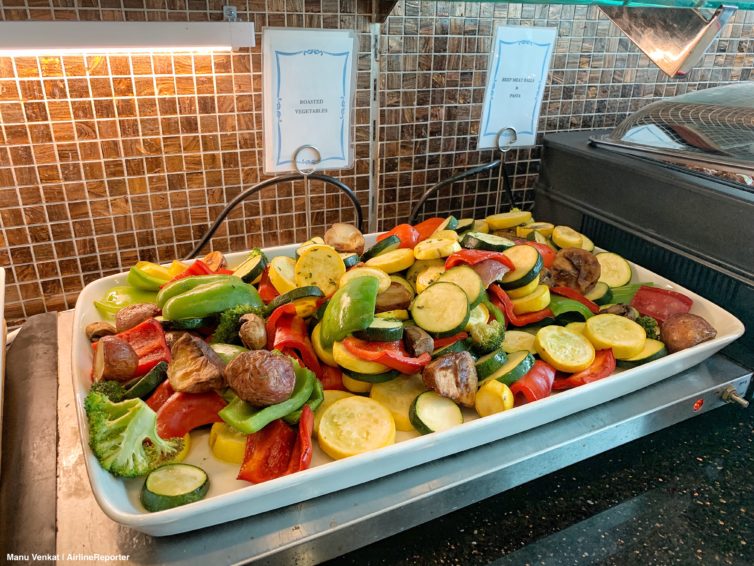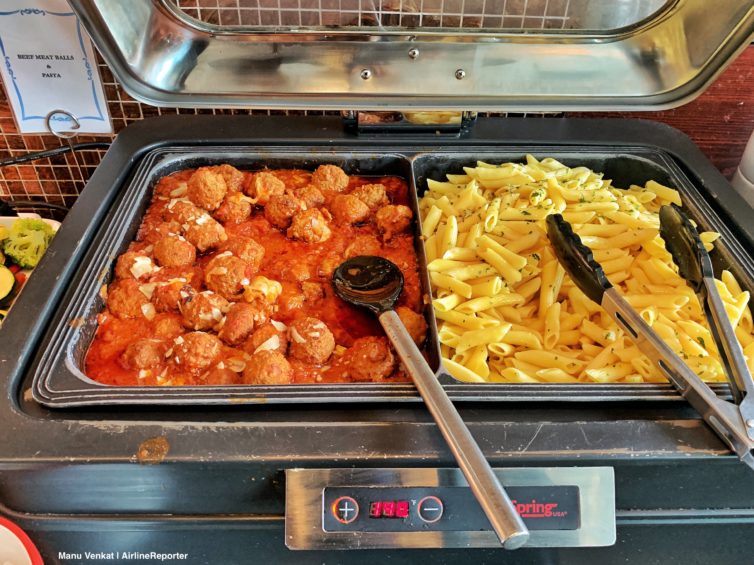 Nothing to write home about, but it's enough to get you fed, watered, and refreshed before your flight.
On the way to my gate, I caught a look at the huge array of carriers represented at SFO's international A-gates.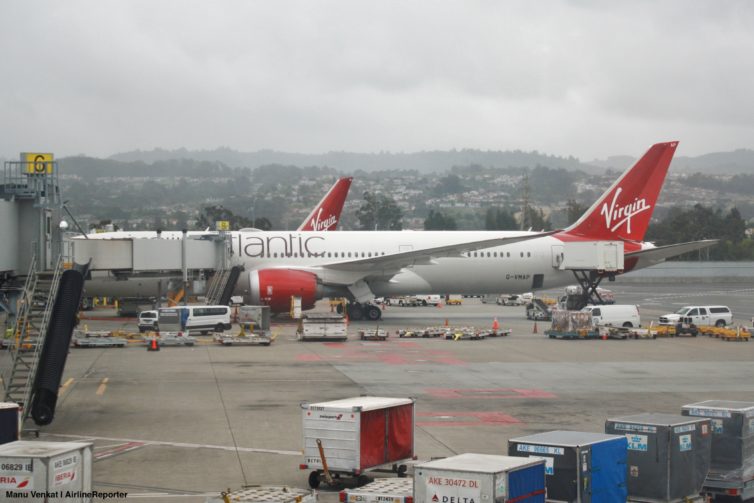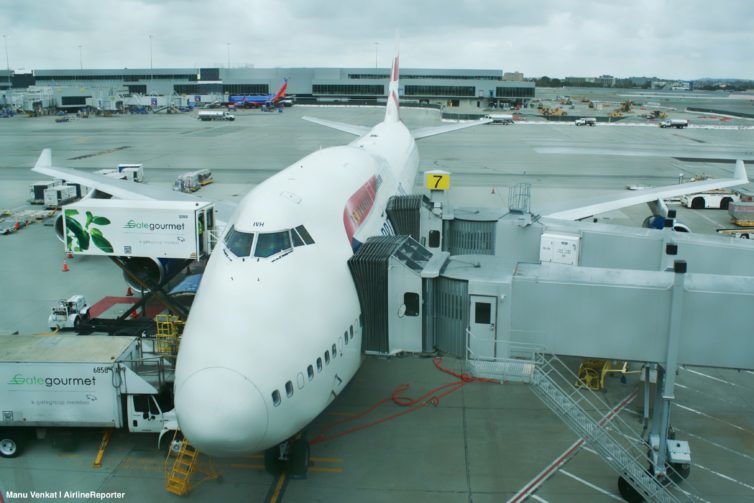 And last but not least, the sleek KLM 787-9 Dreamliner that would be taking me to Amsterdam.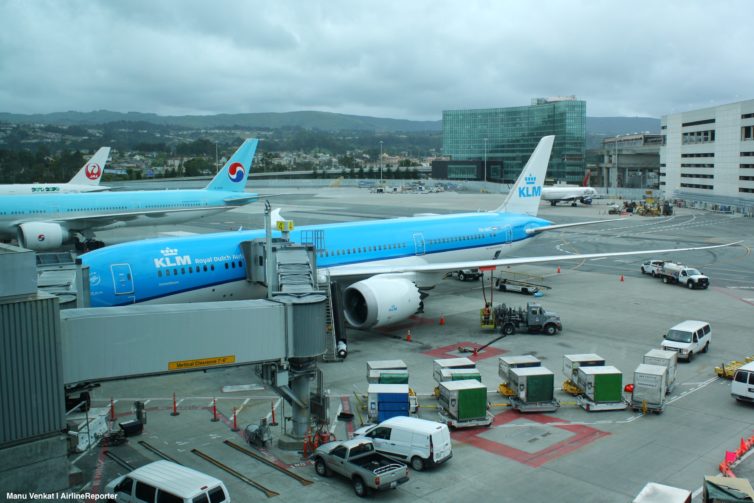 BONUS: Party Like It's 1999 — Flying on KLM's Fokker 70 and 747 Combi
Blue as the Sky Above
KLM's 787 business class cabin is very airy, very bright, very sleek, and very blue. It's a fresh look.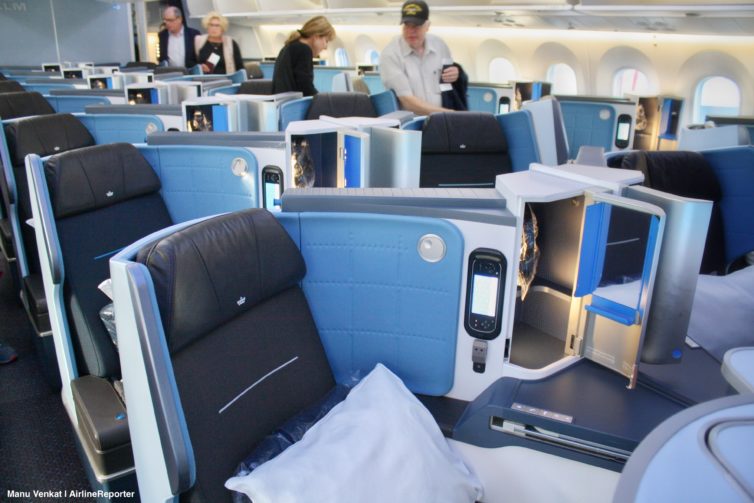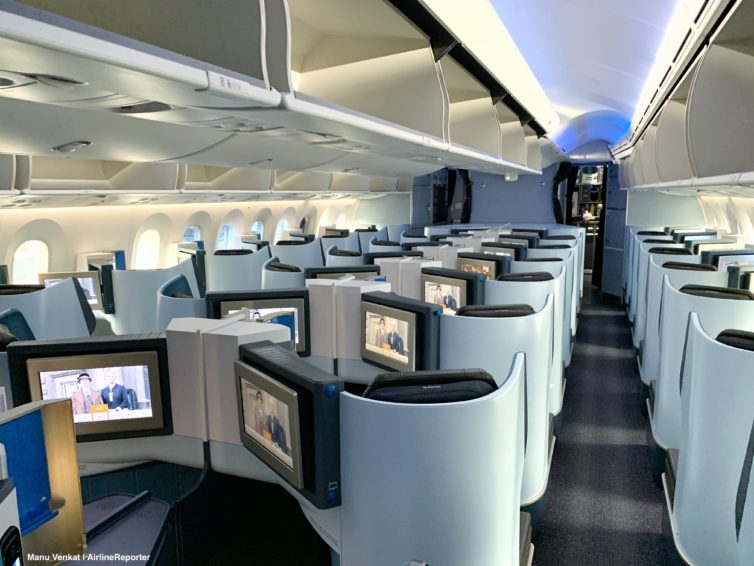 KLM's aged 747s, 777s, and A330s have an older business class design with paired seats. But for its new Dreamliners the airline broke from that tradition and went with reverse-herringbone seats that give passengers more privacy and personal space.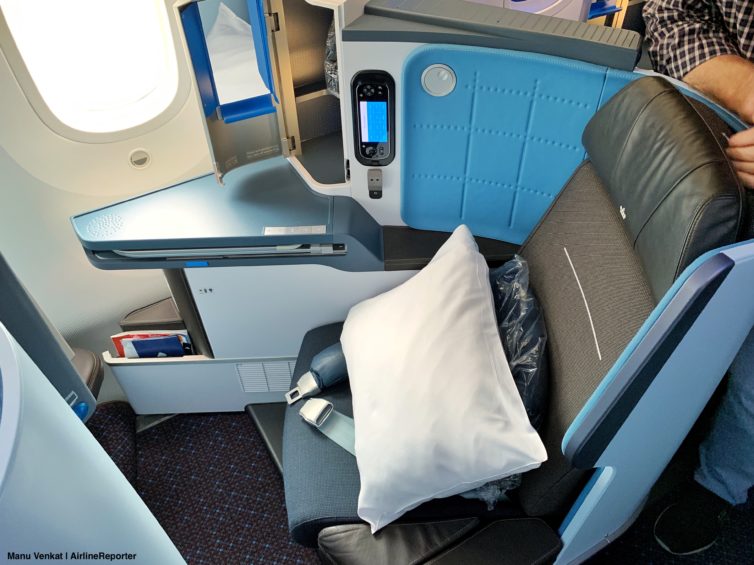 Reverse herringbone seats on 787s feel a tiny bit tighter than those on 777s because of the difference in cabin width. But I found the seat spacious enough to be comfortable, and you get more space than on KLM's older 747 / 777 / A330 business class seats.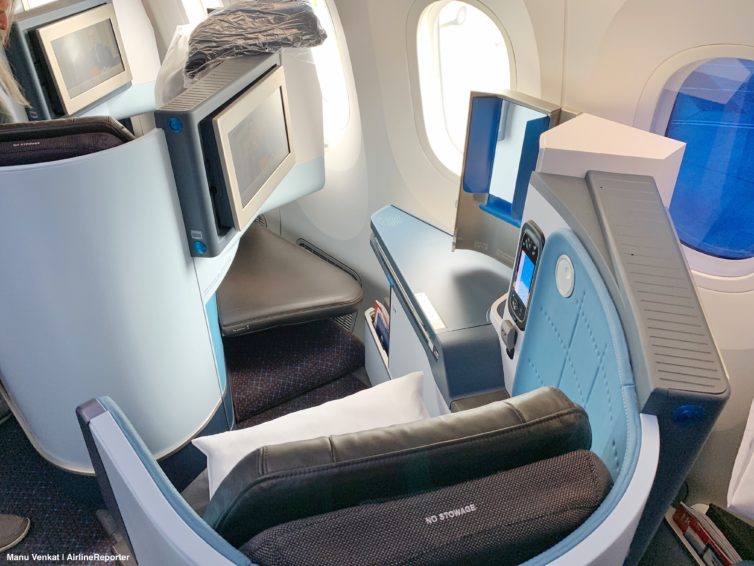 A small but growing number of airlines (including KLM's SkyTeam partner Delta on their new A350s) offer business class "suites" with doors to separate seats from the aisle. KLM isn't one of them, but with a partial shell around my seat I felt enclosed enough.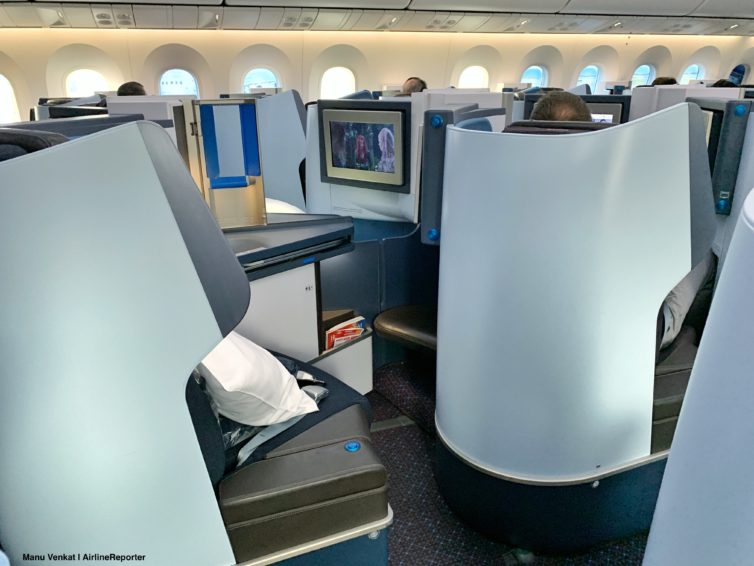 Each seat has a small storage locker with a mirror and set of headphones, the controller for the entertainment system, headphone plugs, and a small reading light.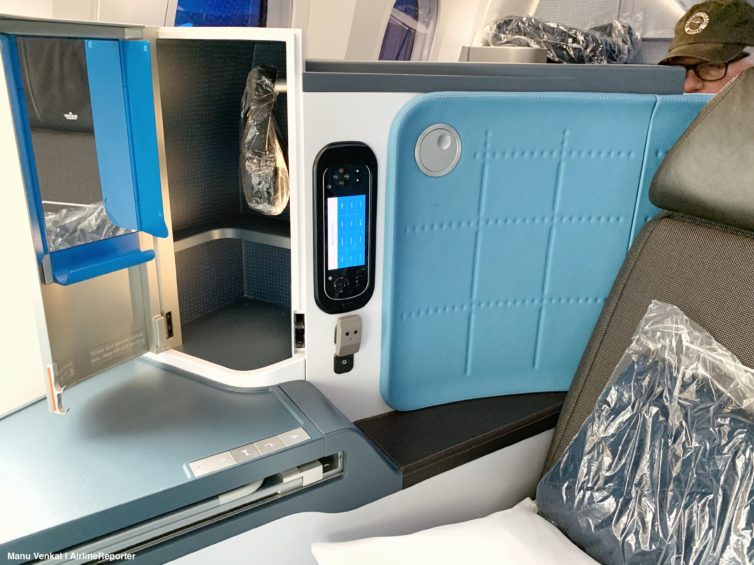 The footwell wasn't as wide as on similar reverse herringbone seats on 777s, but it was plenty deep. Here's one with a mens' size 11 shoe for comparison.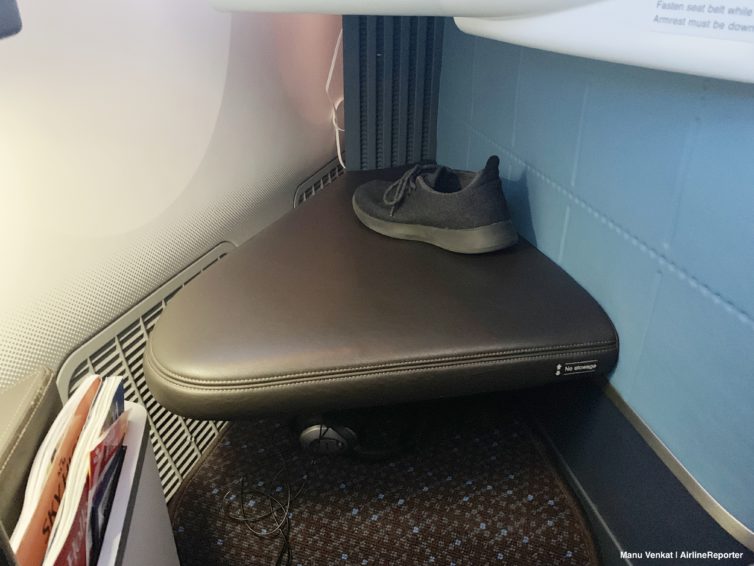 Beneath the seat-side console there's a power outlet, USB port, and literature pouch.
Overall I loved the seat and its sleek design touches. It's not the most spacious or private seat in the skies, but it's really in sync with KLM's overall image and brand.
BONUS: My Dinner With Audrey — Flying the Last Commercial MD-11 Flight
Hitting the Skies
I went with champagne for my pre-departure drink. The glassware was gorgeous, a trend that would continue as the flight went on.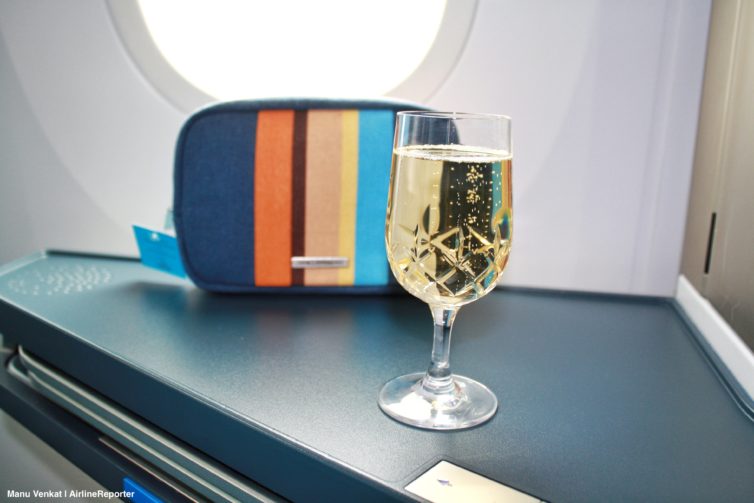 We were parked just across from SFO's new on-site Grand Hyatt, which opened a couple months ago and instantly became one of the best plane spotting hotels in the country.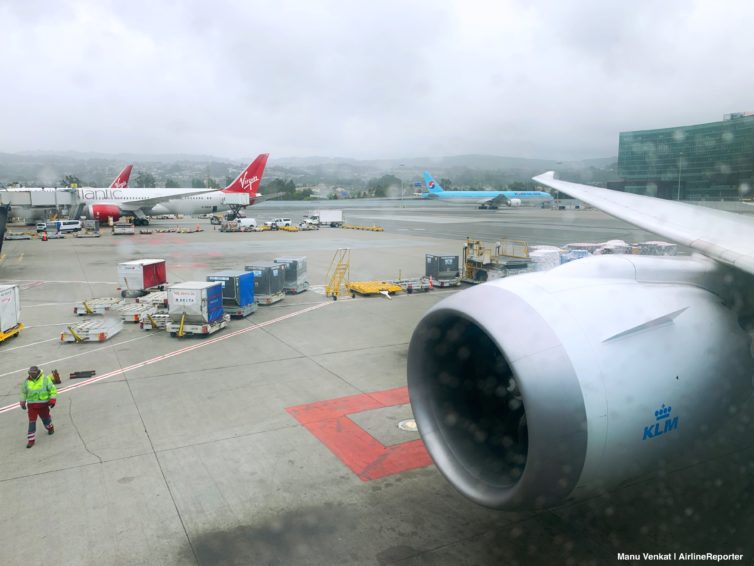 It was a smooth takeoff into the cloudy San Francisco skies, and soon we were in cruise climb over Northern California.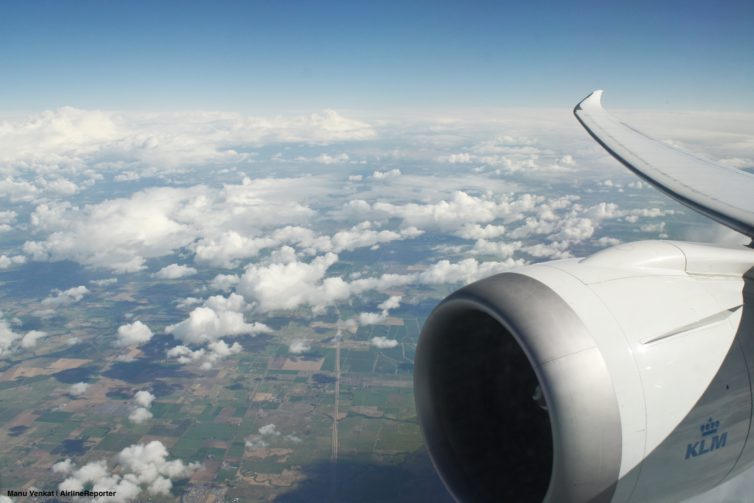 Dutch Fare in the Air
Service started with a splash. I happened to be flying on my birthday, and along with the introductory round of in-flight drinks, my flight attendant brought me an extra gin-filled Dutch ceramic house. This was in addition to the house that all passengers get at the end of the flight. I'm usually not big into my birthday but if I get to celebrate like this — and on a flight, no less — I'll make an exception.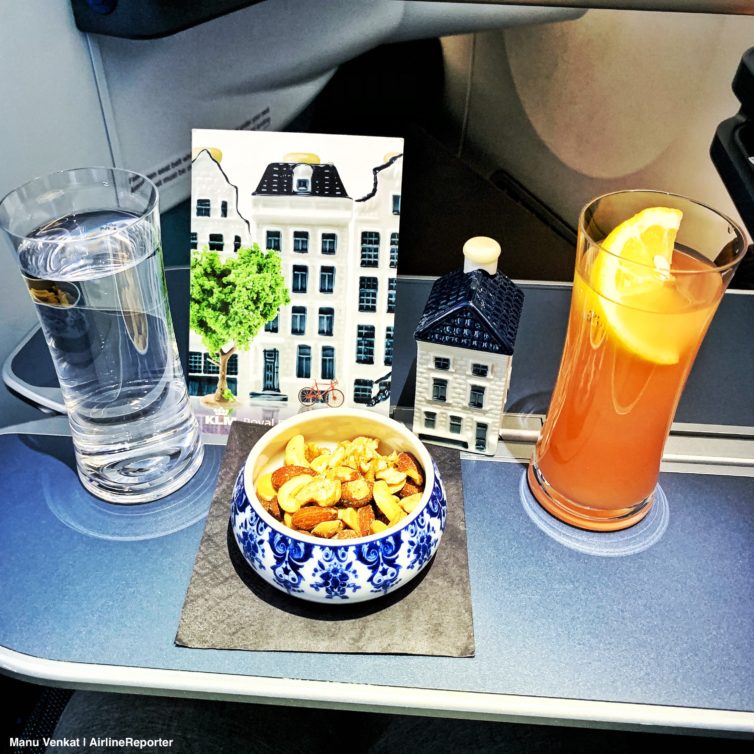 KLM invests a lot in its glassware and ceramics. Even the small dish for the warm nuts was in classic Dutch style.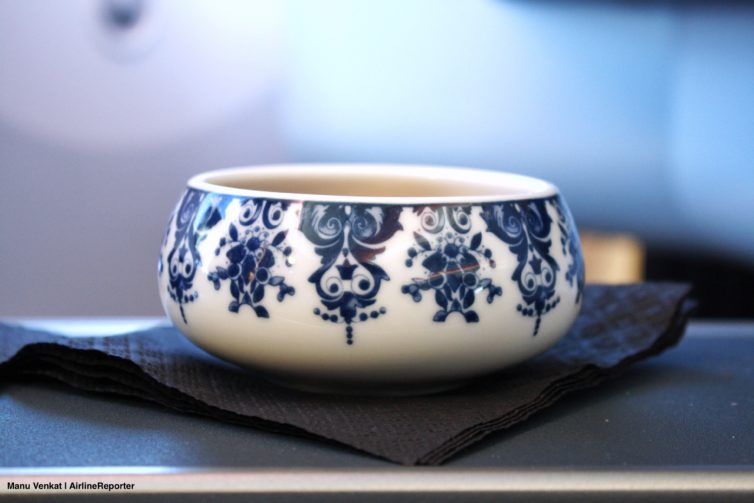 Here was my flight's dinner and breakfast menu…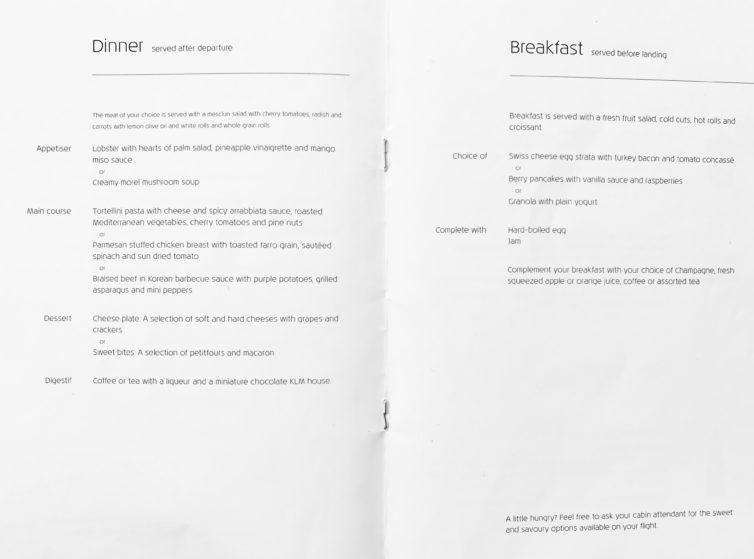 … the cocktail list …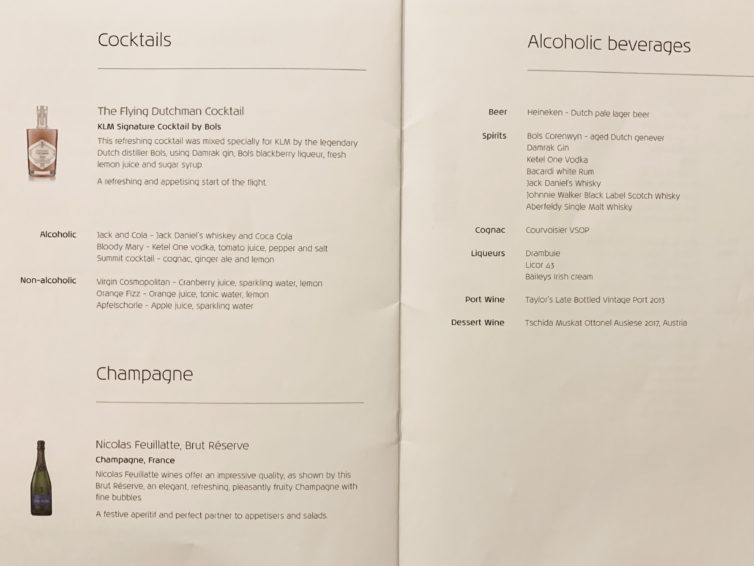 … and a selection from the wine list.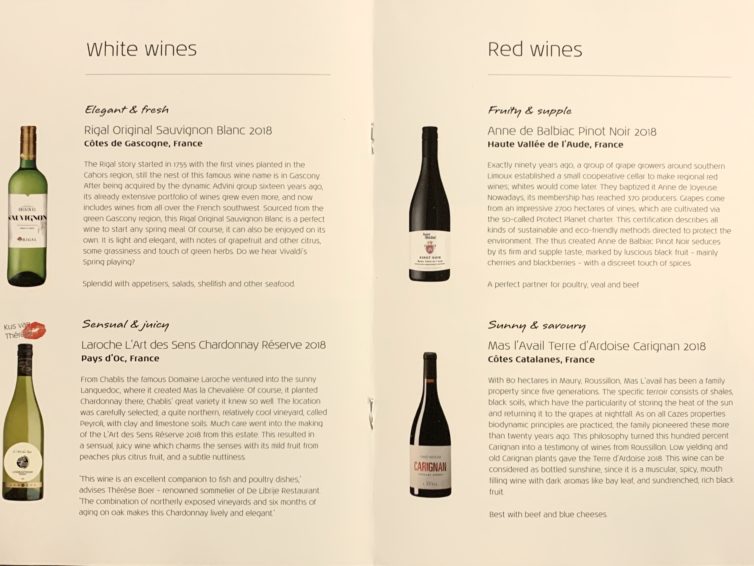 My lobster and heart of palm starter was light and fresh. Scroll too fast and you'd miss the adorable bright red clog-shaped salt and pepper shakers.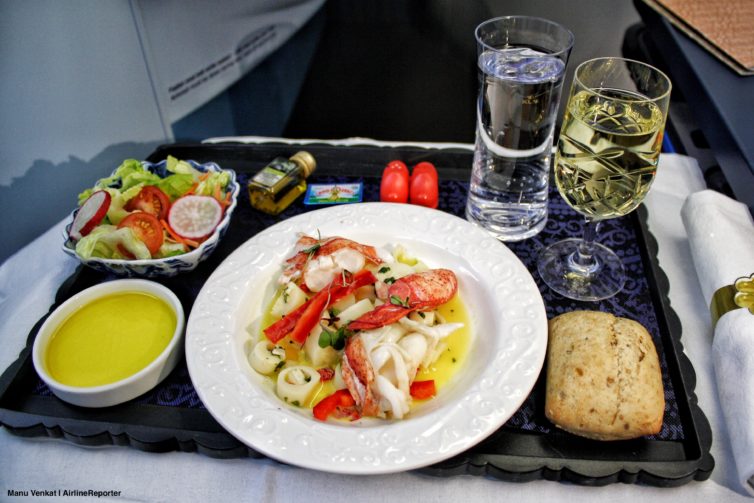 The braised beef entree was tender and flavorful.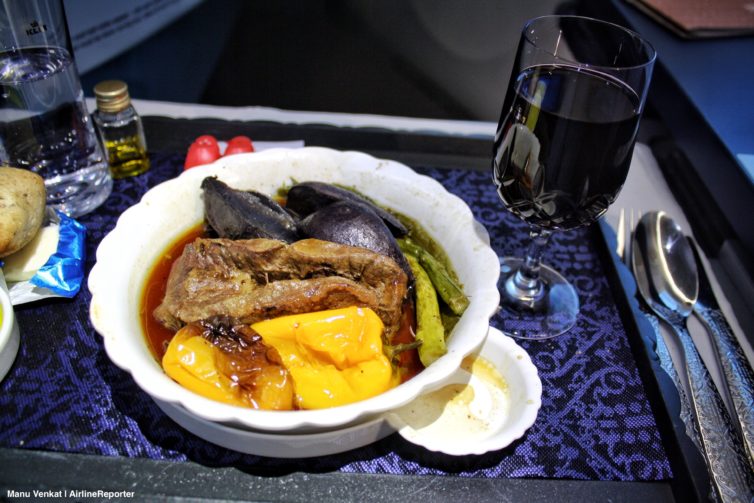 Last but not least, I asked for ~all~ the desserts. For the photo, of course. Getting to eat 'em all was just an added bonus.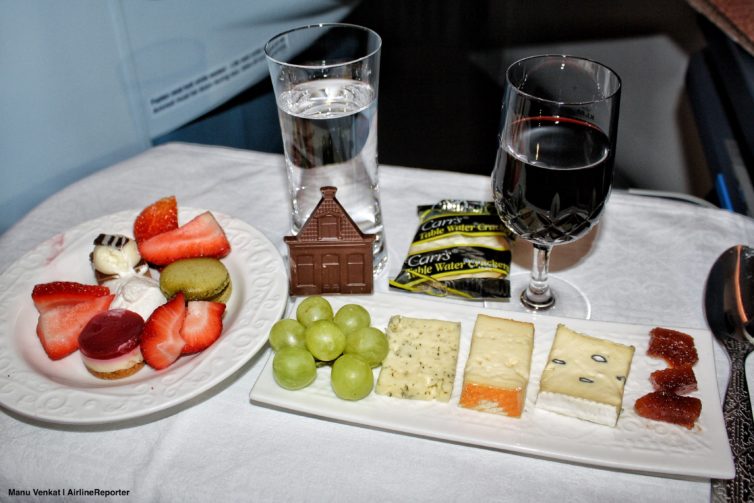 Service from the flight attendants was exceptional, though stylistically it was different than the way many other airlines, especially those based in the Middle East and East Asia, deliver premium cabin service. Our flight attendants were less deferential and more familiar with passengers. They'd make witty remarks, crack occasional jokes, and have casual conversations with us. After meal services they didn't make frequent rounds through the cabin, but were very responsive to call buttons. It's not a style of service that makes you feel like lord of the manor. It's more egalitarian. But it works.
Settling In For the Long Haul
KLM loves the color blue. KLM also loves the color orange. Here's some proof. No surprise, then, that the cabin lighting went from an elegant blue during dinner to a soothing deep orange afterward. I'm glad they're using the Dreamliner's lighting features to the max.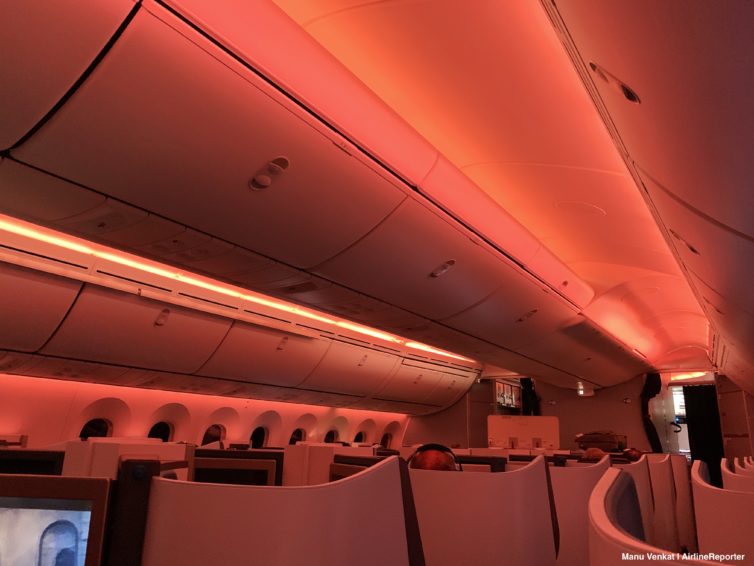 Another thing KLM and the Dutch love: their iconic Delft houses. So much so that they're part of the view when you're using the loo.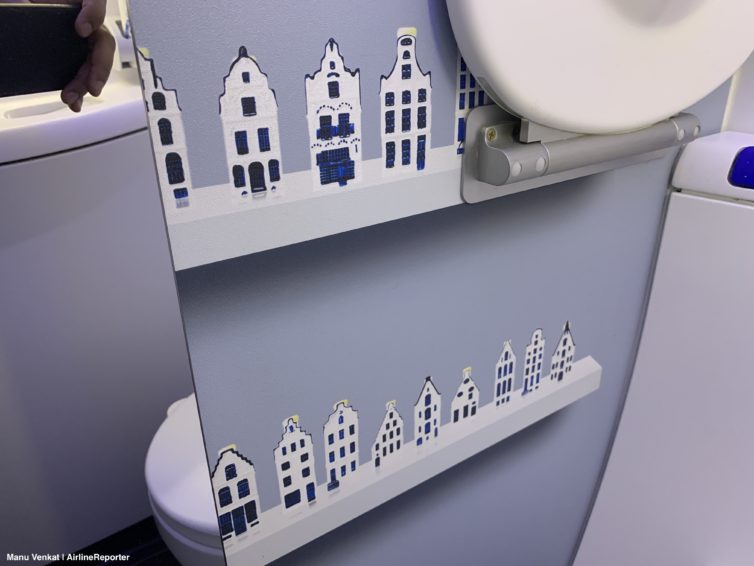 The rest of the lav was thoroughly unsurprising. It had some simple amenities like soap and lotion, and was kept immaculately clean throughout the flight.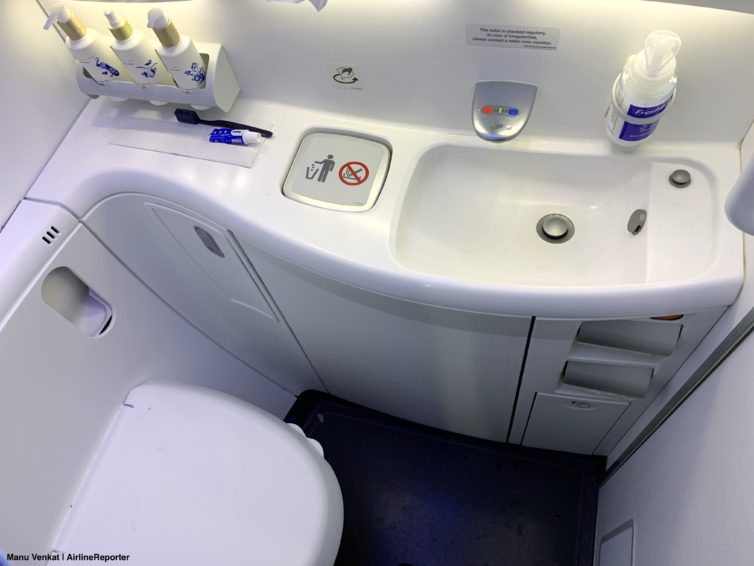 I love transatlantic red-eyes from the West Coast. They give you enough time to eat a relaxed dinner and catch a movie and still get a good night's sleep afterwards. The noise-cancelling headphones were about average for what you find in business class.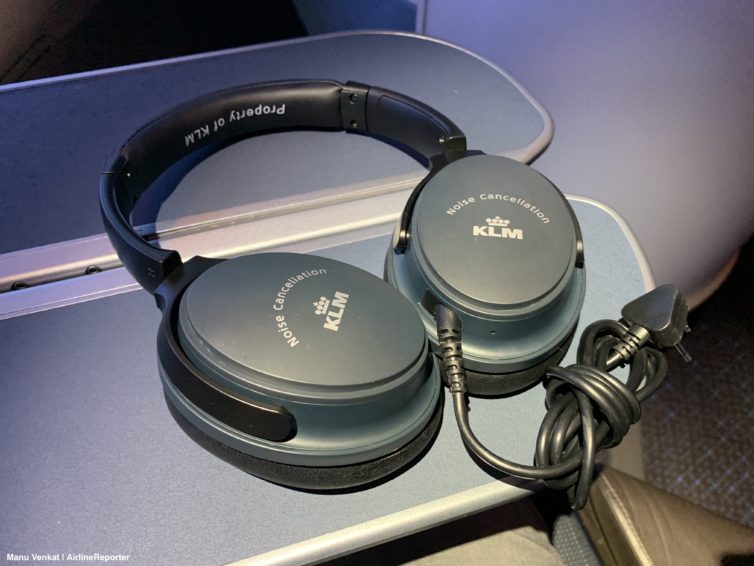 In addition to the usual movies and TV shows, I appreciated the section in the IFE library on inflight health and mental well being.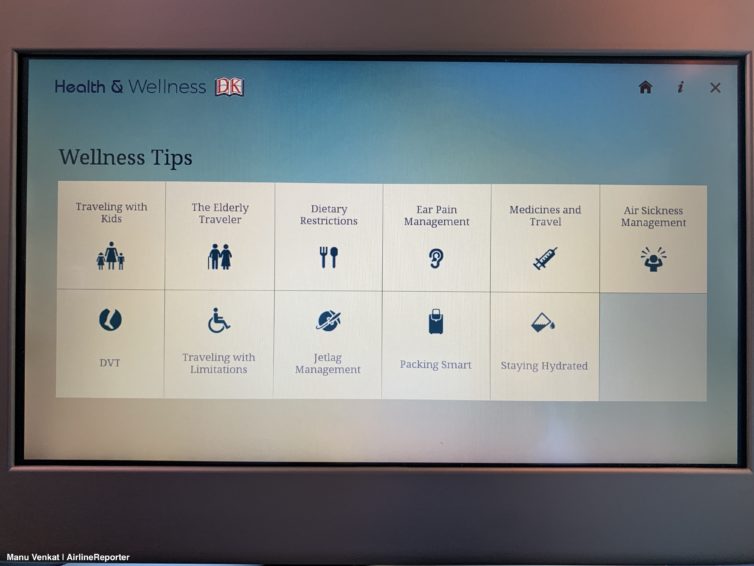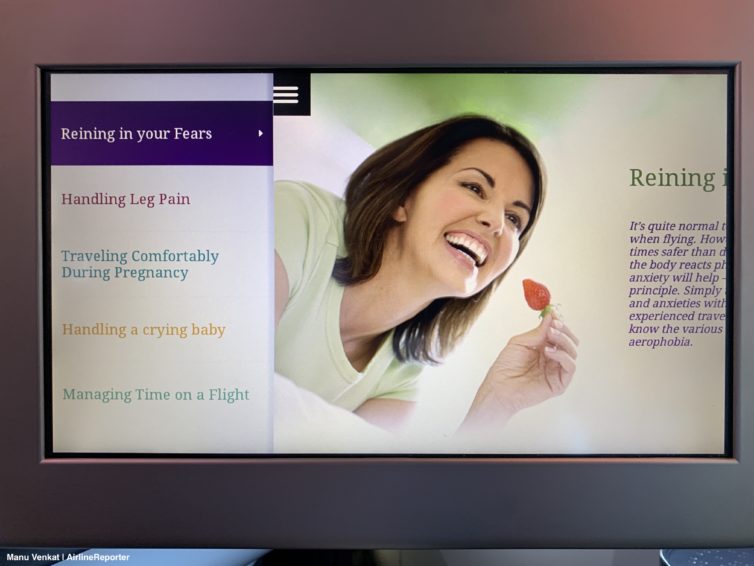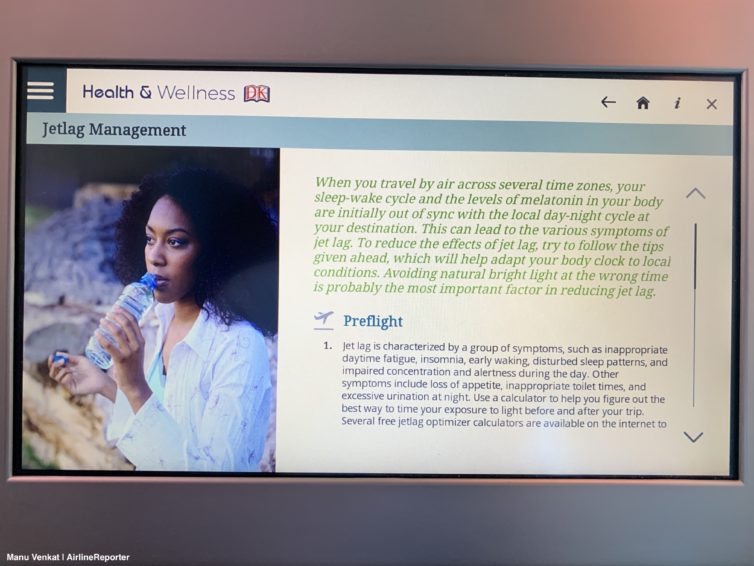 The jetlag management section got me in the mood for sleep. KLM's business class seats go fully flat. The seat controls are about as simple as can be. The simplicity limits your ability to fine-tune your position, but for the casual passenger it keeps things less confusing.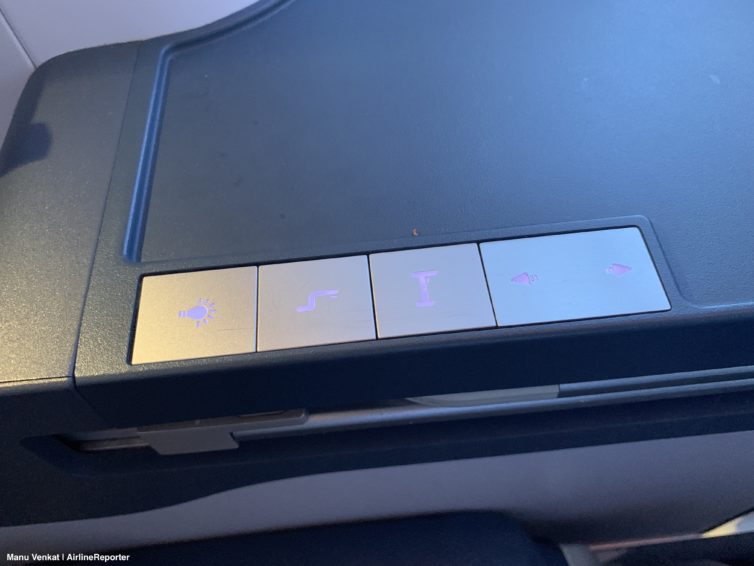 Overheard:
Passenger: 'œI'm 6-3, how do you know it will be long enough for me?'
FA: 'œWell I'm six-foot two inches, and I've tried them out myself so I can confirm that you'll be fine. We Dutch are the tallest people in the world.'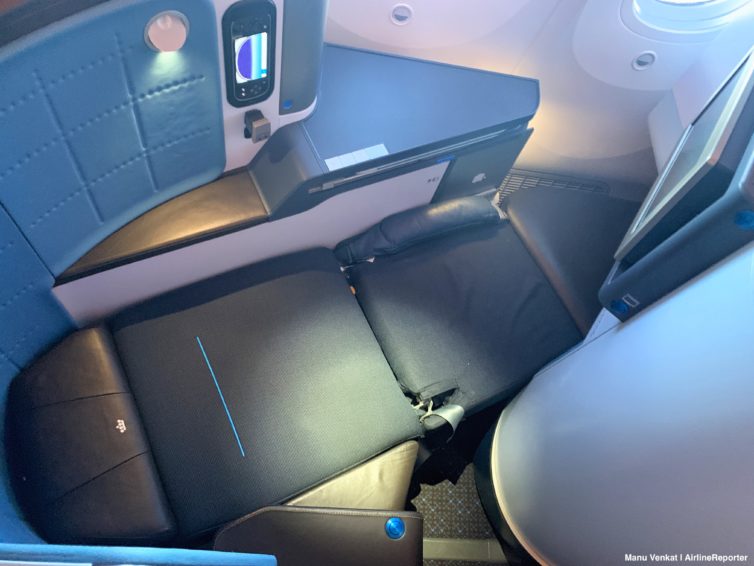 So it's no surprise that although the fully-flat bed wasn't the widest I've tried, it was just about the longest.
BONUS: Flying Short-Haul Economy On a KLM Boeing 737-900
I got a great night's sleep and woke up with ice on the windows as we cruised over the North Atlantic.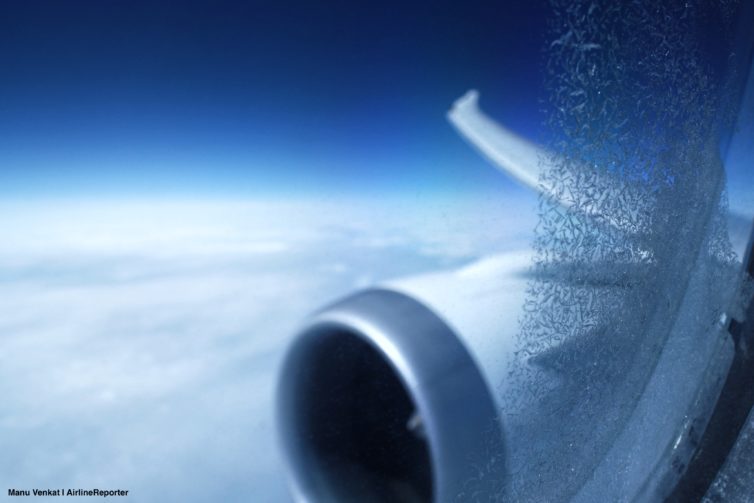 The Flight's Ending and I Feel Blue
Breakfast on Eurocarriers is generally a simple affair. KLM at least offered a small warm dish alongside the cold cuts, fruit, bread, juice, and coffee. And its dishware game was as good as ever.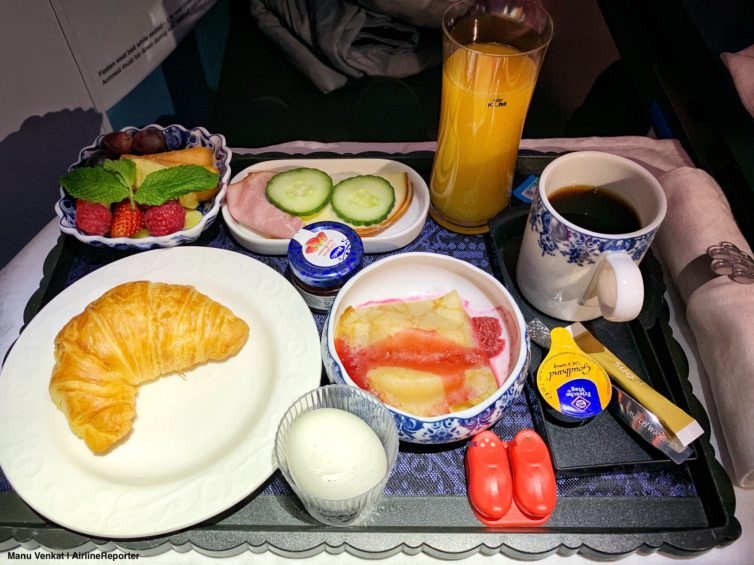 The charming flight attendants wrapped up the flight by presenting each passenger with a choice of collectable Delft ceramic houses, filled with Dutch gin. The airline understands how competitive its frequent flyers get about collecting 'em all, and they even developed an app to help collectors keep track of their stash.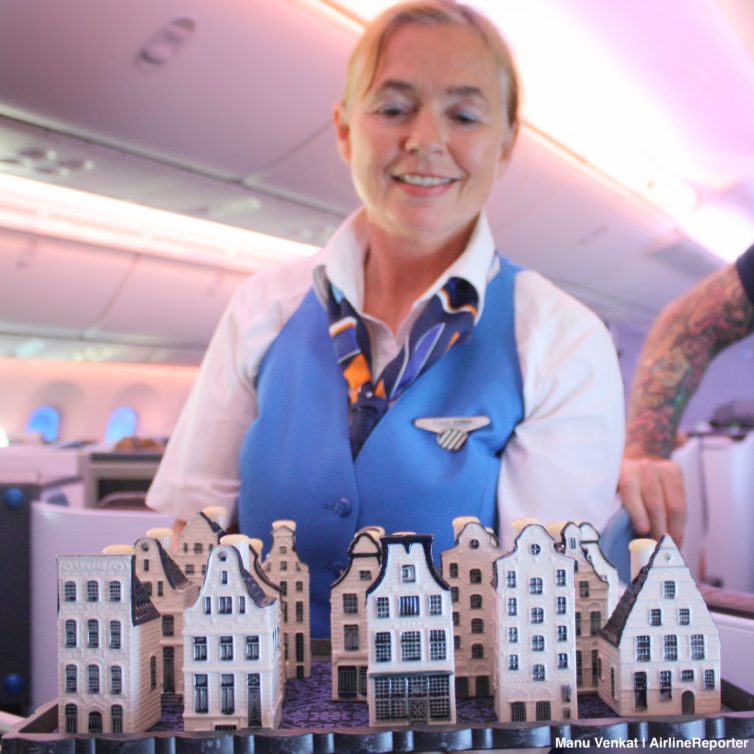 We were treated to a crystal-clear view of the Dutch countryside as we descended smoothly into Schiphol.
BONUS: Dreamliners Going the Distance — New Ultra-Long-Haul Routes for Boeing's 787
Our taxi to the gate took us by tons of long-haul aircraft, including one of KLM's very unique 747-400M "Combi" aircraft. The rear portion of the main deck on 747 Combis are a mini cargo cabin.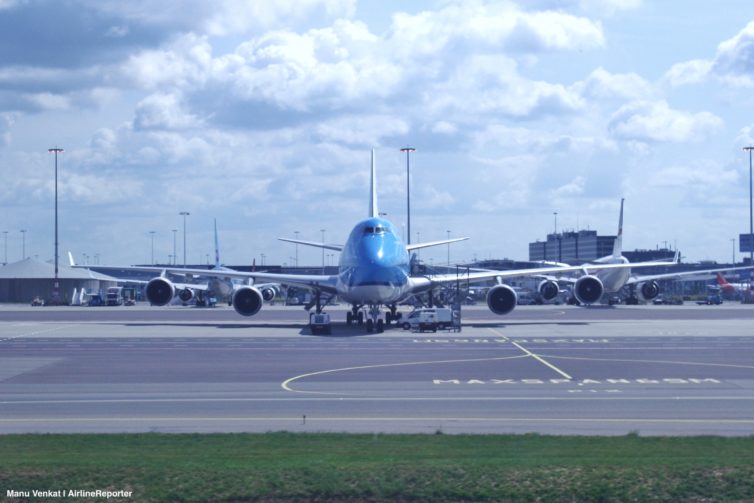 Between the cargo bay and the weird midship galley, the seat map for KLM's 747 Combis is one of the most bizarre ones out there.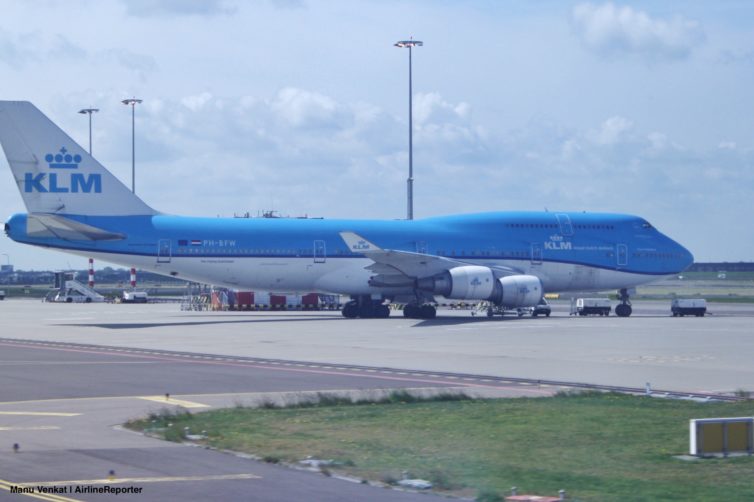 KLM's 777 fleet operates a lot of the airline's long-haul services eastward from Schiphol to Asia.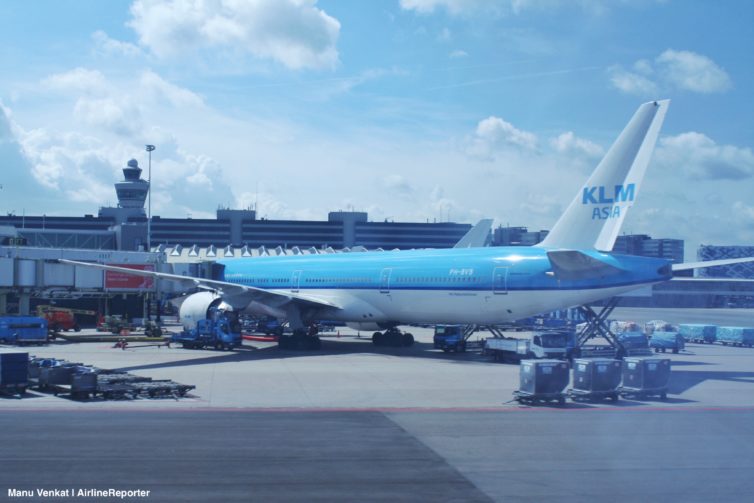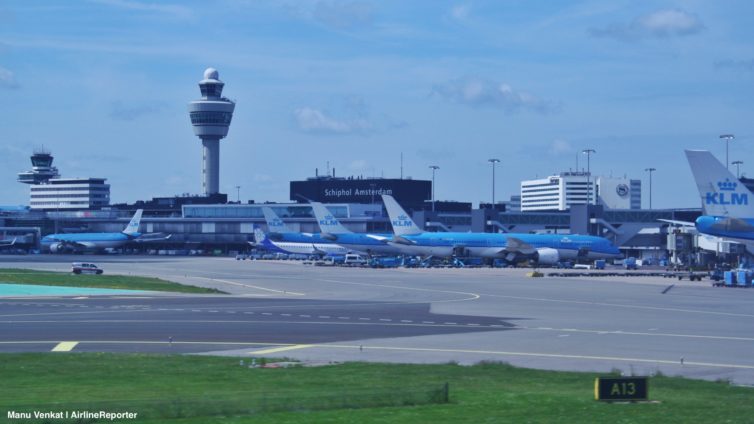 AF/KLM's partner Delta was well represented around the airfield as well.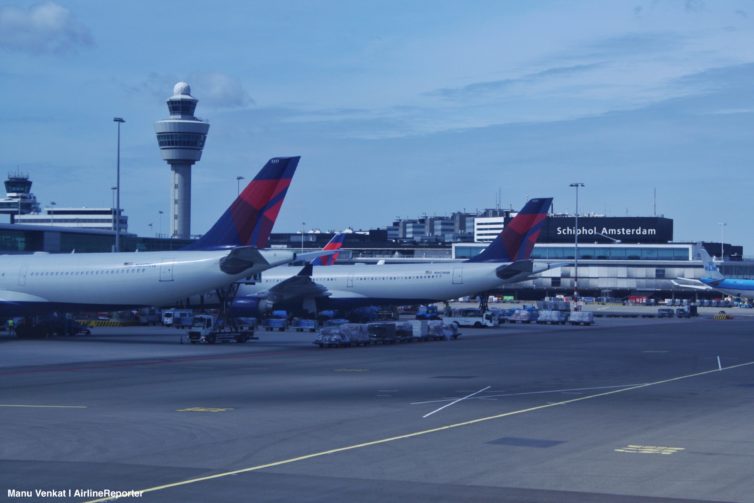 The Final Verdict
No doubt about it: KLM has a great hard and soft product flying onboard their Dreamliners. The reverse-herringbone seat gives everyone unobstructed aisle access and the seat finishes are fresh and very in line with KLM's style. The glassware, dishware, and ceramic house gifts make the experience extra special, and the food I had on this flight was as good as the vessels it came in. While individual crews vary, my crew on this flight was as attentive as I wanted, while still showcasing real personality.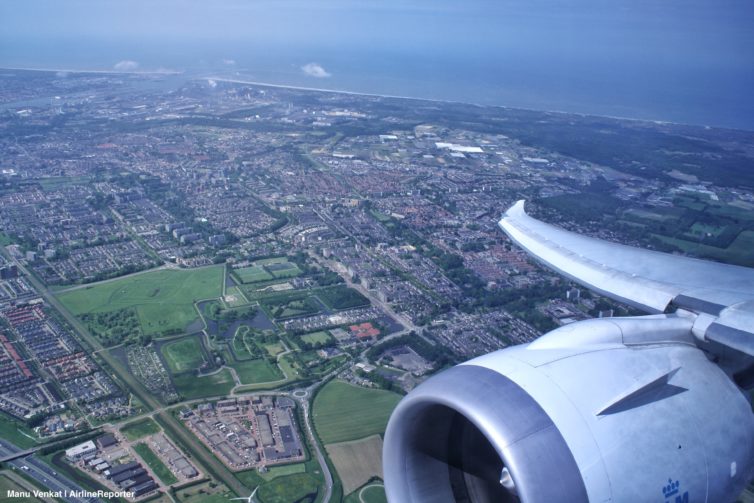 Flying Dreamliners in economy can be a mixed bag since nearly all carriers have seats in a tight nine-across layout, but up in the front it was nothing but bliss, with massive windows, a quiet ride, humidified air, and the most photogenic wing in the skies.
Stay tuned: soon I'll be back with news updates on a busy past few months for KLM — and some bonus photos from my connecting flight from Amsterdam Schiphol to Rio.
Now it's time for us to hear from you! Share your thoughts and reactions in the comments section below.