If you tallied up the number of flight reviews on this site, you will notice that the majority of them are for business and first class. It turns out that premium cabins are just more interesting than economy, with all the fancy lie-flat suites, and butler service in your private bedroom. More often than not, economy is, well….boring. But sometimes it can be pretty exciting — depending on what kind of plane you are flying.
That's the position I found myself in recently when I flew back to the 1990s on board KLM's Fokker 70 and Boeing 747-400 "combi." Both aircraft types have become exceedingly rare, and I jumped at a chance to fly them between Hamburg, Germany and New York, via Amsterdam.
KLM ECONOMY REVIEW: Flying on the Fokker F70
With only 47 airframes built, the Fokker F70 was never a popular aircraft. Two of the largest operators today, KLM and Austrian Airlines, are both phasing them out in favor of more efficient aircraft like the Embraer E175. The F70 is a stubby little aircraft, resembling a Boeing 717 that never quite hit its growth spurt. The Rolls-Royce Tay 620 turbofan engines dominate the view out the window of the last few rows, and that is exactly where I opted to sit.
KLM's F70s are actually quite a comfortable ride. Recently refurbished with roomy Acro seats and even LED lighting, the F70 was markedly more comfortable than the tired Embraer E190 I flew into Hanover on. The seat comfort was simply a bonus on top of the spectacular view out my window, and accompanying Rolls-Royce powered symphony.
On the short 40-minute hop to Amsterdam, the cabin crew distributed a snack box containing a small wrap and package of water, a service more than sufficient for the short flight. After another round of water, we were already on approach to Schiphol and the flight was over as quickly as it began. This flight did not receive a gate, and parked in the "Fokker Farm." As far as I could see, there were Fokker 70s parked in every direction. More and more Embraer E175s and E190s are taking their place, and I guess the Fokker Farm will become the Embrear Farm over time. Doesn't quite have the same ring to it, right?
KLM ECONOMY REVIEW: Flying on the Boeing 747-400 Combi
After a quick walk across Schiphol, I arrived at my connecting gate to find my flight was about ready to board. This flight to New York would be operated by the Boeing 747-400M, affectionately referred to as "the combi." Unlike almost all passenger aircraft where cargo is held only on the lower deck, the combi splits the main deck between passengers and cargo. The forward three quarters of the main deck hold passengers, just like any other 747 in the world, while the rear quarter of the main deck is a cargo hold. This enables combination (aka combi) operators to carry additional cargo, which may just be more profitable than passengers.
The only on-board hint that something is different about this aircraft is the rear bulkhead. There are two doors leading to the cargo area, flanked with a whole bunch of smoke hoods. These hoods would be worn by the cabin crew in case a fire were to break out in the rear cargo section. Other than this small detail, there are virtually on-board no clues to the unique nature of this aircraft for the normal passenger.
I opted to purchase an Economy Comfort seat on this flight, which gives passengers a few inches of extra legroom. While not a feature unique to the combi, there is something weird about this mini-cabin on KLMs 747s. Almost all aircraft flying today are configured with galleys that stretch width-wise, or side to side. On its 747s, KLM opted for length-wise galleys. This has the benefit of proving extra work space for the cabin crew, but makes it so that the Economy Comfort cabin only has windows on the left side of the aircraft. The right side of the cabin is a bare wall. Absolutely bizarre.
While World Business Class recently received a total refresh, seeing an upgrade to fully-flat beds in a 2-2 configuration, economy remains as it was in the 1990s. Each seat has its own entertainment screen, a system which must have been one of the original cutting edge on-demand options when this aircraft was delivered. The screen is 4×3 (not the modern 16:9 widescreen aspect ratio) and was never quite bright enough for a daytime flight. The wiring box under the middle seat was massive, taking away precious foot space as well. The best I could say about this system is that it worked. There were also no USB or power ports or Wi-Fi, amenities that are becoming a necessity for long-haul flying.
Shortly after the four General Electric CF6-80C2 engines hurled us into the sky, the cabin crew kicked into gear for the seven-hour flight to New York. This was my first time flying KLM long-haul, and I can say with total certainty that this cabin crew, or at least the purser who was attending to my cabin, was one of the best I have ever seen. He was attentive, but not overly assertive. Friendly and funny, but not to the point where it distracted from his tasks. When I asked what beer was available during the drink service (Sidebar: Can airlines please get their beer offerings in line? Figure out which beers you will offer on board and put it in the menu like you do for every other drink) I received a friendly scolding, and was promptly handed a Heineken. Touch, Amsterdam.
While partner airline Air France still distributes paper menus in economy, KLM does not. An announcement was made to check the entertainment system for a menu, and I am probably the only personal that actually did just that. I was impressed to find a full menu with colorful descriptions and pictures, and I made my choice. Unfortunately, the menu on the entertainment system was out of date, and the options presented to me by the flight attendant were totally different. On a snap decision, I opted for the chicken dish.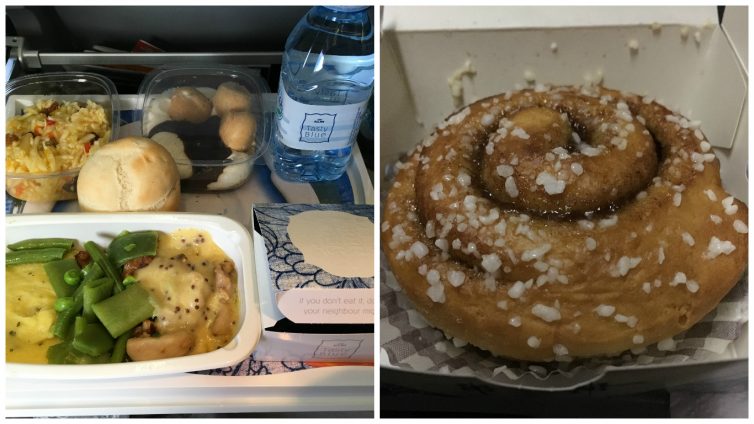 The presentation was was good enough, as was the chicken. The real star of the meal service, however, was the dessert. It was some sort of chocolate drizzled marshmallow cookie crumble with cream-filled pastry ball….thing. I seriously have no clue what it is really called, but I would pay good money for it at home. A warm cinnamon bun was served before landing, a snack once again worthy of my hard-earned money on the ground. Whomever caters KLM's desserts knows their stuff.
My ride on KLM's 747 combi was about as perfect as a flight on a slightly dated, oddball aircraft could have been. Sure, it was missing the bells and whistles of the 787, like electrochromatic windows and USB ports. But the seats were old school comfortable (none of that 9 or 10-abreast nonsense), the service outstanding, and the #AvGeek credentials were through the roof.