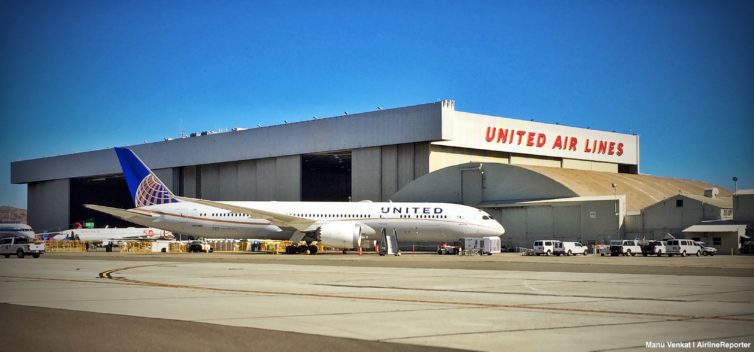 In 1948, United Airlines established a maintenance base at San Francisco International Airport. Seventy years later, the place is still hard at work keeping the airline's planes safe and in the air. Every year, United brings tens of thousands of its employees to the base for Family Day, and this year the airline invited us to take part.
What a wild, awesome day it was! We got to meet "Chix Fix," United's award-winning all-female team of aircraft technicians, go on a tour of the maintenance facility, and celebrate the day with the United family. We even got to sample some food from Boeing's newest plane: the 777-200BBQ (tail number N1BBQ)! AvGeeks eat your heart out, and read on for plenty of photos from the day's fun.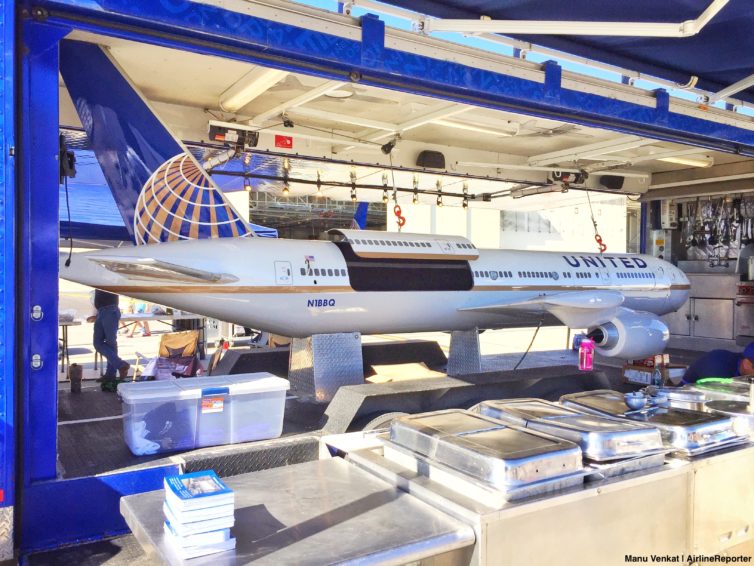 The maintenance facility sits at the northwest end of San Francisco International Airport. Proximity to the active runways meant that every few minutes we were treated to close-up views of departing aircraft.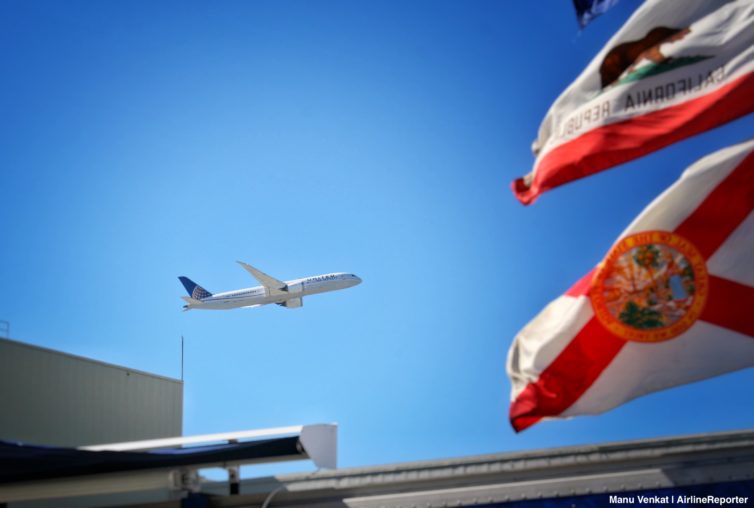 Of course, there was a notable absence at this year's Family Day: the Queen of the Skies. This was the first Family Day since United retired its beloved but aging Boeing 747s (check out our coverage of the United 747 retirement flight if you haven't already). Even though the 747 wasn't around, there was an A320 in the vintage "Friend Ship" livery present. It was being used for plane pulls — when teams of people try and pull the plane — and participants were probably glad they were pulling an A320 instead of a 747.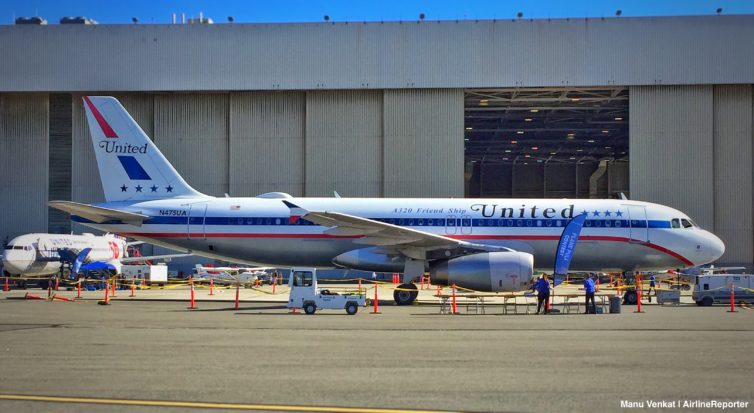 Family Day coincides with San Francisco Fleet Week, and the Patriots Flight Team was set up adjacent to the hangars.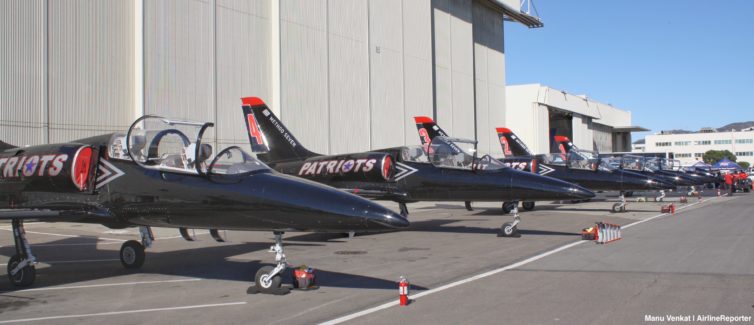 The festivities kicked off with a performance by Crosstown 5, an all-United-employee band. United President Scott Kirby and the heads of the airline's San Francisco operations delivered some remarks. The airline commemorated its partnership with the Special Olympics by inviting and honoring some of the organization's athletes and leadership.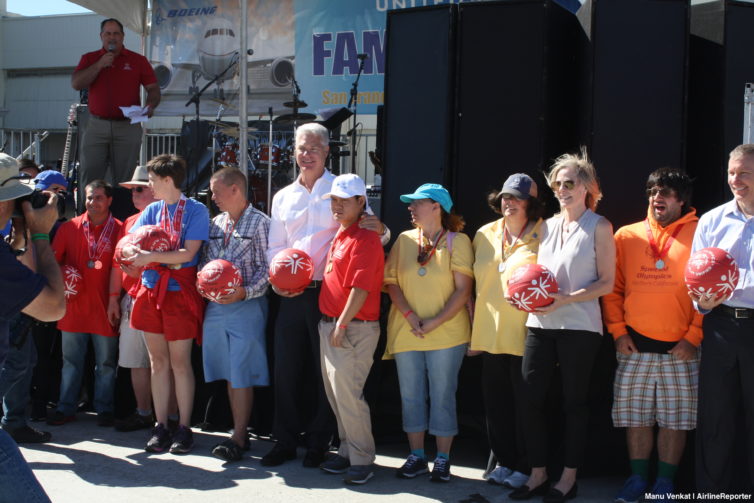 United's 737 with the Special Olympics livery was also on hand.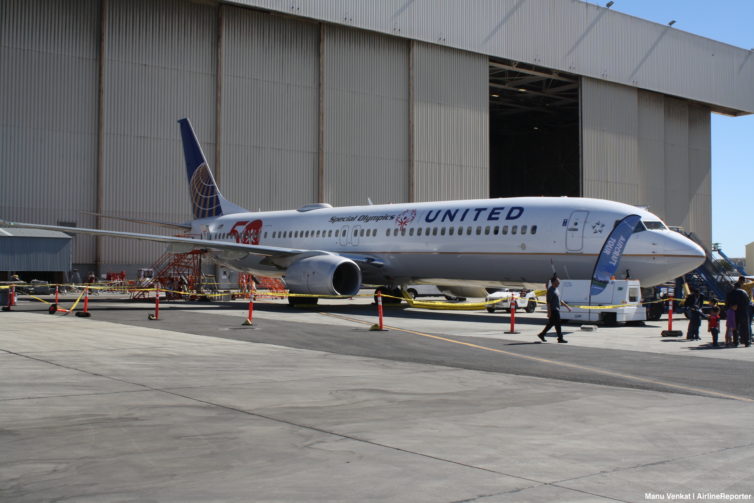 BONUS: Condor Airlines' Maintenance Facility in Frankfurt
Prepared remarks came to a close and guests were free to wander around the huge range of displays, exhibits, and games.
We enjoyed seeing the landing gear drops on this 737:
Meeting Chix Fix
The day's guests of honor were Chix Fix, United's team of aircraft technicians solely comprised of women. They came together from their individual home bases to compete together in this year's Aerospace Maintenance Competition (AMC). Like other parts of the aviation sector, aircraft maintenance has historically been a male-dominated field. So it's excellent to see United prominently featuring Chix Fix as a positive model to women interested in aviation careers.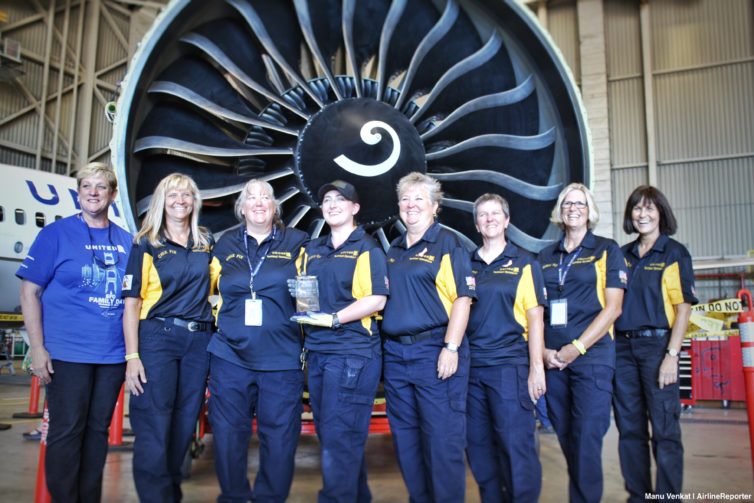 We couldn't pass up the opportunity to ask the team members to pick their favorite aircraft to work on. The team supervisor went with the 747, though since its retirement she has been partial to the 737. The avionics expert picked the Dreamliner. Other responses included the A320 and 757. And everyone was excited about the 737 MAX joining the fleet.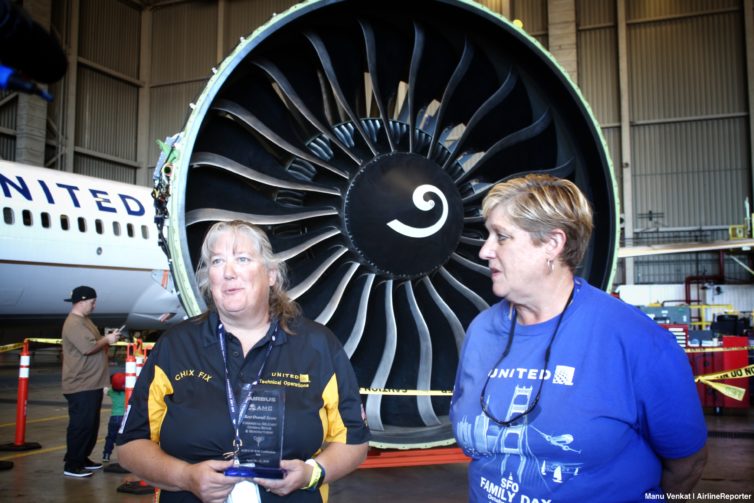 BONUS: Photo Tour – China Airlines' Maintenance Facility
Factory Tour
The Chix Fix team took us on a tour of the maintenance hangar. Spoiler alert: it was everything an AvGeek could ask for, and more!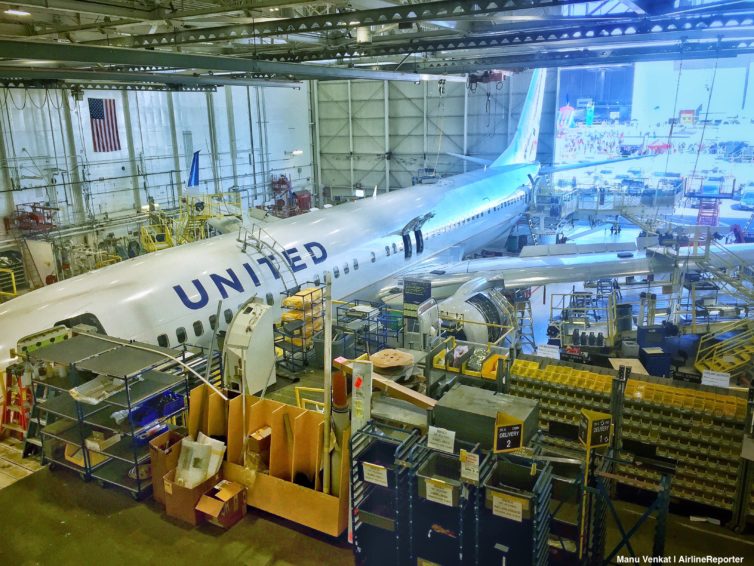 It was fascinating to see various United planes (mostly 737s) in various stages of disassembly and maintenance.
We got a peak under a nose cone to see the radar array underneath.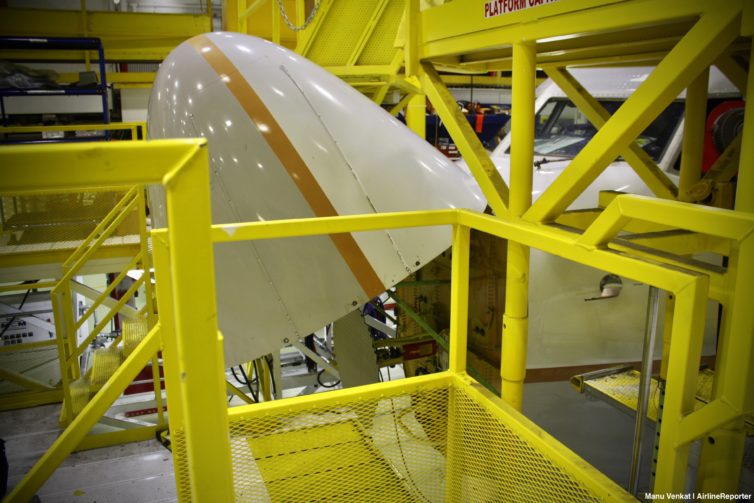 BONUS: Lufthansa Technik: Where Airplanes Go To Get A New Lease On Life 
A reminder of how much wiring and conduits each commercial aircraft has: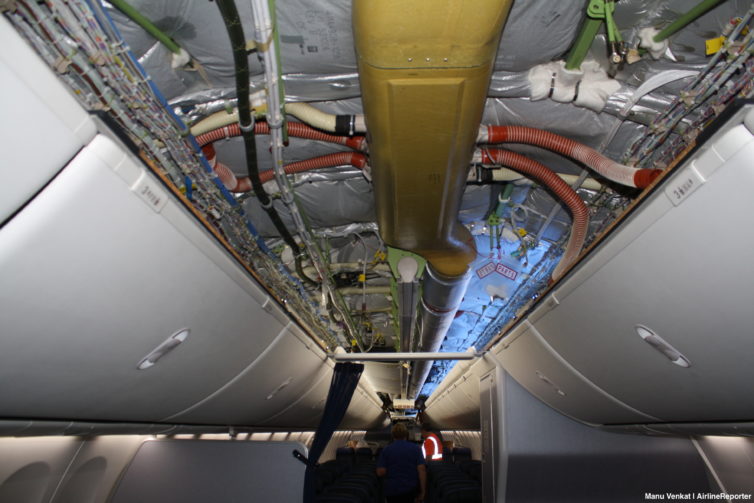 Inside this 737 they were working on the floor panels.
There are enormous sections of the space dedicated to storing tools and parts.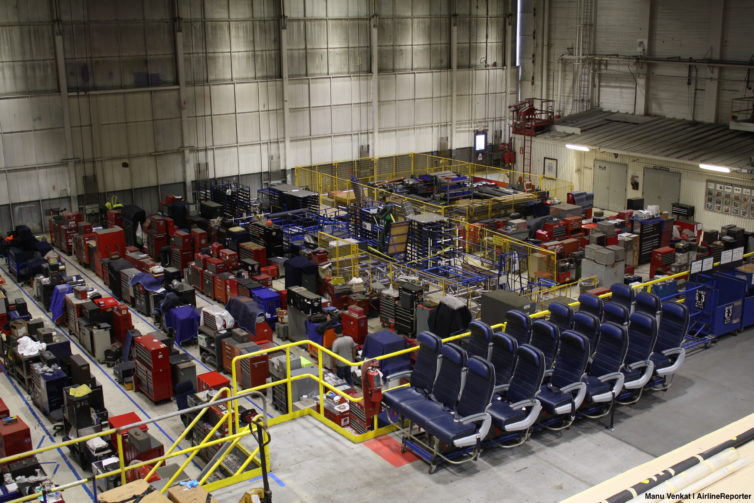 One particularly hair-raising job at the maintenance facility is fuel tank repair, which involves shoving part — or all — of your body into a cramped tank to try and find leaks. It's not a job for the claustrophobic folks out there.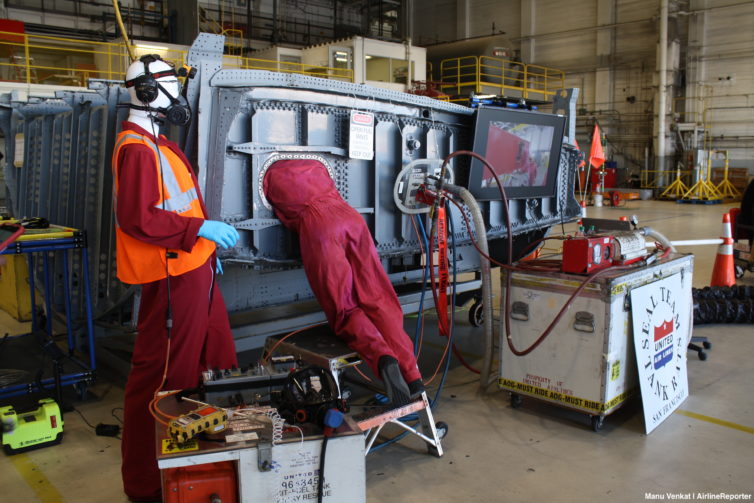 BONUS: Touring TAM Airlines' Maintenance Operations in Brazil
Once our tour was done, we took a stroll around the ramp, where a 737 and a 787 Dreamliner were open for tours.
We could have spent the entire day there. And we sort of did. But soon the crowds began to thin and it was time to go home.
It was a blast getting to celebrate United's past, present, and future with so many members of the family, from leadership to airport staff and aircraft technicians. The SFO maintenance facility is a place with lots of history, and clearly the team is proud of its 70 years of service.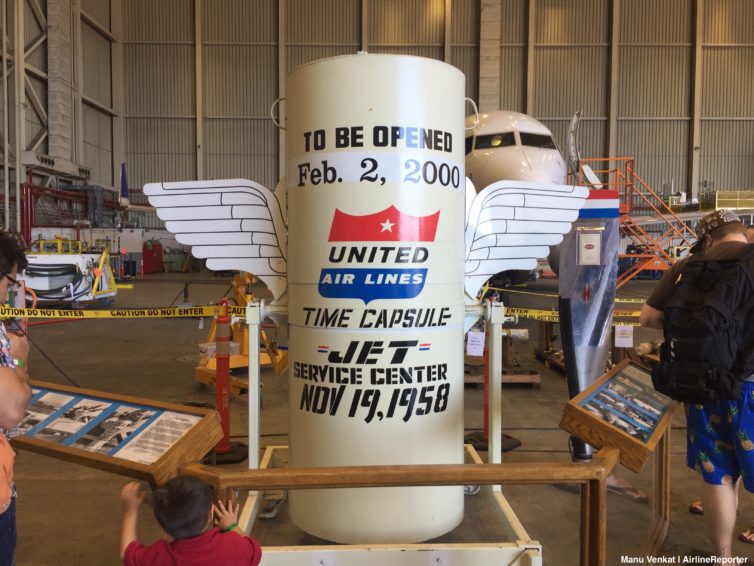 Now it's time for us to hear from you. Share your thoughts in the comments section.