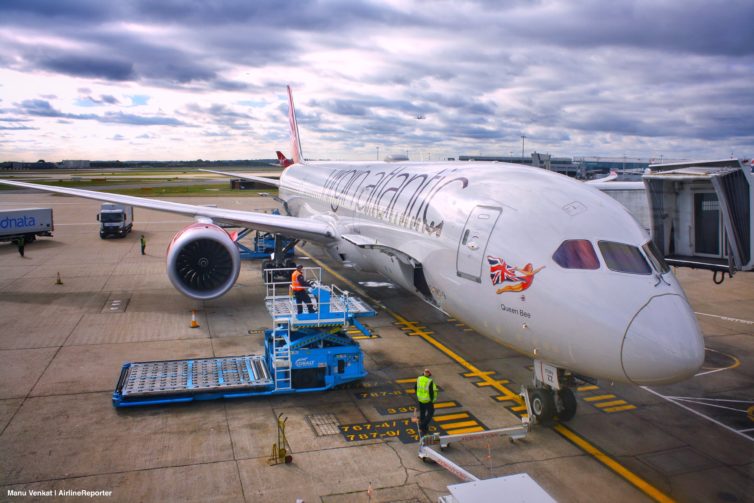 Last month we were on Virgin Atlantic's first flight using jet fuel made from recycled pollution. The service was operated by one of the older planes in Virgin's fleet, the classic 747-400. It's always a blast to fly with the Queen of the Skies, but on the return journey we were looking forward to flying with her younger sibling the 787-9 Dreamliner.
While onboard, we got to review the newest version of the airline's premium economy product: Virgin Premium. True to form for Virgin, the cabin experience oozed style, with sleek yet comfortable seats, great inflight entertainment, and food that could've been mistaken for what you'd get in business class. Of course there were parts of the experience that reminded us that we weren't actually flying in Virgin's "Upper Class." But all in all, we found Virgin Premium to be a strong product that's is well worth it when crossing the Atlantic.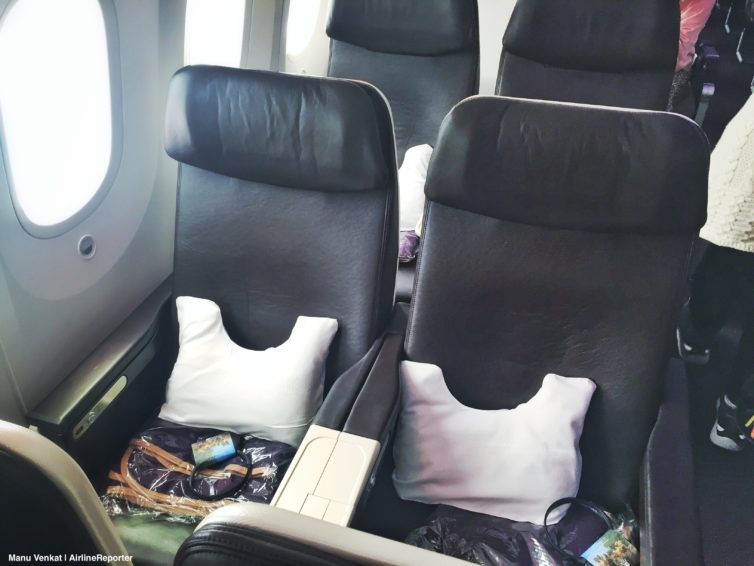 Read on for plenty of photos and details from our premium economy flight with Virgin Atlantic.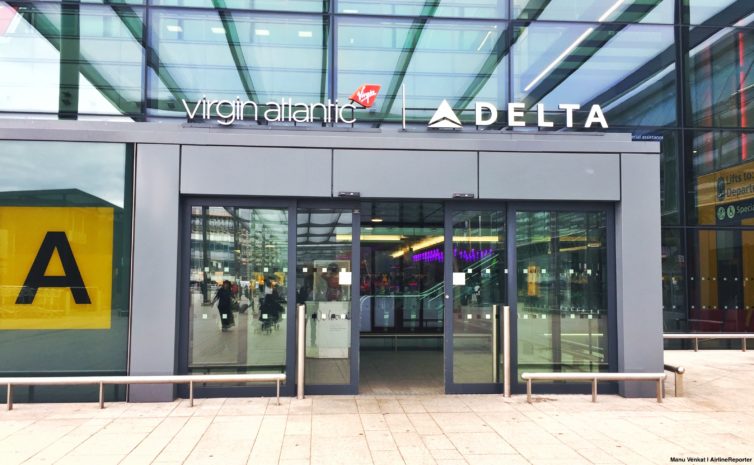 Virgin Atlantic and Delta's London Heathrow flights depart from terminal 3, an ugly mazelike jumble of a concourse. On the bright side, passengers flying in Premium can take advantage of dedicated check-in counters.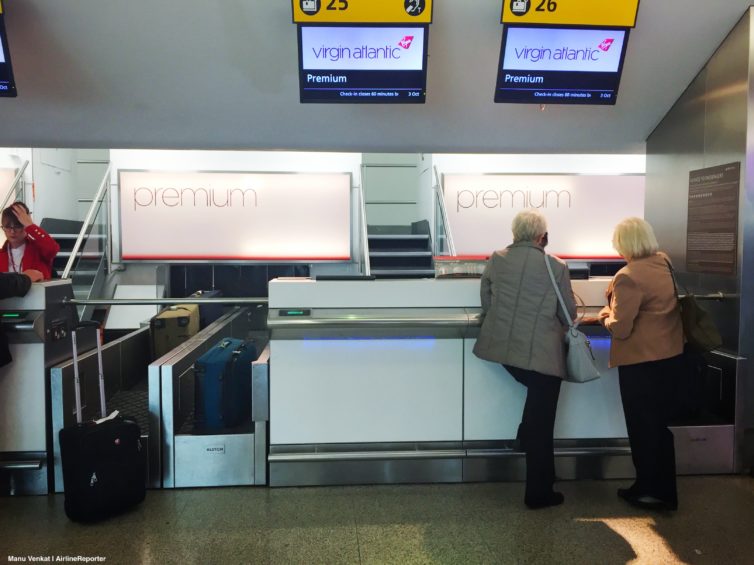 Virgin Premium doesn't come with lounge access, so unless you have frequent flier status, Priority Pass, or some other means of lounge access, you'll be waiting in the general concourse.
BONUS: Lounge Review – Virgin Atlantic's Clubhouse at San Francisco SFO
The Dreamliner taking us on the long flight to Los Angeles was lined up alongside a few of its siblings. With bold metallic reds and large plain text, the Virgin Atlantic livery is one of my favorites.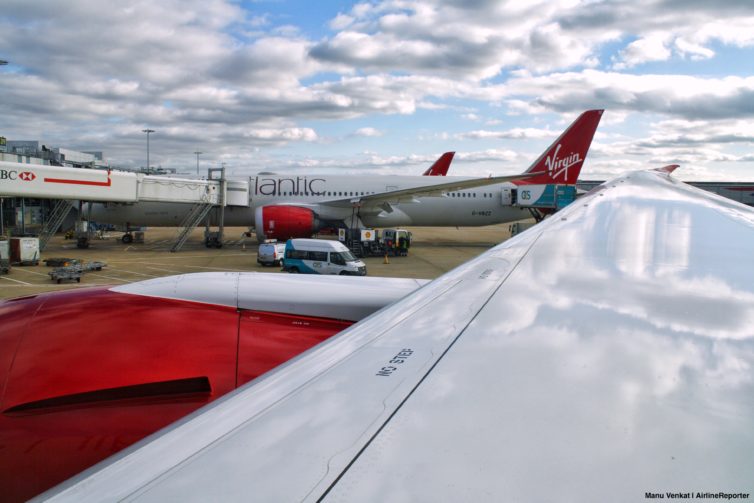 Meet The Seat
Since Boeing's Dreamliner is relatively new, its no surprise that they're often fitted with airlines' freshest seats. Virgin Premium is no exception. The upholstery is a stylishly simple black leather with white plastic seat backs. Of course, there was the characteristic magenta lighting. Seats are 2-3-2 across, compared with 3-3-3 in regular economy. The two fewer seats per row meant that each premium economy seat is very wide.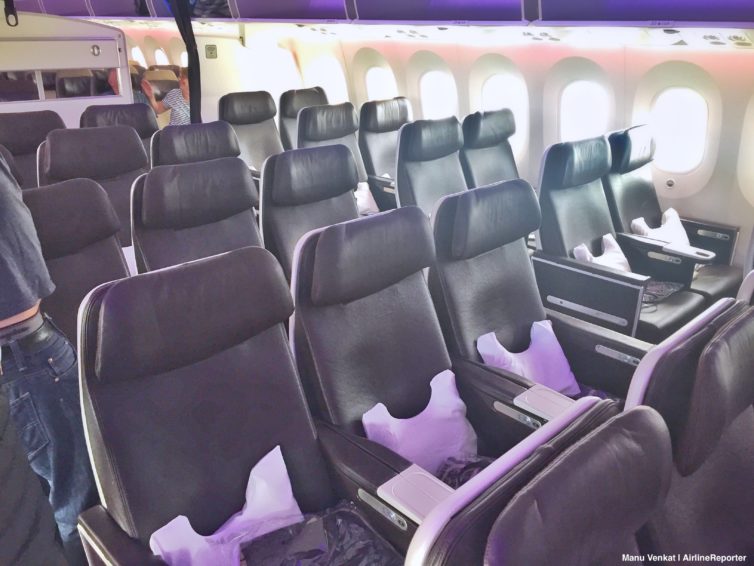 Each seat had a expandable seat-back storage pocket and a fold-down footrest. The broad consoles between each seat mean that there's no need to battle with your neighbor for elbow room.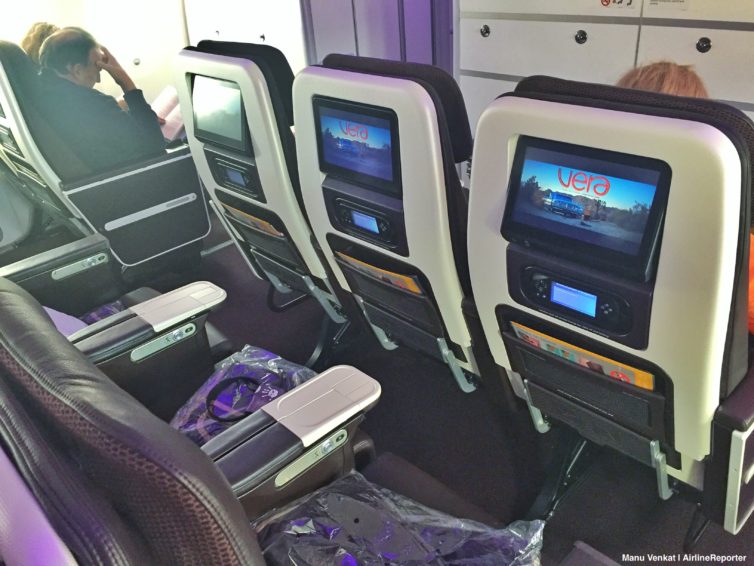 Bulkhead seats have plenty of legroom, though no storage space for takeoff or landing.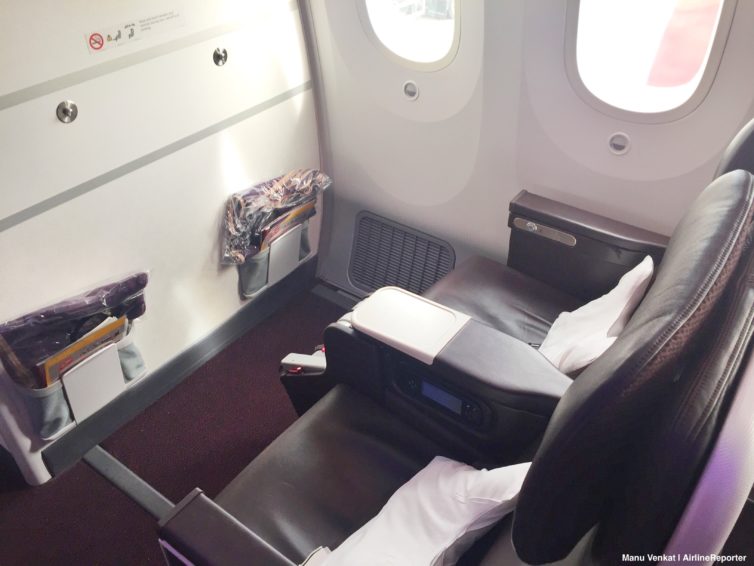 While the video screen was on the small side for premium economy, the image was sharp and the touch screen was very responsive.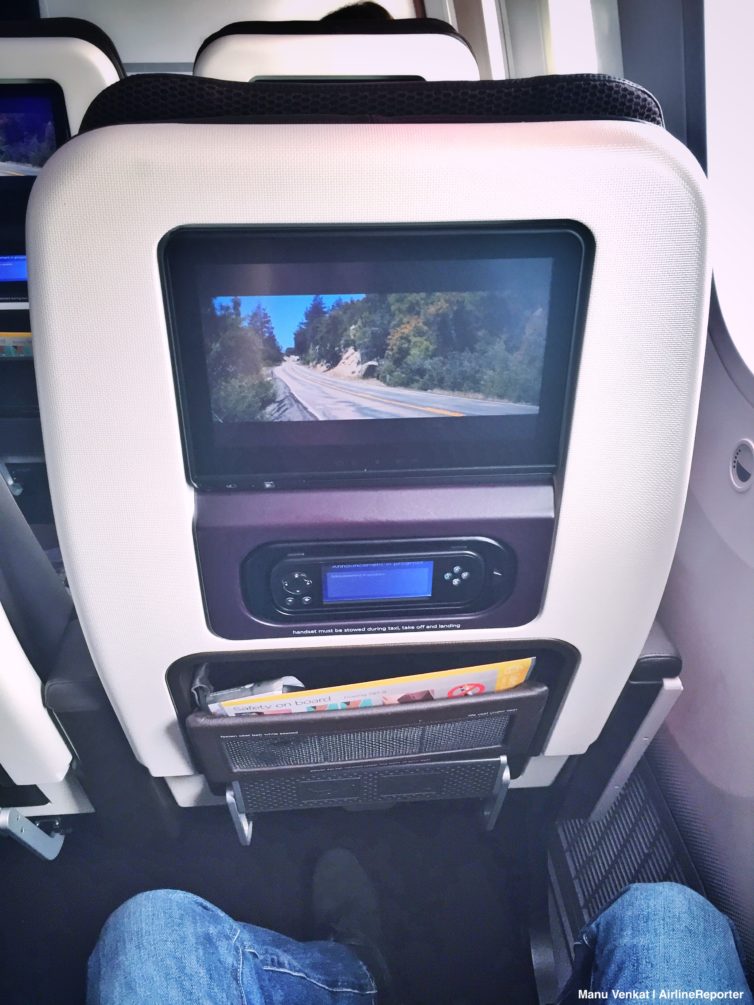 Passengers were given a pillow and a blanket. The pillow was shaped to fit around your shoulders, though I honestly didn't notice that much benefit from the creative shape.
BONUS: SAS Plus – Taking the Edge Off Economy Class Travel
A cheery flight attendant came around with a tray of pre-departure drinks. I went with some water and sparkling wine.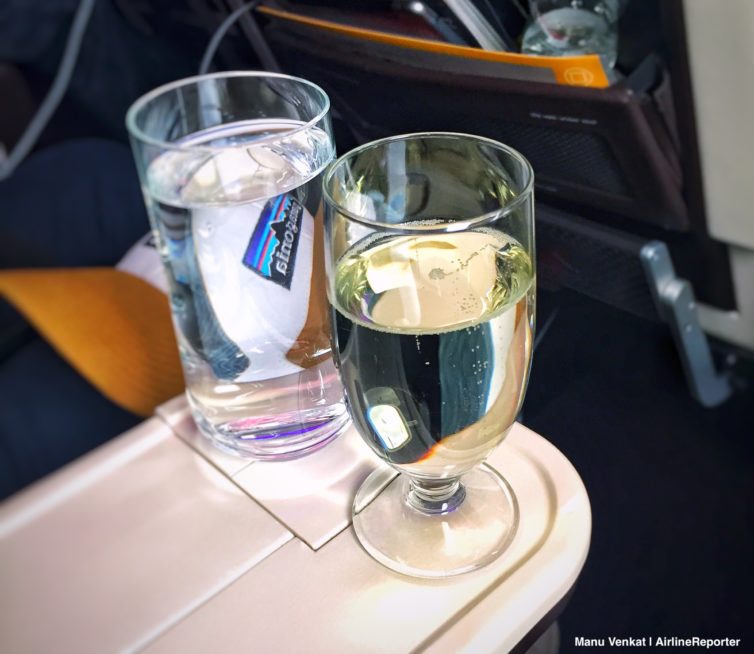 I love flying out of Heathrow because of how many airlines, countries, and flagship widebody aircraft operate there. We passed by Concorde on the way to the runway, and got a sweeping view of the British countryside after takeoff.
Inflight Service
After the double chimes, service began with pre-meal drinks.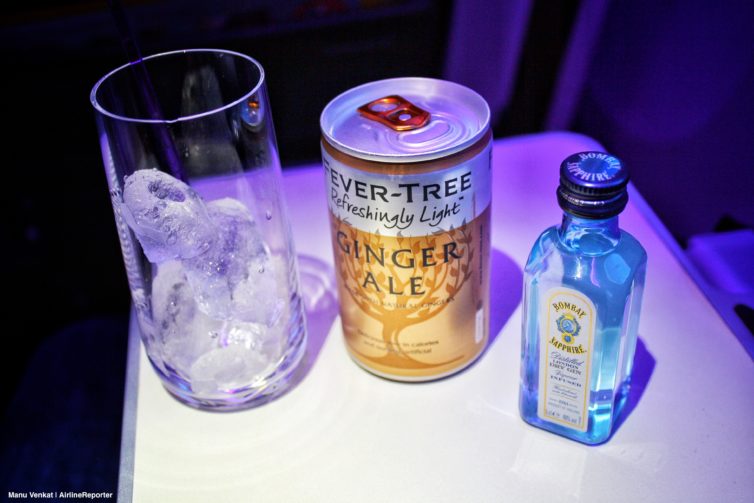 I took a moment to read over the menu.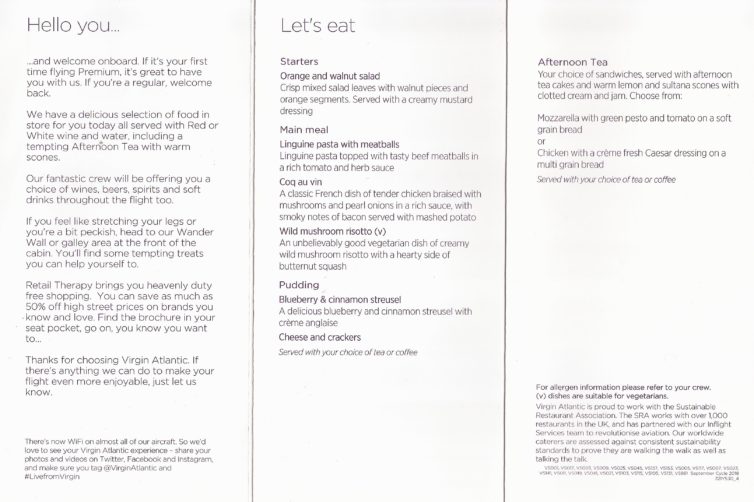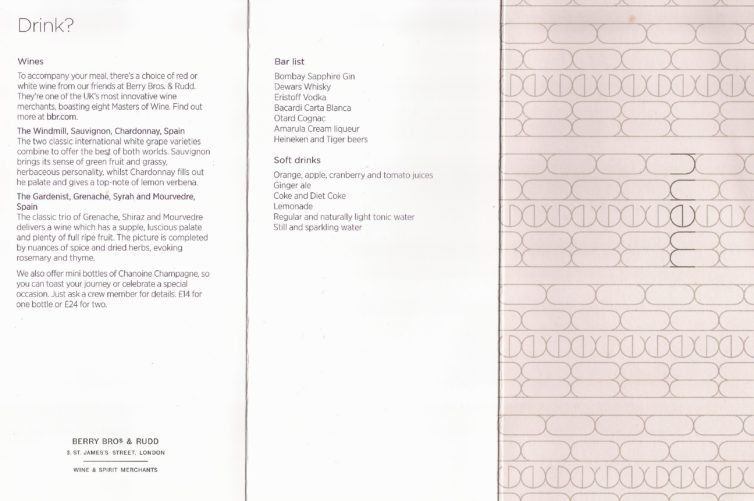 BONUS: Flight Review – Gatwick to St. Lucia on Virgin Atlantic in Economy Class
Almost 45 minutes later, I got my coq au vin along with a side salad, bread, red wine, and dessert. The salad, with its walnuts and orange slices, was better than the bland and boring salads often served on planes. The main dish was rich and flavorful. And most of all, I was impressed by how good the presentation was. Each dish was served in real ceramic plates, and drinks were in real glassware. I even got little plane-shaped salt and pepper dispensers.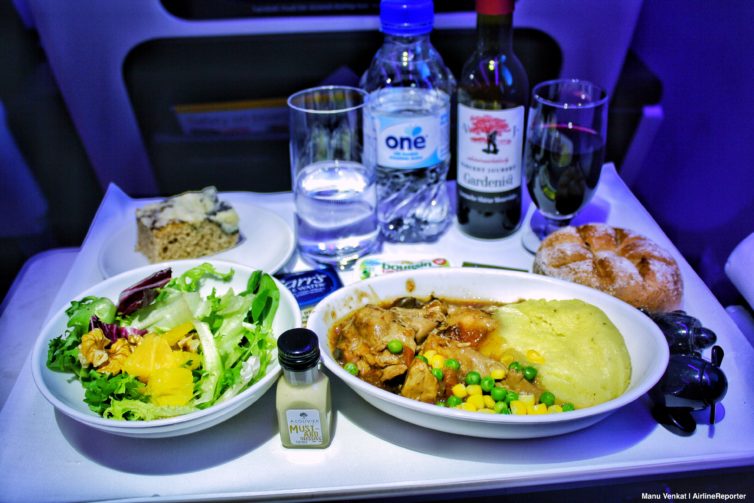 Overall it was a pretty great meal. The pace of the service was a bit slow, but I was impressed with how charming the crew on my flight was. Most importantly, the food was tasty across the board and the presentation was closer to business class than economy.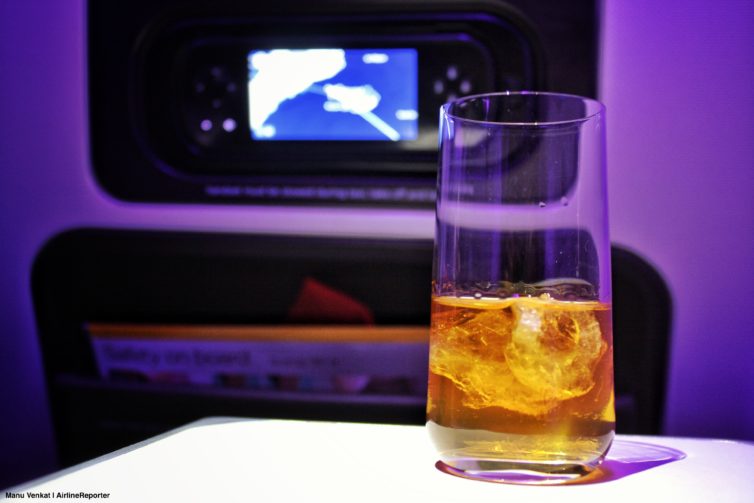 Inflight Entertainment
After lunch I checked out the Vera inflight entertainment system. The screen was super responsive, and I loved that you could watch a movie on the main screen while monitoring the flight tracking map on the handset below.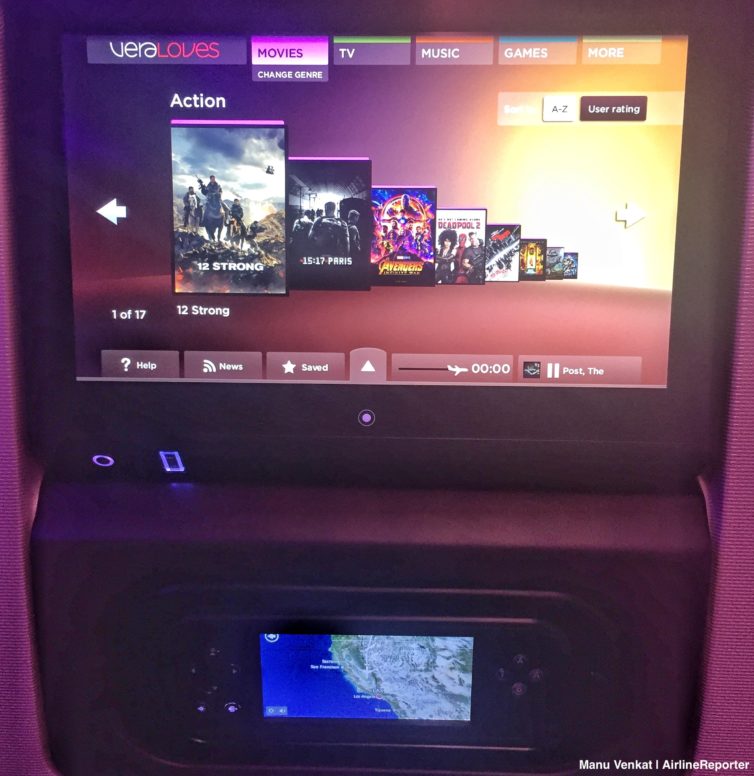 The library of movies and TV was more than sufficient to keep me entertained for a full long-haul round trip.
Wifi was available on the flight, and at reasonable rates if you didn't need much data. But speeds were slow, and halfway through the flight it conked out entirely. I later asked for, and received, a full refund. At least the library of movies and the onslaught of snacks kept me occupied.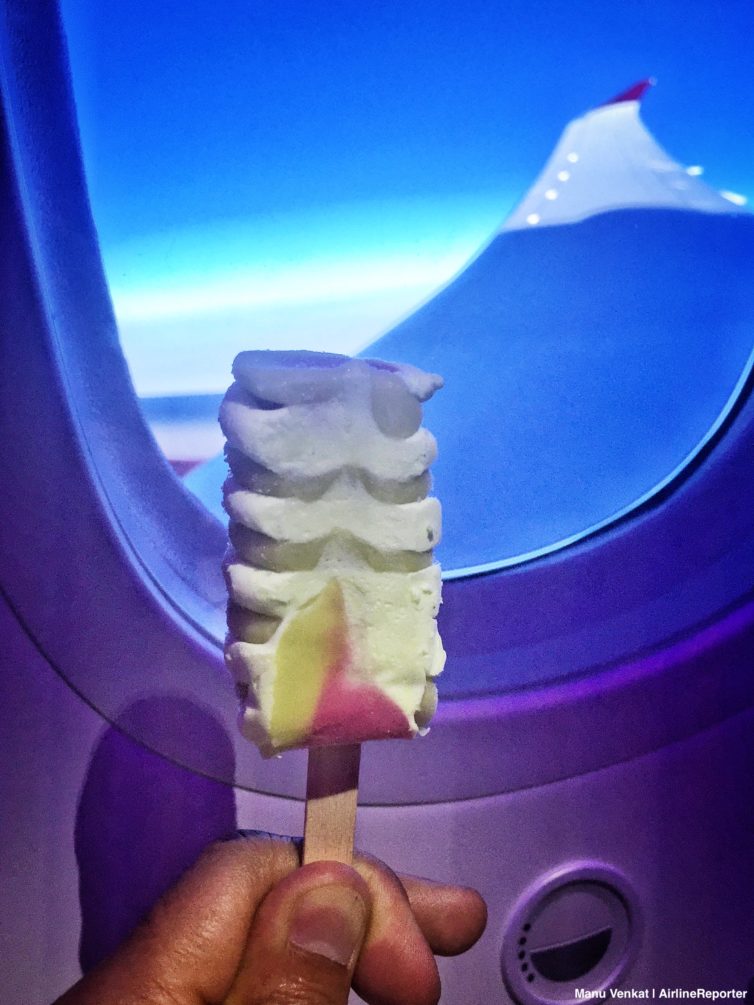 I settled in for a short nap and found that the soft seat, generous recline, and footrest made for a better sleep experience than I'm used to in economy or premium economy.
BONUS: Flying On Bubbles – Upper Class on a Virgin Atlantic A340-600
Amenity Kit
Amenity kits were available on request only. The contents were basic and the plastic bag ripped when I opened it.
You're My Wonderwall
One of the signature pieces of Virgin Premium Class, at least on the Dreamliner, is the Wonderwall. Located at the very front of the Premium cabin, it's a snazzier version of a self-serve snack shelf. Given that flight attendants didn't make frequent water runs between meal and snack services, it was nice to have the wall on hand.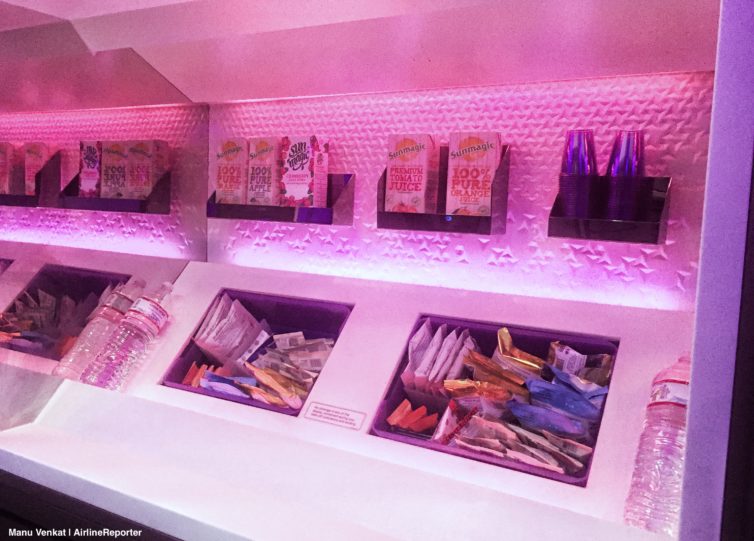 BONUS: Flying Norwegian's Long-Haul Premium Product on the 787
Around the middle of the flight, we were offered a meal that wasn't listed on the menu. After the fancier first meal I was in the mood for some comfort food, and the gooey cheese, potato, tomato, and onion calzone hit the spot.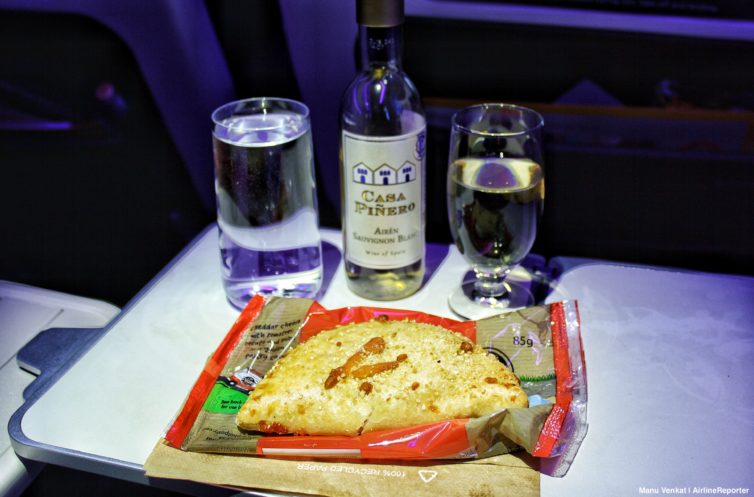 Afternoon Tea
When you're a UK-based airline you've gotta keep the teatime tradition going strong, and Virgin Atlantic did not disappoint. The highlight of the tea service, which was offered shortly before starting our descent, was a melt-in-your-mouth warm scone served with clotted cream and jam. I opted for chicken Caesar for the sandwich selection, which was simple but satisfying.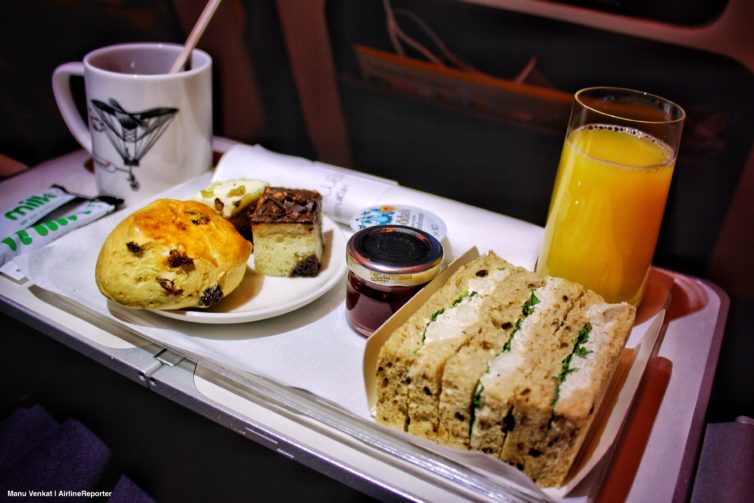 I loved the quirky artwork on the mug.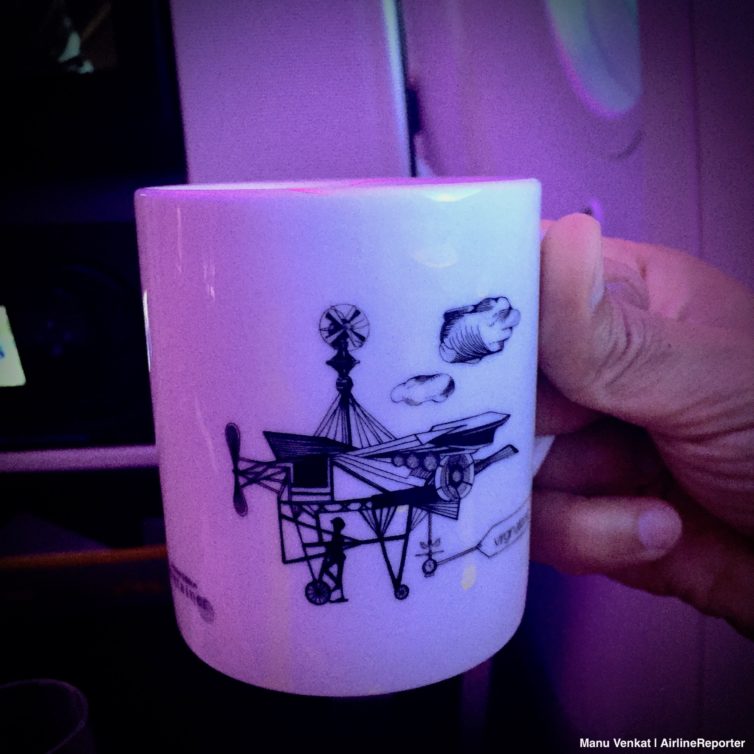 While the table settings and food quality were nearly business class quality, there was the occasional moment that reminded me that I was in premium economy. After I finished my tea, my dishes sat on my tray table for a long time and I needed to ring my call button a couple times to get them cleared. On the bright side, whenever the flight attendants did make appearances in the cabin, they were enthusiastically helpful.
BONUS: Old Guard Vs New Guard – Flying Upper Class on a Virgin Atlantic 787-9 Dreamliner
We descended towards LAX just as the sun was setting, and the views were incredible.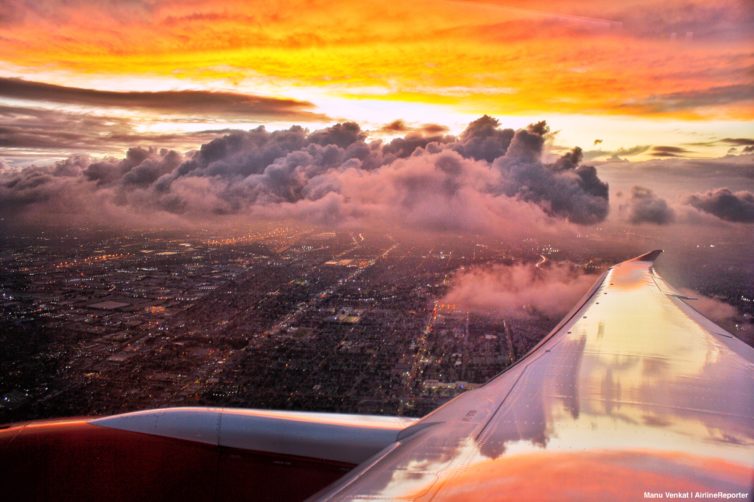 The Final Verdict
Grading premium economy ultimately comes down to one question: does the product feel more like business-minus or economy-plus? Based on my positive overall experience flying Virgin Premium, I'd say it qualifies as closer to business class side of the spectrum for a few reasons:
The seat felt as wide as a domestic first class seat, and was comfy enough for me to get at least a short bit of quality sleep.
The food was business class level — both in terms of flavor and presentation.
The inflight entertainment system was sleek and responsive.
Dedicated check-in lanes at the airport add to the convenience factor.
While many airlines' premium economy cabins feel like afterthought add-ons (because they probably were), Virgin Premium comes across as a thoughtfully designed product, especially with signature features like the Wonderwall. It doesn't hurt to fly it on the Dreamliner, which in general is a joy to experience.
If I had to point to any areas for improvement, it would be the following:
Nobody expects an amazing amenity kit in premium economy, but the clear plastic case felt very cheap.
Although my flight attendants were extremely friendly, occasional lapses like missed call buttons sometimes detracted from the overall luxurious feel of the experience.
Bonus Photos: Virgin Premium on the 747-400
Virgin Premium flies on the airline's other long-haul aircraft, though the seats look slightly different. Here's some photos our our flight in Virgin Premium on the 747-400, which flew us from Orlando to London Gatwick. The seats weren't quite as new as on the Dreamliner, though they were still in very good shape. Much of the Premium cabin is on the main deck — which is where we flew — though a few Premium seats are on the upper deck.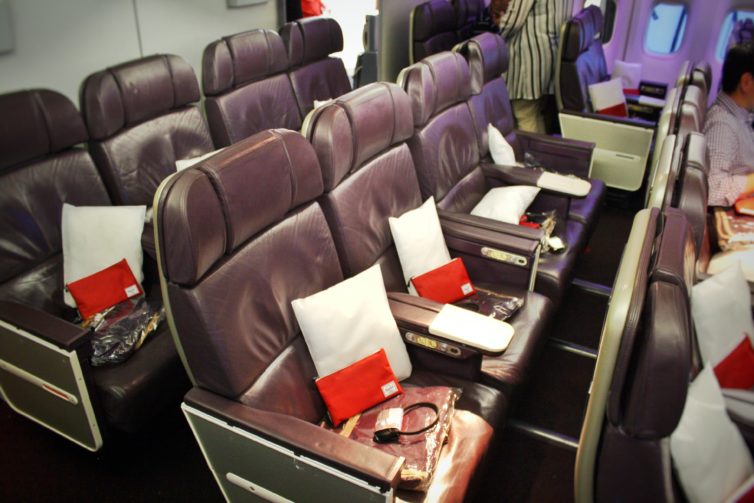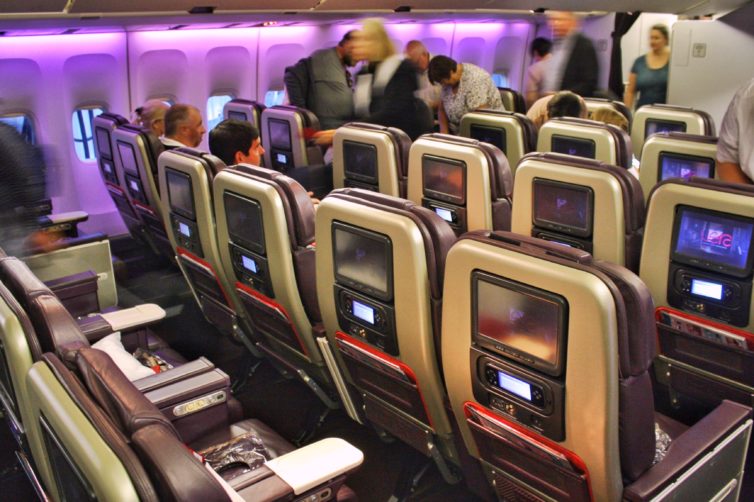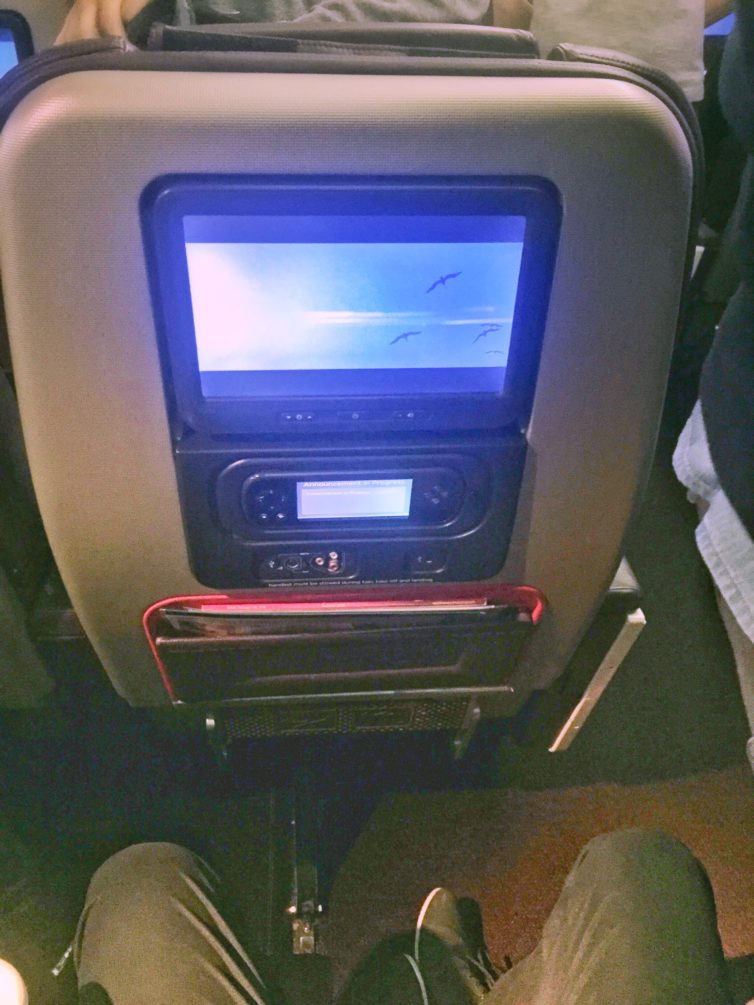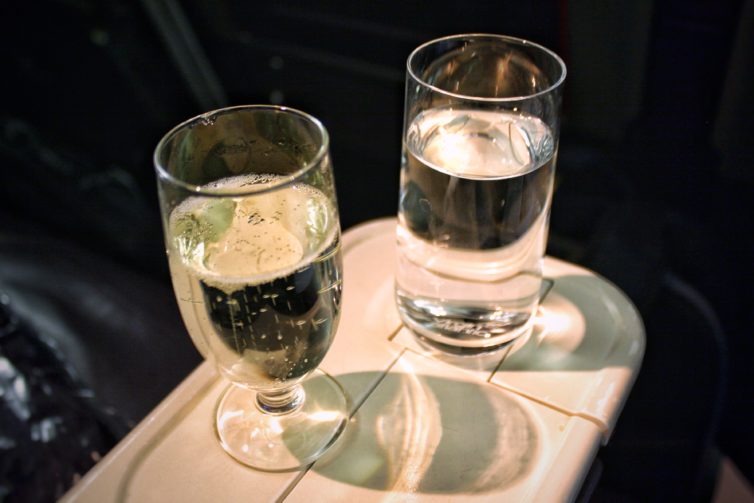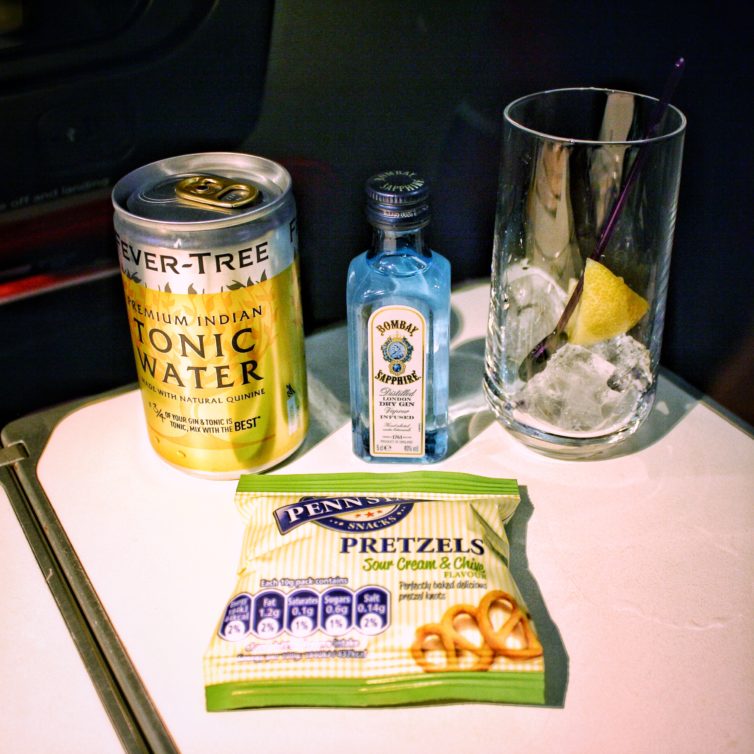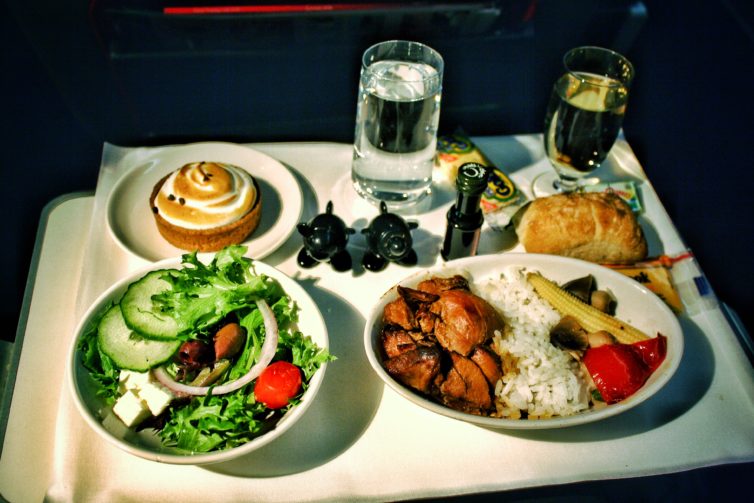 Now it's time for us to hear from you! Share your thoughts in the comments section below.
Note: Virgin Atlantic provided our tickets for these flights. All opinions in this article are our own.