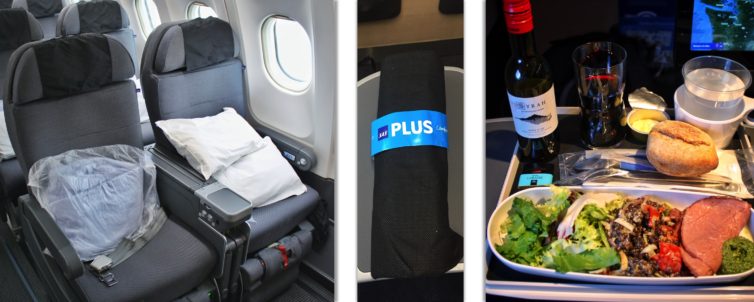 When it comes to the passenger experience on long-haul flights, the gap between economy and business class just keeps getting bigger. Today's business class is all about universal aisle access, suites with doors, and other features that used to just be for first class. Back in economy, seats and legroom are tighter, and amenities are disappearing.
But lucky for us, many airlines are offering a new island of refuge in the middle of the gulf between economy and business: so-called "premium economy." Oxymoron? Maybe. But if it's a way to take some of the harsh edge off of flying in economy, without having to shell out big bucks for business class, then consider us interested!
We recently did some flying with SAS Scandinavian Airlines, whose long-haul A330 and A340 fleet recently got a major interior makeover. On the outbound to Copenhagen we had a blast trying out their new business class, but on the way back we made sure to score a seat in SAS Plus, their premium economy cabin. The seat itself was more economy-plus than business-minus, but amenities like lounge access, free WiFi, and fast-track airport security were a great way to sweeten the deal. All in all, SAS Plus did a great job of making economy class much more comfortable and fun.
Read on for our full report and our thoughts on whether SAS Plus is worth it on your next trip.
The Ground Experience
SAS Plus includes a bunch of business class perks, like access to fast-track security lanes at certain airports. In Copenhagen, where I started my journey, I was through in thirty seconds flat.
SAS Plus further sets itself apart by including business class lounge access. The lounge in Copenhagen is divided into two sections: a ground level lounge for business class and SAS Plus passengers, and an upstairs section for passengers with SAS / Star Alliance Gold status. The photos below are from the business class + SAS Plus section. There's a variety of seating and a solid selection of light food.
BONUS: Anything But Ordinary: Scandinavian Airlines' "Next-Gen" Lounge in Oslo
The SAS Plus Seat
If you're flying SAS Plus, you get priority boarding along with business class. Awesome! And I got to say hi to the flight crew during boarding. Extra awesome!
SAS' long-haul fleet is fairly fresh off a major cabin overhaul, and it really shows. The seats and finishes were in good shape, and I was a big fan of the charcoal seat colors.
The cabin on SAS' A340-300 fleet is arranged in four rows, 2-3-2 across. Regular economy is 2-4-2 across, so you can think of economy plus as cutting one seat and distributing the extra width across the other seven seats. SAS Plus isn't the most spacious premium economy seat out there, but it's definitely enough to make for a noticeably more comfortable ride, and offers a good degree of recline.
Seat backs have a large storage pocket, though the seats have no other dedicated storage. The inflight entertainment screens are as big as many other airlines offer in business class, with crisp resolution and great touch responsiveness.
BONUS: Air France A380 In Premium Economy
I had selected bulkhead window seat 20A for my journey, which gave me enough legroom to leave my seat without making my aisle seat neighbor get up.
This A340-300 took its sweet time getting off the ground on takeoff roll. It was a dreary morning in Copenhagen, and right after we lifted off we were in the clouds.
Inflight Service
Flight attendants started the first meal service by asking which drinks I wanted before the meal, with the meal, and with dessert. Then they handed them all to me at once. It was a bit awkward having to store it all at my seat, but at least SAS is generous! Regular economy on SAS doesn't include wine, beer, or spirits gratis, so SAS Plus is a big step up in that sense.
There aren't any printed menus in SAS Plus. Instead, flight attendants came around a few minutes after drinks and explained that we'd have a choice between chicken with mashed carrots or tortellini. I went with the chicken. The presentation was definitely economy-style, but it was one of the tastiest long-haul economy meals I've had. The seafood appetizer was nice and light, and who knew mashed carrots are even better than mashed potatoes?
A sweet coconut dessert went well with some after-dinner cognac and coffee.
By the time the meal wrapped up, it had gone from daylight to twilight outside. Interestingly, the sun hadn't set because we were too far east or west of sunlight, but because we had flown so far north.
Amenities
While SAS Plus does offer an amenity kit, it only includes a shoe bag, dental kit, ear plugs, and a sleep mask. The essentials, but nothing more.
The cabin doesn't have its own lavatories, and instead shares lavs with the regular economy cabin.
Even though it was a daytime flight, I got three hours of solid sleep thanks to the thick blankets, pleasantly cool cabin temperature, and good amount of seat-back recline.
Midflight Snack
The flight crew did an amazing job coming through the cabin regularly with water and juices. About halfway through the flight, they offered a snack service of flatbread with either venison or butter, along with fruit, candy, and coffee or tea. I'd already checked "venison on a plane" off my AvGeek bucket list during my flight in SAS Business a few days prior, so I went with the safer butter-only option this time. Bread and butter sounds boring on paper, but Scandinavian butter tastes amazingly rich.
Inflight Entertainment and WiFi
Internet access goes a long way in helping pass the time on a long flight, but usually the crazy cost of inflight internet keeps me offline. So I think it's a huge positive that inflight WiFi is free of charge for everyone in SAS Plus. Especially later in the flight, I was pulling some excellent download speeds.
BONUS: Singapore Airlines Unveils Premium Economy Product
Ever since its long-haul cabin makeover, SAS offers bright and responsive inflight entertainment screens in all cabins. There are also exterior camera views — every AvGeek's favorite! The library of movies is pretty good, too. The soft-tipped earphones block out some sound but are still pretty basic, so BYO headphones if you have 'em.
Final Meal Service
As we crossed the border into the U.S., flight attendants came around with the final meal service. This time around there weren't any choices offered, and I didn't catch the name of the dish being served. Whatever it was, it was pretty tasty — especially the lentil salad. SAS does well with the small touches on dining like offering cool glassware and serving bread nice and warm.
I never get tired of the view on the approach to SFO from the north.
The Verdict
All things considered, SAS Plus does a great job of providing a comfortable middle option between basic economy and business class. You can't grade any inflight experience in a vacuum, and SAS Plus and other premium economy options are increasingly appealing as regular economy gets more and more features stripped away.
Here are the winning factors for SAS Plus in my book:
The seat is big enough to avoid rubbing shoulders with your neighbor, and the generous recline and footrest make for better sleep.
The dining service benefits from more drink options and the extra choice of entree, though overall it's still closer to economy than business.
The smart selection of extra features address the most painful parts of basic economy: crowded airport terminals (solution = business class lounge access), security lines (solution = fast-track security lanes), and inflight boredom (solution = great inflight entertainment and free WiFi).
From my bit of research, SAS Plus is priced pretty affordably for a premium economy product. And you can often make a game-time decision to upgrade at the gate.
I do think there are a few small areas for improvement:
The trek back to the regular economy cabin to use the restrooms was annoying. I wonder if SAS can include some dedicated premium economy lavatories when it takes delivery of its new A350s.
The amenity kit is very basic and could benefit from some moisturizer, socks, and/or a comb.
Now it's time for us to hear from you. Have you flown SAS Plus before? Or have you tried any other airline's premium economy product? Share your thoughts in the comments section below. 
Disclaimer: SAS Scandinavian Airlines provided us with access to this flight for the purposes of a review. All opinions are our own.