During our trip to Helsinki with Finnair, we sat down for a chat with Sara Mosebar, Program Manager of the airline's A350 fleet. Check out Part One of that interview if you haven't already. Here in part two, we discuss Sara's favorite airplane type (it's not what you'd think it would be!), the best part about her job, and her message for young women who may be interested in aviation careers.
Just as importantly, we're also going to give away a Finnair A350 scale model to a lucky reader! It's adorned in a special Marimekko-designed livery. Read on for instructions on how you can qualify for the giveaway. Don't worry — it's easy to enter!
Continuing our chat with Sara Mosebar, Finnair's A350 Program Manager
Q: What's the most fun part of your job?
Sara: For me, it's the learning. I feel like I'm always learning something new. There are a lot of really knowledgeable people at the airline who have a great deal of expertise, and I get to talk to them and learn how they do what they do. Finnair has a long history in aviation, and most of the people here are very experienced. For me that's very exciting. And of course, everyone here loves airplanes! It's not an industry you get in to unless you love the airplanes.
Q: What is the most challenging part of your job?
Sara: It's hard to identify anything, because I really do love my job. Even when it becomes stressful, I love it.
Q: Do you get to fly much as part of your role?
Sara: I love to travel so I fly as often as possible. It's one of the best parts of being an airline employee. But for me the best flights are when we take delivery of an aircraft in Toulouse. The delivery team five to ten people are usually onboard.
Q: Do you have any fun facts that you think passengers may not know about the A350?
Sara: You may not realize this when you're flying, but the humidity levels onboard are significantly higher than what you would experience on most other airplanes. Most people on a traditional aircraft like the A330 or older Boeing planes will end up at their destination feeling dehydrated, tired, and lethargic. But with the A350, because of increased humidity levels, you feel rejuvenated and relaxed when you arrive.
Q: We know your work today focuses on the A350, but if you had to pick your personal favorite aircraft, which one would you pick?
A: As much as I love my babies my fleet of A350s the Boeing 777 will always have a special place in my heart. It's the first plane I worked on, and if you talk to anyone in the industry, the first plane you work on is always special for you. So as much as I love and know all the special quirks of the A350, the 777 is special for me.
BONUS: Tales of an Aircraft Mechanic
Q: Given that there is a gender imbalance in the aviation workforce, what would you say to young women who may be interested in aviation careers?
A: I'd say that if you love it, don't let anything stop you. In my graduating class in aerospace engineering, I was one of five women in a class of 100. There is definitely a minority element to being a woman in aviation. But my experience has been that once you get into the workplace, if you are good at what you do, nobody cares about your gender. So if this is what you want to do if it's what you love just keep going. I never thought I'd be running the program that I was just supporting in the beginning. But now I'm here, and there's nothing else I'd rather be doing.
Video caption: breaking through some clouds on a Finnair A330-300
Q: Do you notice that passengers are enthusiastic about the A350 when they fly with Finnair?
A: Absolutely. Some passengers will book routes specifically to fly on the A350. It is a different experience! I'm glad that people have that enthusiasm. The aviation geeks especially me being one of them!
Finnair Marimekko A350 Model Giveaway
If our chat with Sara got you excited about the Finnair A350, we have a way for you to get a piece of the action! We're giving away a 1:250 scale model of an A350 in a special Kivet Marimekko livery. Its real-world counterpart has the tail number OH-LWL.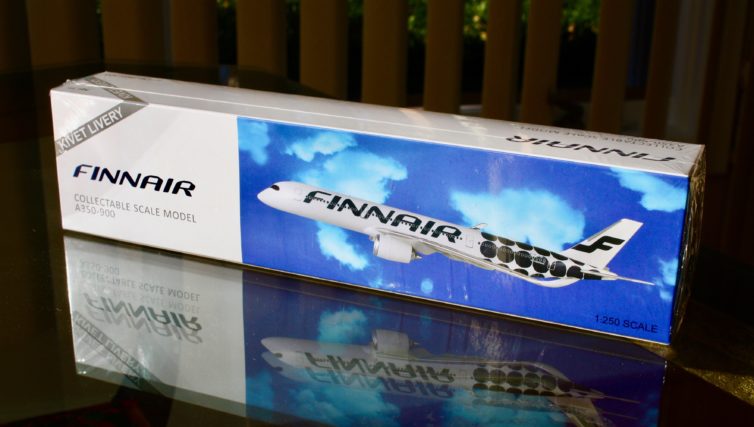 To enter for your chance at this model, just comment below with EITHER:
Your favorite aircraft type from the Finnair fleet; OR
A Finnair destination that you'd be excited to travel to.
We'll announce the winner on Twitter in a week!