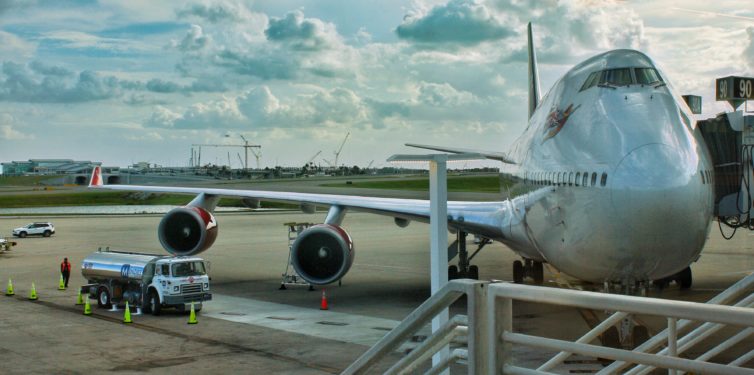 The aviation sector is responsible for roughly two percent of global carbon dioxide emissions. If current trends continue, its share of the total is expected to grow substantially in coming decades. Fortunately, in recent years a number of airlines have made concerted efforts to make flying more environmentally sustainable. Most of the solutions to date have involved biofuels made from plant-based compounds. But Virgin Atlantic took a different approach, partnering with the U.S.-based company LanzaTech that was developing a technology to turn industrial pollution into jet fuel.
On October 2nd, the partnership achieved a major milestone: the first passenger flight powered (in part) by the innovative new fuel. There was plenty of fanfare around the flight, which we were on hand to cover. And though the flight was one incremental step out of many required to make the tech mainstream, it was still a milestone worth celebrating. Read on for our full coverage of the announcement, press conference, and the flight itself — including a surprise appearance by Sir Richard Branson!
The Tech
LanzaTech and Virgin Atlantic's sustainable fuel is produced through a fascinatingly complex process. Carbon-containing waste gases from industries like steel mills and oil refineries are captured instead of being released to the atmosphere. Those gases are fed to a proprietary mix of bacteria, converting them into ethanol. Thanks to the magic of science, LanzaTech then turns the ethanol into kerosene, AKA jet fuel. For the chemistry buffs out there, the company has a video explaining the process.
Third-party estimates suggest that the LanzaTech fuel could result in a 70% lower carbon footprint than standard jet fuel.
Earlier this year, LanzaTech's fuel was approved for commercial flights after a 50:50 mix of the fuel and standard jet fuel was found to be just as safe and powerful as the standard fuel alone. At this point, the technology is developed enough to produce modest amounts of fuel for testing and proving flights, though production has yet to be scaled up.
BONUS: United and Alaska Airlines Announce Regularly Scheduled Biofuel Flights
The Partnership
Virgin Atlantic has had a big focus on environmental sustainability for many years. From 2007 to today, the airline has reduced its carbon footprint by about 24%, driven largely by uptake of more fuel-efficient aircraft like the Boeing 787 Dreamliner. But company leadership was looking to tackle the emissions issue from multiple angles. So in 2011, Virgin Atlantic forged a partnership with LanzaTech. In the years since, the collaboration between the companies has been supported by other partners, including Boeing, GE, Honeywell, and fuel suppliers.
The Flight
Years of hard work and steady progress finally led to a major milestone for the partnership: the first Virgin Atlantic passenger flight powered — at least in part — by LanzaTech's fuel. Flight #16 from Orlando International to London Gatwick was chosen for the honor. And if there wasn't already enough AvGeek appeal to the flight, it turned out to be a flight operated by the Queen: the Boeing 747-400.
It's worth noting that less than 10% of the fuel in the tanks on this flight was the LanzaTech fuel, given the small production scale the company is currently limited to. Future flights will push the mix up to 50%, though that will depend on LanzaTech increasing its production capacity.
BONUS: Lounge Review – Virgin Atlantic's Clubhouse at San Francisco SFO
Before the flight, Virgin Atlantic CEO Craig Kreeger and LanzaTech CEO Jennifer Holmgren held a joint press conference with the airport as a backdrop. Instead of chest thumping, the pair was humble in framing the news, characterizing the industrial carbon capture technology as one of many solutions needed to make aviation more sustainable.
In addition to the two CEOs, the press conference featured a representative from the National Wildlife Federation and another from Boeing, which was a key helper as the LanzaTech fuel was being developed and tested.
With that, the contingent headed for the gate, where the plane was being fueled up.
As always, it was a total joy to fly on the Queen of the Skies. Virgin's 747s largely operate from Gatwick and Manchester, while its Heathrow operations are dominated by its Dreamliners, Airbus A330s, and gas-guzzling A340s.
We were seated in the Premium cabin, which is Virgin's premium economy product. At 2-4-2 across, it's a much roomier seat than the 3-4-3 configuration for standard economy.
BONUS: Flying On Bubbles – Upper Class on a Virgin Atlantic A340-600
Even though the aircraft was far from new, the cabin interior looked fresh and sported Virgin's characteristic jazzy lighting scheme.
Once boarding was completed, the crew made an announcement highlighting the historic nature of the flight. We were curious if passengers would be antsy about being on the flight, but most people were either excited or unfazed.
We enjoyed a glass of sparkling wine during boarding. The flight pushed back on time and a few minutes later was airborne. For what it's worth, the whiff of fuel exhaust fumes during engine startup smelled totally normal to us.
We settled in for the inflight service, which was delivered in real dinnerware in Virgin's premium economy cabin. We'll have a full review of Premium class in a separate article.
To commemorate the flight, every passenger got a custom luggage tag — a nice touch!
Other than the press conference, PA announcement, and the bag tag, the flight felt like any other flight.
The Landing
After a restful night's sleep over the Atlantic, we awoke to a beautiful descent over England's southern coast. And just before the double chimes, Virgin Atlantic CEO Craig Kreeger made an announcement on the PA system congratulating the crew on the flight's success.
The Surprise
As the 747 pulled into the gate at Gatwick, it was met with a big surprise: Virgin Atlantic founder Sir Richard Branson, grinning from ear to ear.
BONUS: Boeing and ANA Conduct The First 787 Dreamliner Biofuel Flight
He also took part in a press conference at the airport, voicing his appreciation for the Virgin and LanzaTech team (and their partners) in the achievement of the milestone flight.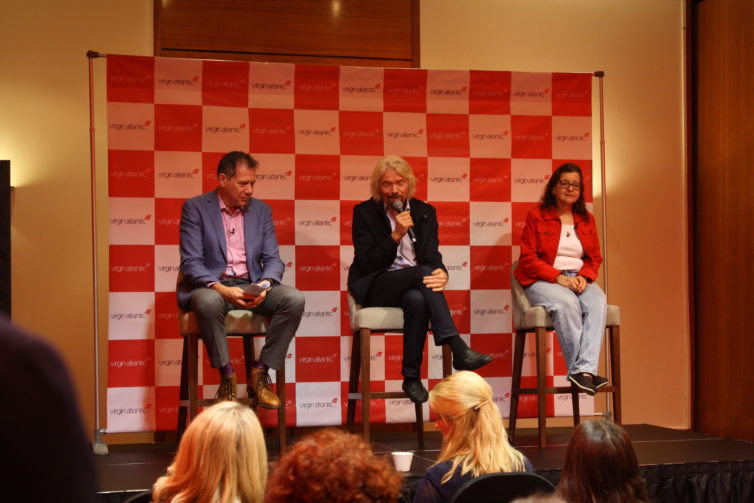 The Significance
How does this flight fit into the bigger picture of sustainable aviation? We see it as an important — but incremental — milestone along a long path of many other steps needed to get the aviation world to its goal.
Why incremental? Remember that only a small proportion of the fuel in flight #16's tanks was LanzaTech fuel. Right now, there isn't enough production capacity to support regular commercial flights. So we're still many years away from Virgin's ultimate goal of fueling 50% of its London outbound flights with LanzaTech supply.
Even so, we think Virgin and LanzaTech are right to be proud of their progress. It's incredible that their technology exists and has been proven, and now it's just a matter of encouraging investment in the technology so that LanzaTech can produce the fuel at scale. The company points out that two-thirds of the world's steel mills could serve as sources of carbon for its process, which could produce enough fuel to cover 20% of global commercial aviation's fuel needs. And because the LanzaTech process utilizes unused industrial waste as its carbon source, it's very possible that its fuel will be competitive from a cost perspective with standard jet fuel. And in the meantime, Virgin will continue taking delivery of aircraft like the Dreamliner and (starting next year) the A350 to reduce its overall fuel burn.
All in all, there's reason to be optimistic about a greener future for aviation!
Now it's time for us to hear from you. Share your thoughts in the comments section below. 
Note: Virgin Atlantic provided our ticket and accommodation for this trip. All opinions are our own.