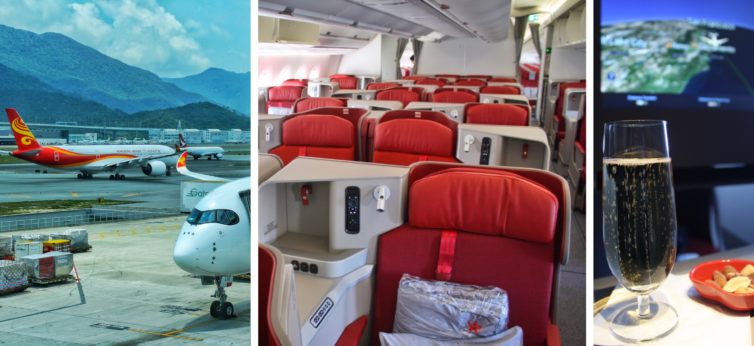 Hong Kong is a dazzling city. With a dazzling international airport. And some great hometown airlines. Though not the oldest or largest among them, Hong Kong Airlines has arguably been the most exciting over the past year, launching new long-haul routes to North America on the wings of its small new fleet of Airbus A350s. With that unique aircraft's help, the airline launched service to Los Angeles, San Francisco, and Vancouver over the past year.
We have a blast reviewing airlines for the first time, and we got to do exactly that with Hong Kong Airlines on a flight to its Hong Kong (HKG) hub from San Francisco (SFO), barely a month after the route launched. From the fresh and roomy business class seats to the impressive dining experience, we found a lot to get excited about. Plus there's the AvGeek joy of flying on the relatively new A350!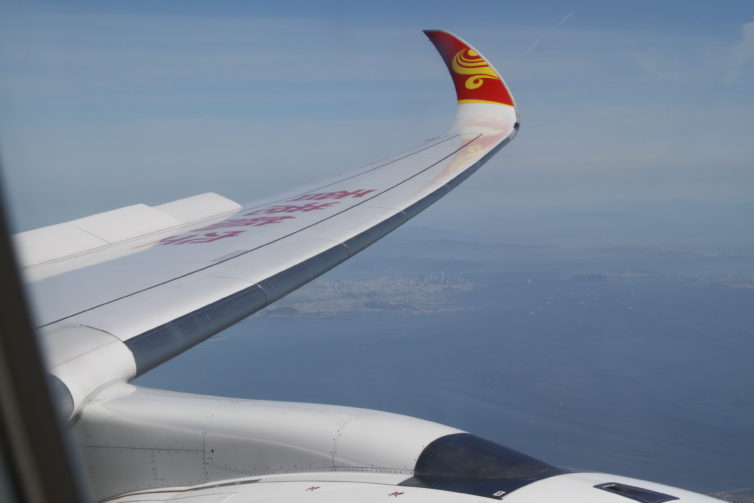 Read on for plenty of photos, videos, and thoughts on Hong Kong Airlines' A350 inflight experience.
On the ground @ SFO
Hong Kong Airlines' check-in counters at San Francisco International (SFO) are right next to security.
A lot of international airlines don't yet participate in the TSA PreCheck program, and Hong Kong Airlines is no exception. But with my business class boarding pass I was guided into the priority security queue, which cut down significantly on my time in line.
Hong Kong Airlines doesn't have its own lounge at SFO. Business class passengers get access to the Air France KLM lounge, which is nothing special and tends to get crowded. Besides some pretty solid views of the ramp, it's not worth getting to the airport early for.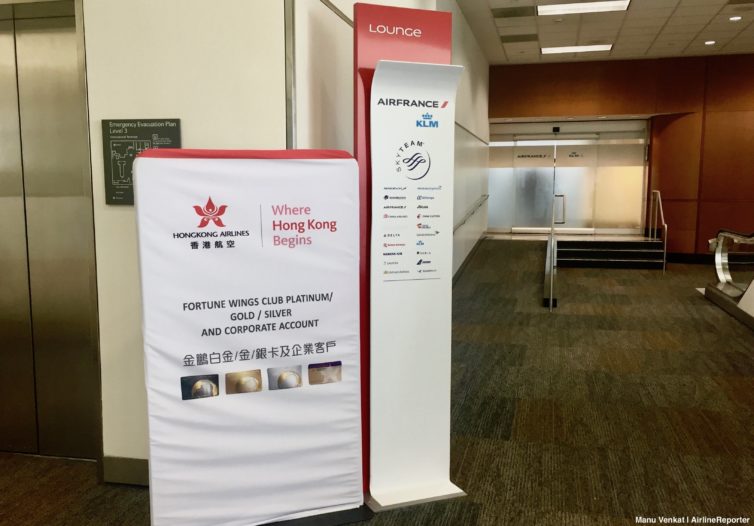 I dropped by for just long enough to check the lounge out, then headed for the gate.
Before boarding, I caught a glimpse of the plane that would be taking me the 6,000+ nautical miles to Hong Kong.
Exploring the Cabin
Hong Kong Airlines' first four A350s — the entire fleet for now — feature a staggered 1-2-1-across business class product. Similar layouts can be found on airlines like Asiana and Iberia, though the version on this A350 looked particularly fresh. Both the seat upholstery and the overall cabin color palette were comparable to what you'd find on Hong Kong Airlines' sister, Hainan Airlines.
We'll share some tips on seat selection in a separate article, but the main takeaway is that window seats in even-numbered rows are amazing for solo travelers, offering the best window views and lots of privacy. I was seated in 20K, the rearmost window seat on the right side.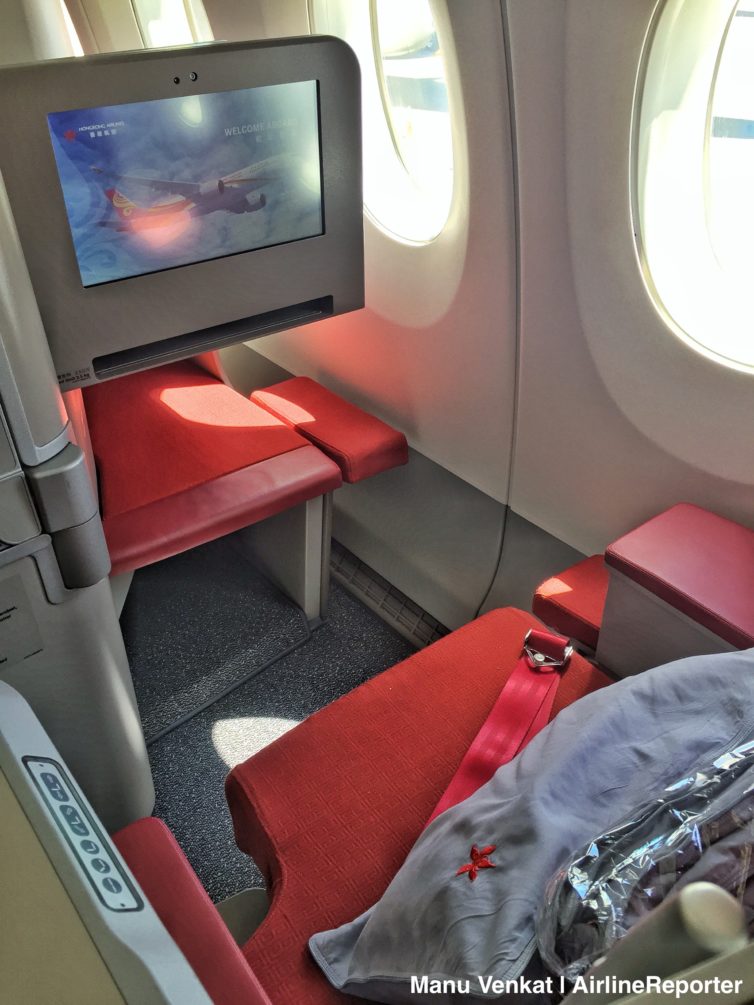 My seat was exceptionally wide, offered great privacy, had a spacious footwell, and had plenty of space for inflight storage (though most of it could not be used during takeoff and landing).
Beside me, a ledge offered place for storing small items. Two USB ports, a three-prong headphone port, my IFE remote, and my reading light were within easy reach.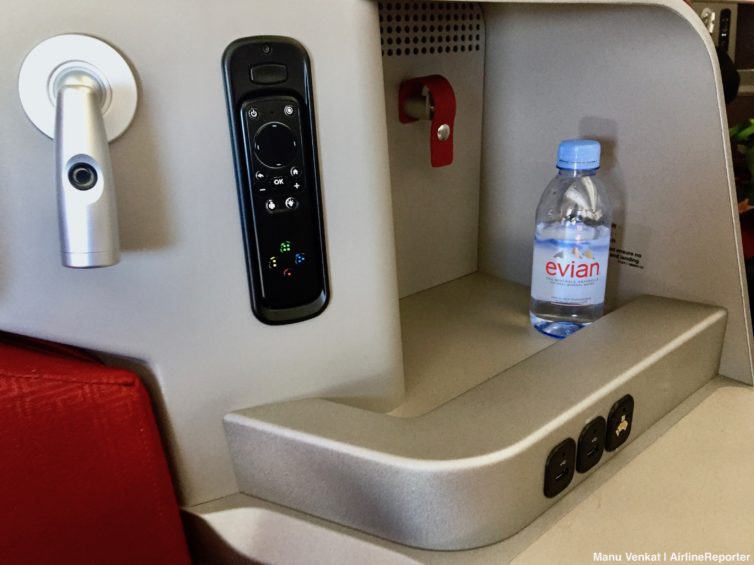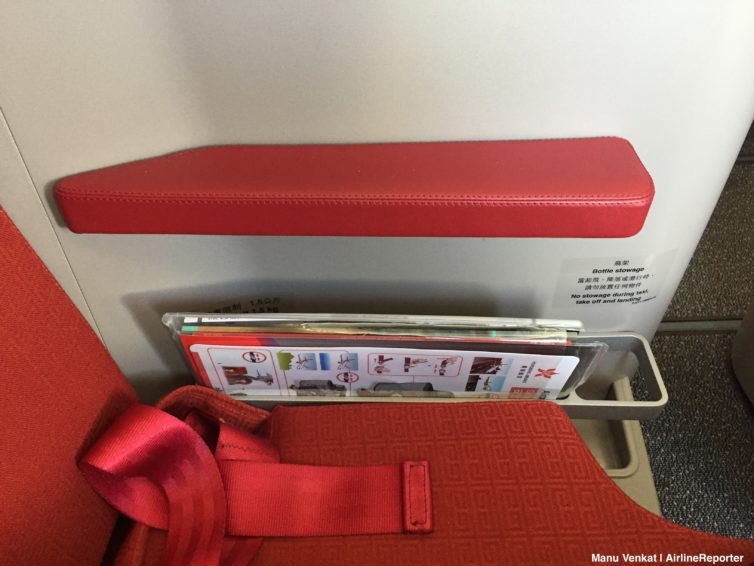 The seat goes fully flat. As a nice point of differentiation from other airlines' version of this seat, a set of pads along the sidewall make the already wide seat into an even wider bed. It's the widest fully-flat bed I've ever flown in business class.
I do wish the seat padding was softer or more contoured. The seat is so firm that it's a bit hard to get 100% comfortable, both in the upright position and in the sleeping position. Hopefully the padding softens up as the seats get used more.
Staggered seat arrangements may not be everyone's cup of tea, but future A350 deliveries are likely going to receive a reverse herringbone seat that will be extra-spacious and offer more consistency between seats. Hong Kong Airlines picked up their first few A350s after another airline canceled their order, thus the inconsistency in product.
BONUS: My First Flight on the Airbus A350
Departure
The purser came through the cabin to introduce himself, followed by a flight attendant with a choice of non-alcoholic drink, inflight service menus, and slippers.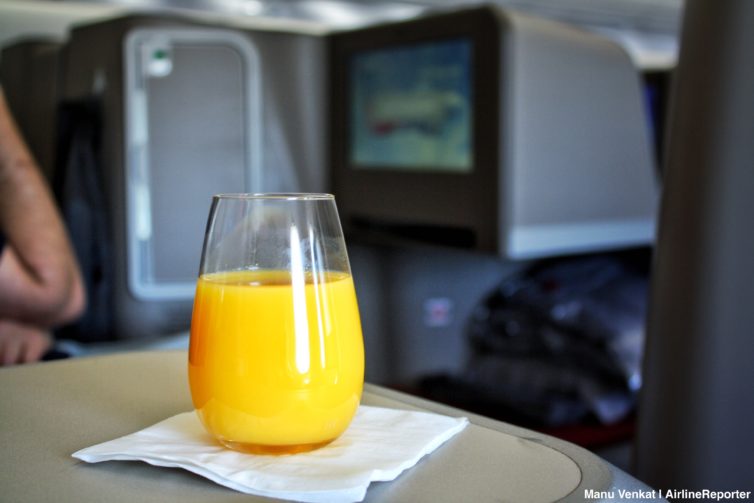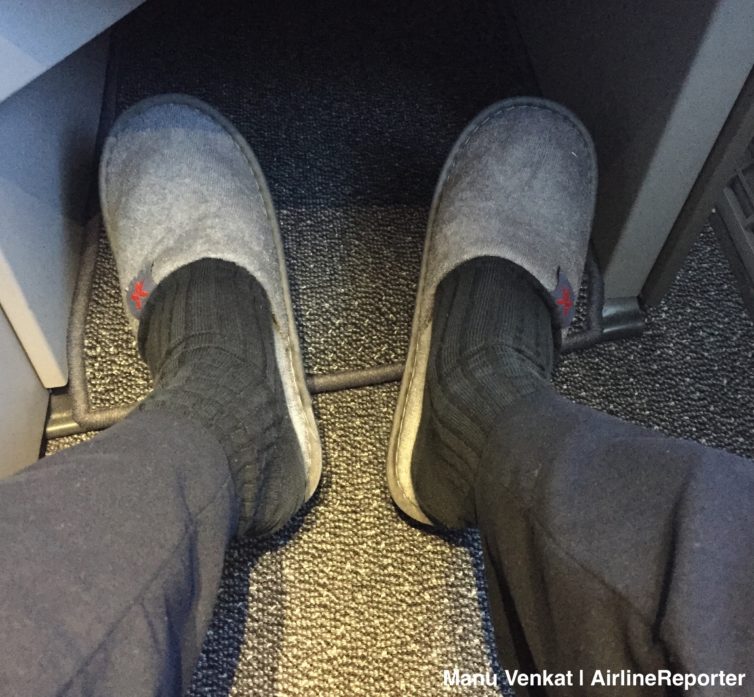 The slippers came in one size only and were a little small for my feet.
Boarding was completed on schedule, and I enjoyed an amazing view out the window as we departed SFO to the northwest.
%CODE1%
Inflight Service
Flight attendants wasted no time kicking things off once we were in the air. Precisely fifteen minutes after takeoff I was served champagne and mixed nuts.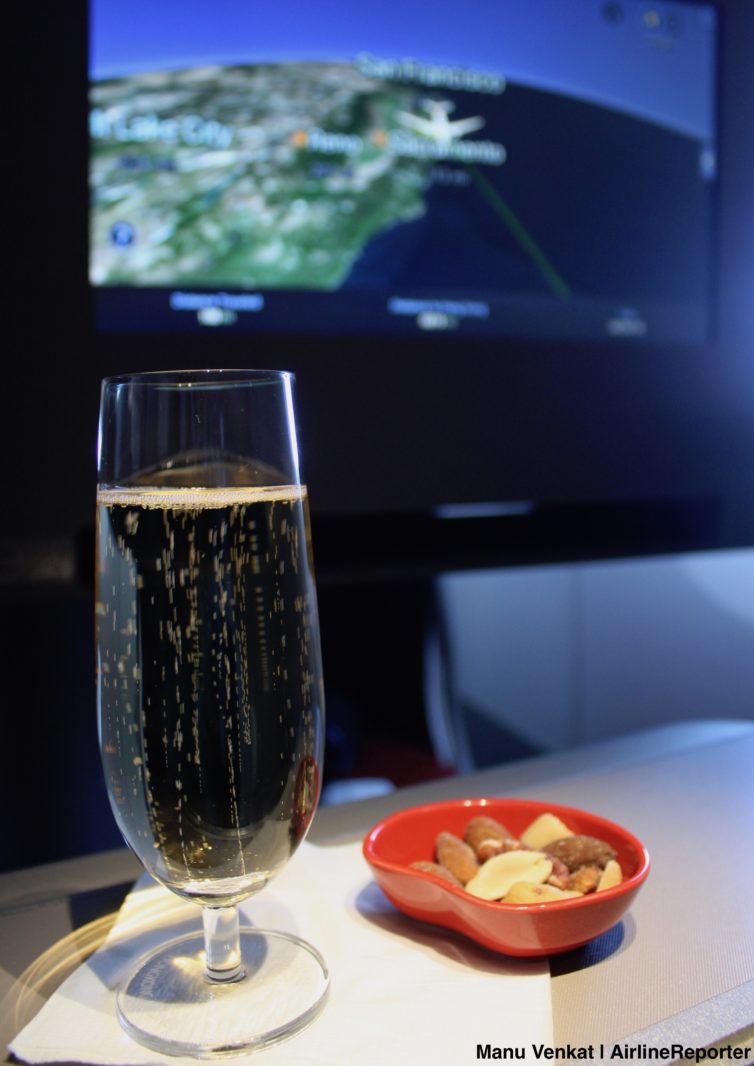 Drink in hand, I took a look through the menu. The cover and contents were filled with playful illustrations. An intro page noted that "as an airline that is growing its global presence, we believe in introducing you to an authentic taste of the many destinations we now serve." For this flight, this meant featuring items from local S.F. chef Chris Consentino.
The meal began with a unique kohlrabi caesar with shrimp, along with a simple but refreshing salad. They tasted as great as they looked, complementing each other wonderfully flavor-wise.
Flight attendants were excellent about serving each passenger at their own pace. The complexity of that approach did lead to the occasional hiccup — like me getting offered my entree before my soup had arrived. But that was fixed quickly, and the rich cream of mushroom soup was very worth it, as was the excellent garlic bread.
For my entree I went with the SF chef-inspired short rib, which was melt-in-your-mouth tender. Given that it was part of a five-course meal, I appreciated that the portion wasn't overwhelming.
To close out my huge and very tasty meal, I tried the cheese selection, the strawberry-balsamic panna cotta, and some port.
It was a very impressive meal for business class. Every dish was presented beautifully and had flavor to match.
Inflight Entertainment
My flight was a noon departure and I was in no mood for sleep after lunch, so I dove into the inflight entertainment options. My favorite were the two external live camera views, a total AvGeek win!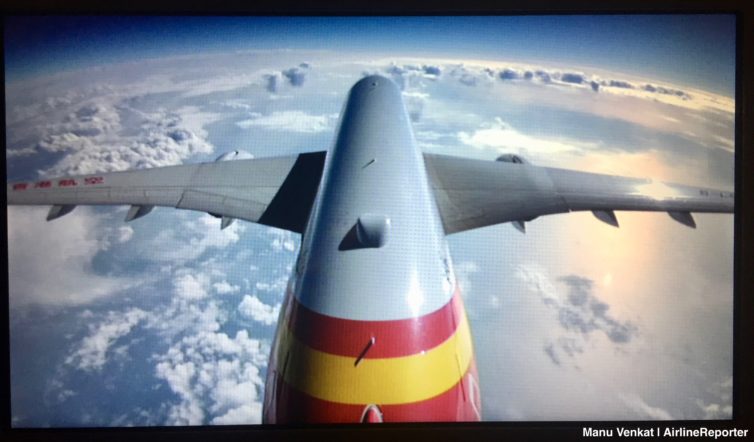 The airshow was one of the sleekest and most customizable ones I've seen.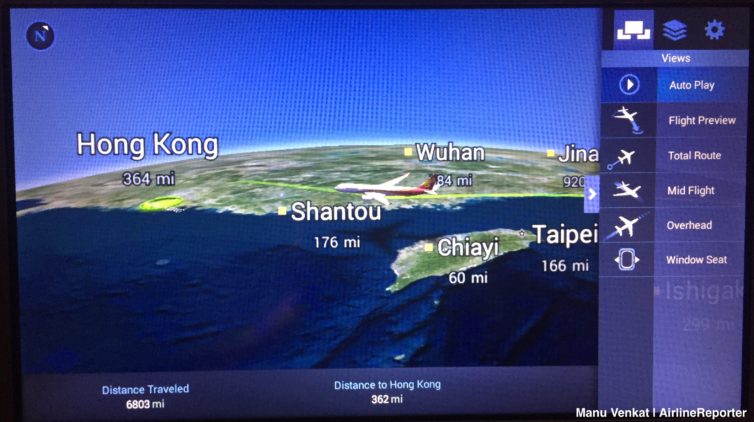 There were more than enough movies — including recent releases — to keep me occupied on both the outbound and my later return leg.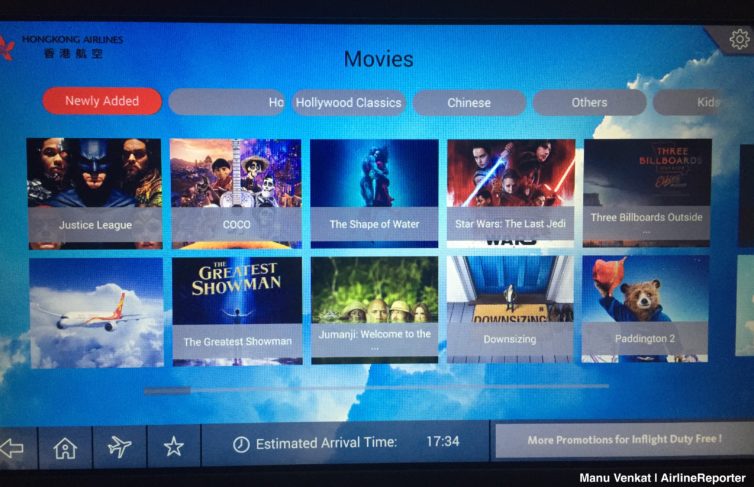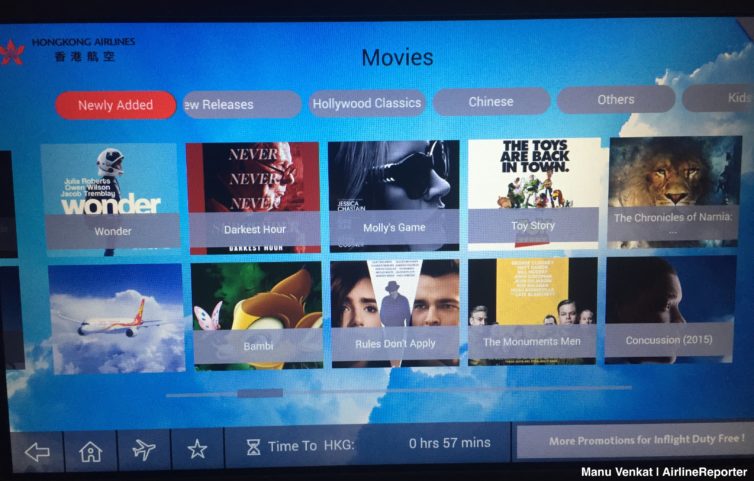 The library of television shows was a bit more limited.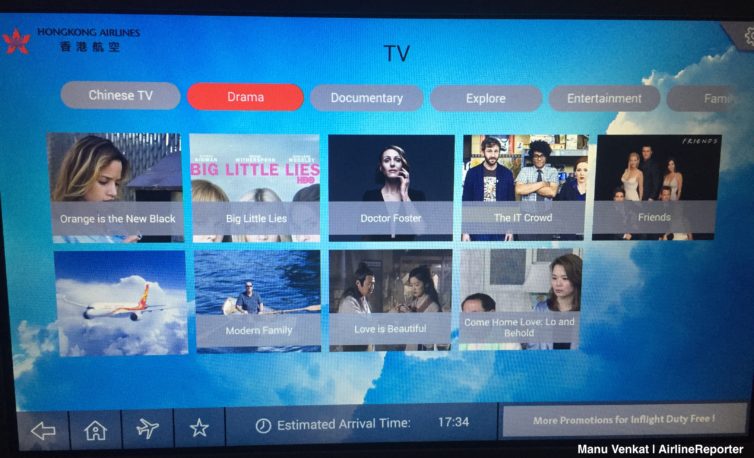 BONUS: Jason Watches the Airbus A350-1000 Fly for the First Time
Business class earphones looked, felt, and sounded relatively cheap. At least they didn't have to block much sound out, since the A350's forward cabin is a quiet ride.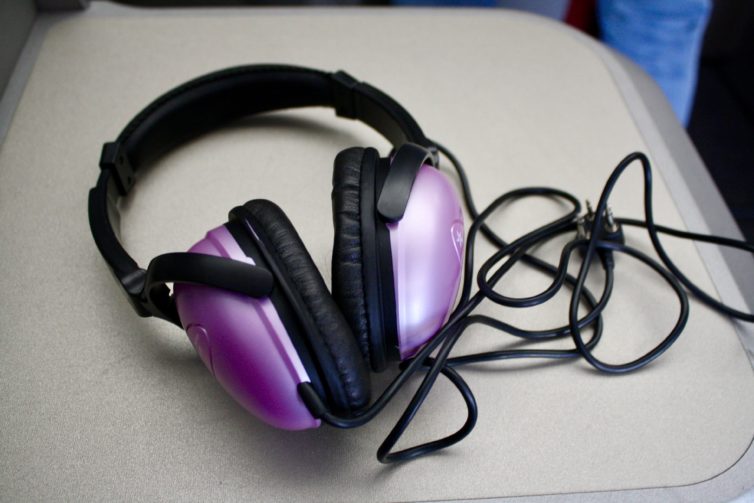 Inflight WiFi was available for $20 for the full flight, which was a great deal. Speeds varied but were generally usable.
Who else loves hunkering down with a blanket and a drink and rewatching movies on planes?
Rest & Refresh
Hong Kong Airlines offers a set of L'Occitane amenities in a simple Hong Kong-themed canvas case.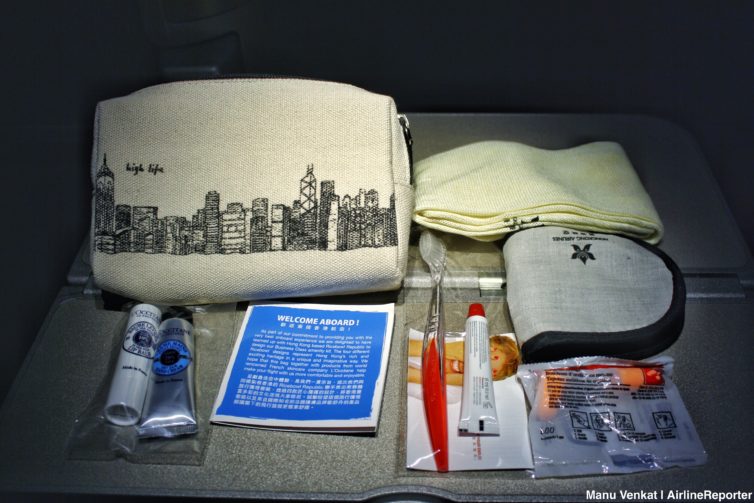 The business class cabin had two modestly-sized lavatories. Each was stocked with extra L'Occitane hand products.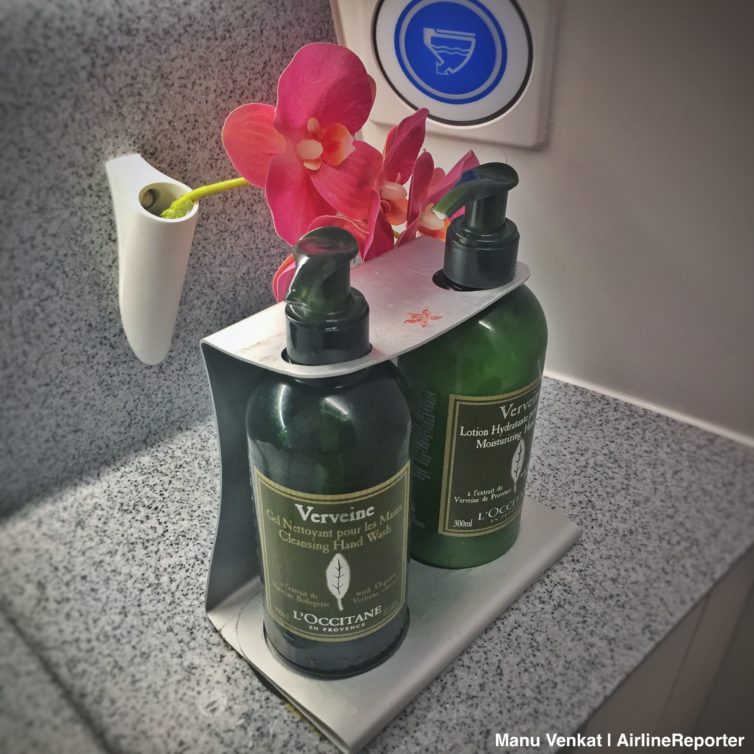 I finally started feeling drowsy and decided to get some sleep. Hong Kong Airlines' pillow and blanket are both soft, and the pillow in particular is very substantial.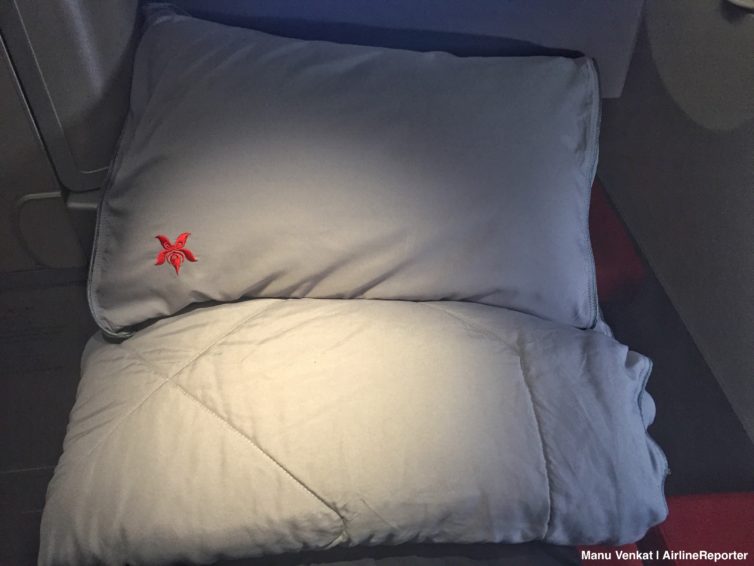 Before drifting off, I took a moment to appreciate the overhead mood lighting, which together with the overhead bin design on the A350 gave the cabin a stylish and roomy feel. One of the many advantages of flying a new aircraft model!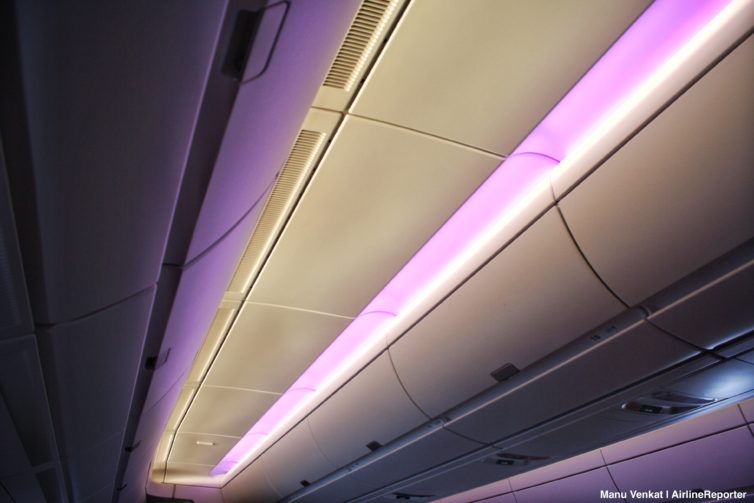 Thanks to the bedding and the extra-wide fully-flat bed, I had no trouble getting a solid six hours of restful sleep.
Mid-flight Snacking
I woke up as we were just south of Kobe, Japan. I took a look at the inflight snack menu and ordered the selection of dim sum, which hit the spot.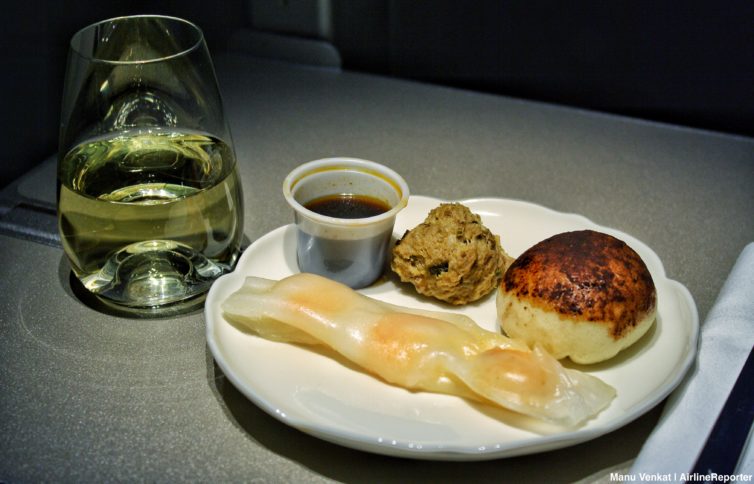 For those looking for something simpler, flight attendants had set up a self-serve snack station in the galley. Between meals, flight attendants were pretty hands-off, though they were a few seconds away with the help of the call button.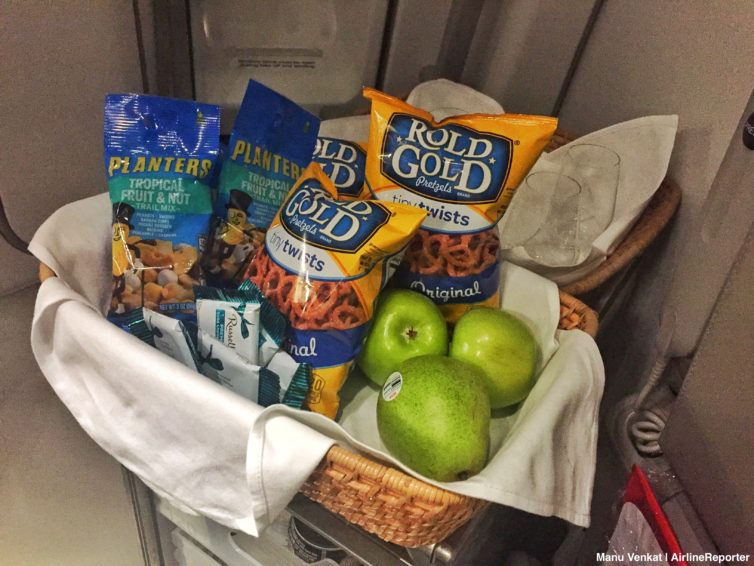 Final Meal Service
Speaking of food, there were only 90 minutes left in the flight and it was time for the final meal service, which was billed as a "refreshment." I opted for the stir fried shrimp with egg white and yellow chives, e-fu noodles, and seasonal vegetables. Along with some raspberry mousse cake, the meal was enjoyable, though not as memorable as the first service. As per usual for Hong Kong Airlines, warm bread (including some more awesome garlic bread) was served with the meal.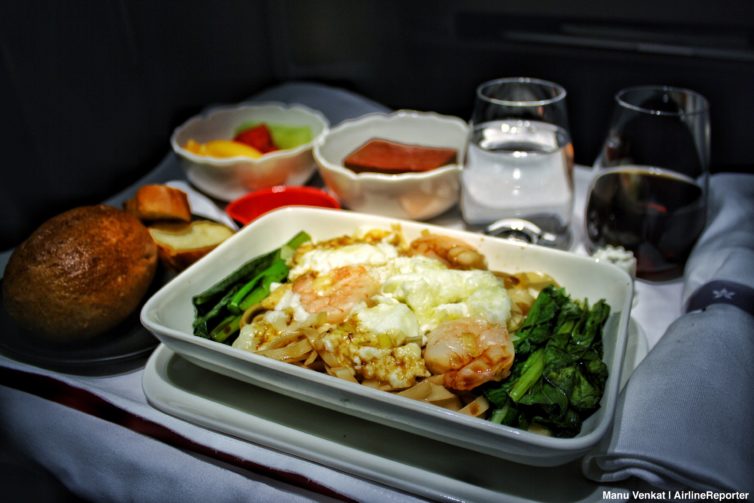 My flight attendants made quick work of the dishes when I was done, leaving me with plenty of time to freshen up before enjoying a beautiful descent into Hong Kong.
%CODE2%
I caught a final look at the gorgeous A350 as I deplaned.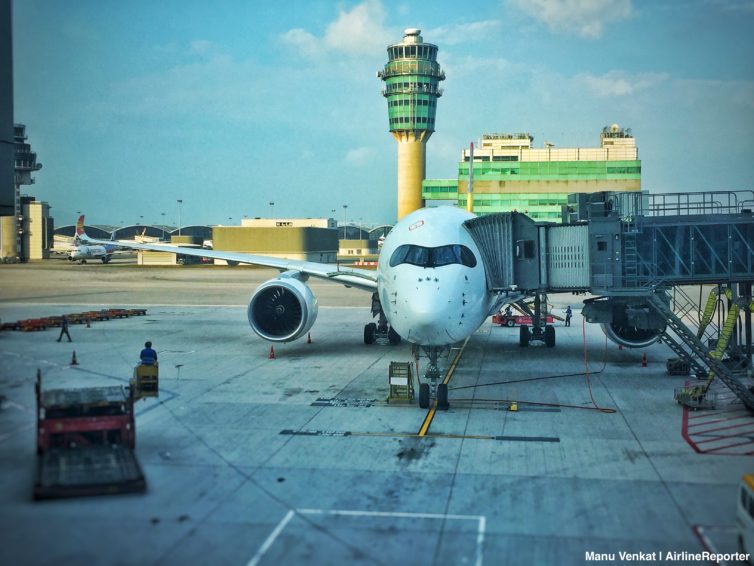 Then it was off towards immigration on the people-mover…
… and then into the city just in time to see it shine by night.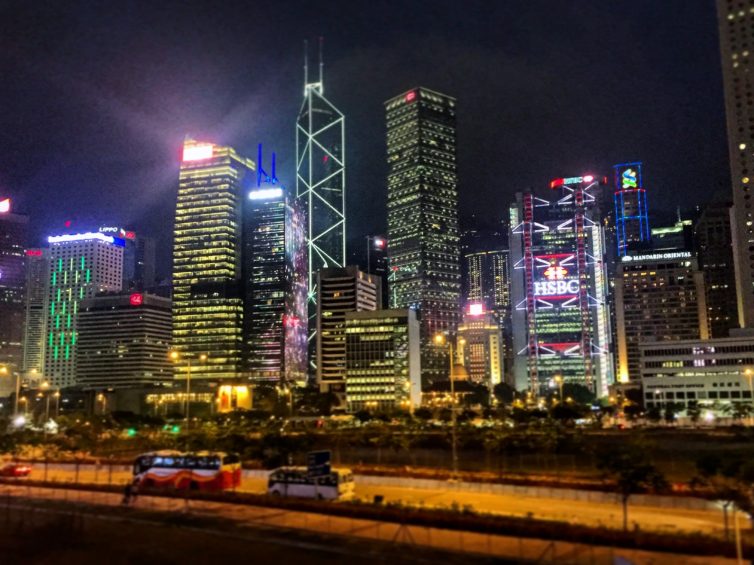 BONUS: Qatar Airways Airbus A350 Long-Haul Review — Inaugural Service to Boston
The Final Verdict
Hong Kong Airlines may be a new player in North America, but they've busted onto the scene with style. Hong Kong isn't an easy market for a new airline to prove itself in, with juggernaut Cathay Pacific known for a strong overall inflight and ground experience. But I'd say Hong Kong Airlines can hold its own against its local competitor and other airlines connecting Asia and North America.
Here's a recap of the winning factors:
Flying new planes is always a treat, and it's hard to get much newer than Hong Kong Airlines' brand-new A350s.
The business class seat is plenty wide, and with the lateral expanders along the sidewall it became the widest flat bed I've ever slept on in business class.
I'm a foodie, and the five-course main meal service was amazing from both taste and presentation perspectives. Featuring dishes inspired by local chefs in the departure city is a nice touch.
Service was friendly and professional. This was an invited flight experience, but taking a look at other passengers' service on my flight (plus what I've read elsewhere), I think flight crews for Hong Kong Airlines' long-haul flights are often above average.
Of course, there's always room to improve. Although Hong Kong Airlines' business class seat is incredibly spacious, the overly firm seatback and seat pan keep it from delivering peak comfort. A mattress pad could go a long way in addressing that issue. For the San Francisco route, I wish they contracted with a different lounge, because the Air France/KLM space was crowded before my flight's departure. Finally, the airline's lack of participation in a global alliance makes it a bit less accessible and less rewarding to fly from a miles/points perspective.
All told, I found Hong Kong Airlines' business class experience impressive and well above average. I'd go out of my way to fly them again.
Now it's time for us to hear from you. What did you think about our take on Hong Kong Airlines' A350? Have you flown the airline before? Share your thoughts in the comments section below.
Author's note: The airline provided our itinerary for the purposes of this article. All opinions are our own.