There used to be a lot of fanfare when airlines retired their flagship subfleets. But thanks to COVID craziness, carriers are sunsetting aircraft types left, right, and center. To celebrate these newly-retired planes, we're compiling stories we've written on some of these recently-retired fleets, and it made sense to start with the queen herself: the Boeing 747-400.
It has been over 30 years since the first 747-400 took flight — an eternity in the fast-moving aviation world. The Queen of the Skies was still going strong with a few airlines coming into 2020. But there was no doubt that when airlines started retiring planes, the 747-400 would be first in line to go. Four-engine planes are less fuel efficient than dual-engine types like the Boeing 777 or Airbus A350. And most of the 747-400s flying are pretty old. A few airlines like Delta and United had already retired the type (checkout the links for our stories). But this year, a few others joined them thanks to COVID.
Let's send the recently retired 747 fleets of four major airlines — Qantas, BA, Virgin Atlantic, and KLM — off into the sunset in style. Read on for a recap of our favorite stories flying on those airlines' 747s!
Qantas
Farewell Old Girl? Is the Sun Setting on the Qantas Boeing 747 Thanks to COVID-19? – Back in April, perceptive AR contributor Owen Zupp prognosticated about the potential retirement of Qantas' 747-400 fleet. The article is a wonderful celebration of an aircraft that served as the flagship of one of the southern hemisphere's largest and AvGeek-friendliest airlines.
Queen of the Skies, Bound for Antarctica – Definitely one of the more unique flights out there! Every once in a while, Qantas would fly a sightseeing flight to Antarctica, giving adventurous travelers a chance to see the continent from the air. Owen Zupp took us onboard one of these flights, with some incredible photos and a detailed recounting of the experience.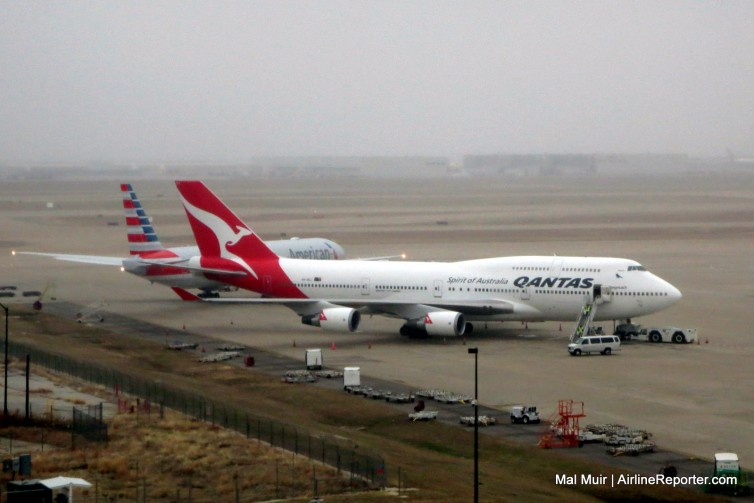 Economy, Premium Economy, and Business Class on Qantas, Oh My! – The second half of this trip report (from frequent AR writer Colin Cook) recounts a trip in Premium Economy on a Qantas 747. Unfortunately that particular leg of the trip wasn't the best experience, but he still enjoyed getting to fly a 747.
British Airways
Most other airlines operating the 747-400 were getting ready to retire them anyways. But BA was one of the airlines that invested in their 747 fleet with plans to keep them aloft for years longer — which makes their recent retirement an especially tough break.
Old Guard Vs. New: Flying First Class On a British Airways 747 – Colin Cook takes us onboard a British Airways 747 to fly their most premium product, first class at the nose of the flagship 747. Life in the skies doesn't get much better than that.
Flight Review of British Airways' 747 First Class – Take the trip from the previous link, and take it back in time a few years, and that's what you have here. Fresh from the 2014 archives. Bernie Leighton flies at the nose of a BA 747 in first class and, though he focuses mostly on the service in this story, the experience has some extra fun flavor thanks to the 747 operating the flight.
Virgin Atlantic
Goodbye Virgin Queen … An Elegy for a 747 – You better have tissues ready before you read this one. A short, poignant piece from Jeremy Dwyer-Lindgren about the Virgin Atlantic 747, an aircraft that captured his imagination as a young AvGeek but that ultimately he never got a chance to fly.
A Milestone for Sustainable Aviation: Virgin Atlantic's First Flight Powered By Jet Fuel Made From Industrial Pollution – Who says you can't teach an old plane new tricks? A few years ago Virgin Atlantic piloted a high-tech partnership to use sustainably-produced jet fuel to power some of its flights. A 747-400 was a testbed for the program, and we got to join on the inaugural passenger flight using the special fuel. From start to finish it was an amazing ride.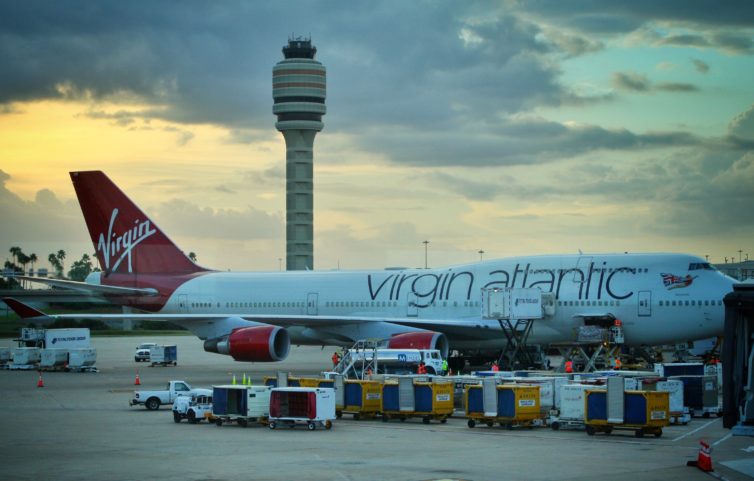 KLM Royal Dutch Airlines
Ciao, Combi! KLM Sends Its 747 Fleet Off Into the Sunset – This was our feature story a few months ago about KLM's 747 fleet retirement. We focused on the Combi, an unusual version of the 747-400 in which the entire rear half of the main deck is an additional cargo space.
My Rwanda Trip Provided Some Amazing AvGeek Experiences – Traveler Matthew Chasmair chronicled a trip from Toronto to Rwanda via Amsterdam, with the transatlantic legs flown on a 747-400.
Blog reader SpeedbirdHD caught a 747-400 takeoff from an amazing head-on perspective.
Bonus:
Living The Dream, Flying Seat 1A on a 747 – United's 747s were retired well before COVID came. But I'd never miss the chance to relive one of my favorite 747 memories: using miles to fly seat 1A at the nose of a 747-400 — one of the few passenger seats in the airline world where you can see forward AND sit farther forward than the pilot.
Now it's time for us to hear from you. What are your favorite Boeing 747-400 memories? Share in the comments section below.