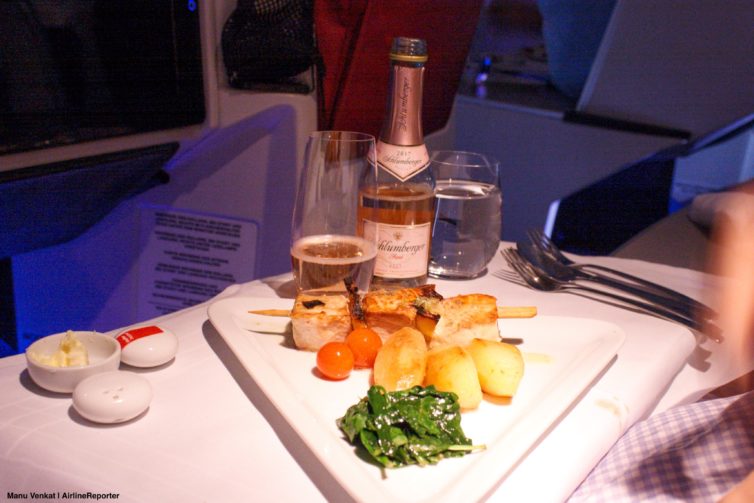 Even at ground level cooking a fancy meal can be tricky. That's why I'm so amazed by the delicious meals I've had while speeding at 600 miles per hour miles in the sky in a narrow metal tube. The fact that airlines can make restaurant-quality meals happen under those constraints — at least in premium cabins — is pretty awesome.
Probably the best food I've had in the skies was aboard Turkish Airlines, which relies on an Austria-based company named DO&CO to deliver its "gourmet entertainment" in the skies. So of course Austrian Airlines, which also uses DO&CO for premium cabin catering, has been high on my list ever since. I finally got the chance to fly 'em and try 'em. What did I think? Read on to find out!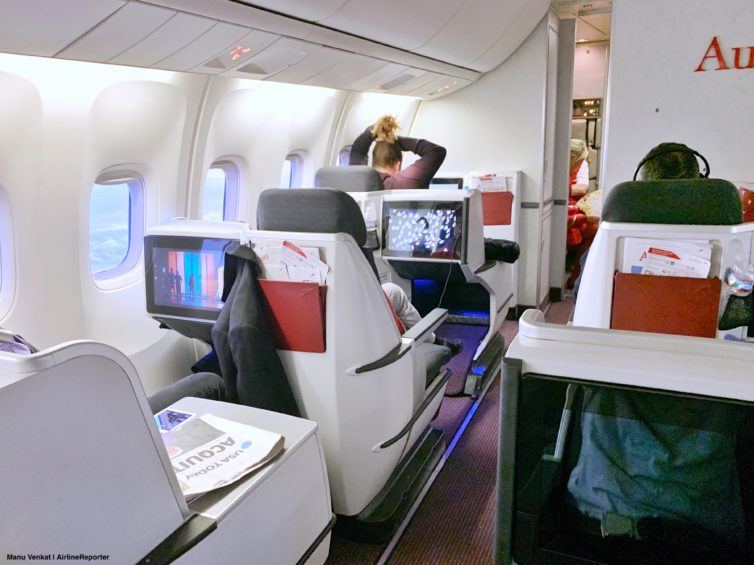 A Polaris Pre-Party
This wasn't any ordinary trip for me. It was my honeymoon, and it was the first time my wife and I were flying together in a premium cabin. So I wanted to start things off in style. Austrian flies out of both New York JFK and Newark Liberty, and I knew that at Newark we would have access to United's amazing Polaris lounge, which is probably the single best business class lounge across the New York airports.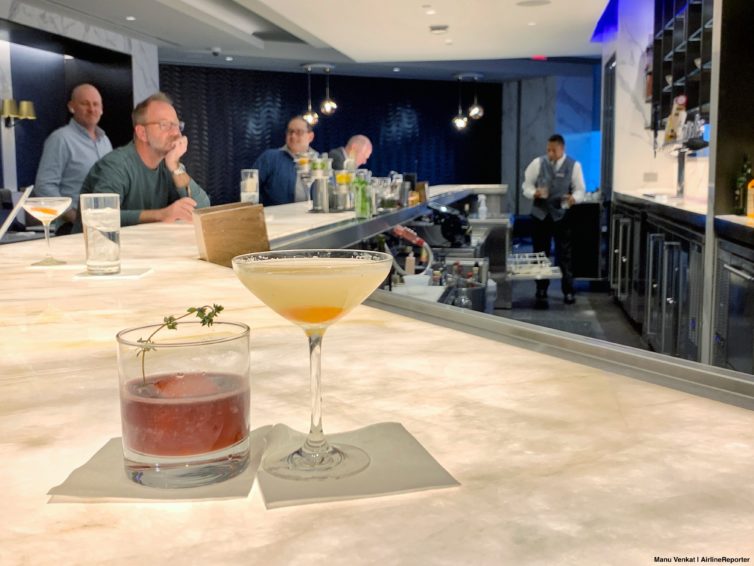 Below is a summary of the passengers who have access to United's Polaris lounges. Because we were flying long-haul on a Star Alliance carrier we had access.
Fair warning, though: if you're flying out of Newark on one of United's Star Alliance partners, it's a logistical nightmare to visit the Polaris lounge since it's in a different terminal than your flight. We were leaving out of terminal B concourse 3. Technically there's an airside (post-security) shuttle connecting terminal C and the B3 concourse, but we heard it may only be possible to travel from C to B but not the reverse direction. So we had to first go to terminal B to drop our bags, then get to Terminal C landside (usually via the AirTrain, but it was closed the day we were there), and deal with the terminal C TSA agents confused why we were clearing security in terminal C when our flight was in terminal B.
By the time we were done with the rigamarole we didn't have that much time to hang out at the lounge, so we made a beeline for the restaurant-style dining room. As I knew from my previous visit there, the food was incredible.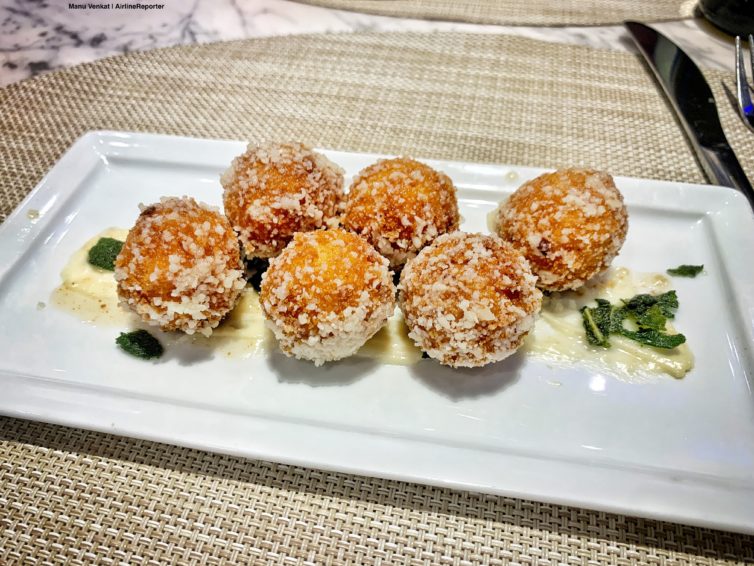 BONUS: Los Angeles' Newest Star — United's Polaris Lounge Shines Bright at LAX
I got my favorite cocktail, the paper plane, which at the Polaris lounge comes with an actual paper plane clipped to the side.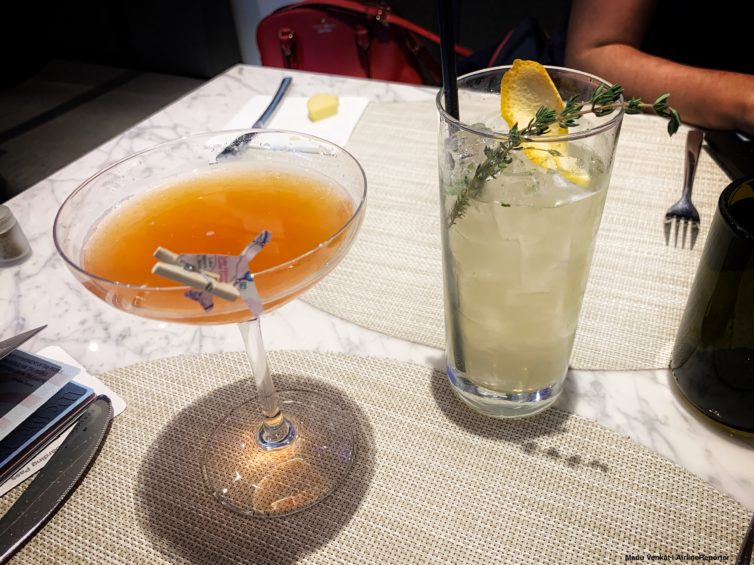 The food, drink, and amenities at the Polaris lounge are out of this world. It's a must-visit if you're flying United long-haul out of Newark. If you're flying a non-United Star Alliance airline out of Terminal B, you'll have to decide for yourself if the hassle is worth it. Once we were done at the lounge we took the airside shuttle to terminal B just in time to board.
All Aboard!
Austrian's long-haul fleet consists of six 777-200ERs and six 767-300ERs. The 777s have an average age of 19 years, and the 767s have a whopping average age of 24 years. Yikes. It's really not a fresh fleet. My flight's 767 was delivered to Lauda Air back in 1992, making it just a year younger than me.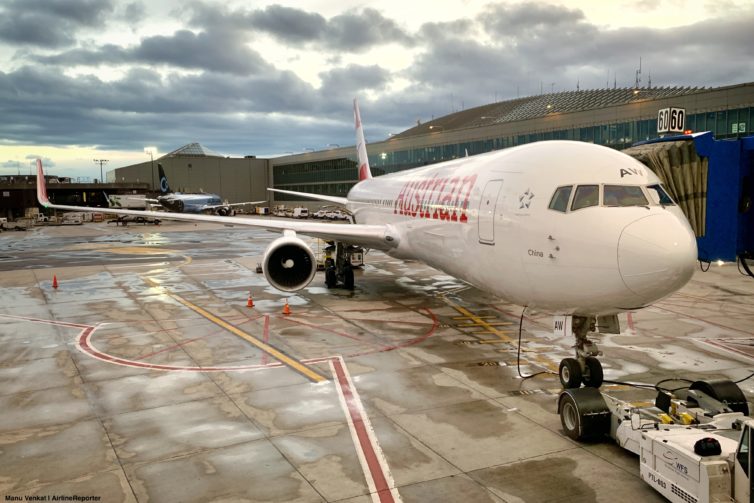 Austrian has staggered business class seats, and the onboard hard product is (thankfully) much newer than the aircraft they fly on. There's also a cozy premium economy cabin.
It's a brightly-lit, clean looking cabin, though without any privacy features.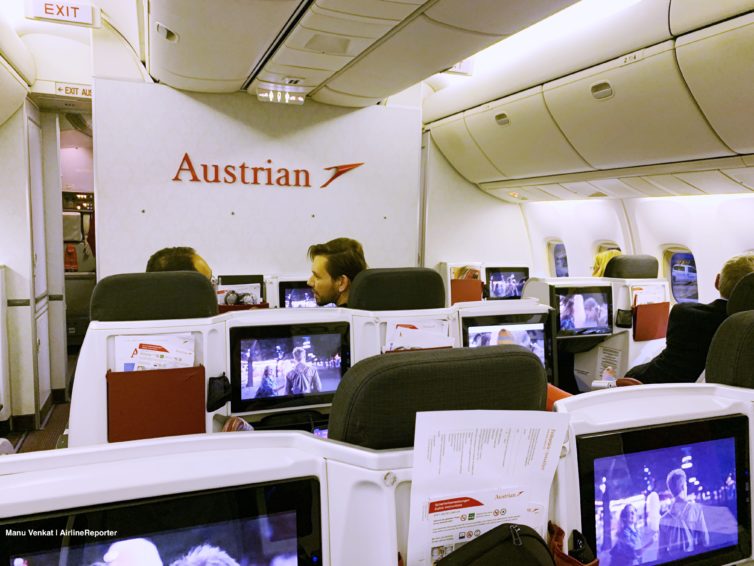 If you want to sit next to a travel companion, your only choice is sitting in the middle section. For solo travelers, window seats in odd-numbered row are the most private.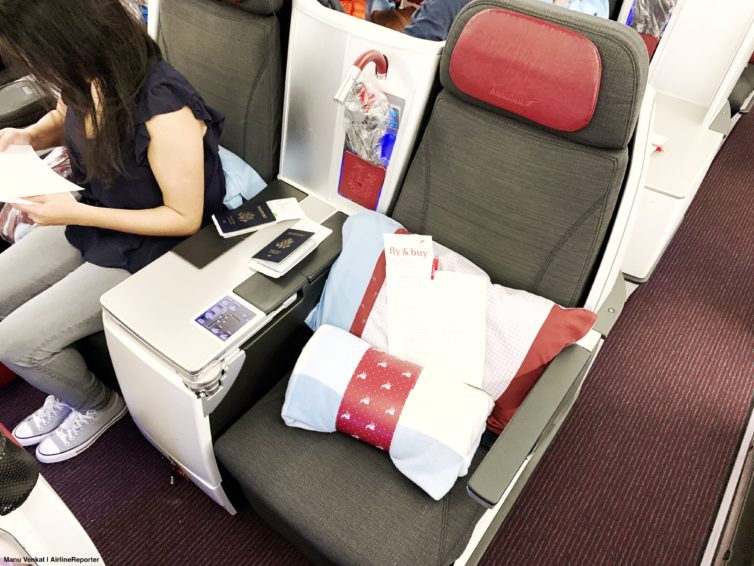 Once I took my seat I noticed the footwell was pretty narrow, similar to footwells in other staggered business class seats. The main positive factor was the relatively large entertainment screen.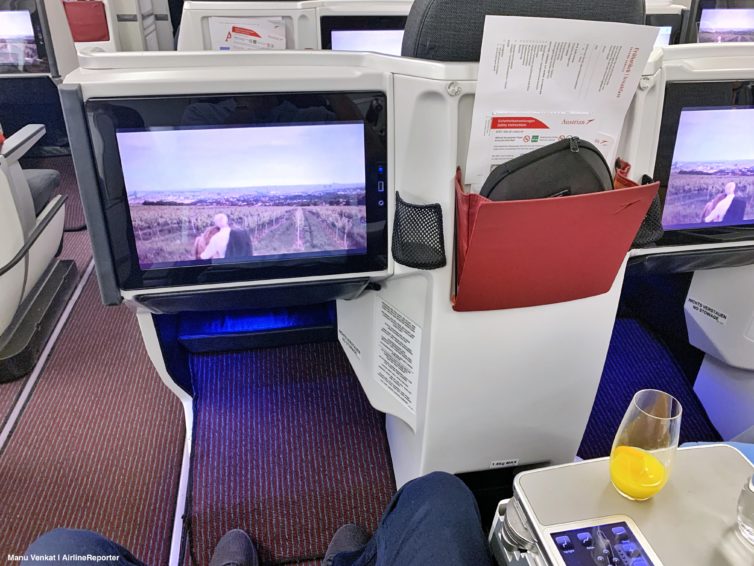 Seat controls were simple and intuitive.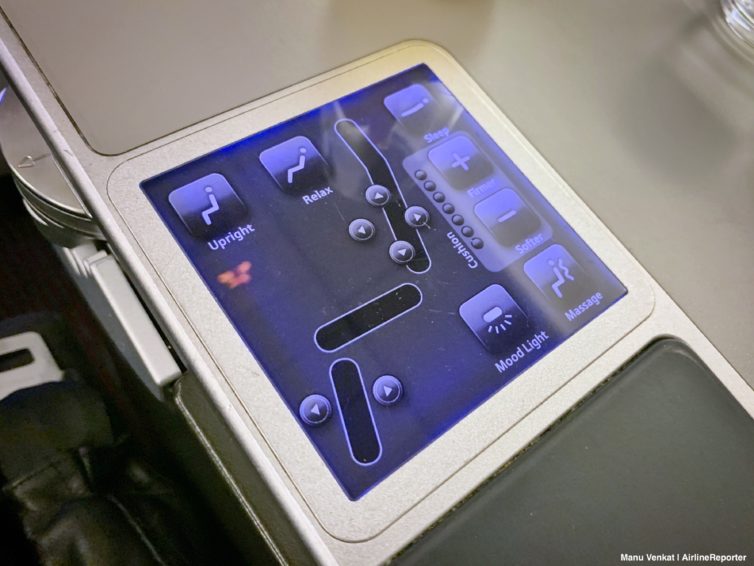 I guess Austrian doesn't pay the fee to serve alcohol on the ground in the US, so pre-departure beverages were limited to juice and water.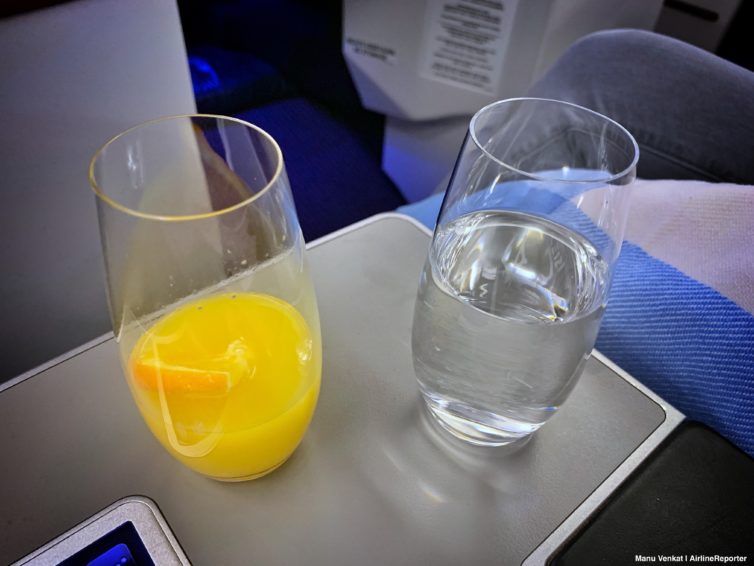 BONUS: The Flying Schnitzel — Austrian Airlines Economy Class
This was the first time ever I deliberately chose to sit mid-cabin instead of at a window, and it hurt to not get a takeoff view. Our 767 may have been 27 years old but it was still spry, and we were near cruise altitude in no time.
It was time for the DO&CO dinner show to begin!
Time to Dine
Soon after the double chime we all had tablecloths on our table, a drink order placed, and warm mixed nuts on our tray table. The triangular dishes were a quirky touch.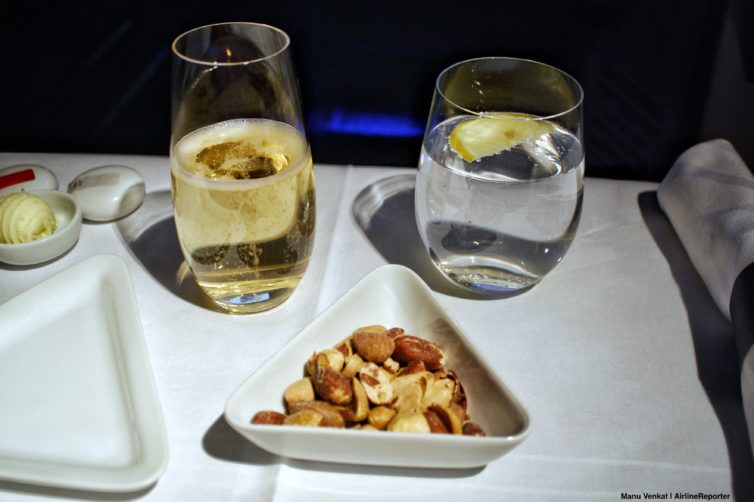 Here's a look at the menu. Sorry for the state of it — it got crumpled before I could take a picture of it.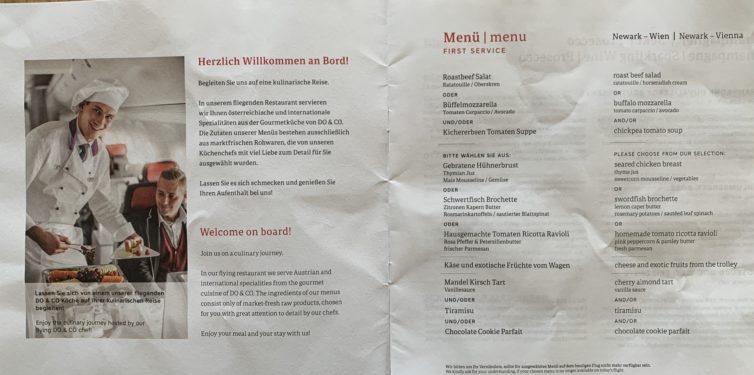 The champagne was solid, as business class sparkling wine choices go. The rest of the wine list was mostly $10-$20 bottles as best as I could tell.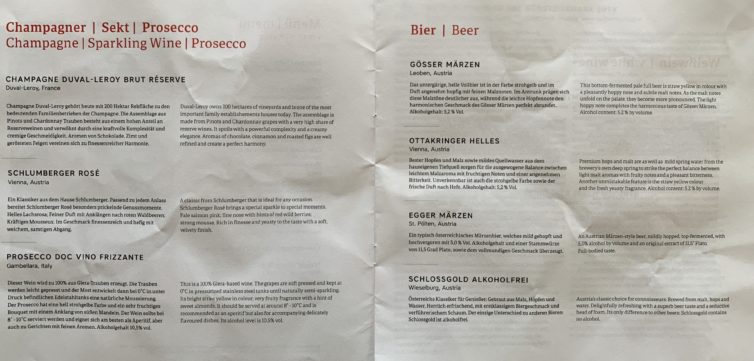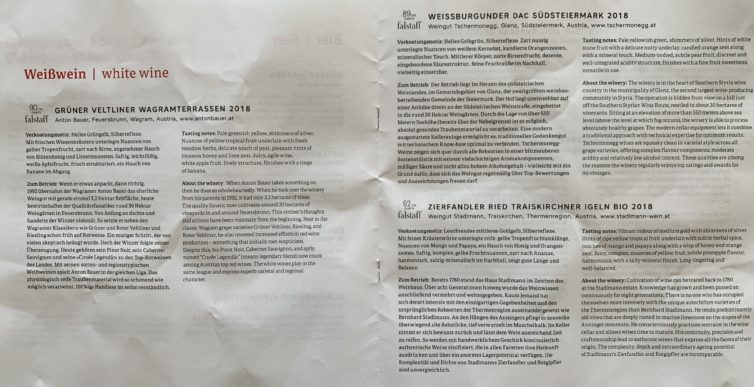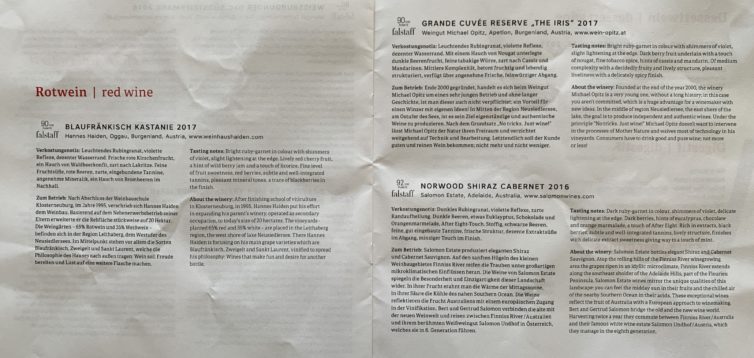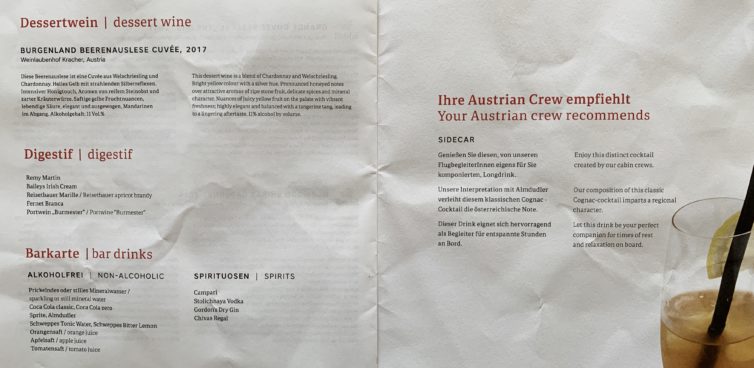 BONUS: Star Alliance Battle Royale — Asiana vs EVA vs SAS vs Turkish vs United
One distinguishing feature of the DO&CO-run premium cabin meal service (at least on Austrian and Turkish) is the real-deal onboard chef who's running the meal services. I wasn't flying for official AR business and didn't want to start snapping photos of our our chef while he was doing his job, so here's a photo from the DO&CO website to give you an idea. And to be clear, this isn't a flight attendant who just puts on a costume for the dinner service. On the other hand, it's not like the chef is cooking food from scratch. The food is still prepared on the ground and reheated in the air.
For appetizers, flight attendants came around with a cart with the two choices. I'm a fan of cart service since it lets you scope out the options before picking.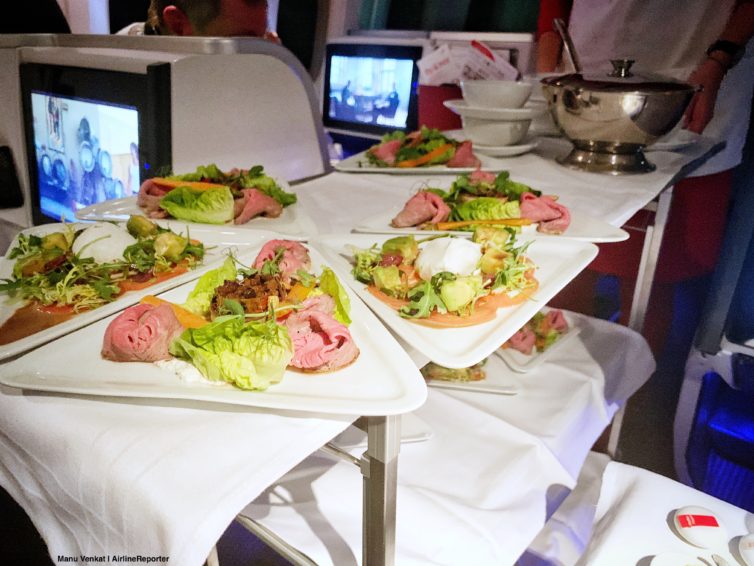 The carpaccio was the perfect light starter and the vegetables tasted reasonably fresh. The tomato soup had crispy chickpeas in lieu of croutons — a creative touch.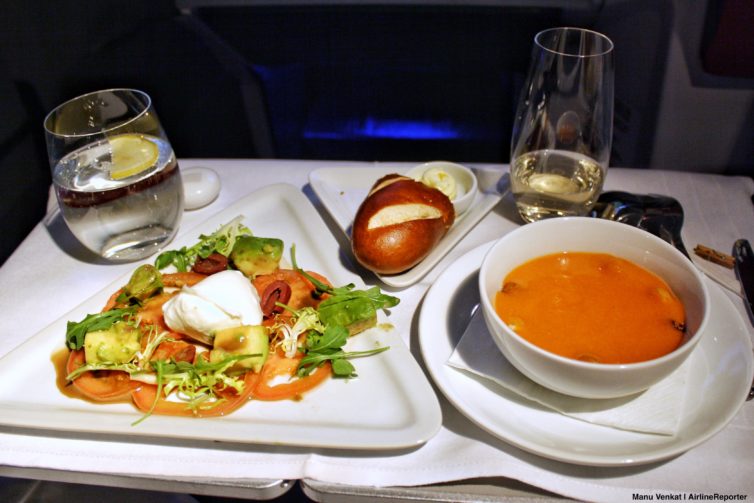 I went with the chicken for the entree, which was slightly overcooked but I guess less overcooked than inflight chicken usually is. The sauce and veggies were perfect with the flavor of the meat.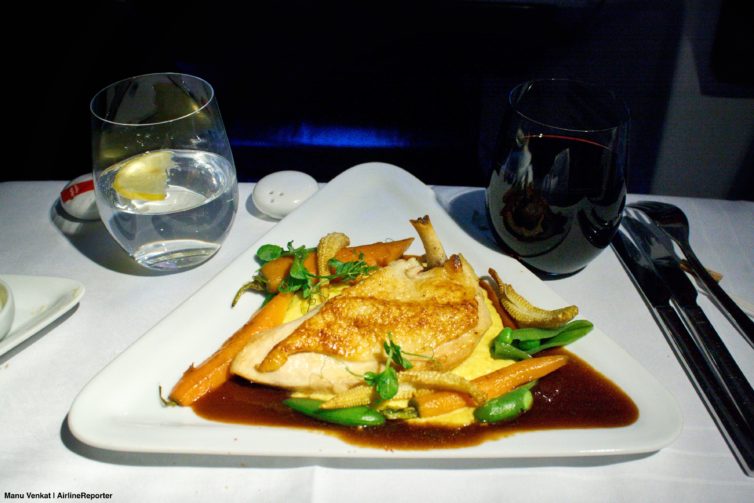 My wife went with the swordfish brochette, which was simple but tasty and cooked perfectly.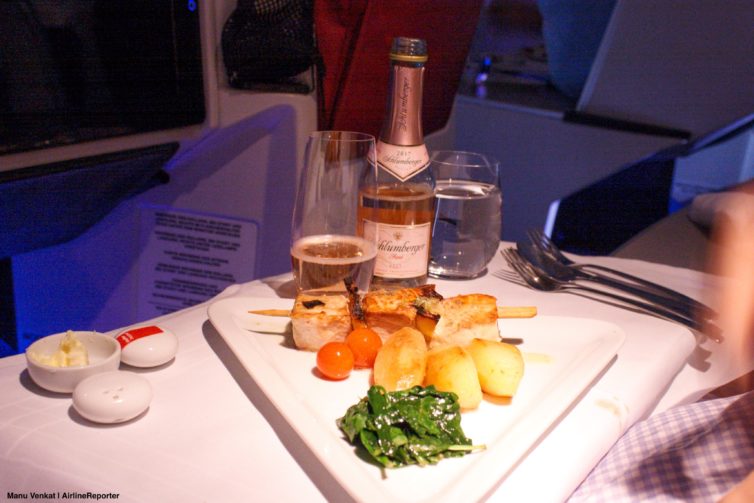 BONUS: Adieu Fokker! Flying Economy on an Austrian Airlines F100
As the meal was wrapping up, a dessert trolley made its way down the aisle. It all looked so good, and tasted just as good as it looked.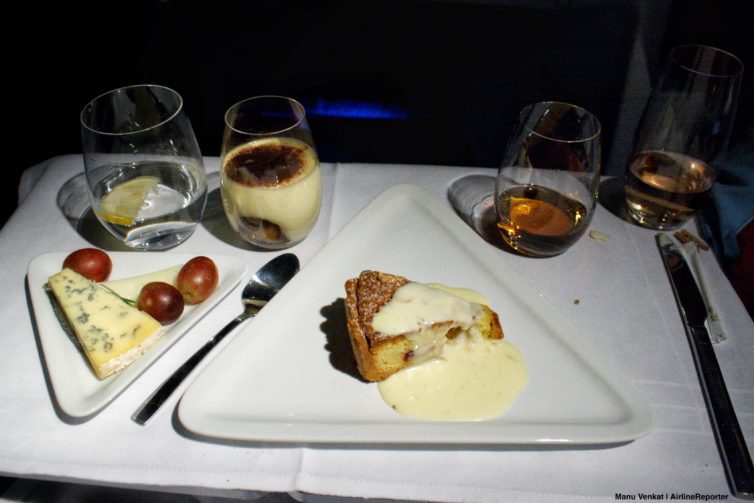 But wait, there's more! One of Austrian's signature catering features is a gourmet coffee service. We're not talking basic black coffee or espresso. We're talking multi-ingredient recipes and tons of choices of both hot or cold drinks. I was really excited about this, but the one I got — some mix of coffee, foamed milk, and some whipped cream, didn't knock my socks off. Maybe Austrian style coffee isn't to my taste.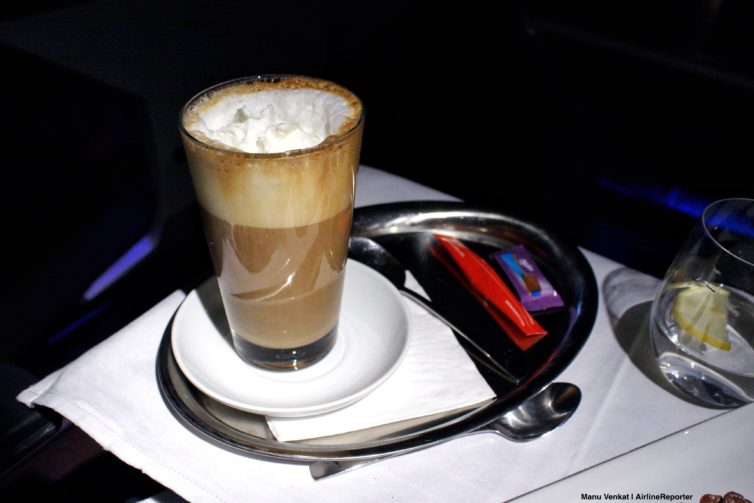 Through it all, the flight attendant on my aisle was friendly enough, but her counterpart on the other aisle was unpleasantly curt.
BONUS: OMG the Food! Air Canada's New Signature Service Delivers Big
Finishing the Flight
The rest of the experience — amenities, lavatories, IFE, sleep — were solid but not that memorable. I woke up in time for breakfast, which I had ordered off a card soon after I boarded. Eggs are really hard to do well on a plane, but the eggs here were perfect.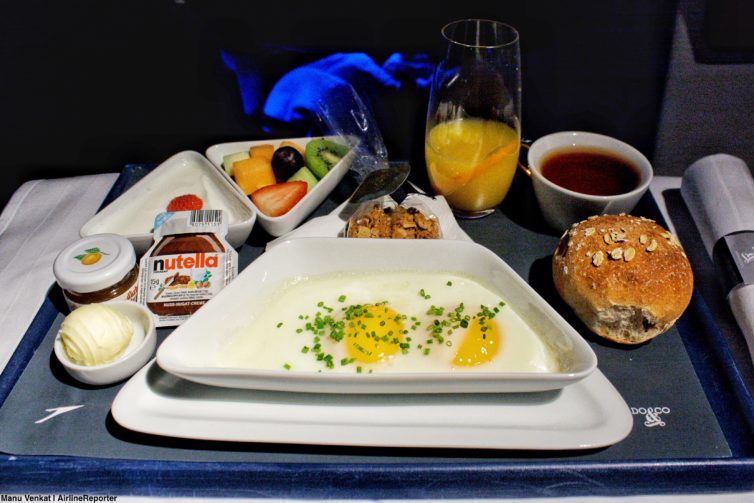 Soon enough we were descending into Vienna, and our flight came to a smooth end.
The Final Verdict
Austrian Airlines really hangs its hat on its inflight catering. Which isn't surprising, because the rest of the package is middling at best. Its long-haul fleet is aging and staggered seating isn't my favorite layout, though at least the design touches and monitors got a relatively recent face lift.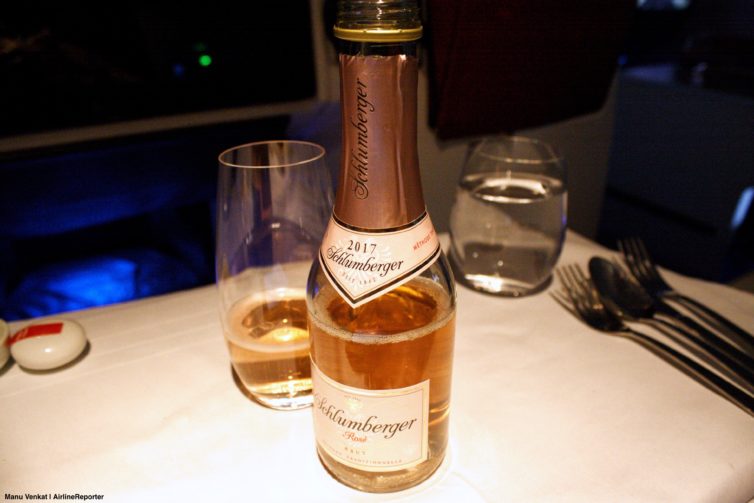 So was the service and dining enough to impress? Meh, not really. Or at least they didn't reach the heights I was hoping for. The food was generally tasty and well executed, but not that memorable. The wine list was about average. And maybe the coffee just wasn't to my taste, but I wasn't that impressed by that signature element of the service. Flight attendants were hit-or-miss in their attentiveness and warmth. One caveat is that airlines have better control of catering on flights departing from their home base, whereas I was on an inbound flight to Austrian's hub.
Still, overall I was more impressed with the DO&CO-catered experience on Turkish Airlines, which was presented better, felt more creative, and had more signature touches (like the little electric candles they place on your tray table).
BONUS: Flying the Gourmet Skies — Turkish Airlines Business Class || Photo Tour of DO&CO Catering for Turkish Airlines
The next time I have reason to fly transatlantic I'd be more excited to try one of Austrian's other partners like Swiss or Lufthansa. That said, there's unconfirmed whispers that Austrian might add some Boeing 787 Dreamliners to its fleet. If that happened, I'd be more excited about trying them again.
Thanks for reading! Now it's time for us to hear from you. Share your thoughts in the comments section below.