When you chat about Alaska with aviation enthusiasts, there's no shortage of things to talk about; perhaps the mind-boggling volume of east-west cargo flowing through ANC, or the the world's largest floatplane base next door at Lake Hood. Military buffs will know about the goodies at Eielson and Elmendorf, and civil aviation folks will lament the recent demise of Alaska Airline's combis on the fabled milk run.
What if you'd like to get a little farther off the beaten path? What if you'd like to see dozens of DC-6s in America's northernmost boneyard? What if you'd like to spot seaplanes operating alongside commercial airliners? Well, you'd need to visit Fairbanks, of course! If you can't make it up yourself, follow along as I share my recent journey.
Fairbanks (FAI) is more or less in the center of Alaska, and the airport there serves as a gateway to much of the interior. There are good paved roads running south to Anchorage (360 miles), and southeast to the rest of North America (2,000ish miles to Vancouver or Calgary), but surface transportation throughout the state is limited, with vast expanses accessible only by air. While there's no shortage of passenger and cargo operators ferrying tourists and freight, there's a large number of residents whose link between home and the rest of the world is aviation.
FAI sees mainline passenger traffic from Alaska Air, American, Delta, United, and Condor, though schedules and options are highly seasonal. Non-stop flights are available from many of the hubs and focus cities of the aforementioned carriers, though many visitors fly or cruise into Anchorage and make the trip to Fairbanks by rail or automobile. If you're looking for something different, PenAir is currently flying ANC-FAI with a Saab 2000 (the only other North American operator of the type is Meregrass / Wildcat Touring). If you're planning to visit, keep in mind tourist season in Alaska is mid-May through mid-September, and typical vacation activity options dwindle very quickly outside of that window. We opted to visit at the very tail end so we could catch fall colors and northern lights.
Fairbanks International is divided into two main sections. The west ramp is home to the main passenger terminal, and the larger carriers outsiders are probably more familiar with: Alaska Air, Everts Air, FedEx, PenAir, and Ravn. The main runway, 2L/20R is adjacent and handles most of the west ramp's traffic. The east ramp is home to the smaller charter operators and general aviation, and is nearer to the remaining trio of runways. 2R/20L is asphalt and is most heavily used by general aviation traffic on the east side; 2W/20W is the very-cool-to-this-avgeek water runway, and the smallest, 2/20 provides a gravel or ski surface, depending on the season.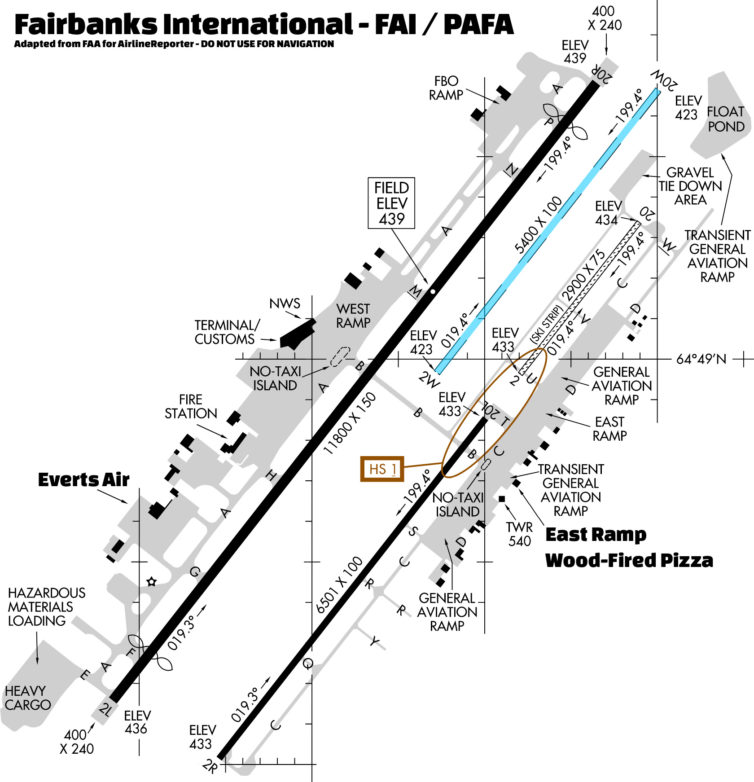 Views from the East Ramp
During my visit in September 2019, my wife and I spent the morning hanging around the east ramp, between the gravel strip and the water runway – my goal was to document an Alaska Air 737 arriving on 20R behind a floatplane. The barbwire fence separating the semi-public east ramp from the west ramp was disappointing from a photography perspective, but otherwise it was a great spot to spend a morning watching aircraft. Coverage from the various flight tracking apps was pretty reliable for most of the commercial passenger airline flights, and somewhat hit-or-miss for everything else, not unlike any other major airport in the US, I suppose. On this morning all of the traffic I observed were using the 20s.
Photo tip: as many an aspiring aviation photographer has learned, the biggest no-no when shooting prop aircraft is using a quick shutter speed that freezes everything, including the blades. The trade-off for dragging the shutter (taking a photo with a longer exposure) is that it greatly increases the odds of getting blurry images. It's always stressful rolling the dice with aircraft you might not ever get to shoot again, but the dynamic results of a nice prop disk and blurred background make it a worthwhile gamble. These images were all shot at 1/125 of a second, give or take, with an image stabilized lens.
There was a pretty nice variety of airlines and aircraft to observe – smaller aircraft don't usually hold my attention as well as larger airliners, but I was in high cotton that morning. The east ramp had a stunning number of aircraft – with cooperative light, a productive photographer could add quite a few new tail numbers to their preferred aviation photo site. In addition to the aircraft included in the gallery above, we also caught glimpses of a few nice biz-jets (clearing customs here is quick and easy, we're told), a NASA research jet, and untold dozens of other general aviation aircraft.
East Ramp Wood-Fired Pizza
A local enthusiast gave us a heads up on an excellent restaurant, East Ramp Wood-Fired Pizza. To be clear, this is not part of the main passenger terminal on the west side, this is on the east side adjacent to the general aviation ramp (I've modified the FAA airport diagram above to include the location). On the day we were there, there were a handful of tourists, but most of the patrons were locals. Located above a hangar, large windows provide great elevated views of the field, and there was a ready supply of binoculars hanging on the wall for customer use. Beyond the avgeek amenities, the food and service were also top-notch. I can't recommend it highly enough – we had a wonderful lunch there.
Fairbanks Fan Favorite: Everts Air
Fairbanks is probably best known in aviation circles for being the headquarters of Everts Air, whose fleet of DC-6, C-46 cargo, and fuel tanker aircraft have been attracting attention from enthusiasts for years. The primary base for maintenance, charters, and administration are located here, though they operate more flights out of Anchorage. Their facility at Fairbanks is also home to what is has to be America's northern-most boneyard, where numerous DC-6, C-46, DC-9, and others await restoration to service or getting parted out. They're very friendly to enthusiasts – even if unable to arrange a tour ahead of time, it's worth a stop for their gift shop.
Tatonduk Outfitters Limited, doing business as Everts Air, operates a trio of airlines, each of which has different regulatory and maintenance demands – generally smaller passenger and cargo aircraft fly for Everts Air Alaska; the larger cargo aircraft fly for Everts Air Cargo, and when certain maintenance thresholds are met, some aircraft are converted to tankers and fly for Everts Air Fuel.
As such, the Everts operational structure looks like this:
Everts Air Alaska, a Part 135 airline, operating PC-12s and C208Bs
Everts Air Cargo, a Part 121 airline, operating C-46s, DC-6s, DC-9s and MD-83s
Everts Air Fuel, a Part 125 airline, operating AT-802s, C-46s and DC-6s
A few notes on this particular DC-6:
"Everts Air Cargo DC-6B N151 is nearing the end of its service life and has been acquired by The Museum of Aviation History at Sola Airport in Stavanger, Norway. N151 flew for the Norwegian airline Braathens-SAFE as LN-SUB in the 1960's and will be put on static display at the museum in period Braathens-SAFE colors. The aircraft is being retired by Everts Air Cargo because the airline operates in accordance with 14 CFR Part 121, which requires inspections at regular airframe time intervals. During its tenure with Everts, the aircraft has undergone regular A-,B- and C-Checks but it's approaching a very extensive and expensive D-Check. The last Alaskan operator to perform a D-Check on a DC-6 was Northern Air Cargo about 15-20 years ago and it cost in excess of $1M. Normal operation procedure since then has been to retire a DC-6 approaching a D-check or convert it to a fuel hauler, which operate under 14 CFR Part 125. Everts Air Fuel aircraft are meticulously maintained but are not required to undergo D-checks, which require the aircraft to be almost completely disassembled."
Active Fleet
There are numerous sources out there derived from the FAA Register with fleet information (search for Arctic One LLC and Tatonduk Outfitters LTD), however timely information on which aircraft are active is somewhat difficult to track down. As such, I've done my best to assemble a list of the active fleet – consisting of aircraft that have made flights in 2019 or Q1 of 2020. Corrections, comments and updates are welcome!
Curtiss C-46 Commando
N1837M, Everts Air Fuel, 'œHot Stuff'
N7848B, Everts Air Fuel, 'œDumbo'
N54514, Everts Air Cargo, 'œMaid in Japan'
Douglas DC-6
N100CE, Everts Air Cargo
N151, Everts Air Cargo (retiring in very near future)
N251CE, Everts Air Fuel
N444CE, Everts Air Fuel, 'œSpirit of America'
N747CE, Everts Air Cargo
N6586C, Everts Air Fuel
N7780B, Everts Air Fuel, 'œThe Aviator'
N9056R, Everts Air Cargo
McDonnell Douglas DC-9
N932CE, Everts Air Cargo
N935CE, Everts Air Cargo
McDonnell Douglas MD-83
N964CE, Everts Air Cargo
N965CE, Everts Air Cargo
N967CE, Everts Air Cargo
N73444, Everts Air Cargo
Cessna C208B Grand Caravan
N208CE, Everts Air Alaska
N575JD, Everts Air Alaska
Pilatus PC-12
N708RE, Everts Air Alaska
N575JS, Everts Air Alaska
Air Tractor AT-802
N802CE, Everts Air Fuel
N812CE, Everts Air Fuel
… and, while not a common sight at Fairbanks, it's worth noting Everts also operates the Zero G 727-200, tail N794AJ.
Behind the Scenes
We were graciously given a tour of Everts Air from their Quality Manager, Scott Murdock. After a quick safety briefing, waiver-signing, and introduction, we took a nice walk around the compound, and got an opportunity to see and hear about the equipment and the services they provide to Alaska. We started on the ramp, where we became acquainted with several beautiful DC-6s and a pair of C-46s.
With the ramp reasonably well-explored, we moved onto the boneyard, where the fleet of part donors and eventual restoration projects await their futures.
There were a pretty good number additional aircraft parked in this area, which appeared to be in near-airworthy condition all the way down to what you see above. A few other tails in the boneyard, for those who might be interested in such things, include N148RF, N269CA, N1651M, and N7919C.
The next stop was the hangar, where DC-6 N251CE was getting some attention.
Another avgeek goal of this Alaska trip was catching an airborne DC-6. We'd struck out at Anchorage earlier in the trip, but got fortunate at Fairbanks!
Special thanks to Scott Murdock at Everts Air, Melissa Stopovich at FAI / Alaska DOT, Ralph Pettersen at Propliner Information Exchange, and Emily Benson.