Reviewing airlines is fun. But ranking them is even better! I got to review five Star Alliance premium cabins in 2017, and in the spirit of a little healthy competition I wanted to consider how they stacked up against each other. Our contenders are a Taiwanese AvGeek favorite with a penchant for Hello Kitty, a legacy U.S. carrier with a knack for being in the news, one of South Korea's largest long-haul airlines, Scandinavia's hometown favorite, and a company that's looking to become the dominant Middle Eastern airline.
Read on as we rank United Airlines, EVA Air, SAS Scandinavian Airlines, Turkish Airlines, and Asiana Airlines across a range of categories including lounges, seat design, dining experience, service, amenities, and in-flight entertainment. By the end, we'll see if any of our contenders can rise to the level of champion!
Rules For a Fair Fight
In each category I'll award a winner, a runner-up, an occasional honorable mention, and a loser. I'm basing my ranking purely on my experience on five flights — one on each airline — which is a pretty small sample size. Also, comparing airlines is subjective. So don't consider this to be a definitive ranking. Your experience on these airlines may vary! FYI, these airlines may have made tweaks to their product since I flew them.
Since some of our contenders offer more than one premium cabin experience, let me clarify which ones I'm comparing:
Let's get started!
Round One: The Seat
Winner: EVA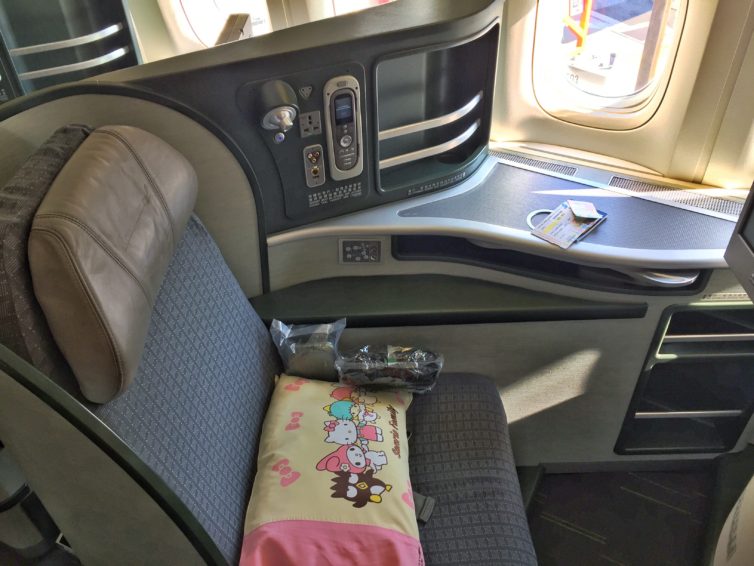 It's hard to beat EVA's renowned Royal Laurel business class seat. It's a reverse-herringbone universal-aisle-access design that's remarkably consistent across EVA's long-haul 777 fleet. The seat is spacious, plush, private, well-designed, and convertible to a fully-flat bed. It offers a spacious footwell and sufficient storage. Slam dunk.
Runner-Up: SAS
SAS Scandinavian Airlines redesigned the seats on its long-haul A340s and A330s in 2016, and the result is impressive. The 1-2-1 seating configuration gives everyone direct aisle access, although half of the seats are more exposed to the aisle because of the staggered design. The seats flatten out into a long and roomy bed. In addition to the comfort factor, I think the charcoal grey tones with golden orange accents makes for a great appearance.
Honorable Mention: United
I DQ'ed them from medal consideration in this category since I flew a first class seat, but felt they deserved a mention.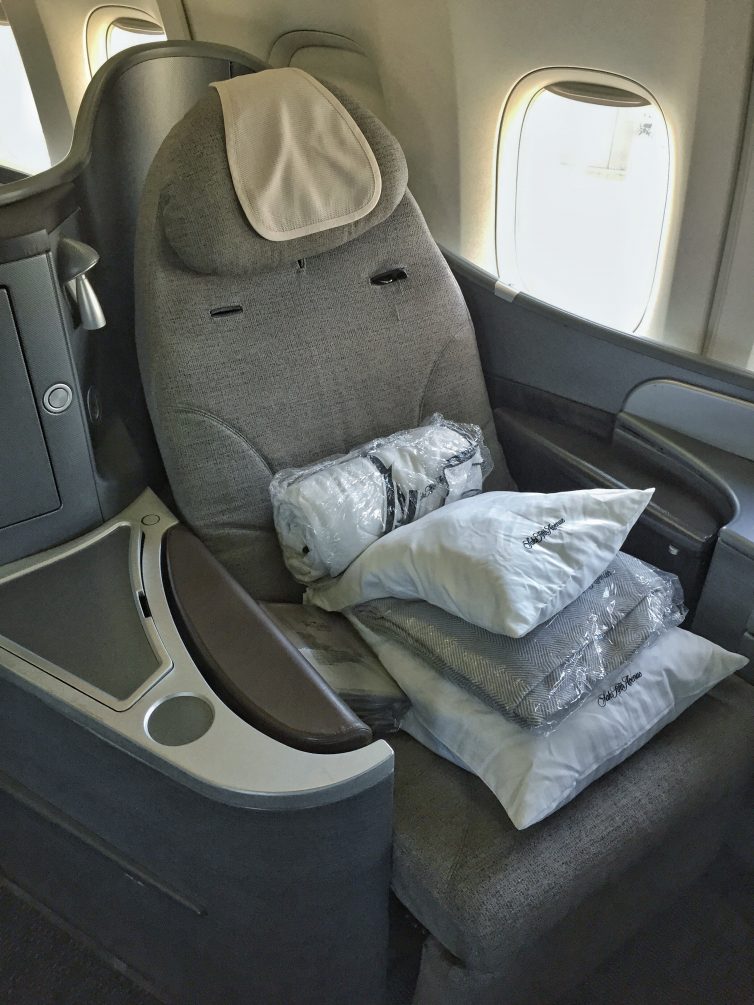 I ended up liking my battle-worn Global First seat more than I was expecting. It's not a flashy design, but it was incredibly comfortable. As time goes on, United passengers will see less of this seat, and more of United's new Polaris cabin, which also makes for a comfy ride. All things considered I'd be just as glad to fly the Polaris seat as the Global First seat since it has more privacy, even though it's much less spacious.
Of course, the dorm-style eight-abreast business class configuration still flying in a lot of United's planes should be avoided at all costs.
BONUS: Touring SWISS' New Flagship Boeing 777-300ER
Last Place: Turkish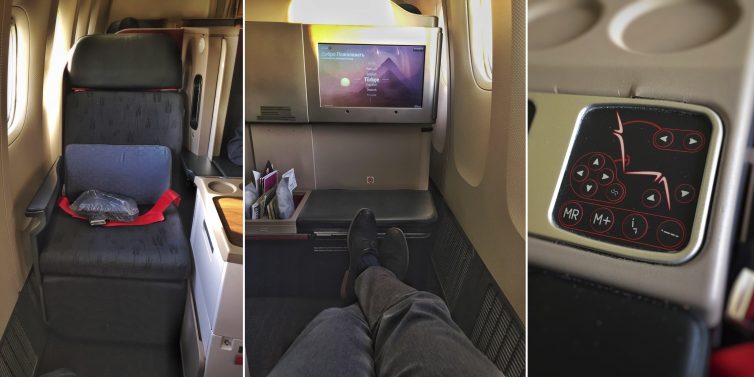 Turkish Airlines' business class is a forward-facing, 2-3-2 abreast configuration. The seat and finishes looked pretty fresh on my flight, but that can't compensate for the lack of privacy and of universal aisle access. God forbid if you get stuck in the middle seat in the center section — yuck! As a silver lining, Turkish provides a firm lumbar pillow that's very comfortable.
Round Two: Dining
Winner: Turkish
When the legendary catering company DO&CO is involved, this category becomes a no contest. My dinner on my flight to Istanbul is hands-down the best meal I've ever had on a plane. Each dish was elegantly plated and tasted amazing, with fresh ingredients and bold flavors. Turkish brands its dining services as "gourmet entertainment" and they definitely deliver on that hype.
Runner-Up: Asiana
BONUS: Flying the Gourmet Skies – Turkish Airlines Business Class
I spent a long time thinking about which airline would be loser in this category, and in the end, none of the three remaining contenders felt right. I liked the dining experiences on United, EVA, and SAS overall, though not as much as on Turkish or Asiana. So I'm going to call it a wash.
Round Three: Drinks
Winner: EVA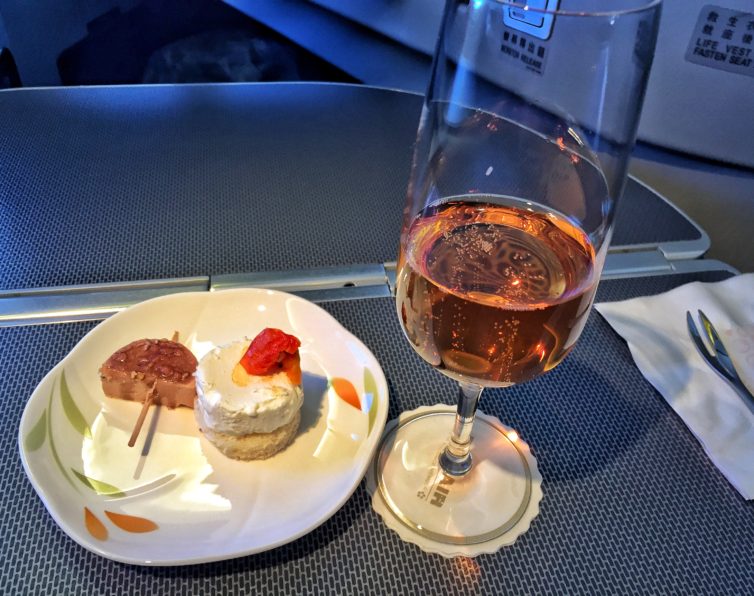 On my Hello Kitty-themed service, the champagne of the day was a gorgeous Krug ros, which retails for well over $200 a bottle on the ground. If you needed hard evidence that EVA invests in its drink selection, there you have it. The rest of the wine list was good too, though I would steer clear of some of their bright green cocktails.
Runner-Up: SAS
SAS Scandinavian Airlines did an excellent job showcasing its hometown distillers and breweries. It also wasn't afraid to get adventurous with mixology, and their "beer cocktail" was one of the tastiest and more unique drinks I've ever had on a plane.
BONUS: Flying Business Class on a Singapore Airlines 777-300ER
Honorable Mention: Asiana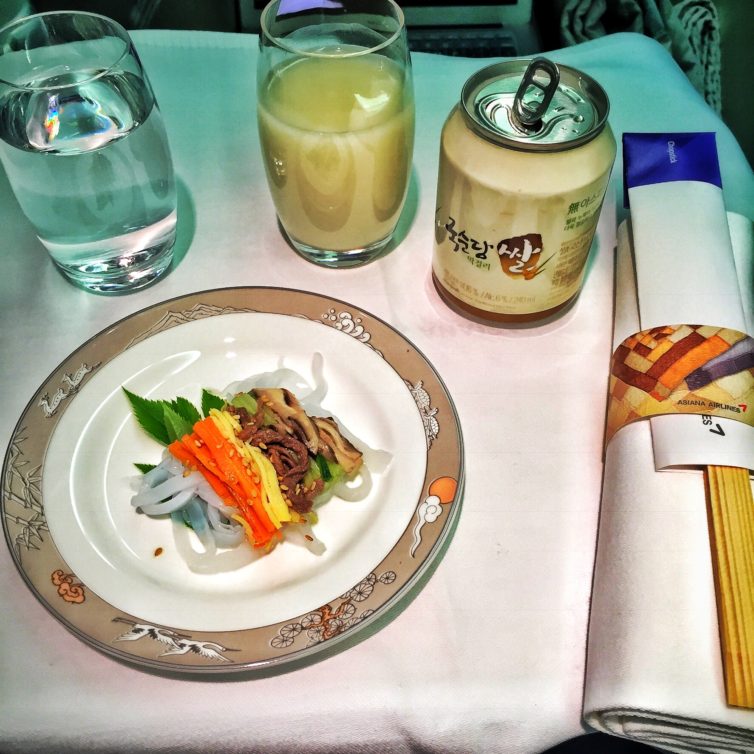 Asiana has some Korean drink options to go with its meal selections, and the Korean rice wine that my flight attendant recommended went exceptionally well with my meal.
Last Place: United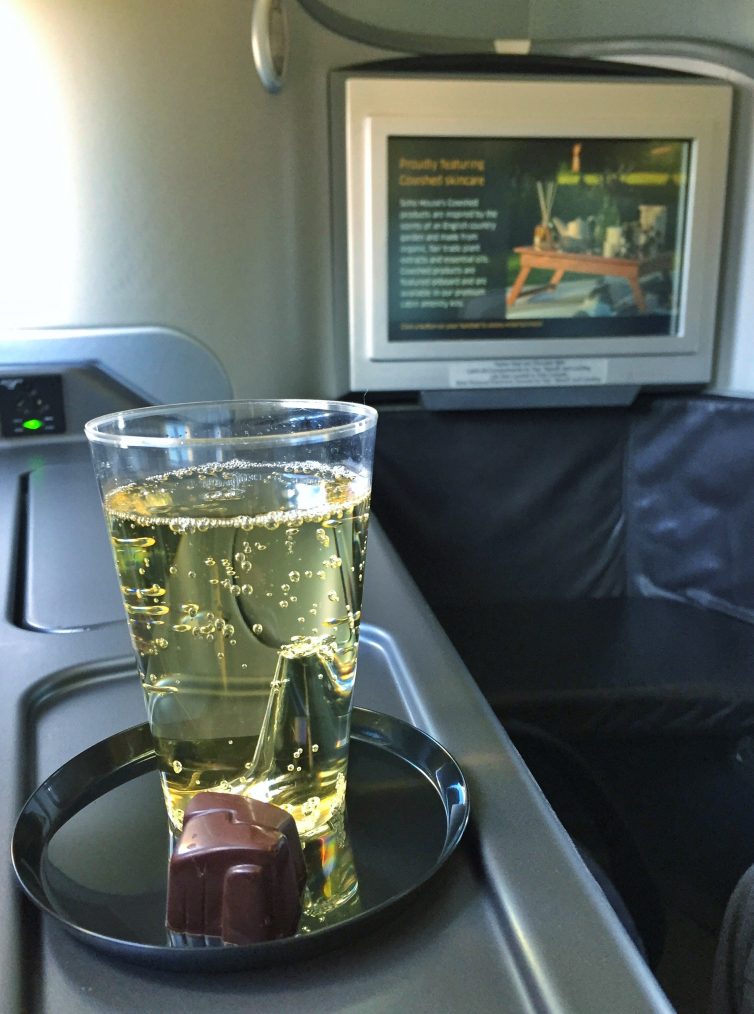 United's selection of wines was blah for business class … and I was flying in first class. I was bummed they weren't offering the signature Polaris wine tasting trio on my trip. I do give them style points for the champagne glass stand, although it's a bit impractical. In recent months United has pared back some of the beverage-related features, and the specialty bloody mary cart that I enjoyed on my flight is now a thing of the past.
Round Four: Crew & Service
Winner: Asiana
My Asiana crew gave me a warm welcome onboard. They took the time to advise me on food-drink pairings and were never far away when my glass needed refilling. They were the perfect mix of efficiency and friendliness. Well done!
Runners-Up: EVA and SAS
My EVA crew was impressively proactive, though not particularly conversant. My SAS crew was personable, but meal service loses style points because some meals are served on trays instead of directly onto your tray table. Between the two, I'll call it a tie.
Last Place: United
I've had my share of very positive experiences with United crews, but it's no secret that service can be hit-or-miss with the U.S. legacy airlines. And on my flight in Global First, it was definitely more miss than hit. My flight attendant was uninformed about Polaris benefits, turning down my requests for a turndown service and a Polaris cooling gel pillow. These fails definitely detracted from what was otherwise a fun flight.
BONUS: Air India – Reputation vs. Reality
Round Five: Amenities
Winner: EVA
A good selection of amenities in a stylish Rimowa case + pajamas in business class = gold medal for this category. If only the Hello Kitty flights came with Hello Kitty amenity cases!
Runner-Up: United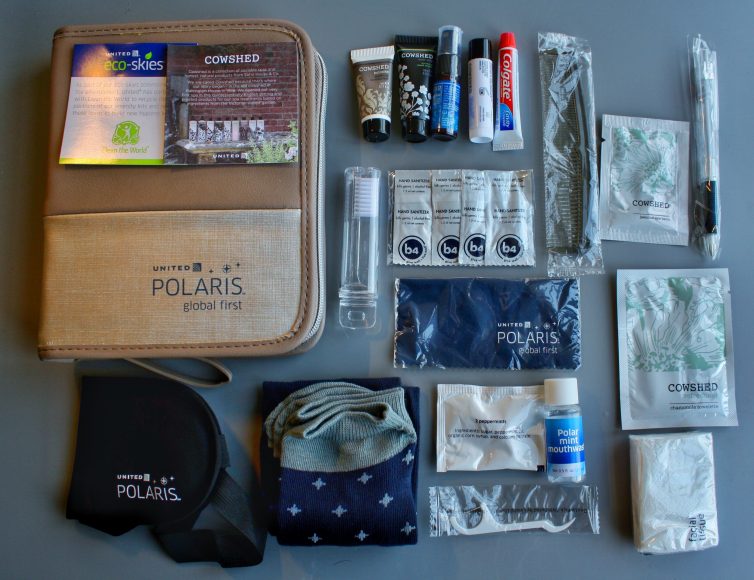 Even if I subtract out the items that only come in the Global First kit, United offers a nice range of amenities in stylish cases.
Last Place: SAS
Out of our contenders, SAS offered the most basic amenity kit — though in fairness it's comparable with what many other European carriers offer.
BONUS: Tour of the New Star Alliance Lounge at LAX
Round Six: Inflight Entertainment
Winner: SAS
SAS offers a good selection of movies on a delightfully large and crisp screen. For AvGeeks, there's also two external camera views! But maybe the biggest win for SAS is the free and reasonably fast WiFi for all business class passengers — and even premium economy passengers. That's definitely enough to take the gold.
Runner-Up: Turkish Airlines
Turkish offered a great library of movies on a sleek interface, including a handheld remote with its own built-in display. The images above were taken of the remote.
Last Place: Asiana
At least on the relatively old 777 I flew, the entertainment system was hard to use and the screen was grainy. The library of movies was pretty limited, too.
Final Round: Lounges
Winner: Turkish
Turkish Airlines' flagship lounge in Istanbul Ataturk (IST) is seriously insane! Spread over two levels, this place has a mind-blowing selection of food, a movie screening room, video games, and even a golf swing simulator. If you haven't already, you've got to check out our article on the place.
Runner-Up: United
Both the Global First and Business Class lounges at London Heathrow are gorgeously decorated and offer gorgeous shower facilities. Not counting the new Polaris lounges, I think United's Heathrow lounges are the best ones in their network.
BONUS: Photo Tour of Asiana's Business Class Lounge at Seoul Incheon Airport
Last Place: EVA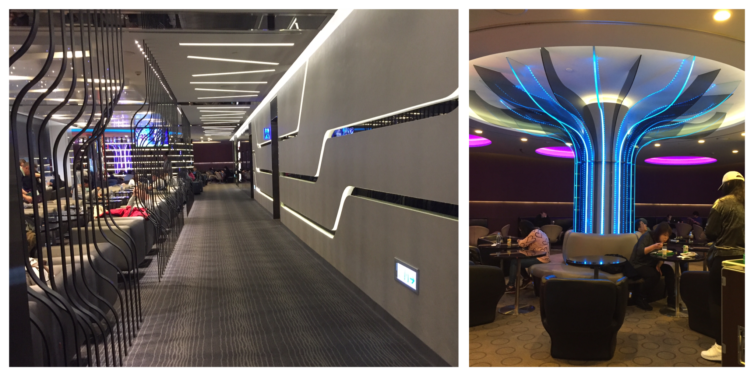 I guess someone in the design department at EVA was a fan of the Tron movie? The futuristic vibe at this EVA lounge in Taipei was a little over the top for me. And neither the seating nor the food were impressive.
Crowning Our Champions
After seven full rounds, I was surprised how close the fight was. All our competitors managed to snag their share of winning performances across our categories. It was tough to pick a top three, but here it goes!
Gold medal: EVA
Combine a spacious seat that's consistent across the fleet, best-in-class amenities, and a well-rounded onboard dining experience and you've got a recipe for a gold medal. The sense of fun from the Hello Kitty flight was icing on the cake. I can see why EVA is an AvGeek favorite.
Silver Medal: SAS
Coming off an excellent long-haul cabin refresh, SAS Scandinavian Airlines only barely missed my top spot. There's lots to love about SAS, from its incredible sense of design and strong lounge presence to small touches like free inflight WiFi.
Bronze Medal: Turkish
I'll admit, it was a tough choice for bronze, and what ultimately made up my decision was my love for inflight dining and over-the-top lounges.
To be clear, I had a great time on my United and Asiana flights too. My flight to San Francisco was really a review of pre-Polaris United, and I'd expect to see UA move up in a lot of peoples' rankings as more Polaris features come online. Asiana's service was top notch, and the overall experience would probably have been much better on one of their newer A350s than on the old 777 I flew.
Now it's time for us to hear from you. Would you rank these airlines differently than we did? What is your favorite Star Alliance airline? Share your thoughts in the comments section below.