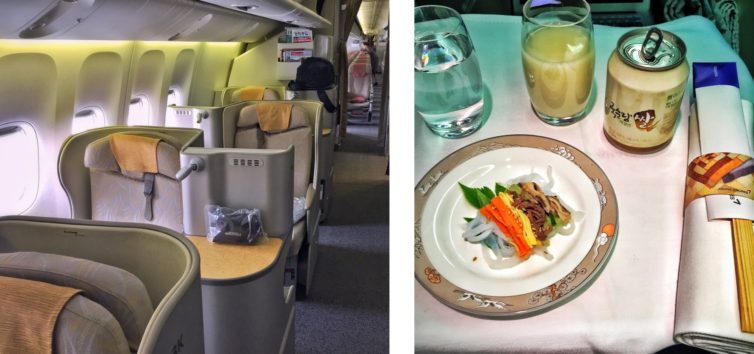 When it comes to business class, branding is big. British has "Club World," Delta has "Delta One," United has "Polaris," EVA has "Royal Laurel" — the list goes on and on.
The Korean airline Asiana is popular and I've wanted to try it for a while, but I think the name they picked for their premium cabin — Business "Smartium" Class — is a bit goofy. But hey, maybe they picked the name for a reason. Maybe it was designed by geniuses. Maybe it's such an amazing product that it's the only smart way to fly.
Well, there's only one way to find out! Read on as we share our experience on a long-haul Smartium flight from Seoul/Incheon to London on a 777-200ER. We'll rate each part of the experience, and at the end you can decide for yourself whether the product is as smart as the name suggests.
Asiana's Lounge @ Seoul Incheon Airport
Before our afternoon departure, we made sure to swing by Asiana's excellent business class lounge. We wrote about the experience in a previous article — check it out if you haven't already. As high-capacity business class lounges go, it scores a solid A grade.
Refreshed and showered, I headed to my departure gate just in time for boarding.
The Smartium Business Class Cabin + Seat
Asiana's fleet is a total smorgasbord, with the A380, 747, 777, A330, and 767 represented, plus a few new A350s joining the club. Different aircraft within a given subfleet may fly different seating configurations, so it's hard to know exactly what to expect. For example, some 777s fly a regional angled-flat business product, while others feature the true Smartium flat-bed product. While flight 521 to London is currently operated by an A350, when I flew the route it was being serviced by a 777-200ER with a six-row Smartium cabin.
The 1-2-1-across staggered layout gives everyone direct aisle access. Even-numbered-row window seats are especially amazing for solo travelers, as they are farther from the aisle and very private. Odd-row window seats are more exposed to the aisle and make it harder to look out the window.
Over in the center section, the paired middle seats are great for couples, but less ideal if you're flying solo since you'd be shoulder-to-shoulder with your neighbor.
I wasn't a big fan of the cabin decor, which featured lots of bland grey and beige.
I was assigned seat 6K at the very rear corner of the cabin, which had a misaligned window but was amazingly private.
There was an awkward gap between the window seats and cabin sidewall, though you could get creative and use it to store your bedding.
These seats go fully flat and offer a spacious footwell. The transition between the seat cushion and footwell cushion felt a bit uneven.
The grade: for cabin design and seating, Smartium gets a B overall. Universal aisle access and flat-bed seats are definite plusses, and the privacy you get in even-row window seats is amazing, but if you don't score one of those seats you're out in the open. And as flat beds go, the Smartium version is roomy but not the most comfortable I've experienced. I'm mindful that I flew a relatively old version of the Smartium product, and I'm guessing that fresher versions on newer planes might score a little better.
One nice extra bonus is we got a friendly wave from the ground crew as we pushed back from the gate:
BONUS: Photos & Details On Asiana Airlines Flight 214 Crash In San Francisco
It was a gloomy day in Incheon and shortly after lifting off we were already in the clouds.
The Smartium Service, Dining, and Drinks
The flight's purser warmly welcomed each business class passenger to the flight. The lunch menu had a Korean option along with a few western entrees. Since this was my first time flying a Korean carrier — and because Korean barbecue is awesome — I went with the former.
I was a little clueless about what drink would go best with the Korean meal selection so I asked my flight attendant. She spent a solid minute with me talking about Korean drinks before recommending the "Makegeoli" Korean rice wine. It went incredibly well with the duo of delicately flavored starters.
BONUS: A Very Hello Kitty Adventure: Flying an EVA Air 777-300ER In Royal Laurel Business Class
The entree looked basic but tasted absolutely incredible. It benefitted from a wide range of bold flavors in the surrounding sides and soup.
I'm guessing they ran out of the tiramisu option by the time they came to my seat, since I was handed a fruit plate.
The meal ended with a date and a "walnut cookie."
I was very satisfied with the meal, and stuffed beyond belief. Although Asiana offers à  la carte light meals like noodles and sandwiches for midflight snacking, I was so full that I didn't want to think about eating more until the second meal service many hours later.
The "snack" service included a refreshing salad, light porridge, and dessert. I enjoyed it but found it less memorable than the first meal.
The grade: Asiana definitely gets an "A" for dining, drinks, and service. Both my meals were impressive in terms of quality, quantity, and authenticity. Compared with crews I've had on other airlines in the region, my flight attendants were just as efficient but much warmer and more personable — not to mention spot-on with their drink pairing advice.
The Smartium Amenities
My amenity kit contained only the basics, and the bag itself was pretty wimpy.
The lavatories were small, but at least were stocked with some extra personal care products.
The pillow and blanket were both unsubstantial.
The grade: Asiana's Smartium amenities and bedding are definitely areas for improvement — I'd only give them a C+.
BONUS: Trip Review — Korean Air Business Class on the A380 Upper Deck LAX-ICN
Inflight Entertainment
I'll be brief in this section, but I was pretty disappointed with the inflight entertainment system on my flight. The screen was small and low-res, the interface wasn't intuitive, and the movie selection was mediocre. C-grade.
But hey, who needs inflight entertainment when you've got views like these?
%CODE1%
The Smartium Final Verdict
I came away from my flight disappointed by the hard product and amenities in Asiana's Business Smartium class, but was blown away by the dining and service. My crew struck an exceptional balance between efficiency and personality. Honestly I think my gripes about cabin decor, condition of the seats, and inflight entertainment systems probably wouldn't be so bad if I flew Asiana on an A380 or A350. I'll also admit that this review is being published a little after the fact, so I can't speak to any improvements that the airline has made recently.
Asiana is part of the elite club of Skytrax five-star airlines, which is a pretty serious honor. Based on my experience alone, I wouldn't go out of my way to fly Asiana again, but I wouldn't go out of my way to avoid it either. If any of you get to fly in Smartium business class, make sure to score an even-row window seat, and definitely go for the Korean meal option — you won't be disappointed!
Now it's time for us to hear from you. Have you flown Asiana before? If so, what was your experience like? What are your reactions to this trip report? Share your thoughts in the comments section below.