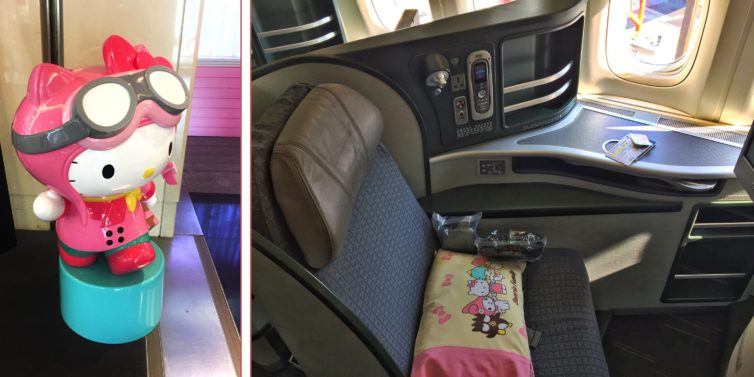 Is air travel not whimsical enough for you? Does the inflight experience on most airlines not appeal enough to your inner preteen self? Well, we have good news for you! Taiwan-based EVA Air has what you need: a truly one-of-a-kind Hello Kitty themed service on select routes that will make any other flight seem boring by comparison.
Hello Kitty aside, I've wanted to travel EVA Air for a long time. Its Royal Laurel premium cabin is a favorite among the AvGeek elite for its excellent seat and service. Plus, EVA Air is part of the pantheon of elite Skytrax Five-Star airlines. So I included an EVA flight from Paris to Taipei in a recent Star Alliance multi-airline itinerary.
I wasn't initially aware that my flight was a Hello Kitty service, but when I found out, I was thrilled! Not because I'm much of a Hello Kitty fan (though would I admit it if I was?). More because these Hello Kitty flights are an iconic AvGeek experience and a rare find.
Read on for photos and tales from my trip with Hello Kitty … *ahem* I mean Captain Hello Kitty.
Star Alliance Lounge @ CDG Terminal 1
The trip started off at Paris Charles de Gaulle International Airport's (CDG) quirky, fortress-like terminal 1. Star Alliance airlines share a common lounge at the terminal, although a few airlines do have their own separate lounges. The shared Star Alliance lounge is way too small for the traffic it gets, but at least the food and drink options are pretty solid.
After a brief break at the lounge, we rode a lengthy moving walkway to get to our gate.
%CODE1%
Our Welcome to EVA's Royal Laurel Cabin
I got a nasty surprise when I got to my gate and found myself staring at an EVA aircraft that didn't have a special Hello Kitty livery. I was heartbroken, since the livery is a big part of the fun on Hello Kitty flights. The airline later clarified for us that we were the unlucky victims of an equipment substitution due to regular maintenance. I suppose it's good to know that you can (usually) assume that a Hello Kitty flight will get a Hello Kitty livery. Fortunately, we later managed to find and snap a few photos of the Shining Star Hello Kitty liveried aircraft after we landed in Taipei — you can find it at the top of this article.
Once I boarded my flight it was clear that this would be the real-deal EVA + Hello Kitty service experience, despite the lack of a special livery.
%CODE2%
The Royal Laurel cabin is stylish, but in a subdued way. Some might find the cabin finishes a little drab, but I thought the palette of greys and earth tones came across as pleasantly refined. Plus, all the Hello Kitty flair on this flight helped make the cabin look a bit more lively.
I was seated in window seat 3A. All of the spacious outward-facing herringbone-style seats in the Royal Laurel cabin have direct aisle access. The pairs of seats in the center section are angled towards each other, making them slightly less private — especially because there is no divider between them. Those seats might be better for couples flying together.
My seat had a very spacious footwell.
The seat controls located by the armrest were simple and intuitive. Also beside the seat were a reading light, power outlet, controller for the entertainment system, and a small storage rack. Staying hydrated in a dry airline cabin can be a challenge, so I appreciated the bottle of Fiji water that was waiting at the seat.
As soon as I was seated, a flight attendant introduced herself, handed me a service menu, and took a drink order. I enjoyed a glass of the bubbly stuff (served with a Godiva chocolate) it as I slipped into a pair of Hello Kitty slippers. The entertainment screens were playing a video loop of Hello Kitty and her friends showcasing EVA Air's destinations.
BONUS: The Plane Awakens – ANA Star Wars 787-9
The cabin filled up quickly, and we pushed back from the gate right on time. I love how ground crews at many East Asian airports pause what they are doing to give departing planes a wave goodbye.
After a quick taxi and smooth takeoff, we were zooming over the French countryside.
First Meal Service
The printed menu for this flight dialed the Hello Kitty factor to the max. Both the food and drink lineups looked amazing.
One awesome EVA feature is the option to pre-order your meal in the weeks leading up to your flight, which gets you access to a broader selection of options than you get onboard. I didn't take advantage of it, but some of the exclusive pre-order options sounded great.
As we neared cruise altitude, flight attendants brought around small plates of foie gras and goat cheese — very tasty, though a bit heavy for an amuse-bouche.
The real star of the show was the Krug Ros champagne that EVA serves only on its Hello Kitty flights. To be fair, EVA is known for its exceptional wine selection on its non-Hello Kitty flights as well. But the ros is a step above even for EVA. It retails for well over $200 a bottle, easily beating what many airlines serve in first class. It was excellent, and I had no trouble taking my flight attendant up on her regular offers to top up my glass.
Flight attendants came by to set our tray tables with a beautiful Hello Kitty tablecloth. From here on out, all dishes were served directly onto the table — no trays here!
Next up was a spicy crab mayo salad, which was served with bread, butter, and balsamic vinaigrette. It was delicious.
The ginger-carrot soup was rich and flavorful. The crispy onions sprinkled on top were a great touch.
I was a little less enthusiastic about the salad course. Although the selection of greens, nuts, and cheeses were good, the "whisky cocktail" dressing didn't taste great.
For the main course, I went with the pan fried beef Charolais. The presentation was a little boring, but the meat was cooked to *perfection*.
I somehow found a final bit of stomach space for the simple pineapple desert course, a few cheese selections, and some port.
I came away from the meal service stuffed and pretty impressed. On the whole, the meal lived up to the hype I had heard about EVA. I personally would have preferred some more bold flavors, but that's just a subjective matter of taste — perhaps the meal was designed for more subtler French palettes.
My flight attendants were friendly and polite, not to mention insanely efficient. My glass was never empty, and my plates were removed promptly after I was done with each course.
BONUS: The Queen of the Skies Still Delights on EVA Air
If you're interested in a second opinion on EVA Air, check out this 2015 article by AirlineReporter's fearless leader David Parker Brown, who flew the inaugural Hello Kitty flight from Houston to Taipei — a much longer flight than mine.
Stay tuned!
There's plenty more to cover about this flight, but … *yawn* … after that epic meal I'm in a bit of a food coma. I may need a moment to sleep it off.
Don't worry though: I'll be back soon to share more of my experience with plenty more highlights, including:
The bedding and sleep experience in Royal Laurel class
The lowdown on EVA's amenity kit
Inflight entertainment
More Hello Kitty appearances, including on … toilet paper?!
Some seriously bizarre drinks
The second meal service
Our final verdict on the Hello Kitty experience on EVA Air
How you can get yourself onto a Hello Kitty flight
While you're waiting for my second part, why not share your thoughts in the comments section below? Have you flown EVA Air? Do you want to try a Hello Kitty flight?