Last month, I wrote about the amazing time I had flying seat 1A on a United 747. I mostly focused on the 747 and the awesome view from my seat, which may have left some of you wondering about my experience with United's so-called "Polaris Global First." It's a cabin class that won't exist for much longer, as United is phasing out long-haul first class as part of its long-awaited Polaris rollout.
Well I'm back with an in-depth review of the Polaris Global First seat, service, food, features, and more. Did the experience leave me delighted or disappointed? Should you be rushing to try Polaris Global First out before it's gone for good? Read on to find out.
The United Global First lounge @ London Heathrow

My experience got off to a great start on the ground at Heathrow. United operates out of the shiny new Queen's Terminal (T2), and its lounge there is surprisingly awesome. I'd go so far as to say that the Global First lounge at Heathrow is the best United lounge in the world (excluding the swank new Polaris lounge in Chicago).
The decor is gorgeous, especially in the big clock room.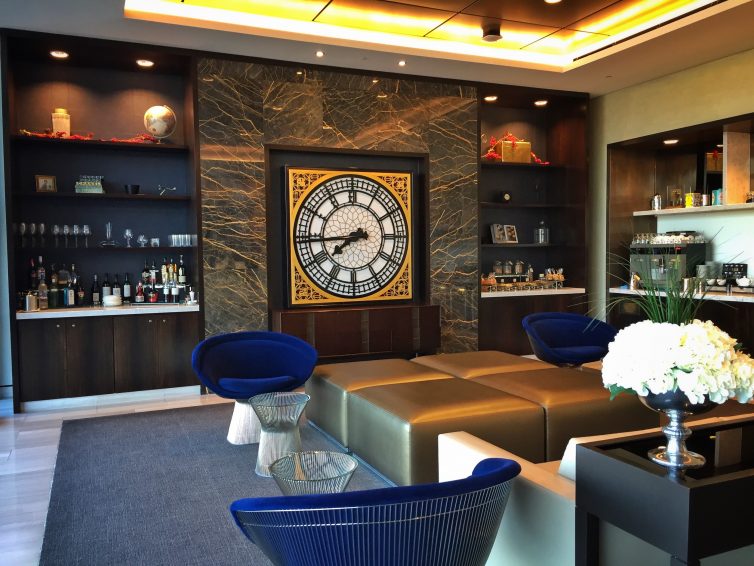 In addition to a selection of self-serve snacks, lounge-goers have access to á la carte dining.
The pastries I ordered were fantastically flaky and the Illy-brand espresso drinks were excellent.
The shower facilities are shared between the Global First lounge and the United Club next door. They are some of the nicest airport showers I've experienced to date.
BONUS: New American Airlines Flagship Lounge at JFK Airport
Experienced United flyers know to seek out Star Alliance partner lounges as an alternative to United's generally uninspired clubs, but at Heathrow, United's lounges actually lead the pack!
Polaris Global First — The Cabin & Seat
Rested and refreshed from a morning in the awesome lounge, I boarded the 747 that would take me to San Francisco. Compared to most other airlines' first class cabins, United's product doesn't offer much privacy. In fact, these first class seats are even less private than United's new Polaris business class seats.
Privacy issues aside, the seat is pretty great. Not in the way that a stylish contemporary designer chair is great. More like the way that your favorite old worn out recliner at home is great. The seat was spacious, plush, and super comfortable.
The plastic finishes were all in good shape and there was miles of legroom. There was also storage space all over the place — more than enough for a backpack, laptop, and the hefty Saks Fifth Avenue bedding collection.
BONUS: Unquestionably Perfect – Etihad First Class Apartments
Putting Polaris through its paces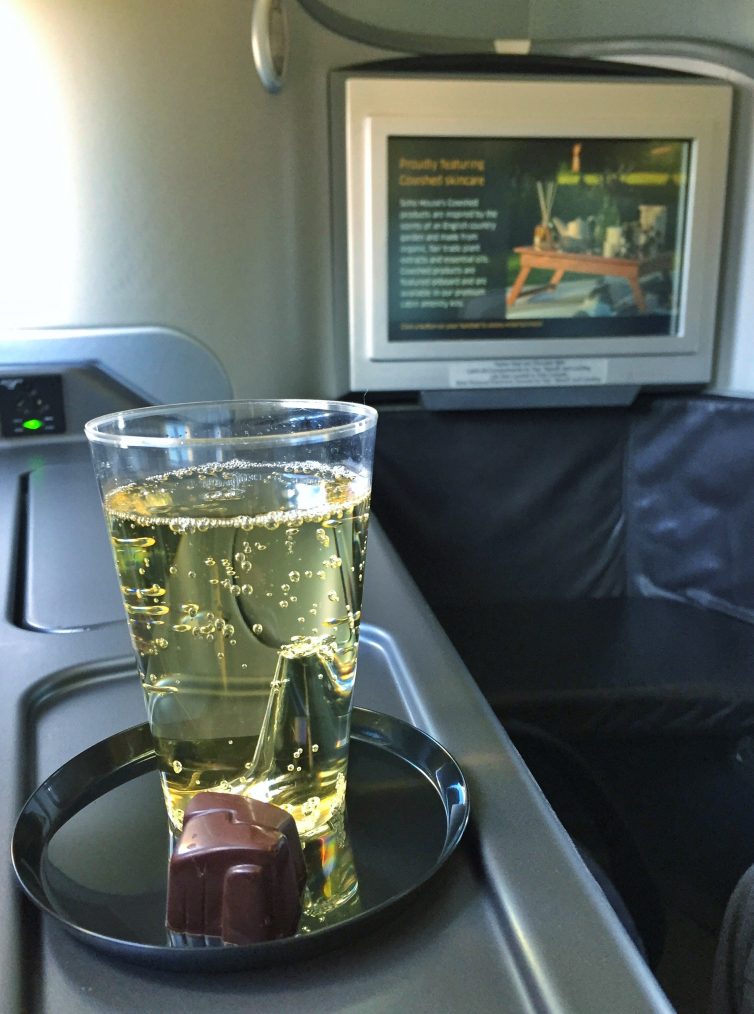 Service on this flight benefitted from the many service updates designed for United's new Polaris experience. After boarding I was served champagne in an weirdly shaped plastic cup with a spike in the middle to hold it in place. A bit impractical, but I'll give it some points for style.
After takeoff I had a drink from the bloody mary cart, a special Polaris feature for morning departures.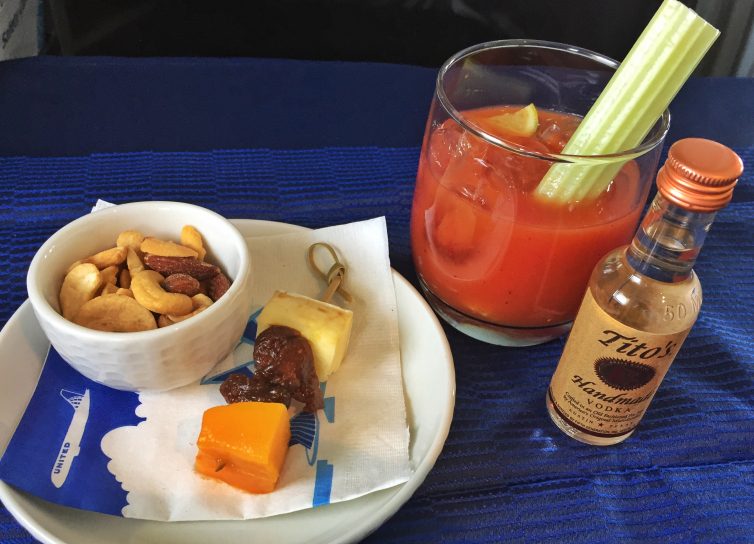 A canap of mango, dates, and cheese launched me into an impressive seven-course dining extravaganza. United has been investing a lot in its long-haul dining, and its menus now feature some pretty creative dishes and bold flavors. Some courses (like the beet-infused smoked salmon appetizer I tried) may not be suited for everyone's taste, but at least the food isn't bland and boring.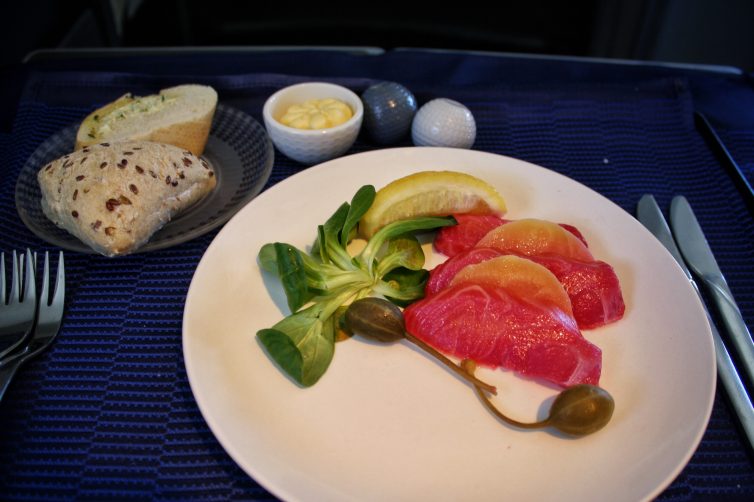 Papaya and sunflower seeds were a nice add-on to an otherwise simple salad.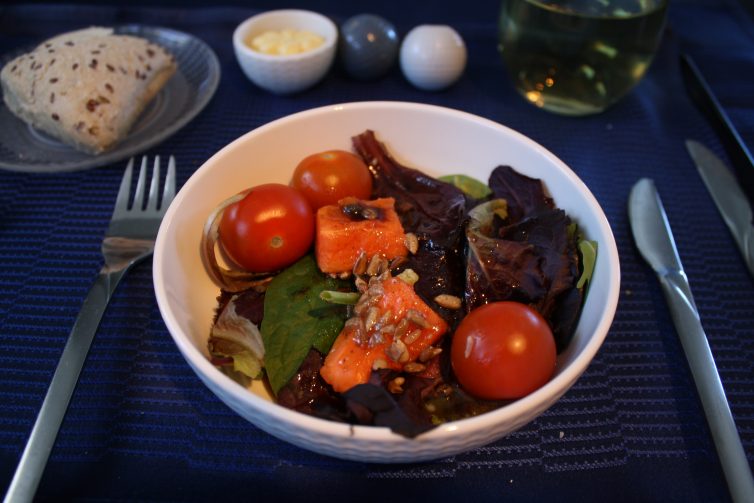 Notably, the soup is the only course that differentiates the first class meal service from the business class service. It was rich with mushroom flavor.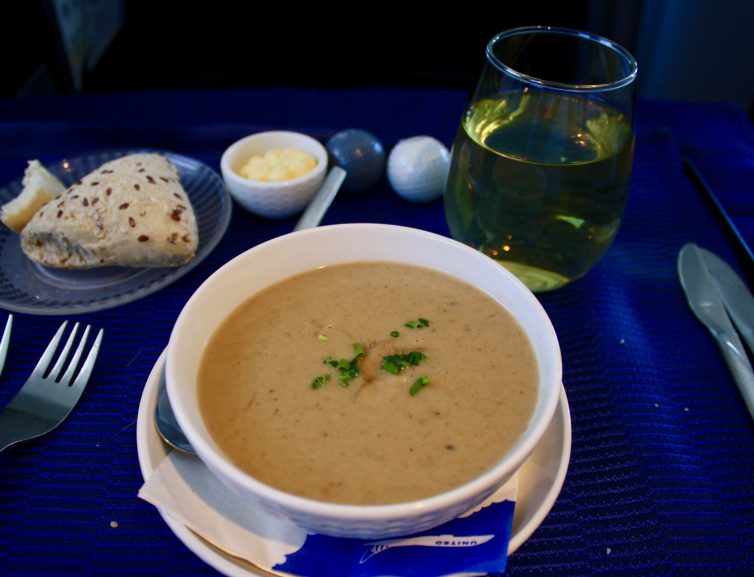 Although UA's rack of lamb is pretty legendary, I opted for the halibut ratatouille to try something new. It was simple but tasty, and I appreciated the nice choice of vegetables.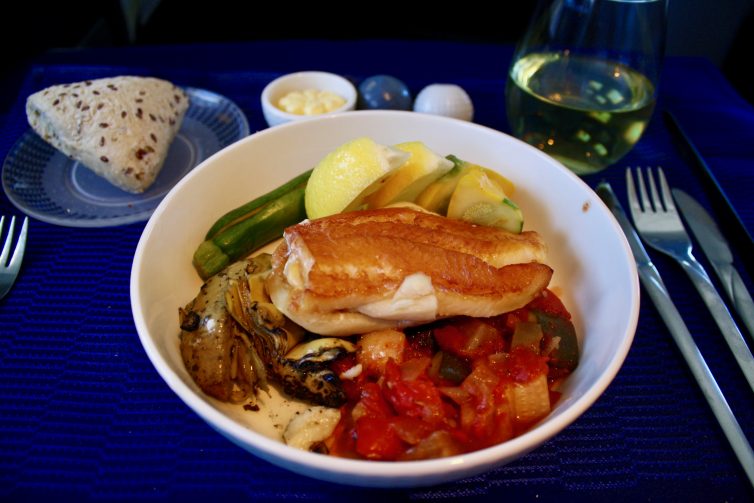 Cheese and port were next. The super-basic packaged crackers were a bit of a letdown.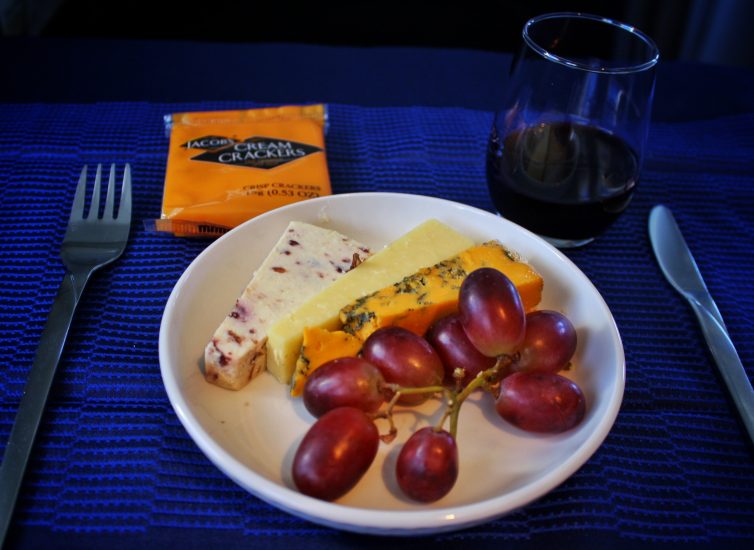 Of course, the meal wouldn't be complete without one of United's signature sundaes, served off a specialized cart.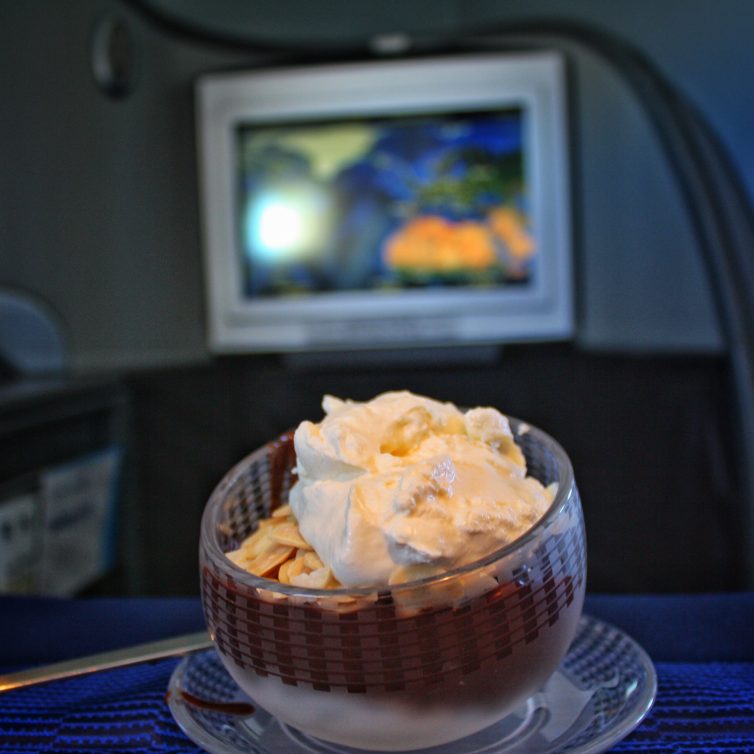 Here's a look at the full inflight dining and drinks menus. The wine list is pretty limited, even in first class.
Freshening up
My first trip to the lavatories was a reminder of how old school the 747 is. The lav was tiny and drab — basically no different than in economy, except for the Cowshed hand products.
On the bright side, United offers an impressive amenity kit in Polaris Global First. No pajamas on this flight, though.
Bedding
If I had to pick one area in which Polaris really knocks it out of the park, it's the sleep experience. The new Saks Fifth Avenue bedding is seriously out of this world.
The seat was incredibly comfortable and spacious in fully-flat mode, and the armrests can be pushed down to bed level to widen the bed space by your shoulders. It's the most comfortable sleep I've gotten in the air in quite a while.
BONUS: Taking a United 787-9 Delivery Flight – More Than Just a Plane
A word about the service
The new-and-improved Polaris features I tried on this flight, from the food to the amenities and bedding, were firing on all cylinders. But the glue that's supposed to hold those features together — the service — sort of fell flat.
To be clear, I get that flight attendants' jobs are incredibly hard, and I'm definitely not a fan of the unfair generalizations I sometimes see made about flight attendants. But it's no secret that service can be hit-or-miss with the US legacy airlines, and this flight was definitely more miss than hit.
My biggest gripe was that the crew seemed clueless about certain parts of the Polaris experience. When I asked for a turndown service, my flight attendant grumpily replied "we don't do that" and just handed me a rolled-up mattress pad. When I asked for a cooling gel pillow and a pair of slippers, I got a snappy "we don't offer that" in response. It felt bad getting denied like that when all the things I asked for are specifically listed in the service menu I got during boarding.
BONUS: Taking a VIP Polaris Flight on United's First 777-300ER
Later in the flight, I ordered the tomato soup + grilled cheese item off the a la carte menu. The flight attendant gave me a strange look and said "sir, that is TWO menu items." First of all, it was a single item on the menu, which I pointed out to her. More importantly, is it really the worst thing if a passenger in a premium cabin orders two snacks?
Other highlights from my running list of mini service fails included:
My water glass sat empty by my side for hours at a time. When I gave up and hit my call button to ask for more water, the flight attendant must have gotten distracted because she never came back with it.
When preparing my bloody mary, a flight attendant dropped some ice onto the cart, and simply picked it up and plopped it back into the glass.
Some of the wine pours were obnoxiously huge. Though some might call that a plus?
I'm not a diva, I swear! I've had my share of good flight attendants on UA in the past, but sadly my experience on this flight fell short of the high bar for first class service.
Passing the time
On a more positive note, United's entertainment selection is pretty darn good. The screen size in first class is solid, though the screen is far away from the seat.
BONUS: Flying a United Boeing 747 – Domestically on the Upper Deck
In addition to the a la carte snack menu, there was a cart set up with simple snacks. The lineup was a bit lame, but a flight attendant later told me that there was an one-off issue with catering snacks for this flight.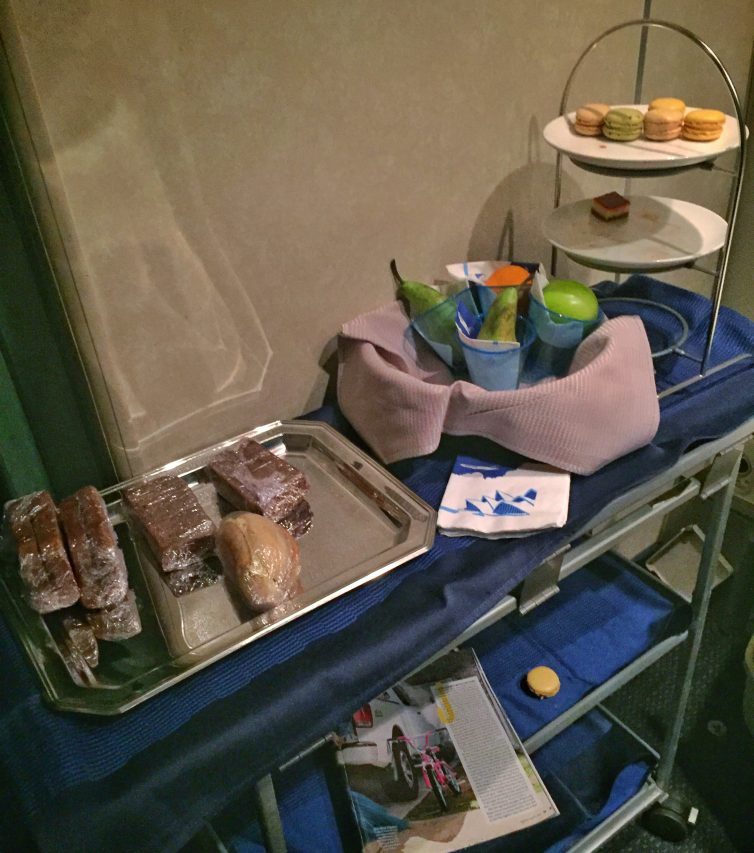 The pre-landing meal service was a bit lackluster for first class, though not bad.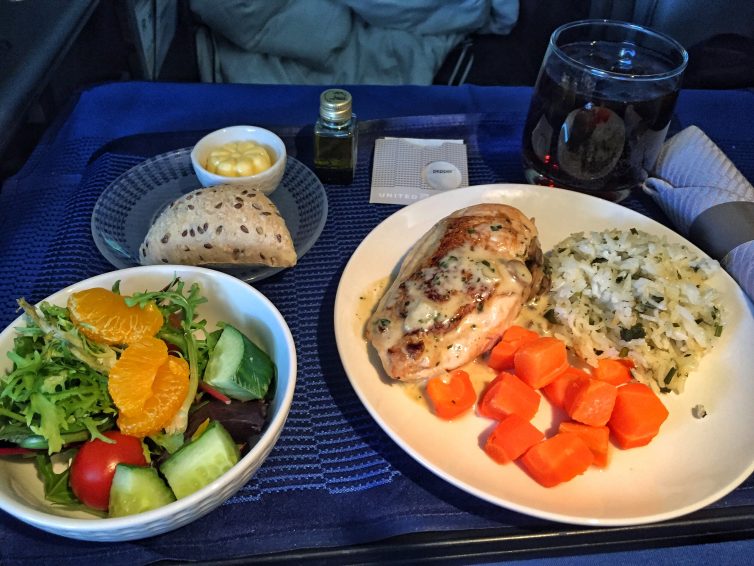 Plates were cleared as I enjoyed the beautiful descent into San Francisco International.
%CODE1%
The verdict
There is lots to love about United's first class. The new Polaris-branded features like the bloody mary cart, new glassware, and wine tasting sets (on evening flights) are surprisingly fun. The bedding makes for an exceptional sleep experience. First class also provides tons more space and storage than United's pre-Polaris dorm-style business class does.
The service on this flight left a lot to be desired, illustrating that change at United won't happen overnight. It's worth mentioning that I wrote a simple letter to United detailing the ways I felt that service missed the mark (making no mention of my connection to this website); the airline expressed gratitude for the feedback and returned some of my miles for the trouble. While the service on my flight missed the mark, I still think there's reason to be cautiously hopeful that United wants to work on its issues.
Some aviation news sources are reporting that United is only selling Polaris Global First tickets until May 2018. So should you be rushing to book a flight before UA's first class vanishes for good?
On one hand, the first class seat is way better than old pre-Polaris business class seat. Also, Global First on United may be the easiest way for many people to try out seat 1A on a 747.
On the other hand, the meal service and rest of the soft product (including bedding) are almost identical to what you get in business class. So while I'd be excited to fly Polaris Global First again, I probably wouldn't pay a huge premium for it.
Now it's time for us to hear from you. Do you have experiences with United "Polaris" Global First? Share your thoughts in the comments section below.