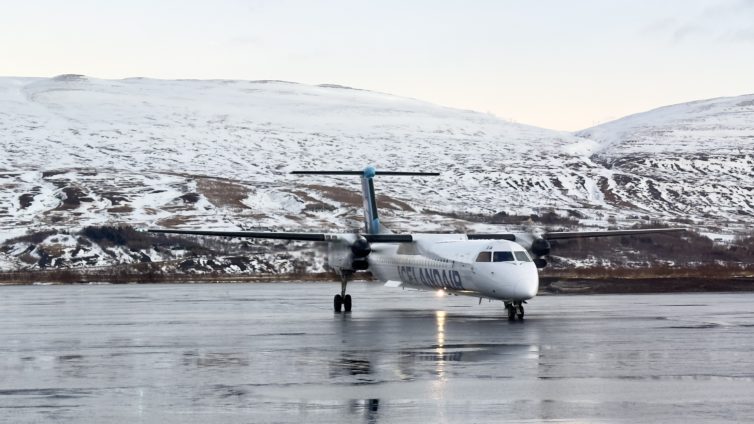 Flying domestically in Iceland is like stepping back in time.
Security? Not necessary here. Just check in for your flight at the ticket counter, wait for the boarding call, and get on the plane. No X-ray machines, no body or iris scans, no checks for bottled liquids, etc. Just check your big bags and walk on board with your carryons. A very civilized process in an equally civilized country.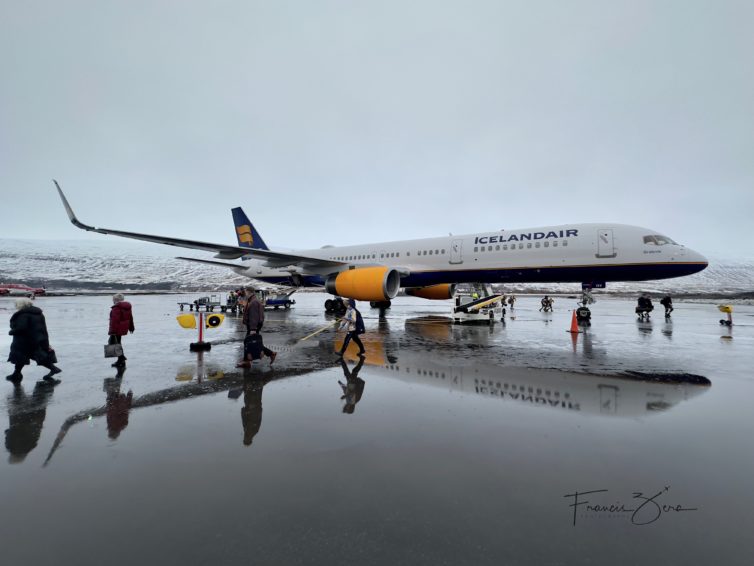 Our flight was from Reykjavik City Airport, RKV, which is right in the center of the capital city, flying to Akureyri in the north of the country, 250km (155 statute miles) by air. The much larger international airport is 50km (30 statute miles) to the southeast, in Keflavik. We were a group of six; five of us from various media outlets, and our very capable and patient Icelandair media wrangler.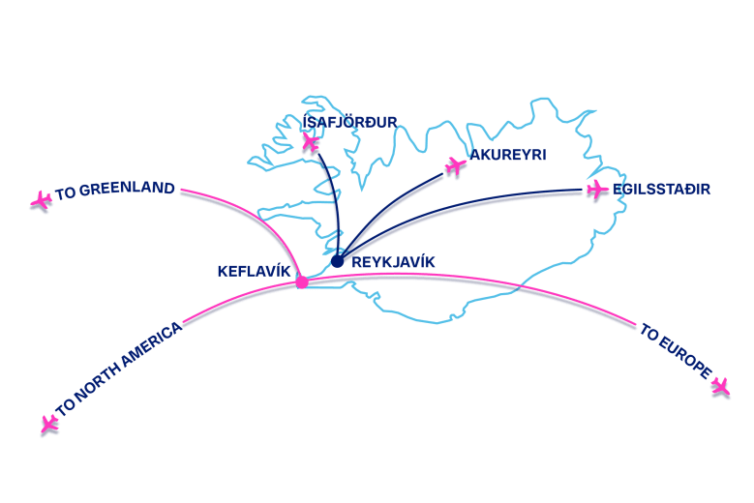 Icelandair has two 76-seat DHC-8-400s and three 37-seat DHC-8-200s in its fleet; they acquired them in March of 2021 when the airline purchased Air Iceland Connect to create an integrated domestic/international route system.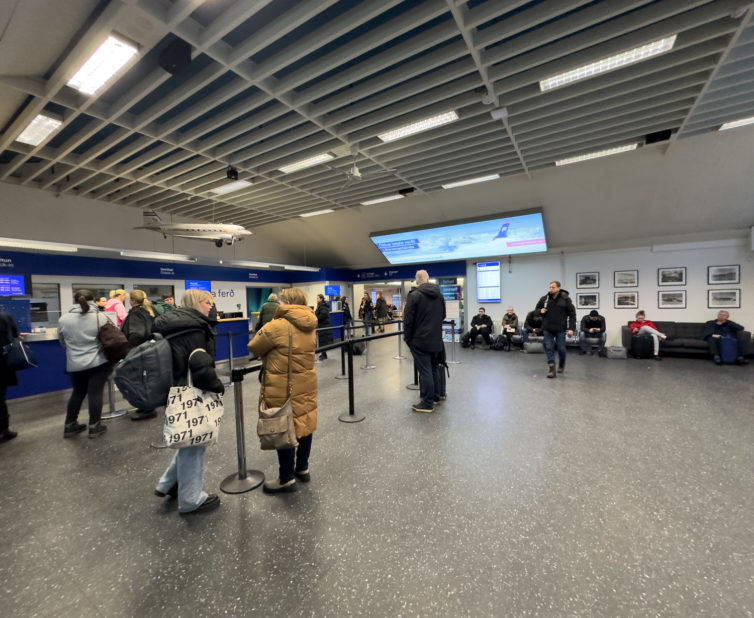 Our Jan. 28 flight from Reykjavik to Akureyri started out uneventfully enough. Our group got to the terminal about 35 minutes ahead of our scheduled departure time, checked in, and waited to board. Boarding was delayed a bit, but we eventually walked out to the plane on the ramp and climbed on board.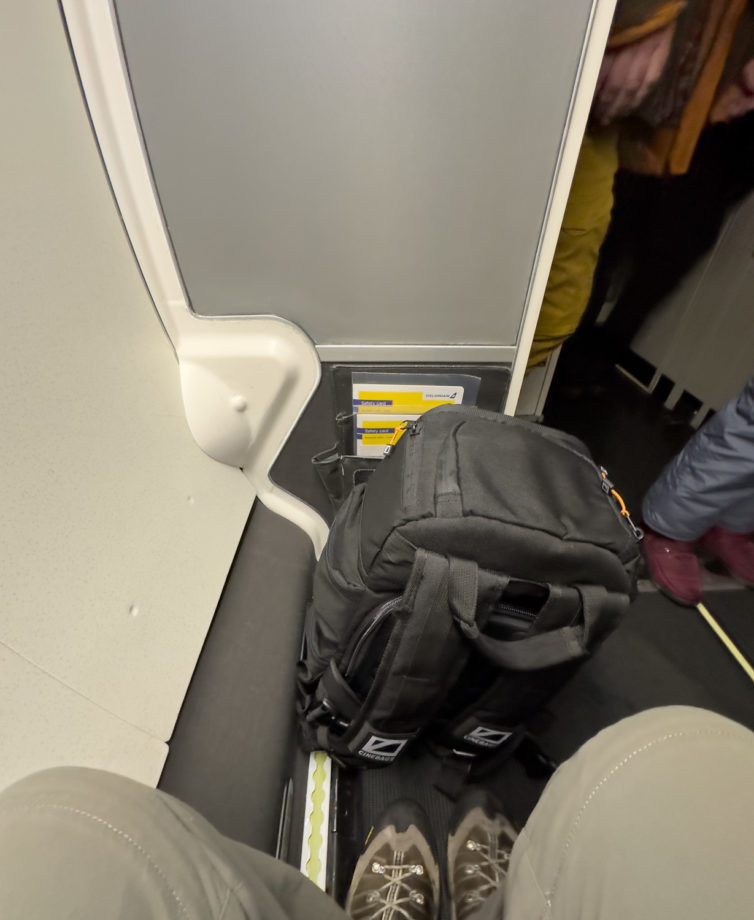 Boarding was a breeze. I had seat 1A. The plane is configured for single-class economy. Everyone got on, the door was closed, we received the standard safety brief, and then we sat there. Eventually the engines started. Soon after, the pilot made an annoucement that there was an problem with an engine that maintenance needed to check, so the engines were shut down. So we sat a bit longer and the engines were restarted. Then promptly shut down. We were told the error light was still on, so we were asked to deplane and return to the terminal.
Inside, we waited, and waited, and waited some more, as one does in such situations. Our flight was FI030, originally scheduled to depart at 9:30 am. As we got closer to 11 am, it was annouced that a 757 was being brought in from KEF and our flight would be combined with the 11:30 am flight on a larger plane.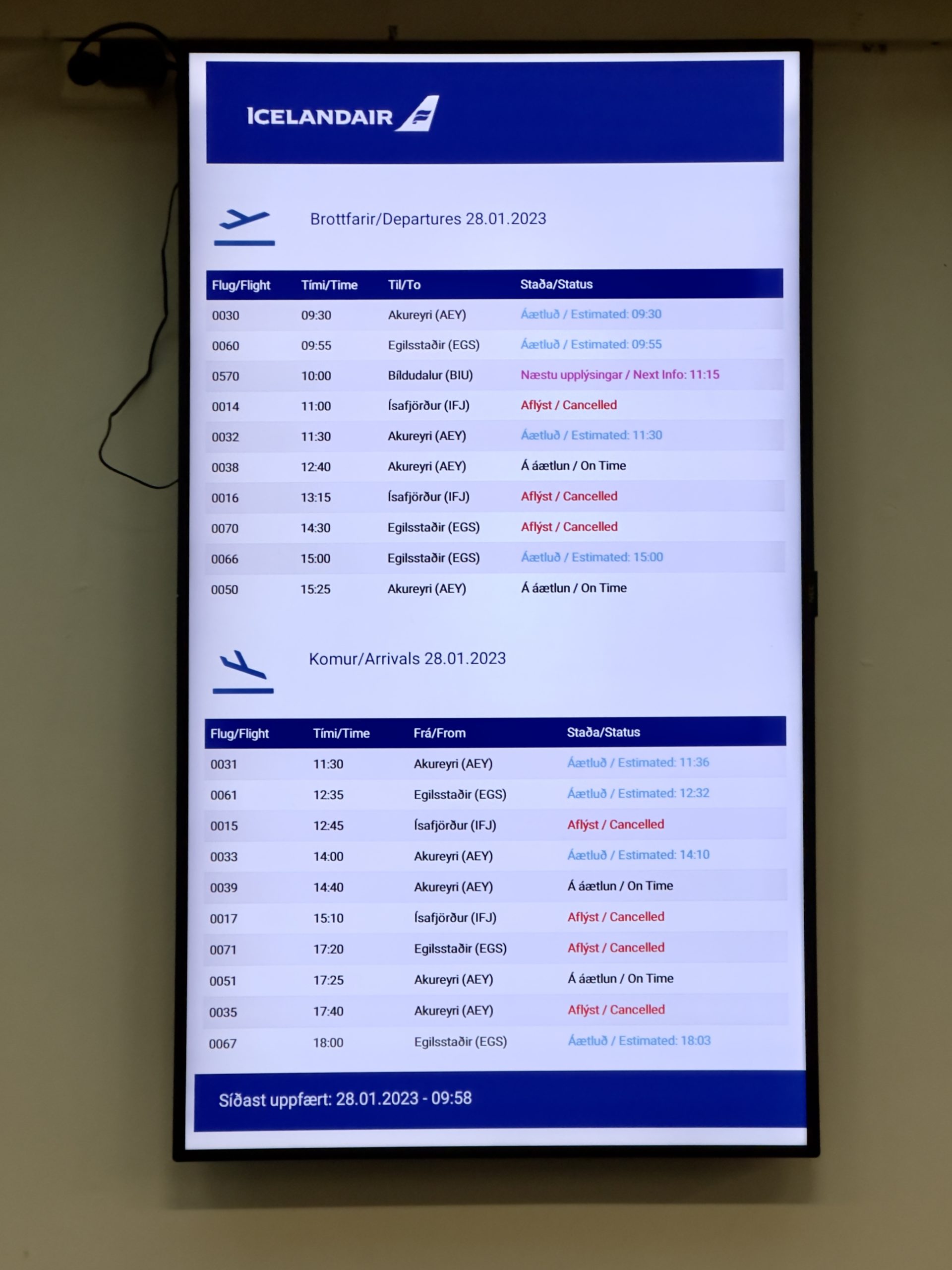 Icelanders have a saying: þetta reddast. It roughly translates into "it will all work out OK."
In my experience, many airlines would have simply canceled the first flight and tried to rebook everyone on subsequent scheduled flights. Instead, Icelandair pulled together a crew and an aircraft, ferried it to another airport, and made things happen.
So, not only did I get to experience a 45-minute Icelandic domestic flight, but I got the awesome chance to fly on a 757 one way, and return on a Dash-8. þetta reddast, indeed.
Our 757 was TF-ISV, built in 1999, and first delivered to Iberia. It was a standard-issue Icelandair 757, which was pressed into service for a few domestic trips before resuming international service.
The flight was so brief that we were only at cruise altitude for a few minutes, and there was no time or need for a cabin service.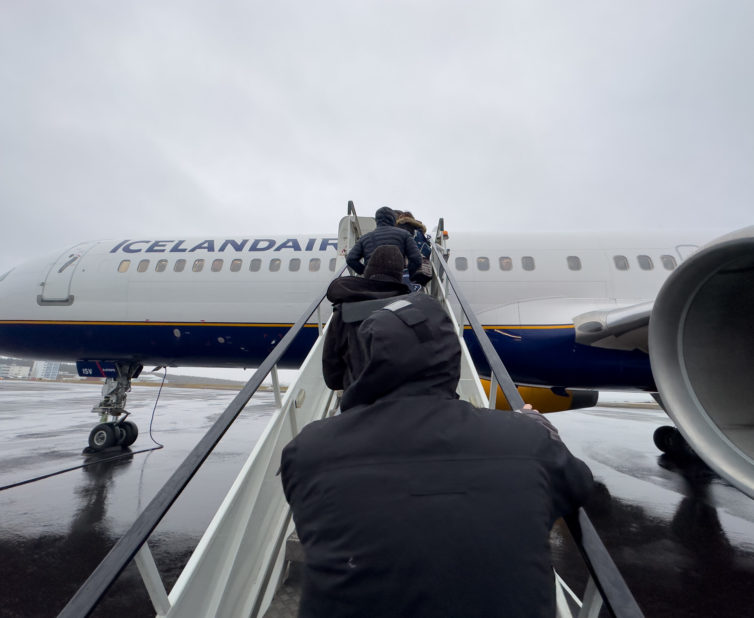 My reassigned seat was 24D, an aisle toward the back of the plane. I'd been hoping for a window, but there were lots of low clouds so the views would have been fleeting anyway. Plus, we were actually able to go to Akureyri, so no complaints from me.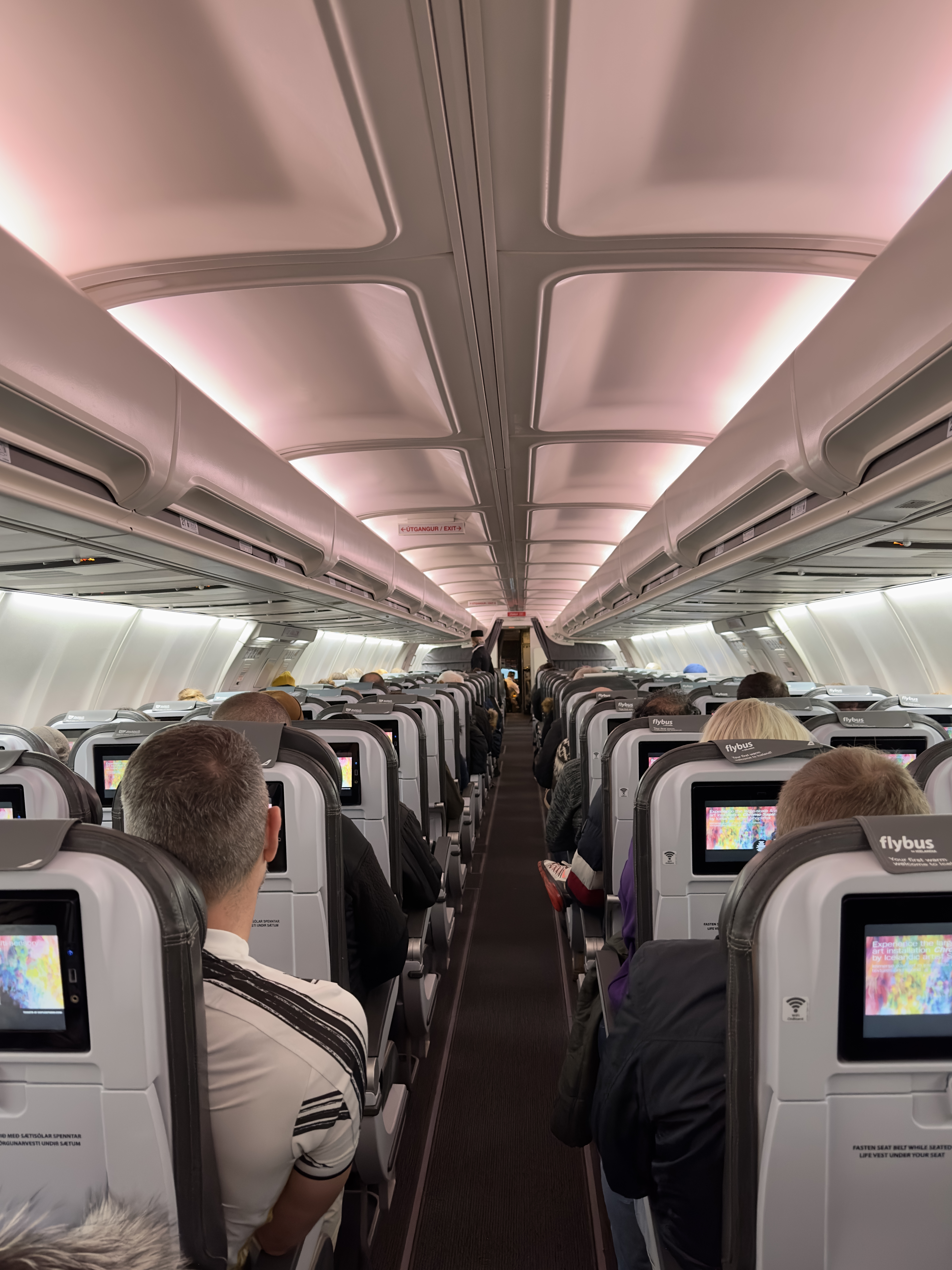 It would be my first time to the northern part of the country, so I was quite excited about the trip, even if it was to be an abbreviated one.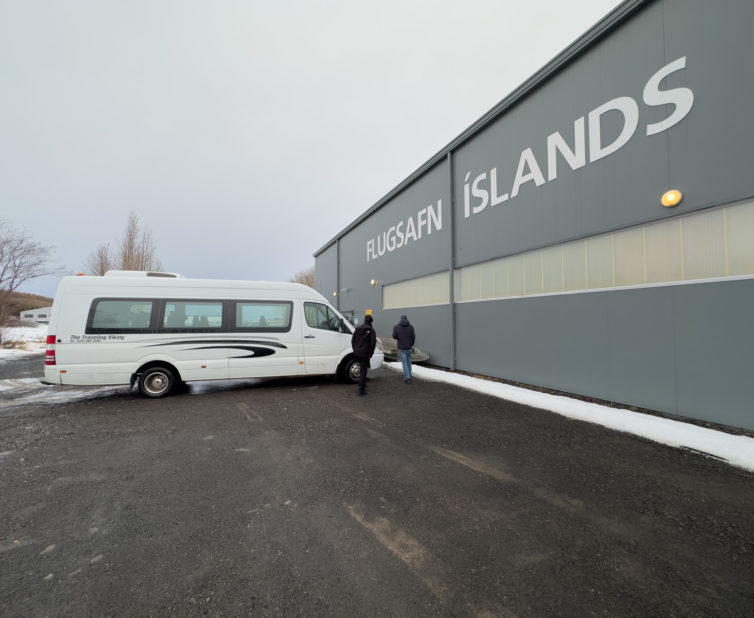 We had less than an hour to see the whole Icelandic Aviation Museum. While not large, it's jammed full of cool aircraft and artifacts – I definitely didn't get to see everything. We were told that a new exhibit was in the works – an Icelandair 757 fuselage section would be installed inside near the entry area; sounds like I'll need to plan a return visit.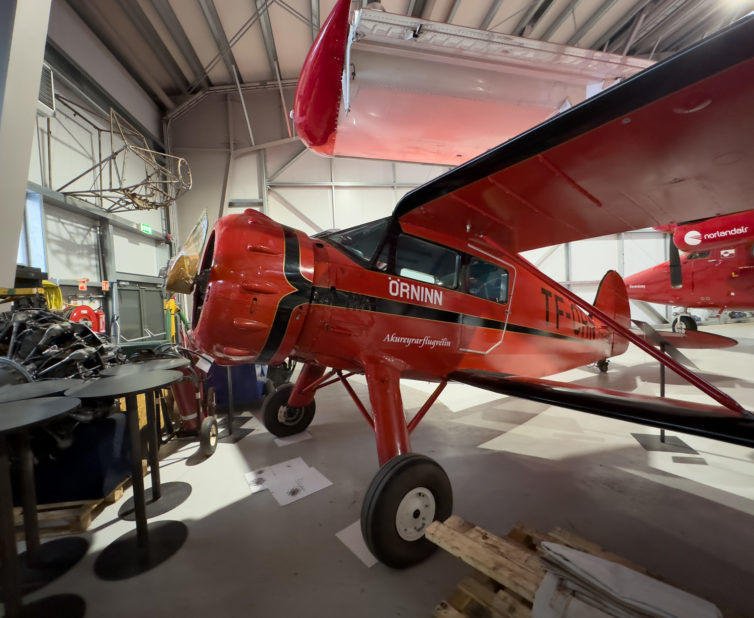 After leaving the museum, Traveling Viking tours pulled together a last-minute van tour for for us; we had time for the quick drive up to Goðafoss waterfall. We drove Route 1 via the difficult-to-pronounce, 7.6km long, Vaðlaheiðargöng tunnel.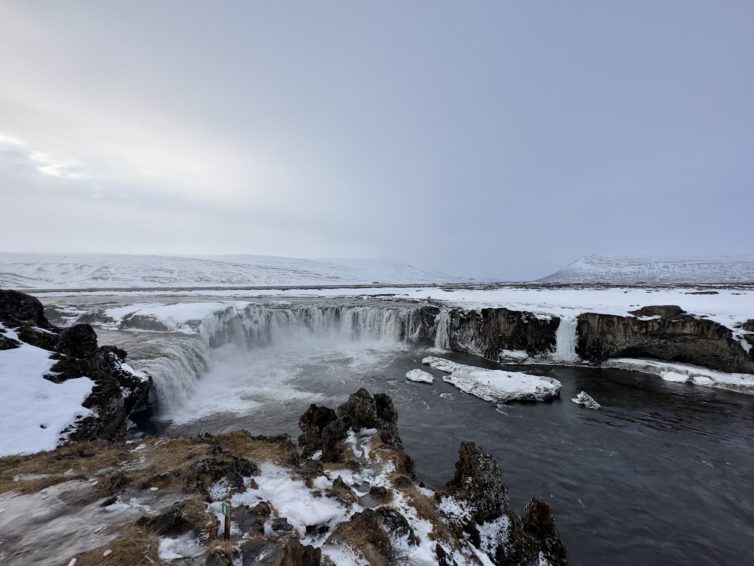 After a chilly walk near the waterfall, it was time for a quick lunch at the gift shop restaurant nearby, then a dash back to Arureyri to catch out flight back to Reykjavik.
Our return flight was indeed on a Dash-8. We were on TF-FXA, which was built in 2000 and first delivered to SAS Scandinavian Airlines.
The boarding process at Akureyri was as smooth and simple as in Reykjavik; we got to the terminal about 40 minutes before boarding time. We sat in the lounge, got a coffee at the great little snack counter and watched an Icelandic Coast Guard helicopter depart on a patrol.
When the boarding call came, we all just lined up, showed our tickets, and walked out to the ramp to board the flight. No security screenings necessary.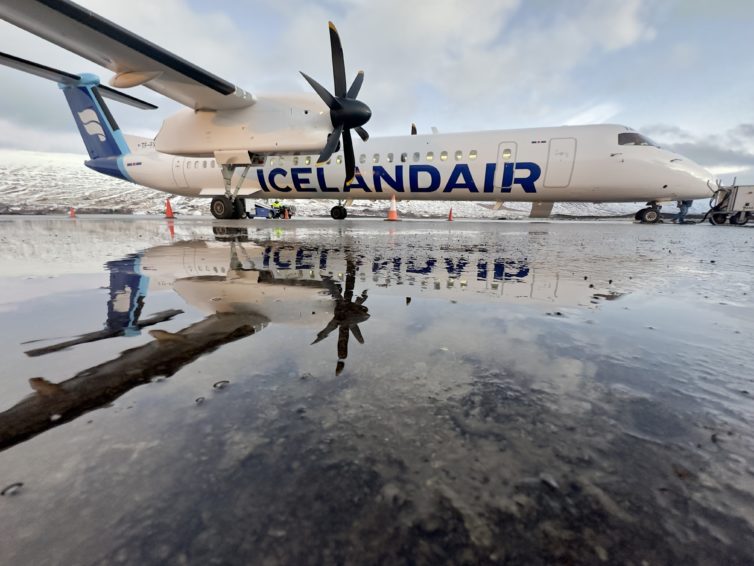 Back home, Alaska Airlines has retired the last of its Dash-8s in favor of Embraer 175s; it was a great opportunity to be able to fly on one in scenic Iceland. The turboprop planes do feel a bit dated in some regards… especially when it comes to cabin storage. But the 2-2 seating layout is great, the seats themselves are comfortable, and the windows afford great views; I always enjoy flying on these aircraft.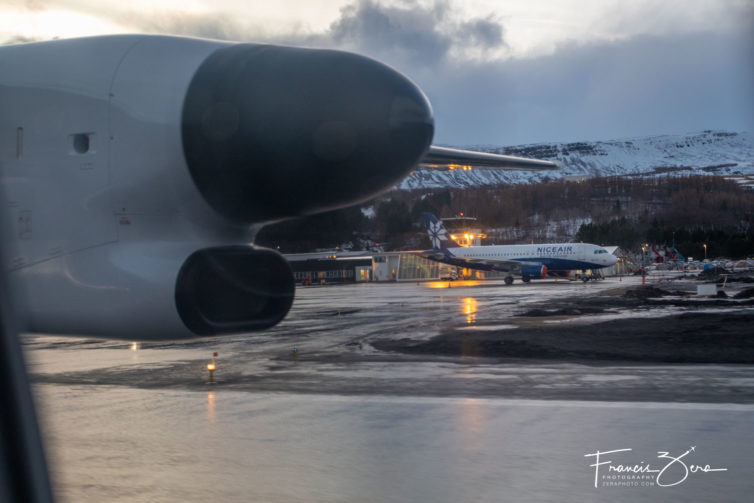 The plane handled the return flight like a champ; it always feels solid, even in turbulence, and the Icelandair pilots are well used to the country's gusty winds and low visibility. The 45-minute return flight was at dusk, making for some lovely views on the way back to Reykjavik. I'm already looking forward to my next trip.
Disclaimer: Our flights, accommodations, and transportation were paid for by Icelandair and other vendors. Our opinions remain our own.