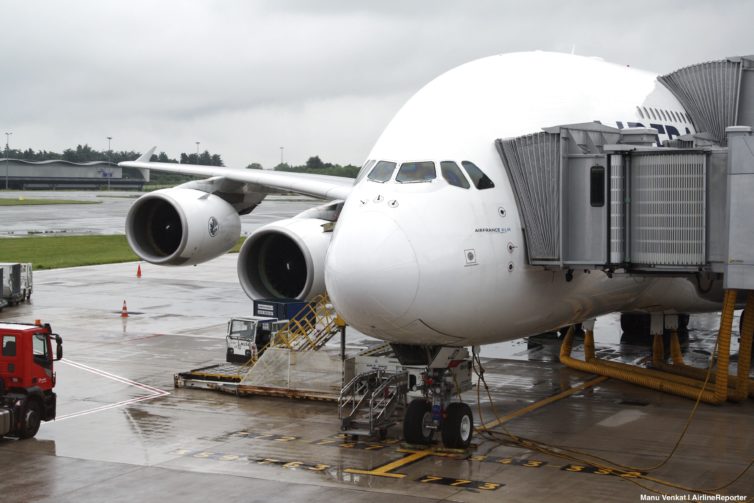 A little over ten years ago, Air France took delivery of its first Airbus A380 and flew its first commercial service from Paris to New York. Since then, the superjumbo has been the flagship of Air France's fleet. But ten years is an eternity in the fast-moving airline world, and time takes its toll on hard-working airplanes. Air France originally announced plans to retire its A380 fleet by 2022, but with COVID capacity cuts, the airline just announced yesterday that the plane will be removed from service immediately. So whenever your last flight on an Air France A380 was — if you ever flew it — it was your last.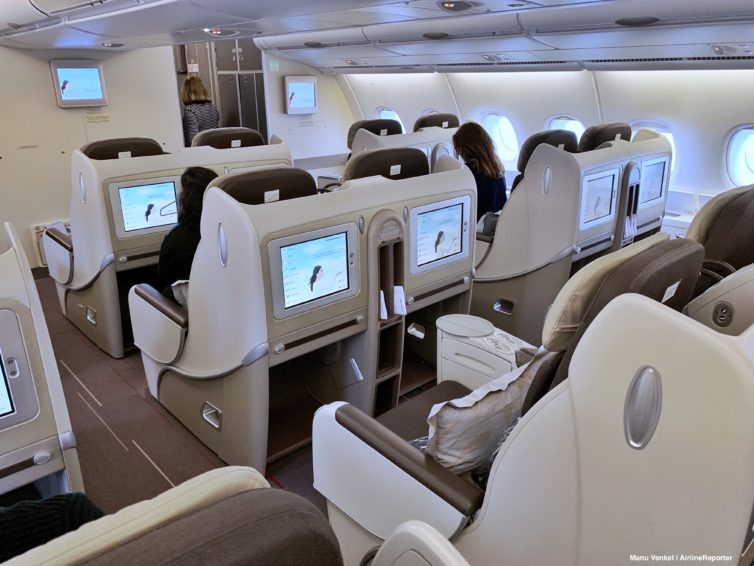 I had the chance to fly an Air France A380 last year on the same historic route that started its story with Air France: CDG to JFK. I've had some good times flying A380s in the past. My very first AirlineReporter story was a Lufthansa A380 trip report. And I got to fly a BA A380 in Club World a few years ago.
But by the time the flight was over, I could see why it was a plane that wasn't going to be in the fleet for much longer. I did appreciate some things, like the super-smooth takeoff, whisper-quiet ride, and soaking in the spectacular scale of the double-decker. But the AF A380 is a plane that's stuck in the past, and overall I won't miss them much as they transition to their well-earned retirement. Whether you're an A380 fan or a hater, read on for the full scoop.
Tour de CDG
Air France is a huge airline and its hub at Charles De Gaulle Airport is equally massive. I had a couple hours to kill at the airport and so I hopped between a few lounges. They were comfy, stylish, and spacious enough.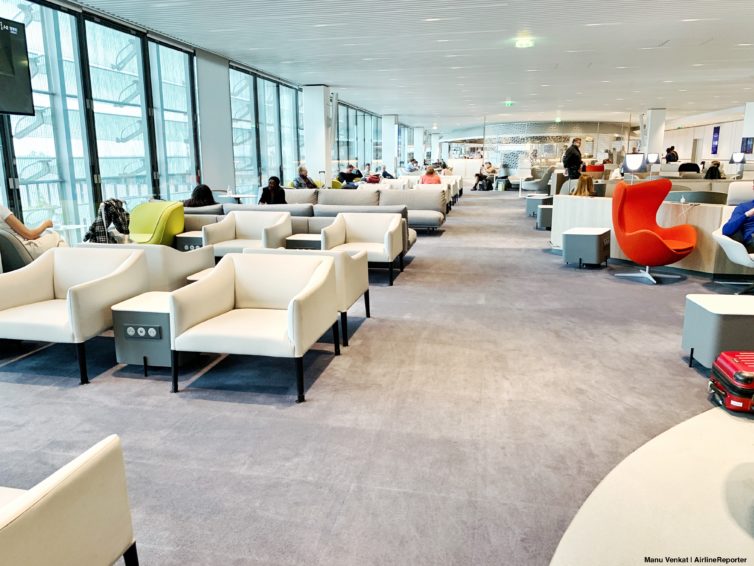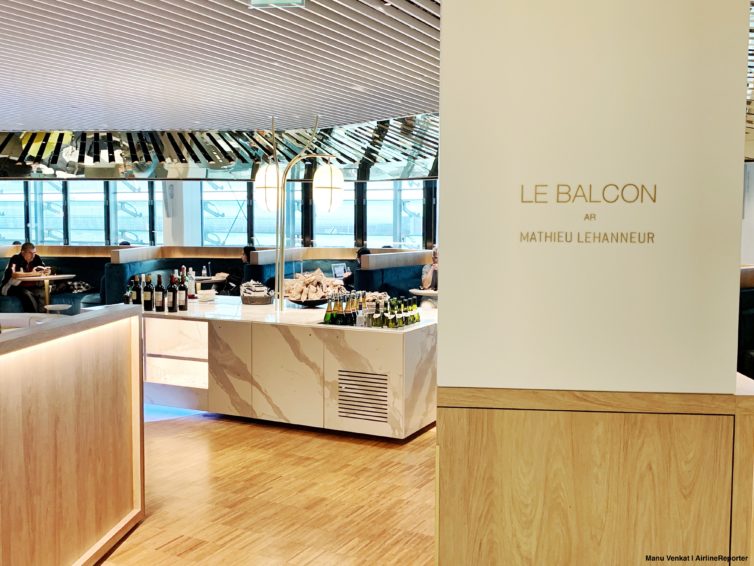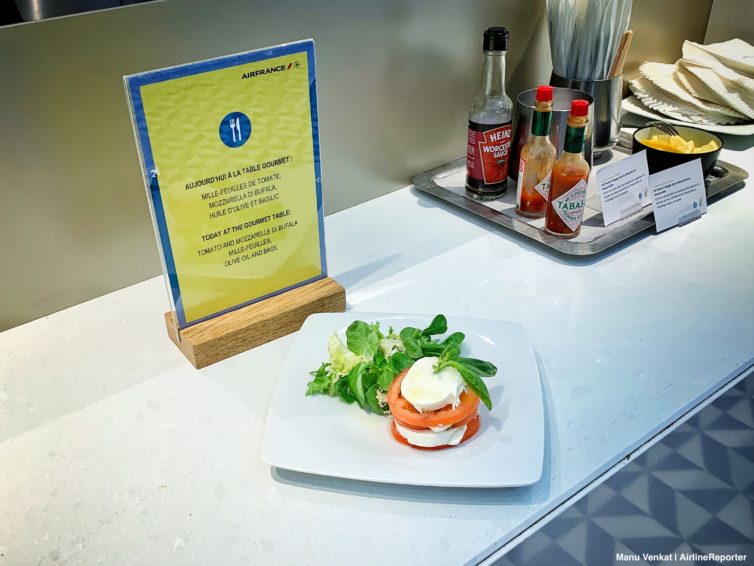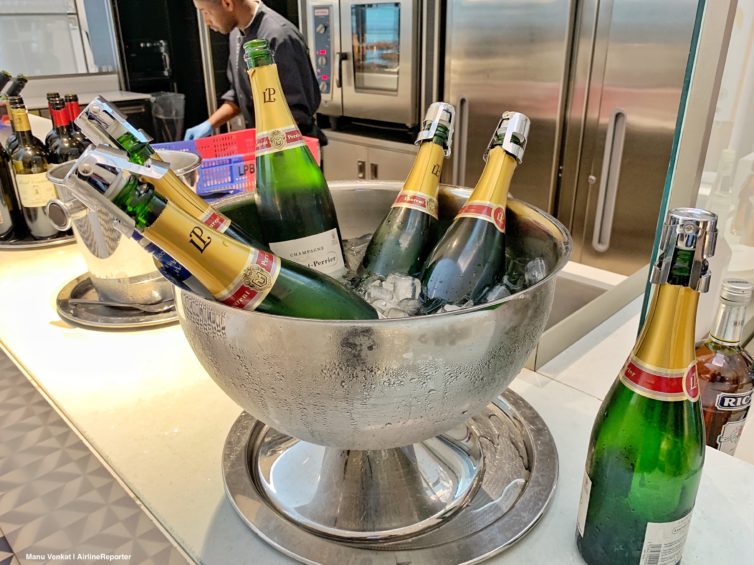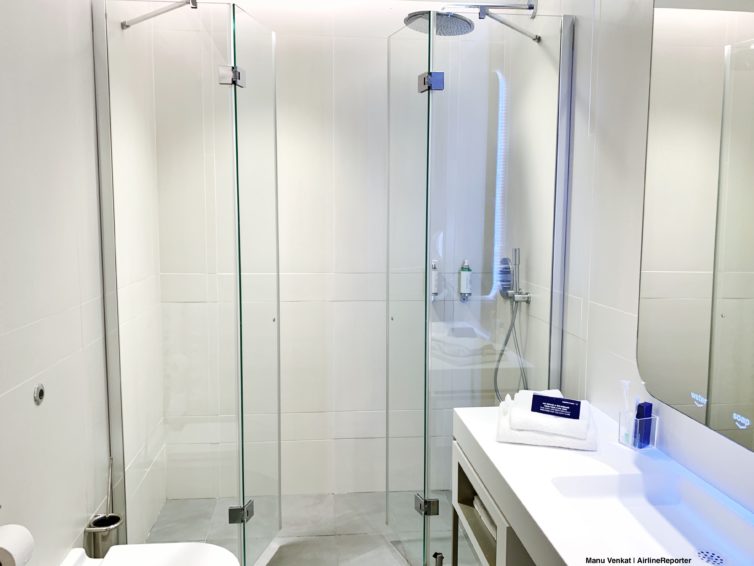 BONUS: Big Fun During a Behind-the-Scenes Ops Tour at Paris Orly Airport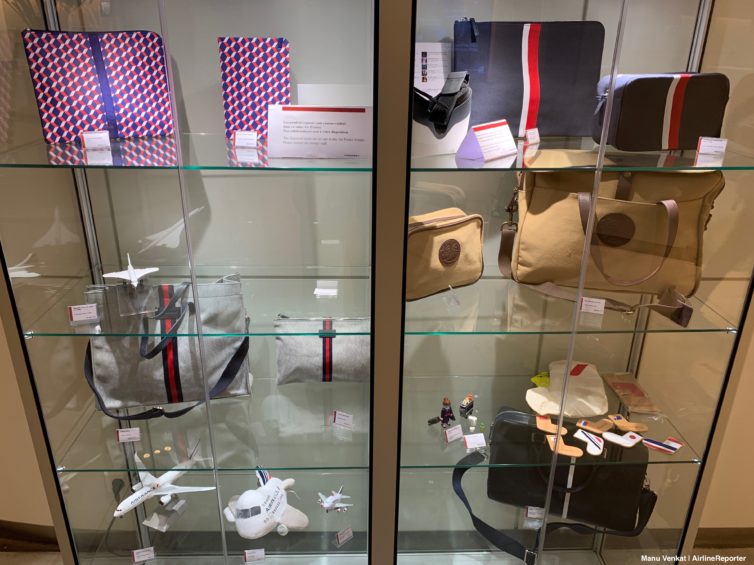 Face-to-Face with a superjumbo
On my way to the gate, I stopped for some quick planespotting breaks. I passed by a 777-300ER operated by China Eastern, one of Air France's SkyTeam partners.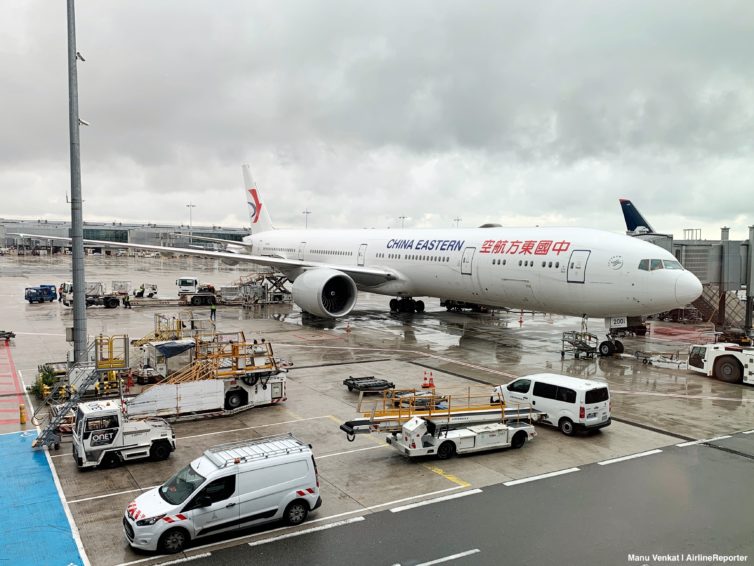 Next, a Boeing 777-300ER. The type will become the biggest airplane in the Air France fleet once their A380s fly off into the sunset.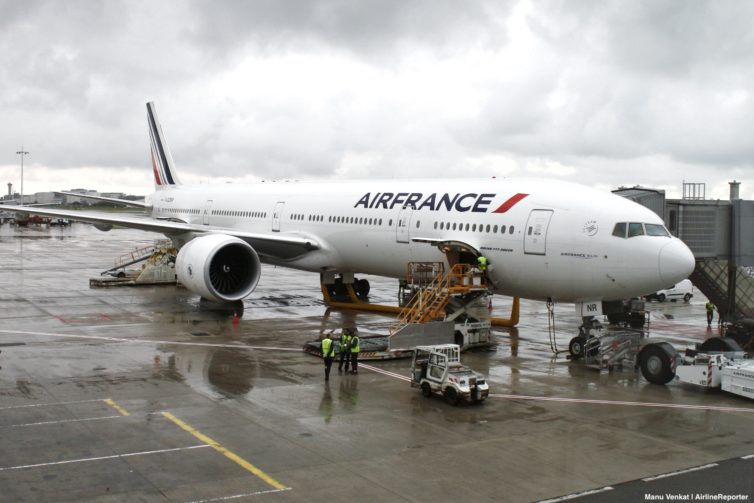 The A330 is another long-haul workhorse of the Air France fleet.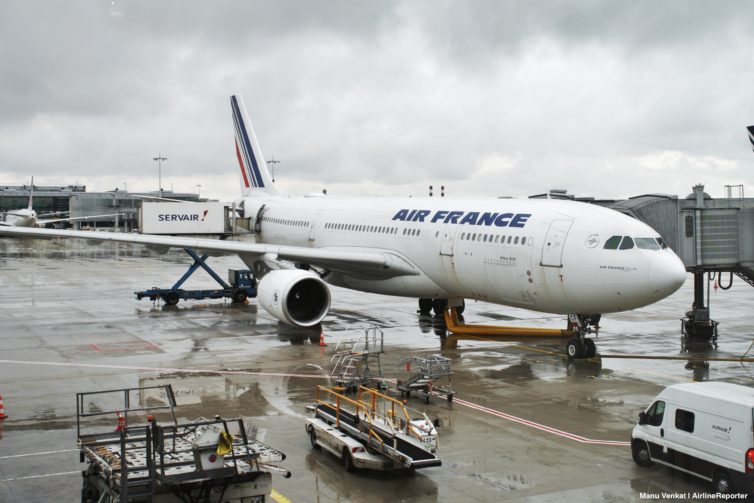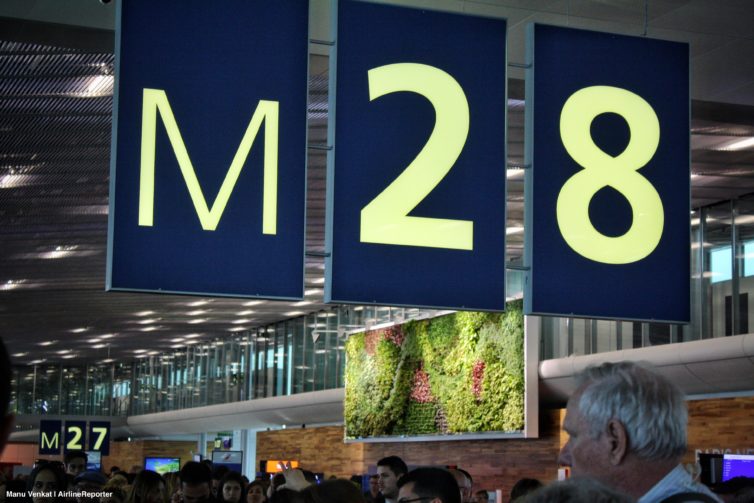 Finally I got to my gate and saw the A380 that would be taking me across the Atlantic. The A380 can look pretty majestic from some angles. But in my honest opinion head-on isn't one of them, thanks to her BIG forehead.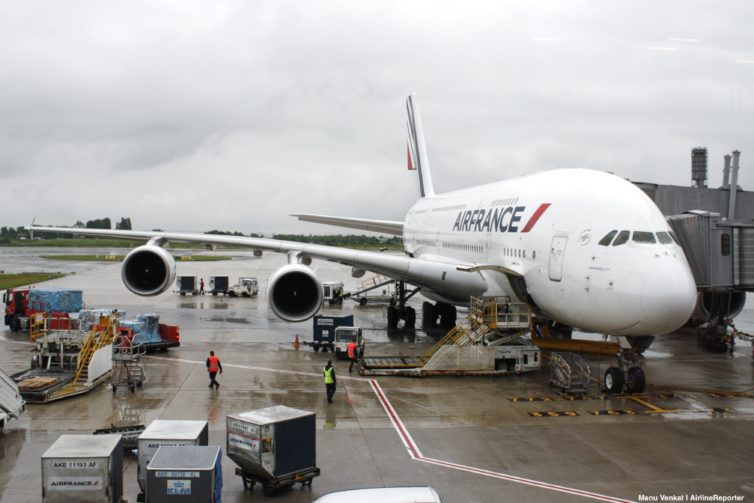 BONUS: First Class Adventures on a Qantas Airbus A380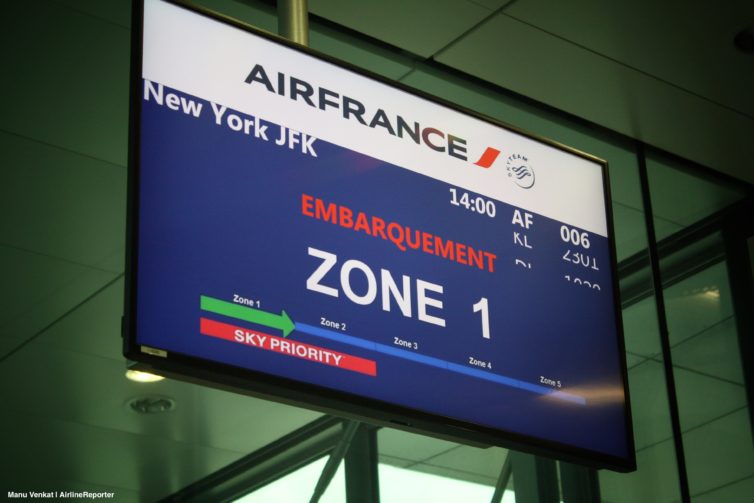 Boarding directly into the upper deck of a plane is one of those rare AvGeek joys. Though as I got closer to the plane, I noticed its paint job really needed a refresh.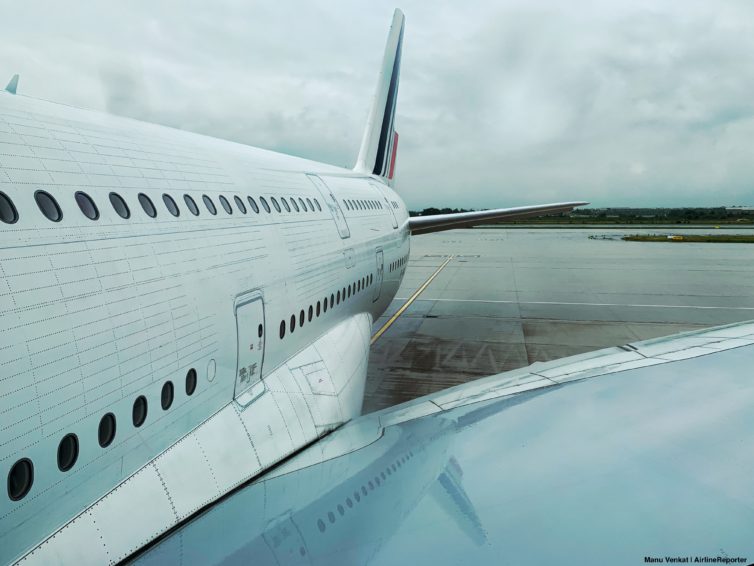 Bienvenue à  bord
First, a lay of the land. The Air France A380's upper deck is mostly a HUGE 80-seat business class cabin, divided by midship galleys and lavs into two sections. Behind it is a premium economy cabin and a tiny economy section.
I was seated over the wing on the left side. The business class cabin is 2-2-2-across, meaning that window seats don't have direct aisle access.
Overall it's an uninspiring, outdated seat. There's very little privacy, and the personal space factor is limited. Plus, the color scheme is drab.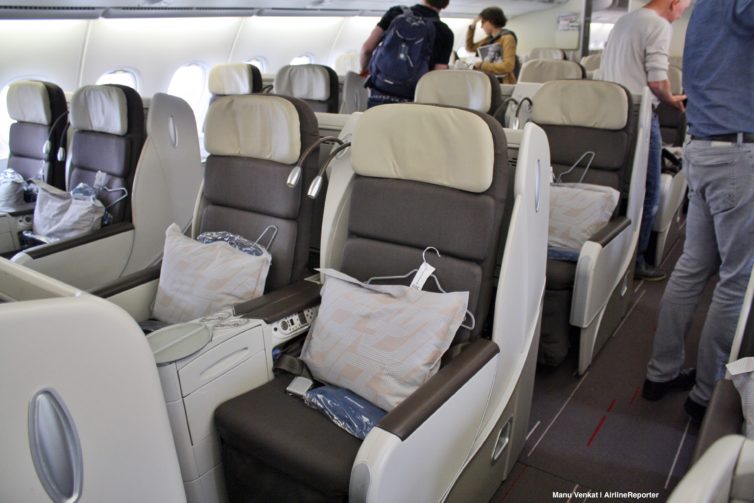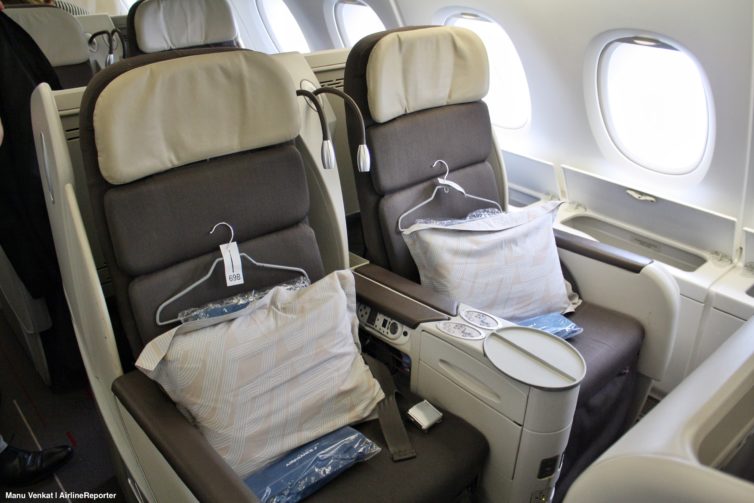 Each pair of seats is encased in a plastic shell, so at least reclining your seat doesn't infringe on your rearward neighbor's personal space. Each seat gets a footwell and its own literature pocket and shoe cubby. One bonus of the A380 upper deck is the lineup of storage bins along the windows, which are large enough to hold a small backpack.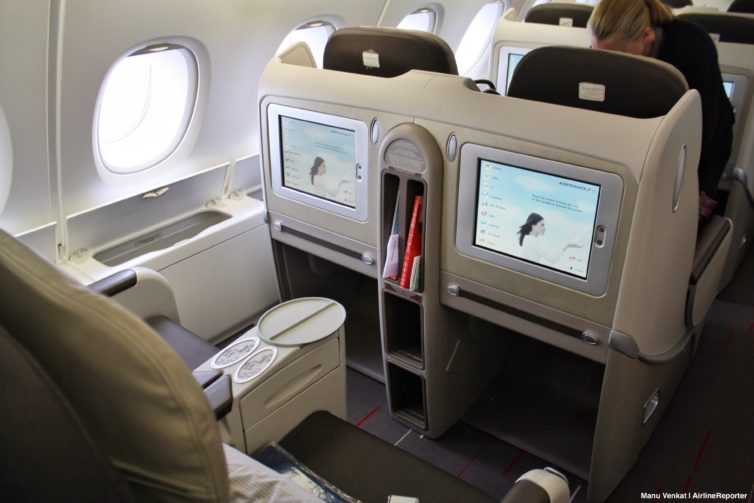 These seats turn into a angled-flat bed that is comfy enough but far inferior to the fully-flat beds elsewhere in Air France's fleet.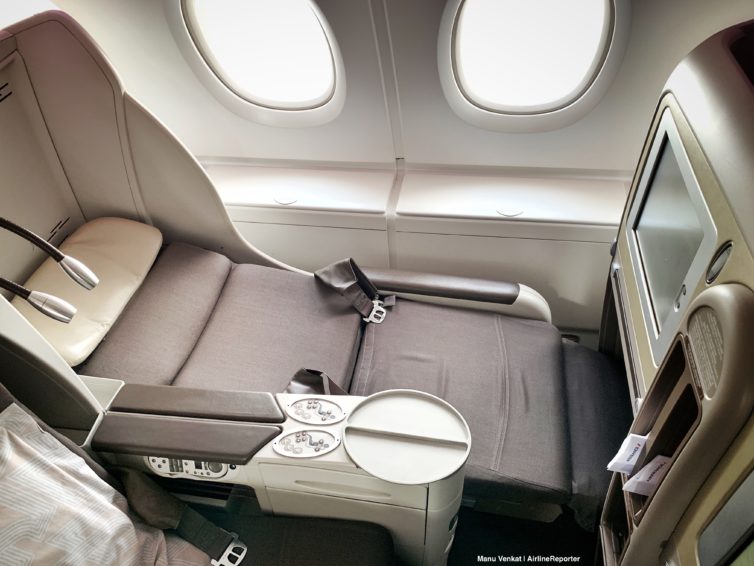 The console between seats has a small drink table and the controls for the seat, which were simple and intuitive.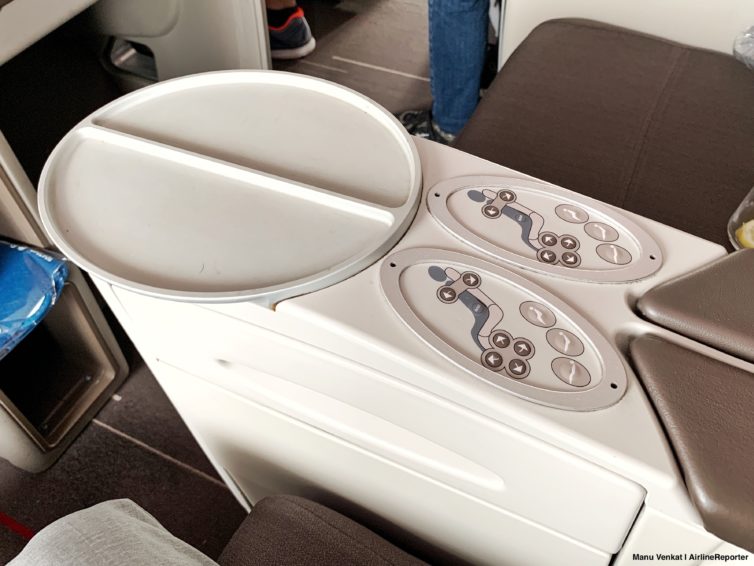 BONUS: Ciao, Combi! KLM Sends Its 747 Fleet Off Into the Sunset
The controller for the entertainment screen was under the armrest, along with a small storage pouch. Some of the surfaces clearly hadn't been cleaned well between flights.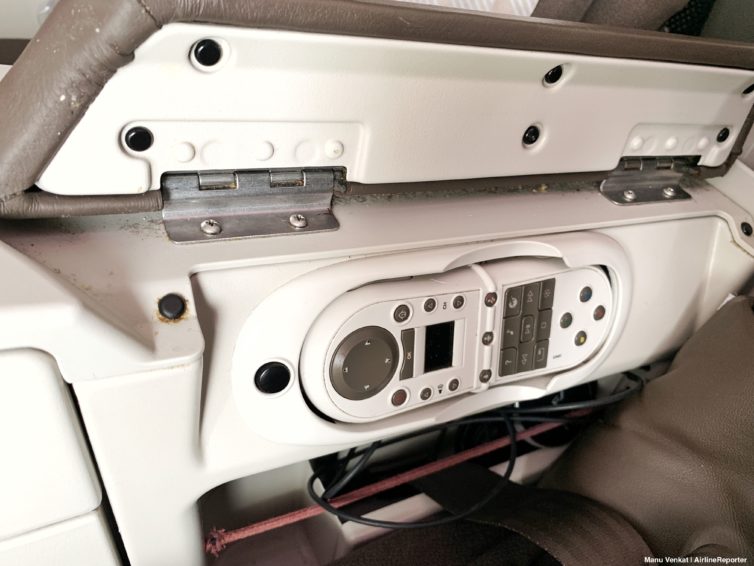 Flight attendants came by to introduce themselves, distribute menus, and offer preflight drinks.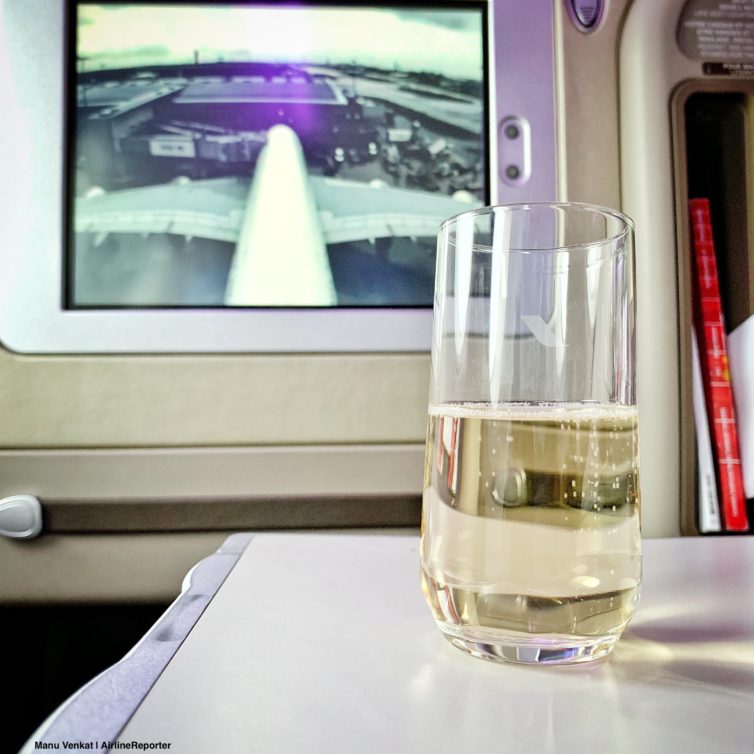 After a half-hour operational delay, we pushed back and headed for the runway. I was excited to find that this A380 — as old as it was — had multiple exterior camera views playable on the entertainment screen.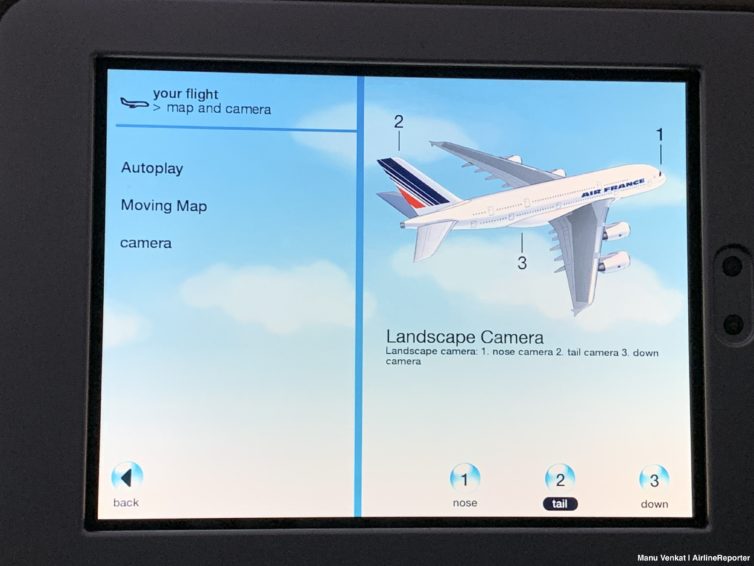 Here's a video recap of the departure, focusing on those sweet tail cam views. Remember to show our YouTube channel some love and subscribe if you like aviation videos!
And soon enough we were above the clouds and headed out over the Atlantic.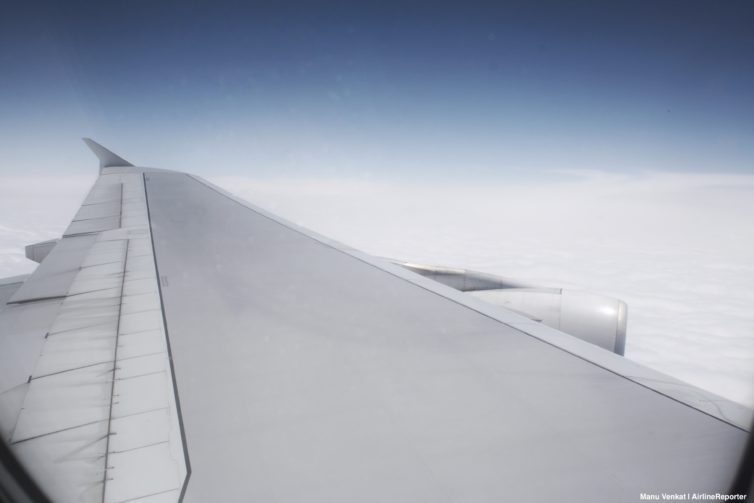 Time to Dine
At this point our flight attendants came around to get the meal service started. The foie gras mousse was a perfectly French way to get things started. Weird, though, that the nuts came in a box.
Here's a look at the menu. Flight attendants took orders on iPads.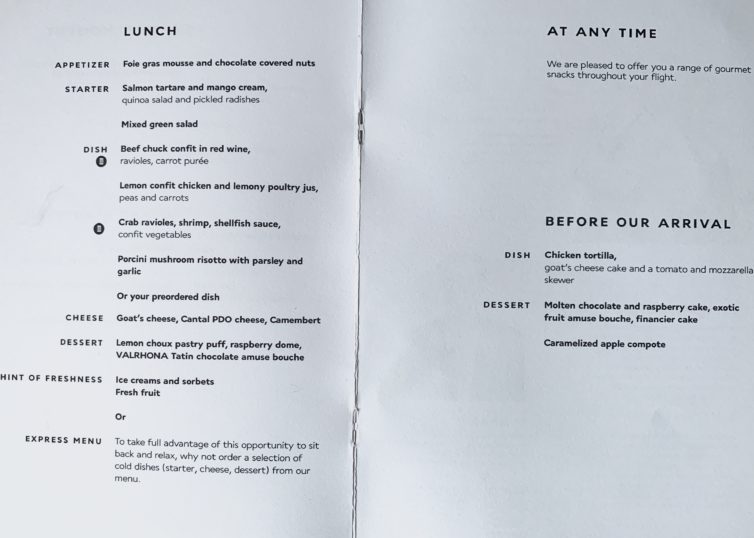 BONUS: Trip Review – Korean Air Business Class on the A380 Upper Deck, LAX-ICN
The first course was a salmon tartare with mango cream, served with a side of quinoa salad topped with pickled radish. I was also offered a side salad, bread, and some assorted cheeses. It was all excellent.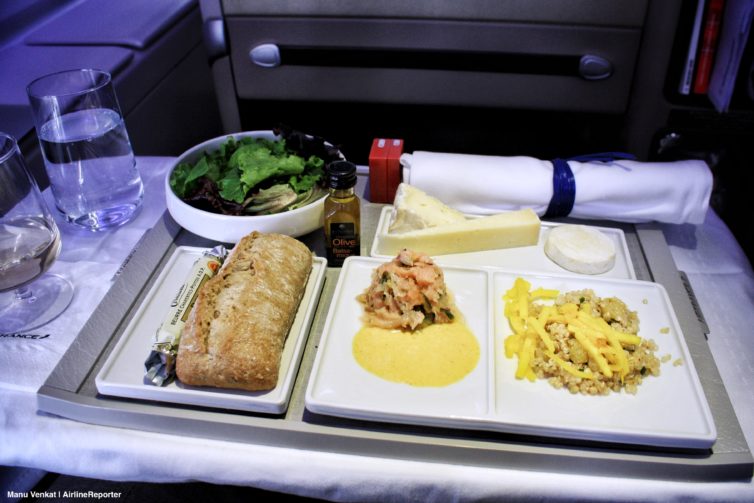 The opening page of the menu mentioned that chef Arnaud Lallerment had "prepared two gourmet variations of the raviole." I had tried the seafood on my inbound flight to Paris so I went with the beef chuck confit in red wine with ravioles and carrot puree. The presentation wasn't the most photogenic — especially the sauce in a foil container — but the dish itself was flavorful and cooked to perfection.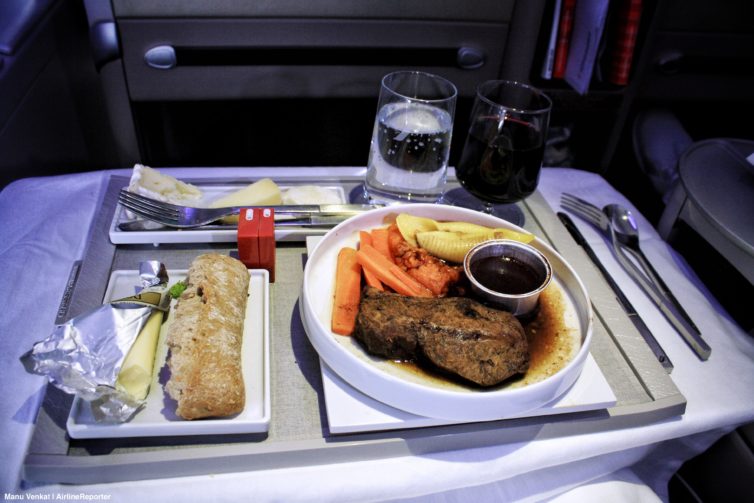 The meal wrapped up with mixed pastries and fruit for dessert.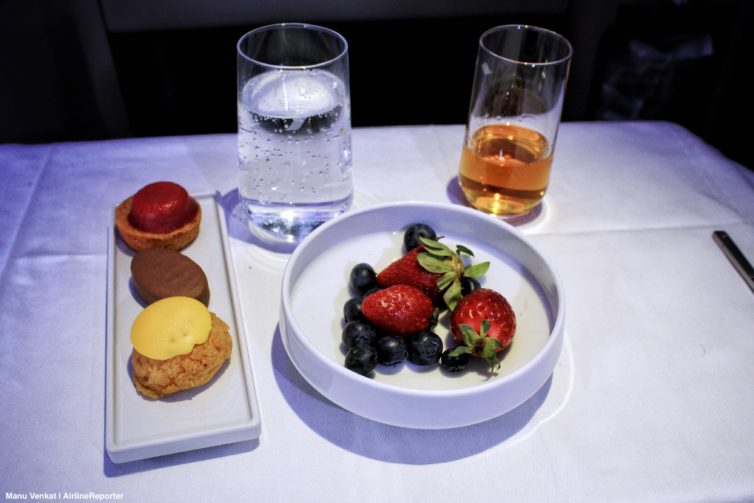 The flight attendants serving me were very professional — clearly the cream of Air France's crop for such a prestige route. That said, the business class cabin was so huge that even their polished service felt a bit assembly-line-ish.
Settling in for the Long Haul
The inflight entertainment system was ridiculously outdated. The screen was pretty small and low-res. And the interface was pretty old-school. To be honest, I was having enough fun with the exterior camera views, so I didn't check out the library of movies and shows much.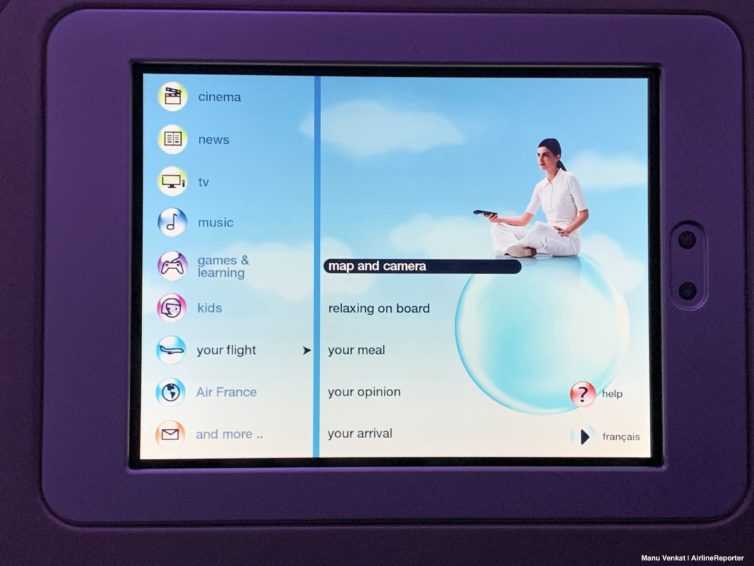 BONUS: Club World at Last! On a Majestic British Airways Airbus A380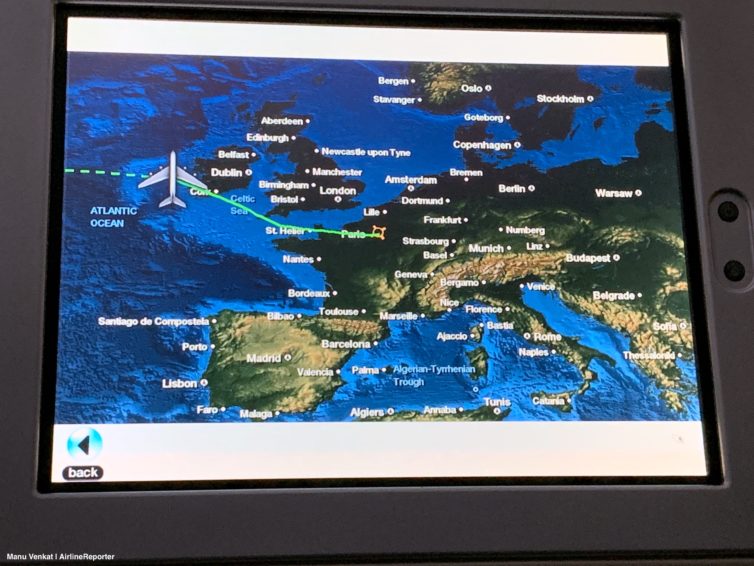 The moving map was yet another thing that looked straight out of the 2000s.
I appreciated that people kept the windows open so the cabin didn't feel like a coffin. I took advantage to get up and explore the rest of the upper deck.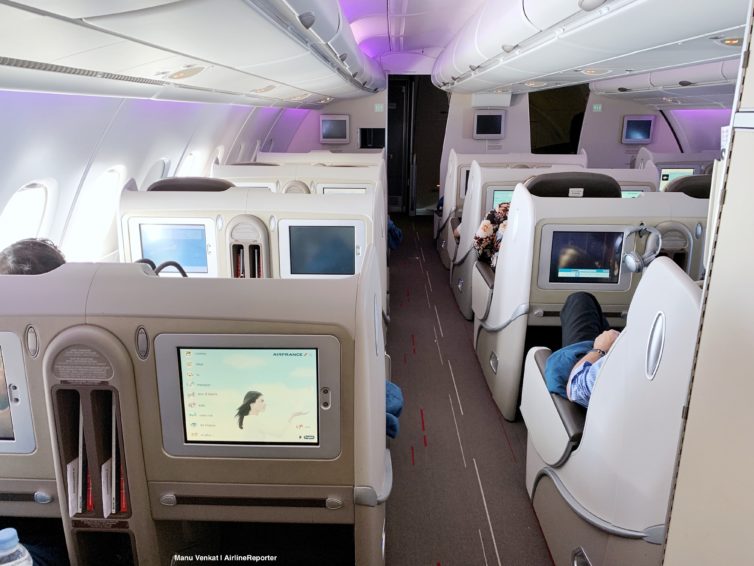 Near the galley the flight attendants had set up a cute snack and drink nook.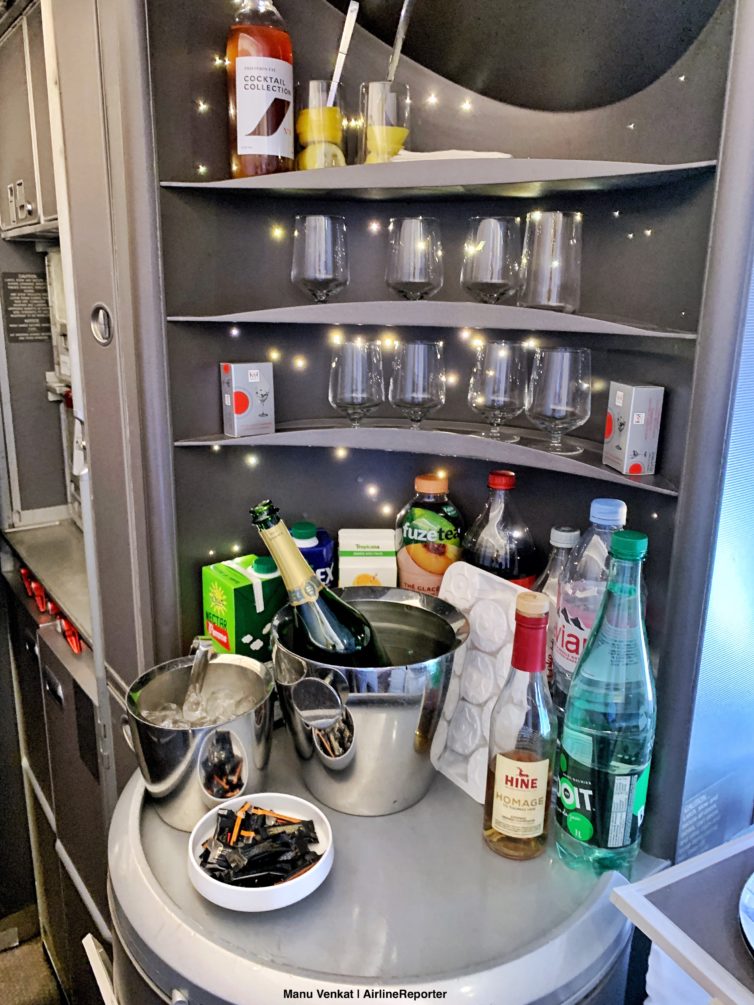 The A380's forehead is as awkward from the inside as from the outside. The forward part of the upper deck has an awkwardly low ceiling thanks to the curve of the nose. Air France tried to make the space into an "art gallery in the sky." Yeah … no.  Honestly I don't think any airline had a great answer for what to do with this awkward space, with the exception of Etihad's awesome first-class apartment. But through the entire flight I never saw anyone use this space, as an art gallery or otherwise.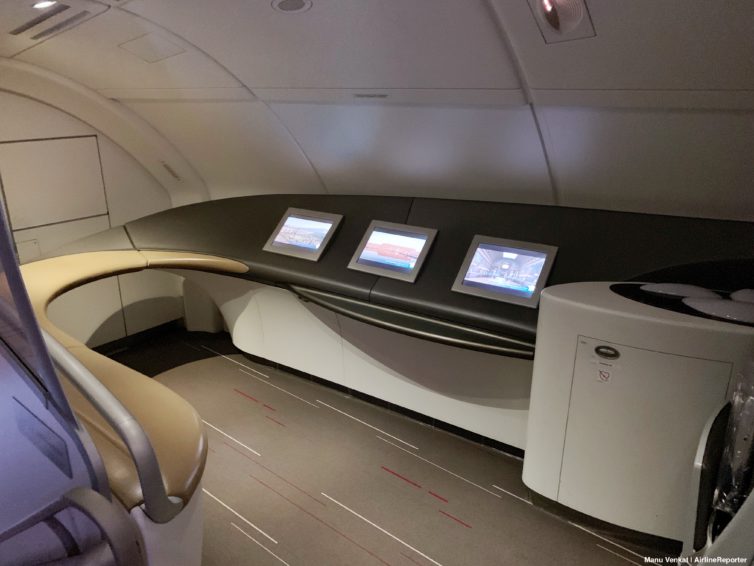 The lav at the front of the upper deck is much larger than the rest.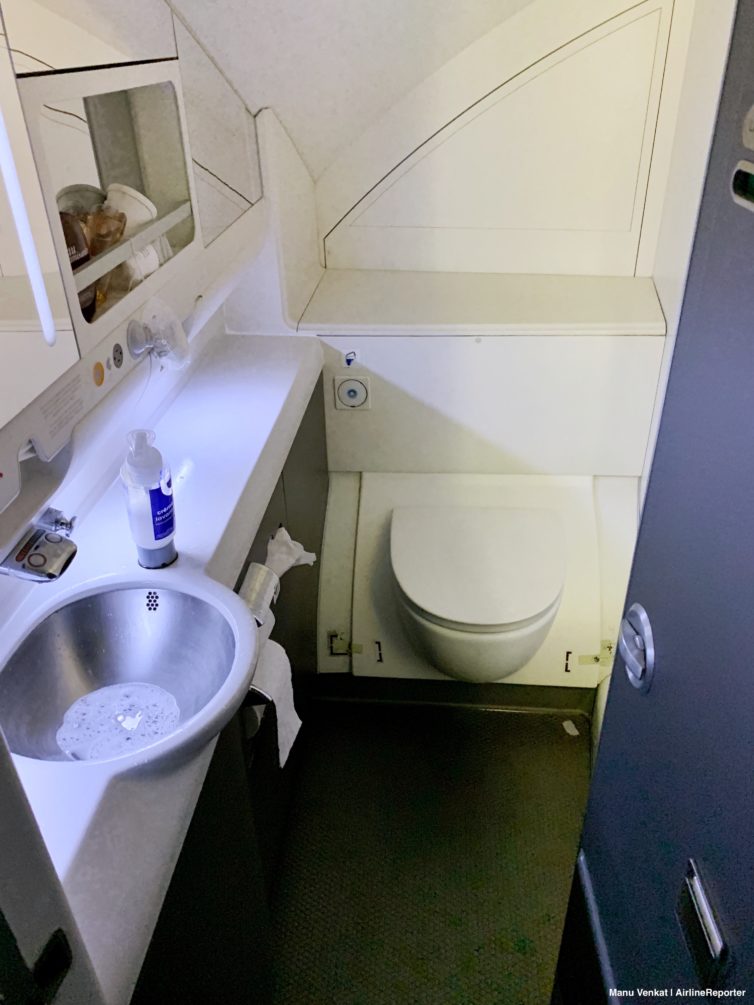 Dine and Descend
The pre-arrival meal service was a collection of simple snacks, well presented. Everything tasted good, though it wasn't that substantial.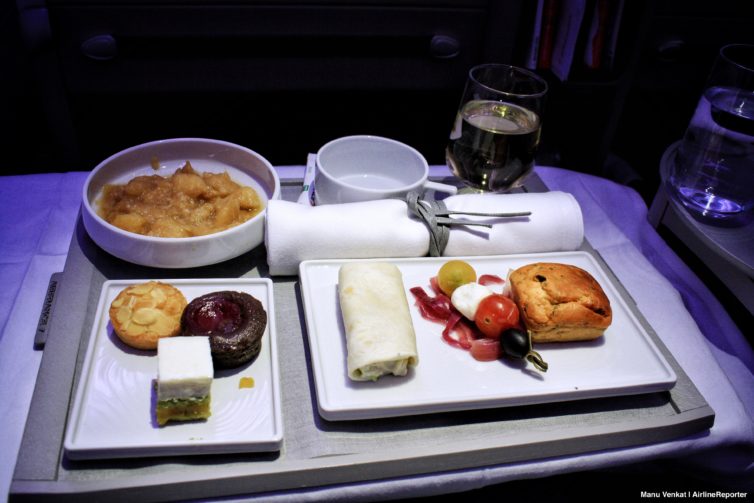 Our approach into JFK was a slow and roundabout one. But I wasn't complaining. More time to enjoy the views!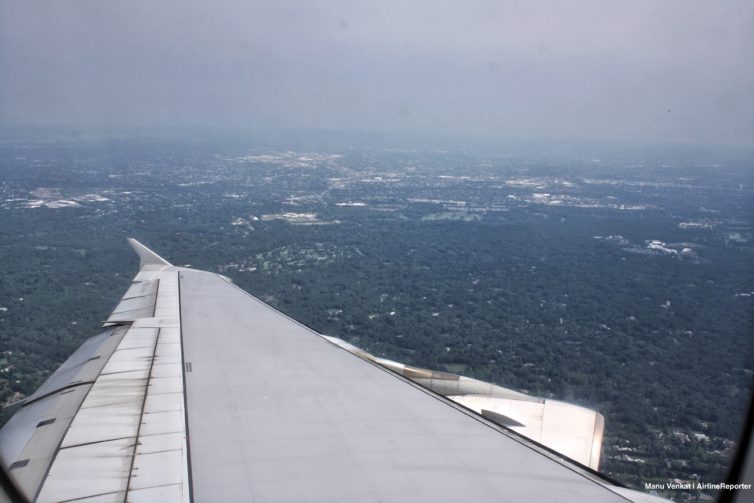 The A380's small windows make the cabin quieter but make it really hard to get good photos and videos through them. So instead of a video of touchdown, here's a time-lapse of the approach.
As we taxied to the gate we passed one of our A380s little sisters.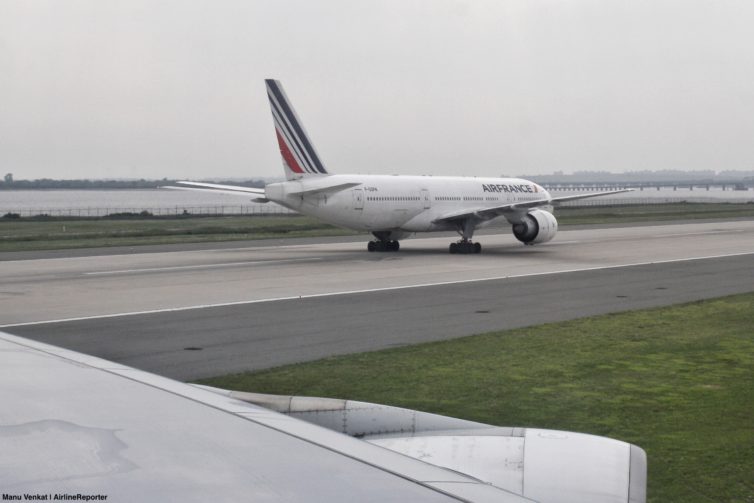 There was a wide variety of airlines represented at JFK's Terminal 1.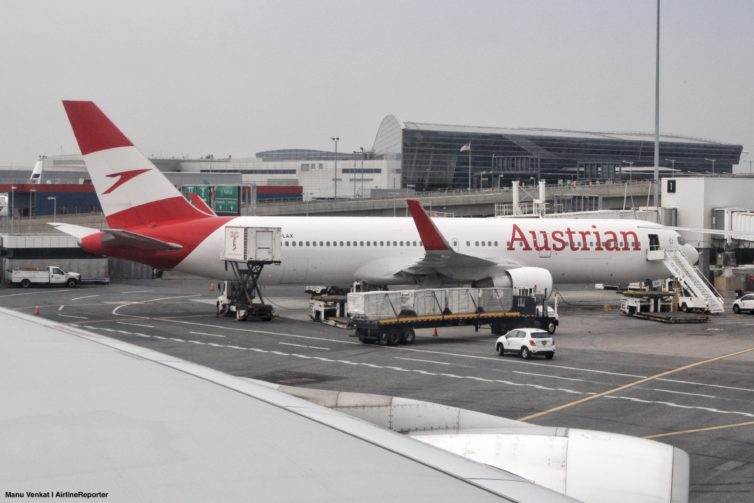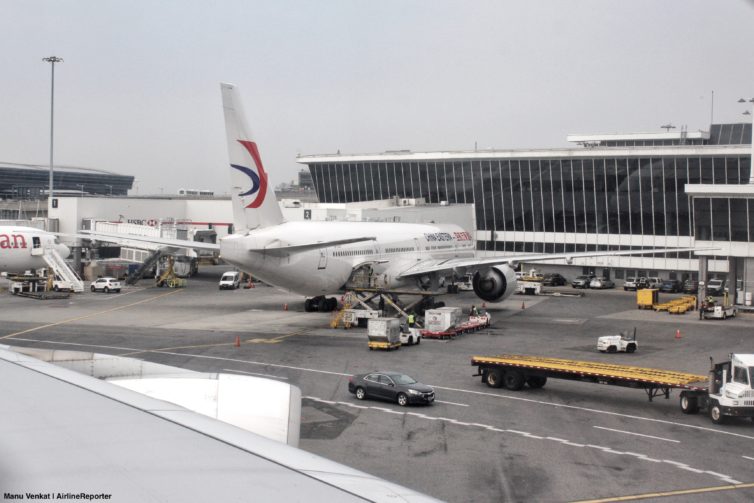 BONUS: Goodbye, Virgin Queen – An Elegy For a 747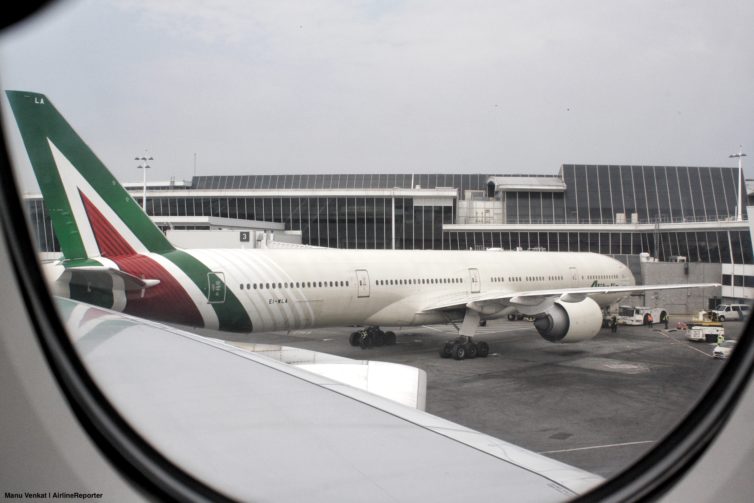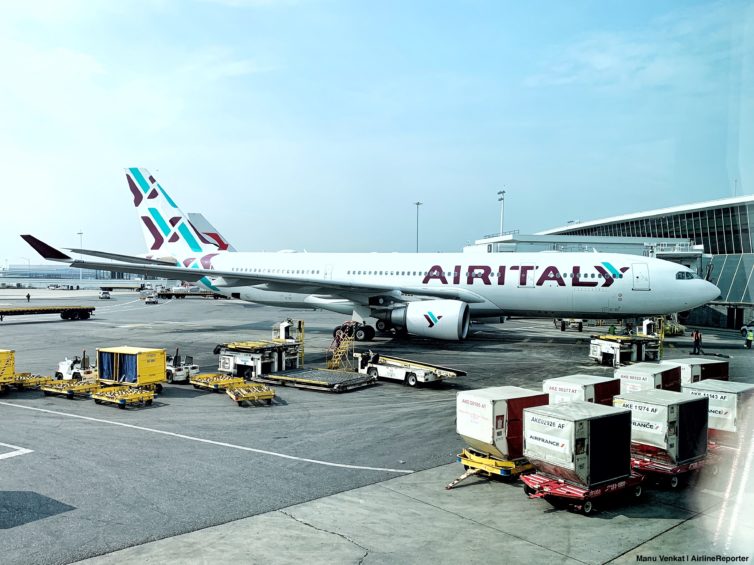 Le Verdict
I don't have a problem with old planes staying in the skies. Some of my favorite flights have been on classics like the 747-400 or MD-80. But to make the experience work, an airline needs to invest in updating the onboard product. And that hasn't happened with Air France's A380s. It's a plane that's stuck in the past, with an antiquated business class seat product and entertainment system. Plus, the impressive scale of the A380 is sort of a disadvantage when it comes to premium cabins, as the 80-seat business class cabin ends up feeling more like premium economy. My experience on this flight totally backs up the airline's decision to shelve the subfleet for good.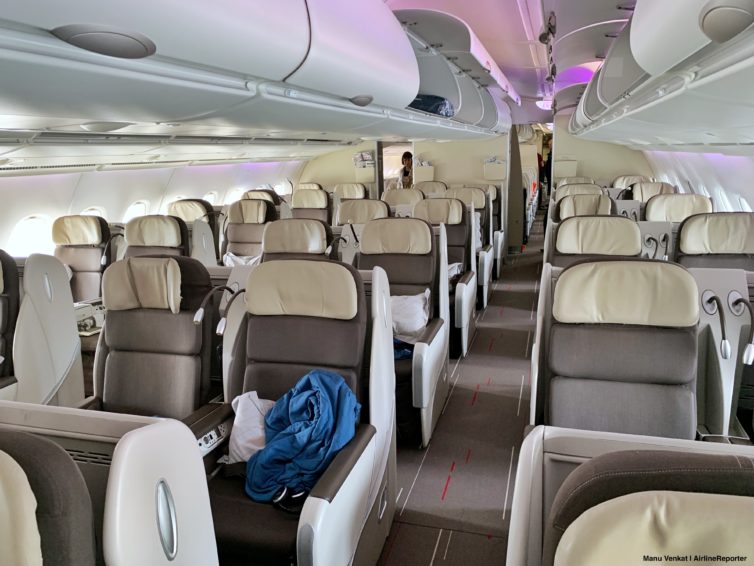 Still, the flight had its share of bright spots. Like the polished service and great food. When those ingredients are paired with a better seat — like on the 777 flight that had brought me to Paris — it's a pretty great package.
That's all to say that I'd be more than glad to fly Air France's premium cabins again, especially since the Air France A380 is permanently gone from the skies. Still, the AvGeek in me is always sad to see planes get retired, especially a flagship that was so impressive in scale, if not in substance.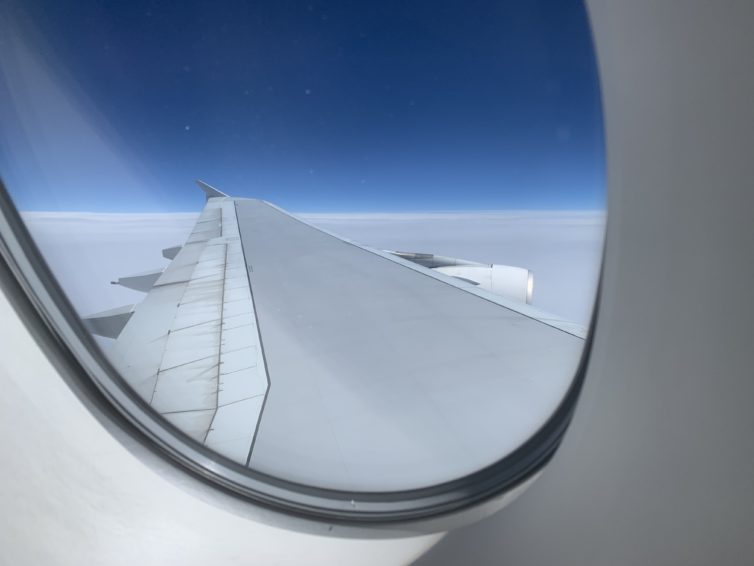 Now it's time for us to hear from you. Have you had experiences (good or bad) on Air France A380s? Share your thoughts in the comments section below.
Author's notes: We paid our own way for this flight, and as always, all opinions in this story are our own.