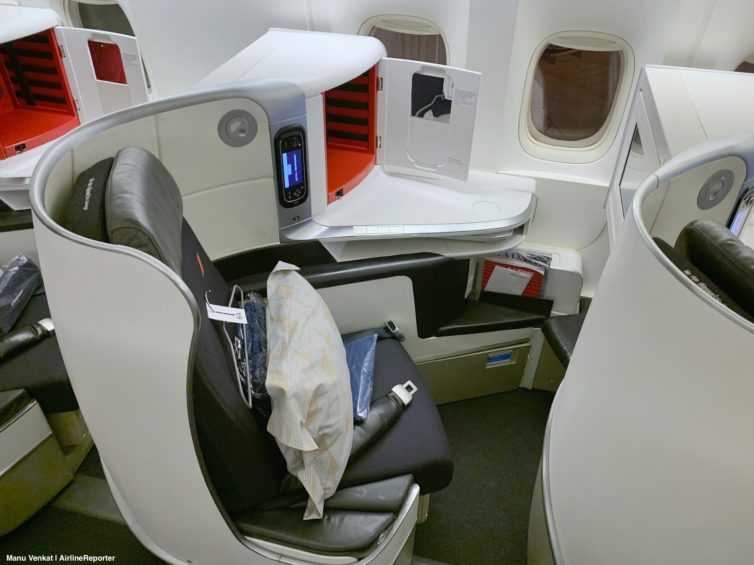 What's a French spin on long-haul flying look like? Until a few months ago I had no idea. I'd never flown Air France, their recently-retired millennial spinoff airline Joon, or a French leisure carrier like French Bee or Corsair. For my first flight on a French carrier I opted for the classic, and scored a nice deal with miles on Air France in business class from Sao Paulo to Paris. It would be on a Boeing 777-200ER, a plane well equipped to handle a long-haul flight like mine. The triple-seven isn't the largest plane in Air France's fleet (the A380 is) and newer dual-engine long-haul planes like the 787 and A350 get more love and attention nowadays. But Air France has a long proud history with the 777 — they were the launch customer for the 777-300ER — and the 777 is the backbone of the airline's long-haul fleet.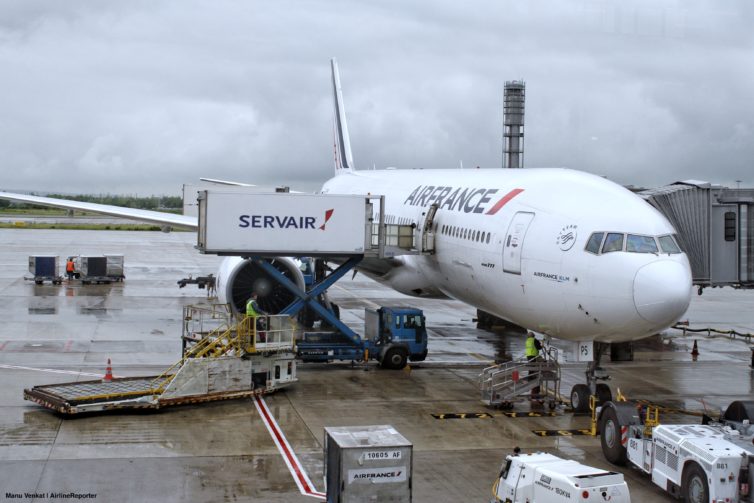 In terms of the onboard experience, Air France embraces the stereotype of French style and service. So as I geared up for my flight, I was looking to see if cabin design, dining, and service would do the airline's home country justice. Did they? Read on to find out!
Bienvenue to G.R.U.
Once I arrived at Sao Paulo International (code: GRU) check-in was zippy via the Sky Priority lane.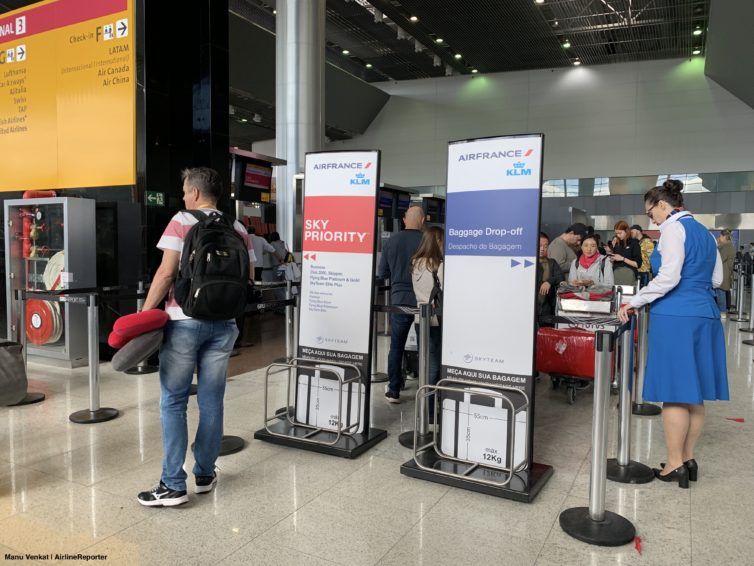 There's an amazing lineup of lounges at Sao Paulo International. While Air France business class passengers are directed to a contract lounge, I dropped by the Star Alliance lounge instead. It accepts Priority Pass and I heard it was one of the better watering holes at the airport.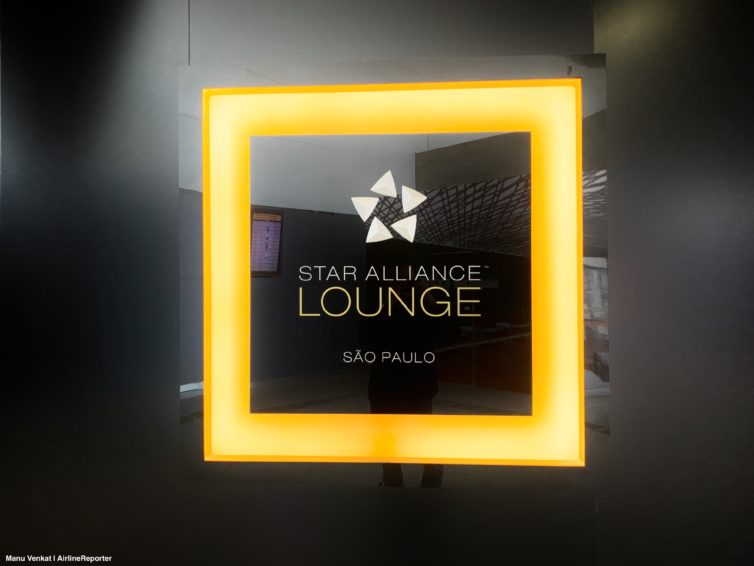 It was spacious and well maintained. No view of the ramp, though.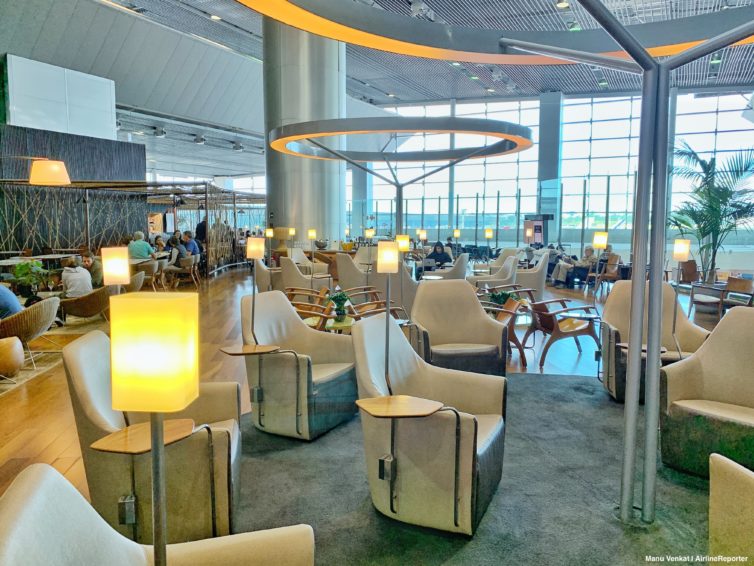 Sao Paulo is a huge commercial hub — big enough to support two Air France flights many days. I was on the second service of the day, operated by a 777-200ER. Unfortunately my flight's gate didn't allow me a view of my aircraft. Here's a look at the 777-300ER that operated the first flight.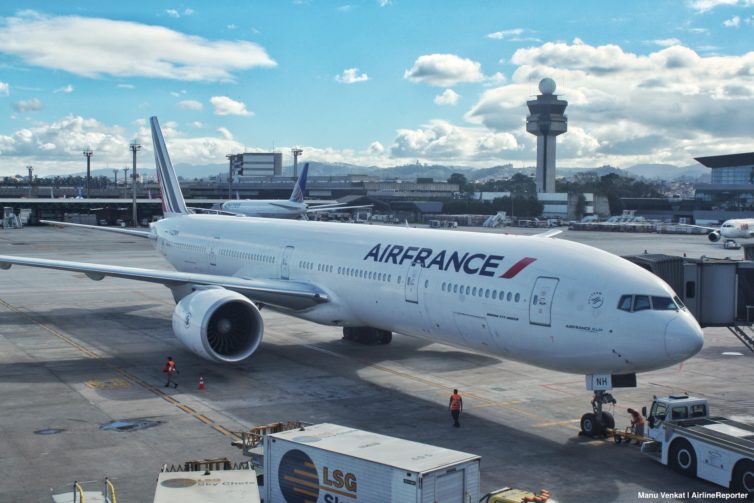 Allons-Y!
Boarding was smooth and efficient, and soon enough I was in my 777's business class cabin. Air France has a few different business class seat designs flying on its long-haul fleet. The reverse-herringbone seat on its 787s and some (but not all) its 777s and A330s is one of the better ones. Every seat has direct access to the aisle and goes fully flat.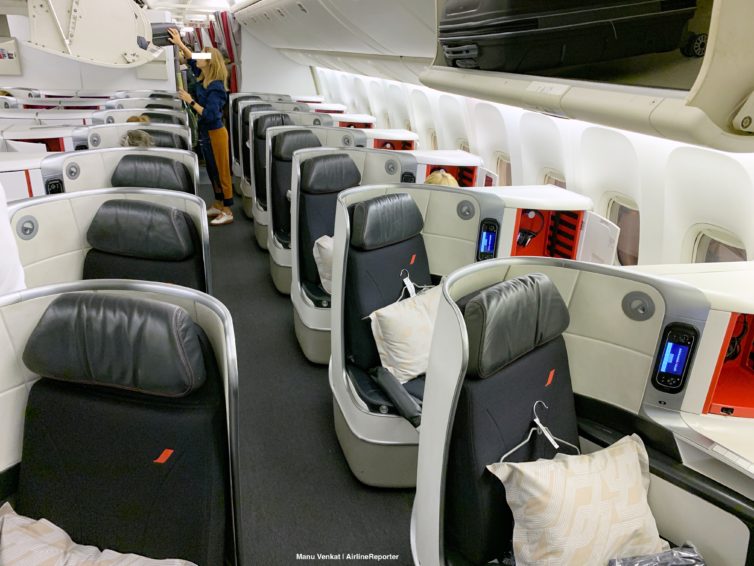 The cabin finishes are mostly a clean white, with navy blue seat upholstery and vibrant red accents in the storage lockers. The spacious footrests become part of bed when the seat goes fully flat.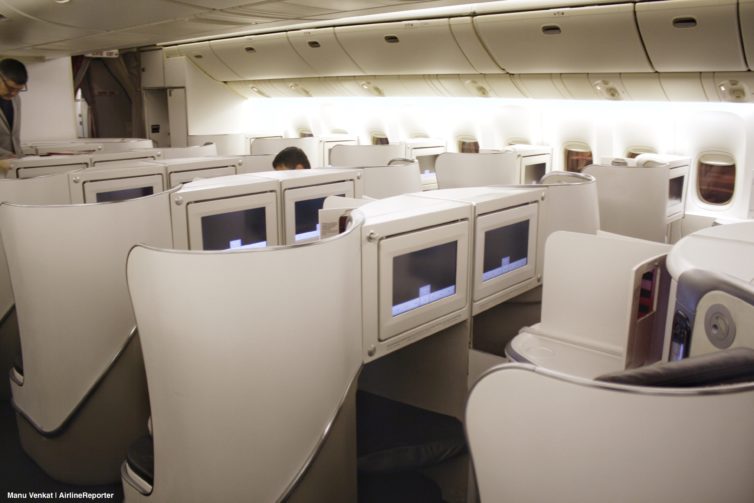 It's a bright white vibe. You may think it's a fresh look, or you may wish there was a bit more color.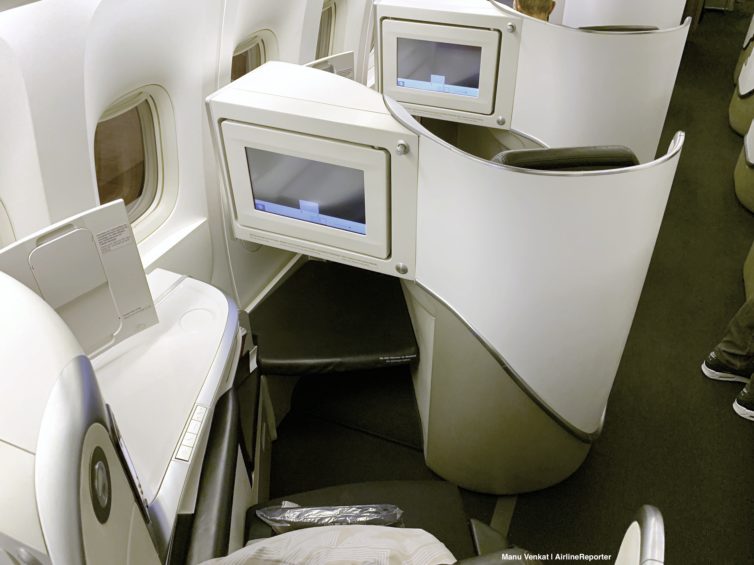 BONUS: Bonjour Seattle! Air France Returns to the Pacific Northwest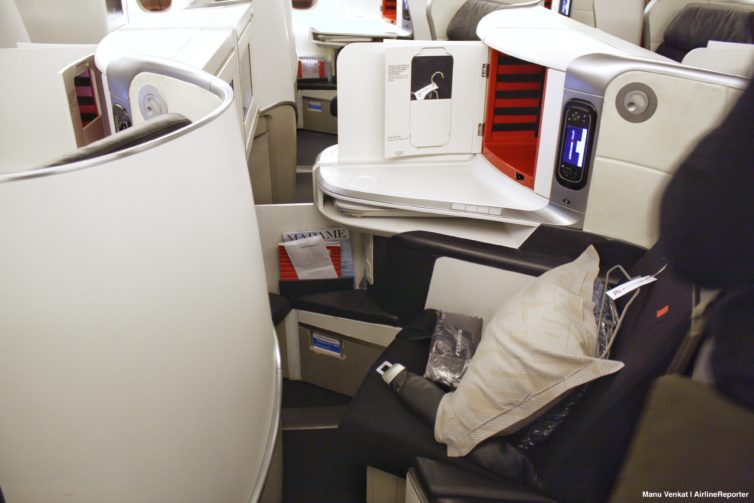 Seats along the window are better for solo flyers, while those in the center section are a bit better for traveling twosomes.
There was a coat hanger waiting for me at my seat (classy), along with the usual pillow, blanket, amenity kit, and headphones.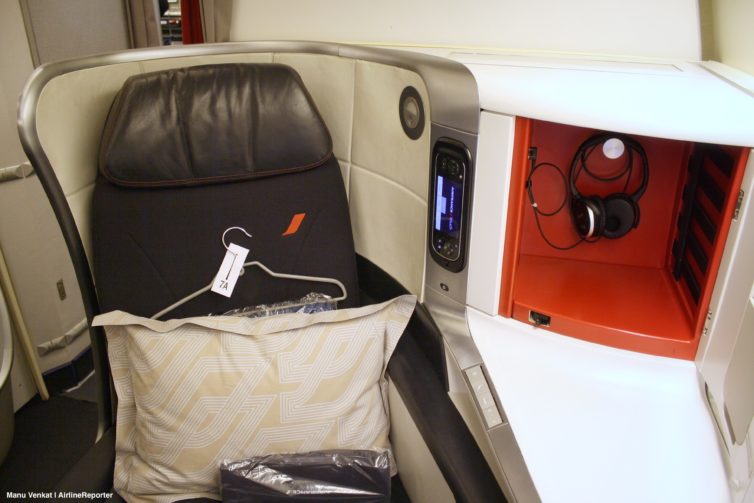 The seat-side locker was roomy. Next to it were a reading light and the remote control for the entertainment system.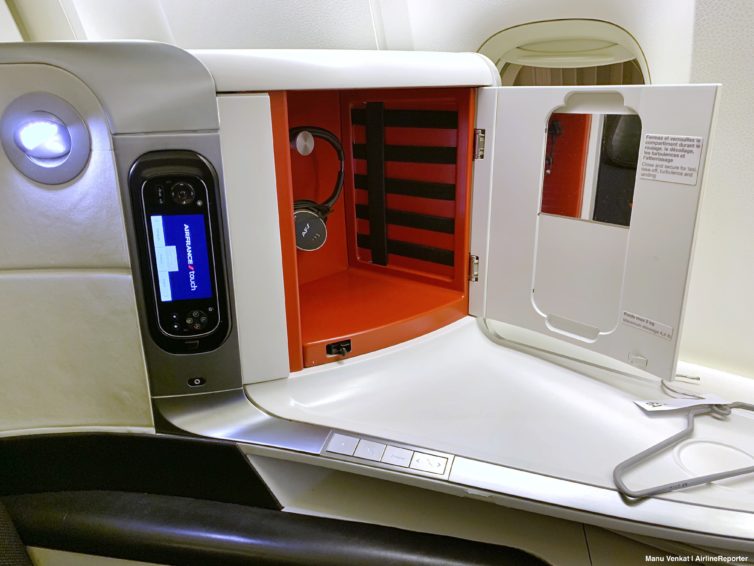 The 777 was the first large jetliner to be designed fully on a computer. But how time flies! Today in 2020 a lot of 777s are showing their age, and mine on this flight wasn't an exception. The floor panel below the footrest kept flapping open, and my tray table was so slanted that my glass trying to slide off of it.
Still, the seat's spaciousness was its defining factor. I was pretty comfy as I settled in for my welcome glass of the bubbly stuff.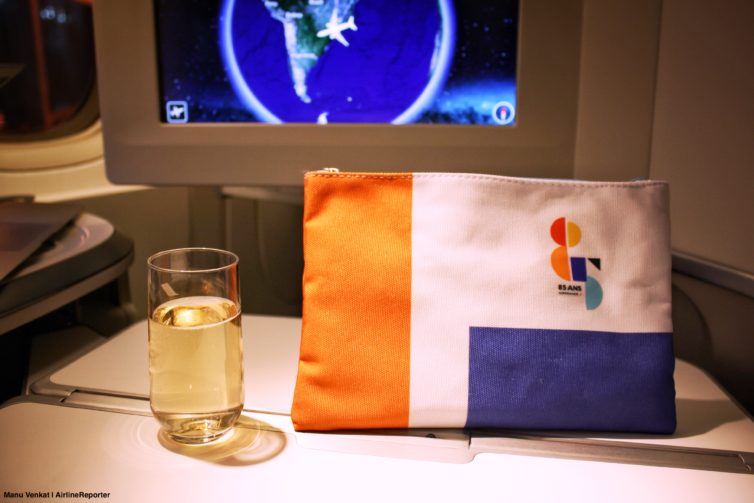 The safety video — with a bunch of well-dressed petite French models talking about being "chic" — was the most stereotypically French thing I've ever seen.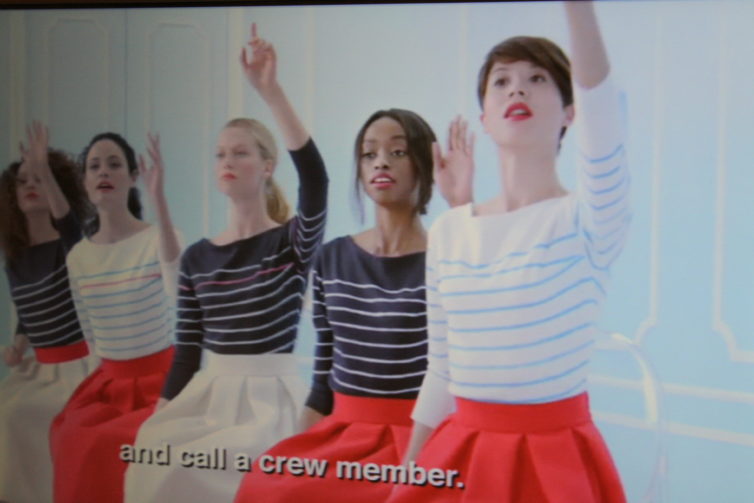 Takeoff was just after sunset, so there wasn't much of a view to enjoy beyond the 777's enormous engines.
BONUS: Je Reve – Dreaming on the Air France 787-9 From London to Paris
Haute cuisine, here we go!
As we leveled off at cruise altitude the flight attendants got the meal service show started with a ham-melon-mint amuse-bouche. The mixed nuts came boxed and bagged.
Here's a look at the menu, wine list, and drink list.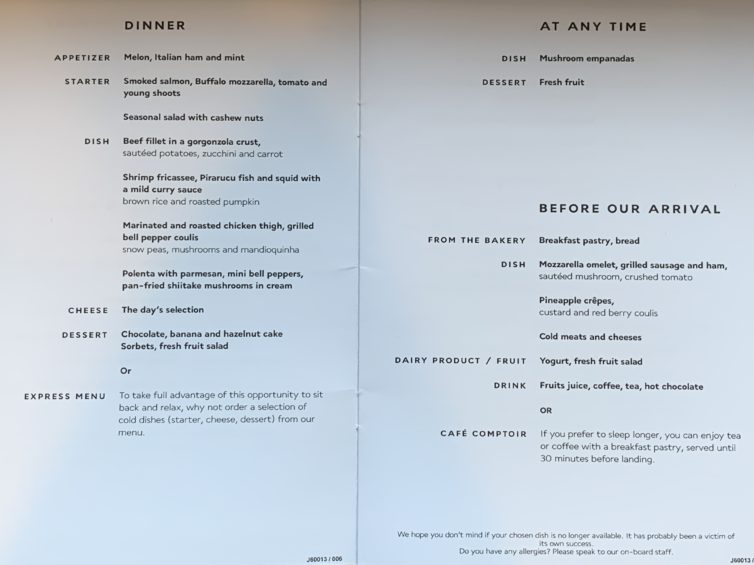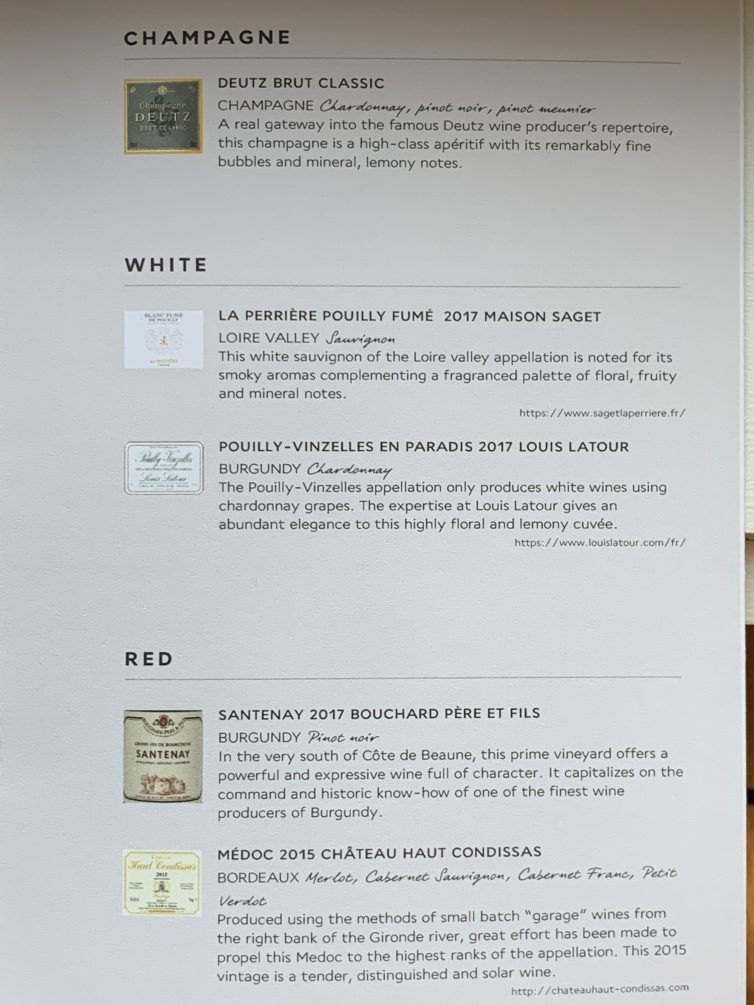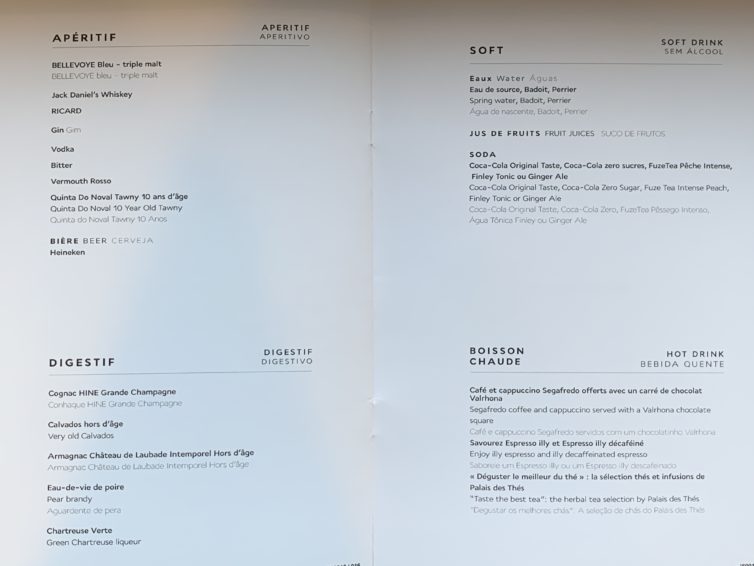 BONUS: A Millennial on Joon – Flying Business Class on the Airline for Millennials
Air France does offer an express dining option for flyers who want to maximize sleep. But this flight was a long one, and I had plenty of time to enjoy the full service. The pair of starters — a mini-Caprese salad and smoked salmon — were simple but tasty, and really well presented.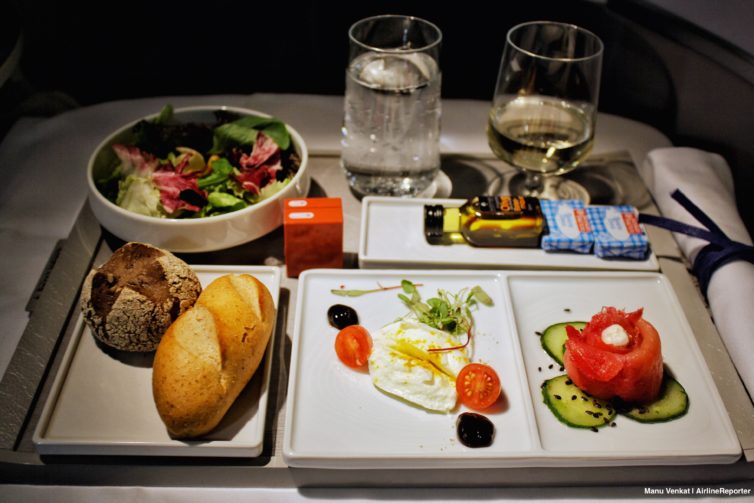 The shrimp fricassee, Pirarucu fish, and squid curry was bursting with flavor.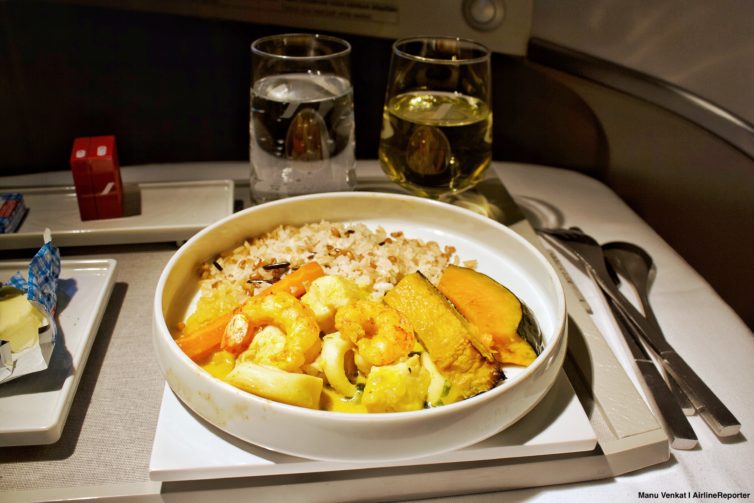 The flight attendants were a little stone faced but were highly professional and efficient in executing the meal service. For some reason they weren't offering the cheese selection that was on the menu, so I overcompensated on the rest of the desserts.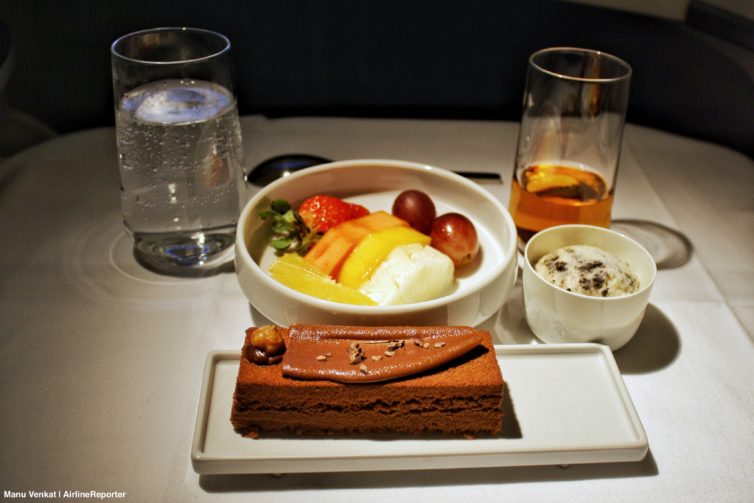 All in all it was a strong showing for a business class meal. For the rest of the flight you could request drinks, fruit, or a mushroom empanada from the flight attendants, but they also set up a self-service drink station.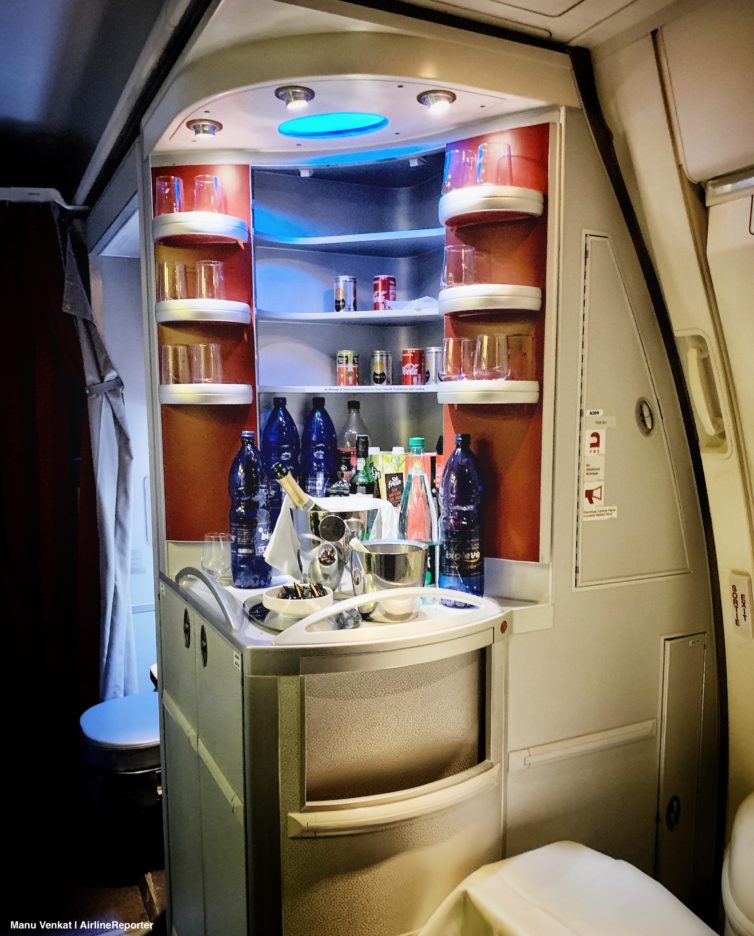 Settling in for the long haul
After the meal service I was in the mood for some sleep. Air France's newer business class cabins are designed around "3F" goals: fully-flat, full access, and full privacy. In fully-flat mode the seat was one of the wider beds I've enjoyed the skies. I was able to sleep on my side with my knees bent, which isn't always possible in other airlines' business class seats.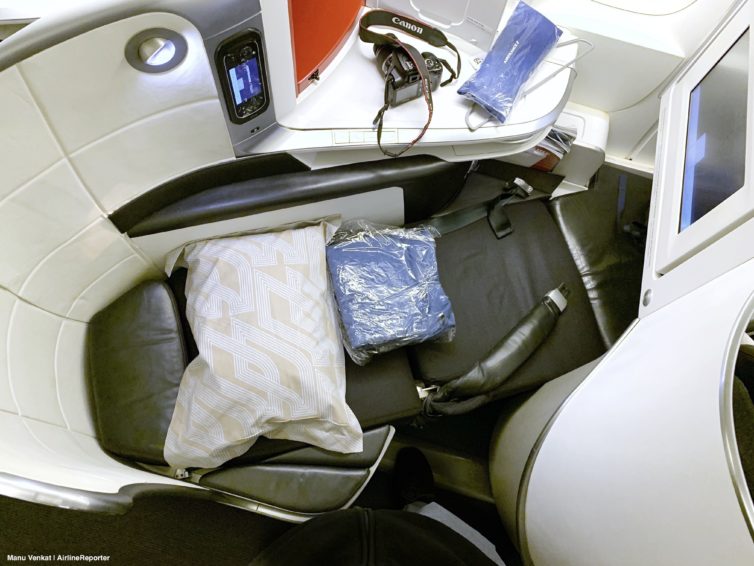 No pajamas, but at least the bedding was super soft. After I woke up I took a look at the inflight entertainment system. The interface was sleek and even let you save a list of favorites as you browsed the selection.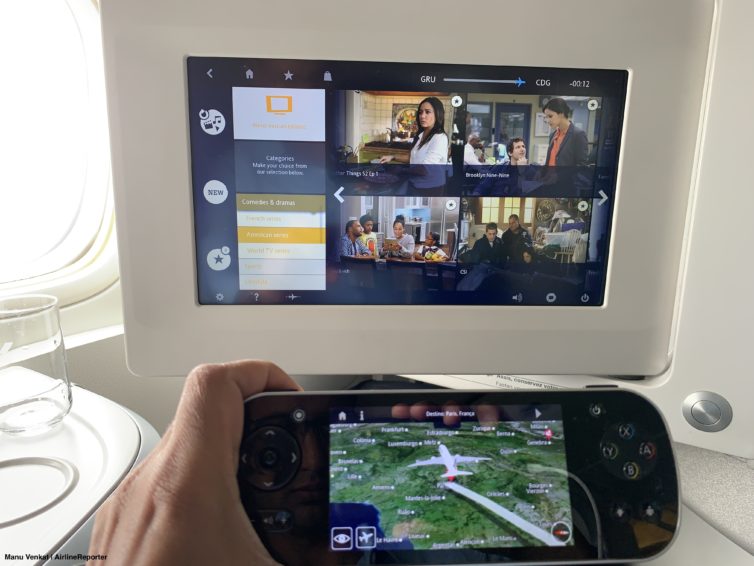 The noise-canceling headphones were about average for business class.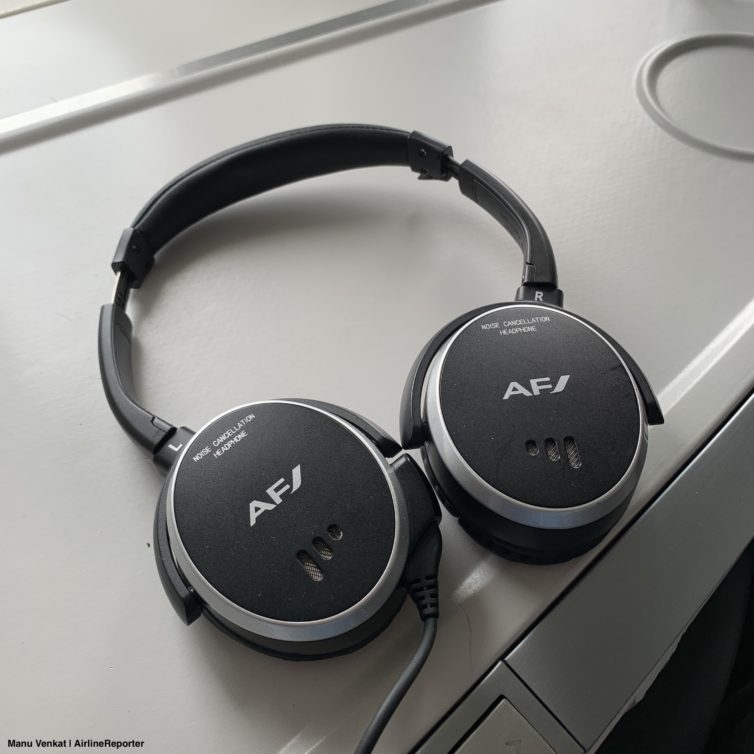 BONUS: Air France A380 in Premium Economy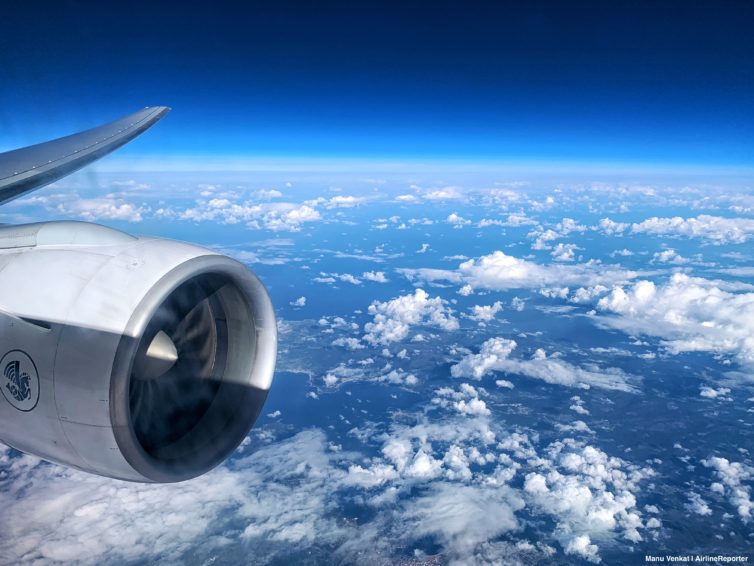 With 90 minutes left in the flight, the crew turned on the cabin lights and started breakfast. The mozzarella omelet was solid.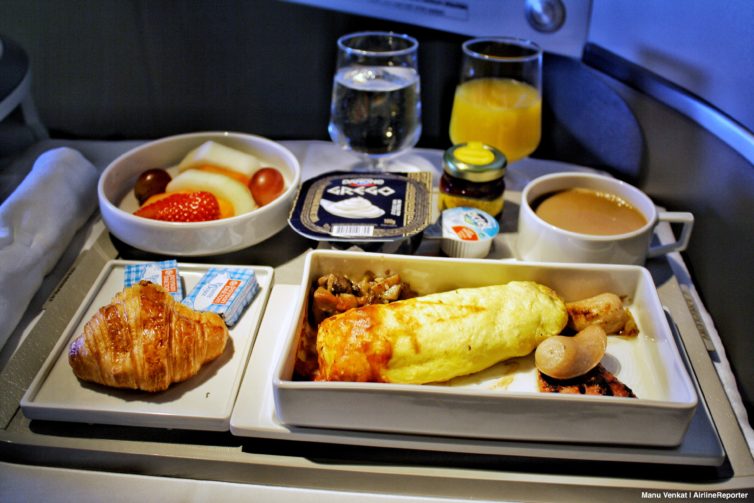 I set up to grab some videos of the descent into Charles De Gaulle, which was under thick cloud cover.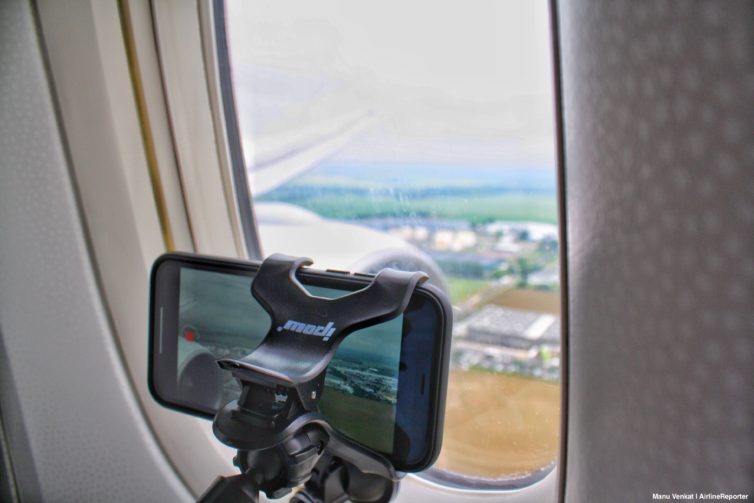 We passed a few interesting planes on the way to the gate, like this Air France A380. The airline's entire fleet of the double-decker superjumbo will be retired in the next couple of years.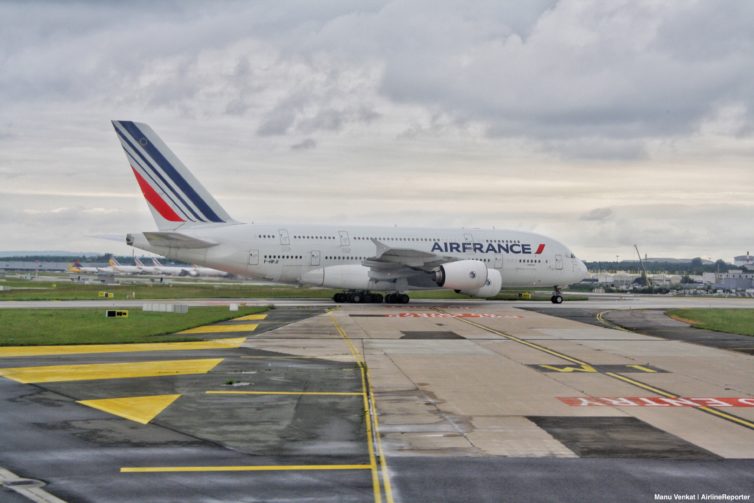 A rare find for a U.S.-based flyer like me: an Air Austral 777! The airline is based on the island of Runion in the Indian Ocean, a major tourist destination for the French.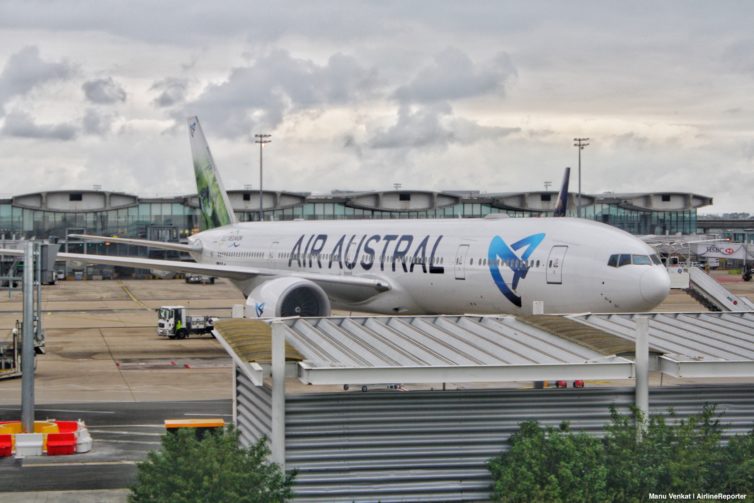 BONUS: Flying Economy on an Air France Airbus A319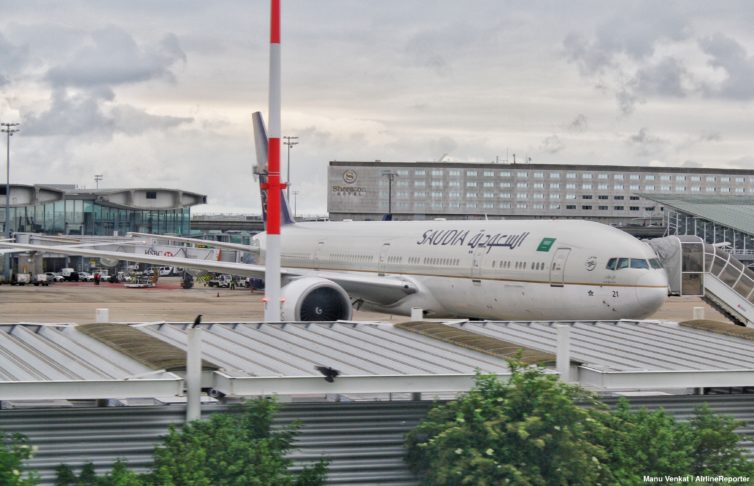 Le verdict?
Air France's long-haul business class isn't particularly avant-garde. But it's still a well-rounded product with flashes of fun French style. The seat on my 777 was spacious and well designed. I was wine-and-dined as well as I could have hoped for in business class. The flight attendants did their job with poise. The 777 I flew was showing its age, and over the coming years parts of Air France's 777 fleet may be phased out in favor of newer planes like Airbus A350s.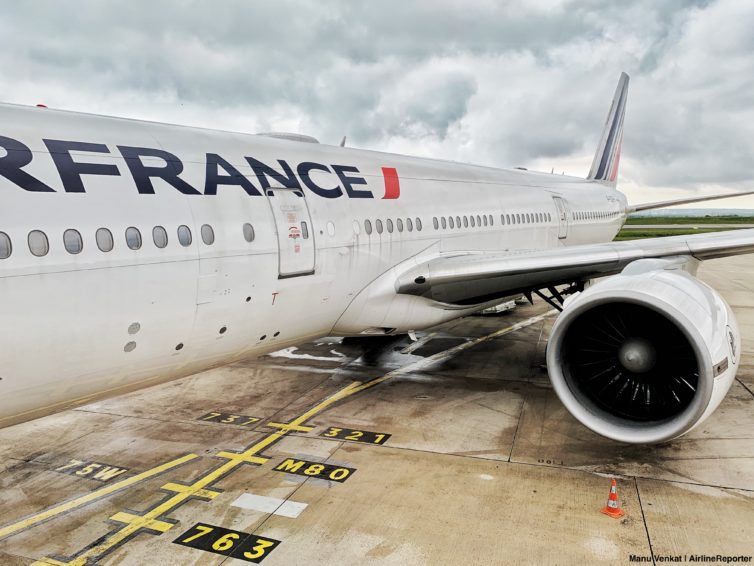 One warning: Air France has a few different business class seat products flying. Their A350s have a different seat than the one I flew, but it still goes fully-flat and offers universal direct aisle access. The airline's A380s and some 777s, on the other hand, carry an ancient business class seat design. My connecting flight from Paris was on an A380, and compared with my 777 flight the experience was … very different. More to come on that later.
Au revoir for now. Thanks for joining in on the journey! Share your thoughts in the comments section below.