In our line of work, new planes are a big deal. So we've watched closely as Boeing's longest version of the Dreamliner — the 787-10 — hits the skies. United is the first U.S. airline to get the "dash-ten" and it has started deploying the stretch Dreamliner on their premium transcontinental routes between Newark and Los Angeles & San Francisco. When we found out that the San Francisco-Newark inaugural flight was on Valentine's Day, we knew we had to be on it!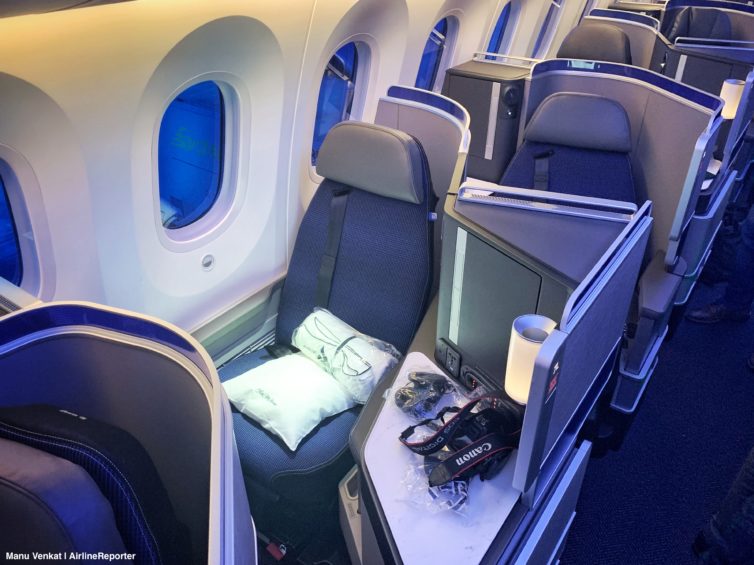 There's a lot of reasons to care about United's 787-10. It's the first of United's Dreamliners to carry the Polaris business class seat, which goes fully flat and offers everyone direct aisle access. The plane comes with an awesome new inflight entertainment system. And now United is the first and only airline to operate the full Dreamliner family: the 787-8, 787-9 and the 787-10.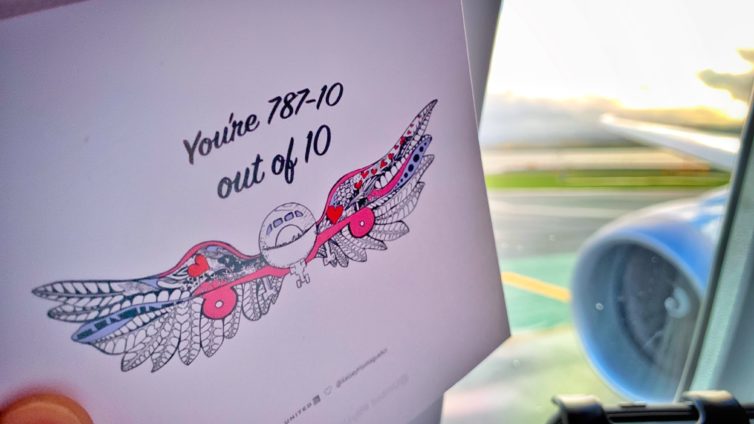 Read on for photos and more from United's inaugural 787-10 transcon service out of SFO — including a Valentine's Day celebration for United's newest plane.
Warming Up To A Very Special Transcontinental Flight
Boeing's 787 Dreamliner is a super-fuel-efficient plane, and most airlines use it for long-haul routes. So it was surprising when United announced that its dash-tens would be a permanent fixture on domestic transcontinental routes from Newark EWR to Los Angeles LAX and San Francisco SFO.
But when you think about it, the 787-10 is a pretty good fit for United's most premium domestic services. Those routes are premium-heavy and very competitive, so the airline wants to put its best foot forward. Flights from SFO-EWR, LAX-EWR, and SFO-BOS already fly with lie-flat business class seats only, so the Polaris seat would fit right in.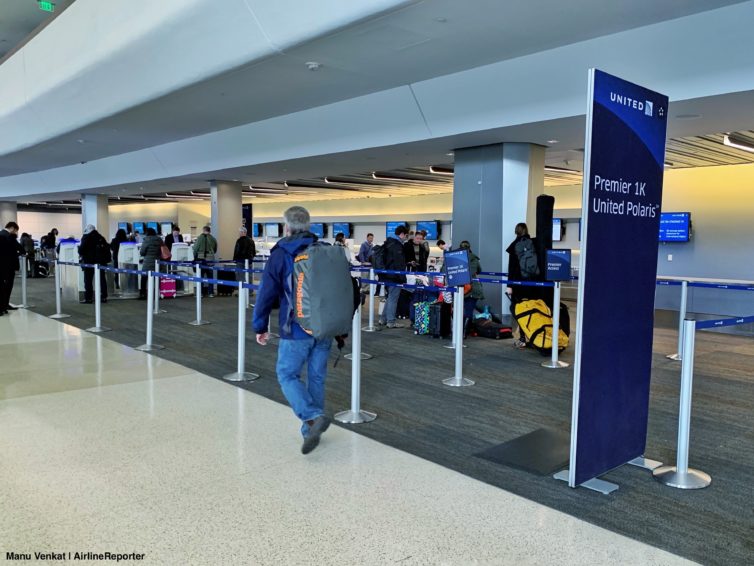 I wasn't checking a bag on this flight, but if I was I'd have had access to United's Premier Access lanes. Security was a breeze thanks to TSA Precheck — which a few more of United's Star Alliance partners recently joined too.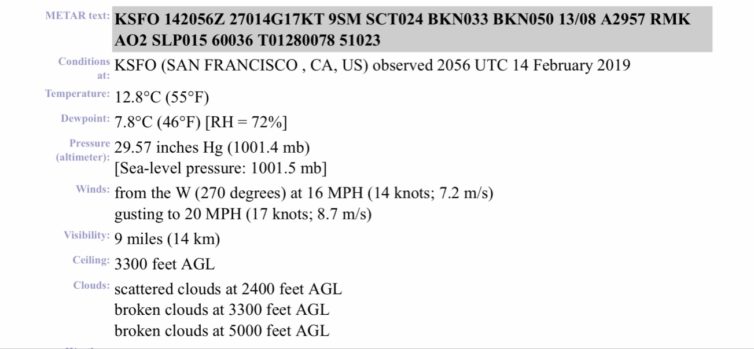 The weather was a mess on Valentine's Day morning, but just as I cleared security the clouds parted and a rainbow appeared over the airfield.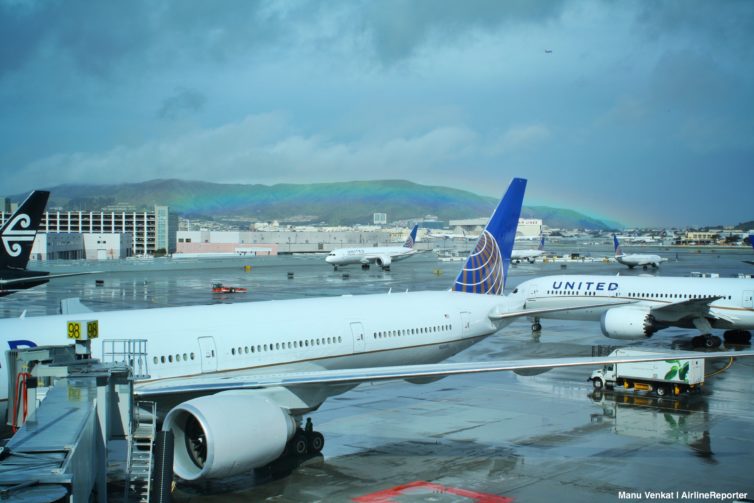 BONUS: United Unveils Its New Polaris Lounge in San Francisco SFO
SFO just opened an awesome outdoor observation deck at the end of the international G concourse, which is connected airside to United's domestic terminal 3. So of course I dropped by (a story on that coming very soon). I got to see one of the dash-ten's little sisters, the 787-9. That aircraft handles many of United's longest routes, including the ultra-long-haul flights from San Francisco to Singapore. My very first long-haul business class flight was on a United 787-8, and although the experience was a blast for me, the ex-Continental business class seat doesn't hold a candle to Polaris.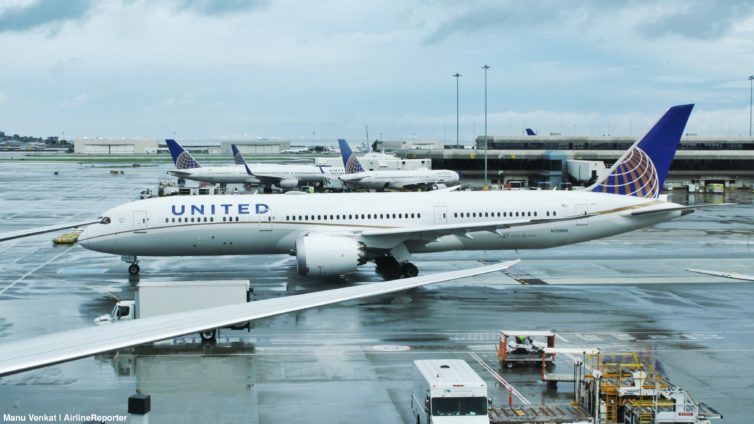 Good news, though: United recently announced that it will start retrofitting its older Dreamliners with the Polaris seat in the fourth quarter of this year. The pace of retrofits will probably be slow, but at least we know when they'll begin.
A Valentine's Day Welcome for the 787-10
At last, the star of the show — the 787-10 — made its appearance at the gate, looking absolutely stunning even under cloudy skies.
BONUS: Photos – The Many Liveries On the Boeing 787 Dreamliner
The folks at United are clearly jazzed about their newest members of the Dreamliner family. Just before boarding, there was an overhead announcement celebrating the start of 787-10 service to Newark.
Even better, United decided to hand out beautiful commemorative Valentine's Day cards to every passenger on this flight. Here's United SFO Supervisor Joni Belknap handing me my set.
Designed by artist Kelsey Montague, the cards were really beautiful.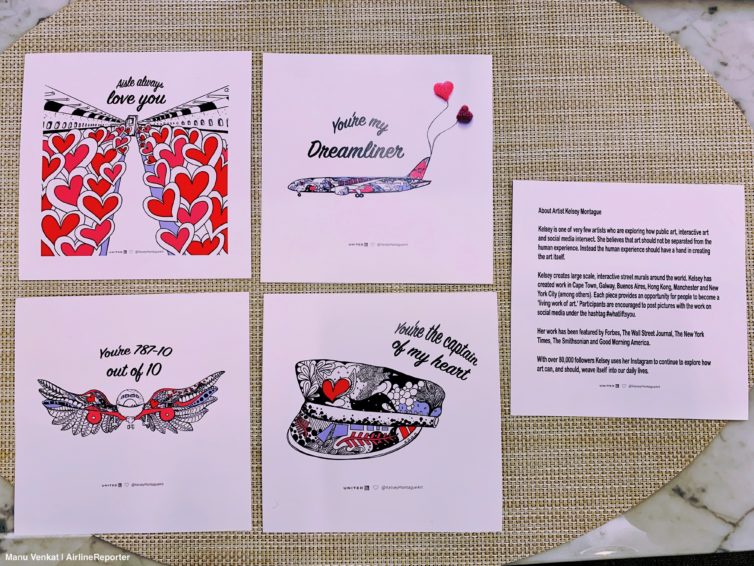 BONUS: Star Alliance Battle Royale: Asiana vs EVA vs SAS vs Turkish vs United
Polaris: A Rhapsody in Blue
From the moment I stepped onboard, it was clear that this was no ordinary United plane. The Polaris seats — eleven rows in one single cabin — looked extra gorgeous inside the Dreamliner. The finishes were a mix of sleek metallic textures and deep blues. Every seat has direct aisle access, but is well enclosed to maximize privacy. Once you're seated it's honestly hard to see any other passengers.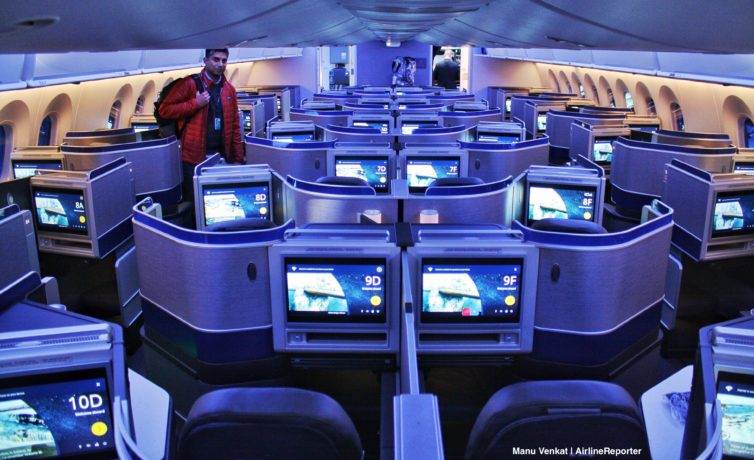 As other passengers boarded, there were lots of oohs and aahs. One frequent flyer commented that it was the nicest plane he's ever flown domestically. And the flight attendants greeting passengers were beaming with pride.
Which seats are best? Traveling twosomes can select paired seats in the center section, which are cloistered away from the aisles. If you end up in these seats and you're flying alone, you can raise the divider between the seats to maximize privacy.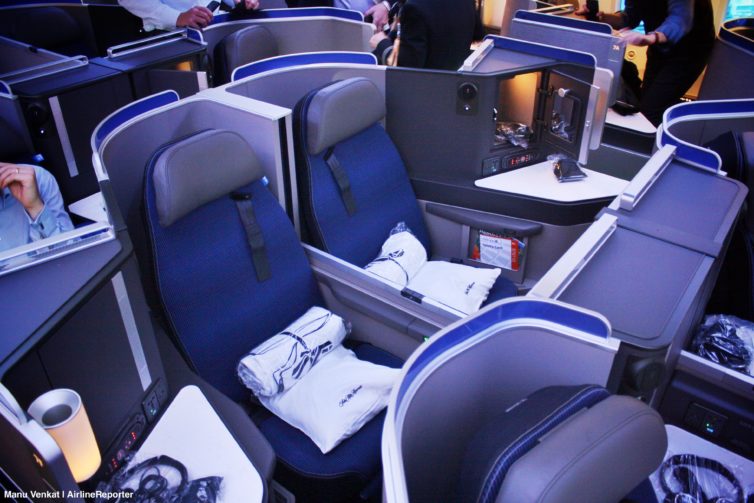 Polaris on the 787 is in the same 1-2-1-across configuration as on the slightly wider 777-300ER. I didn't notice any major difference in seat width, but the aisles are definitely narrower.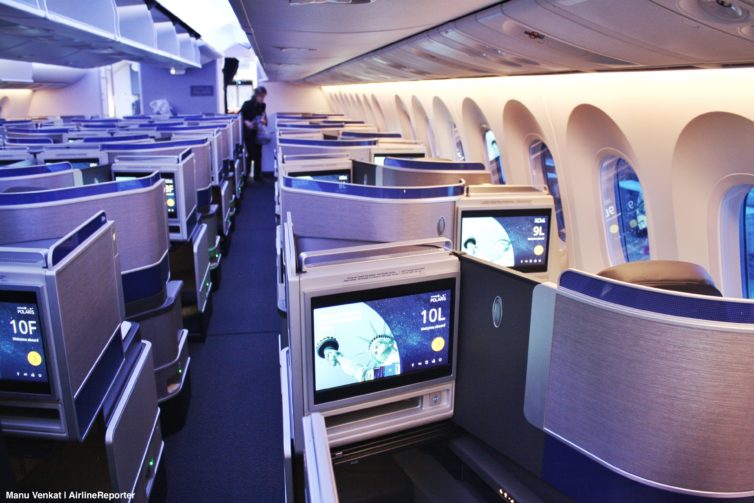 BONUS: Dreamliners Going the Distance – New Ultra-Long-Haul Routes for Boeing's 787
Depending on your row, window seats are either flush with the windows or closer to the aisle. The former seats are far superior to the latter in terms of both privacy and views out the window. So solo travelers should definitely aim for odd-numbered rows (note: row #5 is missing one window).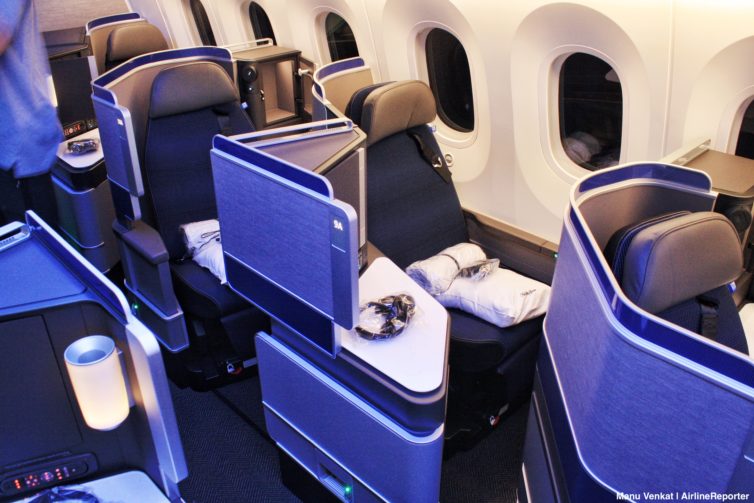 I was in one of those odd-number-row window seats and I had two big Dreamliner windows all to myself. I noticed that dimming one of my windows automatically dimmed the other, a nice design detail.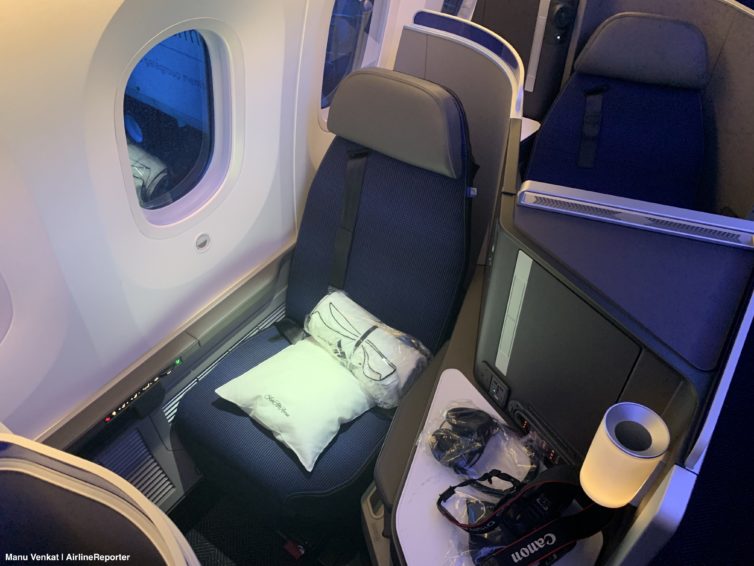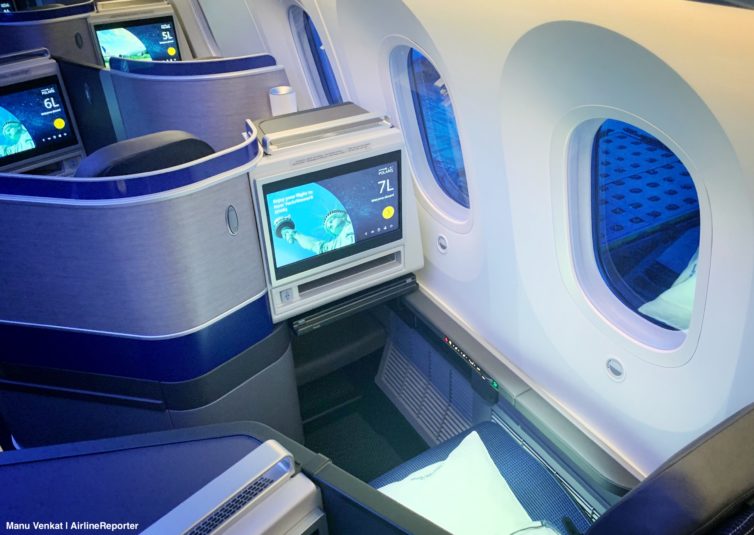 We'll have a separate article dedicated to the new inflight entertainment system. For now, it's enough to say that the seatback screens are huge, bright, and sharp.
Polaris footwells are deep enough for tall travelers. Width-wise the footwells are okay — wide enough to allow me to sleep on my side, but not as spacious as some might prefer.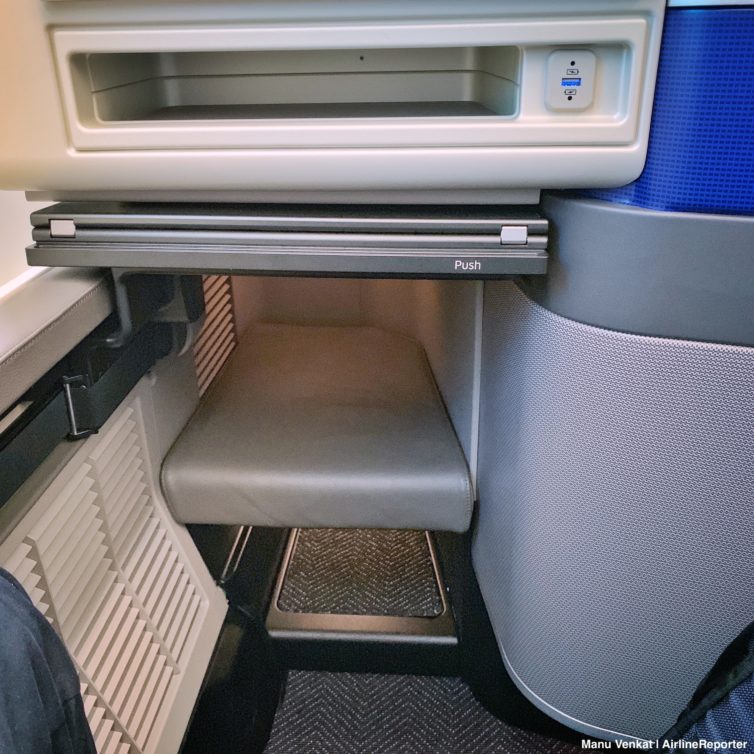 I really appreciated the user-friendly design of the push-to-release tray table.
For safety reasons Polaris passengers need to fasten a shoulder harness during takeoff and landing in addition to the lap belt. Tip: when you aren't using the shoulder strap, tuck it under the headrest instead of trying to push it back into its slot in the seat.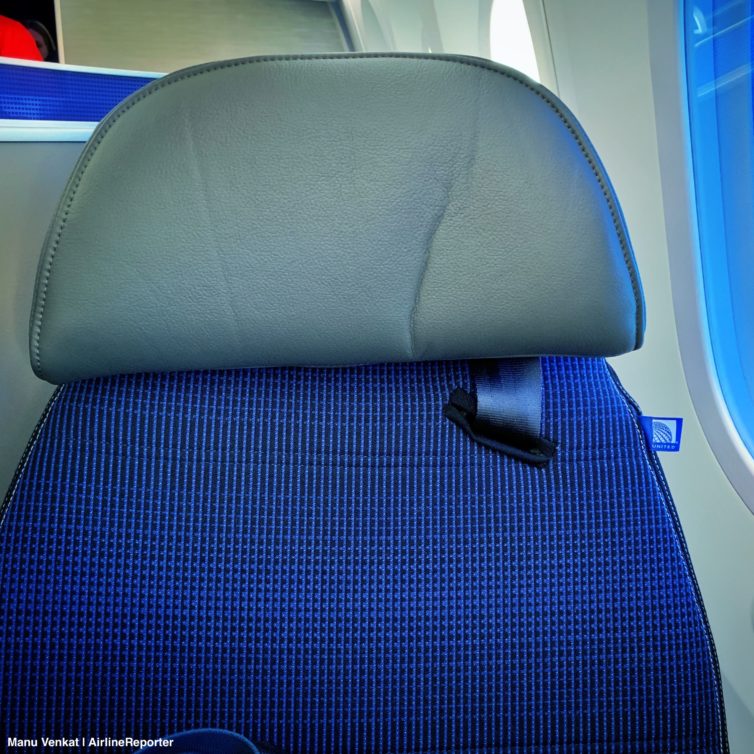 There's a faux-marble tabletop beside each Polaris seat. The side console contains a storage locker with a door, a reading light, a power outlet, headphone outlet, and remote control.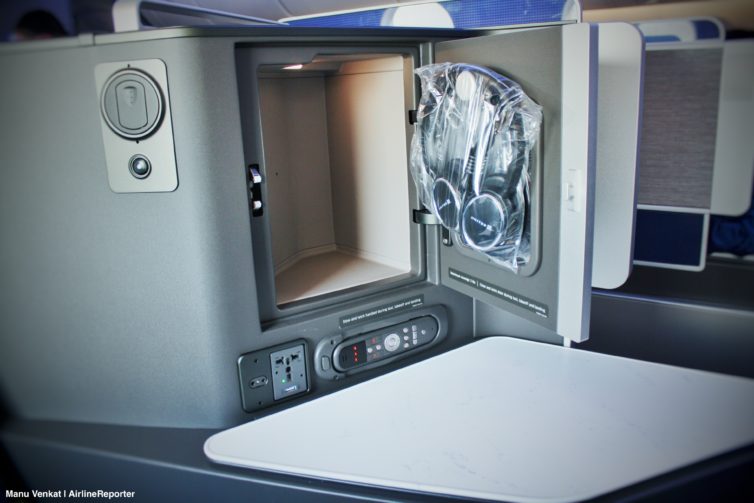 Below the console is a small literature pocket.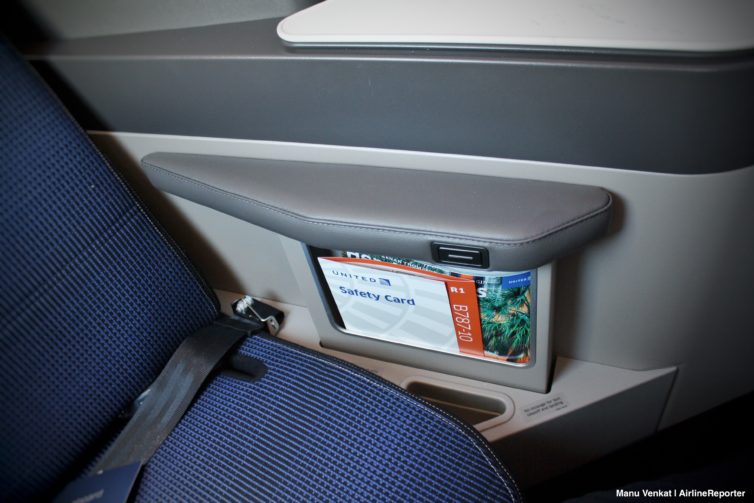 The seat is at its best in fully-flat mode. The padding was comfortable enough even though the plane was new and it'll probably soften up more with time. The middle section of the lie-flat bed is nice and wide.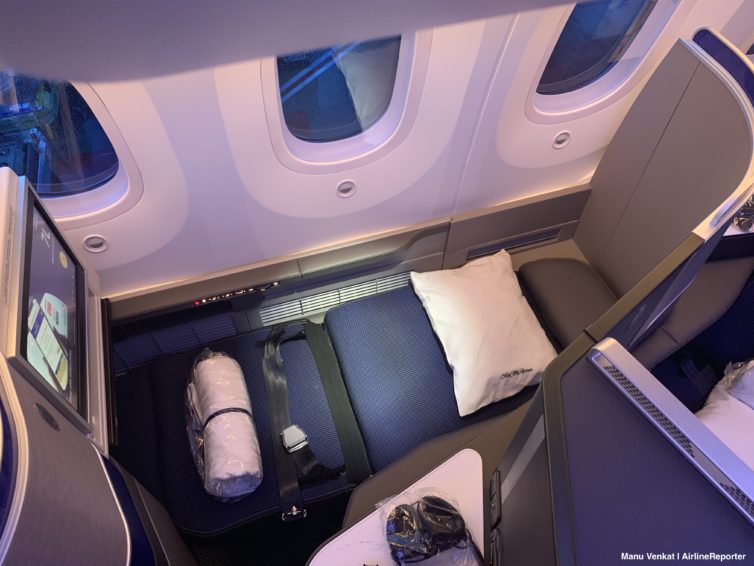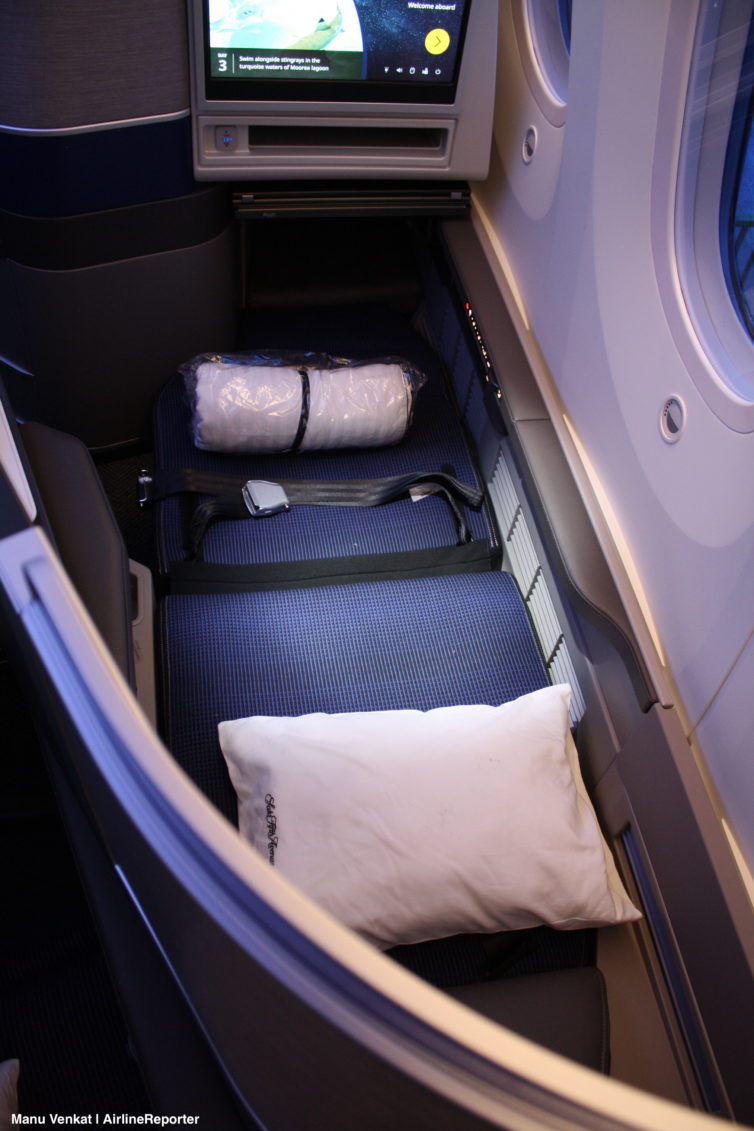 On premium transcon routes, business class passengers get a simpler version of the excellent long-haul Polaris bedding from Saks Fifth Avenue. The pillow was substantial and the blanket was exceptionally soft. I also received a small amenity kit with a dental kit, sleep mask, lip balm, and earplugs.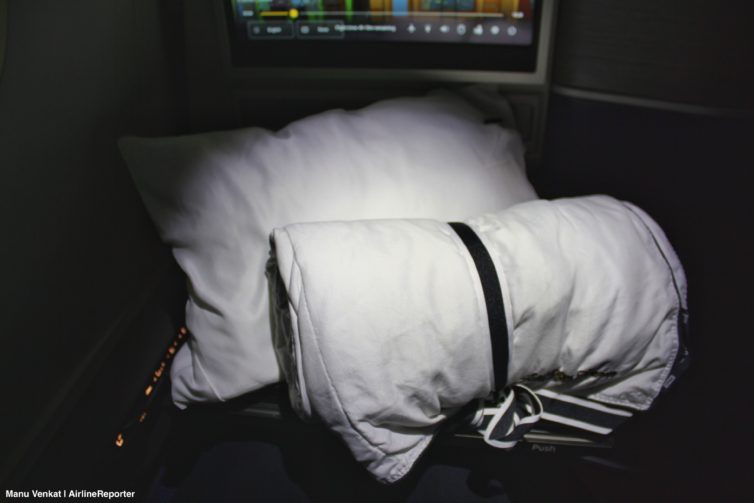 Preflight Fun
I was able to say a quick hello to the captain and first officer, who were keeping a close eye on the weather but were otherwise very excited about operating this inaugural flight. The Dreamliner flight deck looks like it might as well be in a spaceship.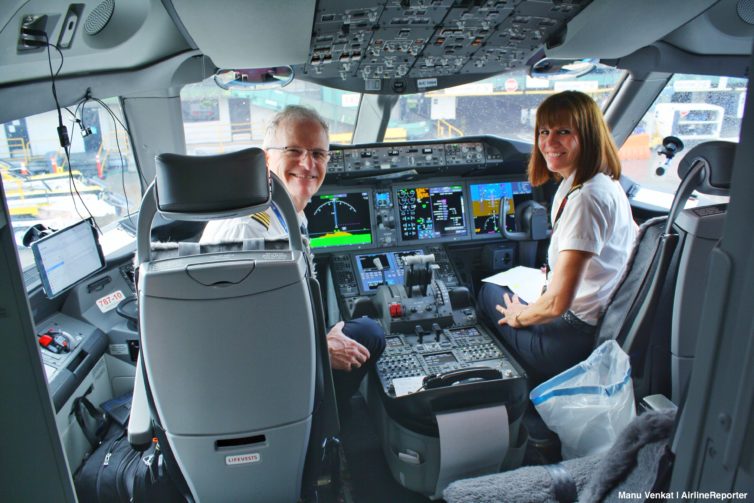 Before settling in to my Polaris seat I took a quick look back at Premium Plus, United's new premium economy cabin. It's comparable with premium economy products on other airlines' long-haul aircraft, and comes close to a domestic first class seat.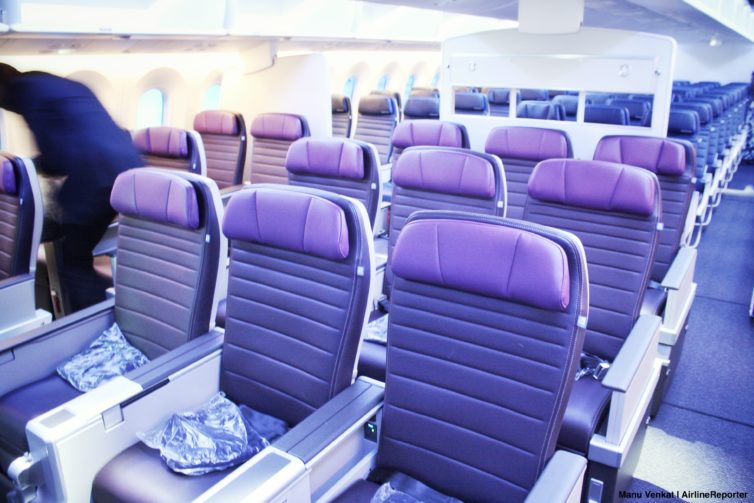 Here's United's seat map for the plane, which offers 44 Polaris seats, 21 Premium Plus seats, 54 extra-legroom Economy Plus seats, and 199 standard economy seats:

Back in my Polaris seat, I enjoyed a pre-departure glass of sparkling wine as I admired United's Valentine's Day 787-10 cards.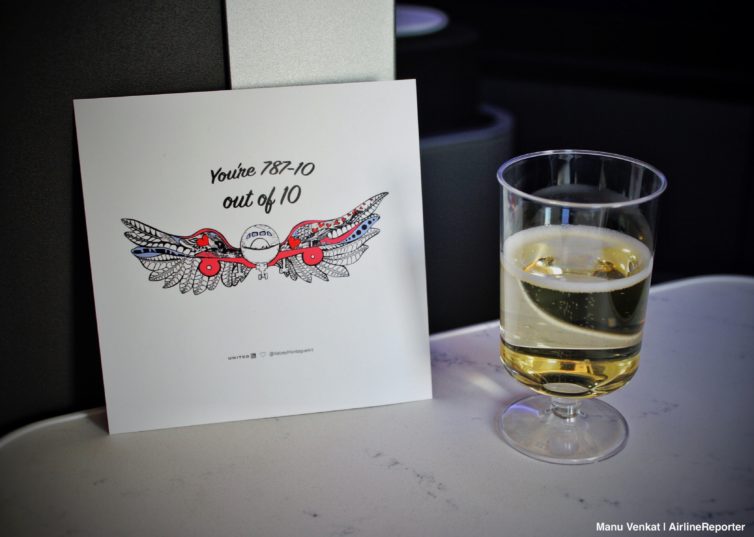 Of course there's always excitement just outside the window (at least if you're an #AvGeek).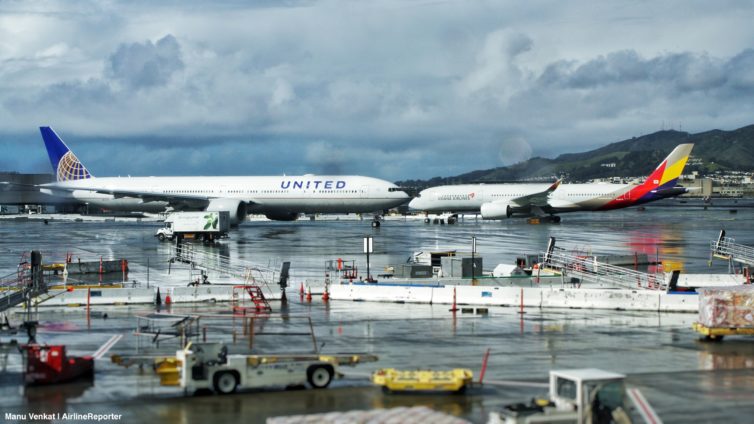 BONUS: Living the Dream – Flying Seat 1A on a United 747
I fly plenty, but the takeoff view on this flight still took my breath away. There was a rainbow right off of the Dreamliner's right wing as it flexed and carried me into the sky over the Bay Area.
The climbout involved a loop around San Francisco, with more great views.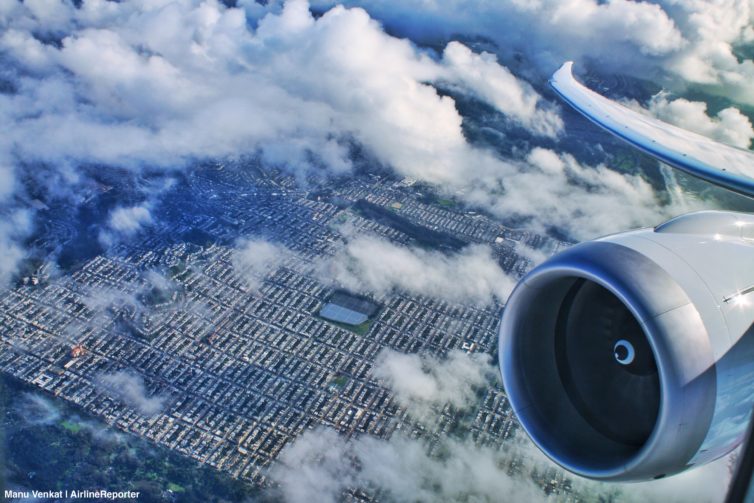 BONUS: 17 Hours in the Friendly Skies – United From LAX to Singapore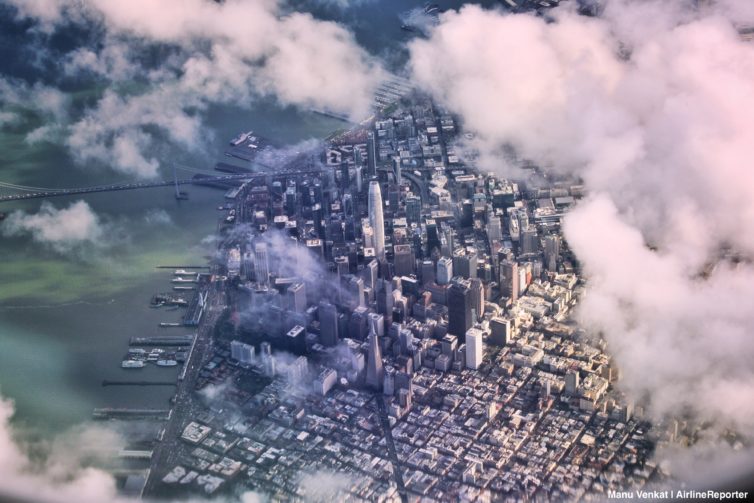 United's Premium Transcontinental Service
Business class on United's premium transcon routes (SFO-EWR, SFO-BOS, and LAX-EWR) is notch above United's standard domestic first class.
After boarding, flight attendants had distributed menus and taken orders for main courses.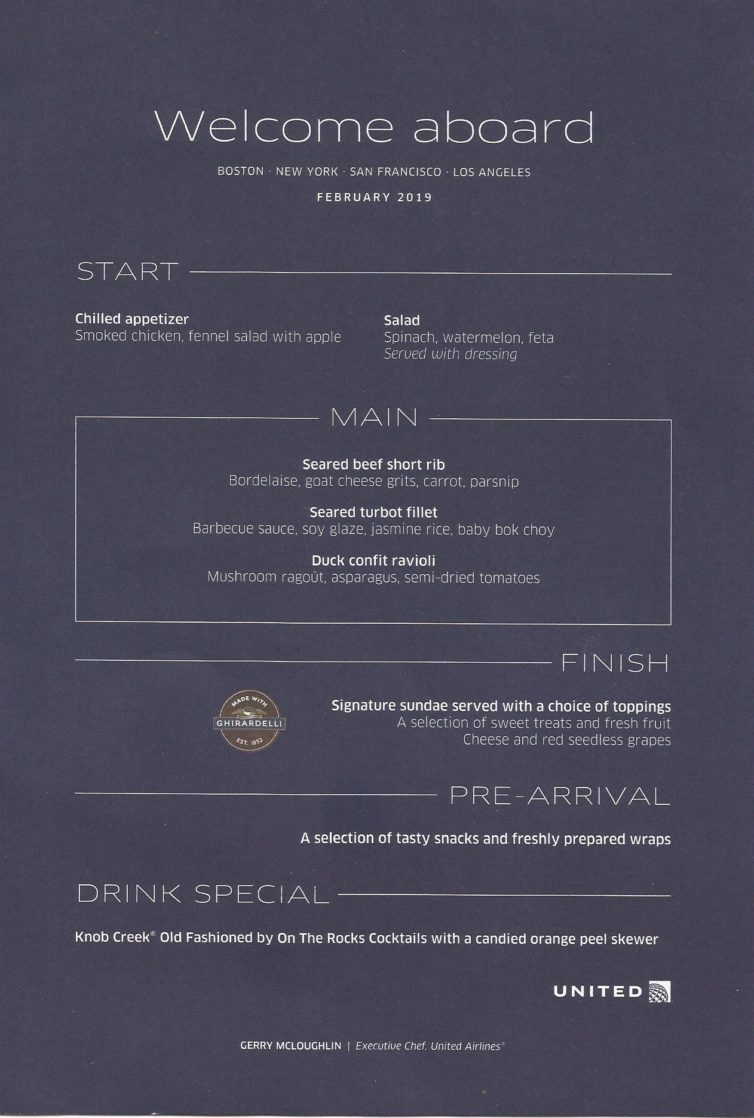 Here's the bar and beverage list: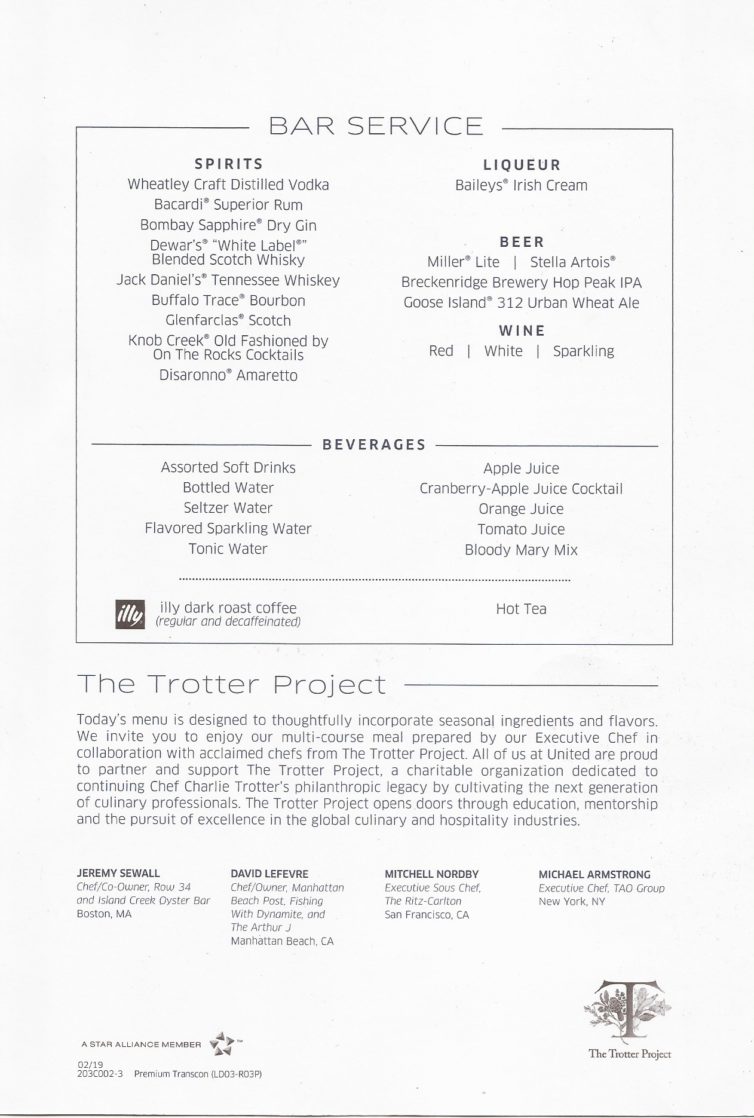 Whenever an airline has a signature or special drink I have to try it. I'm usually not one for old fashioneds but I liked United's version, especially the candied orange peel to enjoy with the drink.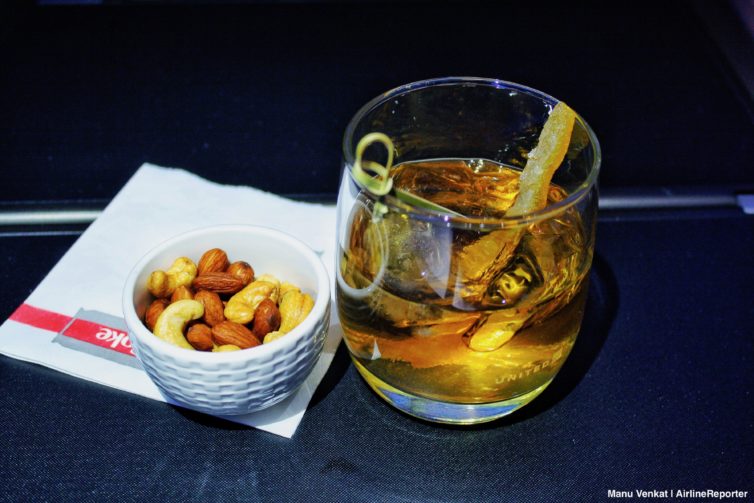 It's generally not fair to judge pace of service on an inaugural flight since crews are still getting used to the plane. The galley on this 787-10 looked like something out of the Tron movie. The flight attendants were working hard and offered service with a smile, but the pace of the meal was understandably slow. I'd wager the pace will improve as crews get used to the new galley.
The meal started with a spinach and watermelon salad along with a starter of chilled chicken breast with apple slaw. Simple, but satisfying — especially along with a pretzel roll and garlic bread.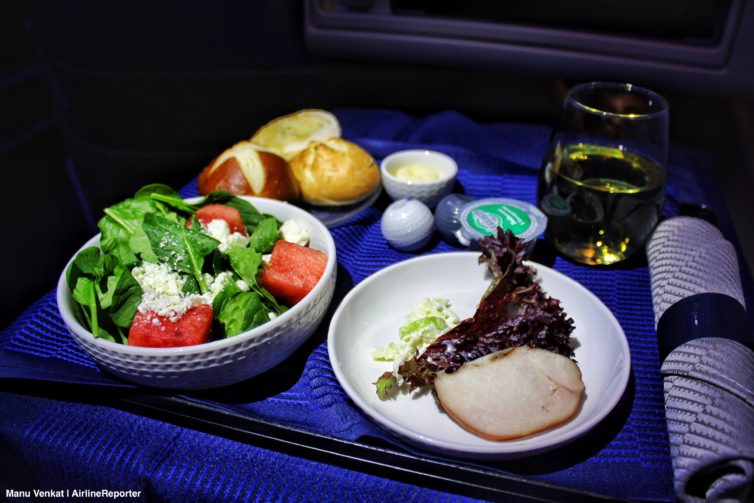 When I received my entree — a seared turbot fillet with barbecue and soy glaze — I was surprised by how basic it looked. I was surprised again by how tasty it was relative to its appearance, with the soy's saltiness going well with the barbecue sauce's sweetness. Generally I'll take taste over appearance, and in that sense the dish was fine.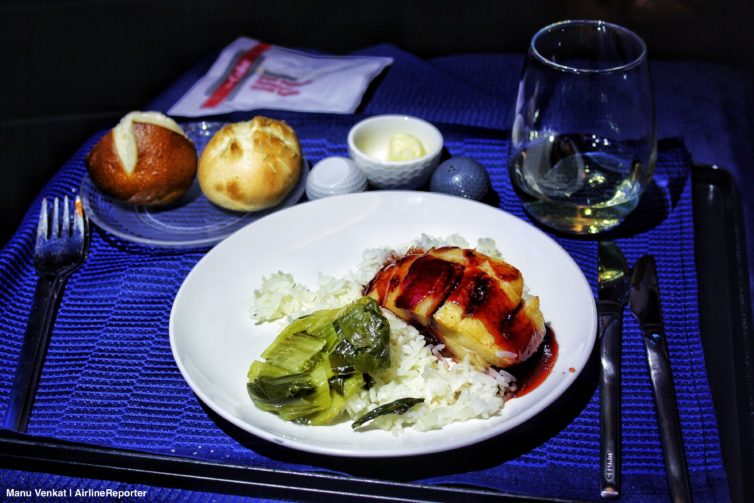 Obviously I couldn't turn down the signature United sundae, which I enjoyed with some Illy coffee, cheese, and red grapes.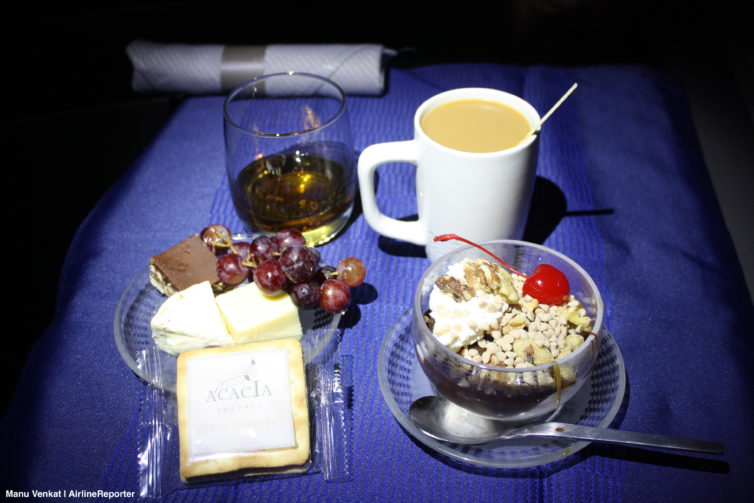 It was a tasty meal, but a long one. As the sun set behind us and we got closer to the East Coast, I took a moment to appreciate the cabin design touches. The Dreamliner ceiling and colored lighting scheme — which simulates sunrise and sunset — makes for some amazing ambience.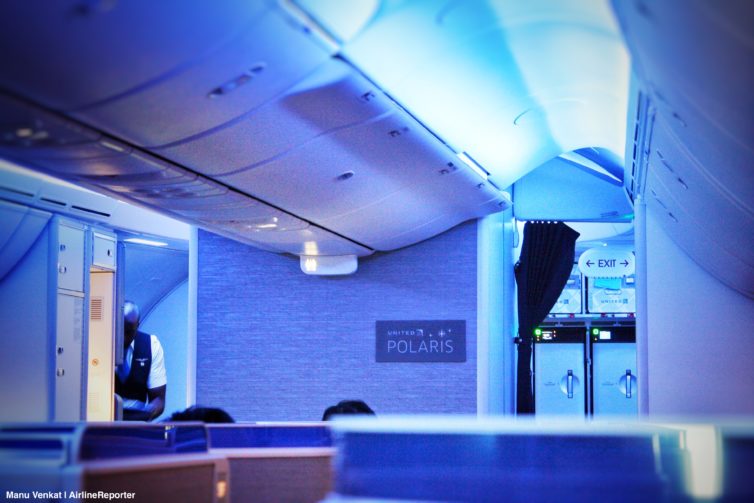 One potential downside for #AvGeeks: the FAs overrode passengers' window controls and kept the cabin in darkness for most of the flight. I think some airlines are still ironing out their Dreamliner window etiquette. I'm fine with crews dimming everyone's windows after a meal as long as they allow passengers to manually un-dim their window if they want to. But the iron first approach like on this flight is best avoided, I think.
BONUS: A Morning Visit to United's Polaris Lounge at Newark
The WiFi worked well for part of the flight, but then cut out. Reliability remains a challenge for inflight internet. But the 787-10 is flying pretty new connectivity hardware that's supposed to be faster and more reliable, so maybe this was just a first-flight hiccup.
Soon enough we were descending into Newark. Touchdown gave us a total flight time of barely four hours thanks to a monster tailwind.
The Verdict
On one hand, you could see the Boeing 787-10 as an incremental advance, stretching the existing Dreamliner enough to carry more passengers. In United's case, I'd argue the introduction of the dash-ten to the fleet carries more significance.
For one thing, it's the first Dreamliner to see intentional domestic service. True, you occasionally see some United 787-8s and 787-9s on inter-hub domestic flights, but those are generally repositioning flights or proving flights.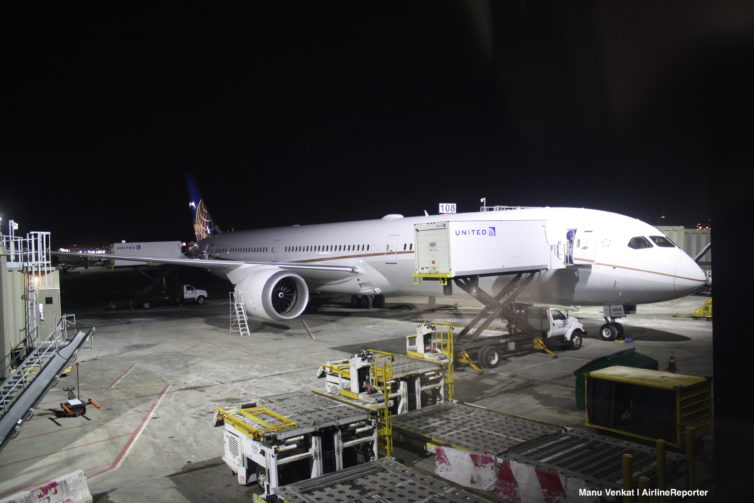 Transcon routes from New York to San Francisco and LAX are fiercely competitive. United's decision to deploy the 787-10 on those routes shows that it's serious about competing against other premium transcon products like JetBlue Mint, American's A321T first class, and Delta One. The 787-10 will handle only a small share of United's transcon frequencies. But given the passenger experience benefits, I'd aim for 'em if you can.
The 787-10 is the first Dreamliner to get United's real-deal Polaris business class seat, which is a massive improvement over United's older business class seats. It's also the first member of the United fleet to come factory installed with the Premium Plus premium economy seat. The sleek, responsive, and disability-accessible inflight entertainment system on this 787-10 was really impressive, and we'll be discussing it in a separate story.
As with any flight, there were some small areas for improvement. My appetizer and entree were tasty but appeared a little plain. And the WiFi system's reliability remains a work in progress.
Looking Ahead for United's 787-10
In addition to domestic transcontinental service, between March and May some of United's 787-10s will be deployed on international routes from Newark EWR to Frankfurt, Tel Aviv, Paris, Barcelona, Brussels, and Dublin. Boeing 767s and 777s handle most of United's transatlantic ops from Newark, and the switch to the 787-10 will mean big fuel savings.
All in all, United expects to take delivery of 14 787-10s over the next two years. At least based on this one experience, it's worth trying to fly them! Stay tuned for our stories on the new United inflight entertainment system and the Polaris lounge at Los Angeles LAX. And if you can't get enough of the Dreamliner, check out our full Dreamliner story archive.
Now it's time for us to hear from you. Share your thoughts in the comments section below. 
Disclaimer: United provided our itinerary for the purpose of this story. All opinions are our own.