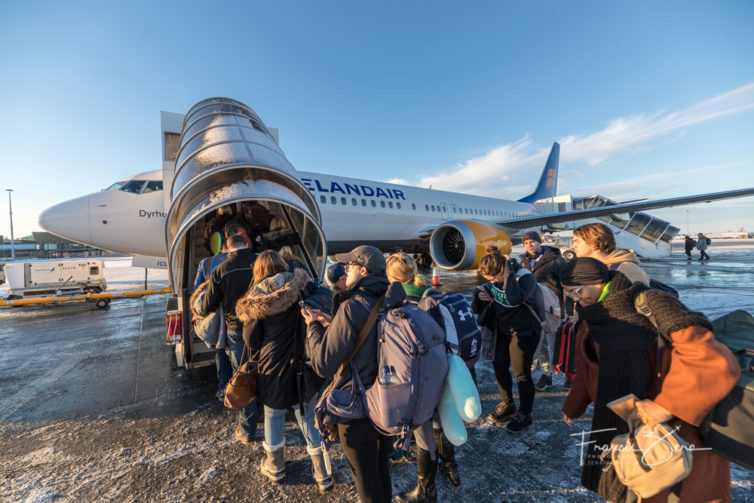 The backstory
Loyal readers will recall our 2017 review of Saga Premium (which, at the the time, was called Saga Class) on Icelandair's venerable 757-200s.
Since then, Icelandair has added several Boeing 737 MAX 8 jets to their fleet (they ordered a total of 16 of the MAX in both the -8 and -9 variants), using them on routes to U.S. destinations on the east coast and upper midwest, along with several European routes.
I flew SEA-KEF on a 757, then returned via Chicago on a 737 MAX 8, as Seattle is, unfortunately, beyond the working range of the MAX 8.
So, two years on, what was it like to fly Saga? Candidly, I was a fan of the last trip, so the memory still felt fairly fresh. My outbound flight was on TF-FIR, aka Vatnajà¶kull, aka 80 years of Aviation, aka the glacier livery.
This AvGeek was stoked at the opportunity to fly on Vatnajà¶kull, even though it was parked at a corner gate between two diagonal jetways at SEA, making photos pretty much impossible that day. IMHO, it's the one of prettiest planes in the sky today, tied for that honor with Icelandair's Hekla Aurora livery on TF-FIU.
The outbound flight from SEA to KEF was as good as the last time – I was in seat 1A for this flight, which is in a bulkhead row. The seats themselves are the same as we reviewed in 2017. They feel even more dated now, especially when compared to contemporary options even on some domestic US carriers, but they're still very comfortable and offer a generous amount of recline.
I love the 757. But it's an old design and the aircraft are nearing the end of their service lives. While the MAX lineup isn't a replacement for the 757 (nor, really, is the A321n, but that's a different discussion for another time), it works for certain transcontinental-length flights, but doesn't have quite the range to fully replace it.
The main event Saga Premium from KEF-ORD on the MAX 8
After an awesome couple of days exploring Reykjavik, spending a day at Icelandair's MidAtlantic travel trade show, having lunch with Icelandair's CEO Bogi Nils Bogason and CCO Gunnar Már Sigurfinnsson, and scoring a helicopter tour from Nordurflug Helicopters (more on those in separate upcoming stories), it was time to say bless à­ bili to Iceland and head home.
Let's start in the lounge
Icelandair's Saga Lounge at KEF has been open for a while now, but it was my first visit.
The lounge is spacious, bright, and comfortable in a very Scandinavian-style way. While some might find it a bit austere, I quite like the clean lines and the fact that there are plenty of tables available. Some lounges I've recently visited are so heavy on the recliners and sofas that there is practically no work space, or even a proper place to eat without feeling like you are juggling plates at a cocktail party. There are still lots of lounger-style seating, all with plenty of power ports. This place is a win for me.
My only complaint is that the airport consistently uses metal screens between the panes of exterior glass. It's most likely there to reduce thermal gain in the warmer months, but it makes for lousy photos out the windows.
The use of such screens isn't unique to Icelandair's lounge, though they're on nearly every window in the airport I'm guessing it's an airport design requirement.
The lounge has window walls that look out over airport ramps and hardstands and the expansive Icelandic landscape beyond. It's a lovely place to pass the time before a flight.
For the seven-hour KEF-ORD flight, I was in seat 1F, also a bulkhead row. I chose the seats deliberately so I could compare relative legroom across the two aircraft types. Even though the MAX 8 is a smaller aircraft, interior space utilization is worlds better than on the aging 757, with a corresponding moderate increase in legroom.
It was the usual KEF scrum to board – there was a quiet boarding call only at the immediate gate area, then we all lined up to board a bus to the hardstand. A short drive later, we were at the plane and walking across the slushy ramp to the airstairs.
We were welcomed on board and had plenty of time to settle in, as, for whatever reason, we departed about 20 minutes late. But I didn't care, as I had a window seat, a great view of the nearby ramps, and plenty of time for my connecting flight on the other end.
The overhead bins on the MAX 8 are absolutely cavernous, especially compared to those on the 757s. The camera backpack I use for trips like this is technically small enough to fit under the seat, but it still was a bit of a squeeze in the 757 overhead bins.
It looked forlorn in the huge MAX 8 bins, and actually drifted around a bit during the flight as the bins were nowhere close to being filled. If you've flown on a 737NG with the Boeing Sky Interior, you've seen these bins. They're awesome.
At takeoff, the MAX 8 was as quiet as I was told to expect. Being up front never hurts, but this was perceptually as quiet as I remember my last 787-9 flight having been. I've got a relatively-accurate decibel-meter app on my phone, and it measured 84db on full-throttle takeoff. I've recorded 100db up front on older 737s during takeoff, and keep in mind that the db scale is logarithmic, so each incremental change represents quite large sound-pressure differences.
While equipped with the widely-anticipated Viasat WiFi , Icelandair's systems are still awaiting certification, so the fast satellite service will have to wait until a future review. Airline officials said they anticipate receiving that certification this spring.
I didn't use the IFE system for much other than tracking our progress, but I did note a reasonably wide selection of stuff to watch. The screen size and resolution are good, and I did enjoy the selection of Icelandic music.
Remaining observations: the forward lavatory is tiny. As in, I couldn't stand up straight in there. But that's the new standard for these planes as airlines work to maximize space utilization, and how much time does one really spend in a lav on a flight of this length anyway?
It still had that new-airplane smell. And, underneath that, it smelled vaguely of tuna-noodle casserole, although that wasn't on the menu. Weird.
Conclusion
In researching for this article, I read quite a few reviews about other airlines' MAX 8s. It seems Icelandair has taken a middle-of-the-road approach, and succeeded pretty well. The routes from KEF to the US East Coast and Upper Midwest basically mirror transcontinental routes in duration, so there's not a huge need for the amenities expected on true long-haul flights. But I do wish the bathrooms weren't quite so tiny.
Icelandair's MAX 8 Saga Premium is a solid product – relatively spacious, comfortable, with good food and good service. It doesn't pretend to be anything other than exactly what it is, which is both refreshing and very Icelandic.
Disclosure: Icelandair invited AirlineReporter on board at its expense for the round-trip flights; our opinions remain our own.