At first glance, Taiwan-based EVA Air and Sanrio's Hello Kitty are an unconventional pairing. The former is an airline with a reputation for refined and efficient service, while the latter is a lighthearted cartoon character.
But having recently flown one of EVA's special Hello Kitty long-haul flights, we can confirm that the combo makes for a really fun inflight experience. In our first installment we wrote about the lounge experience in Paris, the Royal Laurel cabin, and the first meal service. And now we're back with the rest!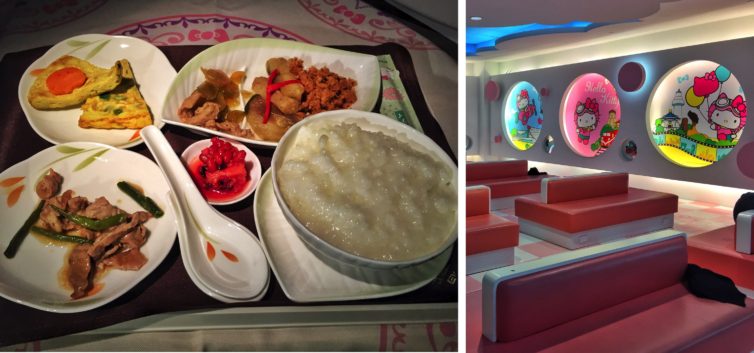 Read on as we discuss the sleep experience in EVA's Royal Laurel business class, discover some unique Hello Kitty amenities, enjoy a Chinese-style breakfast, and more from the second half of our flight. Plus, we'll fill you in on how you can get yourself on a Hello Kitty flight on EVA Air.
After the huge post-departure meal service, I found myself in the mood for some R&R. Luckily for me, EVA is one of the few airlines that offers their long-haul business class passengers pajamas. It's a feature that makes a huge difference on an overnight flight, especially if you're traveling light and can't bring a change of clothes yourself. The long-sleeve shirt and full length pants that EVA offered me were comfortable and durable. I even started using them as my regular wear pajamas once I got home. I'll admit that the photo below was taken after I'd worn them more than a few times. Be aware that the sizes run a little small.
EVA's amenity kits come packaged in a stylish Rimowa-branded hard sided case. The Harnn-branded contents are reasonably generous, though they're relatively low on the Hello Kitty factor.
If you're in the mood for more of EVA's favorite cartoon critter, you only need to go as far as the lavatories, which feature Hello Kitty amenities, and even Hello Kitty toilet paper. Apparently they have to stock a lot of the T.P. because people steal it.
BONUS: Hello Kitty! Quite the Hoedown in Houston With EVA Air
This was an overnight flight, and I'm glad to report that my sleep experience in Royal Laurel class was top notch. In lie-flat mode the seat is plenty wide all the way down to the foot well. The adjustable armrest on my right side sank down to bed level, providing plenty of shoulder room. EVA provides some seriously high quality bedding. The pillow was bulky and firm, and the blanket was nice and thick. The only negative was that I was never proactively offered a turndown service, which is available on EVA's flights longer than six hours. Maybe I conked out too early to catch the FAs doing their pre-bedtime rounds.
We hit some monster turbulence just as I was settling in to sleep. I've flown plenty in my life but this was the most severe chop I've ever experienced at cruise altitude — bad enough that I could hear things falling down in the galley every few minutes. But despite all that, the bed and blanket were so comfortable that I still got five hours of solid sleep.
I woke up with time to spare before the arrival into Taipei, so I fired up the "Star Gallery" entertainment system. The selection of Hollywood movies was solid, though not the most expansive I've seen. EVA provides passengers with decent-quality noise canceling headphones.
While the flight attendants had been extremely proactive for the first few hours of the flight, they mostly disappeared thereafter. Still, as soon as I hit my call button, someone would be by my seat in a matter of seconds.
I decided to order the "Aurora" special off the cocktail menu to go along with my movie. The combination of gin, cointreau, green mint liqueur, and tonic water sounded interesting, but it turned out to be too sweet and felt a bit too artificially flavored for my taste.
Later in the flight I tried some Kavalan, a well-reviewed Taiwanese whisky available on EVA flights, which I enjoyed much more.
While there were some hot items ("Leisure Delights") available for mid-flight snacking, I never ended up trying any because the first meal service kept me full for so long. Soon enough it was time for the before-landing meal:
For a change of pace, I decided to try the Chinese-style option. I can't really judge how it compares with the best of Chinese / Taiwanese cuisine, but it tasted amazing to me. Plus, the small-plate format was a lot of fun.
As trays were cleared, I caught a beautiful sunrise as we descended towards Taipei Taoyuan Airport.
%CODE1%
The final verdict
Boarding this flight, I had two main questions. First, would EVA Air's Royal Laurel business class live up to the hype? And second, would the Hello Kitty service add to the experience or detract from it?
Setting Hello Kitty aside to tackle the first question: my expectations about EVA Air were high, and they were absolutely met. The outward-facing herringbone style seat design is every bit as great as its reputation suggests, with excellent privacy, lots of space, plentiful storage, and a roomy lie-flat configuration. EVA Air's bedding and amenities are standout positives, with pajamas and blankets that beat what you'd find on just about any other airline.
BONUS: Photo Tour of Evergreen's Maintenance Facility in Taipei
EVA Air deserves high marks on dining and drinks as well. The dishes during the first meal service weren't particularly innovative but the execution was top notch, and the prestige items like foie gras and Krug ros show that the airline truly invests in its business class experience. The pre-arrival service, which I enjoyed at least as much as the first meal, gave me a chance to try some non-Western options. Just stay away from the crazy green cocktails!
Service was efficient throughout the flight, though the approach was pretty hands-off after the first meal service. That's fine by me on an overnight flight as long as flight attendants are responsive when you need 'em, which was absolutely the case on this flight.
As for Hello Kitty, I think she made the flight way more fun and memorable than it would have been otherwise, and EVA deserves credit for going all-in with its Hello Kitty flights. The airline didn't cut any corners in building a Hello Kitty experience that encompasses multiple aspects of the flight, from printed materials to dining and (yes…) even the toilet paper.
BONUS: Flight Review – EVA Air Royal Laurel Business Class on a Boeing 777-300ER
That being said, the Hello Kitty experience may not be for everyone. For some people, all the cartoon branding could be a bit too much. Others may feel that Hello Kitty doesn't jive with their mental image of what business class luxury should feel like. Comparing the menu from my Hello Kitty flight and menus from a non-Hello Kitty EVA business class flight (see below) conveys the gist of what I mean. The former comes off as more fun, while the latter feels a bit fancier.
Still, as long as you understand what you're getting yourself into, my recommendation is to ABSOLUTELY get yourself on a Hello Kitty flight if you can swing it — especially if you've already tried EVA on a regular flight. As I hope you can tell from my report, I had a total blast and I think you would too. Even for the most avid aviation enthusiasts, flying can sometimes get a bit repetitive, so it's nice to have an occasional dash of wacky and whimsy to keep things feeling fun and fresh. And flying with Captain H Kitty on EVA Air definitely qualifies as all of those things.
Finding a Hello Kitty flight
So what should you do if you want an EVA Air Hello Kitty adventure of your own? Fortunately, the airline has a special website dedicated to its Hello Kitty service and some other special branded flights. The site can be a bit hard to navigate but is chock-full of info, including a list of EVA Air's special liveries, photos of Hello Kitty themed meals, EVA + Hello Kitty merch, and — most importantly — a list of routes currently operating the special flights. It's important to note that most routes only get the Hello Kitty treatment on certain days of the week. Currently, Chicago and Paris are the lucky recipients of long-haul Hello Kitty services. Additionally, EVA Air operates some shorter-distance Hello Kitty flights within East Asia. While EVA periodically rotates its Hello Kitty destinations, there are no immediate plans to switch away from Chicago and Paris in the near future.
See you in the Hello Kitty skies!
Now it's time for us to hear from you. Do you think you'd enjoy flying on one of EVA Air's Hello Kitty flights? Have you already been on one? Share your thoughts in the comments section below.