I was very lucky to get a ticket to this year's Aviation Geek Fest Seattle from April 8th to 10th. As one of the biggest AvGeeks on the planet (or so I wrongly thought…), I had been savoring the prospect of flying to the US west coast to visit Seattle, and Boeing's spiritual home, since the ticket had come through.
I opted for a London to Seattle direct flight with one of British Airways' own Queen of the Skies — the 747. I flew in her World Traveller Plus (premium economy) cabin and the flight was surprisingly empty, which suited me fine and dandy. It was a peaceful flight and a Thursday lunchtime arrival into SEA, a day and a half before the event, gave me a chance to check out the city.
AVIATION GEEK FEST: Saturday Up North
It is always nice to visit a new place when the sun is shining. I was in luck, because the weather was glorious during my journey north from downtown Seattle to the Future of Flight Museum in Everett early Saturday morning. I had made all of my track selections and found myself in Group B, preparing to visit the Dreamlifter Operations Center at 10:00 am. Boeing's "no cameras or phones" rule would be strictly enforced, which was understandable, if not a little disappointing. As one tour guide later said, "you can only take away memories." They would turn out to be spectacular memories.
We donned "hi-vis" jackets and meandered over to the Dreamlifter, accompanied by three tour guides who provided a multitude of detail about this big bird's history, its development, and its current operations — shipping various parts, including wings, to Boeing bases across the world. I stood under the tail and stared upwards in a sort of child-like trance whilst learned members of my group asked insightful and intelligent questions about the aircraft's capabilities. It could only have been better if the tail had opened up and we could have climbed inside to explore — perhaps next time.
BONUS: Up-close and Personal Photos of a Boeing 747-400 Dreamlifter
We passed Boeing's 747-8 tribute to Seattle's local gridiron team (football means soccer to me, sorry…), the Seahawks, with the distinctive number 12 on the vertical stabilizer. It's one way to encourage the home crowd, i.e. the 12th man. Go Hawks!
After an extended lunch and peruse of the gift shop, I boarded the Group B fun bus destined for the largest building in the world, the 98.3-acre assembly for the 787, 777, 767 and, of course the Queen of the Skies – the 747. I was giddy with excitement (and probably from exposure to decent sunshine) at the thought of floor walking amongst such iconic airframes.

It did not disappoint. Guided by a former secret service agent and 747 expert, we overloaded him with questions about Air Force One's capabilities that he was not at liberty to answer without going to jail. We walked a decent mile, complete with commentary relayed through personal short-wave radio sets, and absorbed the mind-boggling array of assembly points and work in progress on the factory floor. The green lacquer on the pre-liveried aircraft is almost as iconic as the airframes themselves. It was like Airfix meeting Lilliput – a fabulous stroll through an aviation heartland. Sadly, no photos were allowed on the tour (but we are able to share some from AirlineReporter's previous visits).
BONUS: Inside the Factory: Photo Tour of the Boeing 747-8 Production Line
Then it was time to get the AvGeek party going. Everyone sat down in the Future of Flight museum's gallery and were treated to a talk by Boeing vice president of marketing, Randy Tinseth. There was also good food, great conversation, and of course… prizes! A huge thanks to the companies that were awesome to give out great stuff:
Then it was time to rest and prepare for the second day of Aviation Geek Fest Seattle.
AVIATION GEEK FEST: Sunday Down South
Along came Sunday and a change of venue to Renton. From downtown Seattle, it was far less of a trek to the Museum of Flight for AvGeek Fest Day 2. Once again, I had opted for Battle Group B, which had tracks to visit the Boeing 737 MAX and the factory floor of Boeing's best-selling 737. But first, I was able to spend some time in the area's greatest aviation attraction.
BONUS: The Successful First Flight (and Landing) of the Boeing 737 MAX
I love history and learning about the origins of aviation and space exploration. So spending a couple of hours wandering through the displays and Boeing's original office building number 105, the "Red Barn", to soak up the company's story in its centennial was such a beautiful experience. As much as I loved walking the ramp area around the MAX and later the 737 assembly line, I was just as happy to get back to browsing the memorabilia of yesteryear and the men and women who contributed so much to what we know about flying today.
BONUS: Photo Tour of the First Boeing 737 MAX
Quietly parked on stand, the 737 MAX is naturally not as imposing as its bigger brothers and sisters in Everett. That said, I did about five circuits around the marvel of commercial flight, eyeing up its sleek exterior and attractive wing tips whilst listening to the brand director (a fellow Brit) wax lyrical about the aircraft. The 737 factory floor experience was the icing on the cake though. After a quick bus ride over to Renton, we were walked through the various stages of airframe construction. We all giggled at the stories of bullet hole repairs because the green lacquered frames make tasty targets when passing through Montana, on special cargo trains from Wichita en route to Renton. Priceless.
BONUS: Photo Tour of the Boeing 737 Factory in Renton
Having enjoyed a chilli dog (another first) from the museum's cafe, I jumped back on the bus into Seattle to sample some more locally brewed pale ale and the most incredible mushroom and truffle oil pizza from Orfeo that the waiter described as "crazy delicious." Brilliant description.
BONUS: The Airport Where Every Boeing 737 Takes its First Flight
My flight back to LHR on the Monday afternoon was timely, especially since the sun had disappeared behind thick clouds. Time to chivvy off [Editor's note: We have no idea what this phrase actually means, but it just sounds so British-cool, so we'll let it fly], but not before seeing Iron Maiden's Ed Force One 747 taxiing in as we taxied out! I don't really listen to their music, but the airplane's cool.
Aviation Geek Fest is a wonderful experience if you are lucky enough to be a part of it and the Boeing factory tours are a must for all aviation fans. Most of the time, I quietly listened and observed the exchange between tour guides and AvGeek enthusiasts whose knowledge and experience dwarfed mine. If I had had my cap, I would have respectfully doffed it.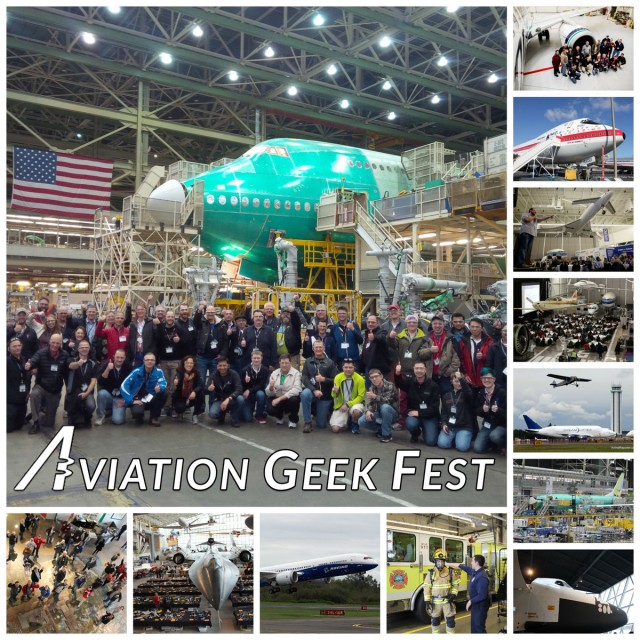 AVIATION GEEK FEST SEATTLE: Other Stuff
Do you have more photos, memories, or thoughts to share? Put them in the comments!