Recently, I had the opportunity to fly on my first Airbus A350 and I was excited. It was on TAM Airlines from Miami (MIA) to Sao Paulo (GRU), which is an eight-hour flight — enough time for me to put it to the test. It was also special, because this was the first international commercial flight for the TAM A350 (when it flew to MIA).
Over two and a half days, I would fly about 14,000 miles and stay in Brazil for one night to take this flight. When I did something very similar (minus the sweet A350) back in November 2014, I thought I would never do something like it again. But when invited, there wasn't a moment of hesitation. The ability to fly on my first A350 — on TAM? Yes please!
Going into it, my big question was, "is the A350 better than the Boeing 787 and/or the 777?" In the end, the answer to that question was not so easy.
The TAM product can be a little confusing, since LAN and TAM are in the process of merging (to be called LATAM), but are operating independently for now. Following the merger, both airlines will feature the same interior product. This new look has already made it to LAN's 787-9s, and now the TAM A350. The new interior design will slowly make its way to both airlines' international fleet, and there will be another unified product for domestic aircraft.
BONUS: Photo Tour of TAM's Flight Attendant Training
Although the new interiors have begun rolling out, the world has not yet seen the new LATAM livery (although we got our first clue on a 787). The airline has not said when this new livery will be revealed, but they earlier stated that it will be seen on the fourth A350, which should be delivered in June. However, that might not be the first aircraft sporting new livery. It is likely that the new LATAM will make a big deal of the reveal, so it will be hard to miss. But for now, my A350 wore the standard TAM livery — and I have to say it looks good on that plane!
I had flown from Seattle to Miami (via Atlanta) and had a three-hour layover before the A350 was scheduled to depart. As the six of us in the press group waited to board early (to take photos of the empty cabin), we saw people with neon vests sitting in the flight deck — this was not a good sign. After waiting just outside the gate door for a while, we were informed that there would be a mechanical delay. We headed back to the lounge, hopeful things would work out quickly.
Due to crew rest rules, and there being no spare TAM A350 pilots in Miami, we knew the plane needed to be boarding by 2:00 am or the flight would have to be cancelled and rescheduled. At about 10 minutes before the cutoff, a TAM airport agent entered the lounge. I was hoping for the best, but expecting the worst. Luckily, we were told that we could board.
It turns out that there was an indicator light that was on, and we couldn't depart until it was handled. Not a huge deal, more of a pain, and these things happen — either way I was happy to get on board.
I was impressed upon walking into the A350's cabin — the lighting and colors were very welcoming and I almost felt at home.
TAM's A350s have 30 Premium Business Class seats in a 2-2-2 layout, with 74″ seat pitch (their 777s currently are 2-3-2). The economy cabin has 318 seats in a 3-3-3 configuration, with 31″ of seat pitch.  Of course it would be better if every seat had aisle access, but many airlines still are not offering it. I asked why this decision was made and TAM stated, "During the seat selection for our Premium Business Class, passenger experience and technical variables were taken into consideration. Regarding passenger experience, a 2-2-2 layout offers the benefit of a comfortable bed, with a comfortable width, that allows for a restful experience on long and overnight flights." They also pointed out that this layout is beneficial to interact with those you might be traveling with.
As far as 2-2-2 layouts are concerned — this became my favorite, and I actually would rather fly in this product than some 1-2-1 setups I have flown.
Although I enjoyed the LATAM cabin, I was also interested in seeing how I felt about the A350 itself. I noticed that the walls were flatter and more upright, giving it more a sense of being on the ground than in the air. The windows are quite large and offer plenty of viewing space and natural light. The only downside is the outside of the window and the inside plastic are about 2″ apart. It might improve sound and make people feel removed from the flight experience a bit, but makes it harder to take good photos — but not impossible.
Whereas the Boeing 787 has the electronic-dimming windows, the A350 rocks the old-school sunshades (although Qatar made theirs pretty cool). After flying the 787 quite a bit, I have to say there are times that I enjoy the electronic windows (when I want to see outside) and other times that I do not (when I want control over my window or I am trying to sleep).
Like the 787, I enjoyed the different lighting options and their ability to slowly transition from one cycle to the next (boarding, take off, meal, sleep, wake up time, and landing).
We had some time before we would push back, so I took a tour of the rest of the plane, including economy, the rear crew rest area, and of course the flight deck. Being my first time on the A350, I haven't see the flight deck in person. I was greeted by huge displays, great sight lines outside, and plenty of space to move around (also a USB plug — cool).
As I made my way back to my seat, I couldn't help but notice how empty the plane was — I was told that there were only about 50 passengers. This meant everyone would have more than enough room and it felt VIP.
I got situated at my seat and we started to push back. I was anxiously waiting for those sweet Trent XWB engines to start up. The time came and their sound whirling up was music to my ears.
We started to move forward on our own power and headed to the runway. After lining up, I waited in anticipation for the engines to go full throttle. Although quiet, their sound was enjoyable and I got goosebumps as we rocketed forward and lifted off.
BONUS: Inside Look at TAM's Uniform Shop
We ascended until hitting our cruise altitude of about 40,000 feet — higher than most airliners. While we climbed, I started to explore the in-flight entertainment (IFE) system.
There is an easily accessible universal power outlet and USB port under the armrest (there is a second USB port by the screen). In front of the seat is a 19″ touchscreen (Panasonic eX3) and a remote in the armrest to control it. The remote is better than TAM's older IFE, but it was still hard to navigate the system. I found it much easier to use the touchscreen, however it was too far away (even for my long arms) and required me to lean out of my seat. There were a few times I got frustrated enough to get up and just touch the screen. The resolution was crisp and the sound from the TAM headphones provided a great movie viewing experience.
The movie and TV options were quite diverse, but with my recent flying and binging a bit on Netflix, I had a hard time finding something I was excited to watch (even more so on my flight home). One unique aspect was each movie showed an IMDB rating — steering me clear of bad movies.
While I started watching a movie, meal service began. The main choice was between three entrees: chicken, fish, or steak.
BONUS: Touring TAM's Maintenance Operations Center in Brazil
I went with the steak — or as they described it: "Grilled steak with rustic mashed potatoes and roasted vegetables." I have to say I was quite disappointed — it was dry and tough. I would assume it was that bad since it had to sit on the ground for an additional three hours. On my flight home, I also ordered the steak and it was better, but not great. Although the sides (and bread) on both of my flights were quite good.
When I was done with my steak, I decided to skip desert (ice cream or caramel flan) and prepare for sleep.
Sleep. Finally. I had gotten up at 5:00 am PDT and it was about 3:30 am EDT by the time I had a chance to sleep on the lie-flat seat. One of the friendly flight attendants offered to make my bed and I accepted. TAM is testing out mattress pads that go on top of the seat and I am a strong supporter. Not only does the mattress pad provide more cushioning, it keeps you from lying in other peoples' sweat.
TAM does not provide any PJs, but I had a nice collection at home. I decided to bring pair of my own (BYOPJs) and decided on Qatar Airways. Why? Because both airlines are oneworld partners and figured that made sense (and I didn't want to insult my hosts and yes, I think I am funny).
My five hours of rest were great. Even with a seat between me and the aisle, I felt very isolated and away from other people in the cabin (much more so than their previous product). The big downside was that the bed wasn't quite long enough for me. The stats show the bed at 74″, but at 6'1″ (73″), my feet and head touched each end of the seat. If I slept a bit diagonal or had my knees a little bent it was fine. Overall, the bed was roomy (width-wise) and the pillow and blanket were cozy, so I ended up with some great sleep.
When I woke up, I was a bit surprised — my nose felt very dry — weird. I had thought that the A350 had the same "more humidity" option that the Boeing 787. Turns out, that is not always the case.
All Airbus A350s provide the lower cabin altitude (6,000 feet), but the humidified air is not standard — something that TAM opted not to get. Sure, the down sides are the up front costs, the expenditures related to the additional weight of flying the equipment, and repair costs. But do those outweigh the benefits?
I wish that Airbus did not make this an option. Sure, more costs, but then passengers would become more brand-loyal to the A350 — knowing each one offers the additional humidity. I also wish that TAM saw the cost benefit of choosing this option. I know flying the 787 (with humidified air) back-to-back with a 777 or 767 (as I previously did with LAN), there is a noticeable difference. Oh well.
Then it was time to wake up. Earlier in the flight, I filled out a menu form to choose what I wanted to eat for breakfast — I haven't seen that before and thought it was pretty smart. There were lots of choices and I went with some eggs, a croissant, and potatoes. It was better than my dinner, but still below other business class food on other airlines I have tried. The red glasses for water and juice were a nice touch.
I have only visited Sao Paulo once before. I forgot how the city is so huge and spread out — very impressive. We made up some time in the air, but still arrived quite late. Once we cleared customs, we had lunch, visited TAM's flight attendant training academy, had dinner, and returned to the hotel to sleep. Almost seven hours later, I was back in the lobby and started my 22-hour journey home (on a 777-300ER).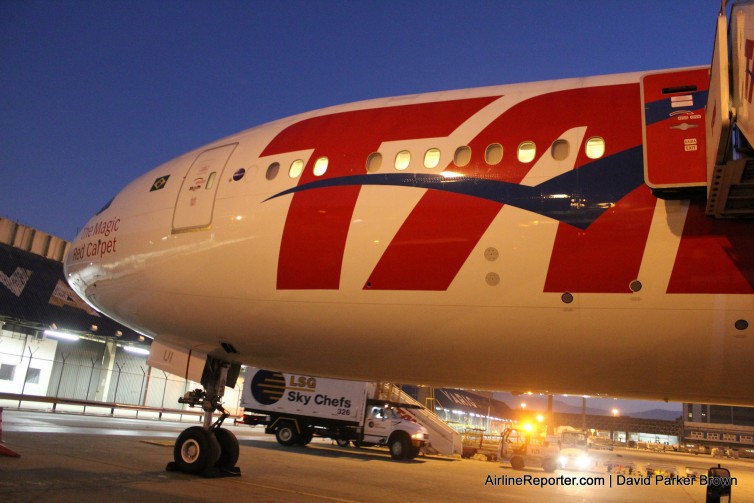 Back to the question comparing the Airbus A350 to the 787 and 777. I like the A350… I really do. However, it is hard for me to do a direct comparison, since I have only flown on one Airbus A350 on one airline. I have had much more experience flying the 787 and 777 on different airlines.
BONUS: Flight Review of TAM's Business Class on a Boeing 777-300ER
Pooling all my experiences together, all things being equal, I would choose an Airbus A350 over the Boeing 777. That says a lot — I love the 777. Even flying on a brand-new, well configured 777, the A350 just feels newer, more fresh (and not just talking about the product, but the basic interior look). The large windows, high ceiling, reduction of turbulence, and LED lighting put it in the lead (an airline with the optional extra humidity would just lock this in more).
Determining a winner between the 787 and A350 isn't as obvious for me. Since the A350 is wider than the 787, the Airbus feels more spacious. If an airline opted for the higher humidity cabin, I think the A350 would be my choice. Even without, I think for now (knowing there is a "newness" factor), I would choose to fly on the A350 over the 787. Once the A350 becomes more common, I am not sure which aircraft will become my favorite. I will need to fly more A350s (a task that I am willing to take on).
If you have flown the 787, 777, and A350 give me your thoughts on the three in the comments. I am interested to see how others compare the three.
Was it worth flying 14,000 miles for one night in Sao Paulo? Absolutely! The TAM and Airbus A350 combination is very strong and made the jetlag all worth it. Although TAM has cut "The Magic Red Carpet," from the side of the A350 (there's another logo there, aircraft specific), they still offer the red carpet service. I am excited to see how the new LATAM brand grows and their products unify and improve.
For more of the TAM Airbus A350, check out our 49 photos on Flickr or visit the special TAM A350 website.
Note: LATAM provided airfare and accommodations for this story. Opinions are my own.