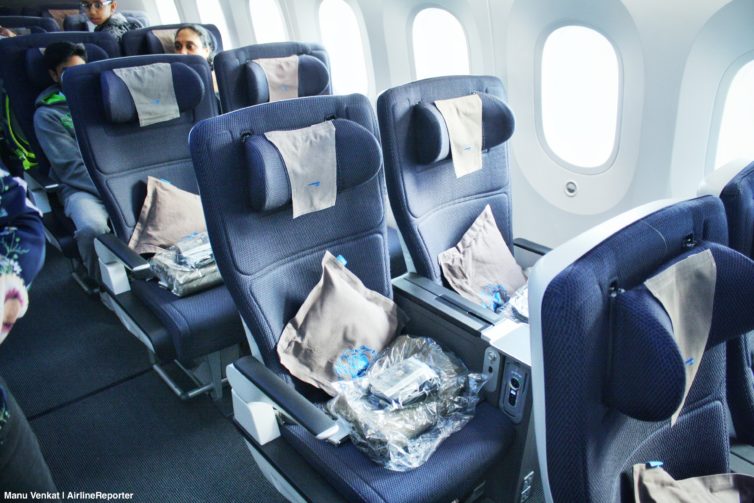 Later this year, British Airways will celebrate a huge milestone: a full 100 years of passenger flights (if you count their predecessors all the way back to the Aircraft Transport and Travel company). As one of the many ways it's commemorating the occasion, BA is making some updates to World Traveller Plus, their premium economy cabin. The current version of the seat was unveiled back in 2010, and earlier this year we got to fly it on two long-haul flights, one on a Boeing 787 and another on an Airbus A380.
We found a lot to like, from basics like more space and recline, to better amenities, and — at least on the A380– the chance to sit on the upper deck without breaking the bank! It ain't business class for sure, but it was definitely enough to make 20 hours in the sky fly right by.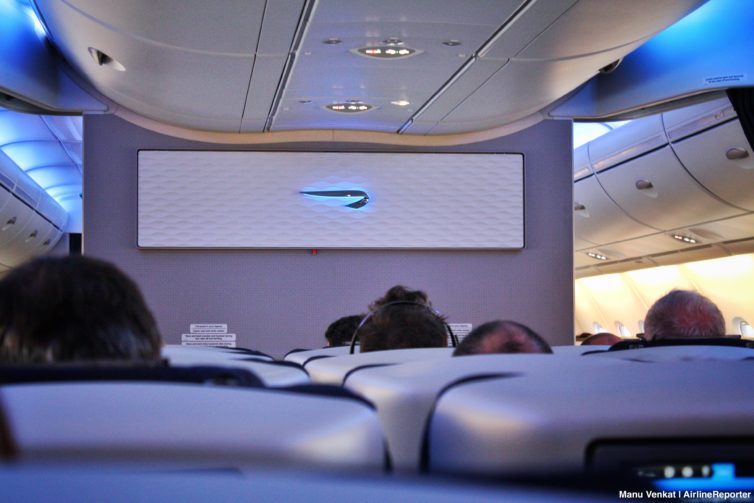 Read on for a chronicle of our trip in World Traveller Plus from Chennai to San Francisco via London Heathrow. And at the end, we'll discuss BA's big upcoming updates to its premium economy service.
Flight #1: Chennai to London Heathrow on a Boeing 787
What better way to start a trip than going face-to-face with your plane?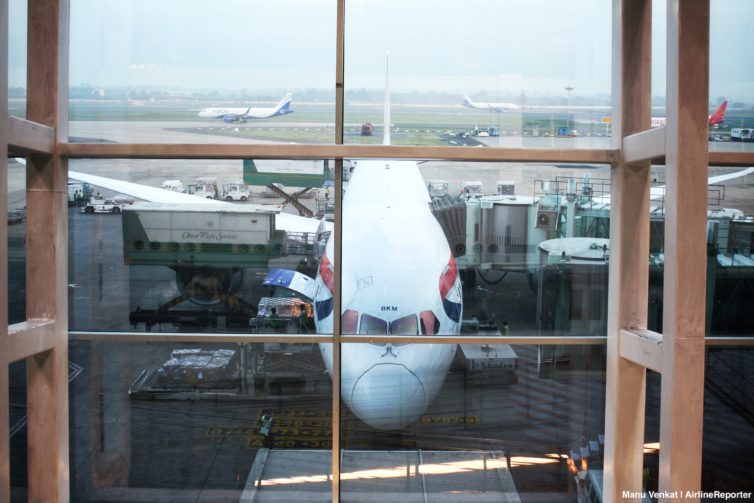 I love the trend of airports moving to glass-sided jetways. British Airways' 787-8s don't have a first class cabin, but the 787-9s do, which is why some of the forward windows are covered up on the -9.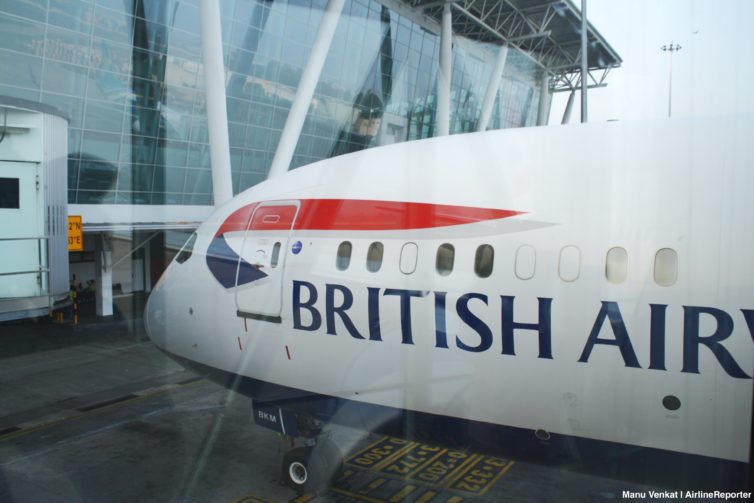 Meet the Seat
On BA's 787-9s, the World Traveller Plus cabin is located over the wing. It has six rows (five in the center section) in a 2-3-2 configuration.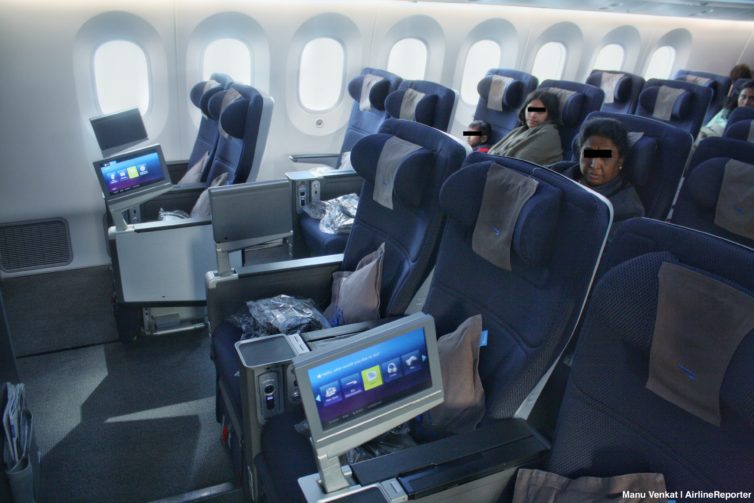 There's a partition separating the cabin from Club World in front, and a lavatory and curtains to the aft. So the World Traveller Plus cabin is pretty secluded.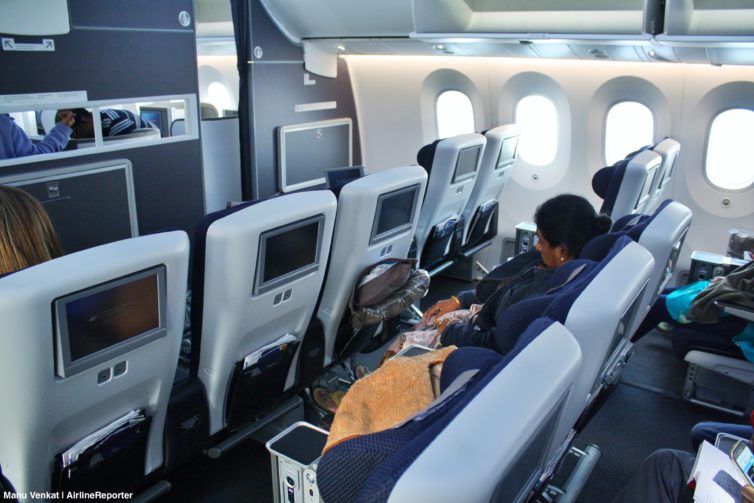 BONUS: Club World At Last! On A Majestic British Airways Airbus A380
The seat itself has a similar design to the basic World Traveller seats, with a few key differences. It's noticeably wider, reclines much further, has a fold-down leg rest, a fixed armrest between seats, and offers a small cocktail table at the end of that armrest.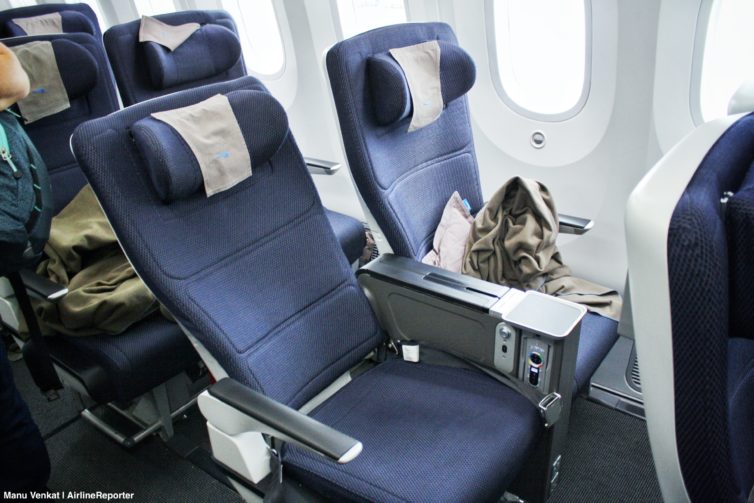 The seat-back storage pockets are roomy but there aren't any larger storage areas other than the overhead bins. Depending on where you sit, the seat support pylons and IFE boxes may get in the way of your legroom.
BONUS: Seattle to Frankfurt Via Condor Premium Economy
I found a brochure orienting me to World Traveller Plus' features.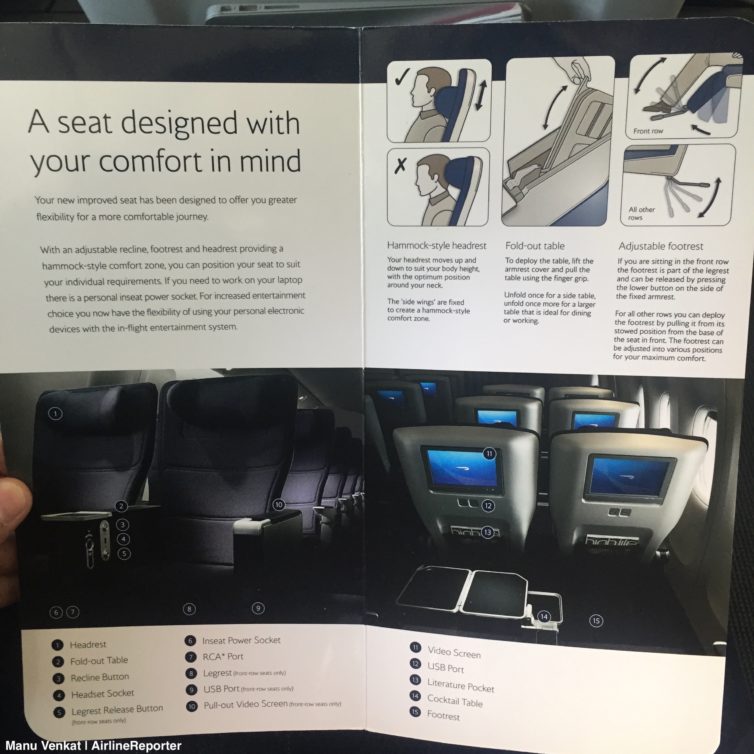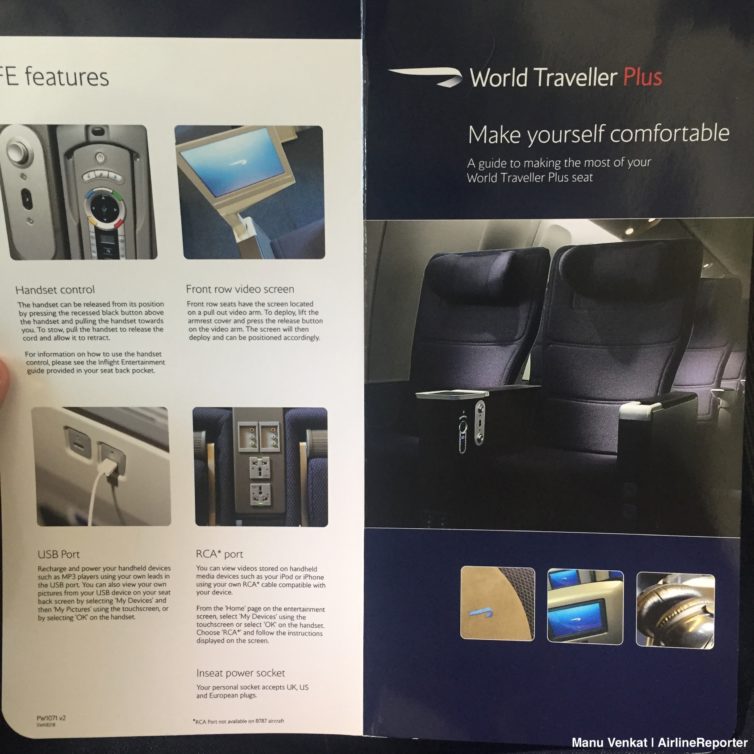 One of the touches that sets World Traveller Plus apart is a pre-departure beverage service. For this morning departure I had a glass of orange juice. When you're flying during flu season, you can never have too much vitamin C.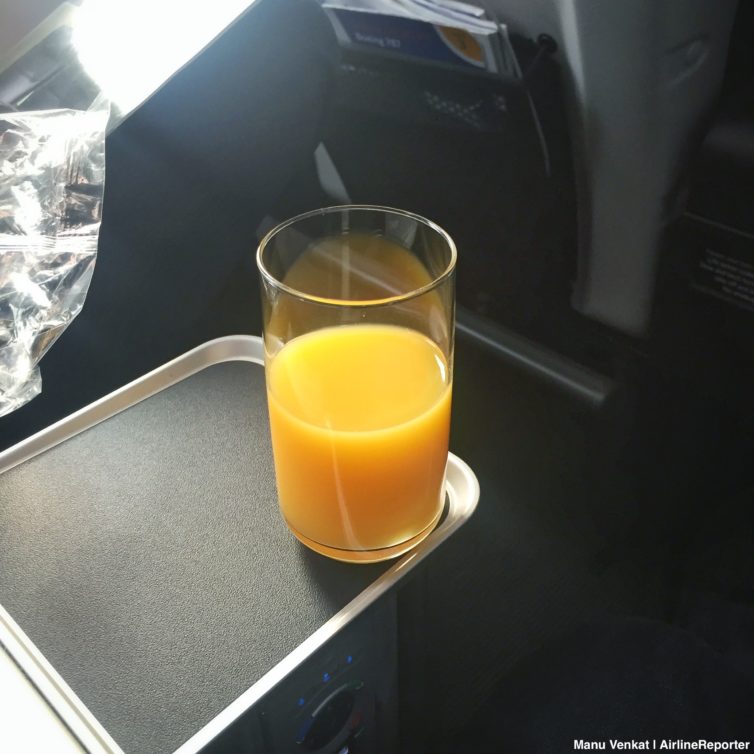 Our taxi to the active runway was speedy, and before I knew it we were rolling. One of the many things I love about the 787 is the amazing view you get even if you aren't seated next to the window. I was one seat over and managed to get a nice look at our Dreamliner's wing flex as we took off.
Service Begins
After we hit cruise altitude the cabin curtains closed and our section's flight attendant started the breakfast service. In World Traveller Plus, the first meal service is served on real dish ware. It's both heartier and more attractively presented than meals in regular economy are. I really enjoyed this full English breakfast — a great way to start my very BA day!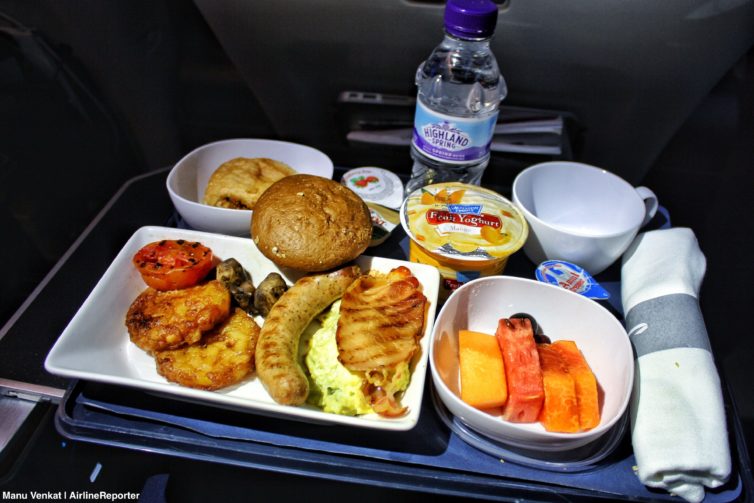 Are You Not Entertained?
World Traveller Plus guests get over-the-ear headphones. I couldn't tell if they were noise-cancelling or just effectively noise-blocking, but either way they're a big win to get in premium economy.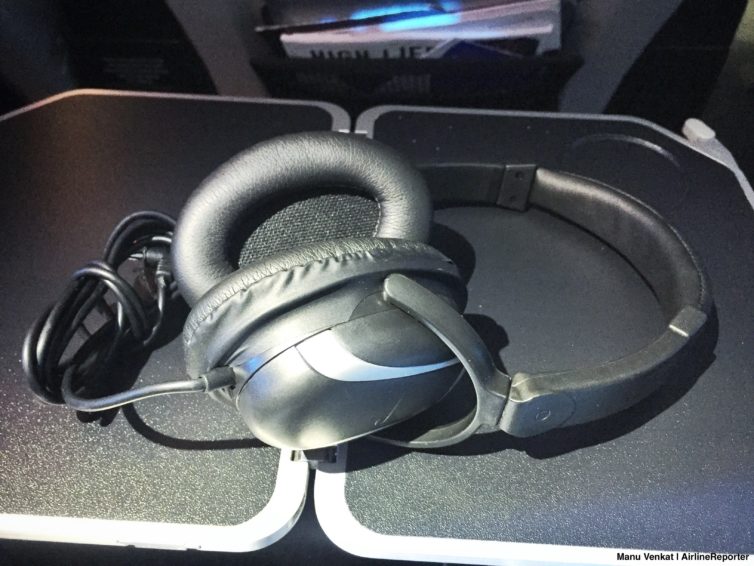 The inflight entertainment (IFE) remote control is tucked into the side of the between-seat console.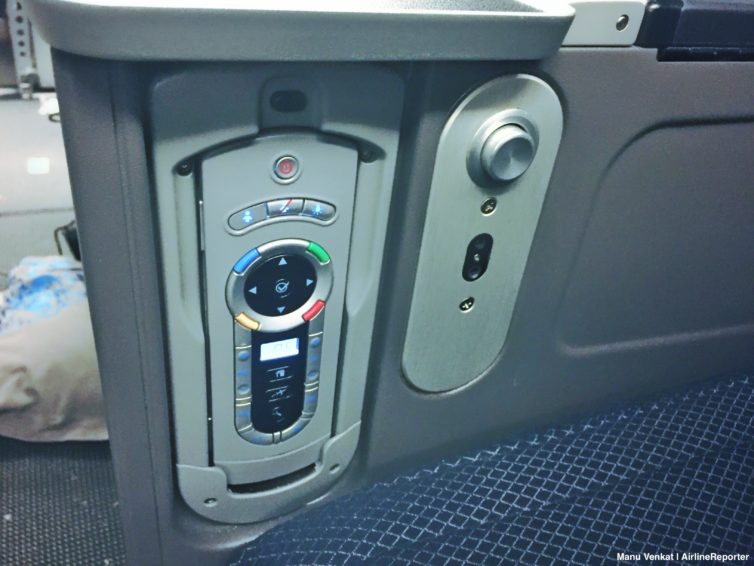 I was trying to stay awake for the full flight and I found plenty of content on the IFE system to keep me busy.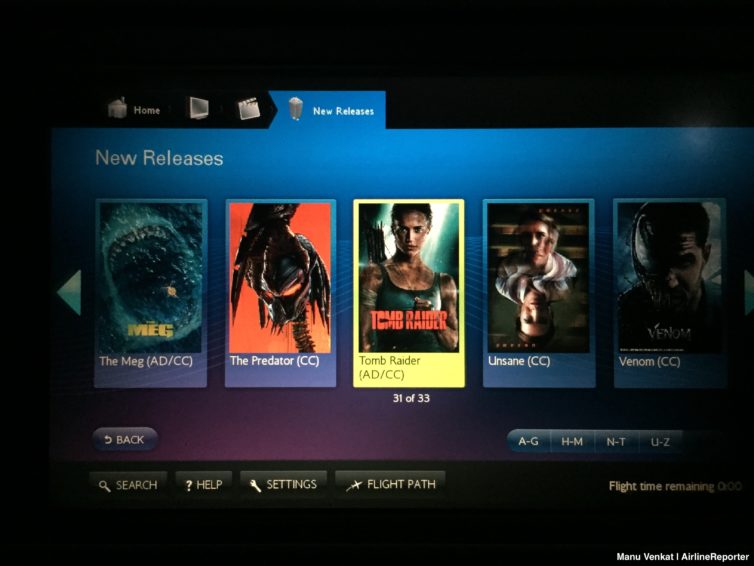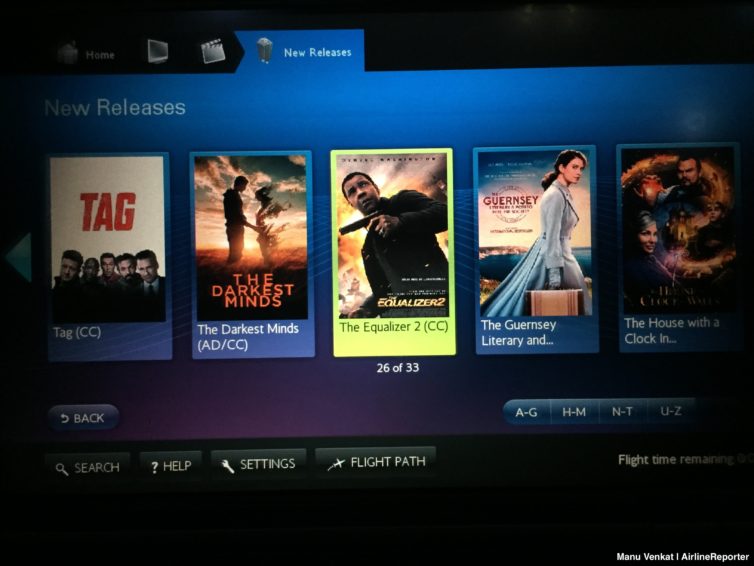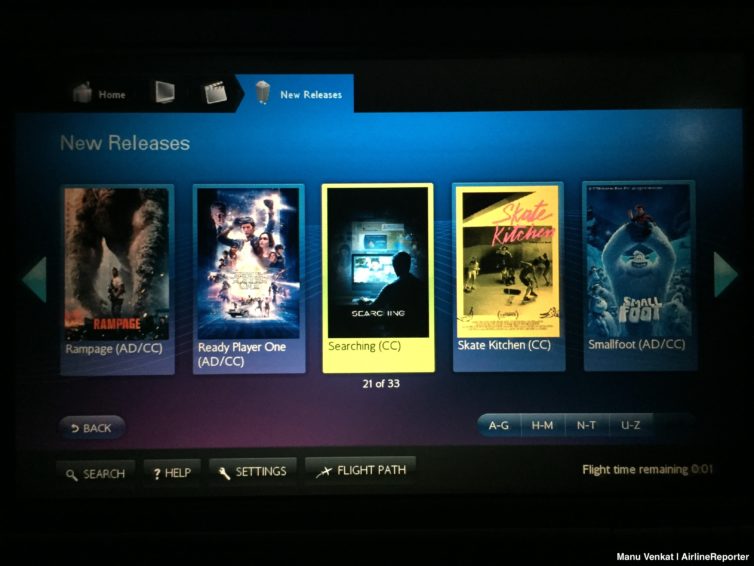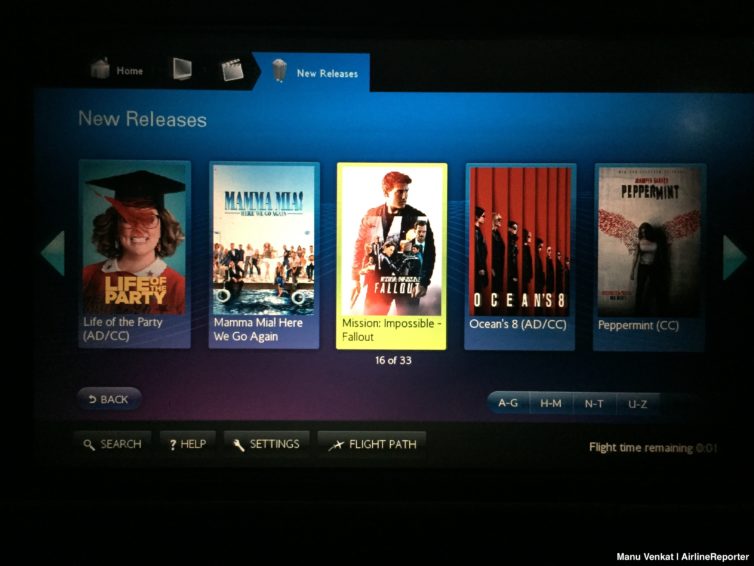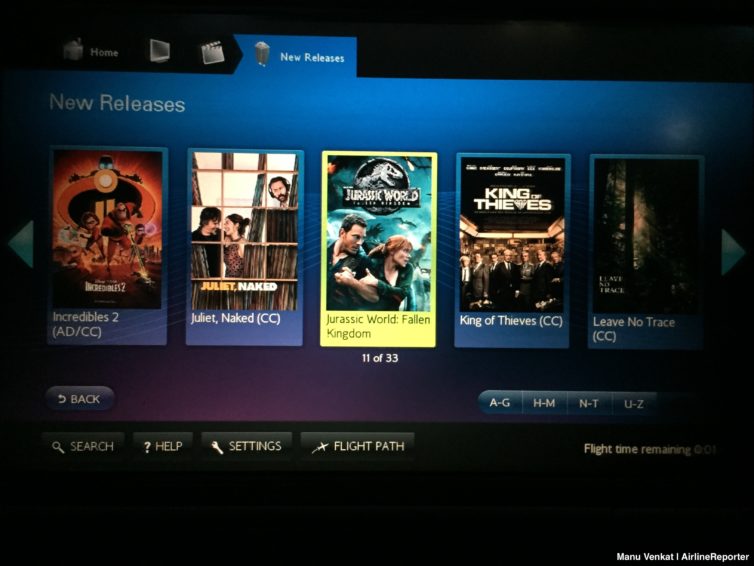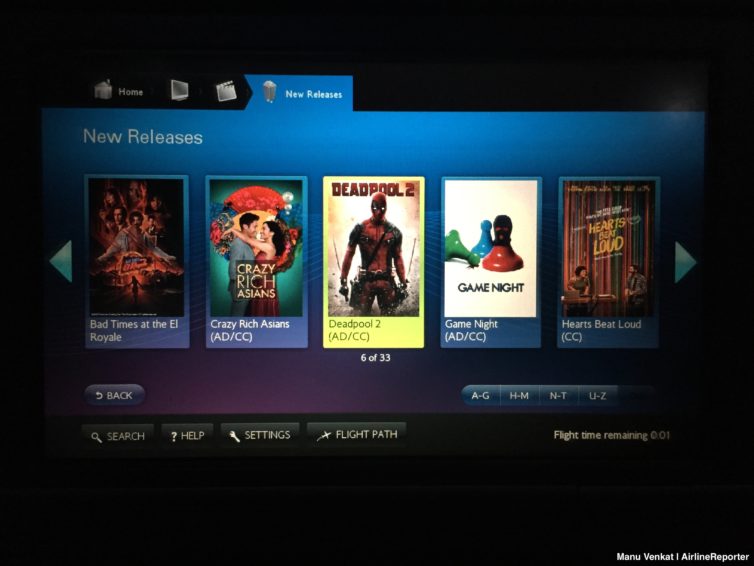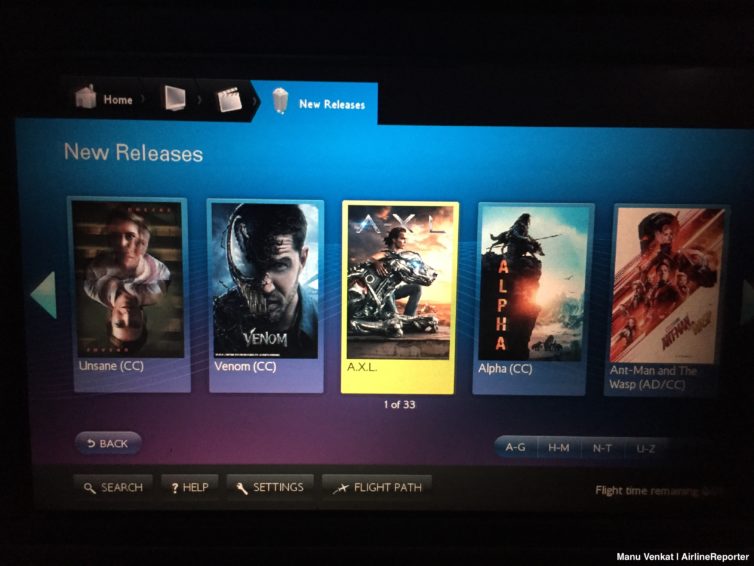 Even though it was a daytime flight the flight crew dimmed the cabin windows shortly after the meal service. I appreciate that the Dreamliner lets me slightly un-dim my window to help me stay awake. The alternative on a plane with conventional windows is to be the annoying guy who floods the cabin with full-force light (Editor's note: it's totally fine to be that guy!).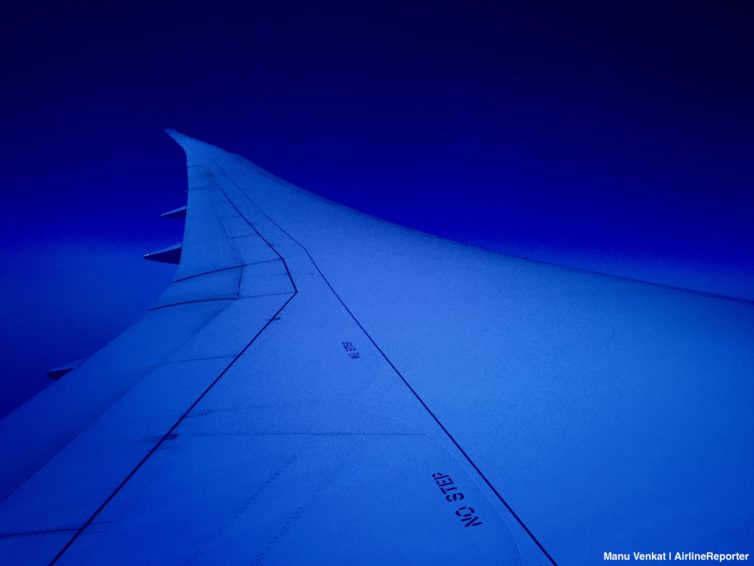 BONUS: Flying Norwegian's Long-Haul Premium Product On the 787
Midway through the flight, everyone got a box with some chips, salted caramel popcorn, and a Twix bar.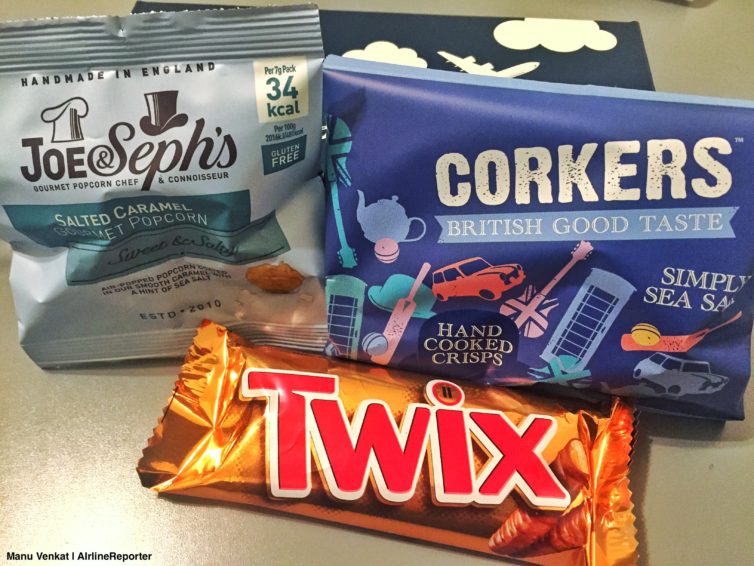 Before I knew it, nine hours had flown by since takeoff and it was time for the pre-arrival meal. As opposed to the hearty first meal, the second meal in World Traveller Plus is the same as in regular economy. It does start off with a generous bar service though. The flight attendant asked me for my pre-meal and mealtime order all at once and (unprompted) gave me a double dose of the former.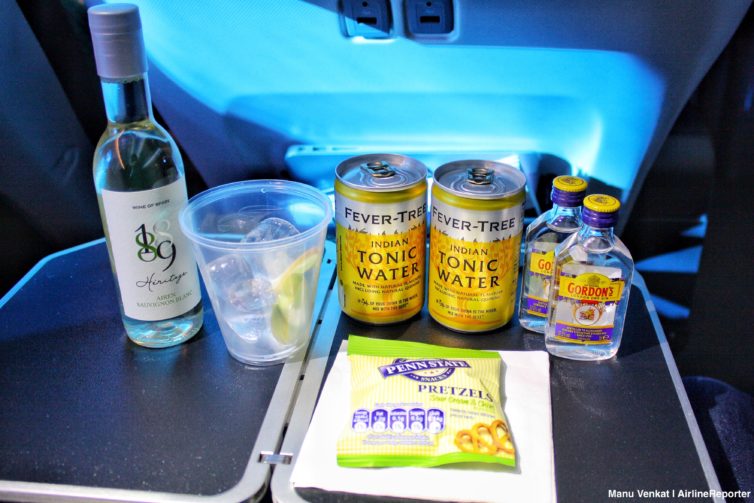 The meal itself was tasty but I did notice how much the portion size had shrunk from breakfast to lunch.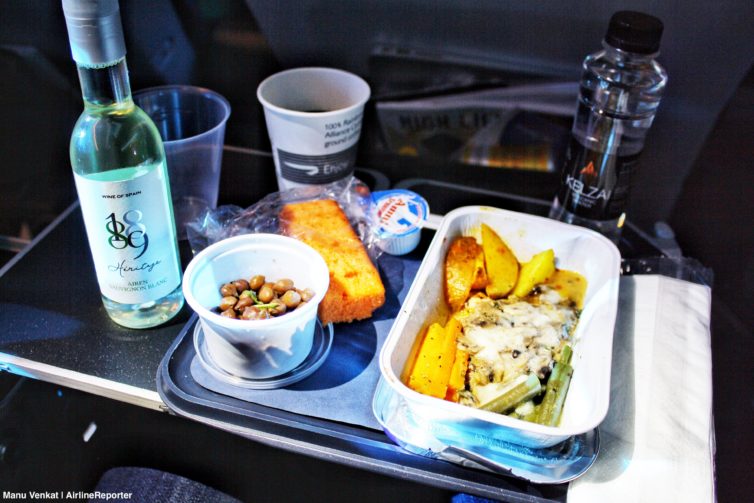 After a smooth touchdown at busy Heathrow Airport, I made my way to my connecting flight. On the way, I couldn't help but take advantage of Heathrow's amazing runway and ramp views.
BA's 747s have World Traveller Plus sections on the main deck, arranged 2-4-2 across.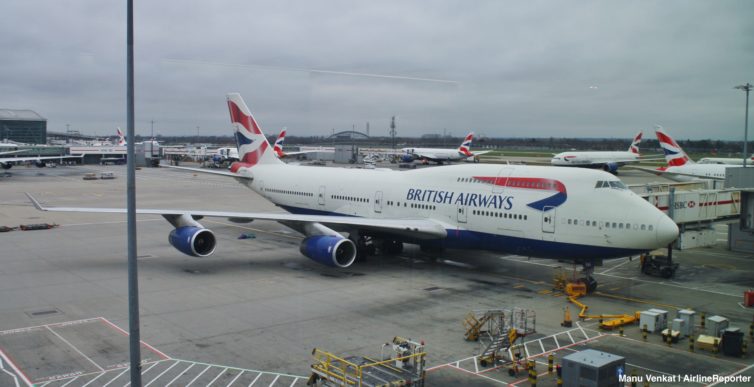 BONUS: SAS Plus – Taking the Edge Off Economy Class Travel
Flight #2: London Heathrow to San Francisco on an Airbus A380
I got a great view of plenty of A380s like the one that would take me to San Francisco.
One bonus about flying World Traveller Plus on the A380 is that the cabin is on the upper deck. It's not every day that you get to board a plane directly onto the upper deck and not have to spend business class bucks to do it.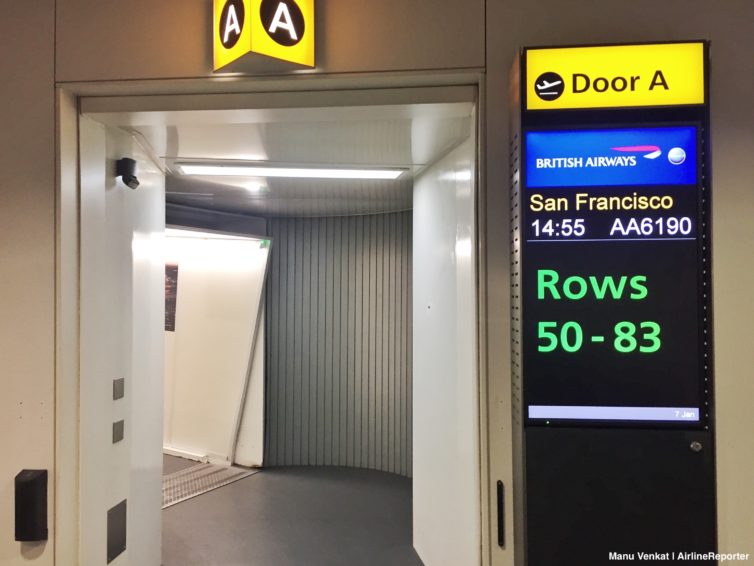 Compared to the other planes in BA's fleet, the A380 has a relatively big premium economy cabin. With a 2-3-2 configuration like the Dreamliner, there's only one middle seat per row.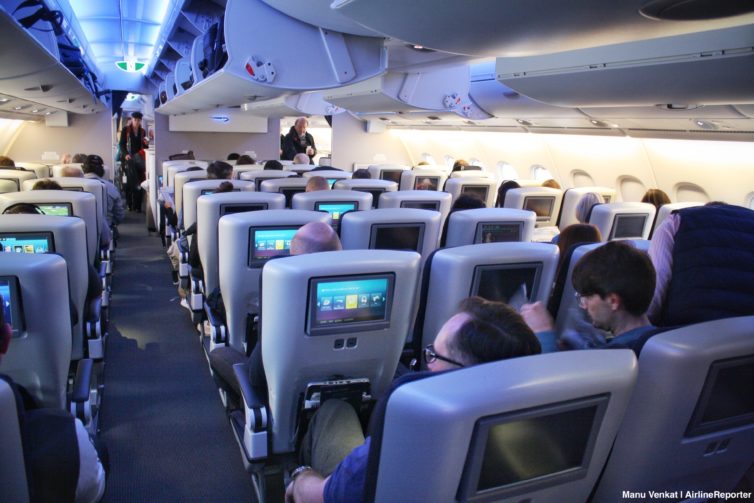 The seats themselves were identical to the ones I had on my first flight. If you score a window seat, you'll have access to a seat-side storage bin though, given the curvature of the fuselage on the upper deck.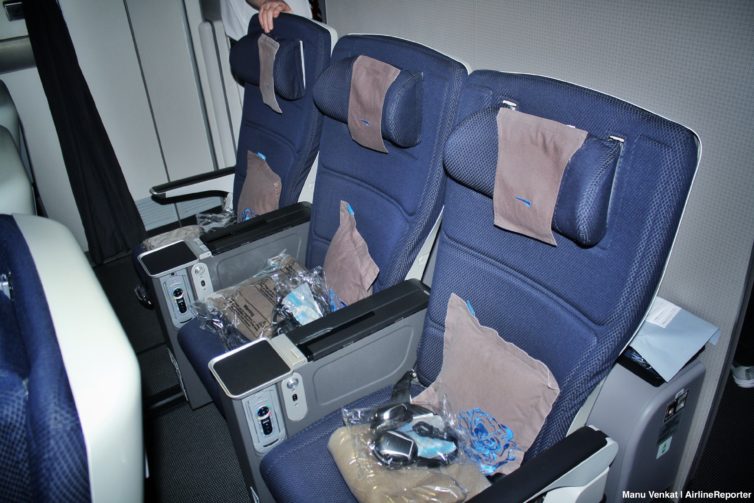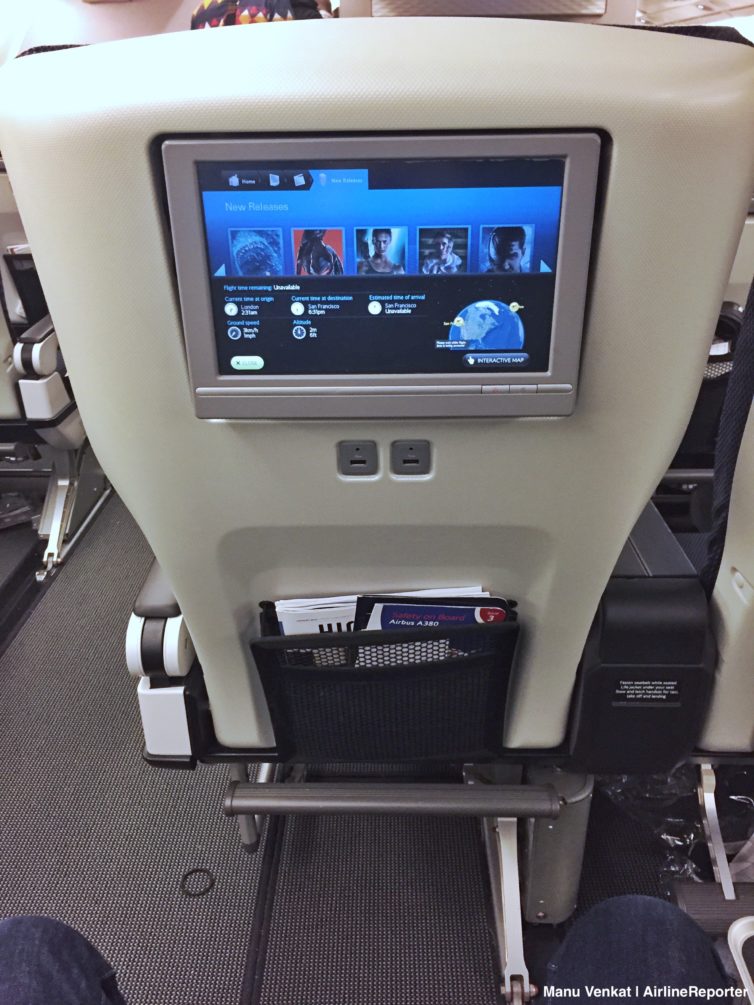 This time I opted for a glass of champagne for my pre-departure drink.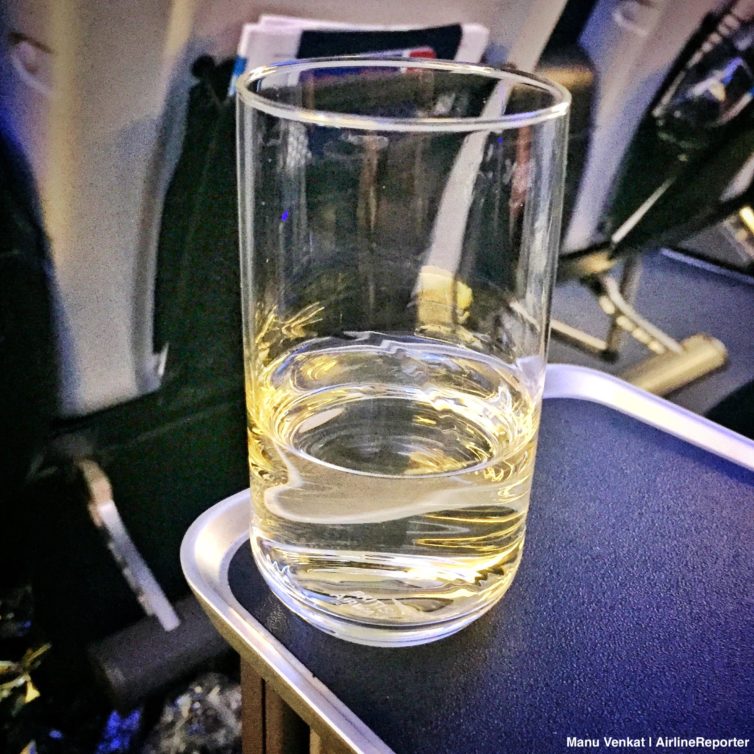 I was seated in the center section and didn't get much of a takeoff view. So I just took the time to relax and appreciate how incredibly quiet and smooth the A380 is, even during takeoff.
Starting Service On Our Second Flight
As opposed to my first flight, on this flight passengers were offered a tiny menu card. My choices for lunch were braised British beef with sweet potato dauphinoise, broccoli, and chasseur sauce, or Chettinad chicken with coriander rice and tadka dal. I went with the chicken, which (in keeping with World Traveller Plus style) was served in dishware along with a beetroot slaw starter and milk chocolate cream pot for dessert.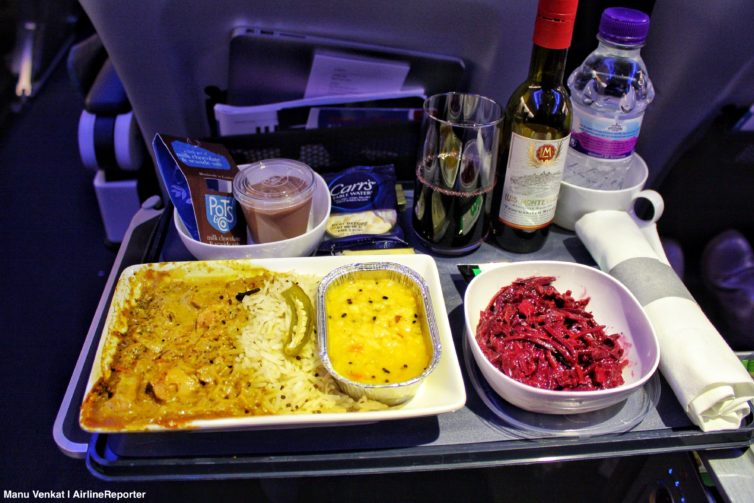 On some flights departing London, World Traveller Plus flyers can pre-order their main course through the Manage Bookings part of the website.
Getting Some Rest
On this flight I was mostly looking to get some sleep, and that's where this seat really shines. I was really impressed with the amount of recline. Along with the adjustable headrest and soft pillow and blanket, I slept soundly for about half the flight.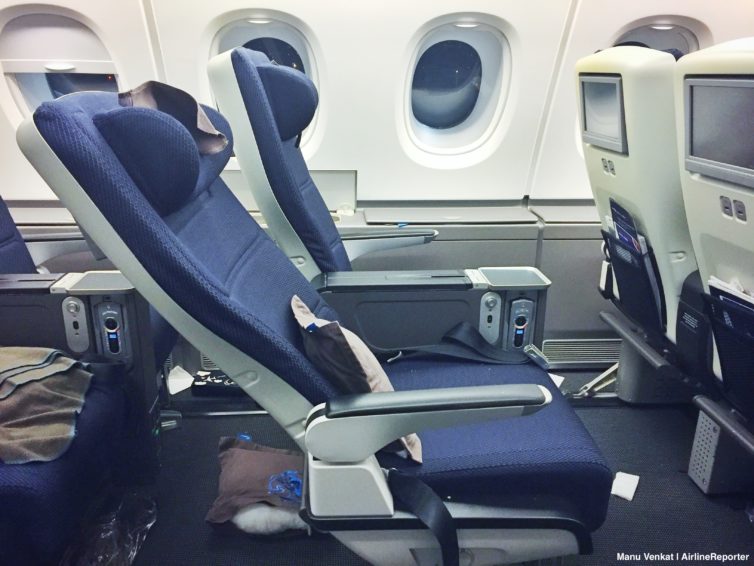 If you're looking to stay awake you may appreciate the recline less, since it can encroach on your personal space big time if your neighbor in front reclines all the way. But personally I think it's worth it, especially for people who have trouble sleeping while sitting fully upright.
I received a small amenity kit with some basics like socks, a sleep mask, a dental kit, earplugs, and a pen, all packaged in a disposable thin plastic baggie. It's a good kit for premium economy, especially considering that even business class amenity kits are often lackluster on some airlines' transatlantic routes.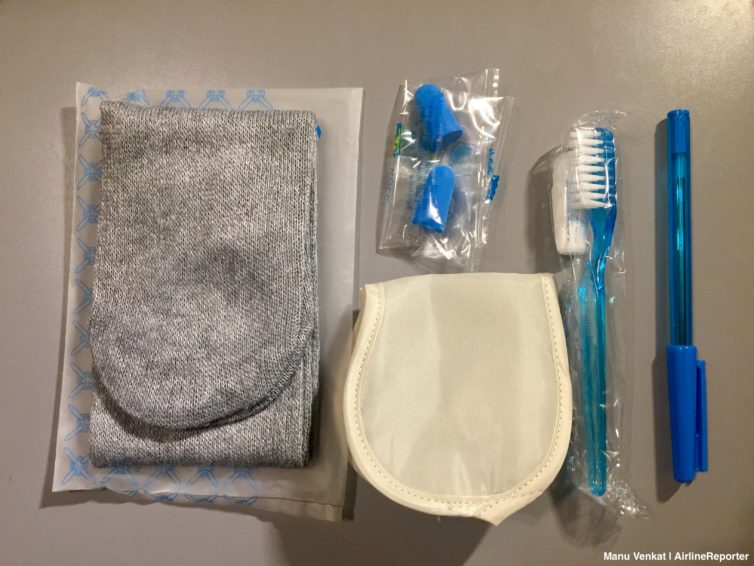 I woke up to a modest pre-landing second meal. The pizza twist looked messy but tasted fine, even after the full day of flying had wrecked my sense of taste.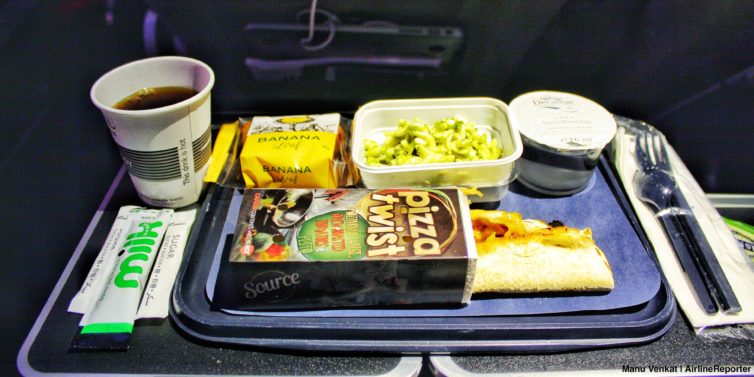 BONUS: Transatlantic Teatime – Virgin Atlantic Premium Economy on a 787-9
As we descended into the Bay Area, I had fun with the multiple views on the moving map, one of which simulated a cockpit view.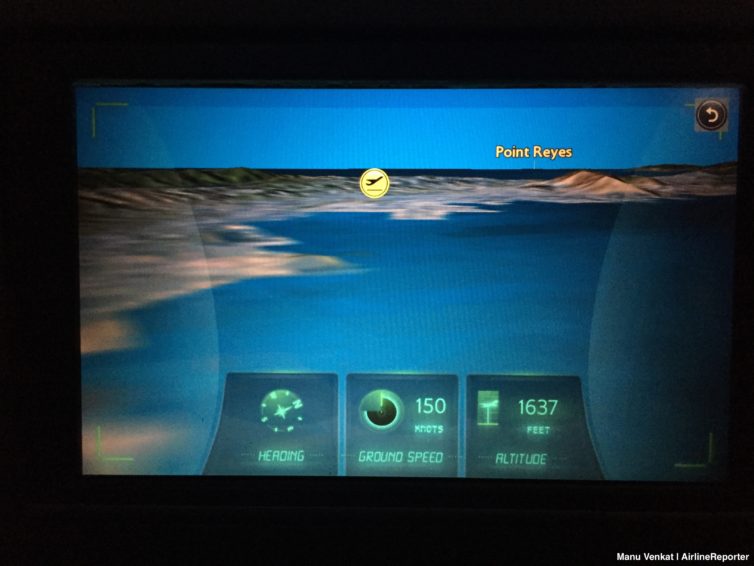 BA flies into both SFO and San Jose airports. It used to fly to Oakland too — for the full Bay Area trifecta — though it has since canceled that route.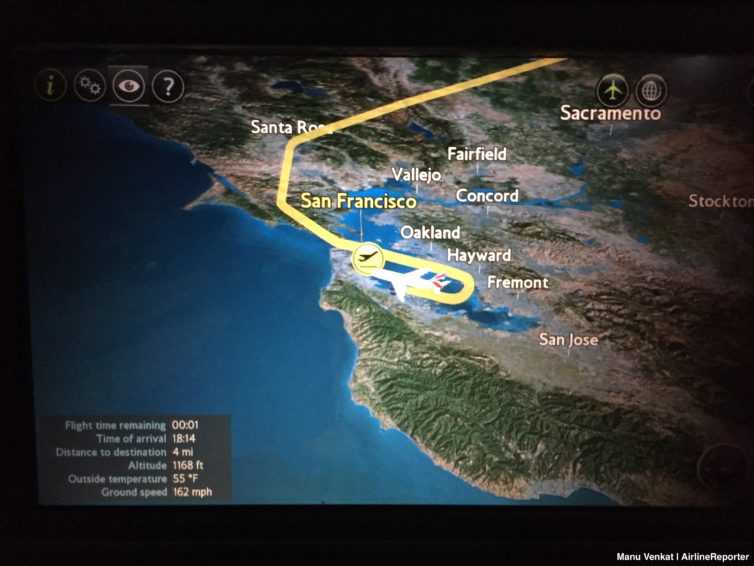 The Verdict
Between the two flights I'd spent almost 24 hours in the World Traveller Plus seat. Even for an AvGeek like me, that was more than enough flying for one day.
Overall, World Traveller Plus solidly met my expectations for premium economy. It made good on the promise of more personal space and comfort. It really shone in delivering a better sleep experience than I'd have gotten in regular economy. The first meal service on each flight felt more like business-class-light than economy-plus. A solid amenity kit and decent headphones made for nice bonuses. And the pre-departure drink service set a positive tone early, especially for people more used to regular economy.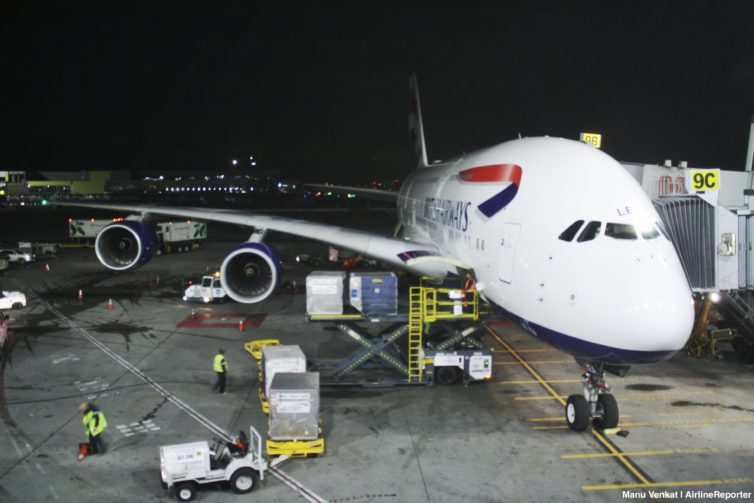 I wouldn't say the experience totally blew me away. Although World Traveller Plus seat design still looks pretty fresh ten years after its unveiling, certain elements like the smallish TV screens speak to its age. And after the first meal, the service felt like regular economy class service.
Looking to the Future
As luck would have it, soon after my flights BA announced some big upcoming changes to World Traveller Plus. The changes look like they effectively target the biggest areas for improvement in the current product. Time will tell, but I think the program of changes could elevate an already-solid product to a very strong one. The highlights are:
Updated menus with a third option for the main meal, which started February 1st
A more substantial hot meal later in the flight
New amenity kits, quilts, and pillows, starting in the spring
BA's A350s, which will be delivered later this year, will get a new World Traveller Plus seat with a larger entertainment screen and a legrest instead of just a footrest. This new seat is already flying on a few Gatwick-based 777s.
Now it's time for us to hear from you! Share your thoughts in the comments section below.
Note: We purchased our own ticket in standard economy for this flight and the airline moved us to World Traveller Plus for the purposes of this story. All opinions in this story are our own.