Recently, America lost an airline. Well, sort of. The happy Eskimo on Alaska Airlines' tail got hungry and decided to gobble up Virgin America, the relatively small but much beloved Bay Area-based carrier. As Alaska adopted the fleet and people of Redwood (Virgin America's old callsign), it started repainting Virgin planes and making plans to replace aircraft interiors with a consistent Alaska product.
But at least for now, remnants of Virgin America's unique style can still be found … if you know where to look. Try Alaska's new A321neos, originally ordered by Virgin America. We experienced one firsthand on a transcon flight from Washington Dulles to San Francisco, and were delighted by the spacious seats, cabin comfort, and the very purple Virgin sense of style.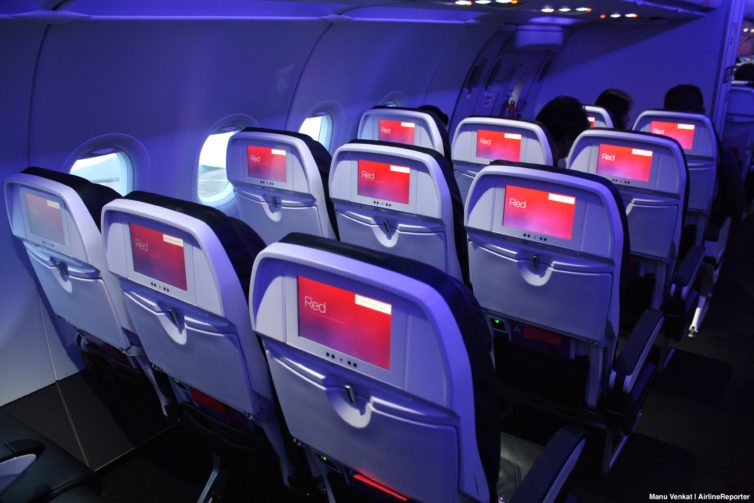 Read on for more photos and videos from this new-yet-nostalgic ride.
There have been plenty of airline mergers, acquisitions, and consolidations over the past decade. Alaska and Virgin America's was one of the more recent ones, announced barely two years ago. Alaska rolled out some celebratory liveries and a creative "DifferentWorks" ad campaign to celebrate the two airlines joining forces.
For a recap of that whole story, you can read our original coverage.
The Airbus A321neo Joins the Fleet
Virgin America was the first airline to operate Airbus' A321neo — the "new engine option" for the stretched variant of the A320 family. Compared with the standard A321, the A321neo utilizes newer engine technology to deliver up to 20% fuel savings per seat while reducing engine noise.
The order was placed before Alaska bought Virgin America, and first A321neo was delivered in April of 2017.
My Experience Onboard an Alaska Airlines A321neo
I booked a flight from Washington Dulles (IAD) to San Francisco (SFO) on Alaska, and was pleased to see I'd be riding one of the fleet's few A321neos. At least from my quick look at the IAD-SFO schedule, it doesn't appear that Alaska deploys its A321s in a predictable way. On most days the route was handled by an A320 or A319, with only a few instances of the A321neo making an appearance.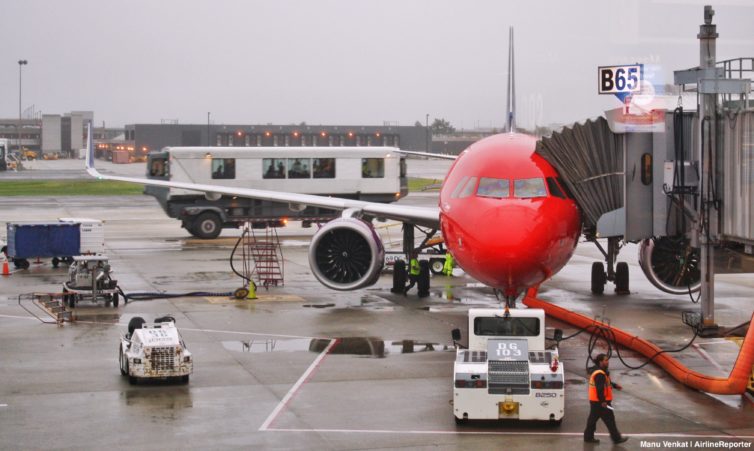 I was really psyched for this flight. It was my first time flying an ex-Virgin America plane since the merger, and my first time on an A321neo (or any neo, for that matter). Whenever new planes get launched there's always a lot of hype about the benefits, and it's fun to see how well the reality matches the reputation.
This A321neo was in Alaska's special "More To Love" livery celebrating the Virgin America acquisition.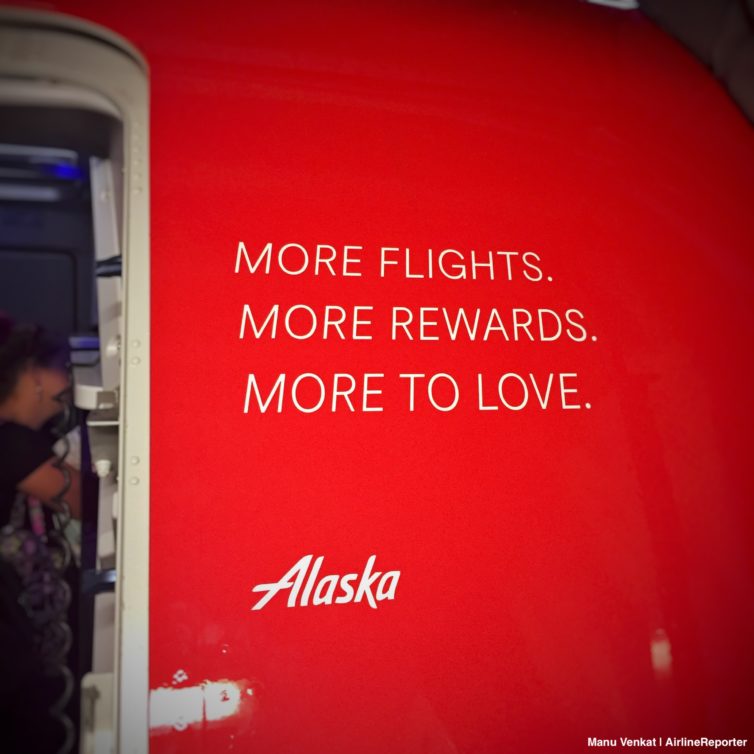 For such a big plane, this A321neo offers very few first class seats. Even Alaska's relatively tiny 737-700s offer twelve first class seats — four more than on this much longer plane. So if you're gunning for an upgrade, you may want to steer clear.
But if you're committed to flying in economy, the A321neo is the way to go. The cabin was brand new and looked AMAZING, with black leather seat finishes and wide armrests to complement the 18-inch standard seat width.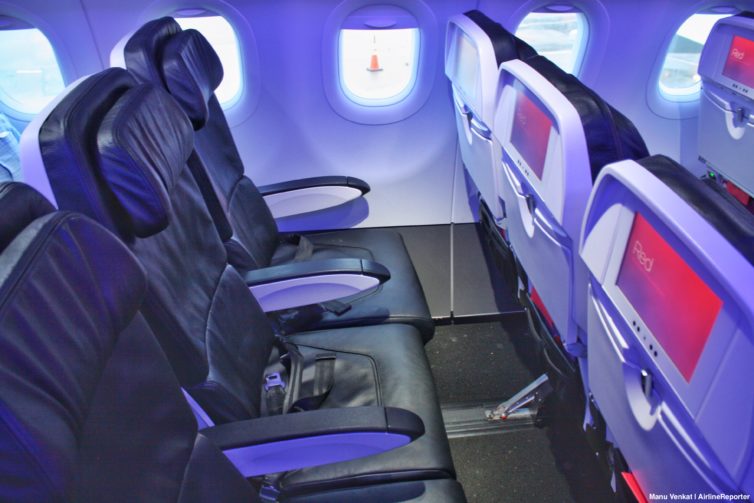 The under-seat space was wide-open and uncluttered, with plenty of room to move your feet around without big boxes of electronics getting in the way.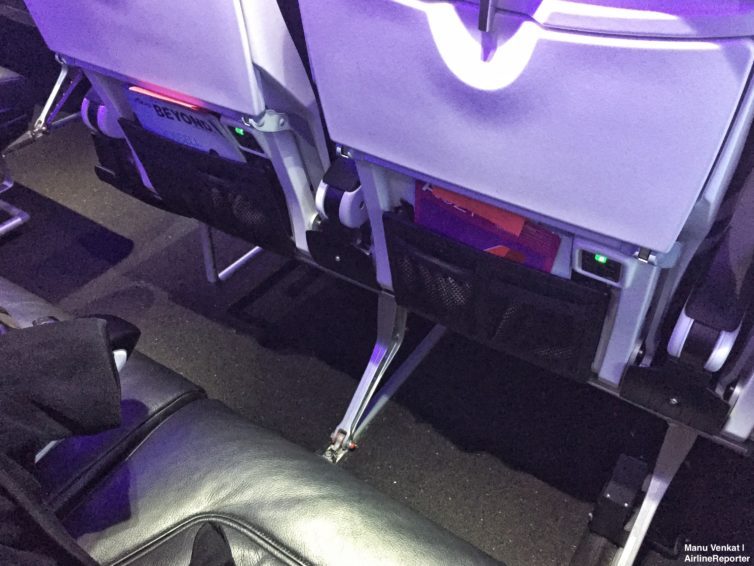 Even in standard economy, I got way more legroom than I'm used to. I'm 5'11" and am used to my knees rubbing the back of the seat in front of me, but that definitely wasn't the case here.
Also, HUGE #PaxEx props to the airline for putting the power outlet on the seat back where it's easily reachable. Most other airlines place them under the bottom of your own seat, forcing you to double over to reach them.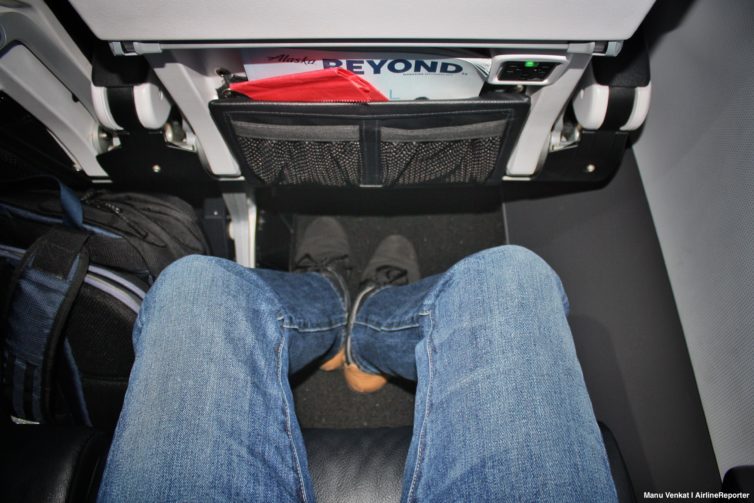 If you miss the purple and magenta flying-in-a-nightclub cabin lighting vibe that Virgin America was known for, have no fear: it's alive and well on the A321neo.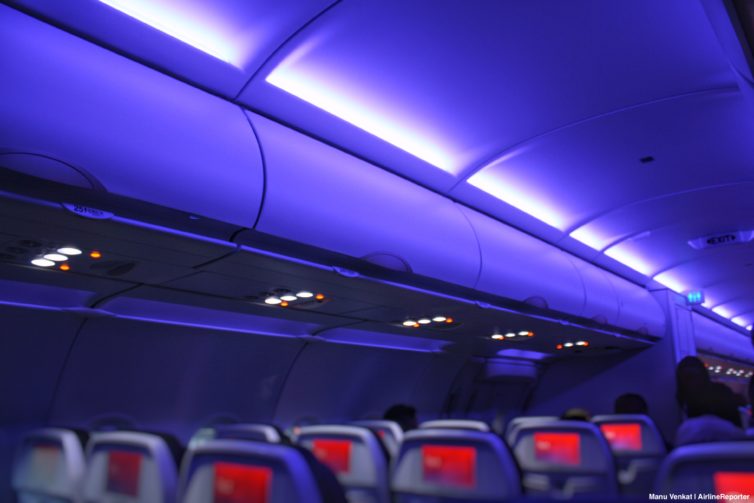 When the engines started up, I was treated to another pleasant surprise: noise. Or rather, the lack of it. The neo's new engines are noticeably quieter than its predecessor's, and the difference persisted even after we went airborne.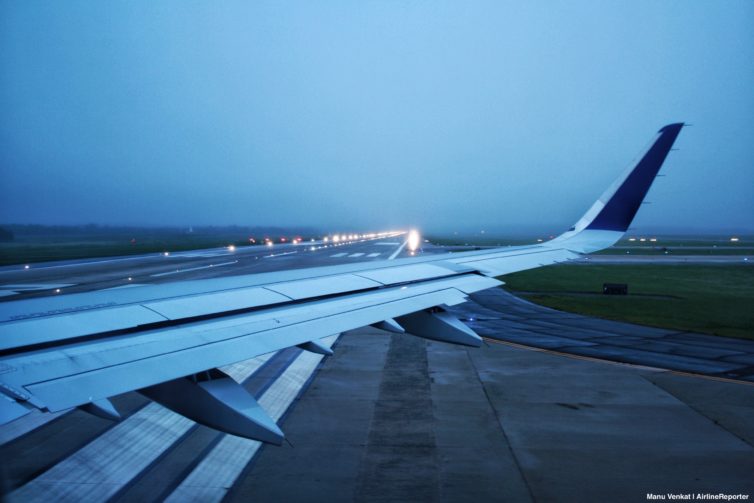 BONUS: A320neo? Big Fan! First Ride With Frontier Airlines' New Engines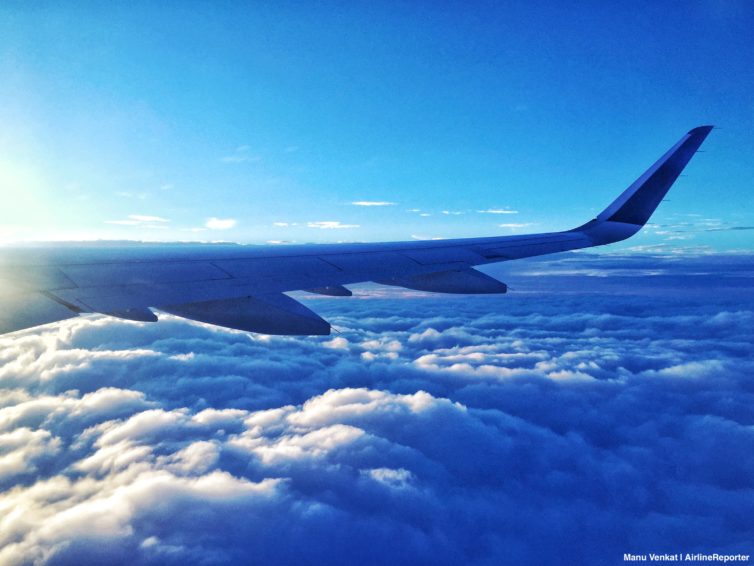 After takeoff, flight attendants did their usual rounds, offering drinks but no snacks. When we leveled off at cruise altitude, the already tolerable hum of the engines went down another notch to a quiet purr. I still used my noise cancelling headphones, but found that I barely needed them.
I settled in to use RED, Virgin's old inflight entertainment system, which was lighting fast, super responsive, and had a sharp screen.
The moving map was high-res and very interactive.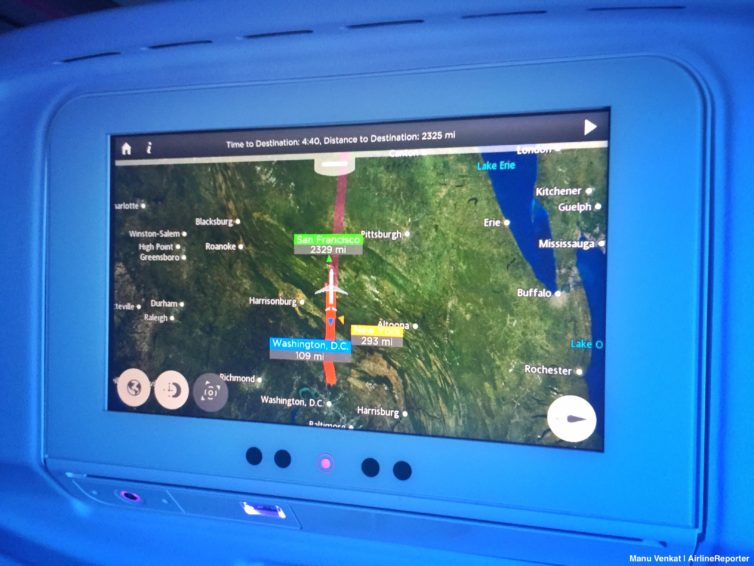 Passengers can order buy-on-board food on their RED screen, though I didn't take that feature for a test drive. RED also allows for seat-to-seat text messaging, which I thought was cool but a bit gimmicky. I can't imagine it's useful for that many people, unless you're bold enough to try it as a Tinder-in-the-sky (disclaimer: definitely not recommending that you try that idea).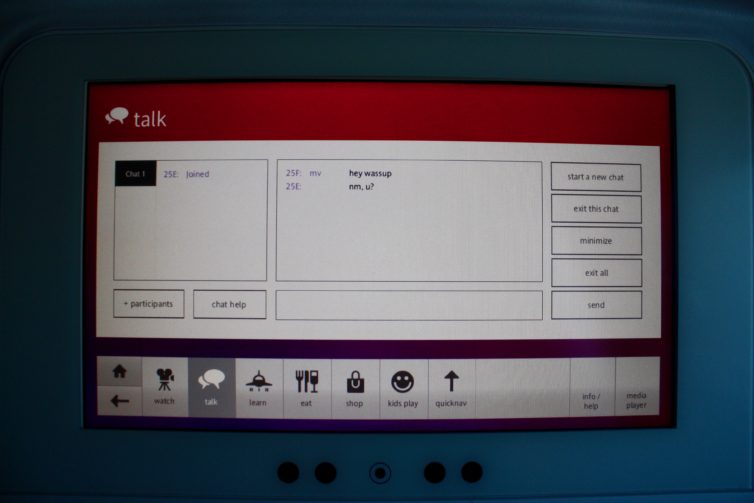 The Alaska A321neo lavs are nothing to write home about. The faux-hardwood floor is nice, but size-wise they're as cramped as most airlines' economy lavatories are nowadays.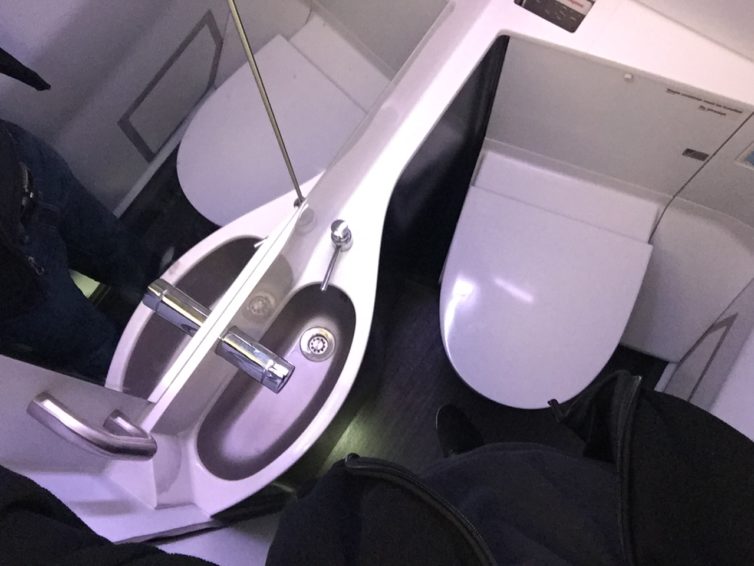 Flying westbound in the late afternoon, we were chasing the sun, which gradually set in front of us. Descent and touchdown were smooth and uneventful.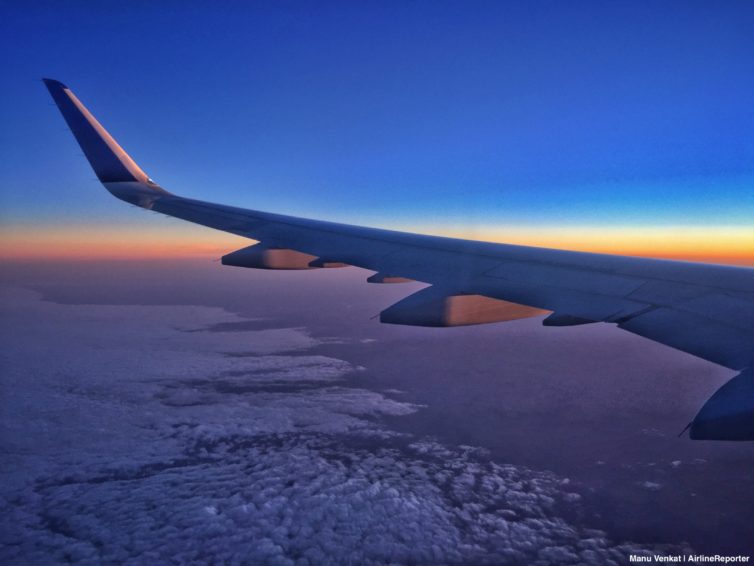 The Verdict
As much as I love flying, I find that there's less and less to distinguish between most airlines' domestic economy classes nowadays. Even full-service carriers are squeezing legroom and cutting features from the cheapest fare buckets. Extra legroom requires either $$$ or status. Which is why I was so pleasantly surprised on this trip. The legroom, inflight entertainment, noise factor, and cabin decor was some of the very best I've experienced on a domestic flight in recent years — and all without any status or paid extras.
But things are changing fast at Alaska, so it's hard to know what you can expect if you're flying one of their ex-Virgin aircraft over the coming months. Last we heard, Alaska plans to re-do the interiors of ex-Virgin planes by next year. It makes sense from a brand consistency point of view. And Alaska's onboard product definitely ain't bad. But I can't help but wonder if they should defer gutting the A321neos, since the existing product is so new and so good. Even if they change the seats, though, there's enough to like about the A321neo to at least try it if you have the chance.
Now it's time for us to hear from you. Have you flown a Virgin America / Alaska Airline A321neo? Or any A320/321neo? Any thoughts about Alaska buying Virgin America? Share your thoughts in the comments section below.