It's no secret that I'm a fan of Alaska Airlines. I feel that they provide consistent, friendly service while having a nice product. They are like your really great friend that you always look forward to hanging out with.
Even though Alaska and I have a friendly relationship, they know I see other airlines from time-to-time. Often it is just for price or timing, but I end up back to Alaska. Mostly.
When Virgin America came to the Seattle market, things changed. Here you had a hip, friendly, cheap airline with more bells and whistles than any other domestic airline at the time. WiFi? Yup. In-seat entertainment? Of course. Fancy cabins? The fanciest. Great food? Yummy! Fun toys? Yes to all that and more. Virgin America spiced up my airline life.
Virgin America was like the hip friend that would come into town every once in a while. The one who wants to get me out to have a good time, and at first I say no, but then am really happy that they did.
Quickly my loyalty changed from Alaska to Virgin America when heading down to San Francisco (SFO) or Los Angeles (LAX). Sure, I wasn't getting my Alaska miles (I am not a miles hound), but tickets were typically the same cost, so why not go with the airline giving you more?
When I flew with Virgin, I felt like the cool kid heading down the west coast. Those purple cabins, techno music, and fancy new planes — I was hooked and started racking up miles. I was even willing to fly through SFO or LAX to destinations east just to fly them (vs. non-stops with Alaska). But just like hanging out with the uber cool kids, it can start to get a little old. You aren't looking to go party on a Tuesday night anymore, and you want to start hanging out with your more comfortable friends. I started to miss my Alaska.
Back in the day, Virgin offered the best domestic product in first and economy. No question. But other airlines started to catch up, and purple lights only go so far. After about two years, even with prices being the same, I found myself back to choosing Alaska. I went back to the comfort of my old friend and we went right back to where we left off.
Each airline had their own pluses and minuses, but they were very different from one another. This is why it was pretty surprising to me when Alaska stated that they were purchasing Virgin America (yes, obviously much more in this than just personalities — routes, finances, competition, etc).
At the time, Alaska said they weren't sure what they would do with the Virgin brand. That seemed odd to me. Not that I wanted to see it go, but why have two brands, when they are so different? Especially when they would have to pay royalties to keep the Virgin name. Plus,  the Alaska Air Group already juggles two brands (Alaska and Horizon) and I wouldn't think they would want to add a third.
More recently, Alaska confirmed that it will be doing away with the Virgin American brand, but not all of their culture. And this appears to be much more than just words. Alaska is using this opportunity to upgrade their product and become a bit more hip. According to the airline, they 'œwill adopt many of the brand elements that Virgin America enthusiasts love about their favorite airline, including enhanced in-flight entertainment, mood lighting, music, and the relentless desire to make flying a different experience for guests.' I can buy into that.
Over the next few years, it seems that Alaska is going to be taking on some of the fancy that was Virgin America. Improved cabins, trendy music, better uniforms, and more. Based on the changes I am seeing, I think we are all going to be happy — at least I hope.
So what about those Airbus aircraft that will be joining the Alaska fleet? They are sticking around at least for a while. They still have 5-6 years left on their leases and the airline is not sure what will happen when the leases are over. Currently Alaska's 737 fleet has "Proudly All Boeing" on each of their noses. For now, that will stay and it seems Alaska's commitment to Boeing likely to last into the future.
'œBoeing produces some of the best airplanes in the world," Ann Zaninovich, Media Relations Manager for Alaska Airlines & Horizon Air, explained to me. "The 737 will be the core of Alaska's fleet for a long, long time." Although it appears that much of what will happen with the Airbus fleet is still up in the air.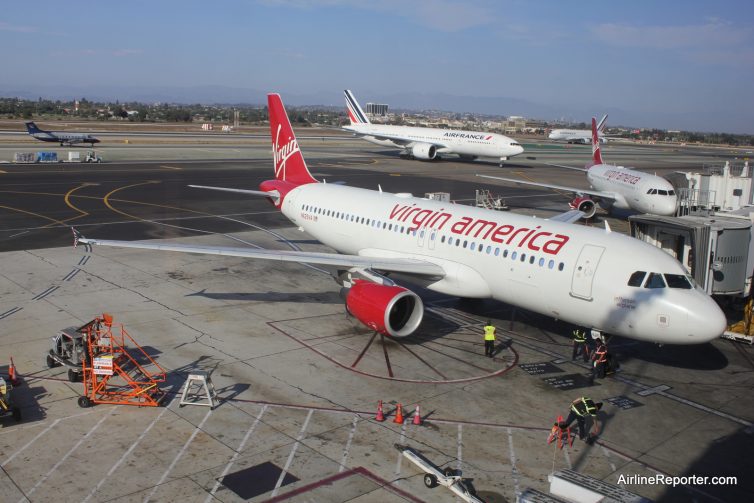 I will miss you Virgin America'¦ but I feel confident you have found a nice new home. It is a bit of a scary time I am sure for many that work for Virgin, but I have faith that Alaska will do right, where and when they can. That is the benefit of having a good friend!
Some other good Alaska / Virgin reads…