There are certain questions I get asked over and over (and over) again from doing this gig. There seem to four that I get asked way more than others:
#1 What's your favorite airline?
#2 What's your favorite aircraft?
#3 What airline and/or aircraft should I avoid?
#4 Where do you buy your tickets?
I started to wonder how do others answer those questions? So I decided to ask some people who I think are kinda cool. I wasn't sure how this was going to turn out. I ended up with some pretty interesting answers (at least I think so) so compiled them all up in this story. I think it is worth saying that no one saw anyone else's answers before publishing. Some are shockingly similar, others complete opposites. You will have to wait until the end to see mine (because I assume my answers are the right ones).
Blaine Nickeson
AirlineReporter Managing Editor – DEN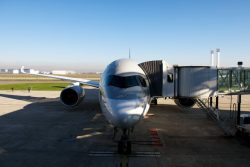 1.The airline I fly the most often is United. I'm Denver-based, so they make a lot of sense given their strong hub here. Also, United miles are my "currency of choice" (I'm a miles-and-points guy). That said, my favorite airline is Japan's All Nippon Airways (ANA). Whether it is in economy, business, or first class (I've flown all three), their service, on-board product, and food is consistently excellent. I once had a flight attendant in economy remember me from a recent business class flight, when they had run out of a particular whiskey I wanted to try; she brought me a sample without being asked. That, folks, is amazing service.
2. My favorite aircraft (for nostalgia sake) is the Queen, the 747.  I had the chance to fly in seat 1A from San Francisco to Tokyo Narita, and it was a bucket list item for me. That said, the new Airbus A350 (review) and the Boeing 787 (review) are remarkable planes; quiet, comfortable, and you just can't beat the view of the wings in flight.
3. I will not fly ultra-low-cost-carriers; particularly, Allegiant, Spirit, or Frontier. Allegiant has gotten a lot of bad press about safety and maintenance, and with Spirit and Frontier, I'm just not willing to save a few bucks by sacrificing comfort or reliability. Also, as a (low-level) United elite, the minimal benefits still make flying a much more comfortable and convenient experience.
4. I search using ITA Matrix and Google Flights, but always purchase my airline tickets directly from the airline, in order to maximize mileage earning, select seats, etc.
JL Johnson
AirlineReporter Senior Correspondent – MCI
1. Southwest. This is why.
2. As a Southwest loyalist, I feel compelled to say the 737. But that's just not true. Despite also being a Boeing fanboy, I have lately found more comfort in Airbus products and the Embraer E-Jets (170, etc).
3. I avoid United at all costs. I mean it when I say I'd much rather fly Spirit. I feel that United runs a fine airline, but I almost always walk away disappointed with the PaxEx. Above all else, it's a people issue. As for planes, I really dislike the smaller regional jets. I would happily pay extra or fly during less than ideal times to avoid the discomfort of a tiny RJ. CRJs are the worst.
4.  Many of my non-business trips start as the result of finding something of interest on airfarewatchdog.com. If I'm looking for specific dates and city pairs, I tend to fall on Expedia for searching but almost always end up booking directly with the airline. Of course, if I'm flying Spirit I'm happy to stand in line and book with a live person at the check-in desk and save the $17 convenience fee per passenger per flight.
Jeremy Dwyer-Lindren
Photojournalist & Freelance Writer – SEA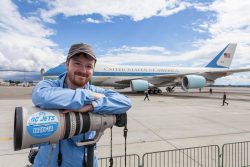 1. Delta.
2. For long-haul coach flights I prefer the A330 and 767 because they tend to have a 2-4-2 or 2-3-2 layout, and being next to one person is much better than squeezed between two. Long haul in business I like the 787 and A350, because the humidity factor really does make a difference. For just AvGeek fun I like the 747.
3. Loyalty programs aside, I avoid American because I've had too many truly terrible experiences. But otherwise the airline needs to have outstanding safety issues for me to avoid them, and that list is very small.
4. I tend to book Delta, because I have a reasonably high status with them. But otherwise I tend to search the overall fare landscape on sites like Orbitz or Kayak, find the right fare, then book it specifically on the airline website.
Bernie Leighton
AirlineReporter Managing Correspondent – SEA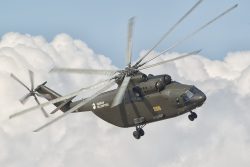 1. Etihad. The world's best airline, duh. If there's no Etihad? Delta.
2. Mi-26. 32 tons of pure awesome and instant hearing damage to those who aren't familiar with choppers.
3. Alaska Airlines is on my do-not-fly list. They are the plain ice cream of airlines, they have no branding, and don't even offer pillows or blankets on transcons. Keep Climbing Seattle!
4. Direct or via American Express Travel. Never an aggregator, they are stealing from the airlines.
Daniel T Jones
AirlineReporter Contributor – SAN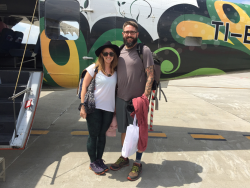 1. My heart says Nature Air because they're awesome, but since I'm not in Costa Rica THAT often, my favorite airline is United. I know, I know, everyone hates them, but I don't. I grew up in Chicago and Rhapsody in Blue still reminds me of home, and they go everywhere I need to go. They are also the preferred carrier for my company's business travel so I build miles quickly.
2. Boeing 787. I haven't yet had the chance to try the A350, but the passenger comfort on the 787 is unmatched. All the marketing speak of lower cabin altitude, higher cabin humidity, larger windows, etc… it's all true. I felt a noticeable difference after my first 787 flight. After 10 hrs LAX-LGW I wasn't the least bit fatigued. The one-hour 737-400 LGW-EDI after that was far more draining.
3. I despise Southwest, and I won't fly Allegiant or Spirit. Southwest is NOT a low-cost airline, and being 6'5″, I cannot deal with non-assigned seating. As for Allegiant and Spirit, I just am not a fan of the a la carte business model.
4. I typically spend a lot of time researching fare prices using ITA Matrix, Kayak, and Google Flights. Many times I will book the flight directly through the airline, but occasionally have used fare aggregator sites like Expedia, Priceline, or Cheapoair. My next big trip was booked through Priceline because the airlines would't let me book SAN-BOS-KEF and ABZ-KEF-SEA-SAN all on one ticket. I have separate tickets for KEF-FAE-EDI booked in-between.
Chris Sloan
Co-Pilot of Airways Magazine and airwaysmag.com – MIA
1. My favorite airline will always be National. The Sun King logo is timeless. The airline was in many ways the ambassador for Florida to the United States and later Europe. It was the first airline after Pan Am and TWA to fly trans-Atlantic in the modern age.
2. The upper deck of the Boeing 747-8 Intercontinental. The latest and last iteration of the Queen of the Skies' extended upper deck cabin is still the most intimate, inviting cabin in the skies. I was on the airplane's inaugural flight so have only done it once. It was a bit noisy compared to First. Of all time, my favorite though will always be the L1011. What I wouldn't give to fly one of those again.
3. I don't really avoid any aircraft, though I actively despise the CRJ-200. Not only are the aircraft cramped, rough riding, and inefficient, but the airlines flying them really seem to just not care about investing them – and for good reason. Regardless of operator, the cabins are always tattered and the nano-size below eyeline windows are always scratched,
4. I end up searching flights and fares on Kayak as well as through GDS systems I get some access to. But at the end of the day, I usually book direct. My schedule doesn't allow me much in the way of flexibility for times.
Francis Zera
AirlineReporter Correspondent – SEA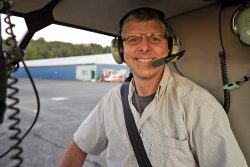 1. My favorite airline is Alaska, and not just because I live in Seattle, which is their base city. Their service is always solid and consistent, their routes are great from here, and the fares are competitive. And their mileage program rocks, as does their new livery.
2. I've only managed it once so far, but I loved flying trans-Pacific on a 787. It's quiet, those bigger windows make for not only nicer views but a much brighter and more spacious-feeling interior, and watching those wings flex at takeoff was delightful. Although they're slowly heading into retirement, I've also got to admit having a soft spot for the venerable MD-80 flying in the front section of one of those things is as quiet and calm as sitting in my own living room. OK, those, and an R44 helicopter with the doors removed.
3. I avoid pretty much all discount carriers. I almost always fly in the main cabin and carry a fair bit of camera gear that has to be carried on (no insurance company or airline will insure expensive electronics if they're in checked baggage), so I also usually check a bag for my clothing to free up space onboard. It's a bit too stressful to deal with the rush of open boarding and trying find a home for my gear while competing with the classic discount-airline traveler who's trying to stuff their kitchen sink-laden bags into the overheads. Assigned seating FTW. As for a particular aircraft, I'll fly in most anything that's airworthy. That said, I'm relatively tall so seat pitch is an important issue, which is another mark against discount carriers' sardine-can seating.
4. By whichever means provides the best combination of routing, trip duration, and pricing. I check them all. Lately, I've been finding the best deals directly on airlines' own sites.
David Delagarza
AirlineReporter Associate Editor – DEN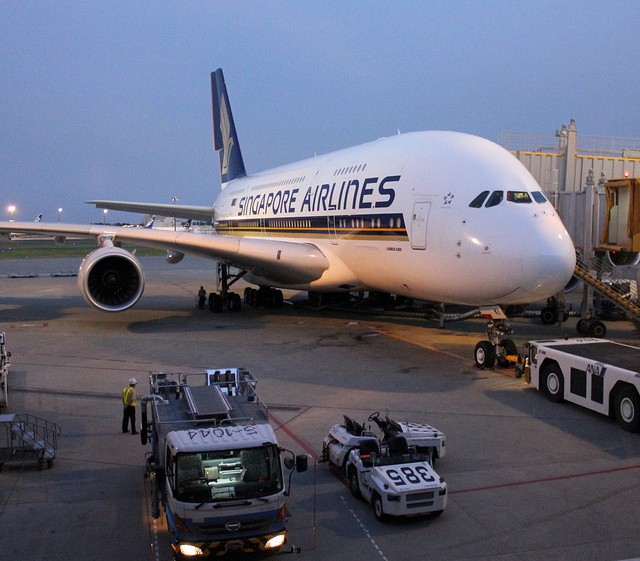 1. I'll split this one into two answers, because flying on a short domestic economy flight and a long-haul premium international flight are two entirely different things. Domestic Economy: Southwest. From a dollars and cents perspective, it's a no brainer. Free checked bags and no change fees are huge. Not to mention, their employees just seem so much happier than any other airline. I'm not entirely sold on the cattle-call boarding process – I've screwed myself into the 'C' group by forgetting to check in 24 hrs in advance a few times – but I'll gladly deal with that for Southwest's other perks. Long-haul International: Singapore Airlines. I've yet to have a bad experience on Singapore. Their food, even in economy, is consistently great, their hard product is stellar, and their flight crews always amaze me with their thoughtful helpfulness.
2. I love the 747 from an AvGeek / historical perspective – there is nothing else like the Queen of the Skies. Unfortunately most 747s (with a few exceptions) are on the short road to retirement, and the on-board products show it. It's a pity the 747-8 hasn't been more popular. For passenger experience, nothing beats a premium cabin on most A380s with their massive lavatories, bars, and even showers. Sitting 11-abreast down below, however? I'll pass.
3. Unless absolutely forced to, I won't fly Frontier or Spirit. I don't mind the 'a la carte' pricing model, as long as it is well advertised and I know what my actual cost is going to be with some basic research. What I do mind is when an airline cheaps out so much on staff that it routinely introduces major headaches into travel. In my experience, the typical air travel headaches we all occasionally experience (delays, lost bags, unhelpful representatives, etc.) are magnified on the ultra-low-cost carriers. For example, last time I flew Frontier, I had to wait an hour and a half for my bags to arrive, because the crew was so limited that they had to load the bags for the outbound flight before bringing the inbound bags to the carousel – and this was at DFW where the carousel is next to the gate. Although popular with AvGeeks, I typically avoid flying MD80s. There is nothing more headache-inducing to me than sitting between the engines in the back of an MD-80. Add to that the fact that most are nearing their end of service and do not feature updated interiors, and I'll happily take the brand-new 737 at the next gate.
4. I almost always book direct from the airline, although I use either Google Flights or ITA Matrix to screen the fares first.
Jacob Pfleger
AirlineReporter Senior Correspondant – PRG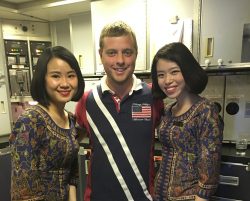 1. Singapore Airlines, the only airline where cost-cutting measures are not as extreme despite a growing industry trend to continually cut costs at the expense of the passenger experience and not just in premium cabins but economy also.
2. The Boeing 757, even though it is a narrow-body; the power it delivers is more akin to wide-body types and its power-weight ratio really provide one hell of a rocket sled takeoff. It is the most comfortable narrow-body to travel in.
3. None in particular; I am an AvGeek after all and I like to experience different airline and aircraft types, but my least favorite would have to be British Airways.
4. For personal travel I will almost always book directly through the airline. For work travel we will use the work contracted travel agent but sometimes I will book direct if it is a good deal and combination of flights.
Manu Venkat
AirlineReporter Correspondant – SFO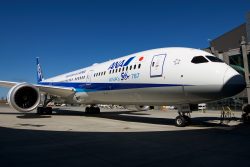 1. A tough choice, but I'd pick Singapore Airlines for its style, consistency, comfortable seats, and generous service. The single best economy itinerary I've ever flown was on SQ. Also it's hard to beat Changi Int'l as a hub and home base (seriously, a butterfly garden in an airport!?).
2. The Dreamliner has its detractors, but I love the 787 because: (#1) I think it's the most beautiful aircraft design in the skies today, (#2) its massive windows give you an unmatched view, and (#3) the lower cabin pressure and higher humidity perceptibly improve how I feel while flying. For full disclosure, I'm a pretty wiry guy, so I can tolerate the 17-inch seat width that is now the 787 standard.
3. As elegant and iconic as the Queen of the Skies looks, I'll admit I avoid flying on 747s nowadays. They tend to be older with more dated cabins and entertainment systems. I do really want to fly a dash-8 for the first time to see if it brings back some of the 747 magic for me.
4. Flight timing is important for me so I start my searches on Hipmunk, which maps flight options on a timeline. I love Hipmunk's 'œagony' sorting feature that factors in both price and convenience though as an AvGeek I don't agree that air travel = agony.
Ken Donohue
Freelance Aviation Writer – YVR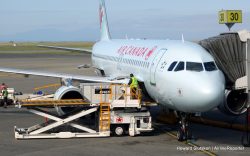 1. Favorite airline was Canadian Airlines (formerly known as Canadian Pacific and later CPAir), which has since been acquired by Air Canada. My first flight was on a bright orange CPAir DC-10 in 1984 from Vancouver to Amsterdam. Canadian was based in western Canada and had the same kind of tough, pioneering spirit that western Canadians are known for. Historically, Canadian was given routes that Air Canada didn't want, while the latter enjoyed the profitable routes. Undeterred, Canadian built an impressive network to South America, Australia and eastern Asia, decades before Asia became what it is today. While perhaps subjective, many believed the service of Canadian Airlines to be superior to that offered by Air Canada. But business trumps emotion and so Canadian Airlines faded into history, though memories of the airline still burn bright.
2. Favourite aircraft to fly on is the Boeing 767, because of the 2-3-2 seating configuration in the economy cabin. But I will never tire of flying in a Boeing 747. Its graceful beauty is something to behold.
3. I don't usually avoid any airline/aircraft; however, when flying transcontinental in Canada, I would try and avoid the smaller Airbus A320 aircraft in favour of the Boeing 767 or 777, as I preferred the larger aircraft, despite the longer boarding and deplaning time.
4. Typically, I purchase tickets directly from the airline's website; however I check fares on a number of sites, including ITA Matrix, Momondo, and others. Like many people, I am a price-conscious traveller, and don't like paying more than I need to.
Alastair Long
AirlineReporter Correspondent – LHR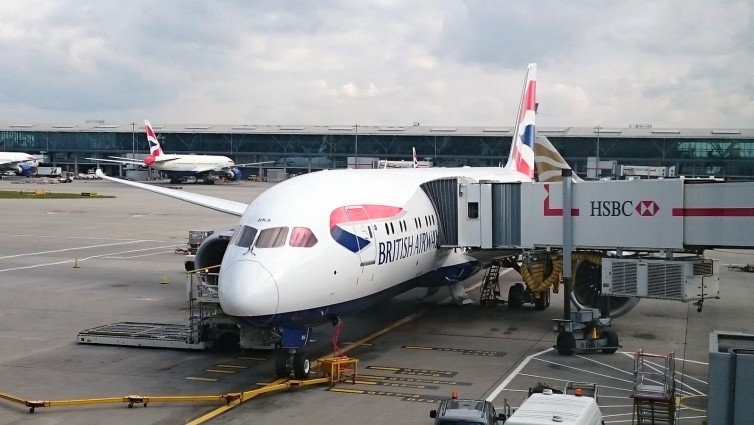 1. British Airways. It is not out of any fervent national pride or level of service that my country's legacy (not flag) carrier is my favourite airline. It's just that some of the most memorable journeys that I have taken over the last 30 years were on board aircraft in the distinctive red, white and blue livery. Those highlights include my first long-haul trip, as an 11-year-old boy, from London to Sydney on a jumbo jet in December 1990, feeling the shudder and roar of a 767's engines on half power pre-flight check on the taxiway on a freezing night in Moscow in January 2013, savouring a complimentary BA pastrami roll on a flight from Heathrow to Milan Malpensa in June 2015, and finally my fantastic trip to Seattle and the AvGeek Fest in April 2016.
2. My favourite aircraft is the 747, all flights in which have funnily enough been with BA. I love the A380 experience, but the Queen of the Skies will always hold a deep fascination for me. From its historic development to the exhilaration I feel when the big old bird rotates, I cannot get enough of her.
3. I must confess to being a little nervous about flying Transaero for the first time. It was a silly fear, perhaps borne out of irrational prejudice of Russian air safety records, but the flight that I took from Heathrow to Moscow Domodedevo was superb. I don't avoid flying any aircraft type, provided the wings stay on and the engines are bolted on tightly.
4. I usually book directly with the airline(s), often through the website or the call centre. Nothing against purchasing through an agent, it's just a force of habit.
David Parker Brown
The One Writing (or mostly copy/pasting/formatting) This Story – SEA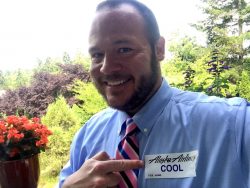 1. Alaska Airlines. I have never had bad service and almost every time have great service. I think it comes from the positive company culture I see from the executives down to the ramp operations.
2. I wince saying this living in Seattle, but the Airbus A350. I have been a Boeing fan-boy forever, but after my flight on the A350, I think it is king for me now (don't worry 747 and 787, I still love you).
3. This one really depends on the situation (and my current financial situation). If there is a ticket that is $200 cheaper getting across the US, I don't care if I am in a cardboard box, I am probably taking it. On paper, the 737 is an amazing workhorse, but I am soooo bored of flying on them. If I have to fly another one from Florida to Seattle, I swear… I just can't. What you say… I have tickets to fly down again in March? ARGH! (at least it is on Alaska vs Southwest this time)
4. I get asked this a lot by family and friends. Sadly there are no magical sites to automatically save money (or maybe there are and I am not telling you). I normally use Kayak to compare. Maybe Routehappy to know what my experience might be. Then I always book from the airline directly. I have also been starting to use Google Flights, but I have become an old dog and slower now at learning new tricks.
Hey guess what time it is now? It is time for you to add your four answers in the comments. I am excited to learn!