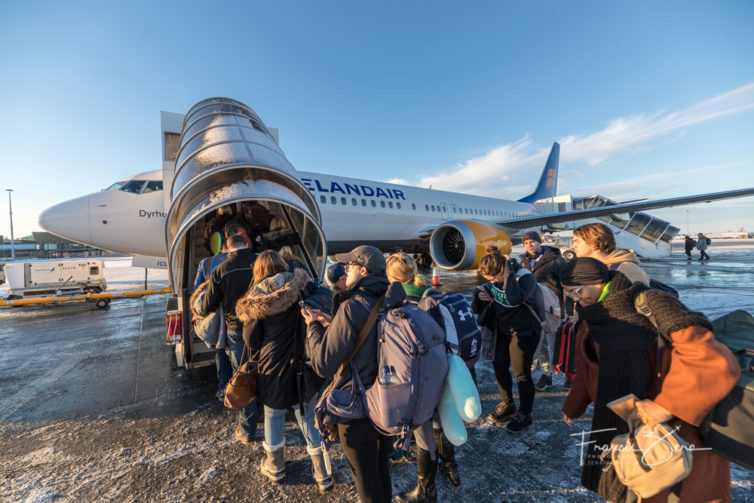 The backstory
Loyal readers will recall our 2017 review of Saga Premium (which, at the the time, was called Saga Class) on Icelandair's venerable 757-200s.
Since then, Icelandair has added several Boeing 737 MAX 8 jets to their fleet (they ordered a total of 16 of the MAX in both the -8 and -9 variants), using them on routes to U.S. destinations on the east coast and upper midwest, along with several European routes.
I flew SEA-KEF on a 757, then returned via Chicago on a 737 MAX 8, as Seattle is, unfortunately, beyond the working range of the MAX 8.
So, two years on, what was it like to fly Saga? Candidly, I was a fan of the last trip, so the memory still felt fairly fresh. My outbound flight was on TF-FIR, aka Vatnajà¶kull, aka 80 years of Aviation, aka the glacier livery.
This AvGeek was stoked at the opportunity to fly on Vatnajà¶kull, even though it was parked at a corner gate between two diagonal jetways at SEA, making photos pretty much impossible that day. IMHO, it's the one of prettiest planes in the sky today, tied for that honor with Icelandair's Hekla Aurora livery on TF-FIU.
The outbound flight from SEA to KEF was as good as the last time – I was in seat 1A for this flight, which is in a bulkhead row. The seats themselves are the same as we reviewed in 2017. They feel even more dated now, especially when compared to contemporary options even on some domestic US carriers, but they're still very comfortable and offer a generous amount of recline.