Why drive hours to Canada just to take two 20 minute flights on a pair of Beechcraft 1900Ds, on two different airlines? Why not?
Back in February, my friend (and sometimes contributor to AirlineReporter) Jason made a visit to Seattle from his home in New York. He stayed with another friend of mine Jeremy (who is pretty much my AvGeek archnemesis and really good friend — it is how I roll). Instead of doing the normal (and boring) touristy stuff, Jeremy had another idea in mind. He wanted to create a fun little AvGeek adventure, taking two different forms of aviation transportation on an amazing day-trip in Canada. I was down.
He ran through different options and landed on taking two small airlines from Vancouver (YVR) to a small town called Campbell River, BC (YBL). I was told what tickets to purchase and what time to be at his house — that is all I needed. With my passport and GlobalEntry card in hand (yay, I actually got to use it for once), I was ready for our little adventure.

THE BEECHCRAFT 1900D PLAN
During our drive from Seattle, I started to get a better sense of our plan. We would fly up on a Central Mountain Air (CMA) Beechcraft 1900D, hang around town for a little bit, and then catch a Pacific Coastal Airlines (PCA) Beechcraft 1900D back to Vancouver. Originally our hope was to fly on two different aircraft types, but due to some changes, we ended up on the same kind of plane. That was okay… none of us had flown on a 1900 previously, plus I was interested to compare how two smaller airlines provided service to the same smaller airport.
I have been to Vancouver International Airport a few times, but never to the South Terminal. Before our flight we drove around a bit, taking a look at the Floatplane Facility and also the viewing platform.
I was surprised to see that I could check-in online for both airlines, however Central Mountain Air was the only one where you could choose your seat. Before deciding, I looked online and saw that the flight deck was viewable to passengers, and 1A had a clear view — bingo!
FLYING CENTRAL MOUNTAIN AIRLINES BEECHCRAFT 1900D
Security was a breeze and it took about 30 seconds to get through. Even though it was February, the weather was sunny and warm as we boarded our 1900D from the ramp.
I was sort of bragging to Jeremy and Jason that I had seat 1A — best of the best, while they slummed it up in rows 2 and 3. Once we boarded, my bragging quickly stopped — the first row of seats had no side windows. "Gosh darn it all to heck," are totally the words I uttered under my breath. I wasn't sure what was worse: not having a window or hearing the silent gloating coming from my friends. I had earned it.
Luckily for me, there were only 11 people on the 19 seat plane, and 2A was still open. The downside was I had to share the row with Jeremy (a legit professional photographer) and he had no issue using my window as his own.
Now, stop and imagine this scenario for a moment. You have the three of us in the first three rows, with the other eight passengers behind us. We were all super giddy, taking so many photos, like we have never flown before. Joking around with each other, swooning over the sounds, and looking on our phone apps to see when we were up next for take off. What a sight. The flight doesn't regularly offer in-flight entertainment, but we were giving them a live show and we were making no apologies!!! (although I didn't have the guts to turn around and see their faces)
I think we spent more time taxiing and waiting on the ground than we did actually flying. No problem — I will take any excuse to spend more time in the plane.
And then like that — we took off. Flying in any plane is cool, but I always love the take off feel and sound of a small turbo prop. The Beechcraft 1900D surely did not disappoint.
The plane reminded me of a Kingair. Probably not too surprising since the Kingair and 1900D are both made by Beechcraft. However, it impressed me since the 1900D is quite a bit larger of a plane.
The actual flight was short — only about 25 minutes. I still was wearing my smile from take off and now I had to de-plane. I was sad that our Central Mountain Air experience was over, but in a few hours, we would be back on another 1900D.
ON THE GROUND IN CAMPBELL RIVER, BC
Once we arrived to the airport, we realized that we didn't really have a plan. We decided to grab lunch from town, but it was 6.5 miles away. Jason pulled up his apps to get a ride share and none exist in Campbell River. Now what? Oh right, taxis!
The drive to/from took a good chunk of our time, but we were able to have lunch, and walk around a bit before we started to head back.
FLYING ON PACIFIC COASTAL'S BEECHCRAFT 1900D
I was excited to once again get back into the air, but I thought it was going to mostly be a repeat of the flight north — I was wrong.
We took off from Campbell River, hit 2,000 feet, and then leveled off. Hmm. That was weird. I know sometimes aircraft have to stay at certain altitudes for a short amount of time, but we never climbed. And it was freak'n amazing.
My photos truly do not give the experience justice. Here we are in this small commercial airliner, flying 2,000 feet over the water, through valleys on islands, all while the sun is starting to set. For our flight north, we were cruising at 10,000, and on a different flight path, so this was a pretty big noticeable difference.
Jeremy, Jason, and I kept talking back and forth "Are we really at 2,000 feet? Why? A pressurization thing? Rouge ninja pilots?" I think we were making the passengers around us a little nervous. Heck, I think Jeremy was making Jeremy a little nervous. I grew up flying in smaller planes than this, so I loved it. Man, what a flight… one of the best commercial flights that I've ever taken!
When the flight was over, we asked the pilot why we flew so low. He just smiled and said, "why not?" Why not indeed. Thank you my friend.
Now, I will admit that I was a tad nervous that our flight was a "no-no" (official FAA terminology). However, Jeremy ended up talking to a pal of his, who knows such things, and what happened is legit. I guess it doesn't happen too often, but those who get to experience it, get a real treat!
COMPARE AND CONTRAST THE BEECHCRAFT 1900Ds
Which airline to choose? Take whichever one where the pilots will fly the low scenic route.
In reality, you don't have too much to compare and contrast. CMA has a lavatory in the back, but even in a potty emergency, I would never, ever use it. Those poor souls in the last row. I totally understand why PCA opted to have none.
CMA you can choose a seat, but in such a small plane, it is not a big deal (and it almost left me with no window and hurt ego). PCA operates some flights via WestJet Link and CMA interlines with Air Canada and WestJet. That might matter to some. I am guessing that locals have a favorite and stick to it. Or they just pick whichever airline matches their schedule, is the cheapest, and/or serves their airport.
THREE AVGEEKS HAD A GOOD TIME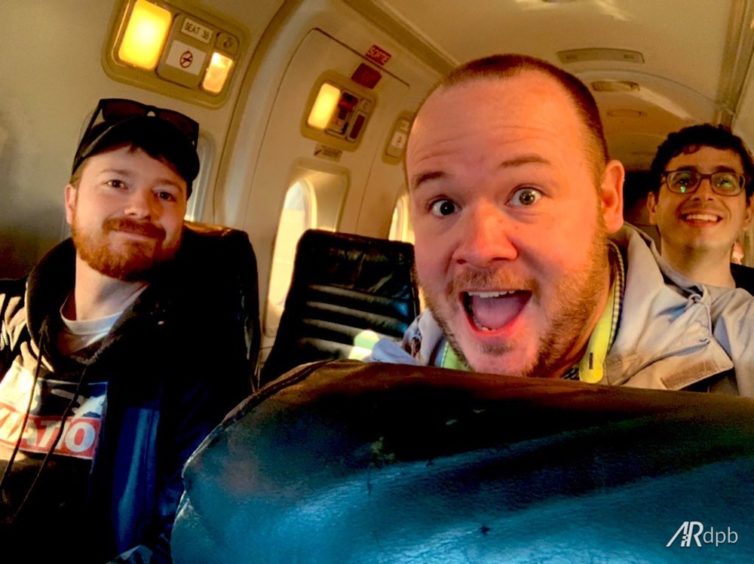 Really, this wasn't about reviewing the airlines. It was about three idiots getting together for an adventure. Mission accomplished! For what it would have cost to taken Jason to see all the "been-there-done-that" attractions in Seattle, we were able to do this instead. I think this was the better choice and I thank Jeremy for planning it!
Have you done similar adventures with your AvGeek friends? Have you flown on the Beech 1900? Let us know in the comments.
%CODE100%