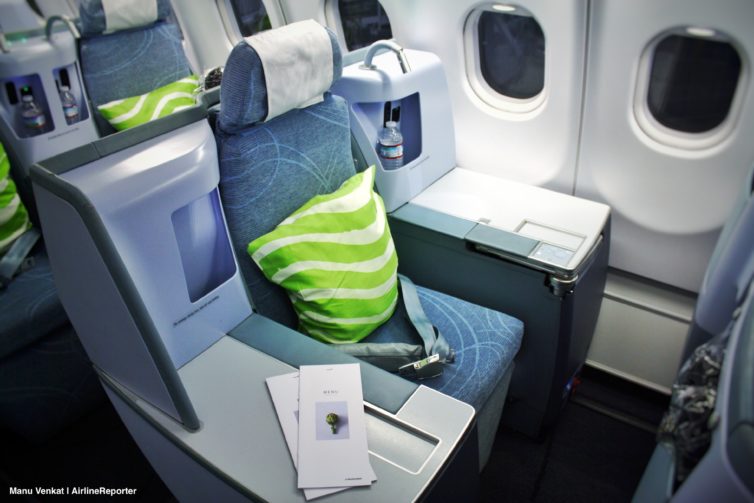 On the best of business class flights, it feels like you're being treated like royalty. Well, what better way to fly like a king or queen than to sit in a throne? That's how I felt on a trip from San Francisco to Helsinki on Finnair, when I scored one of the business class cabin's "throne seats." With no neighbors, tons of table space on both sides, miles of elbow room, and a view out the window, it's one of the most stylish ways I've crossed the Atlantic. It also gave me a great chance to learn about Finnair and its unique Finnish touch. And now that I'm back on the ground, it's time to spill some details.
Read on for plenty of photos, videos, and thoughts from my long-haul Finnair business class A330 flight from San Francisco to Helsinki. And then decide for yourself whether it's an experience fit for a king!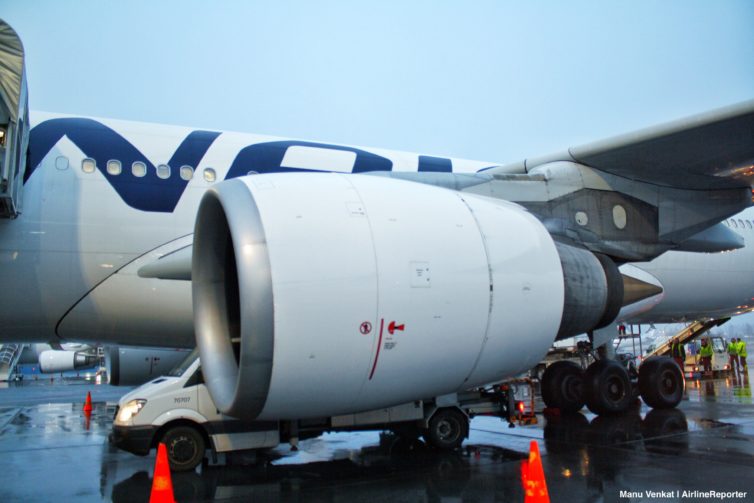 Preflight
Finnair has a pretty sleek app that adapts to each stage of your trip. A lot of airline apps aren't worth the effort, but Finnair's is one that I'd recommend downloading before you fly.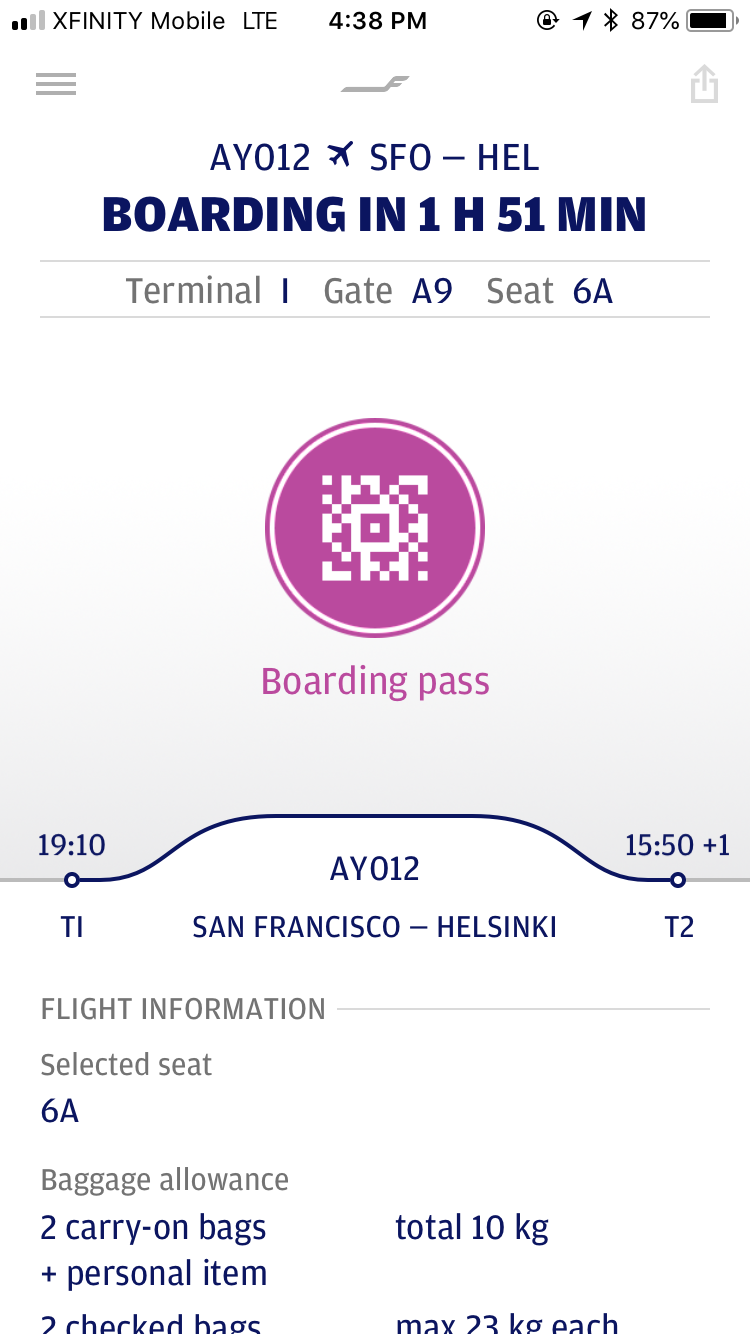 Finnair operates out of the international A gates at SFO. Checking in through the priority lanes was a breeze.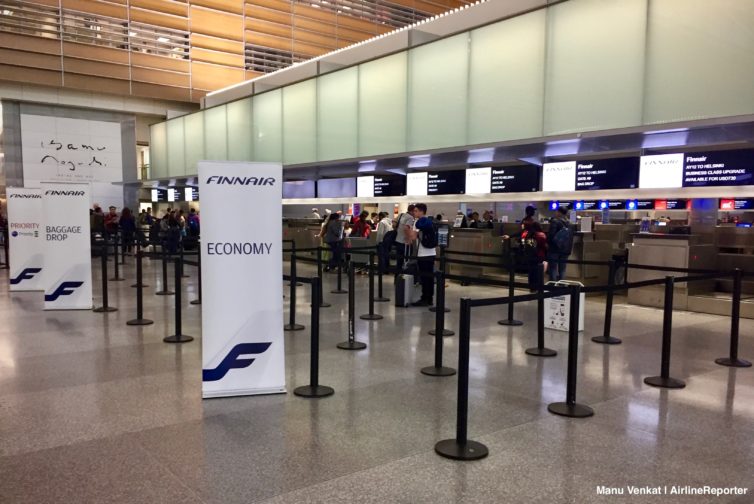 Finnair contracts with SFO's Air France / KLM lounge for its business class passengers. It's also a Priority Pass lounge and can be pretty busy before evening eastbound international departures. Definitely not worth getting to the airport early for.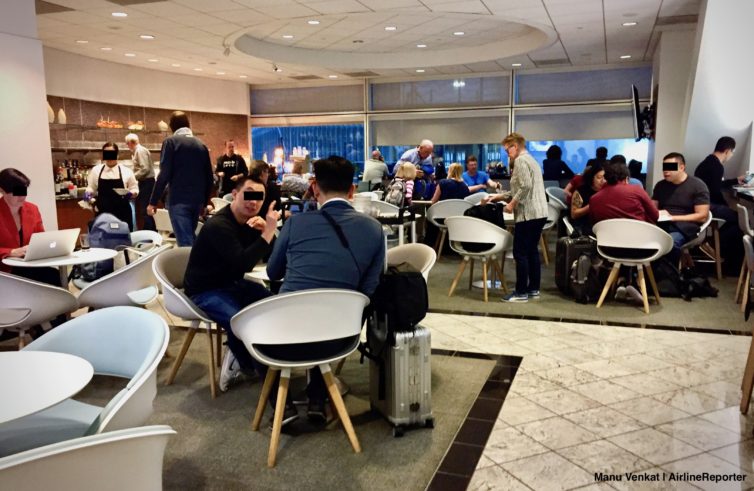 Good news for AvGeeks though: the plane spotting at SFO's international terminal is consistently amazing. I passed by a Boeing 777 operated by Finnair's oneworld alliance buddy British Airways.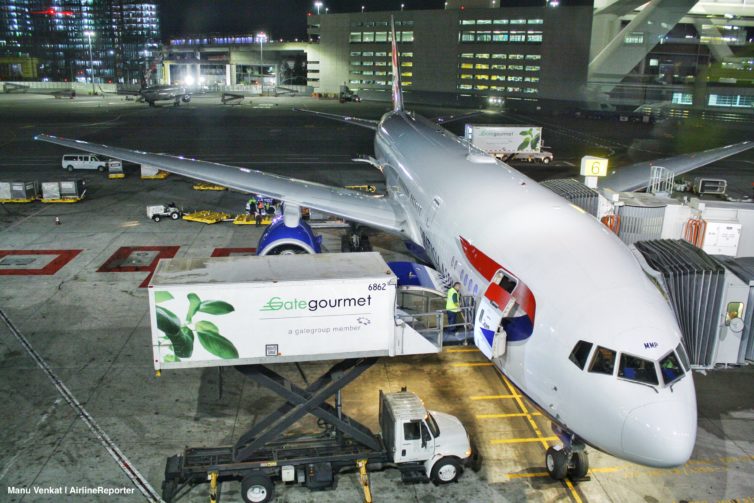 There were a few other planes bound for Europe, like a Virgin Atlantic A340-600.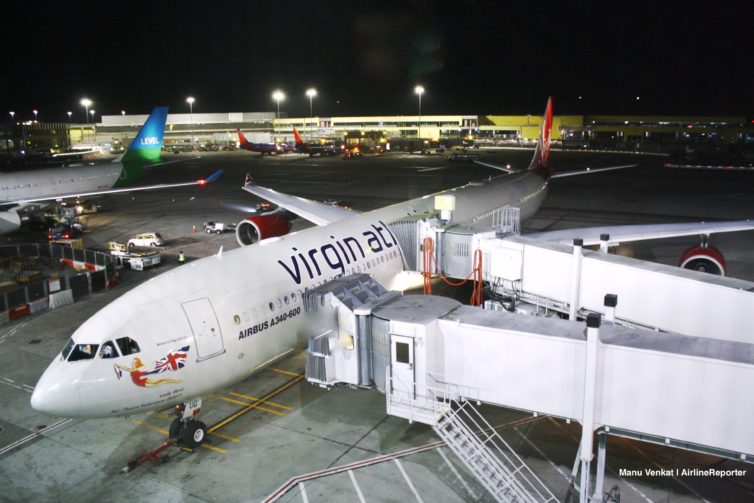 Qantas Dreamliners are a relatively new sight at SFO, operating flights to Melbourne while the airline's 747s handle flights to Sydney.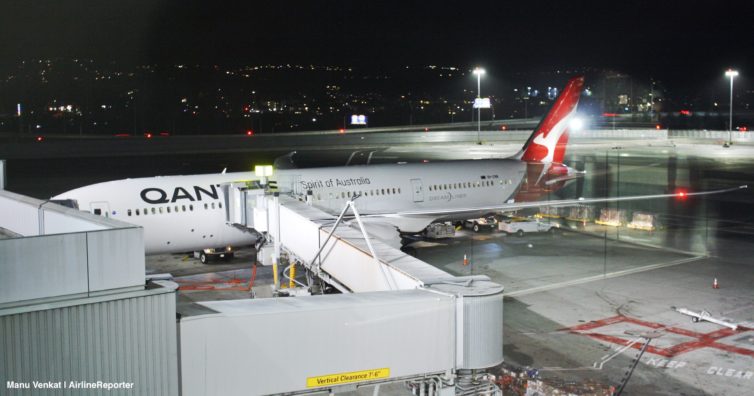 Finnair's A330-300s are decked out in a eurowhite livery and sleek text that keeps the paint scheme from looking too boring.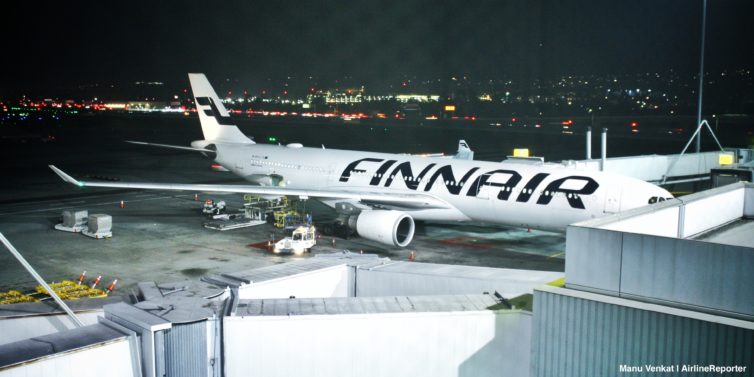 BONUS: A Quick Take On Flying Long-Haul With Finnair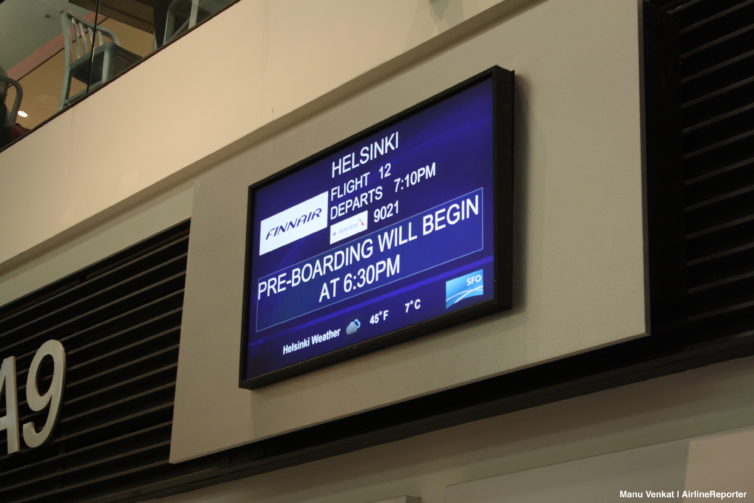 Meeting the Seat
It was dark out when my flight boarded but it seriously felt like daytime when I walked onto the plane. Finnair's business class cabin is bright, with lots of lighter tones on the walls and seats. The bright green pillowcases added a nice burst of color.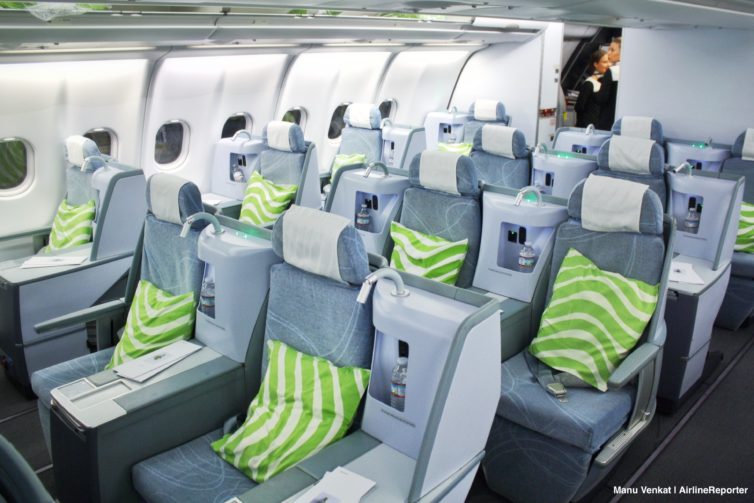 I found my throne seat and it was love at first sight. I've been fortunate to review some pretty excellent business class products before, but I've never had this much space to myself.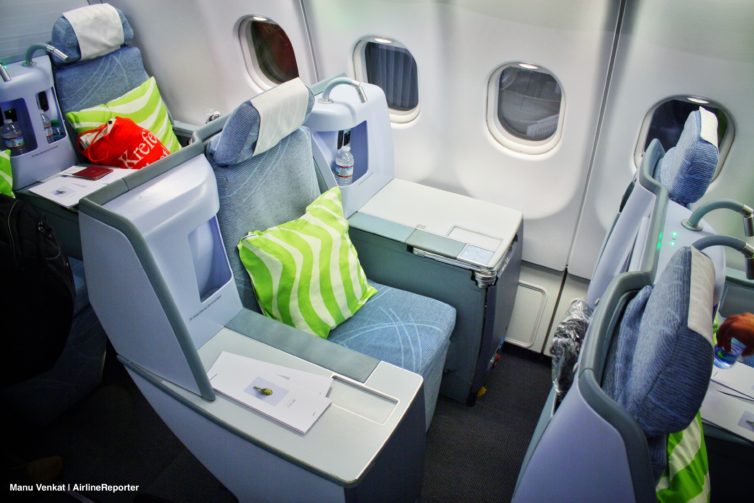 In a staggered seat configuration, throne seats exist because the rows in front of and behind them seat two passengers. When their seats are in fully-flat mode, their legs go under the ledges on either side of the throne seat. If you're looking to score a throne seat on Finnair's A330s, aim for "A" seats in even-numbered rows (2A, 4A, etc.).
Another throne seat benefit: you get two seatback storage pouches. Each pouch expanded enough to fit a small laptop and a book. There's a small nook on the ground to store your shoes.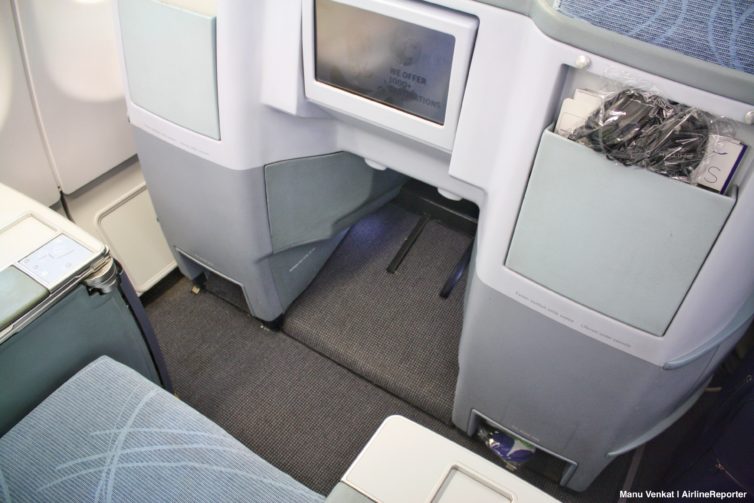 The throne has one clear downside: a very narrow footwell.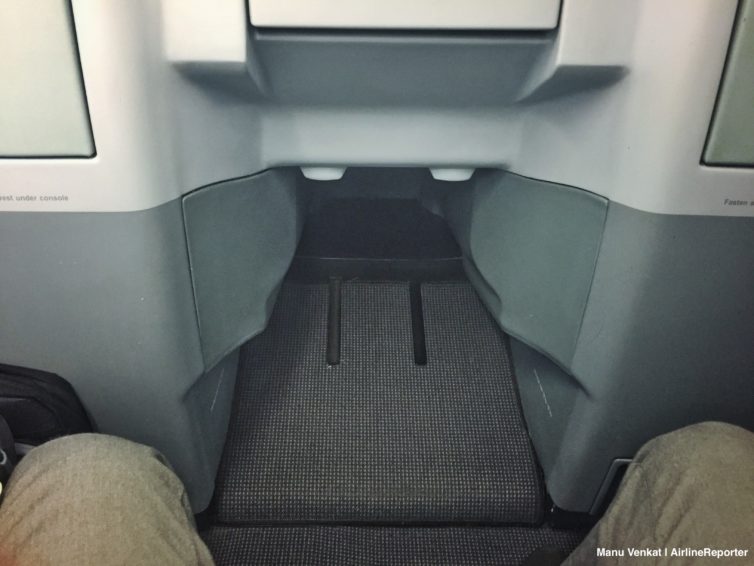 The staggered seat layout meant I had plenty of elbow room, but the seat itself was on the narrow side for business class.
Seat controls were simple and easy to use.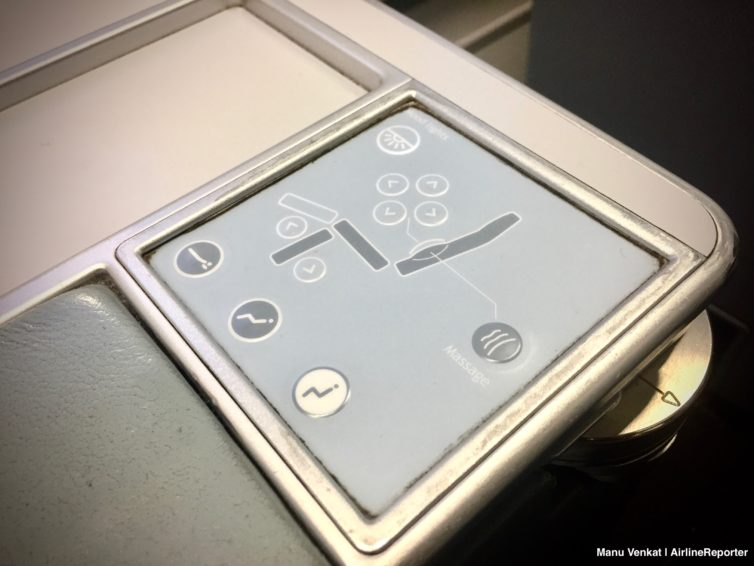 Here's a photo of a seat in fully-flat mode from my return flight (not a throne seat, obviously).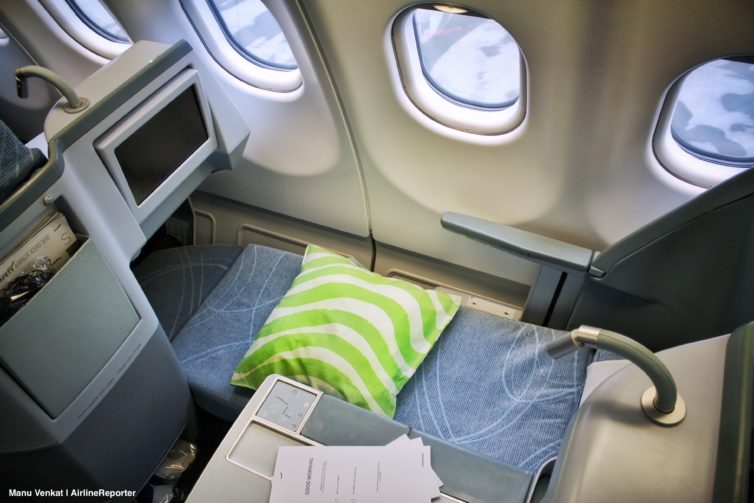 At this point, none of Finnair's A330s are as shiny and new as their A350s. There were signs of light wear and tear on the plastic and metal surfaces. But given the plane's age, everything seemed well maintained.
BONUS: A Chat with the Manager of Finnair's Airbus A350 Fleet
Departure & Dinner
During boarding, flight attendants offered a choice of drink. In business class, Finnair serves all its drinks in beautiful textured glassware.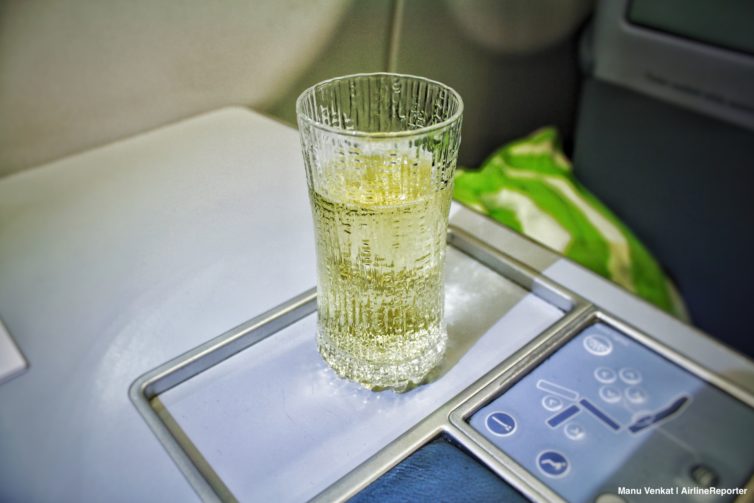 As boarding wrapped up, the flight crew came on the intercom with a big surprise. The A330 we were on was re-entering service after a few weeks in the shop (it had been hit by a ground vehicle at Chicago O'Hare and sustained enough damage that it was knocked out of service). The AvGeek in me was excited to see the plane make its triumphant return to the skies! The downside was that the water heater needed to be cleaned in Helsinki, so they wouldn't be serving warm drinks on this flight. The crew was genuinely sorry and the purser took a knee beside each business class passenger to explain and apologize about the issue.
The flight took off on runway 1R and I caught a view of Oakland and the Bay Bridge on the climb out.
The wine and drink menu had tons of detail about each available selection. I always appreciate it when wine menus have tips about food pairings.
I'd been excited to try Finnair's signature cocktail, the "blue sky." It's made with champagne and blueberry liqueur. It had a beautiful color but the berry liqueur reminded me a bit of cough syrup. I liked the melon-mint-prosciutto amuse-bouche a lot more.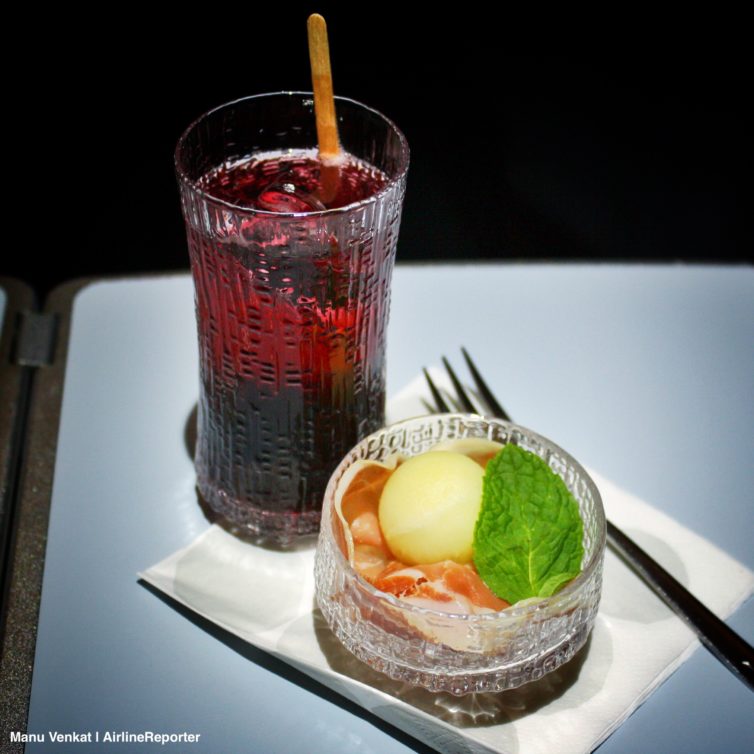 The menu for dinner was simple, but featured a nice variety of main courses. Finnair offers an express meal option if you're looking to maximize your rest. But let's be honest, where's the fun in that?
My choice of starter — along with bread and salad — were brought out on one tray. The plating was eye catching and the shrimp and strawberry salad was both delicate and delicious.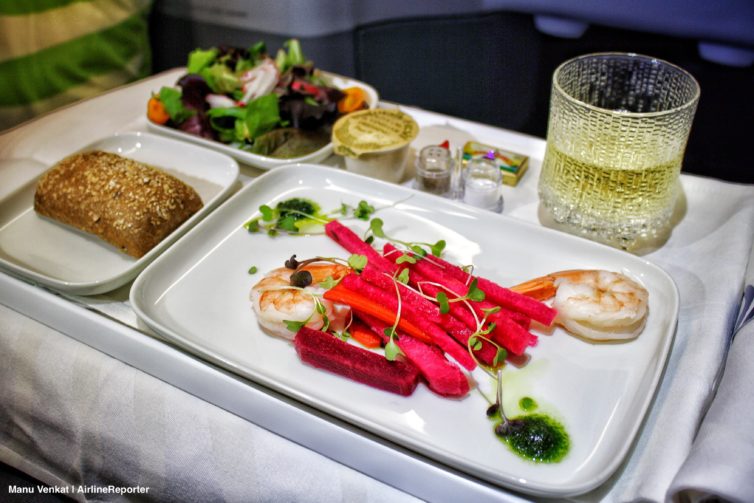 My main course was served in a porcelain dish directly onto the table, without a tray. The piping hot lamb and polenta were a rich-tasting, well-matched combo. And I thought the portion size was perfect.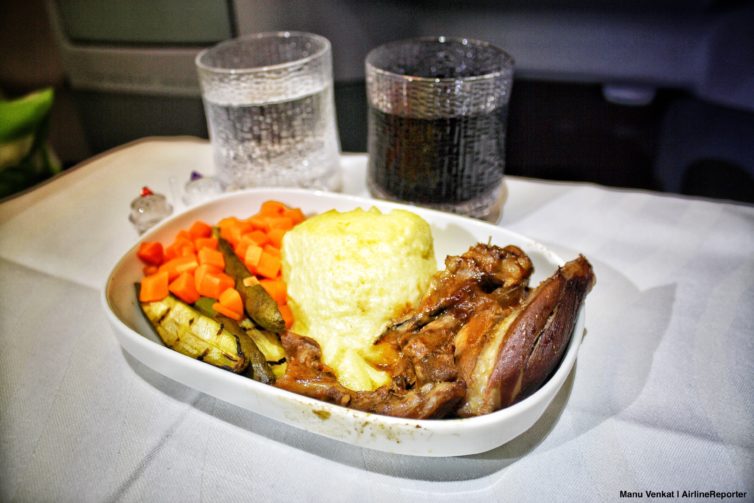 For dessert I asked for a bit of everything. For the sake of the review, of course… Getting to eat all of it was just an added bonus.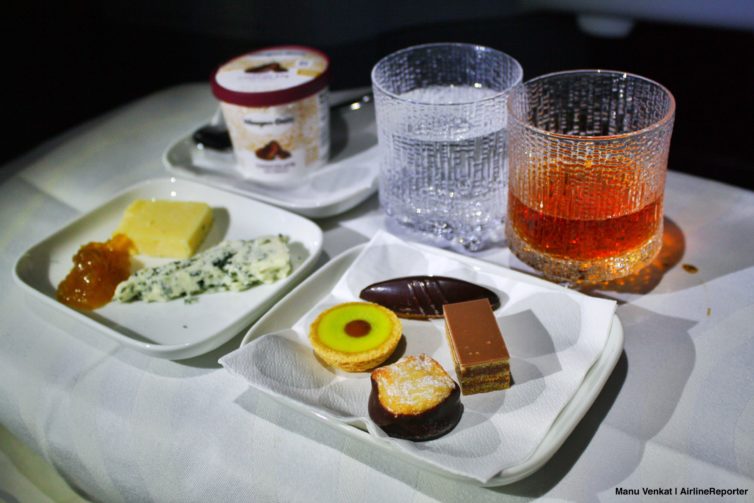 If you're feeling fancy, Finnair offers Camus XO cognac that retails for about $120 a bottle.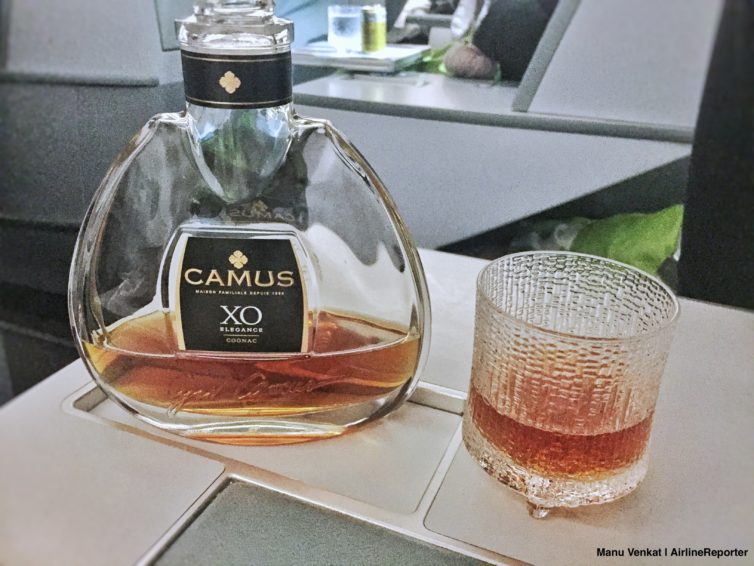 BONUS: Flying SAS Scandinavian Airlines' New A340 Business Class
Between meal services the flight attendants set up a small self-serve snack and drink station in the galley.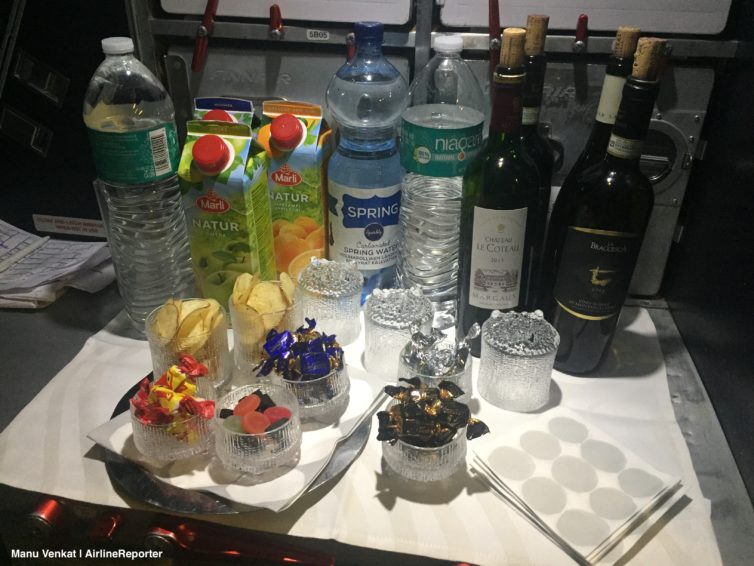 Entertainment & Amenities
Finnair's noise-canceling headphones are above average, though you may still be better off bringing your own if you have a good set.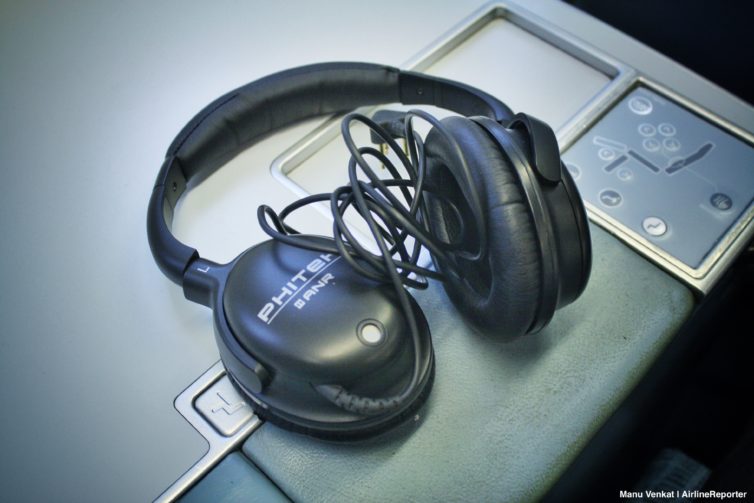 Video screens are on the small side for business class, but the selection of movies and TV shows was more than adequate.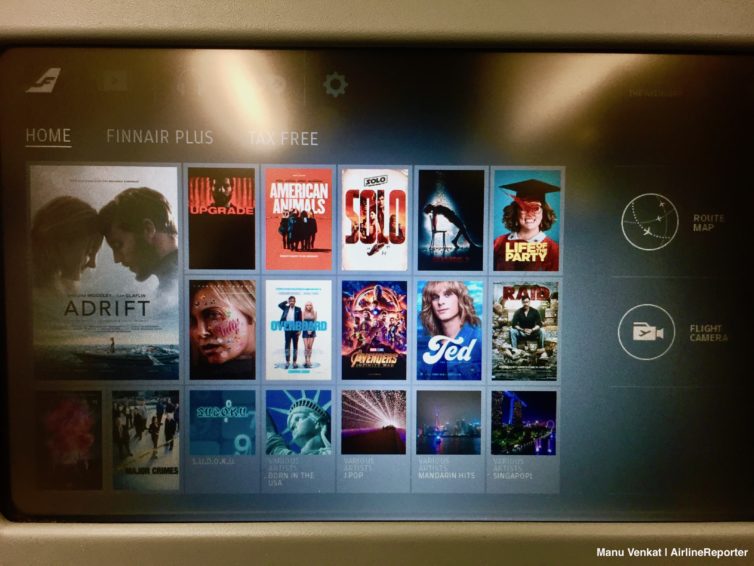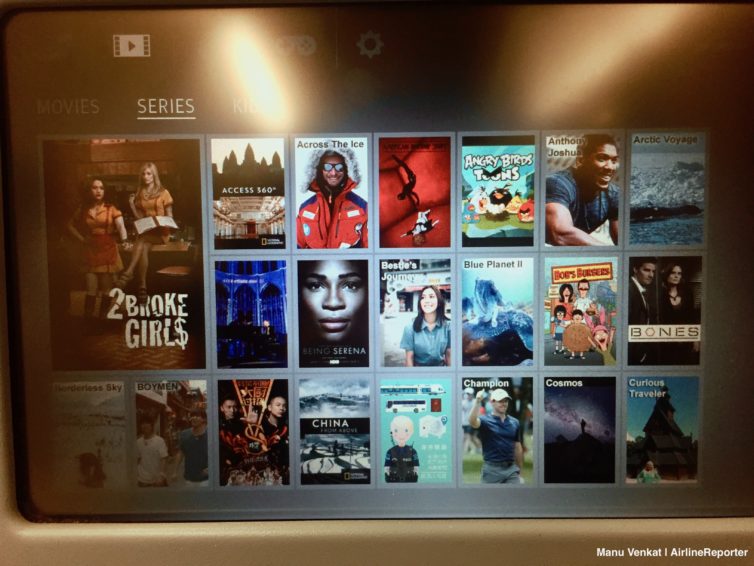 The option of forward and downward facing exterior camera views is a big win for Finnair's IFE system.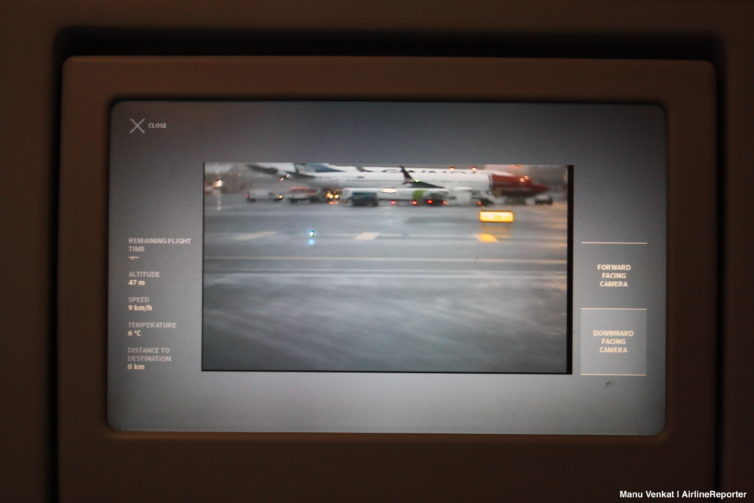 BONUS: Taking the Long Way – Emirates A380 Business Class From London to Hong Kong Via Dubai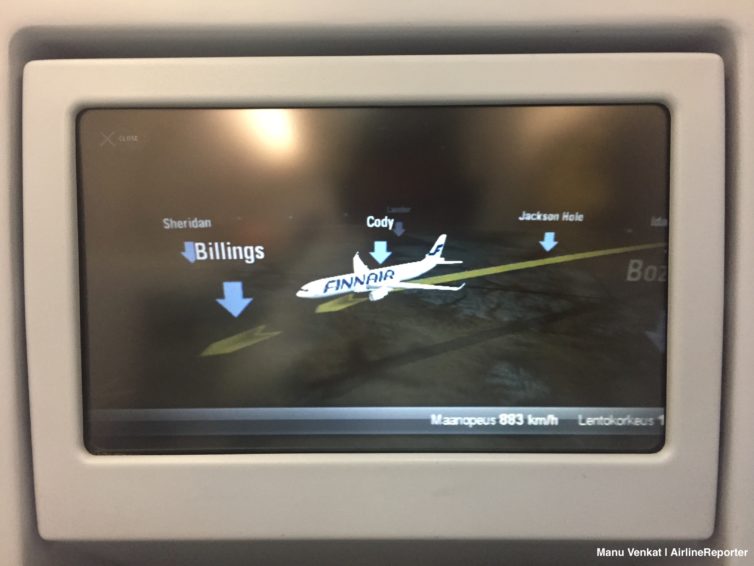 Finnair's amenity kits are designed by the Finnish design house Marimekko.
The same goes for Finnair's business class slippers. Marimekko is pretty well known, so if you don't use your amenity kit or slippers they could still make for good gifts for family or friends.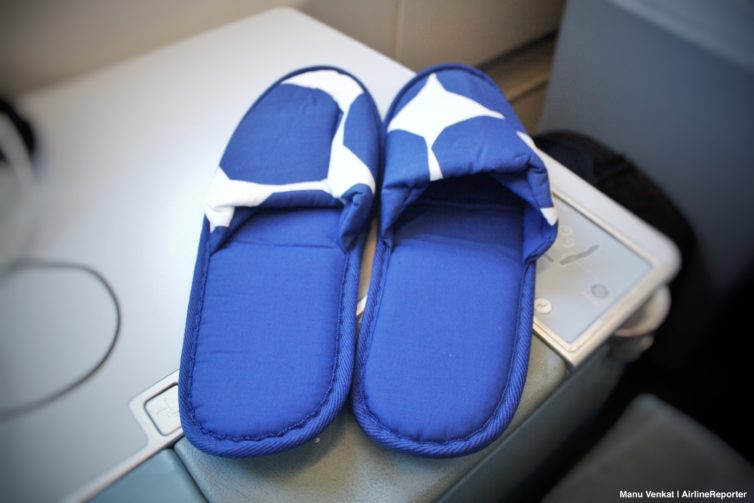 I got a restful night's sleep with the seat in fully-flat mode. The seat was more than long enough for me, though it isn't wide enough that you can roll around much from side to side.
Breakfast & Landing
I woke up to a sunny Nordic mountain view, just in time for breakfast.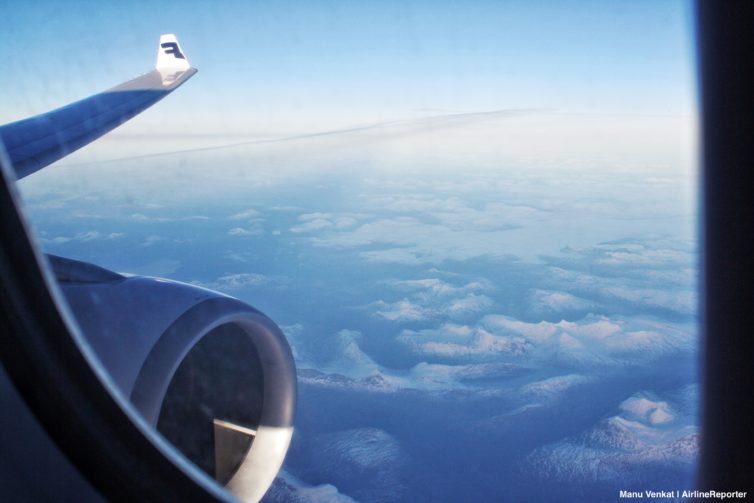 Finnair lets you state your preference on whether you want to be woken up for breakfast or not.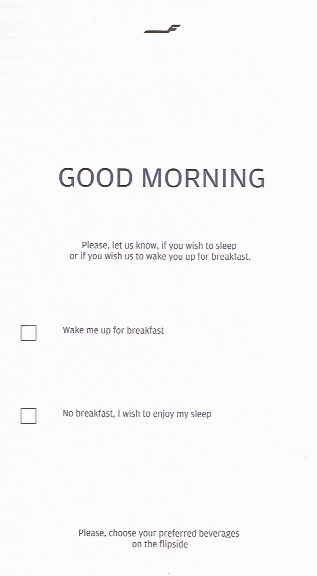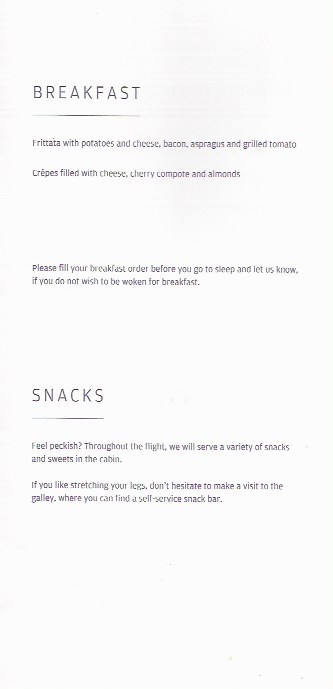 Compared with dinner, this breakfast was fairly simple. The croissant was warm and flaky. The frittata and bacon were tasty and cooked perfectly, though the veggies were a little limp.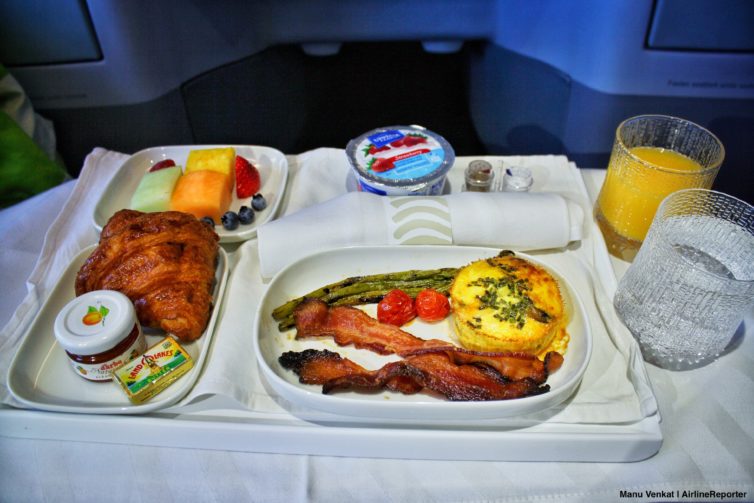 Our descent took us through some thick cloud cover. Thanks to construction at the airport, we deplaned onto the ramp and were bused to the terminal.
The Verdict
When you play the "game of thrones" you win or you die (at least according to Cersei Lannister on the hit HBO show), but when you play the AvGeek game of throne seats you win and you fly! I'm sorry about that awful pun but I'm not sorry at all that I got to fly across the Atlantic in Finnair's A330 business class throne seat.
BONUS: Lucky! Flying Aer Lingus Business Class on an Airbus A330
There are only a few throne seats per plane, but if you're traveling solo and lucky enough to snag one, it's a real treat. The efficient service, tasty food, and stylish Marimekko design touches certainly don't hurt.
As for the verdict on Finnair's A330 business class as a whole, I wanted to reserve my judgment until I tried a non-throne seat. Which I did on my return trip back to the U.S. We'll have that story coming up soon, so stay tuned!
Now it's time for us to hear from you. Share your thoughts in the comments section below. 
Note: Finnair arranged our travel for this story. All opinions are our own.