To say a lot has changed at Aer Lingus since I last flew the airline in 2014 would be an understatement. The airline's fleet has grown, new destinations have been added, new products introduced, and ownership has transferred to IAG, the parent group of British Airways. On a recent work trip between New York JFK and Berlin, I had a chance to try out the new Aer Lingus business class product, which is now fully rolled out to every long-haul aircraft in the fleet. Yes, even the 757s.
My trip started at JetBlue's Terminal 5 at JFK, where Aer Lingus is one of just two other airlines that share the terminal with JetBlue. For whatever reason, Aer Lingus is incapable of issuing mobile boarding passes on flights to and from the United States, so I had a chance to visit the dedicated business class check-in desks. Staffed by friendly JetBlue employees, I was quickly checked-in and on my way to the relatively new Aer Lingus lounge.
I last visited this lounge while it was still under construction in 2014 as a part of the larger T5i expansion. The lounge is small, but really only handles one flight at a time, so it should never fill to capacity. The lounge offers a self-pour bar, snacks, and ample power outlets conveniently near comfortable tables. Just outside the windows sits the iconic TWA Flight Center, which is currently being preserved as a hotel.
Also on offer in the lounge is a pre-flight dining service, which I felt was a tad on the weak side. The flight to Dublin is short, barely cracking five hours. If you want to have any chance of sleeping on this short red-eye flight, eating before flying is essential. IAG sister airline British Airways, over in Terminal 7, fully realizes this and offers a fantastic dinner service, but Aer Lingus' buffet-style service was anemic and in need of improvement.
At boarding, I was greeted by smiling flight attendants, which seemed to be a theme for the crew on my Aer Lingus flights. Like all other long-haul aircraft in the Aer Lingus fleet, this Airbus A330 featured the airline's new business class product, which very closely resembles JetBlue's Mint product. Aside from some color changes, the seat is nearly identical. Almost all passengers have direct aisle access, but three passengers will have to settle for being locked in against the window. Still, though, this configuration is better than most.
%CODE1%
After settling in with a glass of bubbly in hand, I checked out the already activated entertainment system, which works gate-to-gate. The screen is a decent size, but I found the viewing angle to be a bit problematic. The screen itself can't be adjusted in any way, so from certain angles it appeared washed out. The content was a bit on the weak side as well. The system listed 43 movies available, but many of those options were actually shorts, bringing the true number of movies offered way down. That is ok for shorter flights, but those flying between San Francisco and Dublin may reach the end of the catalog quickly. Noise cancelling headphones were a nice touch.
If you do get bored with the entertainment system, Aer Lingus offers reasonably fast Panasonic Ku-band Wi-Fi on all A330s. It is also one of the few airlines in the world to offer WiFi as a free perk to business class passengers. I can't state enough how much I love this. Business class passengers shouldn't be nickled and dimed, so including WiFi is something all airlines should do for premium passengers.
Aer Lingus distributes vouchers providing 400MB, which should be plenty for normal people. I somehow managed to use nearly the whole allotment on the redeye, but 400MB is 400MB more than 99% of other airlines give its passengers. Full flight WiFi is available to economy passengers for $18.95.
After (unsuccessfully) trying to get a few hours of sleep, we arrived at Dublin well before 5:00 am local time. Like a confused zombie, I shuffled over to the Aer Lingus lounge for a shower before my connecting flight, but found the doors locked and a line of a few passengers waiting to get in.
The lounge opens at 5:15 am, which sounds very early, but not when the first transatlantic flights start arriving at about 4:30 am. The doors eventually opened and I was able to take a quick shower and grab a small bite to eat. This lounge doesn't offer much in the way of food, but with a body clock indicating just barely after midnight, I was ok with that. The shower was more than enough to keep me going.
Flash forward a few days and my business in Berlin was wrapping up'¦.just as a complete strike at Berlin's airports were ramping up. I knew my flight out of Berlin would be cancelled the next day, so I took action before that officially happened. I contacted Aer Lingus on Twitter to have my departure city switched from Berlin to Hamburg, hopped on the ICE train and rebooked my hotel. In my opinion, Aer Lingus waited a bit too long to officially cancel its Berlin flights, and I feel that had I waited for official word before acting that I would have been stranded an extra day. It always pays to be proactive.
Dublin is one of very few airports offering customs and immigration pre-clearance for US-bound flights. As someone with Global Entry, pre-clearance is actually a burden rather than a perk. Thankfully, Dublin Airport recently opened a new lounge in the pre-clear side, which I liken to more of a holding pen than a gate hold area. The 51st&Green US Preclearance lounge is an oasis and significantly improves the passenger experience at Dublin. The food and beverage options aren't huge, but the views more than make up for it. Aer Lingus claims this lounge is the closest to an active taxiway and runway anywhere in the world, and they're probably right. The views at 51st&Green are amazing for any #AvGeek.
The flight back to New York was operated by a brand-new A330, less than a year old. On this flight, I was able to enjoy the full and proper meal service. From start to finish, the flight attendants never let my glass run empty. The menu offered a choice of pan-seared cod, chicken fricassee, or a fillet of Irish beef. I opted for the beef, which was served with spinach, horseradish jus, and potatoes dauphinoise. The meal, including appetizer and dessert, was divine. The service was outstanding.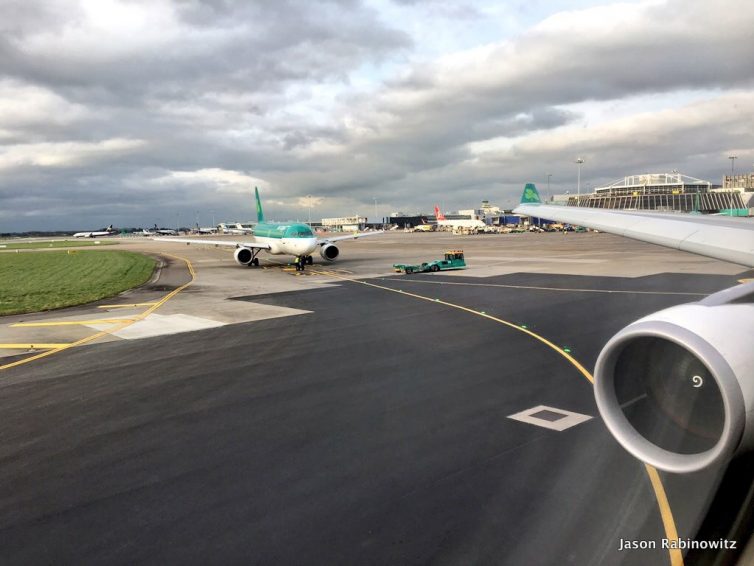 Aer Lingus often clocks in as one of the less expensive transatlantic business class options, yet is somehow able to provide a better in-flight experience than its competitors, even within its own parent group. Any issues that I encountered along the way are easily solvable, giving Aer Lingus a top notch product. As IAG looks to update the British Airways product and continually evolves its other divisions such as Level and Iberia, it should look to the Irish for inspiration.
(Editor's Note: An Economy fare was paid for by the reviewer's business, but the upgrade to business class was provided by Aer Lingus for the purpose of this review. All opinions are those of the author)