If you fly often, airport lounges aren't just an occasional treat; they're a home away from home. However, at a lot of lounges it's hard to do more than plonk yourself down in a chair, chow down on sugary snacks, and help yourself to free booze. Sure, sometimes that's just what you want. But it's not a particularly healthy way to pass the time.
To make airports a bit more livable, SAS Scandinavian Airlines has been working on a new generation of airport lounge for its passengers. We got to swing by Oslo Gardermoen Airport to explore the first of SAS' so-called "next-gen" lounges. We found a lot of features there that were definitely out of the ordinary, like a real-deal gym, a cafe staffed with a barista, and a dining area decked out to look like mom's kitchen. There were also some quirkier features, like a VR flight simulator and a 3D body scanner.
Read on for a photo walk-through of a lounge that's definitely anything but ordinary!
Arriving at Oslo Gardermoen Airport
Before heading into SAS' updated lounge, I took a moment to appreciate how beautiful Oslo's Gardermoen Airport is. It has a sleek, contemporary design, with wooden elements on the ceiling that make the building feel warm and welcoming.
SAS' next-gen lounge primarily serves domestic gates, though long-haul travelers can access it before crossing through the second round of border security. Automated gates scan your boarding pass as you enter.
Near the entrance, a large screen flashes fast facts about SAS' operation.
The lounge has a fresh Scandinavian design, with chic lighting fixtures and tasteful wall decorations. There's a variety of seating, like this nook reminiscent of a family room, complete with a faux fireplace that's really mist lit from below with orange lights.
The vast majority of the lounge's seating consists of simple tables and chairs that are close together. The design doesn't provide much privacy, but instead goes for a more communal, caf-like vibe.
Speaking of cafs, this lounge has one near the entrance. It's staffed with a real-deal barista who made tasty cappuccinos. This place has a coffee game that's on par with other airlines' flagship lounges.
Cozy Kitchen, Healthy Eats
At the center of the lounge, there's a dining area that's been designed to feel like a kitchen, with pots hanging from the ceiling and shelves of Scandinavian groceries.
There were lots of healthier food options, like fruit plates if you're just looking for a snack …
… and fresh greens and a tasty couscous dish for those looking for a bigger meal.
Scandinavians are big into their bread, and there were multiple types available.
There were a couple of beers on tap, as well as two nondescript taps with generic "red wine" and "white wine" labels.
I put together a fresh, tasty plate and watched to get a sense of the crowd factor. The lounge wasn't too crowded most of the time I was there, but every hour or two there would be a big rush of people that would make it feel pretty packed.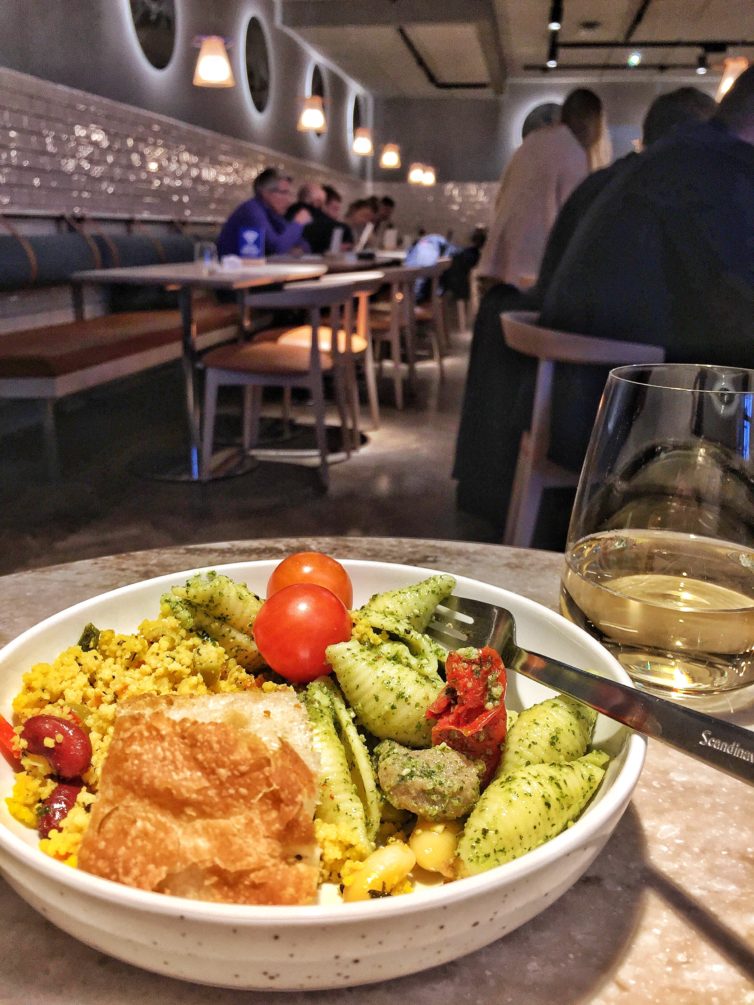 My First-Ever Airport Workout
The part of the lounge I was most excited to visit was definitely the gym, located at the end of a hallway lit with twinkling lights on the wall.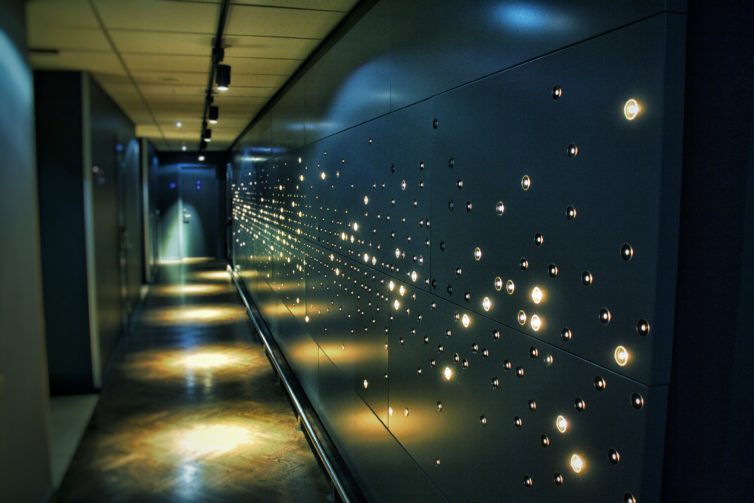 The fitness center has a bunch of treadmills, an exercise bike, a rowing machine, an elliptical, and lots of free weights. There are a pair of small locker rooms where you can stash your stuff at the beginning of your workout, and take a shower when you're done. I ended up getting a pretty good workout, and a few other travelers were using the gym at the same time I was. The only thing that would have made it better was a view of the apron instead of the concourse.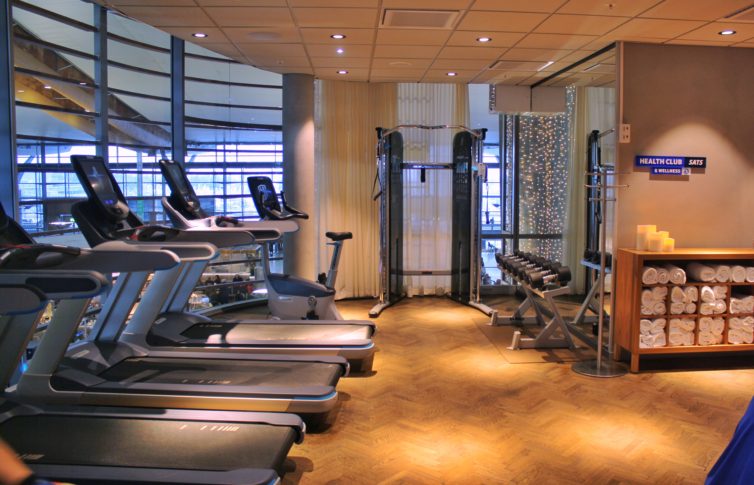 The gym has a maximum capacity of eight people. Since usage is still picking up steam (I saw four people in there at the most) they just leave the door open. However, in the future they'll probably have to implement a wait list in case more than eight people at a time want to use it.
Freshening Up
In addition to the simple gym showers, there are a set of more spacious shower suites outside the fitness center. Shower room amenities are limited to just towels and an all-purpose soap+shampoo gel.
Exploring the Technology Nook
My experience took a wackier turn when I found the technology nook, which SAS designed to showcase cutting-edge tech from partner companies.
There's a "make your own avatar" booth that lets you create a 3D model of yourself using a body scanner. I inputted my email address and stepped inside. There was some whirring and a set of cameras seemed like they scanned me. A few days later I was emailed a link to my 3D avatar, which looked fairly realistic. The website allows you to order a 15cm physical version of the avatar, but at 139 euro a pop I passed.
There was a VR flight simulator, which I was excited to try. Unfortunately, someone (not a real-world pilot, I hope) had run the simulated plane into a fence. In the limited time I had I couldn't figure out how to reset the simulation. I'd love to spend more time with it next time!
Nearby there was a sunlight simulator, which came in handy since midwinter Norway gets barely six hours of dim sunlight a day.
For those looking for a more conventional tech experience (ie: getting some work done on your laptop), there were a few private workrooms available.
The Verdict
SAS' next-gen lounge was a ton of fun to explore. It's good to see the airline really thinking outside of the box and trying out new things with its lounges. Setting aside the novelty factor and grading it based only on comfort and the user experience, the lounge still does well based on food, drink, and style, though it loses a few points for lack of secluded seating and the crowd factor at peak times.
Highlights:
The fitness center: Having any sort of a gym in a lounge is amazing, and as gyms go this one was great for its size. I'd love to see more gyms in airports to help travelers stay active and fight off jetlag. While I was initially skeptical about how well-used an airport gym would be, this one was definitely being utilized.
The caf: For all the things that most lounges today provide, good coffee often isn't one of them. If you're in a rush to get to your gate, being able to stop by a lounge for a tasty coffee or espresso drink instead of shelling out at Starbucks is a big plus.
Dining: Food that's both healthy and tasty? Consider me a fan! SAS serves healthy options at its other lounges as well, so that's not a factor that's specific to the new Oslo lounge.
Showers: This is an especially big plus for a domestic lounge, and a must considering the fitness center.
Design and style: This is one of the better looking lounges I've seen. I loved the dining area's cozy feel. The lighting is really nice as well.
All in all it's definitely worth dropping by this place if you're in the neighborhood. If SAS can take this "next-gen" model and add in more private seating, I think it has a winning concept on its hands that I hope it expands to the rest of its lounges.
Video walkthrough:
%CODE1%
Bonus: SAS Caf Lounges
At a few airports that are too small to get full-scale lounges, SAS has started rolling out miniature "caf lounges." They're located close to gates and provide tea, coffee, pastries, dedicated wifi, and better seating than the general concourse. I haven't dropped by one in person, but on paper it looks like a great concept.
What do you think of SAS next-gen lounge? What things would you like to see more of in airport lounges? We'd love to hear your thoughts in the comments section below.