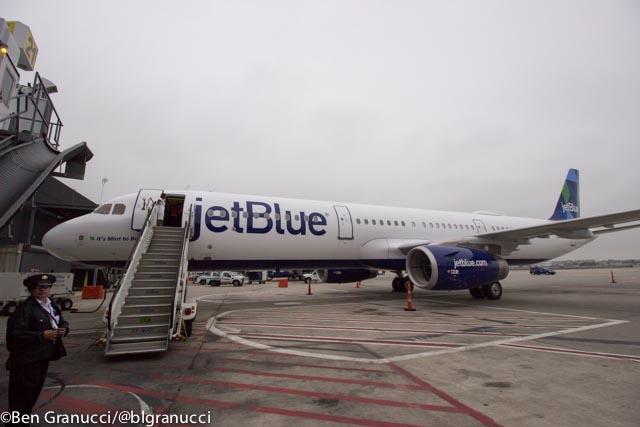 Throughout its fifteen year history, JetBlue Airways has worked hard to be the blue-collar airline with an upscale image. With popular features such as DirecTV and SiriusXM entertainment at every seat, the most legroom in coach of any US-based airline, and, most recently FlyFi wireless onboard internet connectivity, the airline has put the passenger experience at the forefront.
Now, the airline is poised to launch the next generation of its onboard product. Dubbed "Mint", the service will initially be offered exclusively on its route between New York and Los Angeles, with flights to San Fransisco set to follow later this year. I recently had the chance to preview the new product at JFK and wanted to share what I discorvered.
The new Mint Experience is a wholesale, multi-faceted upgrade of the traditional JetBlue product. Offered exclusively on a subfleet of the carrier's Airbus A321 aircraft, Mint provides a true premium product to compete with the other four carriers flying in the transcontinental market. The most noticeable change onboard is to the seat.
Replacing nine rows of standard economy seats are five rows of fully lie-flat seats in alternating rows of 4 seats and 2 mini-suite seats. These seats are upholstered in charcoal grey leather with royal blue stitching accents. The seat has lumbar support that adjusts for both firmness and position, along with a massage function. The firmness of the seat cushion itself can also be adjusted, as each is built around a core of several air pockets that can be inflated and deflated as desired. And of course, the seat can be reclined from fully upright to a "relax" position, to fully flat, or anywhere in between those three. The footrest can also be independently raised and lowered.  All seat adjustments are made using a small touchscreen controller built into each armrest.
Each seat is very generously equipped with multiple power ports, both 110 volt and USB, as well as EmPower ports that are available in two to three locations per passenger. For storage, there are pockets for cell phones next to each seat and for shoes near the floor. There is also a pull-down mesh cubby under the inflight entertainment (IFE) screen that is perfect for stashing your headphones and amenity kit (more about those later). Another innovative feature is the "wake me up" light installed next to each Mint seat. If a Mint customer wants to sleep, but doesn't want to sleep through the meal service, they can press a button surrounding the light to indicate to the cabin crew that they would like to be woken up.
Speaking of the IFE screen, it is a whopping 15 inches across with a touch optimized interface. Through that screen, passengers can access the latest version of the LiveTV system, offering 100 channels of DirecTV, over 100 SiriusXM channels, and several movies. One surprising IFE feature that will be welcomed by AvGeeks everywhere is the inclusion of a live air traffic control audio channel. Similar to the well known (and rapidly disappearing) "Channel 9" on United, this feature will allow passengers to listen in on the radio communications between various air traffic control facilities, their JetBlue aircraft, and other nearby aircraft.
BONUS:video tour of a JetBlue Mint seat
Receiving a similar treatment are the food options for Mint passengers. JetBlue has made a name for themselves with their selection of free snacks and drinks with unlimited refills. Several years ago, they began offering "Eat Up" boxes, a buy-onboard option with a more premium selection of packaged snacks. That was followed in 2013 with the "Eat Up Cafe," a selection of items such as sandwiches and salads that were served chilled. For Mint Experience passengers, the onboard dining experience receives a major upgrade. A traditional full meal service is provided with an interesting twist: the main course is served tapas-style, with three small dishes provided instead of one large one.
The Mint cabin itself is beautifully moodlit with warm white light overhead and cool blue light over the windows, with blue accent lighting illuminating a water bottle compartment at the rear of each seat. Also receiving the blue light treatment is the footrest area, though that light can be controlled by each passenger so that it doesn't prevent them from sleeping. Separating the Mint and Core (economy) cabins is a lavatory and the new Marketplace self-service snack bar. However there is no curtain separating the cabins as that just wouldn't fit JetBlue's image. The mid-cabin lavatory is available for use by all passengers, however the forward lavatory is reserved for Mint Experience customers only.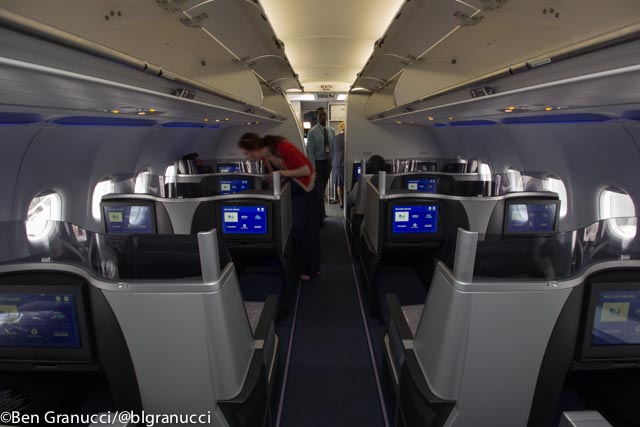 The Mint Experience
I was recently invited onboard JetBlue's first Mint-equipped aircraft (N923JB, "It Was Mint To Be") in order to experience just what Mint will be like. Over the course of nearly three hours, myself and several other invited guests were able to kick the tires on both the Mint and new Core products, as well as to enjoy a full Mint meal service, all without ever leaving the ground. As we boarded, we were given an opportunity to explore the plane and our assigned seat for a short while. At each seat was a bottle of water, a pair of fairly inexpensive headphones, and a Mint-branded pillow and blanket wrapped in plastic. Affixed to the top was a printed welcome note that had been signed by our flight attendants for the day.
After a brief welcome message, the Mint Experience began. First up was our pre-departure beverage (or as they like to call it, a RefreshMint), a honey-infused limeade with fresh mint, which was available with or without vodka. That was followed shortly thereafter with the "welcome taste," a bite-sized round of toasted bread with peppers, cucumbers, and goat cheese. Both were quite tasty. Tomasz, one of our flight attendants, came around for our drink orders. I went with a cranberry juice and a sparkling wine that was delightfully fruity.
Next, we were presented with our amenity kits. Jetblue has partnered with Birchbox, a cosmetics trial service, to produce a unique experience. Each passenger is presented with a gender-specific box that is roughly the size of a paperback novel. Inside is a drawstring pouch with six product samples. While the selections will change regularly, the goal is to curate each box with three items for use while onboard and three products for use after landing. In the sample boxes that I was presented with, the contents were a mix of old standards such as hand moisturizer and innovative newer products such as a clothes deodorizing wipe.
Before long, I was placing my brunch order from the printed menus that had been distributed. The tapas-style menu, curated by trendy New York City restaurant Saxon + Parole, contains five items. Each passenger may choose their favorite three items, which are then served together. Of the five items on the menu (there is also a lunch menu for afternoon flights), two were marked as "signature dishes". I placed my order: the signature Watermelon Salad, the Chive and Cheese Biscuit Sandwich, and the signature Creamy Scrambled Eggs. I reluctantly decided to forego the Classic Muesli and the Buttery French Toast.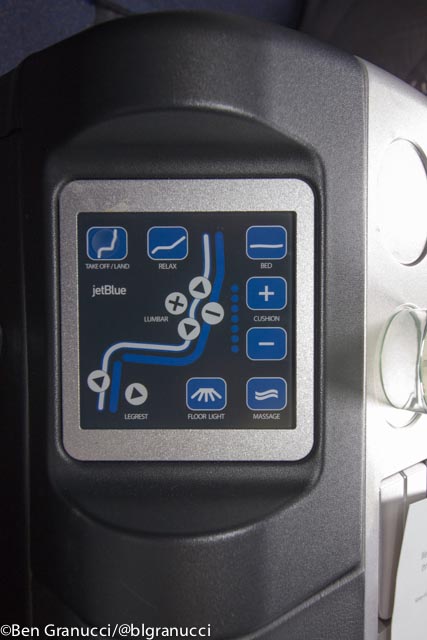 It wasn't long before a luscious smell began to waft from the forward galley. It was a telling sign of what we would be experiencing shortly. As I waited for my meal to arrive, I explored the features of my seat and the IFE system. I started off by taking the seat for a ride. I pressed the "relax" button on the touch screen and the seat began to move to a position similar to that of a reclined easy chair. Next, I hit the "bed" button, and everything flattened out and dropped down to just a few inches above the floor. At first, things seemed a bit uncomfortable, but I quickly realized that the firmness of the lumbar support had to be dialed all the way down. Once I had done that, the bed was quite comfortable, and was certainly sufficient for a few hours of sleep while flying across the country.
After returning my seat to the "take off/land" position and raising the legrest a bit, I dove into exploring the IFE system. While the system is optimized for a touchscreen, the JetBlue team was still putting the finishing touches on that bit of software. However, stashed within the armrest was a remote control that got the job done. It may not have been as easy as simply touching the screen, but it was a capable backup solution.
Before I knew it, brunch was being served. Accompanying my three small plates was a fresh croissant and some butter. Everything looked amazing, and I dove right in. The Watermelon Salad was mixed with chunks of tangy feta cheese and crunchy pumpkin seeds, giving it an excellent mix of sweet and sour, while having just the right amount of crunch. It was a simple dish that I would consider making at home.
The Chive and Cheese Biscuit Sandwich was a scrumptious combination of a soft and flavorful biscuit, seasoned breakfast sausage, and perfectly-cooked scrambled eggs. Finally, the Creamy Scrambled Eggs tasted as if they had been freshly-prepared onboard. They were served with a ratatouille that, while one might not normally think to pair eggs with it, was the perfect combination with the eggs. On top was a slice of grilled sourdough bread and off to the side were two smoky strips of some of the most delicious bacon I have ever eaten. Others in the cabin who had the muesli and the french toast were similarly wowed by them. For those who have specific dietary restrictions, JetBlue does make special meals available by calling in at least 24 hours prior to your flight.
My stomach was sufficiently full from the tasty adventure I had just undertaken, but we were not yet done. After all, no breakfast is complete without dessert, right? At my flight attendant's urging, I was presented with a bowl of fresh fruit salad and mouth-watering cup of honey-infused lemon sorbet.
JetBlue has made it a point to offer a frozen treat from Brooklyn, NY-based Blue Marble Creamery. In all, the food was full of flavor, and yet did not seem overly salty. Because as we all know, food tastes different at cruising altitude and bold flavors are the key. As we got towards the end of our Mint Experience, we were presented with one last treat: a small box of baked goods from Mah-Ze-Dahr Bakery that would normally be presented at the top of the descent as a parting gift.
Also included in the Mint Experience are all of the on-the-ground features that one would expect for premium cabin travel. It starts at the check-in counter, where there is a dedicated line for Mint customers and Mosaic members. There is also priority security and boarding for all Mint customers. Once at your destination, Mint customers' checked luggage will receive priority handling, in order to ensure that it is one of the first bags to arrive on the carousel.
So overall, what did I think of the Mint Experience? I think JetBlue has created an excellent premium experience, keeping certain aspects of premium cabin travel, while refusing to stray too far from their core ideals.
While they are not afraid to use plastic cups for the pre-departure beverages, or to include paper napkins with eating utensils instead of using cloth, they did so in a way that didn't feel cheap. If eating off of bone china with silver utensils is your idea of what a premium cabin experience must be at an absolute minimum, Mint will leave you underwhelmed and perhaps unsatisfied.
However, if you're looking for a comfortable seat with tasty food that will see you arrive at your destination feeling pampered and refreshed, you will enjoy Mint. And with one-way fares starting at just $599, it is a premium air travel bargain that is currently unmatched.
Exploring Core
The addition of the Mint cabin isn't the only change to their product that JetBlue is bringing with their Mint-configured A321s. Aft of the second boarding door is the latest generation of the airline's traditional product. Dubbed the Core Experience, the cabin contains the usual mix of regular and Even More Space seats, all of which have received a full makeover. Gone are the old neutral grey leather seats, replaced with a two-tone design used in the Mint seats, with a lighter grey. Regular seats use similar grey colors for the stitching and other accents.
However, in a nod to the new cabin crew uniforms that are debuting simultaneously with the introduction of Mint service, the Even More Space seats have orange stitching and piping accents.
Embedded in each seatback is a new, larger IFE screen offering the same content as the Mint seats up front. These screens now take up the majority of each headrest.
Below the tray table is a roomy and flexible mesh webbing seatback pocket and a water bottle holder made of similar materials. And of course, the seats all still have one of JetBlue's signature items: more legroon in coach than any other airline. These features are being rolled out on the Mint A321s first. The remainder of the Airbus fleet will see the same Core Experience upgrades over time, though no decision has been made on the fate of the E-190 cabins.
Bonus content: exploring a row of Even More Space seats
At the front of the Core Experience cabin is a brand new feature: the Marketplace. This is a self-service snackbar stocked with complementary drinks and bagged snacks, just in case you get hungry during the middle of the flight.
JetBlue's new Mint Experience is a strong competitor in the busy premium transcon markets between New York and Los Angeles/San Francisco. It provides a positively premium experience for 16 fortunate passengers, without it seeming like the historically all-economy class airline is selling out. And in the back of the bus, passengers get to enjoy the latest version of JetBlue's legendary onboard product, which has been nicely refreshed.