As a Silver Premier member with United Airlines (their lowest-level elite tier), getting a complementary first class upgrade happens almost as rarely as spotting a unicorn.  In a year and a half of being an elite, I've gotten two first class upgrades.  Recently, upgrade number two came in an unlikely form; on a Bombardier Dash 8 Q400.
That's right, folks – United is offering a first class cabin on planes with propellers.  I caught my upgrade on a quick business trip from Denver (DEN) to Durango (DRO), Colorado.
All of United's Q400s are actually operated by Republic Airlines, one of many regional carriers for UA.  They are configured with 71 seats; seven in first class, 10 in Economy Plus, and 54 in economy.  As to be expected on a regional plane, "first class" really only meant a wider seat, more legroom, and a free beer.  Well, we got some pretzels too.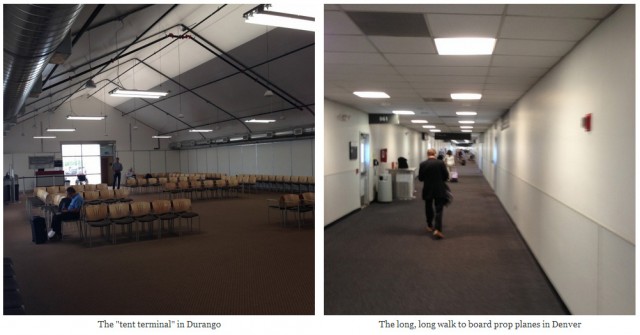 After my experience, I can tell you that the problem with offering a first class product on such a small regional aircraft is that the airport/ground experience just isn't up to snuff.  As I said above, really what you're getting is a little better hard product, but the soft product (food, drink, experience) just can't more than marginally better.
In Denver, the regional gates at the far end of the terminal are a zoo.  There aren't enough seats, or staff for that matter, and they generally are boarding four flights at one time, though a single door.  At the same time, arriving passengers are coming out through that same door.  It's a cluster.
So, while I can't say much for the service/experience, I do have to say that the Q400 was a very comfortable bird.  The cabin width is much better than an Embraer ERJ-145, and it feels roomier than a CRJ-200.
While SeatGuru says that the first class seats are the same width as economy, their records are not accurate; the seats were noticeably wider, and configured in a 1-2 row as opposed to economy, which was 2-2.  I noticed no discernible difference in noise or vibration from the turboprops, as opposed to other small regional jets I've flown.
Ultimately, for such a short flight (only slightly over an hour), where I sat didn't really matter.  I was in an Economy Plus seat on the way home, and found it plenty comfortable for the quick hop.  Unfortunately, I had to pay for my beer.
I'm not sure of the economics of United offering a first class product on these types of planes.  In their all-economy configuration, these planes hold 74 passengers.  Three people doesn't sound like a lot, but it's a 4.2% capacity increase.  For what it's worth, on both legs, there were zero passengers booked in to first; they were all upgrades like me.
Probably the best part of my flight was my seat mate in 2D.  He was a commuting United Airlines 777 pilot, heading back home to Durango after a trip to and from Sydney, Australia.  We talked about the continuing work on the United/Continental merger integration, and he mentioned how much happier economy passengers are on that route, now that United swapped out the 747-400 (with no personal in-flight entertainment in economy) with the 777-200ER.
Talk about a long day, though; he started by flying a jumbo jet across the Pacific, and ended on a prop plane bumping over the Rocky Mountains.