On May 16th, 2013, Icelandair flew its inaugural flight from Anchorage (ANC) to Keflavà­k (KEF) in Iceland. I was not able to swing a trip up to ANC for the festivities, but I was able to take their flight from Seattle (SEA) and join in with the celebration in Iceland. This is my review of flying Icelandair to Iceland and back. Notice: Icelandair covered my trip to/from Iceland. All opinions are my own.
I have flown internationally before and the standard international travel excitement led me to show up way too early. I arrived at noon and still had thirty minutes until Icelandair's ticket counter opened. Since the airline doesn't fly every few minutes, they don't staff their counters at all hours of the day and night — which makes sense. I tend to forget this since I mainly travel with larger carriers and have little problem getting to the airport super early.
Promptly at noon, an Icelandair ticket agent had the place running, checked in my bag, and had me on my way. They recently adopted online check-in and ticketing and it worked perfectly. No paper, no fuss.
Once past the standard passenger security corral and through the underground tunnels, I headed up to the British Airways Business Class lounge to relax since my Economy Comfort ticket granted me access. Icelandair's partnership with British Airways sure has its perks, since Icelandair does not have its own lounge in SEA.
The lounge changes the air travel experience significantly. A complimentary bar, soups and snacks, sodas, etc. The fresh furniture, clean surfaces, calm lighting and quiet atmosphere made it much better than even waiting in my own living room — not to mention waiting by the gate. After enjoying the lounge amenities, I packed up and walked down the stairs to my gate.
Boarding my Icelandair flight was cake compared to other airlines I typically fly. The airline's Boeing 757 is built with plenty of cabin space for the relatively short international flight (Seattle is far from almost everywhere so this about 7.5 hour flight was not too bad).
The flight attendants were attentive to passenger needs and I kicked back in my Economy Comfort seat, plugged in my laptop and phone, and relaxed to the in-flight entertainment system's music system. The 'œAirwaves 2012' station was right in my wheelhouse, featuring artists and tracks from Iceland's world renowned Airwaves Music Festival.
I jumped around to a few seats to sample the quality. With a seat reserved empty between each of the Boeing 757's 3+3 layout, Economy Comfort was completely livable. The economy class was what would be expected: a little cramped. The entertainment system (IEF) was laggy but as long as you don't try to skip from movie to movie to show to shop every few minutes, you will do just fine (I have a short attention span).
These annoyances with the IFE will be temporary, since the airline is readying a release of an upgraded in-flight entertainment system and fleet-wide in-flight internet access that should really polish the experience. For the time being, it might be wise to supplement with your own entertainment (iStuff, laptop, etc).
After the chicken dinner, I kicked back and made use of my complimentary blinders, blanket, pillow, and headphones. Small details come though loudly; the airline is progressively shaking the hippie/backpacker reputation by steadily building in amenities that usually come at a much higher price.
In and out of sleep, I noticed that there really was not much to notice outside. Barely more interesting than trans-pacific travel the wastelands of snow gave me something to watch when I could see a break in the clouds.
Approaching Keflavik proved the effects of the warm Irminger Current that keeps Iceland temperate. Clouds broke to reveal an absurdly Myst-esque reception (for those of you under 30, that's a '˜90s computer game).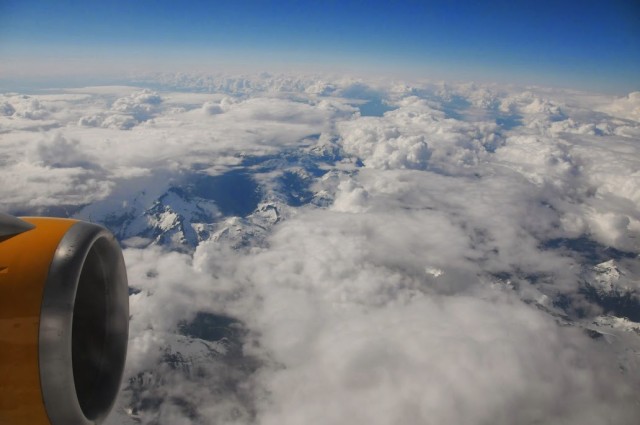 Very average weather greeted us, allowing for an easy landing. I was off the jet before I knew it, and through Keflavà­k International Airport's customs (perhaps the easiest I've ever seen) had there been no transportation waiting for me, I'd have stayed checking things out for quite some time.
In two words, getting to Iceland is 'œcomfortably easy.' Jet lag be damned, I hopped a bus to Reykjavà­k and started my adventure, which I will be sharing in a future story.
The "stepping stone" of Keflavà­k International Airport isn't just a step between continents, it's a gateway to a wholly unique island holding exploration potential without end. For some, Icelandair might provide a cost effective way to get from the US to Europe, but after my two trips to Iceland [one was done on my own a while back], I can say it is worth while putting a few extra days in your trip to check out the country.
It also helps that Iceland is embracing tourism, which makes things easy for travelers. Although only about 1/16th the size of Alaska, this nation spans two continents and is packed with volcanoes, steamy bubbly springs, breathtaking landscapes, and unique culture which will enrich the travel experience for those who make the time to visit.