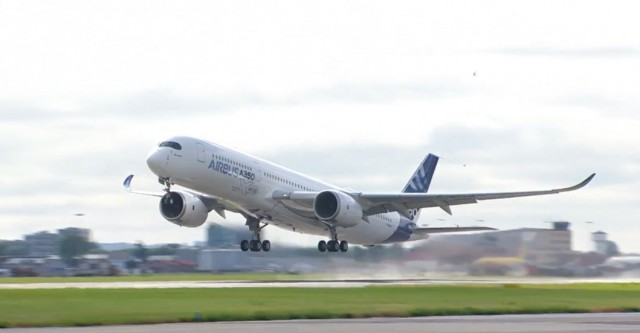 This post will be updated as new Airbus A350 events unfold. All times will be in PST, nine hours behind local time in Toulouse, France. 
6/14 7:45am – We have posted the "A350 first flight" story with photos.
6/14 7:00am – Due to server issues, we were not able to update after 10:20pm, our apologies.
6/14 01:05am – Almost right on time, the first Airbus A350 took flight.
6/13 10:20pm – We made the mistake of time zones. Toulouse is in CEST, but Airbus was reporting times in UTC. Our apologizes. The live stream should start at midnight PST, the first flight is set to happen at 1am 6/14 PST. Thanks for Chris with Airchive.com (who is in Paris) for confirming.
6/13 8:00pm – Although the Airbus press release said live feed will start at 10pm PST, the live feed code above shows midnight. Trying to clarify, but we might just have to wait and see when it starts.
STORY FROM 8:50AM June 13th:
The first Airbus A350-900 XWB is scheduled to have its first flight at 10:00am UTC tomorrow, Friday June 14th. For those of you in the US, that means either an early morning (4am EST) or a late night (1am PST). But worth it? Heck yes. When is the next time we will all be able to share in the first flight of a major new aircraft? It will be quite sometime [after the Cseries].
The first flight will take place in Toulouse, France and comes just before the Paris Air Show that is scheduled for next week. Airbus plans to deliver the first A350-900 XWB in the second half of 2014 to its launch customer Qatar Airways.
Starting at 7:00am UTC (aka 1am EST and 10pm PST) Airbus will provide a live feed via their website www.A350XWBfirstflight.com. Be sure to also follow along via AirlineReporter.com, our Twitter (hashtage is #A350FF) and our Facebook page.
Want a run-down of the Airbus A350 and what it means? Check out Jack Harty's A350 story on Airchive.com for all the background.
PREVIOUS AIRBUS A350 XWB GOODIES: