Who wants to fly from cold to not as cold? Now you easily can with Icelandair starting service from Anchorage to Iceland. Well, most passengers do not stop in Iceland, but continue with Icelandair to Europe. I had the opportunity to check out the inaugural flight celebrations recently on the ground in Anchorage.
An excitement filled the air when I walked through the doors at Ted Stevens Anchorage International Airport (ANC) as a new day was beginning with new service launching to Keflavik International Airport (KEF) with Icelandair. Anchorage has become the eighth US destination for Icelandair.
The airline began twice weekly service there last Thursday with about 140 people on board for the departure. The Boeing 757, that they use to fly this and all of the airlines other routes, seat 185 people. Not a bad load factor for a first flight.
The inaugural events began at about 12:30pm with a tour of the aircraft to check out Icelandair's product. From there I went back into the gate where there was a brief meet and greet with some of the airline representatives.
Cake and hot dogs were served in the boarding area while everyone waited to board the aircraft. They even had a small ribbon cutting ceremony and broke out some airport mascots to celebrate with passengers (and me)! Passengers boarded and then the aircraft started its seven hour journey to Iceland.
The airline and airport are hoping for big success with this route and hopefully expand it to year round instead of just seasonal service. 'œOur staff worked for many months with Icelandair, Anchorage International Airport, and the Alaska visitor industry to make this day possible,' Alaska Department of Commerce, Community and Economic Development Commissioner Susan Bell was quoted as saying. 'œThe new air connections will grow Alaska's visitor industry, increase European commerce, and strengthen our economy.'
To celebrate their new seasonal service, Icelandair is offering $100 off all flights from Anchorage to Iceland. Passengers wanting to save the $100 simply book online and enter the promo code: ANCHORAGE100. This special offer is valid for travel from May 16th through September 15th and must be booked by May 31, 2013.
Icelandair is unique in flying a classic fleet of 19 passenger and 4 all cargo 757's. 22 of the aircraft are 757-200's and only one is a 757-300. The airline is planning to expand their fleet with a recent 737 MAX order announcement.
The carrier has been flying out of Iceland since 1937 and now flies to 35 destinations in Europe and North America.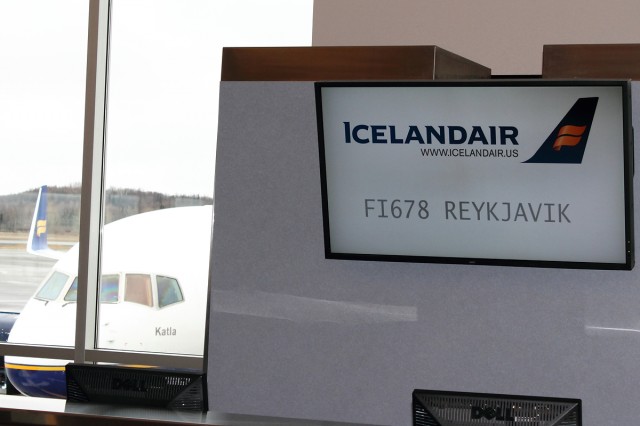 'œThis year Icelandair celebrates 76 years of aviation and while operating the strongest network in its history,' said Icelandair CEO Birkir Hólm Gudnason. 'œBy using Keflavik International Airport as our hub, Icelandair is able to afford passengers convenient and economical flights from Alaska to Iceland and a refreshing new option when flying from Alaska to Europe.'
Coverage on Icelandair will continue with a review on flying from Seattle to Iceland on Icelandair and a story on visiting Iceland soon.
ADDITIONAL ICELANDAIR ANCHORAGE PHOTOS:
[nggallery id=49]
| | |
| --- | --- |
| | This story written by…Brandon Farris, Correspondent. Brandon is an avid aviation geek based in Seattle. He got started in Photography and Reporting back in 2010. He loves to travel where ever he has to to cover the story and try to get the best darn shot possible.@BrandonsBlog | RightStuffPhotography | Flickr |