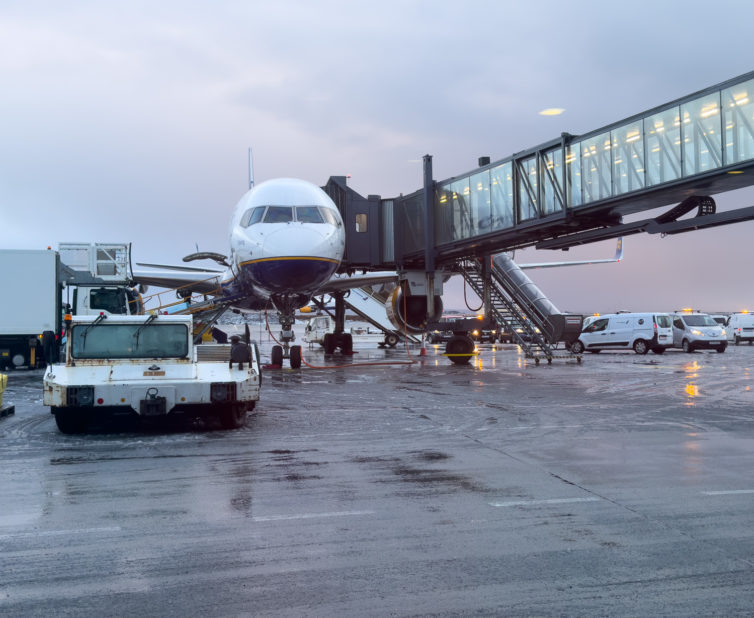 The COVID-19 pandemic made for some mighty strange times. A January 2023 trip to Reykvavik with Icelandair marked my first time out of the United States since early 2020. I've been able to fly a lot domestically, but this would be the first time I'd get to use a passport in nearly three years, ending my longest international travel dry spell in decades. And, boy, was I looking forward to it, especially as Iceland is one of my very favorite destinations.
Speaking of time slipping away, we last reviewed Icelandair's Saga Class service in 2017, so we're long overdue for an update.
In-flight experience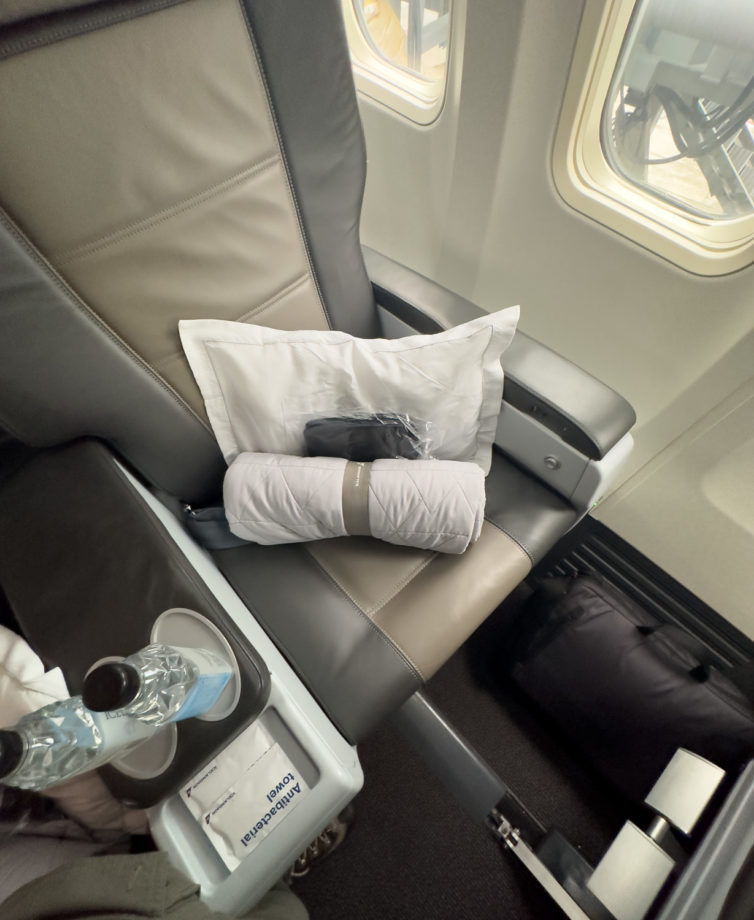 The trip was from Seattle to Keflavik on TF-FIN, a 25-year-old Boeing 757-200, a jet Icelandair has owned since it was built back in 1998.
Icelandair seems to work hard to keep its aircraft interiors in good shape; I've flown with them roughly 10 times in both Saga and economy, on their 737 MAX-8, 757-200, and Bombardier Dash-8s, and don't recall having seen anything in the cabins that was in desperate need of repair.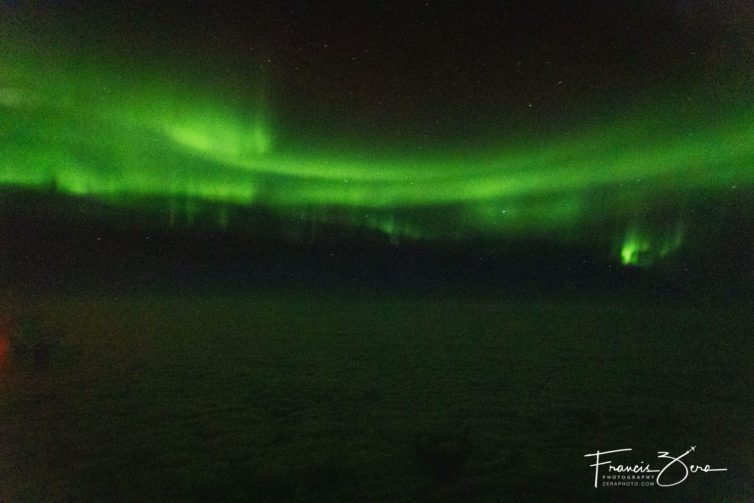 I've only gone to Iceland in the winter, so I've never seen the countryside green, only covered in snow. It's lovely; crowds are smaller, and the vibe is relaxed. Plus, you get a good chance to see the aurora. This trip, I only saw it on the flight from Seattle to Keflavik; it was overcast the whole time I was in Iceland, and the return flight was mostly in daylight.
It's tricky to take a long-exposure photo at night through an airplane window while moving. Even slight turbulence moves everything, and there are reflections in the window from interior lights. But I've sorted out a method that works reasonably well and the results are above.
The downside of staying awake to watch the aurora is that the 7-hour flight departs Seattle in the midafternoon and arrives in Iceland around 6 a.m. So I've never actually gotten any sleep on those flights, which makes for a very, very long first day, especially with an eight-hour time difference between the US West Coast and Iceland.
The benefits of paying a couple hundred extra dollars per leg for Saga Class definitely outweigh the cost. You get a very comfortable seat (it's not a lie-flat seat; I'll have more on that subject in a future article), good, unobtrusive service, and tasty food/snacks. It's always fun to get to turn to the left when boarding the plane, toward the front of the aircraft, where only Saga passengers are allowed, so it's lots easier to stow your things without having to constantly jump out of the aisle to allow other folks to pass by on their way to the back of the plane.
Not that I've anything against the back of the plane, on the whole I spend lots more time in coach than up front, which makes the upgrade that much more fun.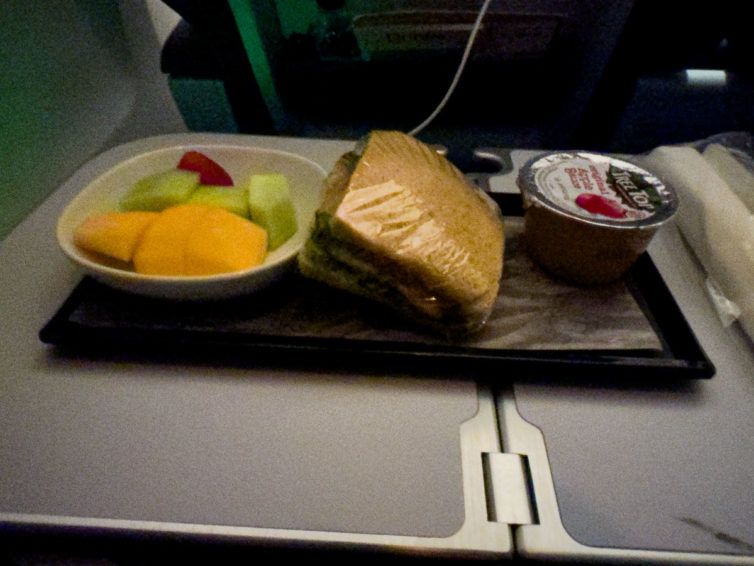 Speaking of fun experiences, as an experiment I opted for the Hindi meal both directions this trip. Saga passengers have a wide variety of meal options, and this one seemed quite interesting. Outbound, the meal was a biryani dish that was pleasantly spiced and quite delicious. The vegetables were steamed and flavorful. The return flight meal was roasted chicken and vegetables.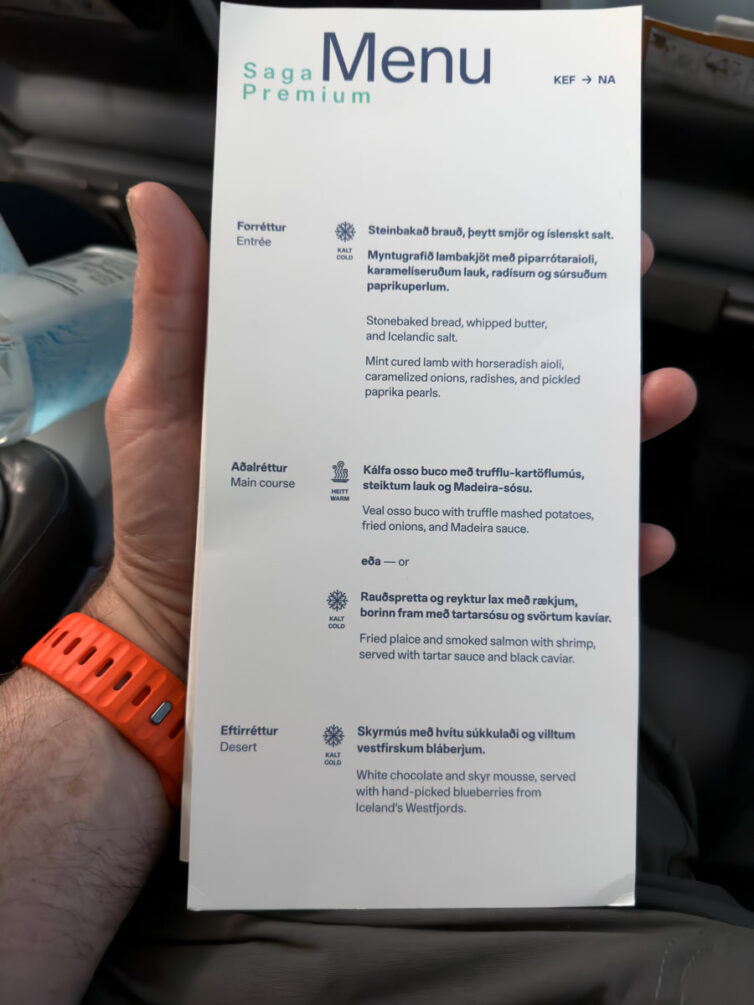 The snack on the return leg was a simple fruit plate; I'd actually hoped for more, but I could always ask for more snacks.
Boarding & airport experiences
The boarding and check-in process at both SEA and KEF were smooth. There are dedicated Saga lines at both airports, and the process was easy and quick at both airports. Other than passport checks, Iceland has no inbound security process at SEA. KEF has their passport control station past security but before the gates.
Upon checking in on the Icelandair app the day before departure, the dreaded SSSS (Secondary Security Screening Selection) appeared beside my name on the boarding pass, signifying I'd been randomly selected for additional security screening.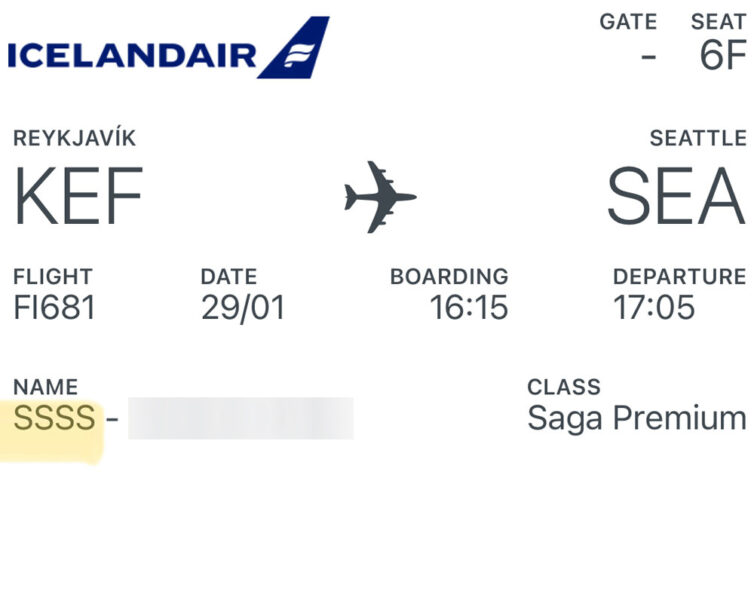 So I made it through the general security smoothly and per usual; the standard "have you been minding your bags" questions, and off I went into the terminal to check out the Saga Lounge and maybe grab a few more bars of my favorite chocolate on the planet.
We last reviewed Icelandair's flagship Saga Lounge at KEF in 2017. Very likely thanks to a combination of light use during the pandemic and the airline's seeming habit of maintaining things very well, the lounge was exactly as I last saw it: very spacious, not overly full of stuff, bright, clean, and well stocked with food and beverages. It remains the most pleasant spot in the airport to await your flight, as the departure lounges are still seemingly too small for the numbers of passengers they need to accommodate.
Still fretting about the upcoming extra screening and not having done it before, I left the lounge super early and headed for the immigration checkpoint ahead of the gates.
Once through passport control, the SSSS seemed to have finally been noticed – I was directed to a short hallway into a waiting room that had about a half-dozen people already there, most of them looking like they were trying to act cool but were actually a bit uncomfortable; I fit right in.
I was checked in and offered a seat. After what felt like an hour but was really closer to five minutes, I was ushered into a room with two inspection stations; the person at the other was cramming things back into a suitcase while trying not to lose their pants as their belt had been removed.
Hoping to not be left in as undignified a state, I ventured in. I was politely asked to remove my shoes and stand on a box. My carry-ons were opened and very thoroughly inspected, and I was asked to power on my laptop, phone, and my cameras. I was asked more questions about whether I'd packed my own bags, etc.
Lots of the items in my bags were swabbed. My shoes and socks were swabbed, as were my hands, my belt, along with random buttons on my clothing. All was done efficiently and politely.
The swabs were then fed into a machine, which flashed what was apparently an acceptably-colored light; I was then told to reassemble my belongings, and was then shown out of another door straight into the terminal area for departure. The whole thing took about 15 minutes.
Return flight and arrival at SEA
To my surprise, we boarded our flight to Seattle straight from the terminal via a long, glass jetbridge. I'd fully expected to have been bussed to a remote stand, as had been my experience on prior flights. I won't lie – I was a bit disappointed, as I love boarding from a ramp and getting to see the plane from that perspective, but it was also cold and rainy and I was a bit tired, so the warm, dry walk was a welcome alternative.
Boarding via jetbridge will become increasingly common, I'm told, as the KEF expansion progresses.
The flight and service were as pleasant and uneventful as the outbound leg, although I got to enjoy the view out the window in daylight for nearly all of the flight.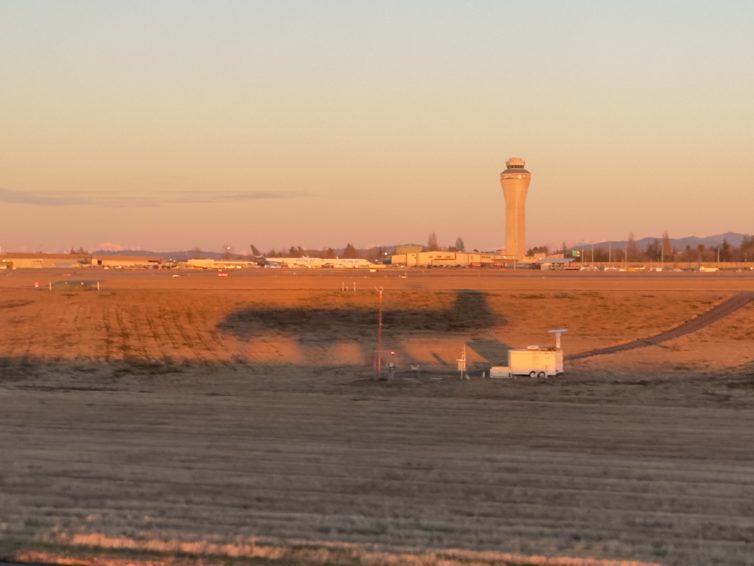 Once at the gate in Seattle, I got to experience the new International Arrivals Hall for the first time as a passenger. It's a truly remarkable improvement.
BONUS: SeaTac's New International Arrivals Facility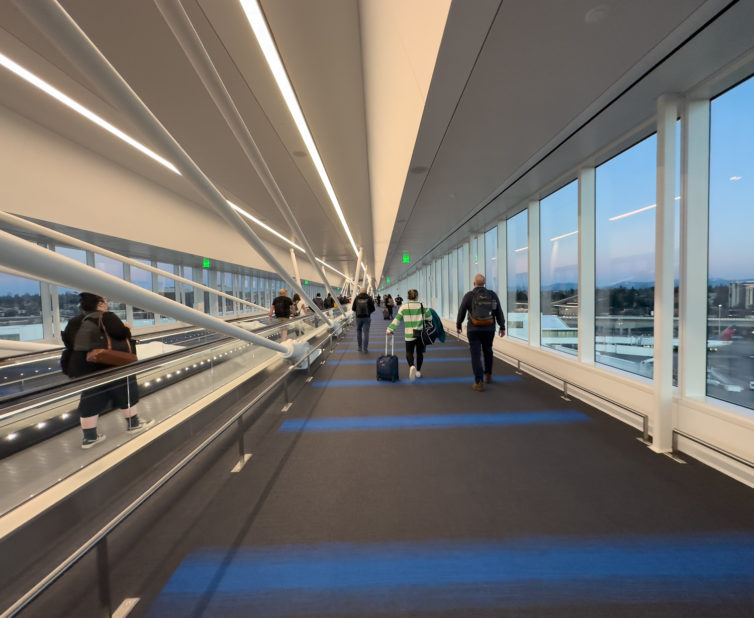 It's easy to navigate, bright, uncrowded, and the walk over the pedestrian bridge spanning the taxiway behind the South Satellite terminal is an unparalleled experience, especially if it's clear and Mount Rainier is visible.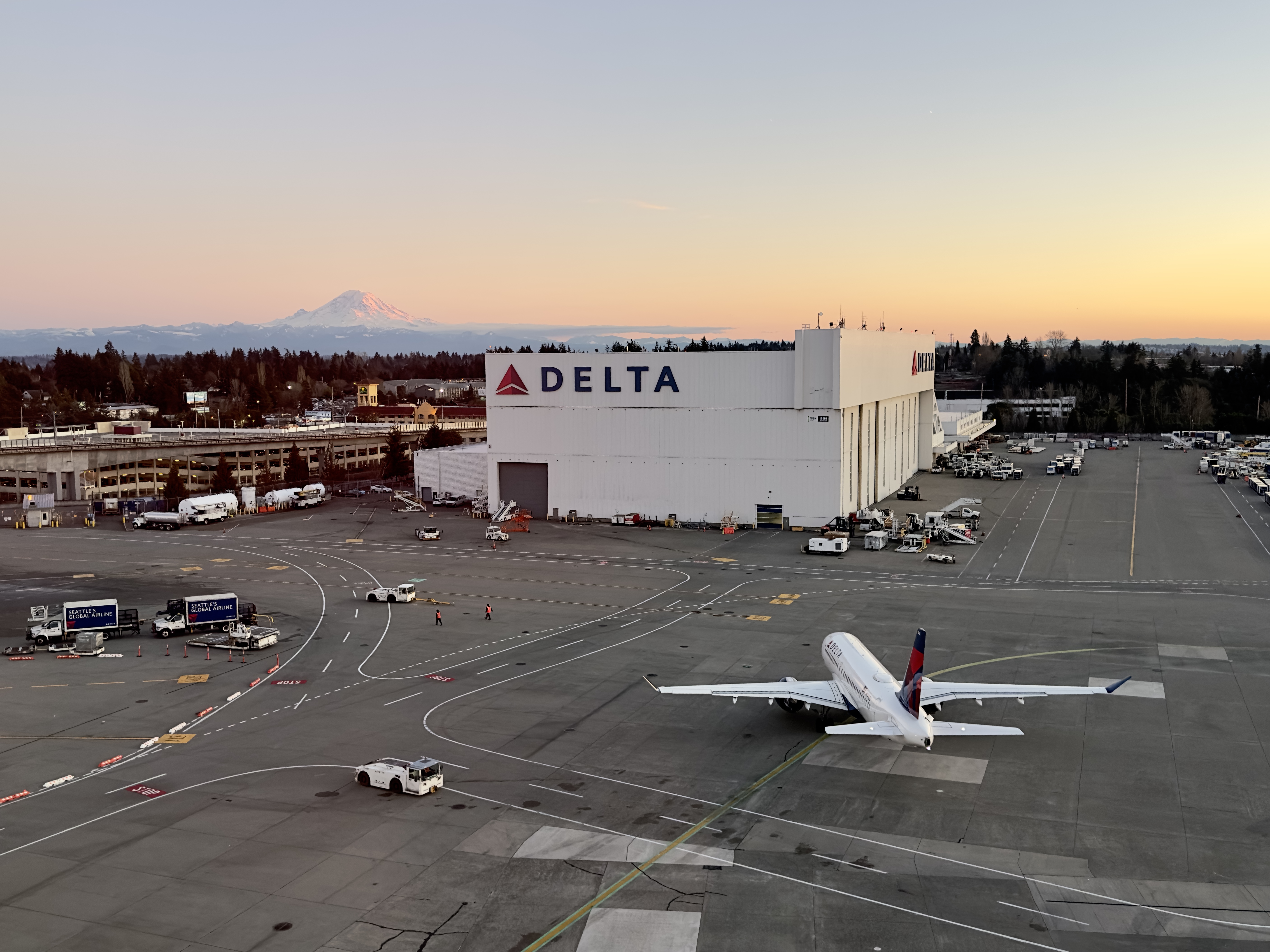 I have Global Entry, which allows me to begin the immigration process via a kiosk. Having been in the front of the aircraft and among the first to deplane, I breezed through the process until I had to wait for my bag, which eventually came out toward the end of the process some 30 minutes later, despite my bag having a priority tag, so I totally lost my time advantage.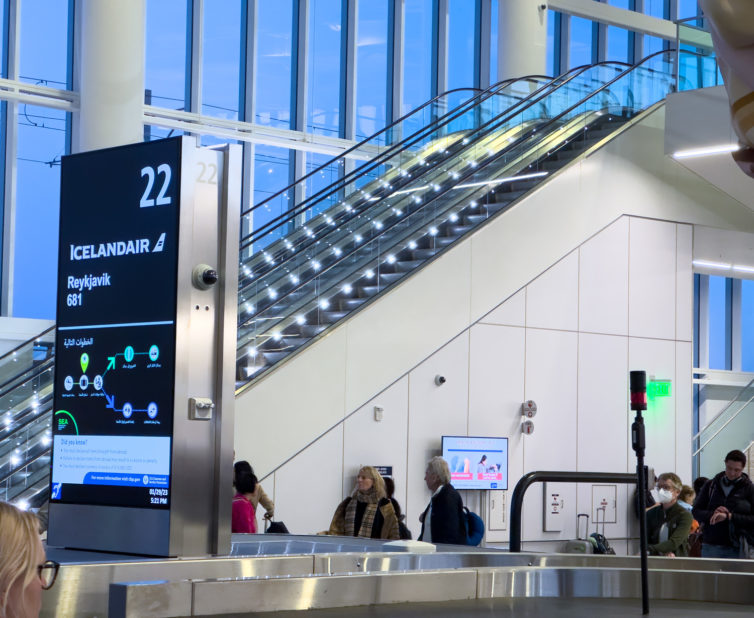 The next step was customs, which had a shorter Global Entry line; it moved quickly and allowed me to regain my momentum and be on my way home after what was, all in all, a very lovely trip.
Disclaimer: Our flights, accommodations, and transportation were paid for by Icelandair and other vendors. Our opinions remain our own.