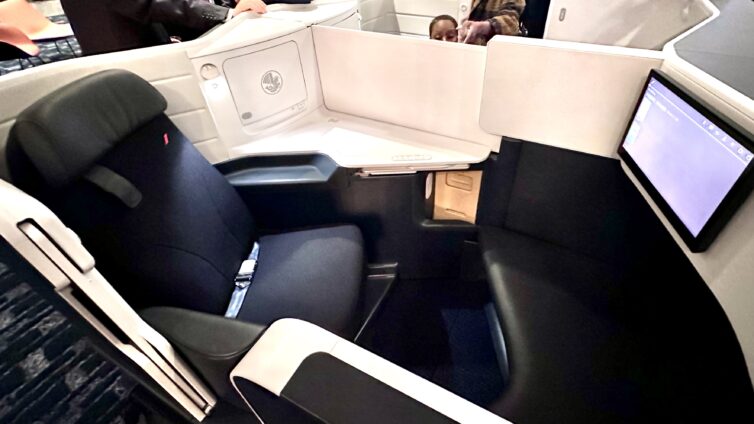 Now that Air France's Airbus A380s are retired, their flagship is now the 777-300ER. That feels fitting, because Air France was the 77W's launch customer back in 2004. During the pandemic the airline was quietly working to redesign their onboard product, highlighted by a sweet suite-style business class seat. And a month ago the first renovated 777-300ER took flight between Paris and New York, with more planes and routes to follow.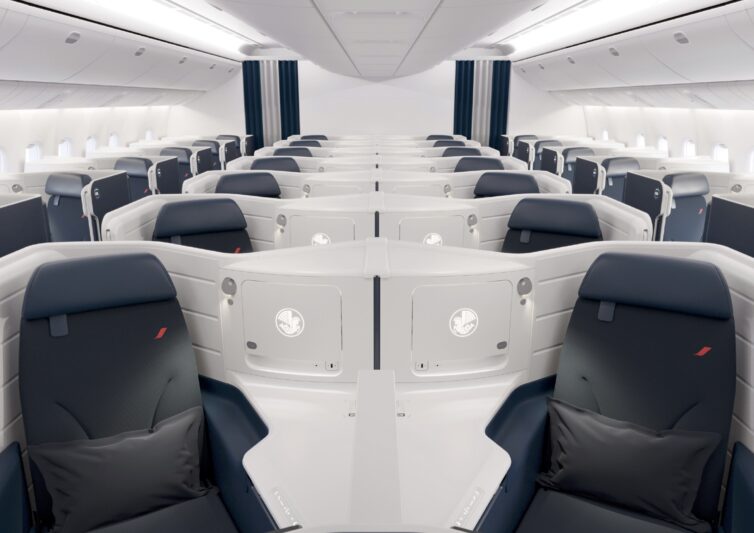 We dropped by a mock-up of the new seat on display at New York's Lincoln Center. The kickoff event included a Q&A session with Air France CEO Anne Rigail, who had plenty of commentary on the new seats and the airline's master plan.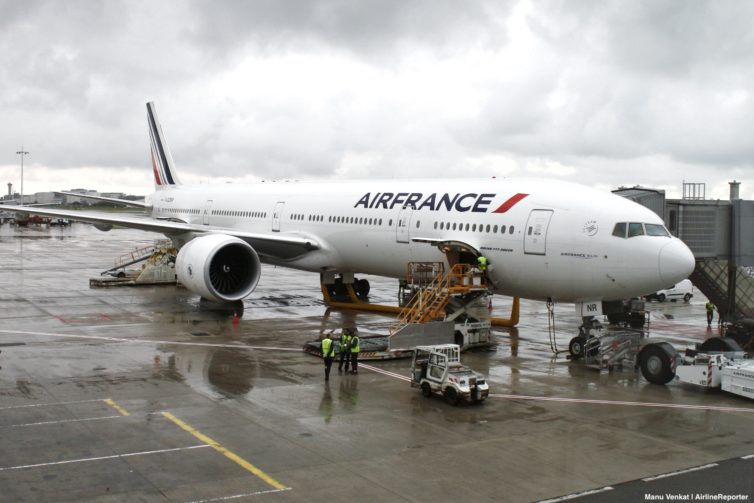 For a closer look at Air France's new business class and hot takes from the interview with their CEO read on! And for any of you in New York City today March 5th, we have details below on how you can drop by the display for yourself and enter to win a pair of business class tickets.
We flew Air France's previous business class on a 777-200ER just prior to the pandemic. And honestly that cabin was already pretty great, with fully-flat reverse-herringbone seats and universal aisle access. Air France's A350s have a different seat onboard, but we hear it's still pretty good. The sore point is the minority of the long-haul fleet that still have aging angle-flat seats, the same as the one we flew (and didn't love) on a A380 back in 2019. The newly-launched business class will be an especially welcome update to those aircraft.
The new design places 48 seats in a similar layout to the prior version, but with a sliding door for privacy, more space and storage, and some higher-tech features.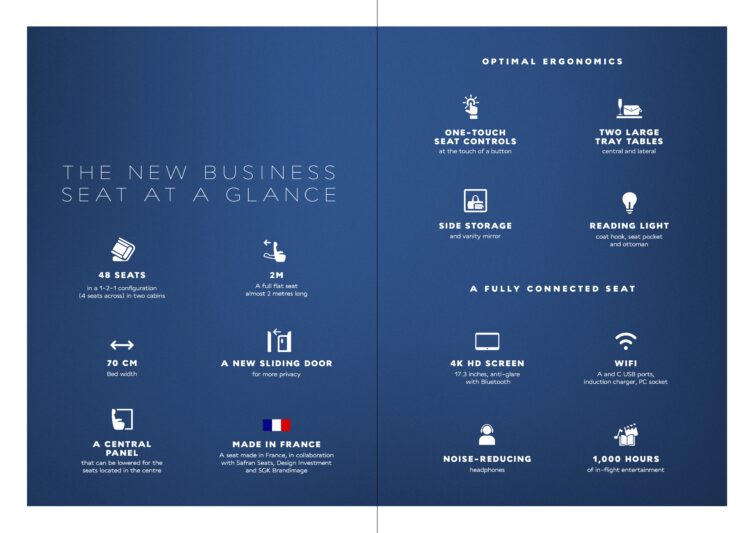 The bulkhead seats have even more room, enough that you could have another passenger over for dinner. We were impressed when we took a look at the seat at this past week's showcase in New York.
Also on the stage at that event was Air France CEO Anne Rigail, being interviewed by the Points Guy's Brian Kelly.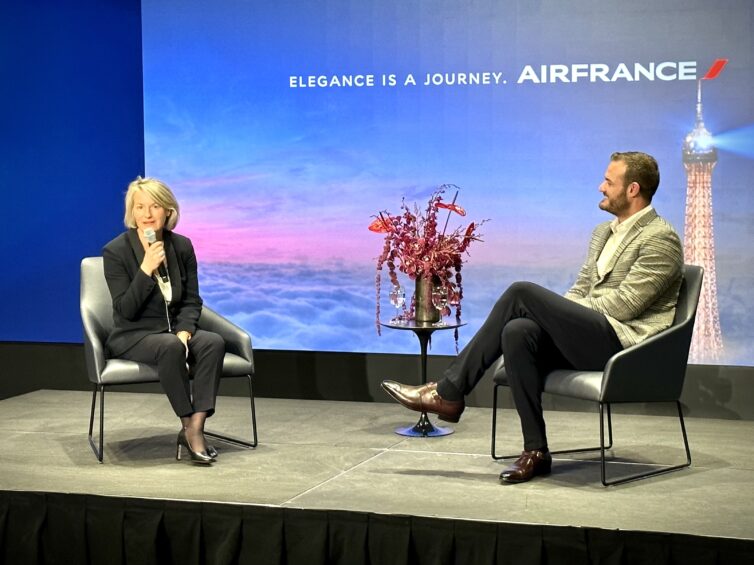 Starting with a big-picture look at the air travel landscape, Rigail noted that their passenger volume has already rebounded beyond pre-pandemic levels. Paris fared better than some other European hubs from an operations perspective last summer, and the Parisian airports are already working to get ready for the anticipated rush this coming summer.
Rigail mentioned that there are currently three aircraft now fitted with the new cabin design. The New York route is the initial focus, with Rio and other cities to follow as more planes are retrofitted. When asked about her favorite feature of the new business class seat her answer was decisive: "the door."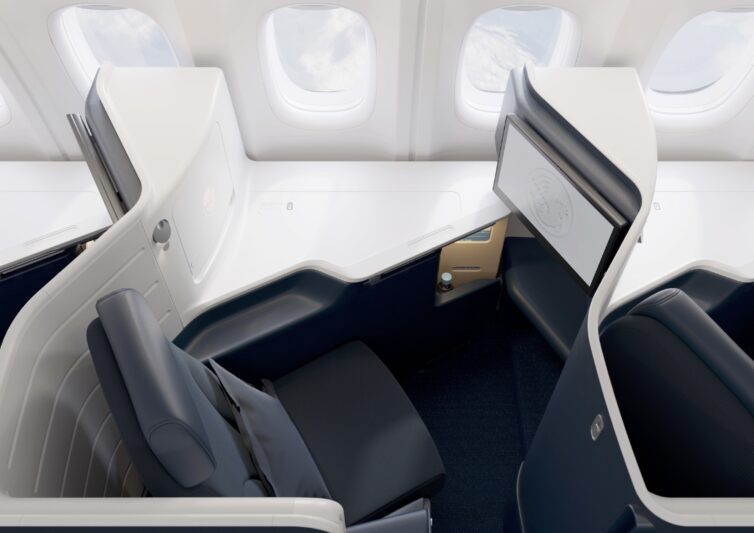 Discussing the past and future of the fleet, Rigail started with some nostalgia about Air France's retired A380s. Most sub-fleet retirements get plenty of fanfare, but the A380 was shelved so suddenly during the pandemic that its pilots didn't know their final flight on the type was their last until after the fact. On a more optimistic note, she said the airline is excited to have more A350s join the fleet this year and onwards. She also sung the praises of the A220, which she called "tremendous" and "incredible."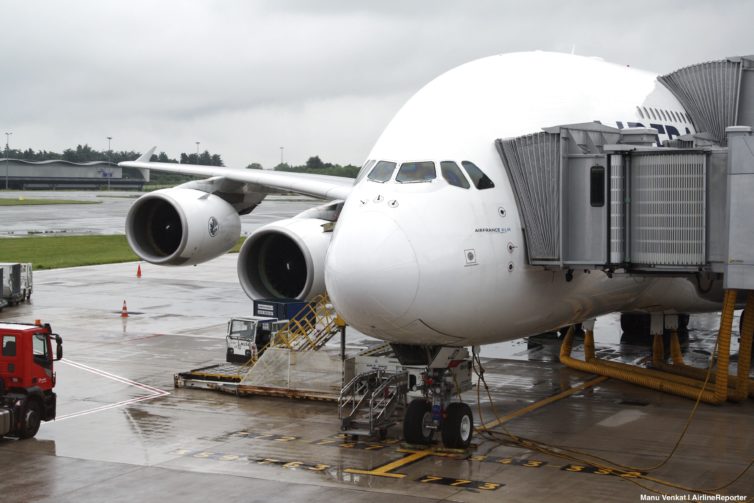 Rigail spent some time talking about Air France's lounges, which she said airline leadership approaches "with ambition." The airline recently refurbished their Paris lounges, including a medium-haul lounge with excellent runway views (we love that she highlighted that). She noted that major renovations are coming to many of the airline's US lounges.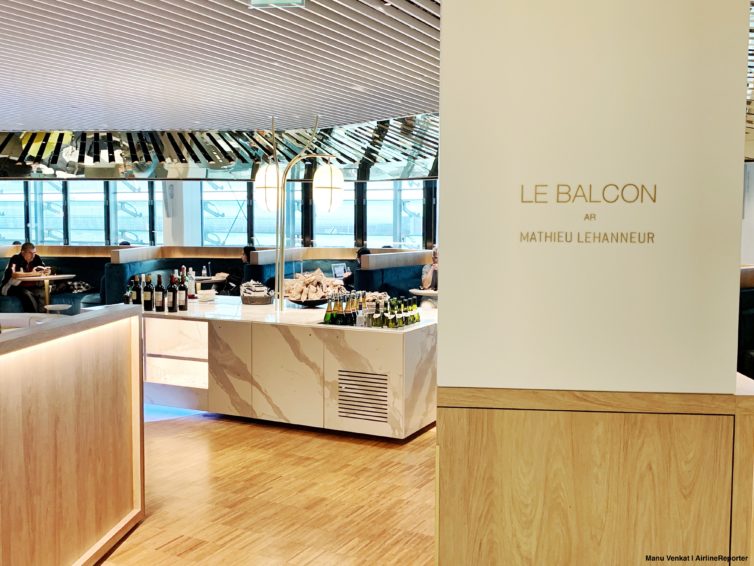 Environmental sustainability is a priority for airlines everywhere, especially in Europe. Air France is no exception. Rigail emphasized that the biggest eco-priority for Air France is increasing the use of sustainable aviation fuel. The airline also utilizes single-engine taxiing, is working to offer plane-to-train connections, and empowers pilots to adjust routes to save on fuel.
Wrapping things up, Rigail noted that Air France's 90th birthday is in October of this year. We're sure they'll have plenty of festivities planned.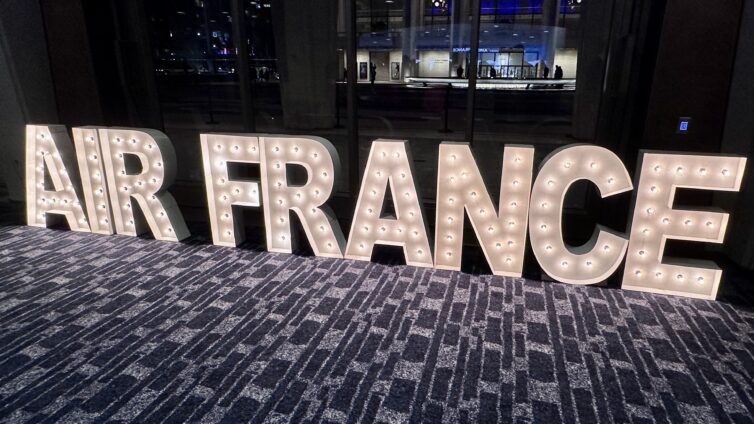 If any of you are in the New York area, the seat display at the Lincoln Center's Geffen Building will be open to the public today from 2pm-10pm. As a bonus, scan the QR code while you're there to be entered for a chance to win a pair of business-class tickets to Paris.