It's been almost twenty years since TWA folded, but some of its employees still stay in touch. Every year, the Silver Wings organization of former TWA flight attendants hosts a get-together where they celebrate their shared history. The meetings usually rotate between U.S. cities, and this year there was only one logical choice: New York, thanks to the awesome new TWA Hotel that opened in May. If you're one of the few AvGeeks out there who haven't heard about it, the hotel is built around Eero Saarinen's iconic TWA terminal at JFK and features historical displays, a rooftop pool with tarmac views, and more.
We got to join in for the Silver Wings meetup, and it was as awesome as we were hoping it would be. The turnout was incredible, and attendees were having a blast touring their old stomping grounds and seeing the old TWA terminal brought back to life.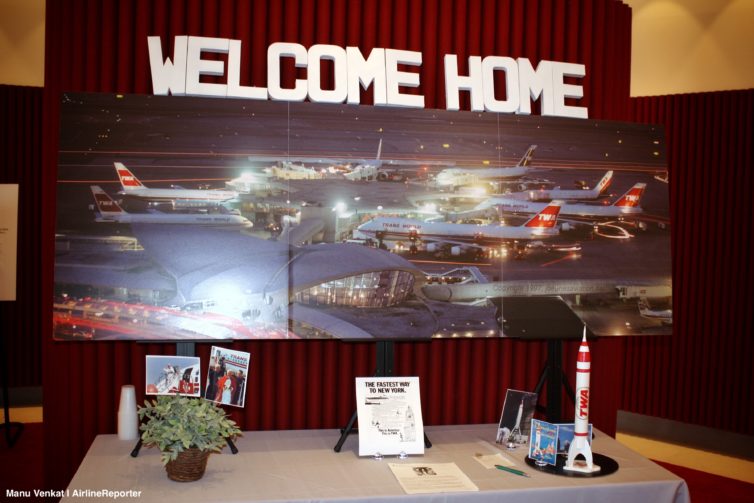 Read on for a recap of the weekend and an insider look at the TWA Hotel, which — spoiler alert — is everything an AvGeek would want it to be.
The TWA Hotel incorporates the head house of the TWA Flight Center, which was inaugurated all the way back in 1962 and has survived thanks to its historic landmark status. It's now surrounded by JetBlue's T5.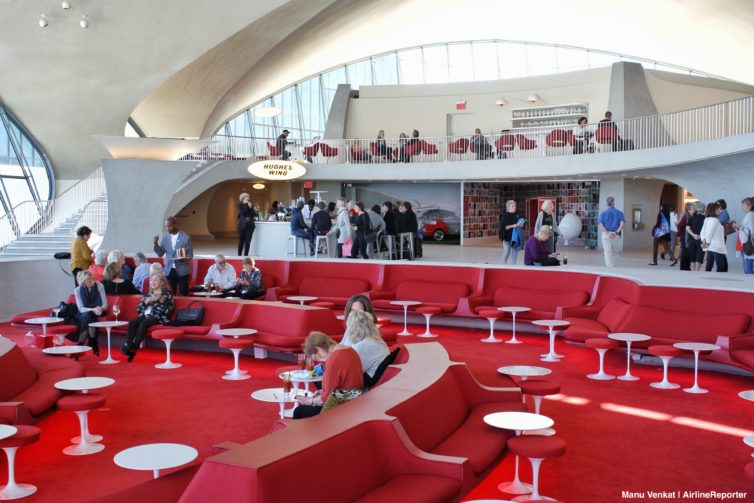 The developer behind the hotel did an INCREDIBLE job reviving the long-abandoned building to its former glory. Don't worry — we'll have a follow-up story with a deeper dive into the hotel.
BONUS: Wings of Pride –  A TWA Plane That Was Nearly Forgotten
In addition to all the historic memorabilia that the Silver Wings team put on display for the weekend, the hotel itself is packed with displays of TWA heritage items like flight attendant uniforms and old TWA ads.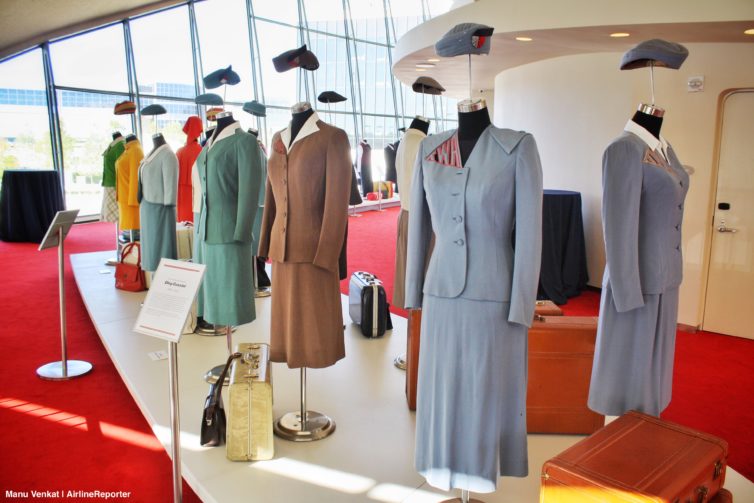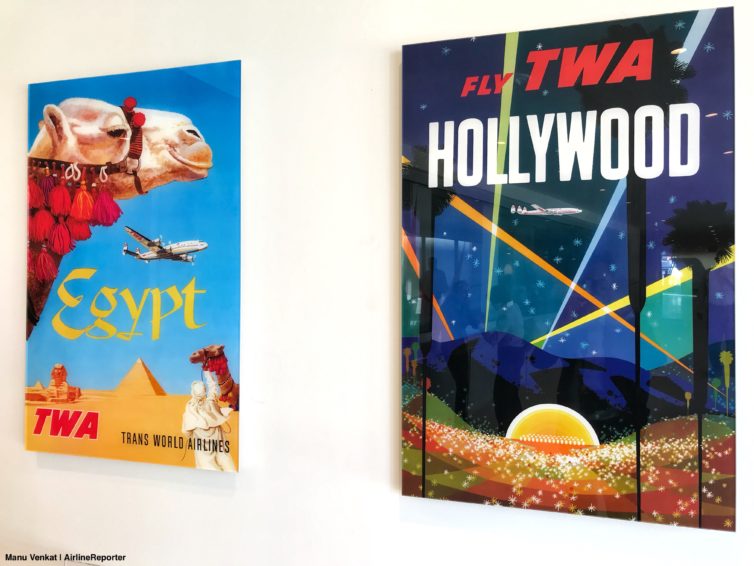 But the clear champion out of all the legacy displays is the gorgeously renovated Lockheed "Connie" Constellation just outside of the hotel.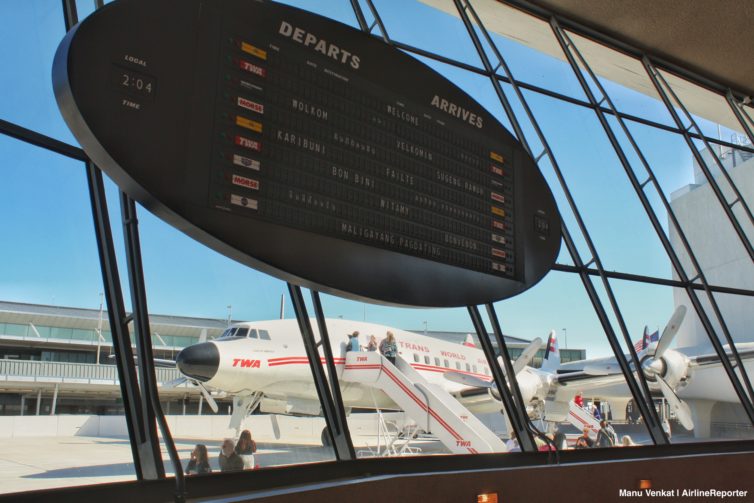 So it wasn't a surprise that Silver Wings chose Connie as the site of the weekend's big photo op.
All told there were almost a thousand attendees who made it to the weekend, and a good chunk of them took part in the group photo.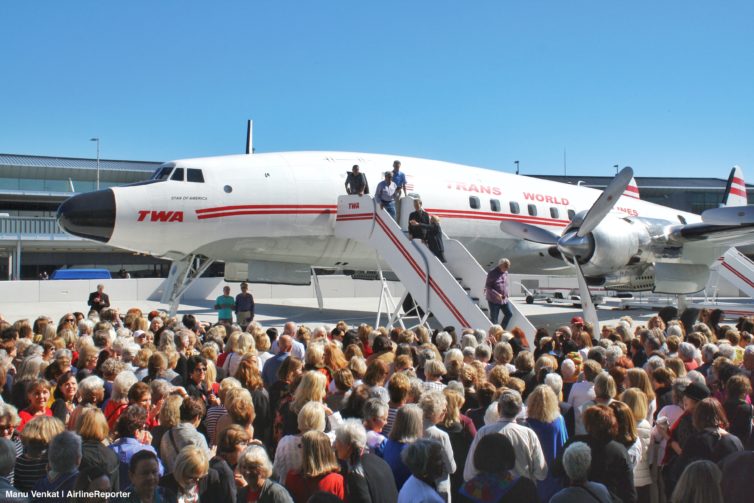 BONUS: Flight of the Connie – The Incredible Story of the Star of America
After the photos, some of the attendees grabbed a drink inside Connie. Yup, you heard that right; the hotel turned the inside of the plane into a fully functional bar.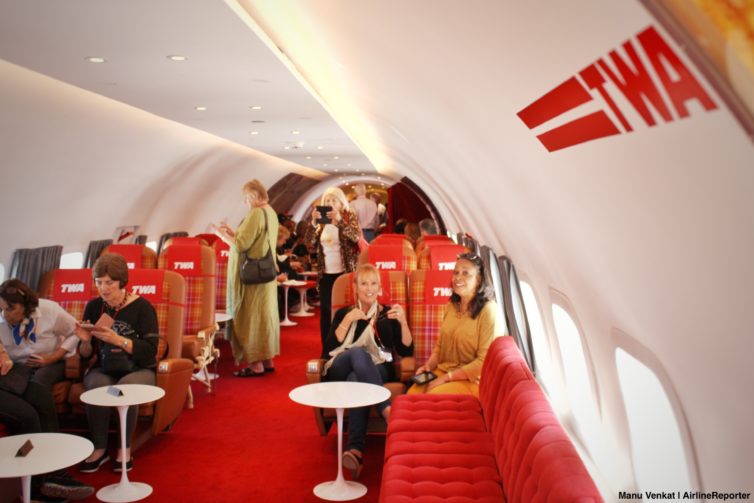 Inside the hotel's conference room, Silver Wings had a number of displays on the organization's — and the airline's — rich history.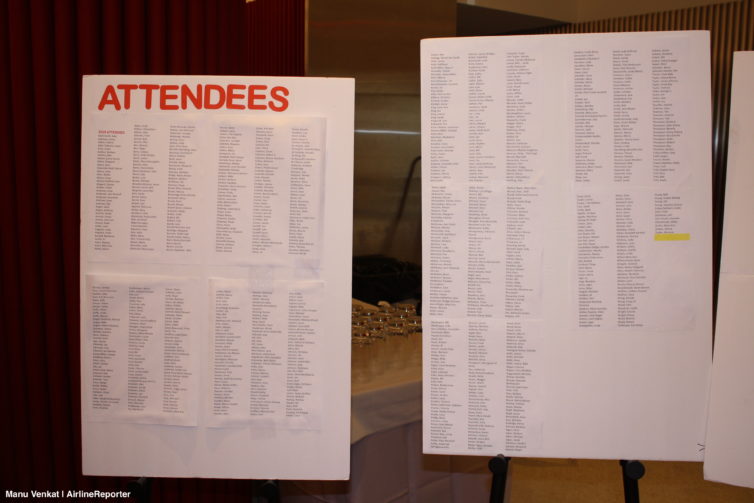 BONUS: Up, Up, and Away at the TWA Museum in Kansas City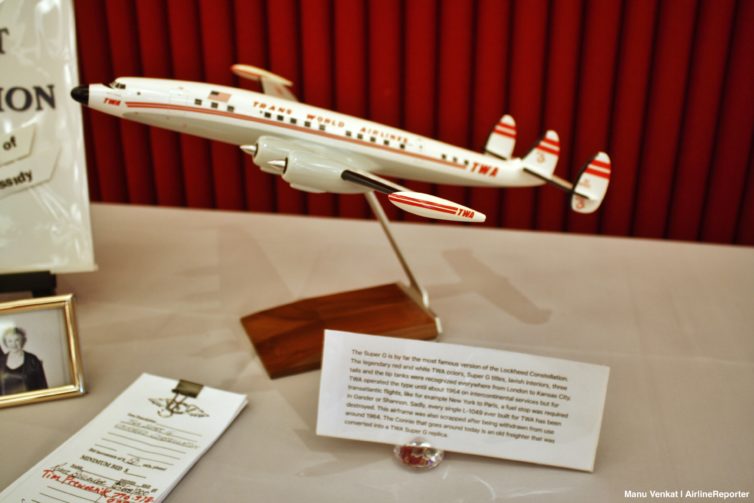 What a way to get our first look at the TWA Hotel! The Silver Wings crew's excitement was infectious and we kept overhearing members talking about how impressed they were with the venue.
Soon to come: our take on the hotel itself. Stay tuned!