Alert: a new player has entered the game. At long last, Southwest Airlines is flying to Hawaii. It's a major milestone for the airline, which has had its eyes on the Hawaii prize for a years. So when the first flight departed Oakland for Honolulu on March 17th, the airline threw a BIG party to celebrate.
There were hula dancers, live musicians, cakes, speeches, and (of course) TONS of Hawaiian shirts. Passengers on the flight — who mostly seemed to be Southwest employees and die-hard fans — got luggage tags and flower leis before taking to the skies. And we got to head out onto the airfield to see the flight off. Read on! We have so many photos, you'll feel like you were there with us.
Building up to a big aloha
Southwest has been on an impressive campaign to solidify its strength on the west coast. So adding Hawaii flights was only a matter of time. Still, Southwest took its sweet time making the jump from "hmm we want to do this" to "OK we're actually doing it!"
The airline needed to clear ETOPS (extended-range twin-engine operational performance standards, or more recently, just called extended operations) certification and some other red tape to make Hawaii happen. But just as it moved forward, the government shutdown hit. It pushed back Southwest's Hawaii start date back by a few months, but soon after the shutdown ended the certification process wrapped up and tickets went on sale.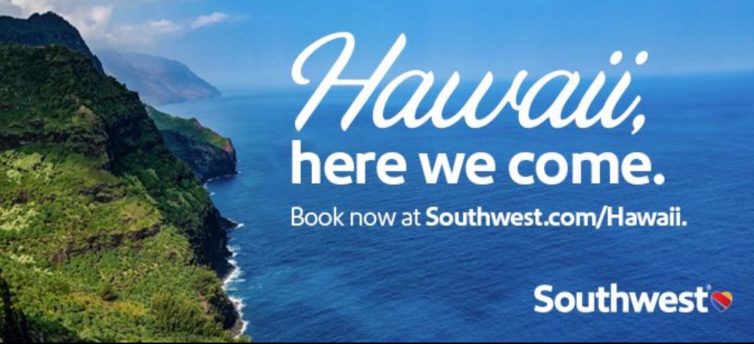 Here's the schedule of the Hawaii inaugurals:
March 17: Oakland to Honolulu (Oahu)
April 7: Oakland to Kahului (Maui)
April 28: Inter-island flights between Honolulu and Kahului
May 5: San Jose to Honolulu
May 12: Inter-island flights from Honolulu to Keahole/Kona (Big Island)
May 26: San Jose to Kahului
Service to Hawaii from San Diego and Sacramento is also on its way.
BONUS: Rolling the Dice With Southwest Air's A-List Same-Day Standby Perk
Kicking off Southwest's big day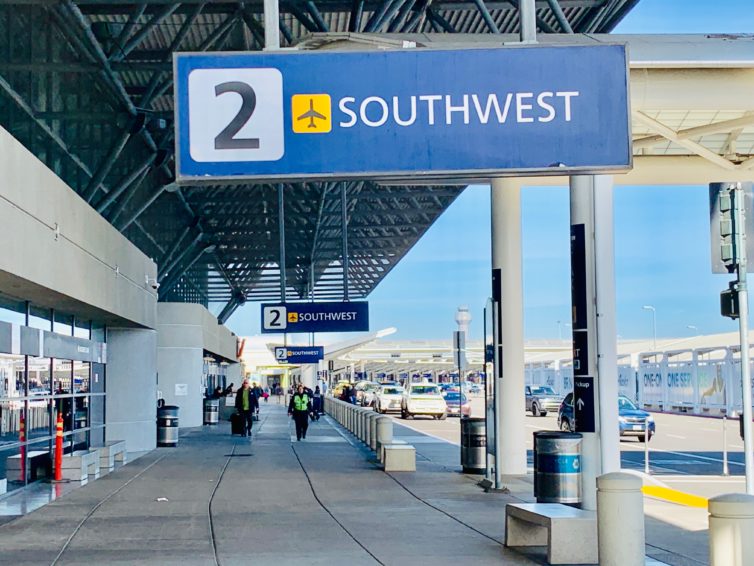 On the morning of March 17th, we headed over to Oakland International Airport — one of Southwest's west coast hubs — to join the festivities. Literally the moment we walked through the front doors of terminal 2 it was clear something Hawaii-related was going on:
BONUS: Opinion – Nine Reasons Why I Think Southwest Is the Best, Counterpoint Opinion – Nine Reasons Why I Don't Fly Southwest
The flight was departing out of terminal 1, the home of most airlines other than Southwest. T1 and Southwest's T2 are connected airside so passengers could still clear security at the T2 TSA checkpoint, which recently got a wellness-focused makeover from Kaiser Permanente.
At the gate the party had already begun.
A group of Hawaiian musicians was there to set the mood.
The Oakland Airport people were as excited as the Southwest folks were. Which made sense, since it was an honor for their airport to be chosen for Southwest's first Hawaii route. To celebrate they were cutting slices of cake for passengers.
It became really obvious really quickly that this was no usual airport crowd. A lot of passengers were Southwest employees, having the time of their lives celebrating their airline's milestone. Most other passengers were diehard Southwest fans. There were a lot of Hawaiian shirts around, but a few passengers had made custom T-shirts to commemorate their ride on this historic flight.
The Klan family, shown below, had been on a mind-blowing thirty Southwest route inaugurals before this one.
In addition to a certificates, passengers also got custom Southwest baggage tags as a keepsake.
The flight's veteran captain Michael Styer was your classic straight-faced pilot. But he couldn't help but hide his emotions, a mix of pride in the airline, honor at getting to fly the inaugural, and a tinge of sadness over the passing of Southwest co-founder Herb Kelleher earlier in the year.
As boarding started, a pair of Hawaiians garlanded passengers with flower leis.
BONUS: How Do You Get the Best Seat on Southwest Airlines?
Off to the ramp and runway
The ground crew got in on the fun too. They had made signs to celebrate and they took a lot of pictures (when they weren't hard at work preparing the aircraft).
Seeing off flight #808
As boarding wrapped up we rode to the far end of the departure runway.
A few minutes later, the 737-800 bound for Honolulu roared over our heads, looking brilliant in the midday sun.
BONUS: Putting the Newish Southwest Seats to the (Knee, Back, Arm, Butt) Test
The plane's route curved around San Francisco, which must have made for some amazing views. Hopefully the people on board enjoyed them, though we couldn't blame 'em if they were already busy breaking out the Mai Tais.
And with that, history was made! Anecdotal accounts from onboard suggest that the flight was as much of a blast as you'd have expected it to be.
Passing by a grounded bird
March 17th was right in the thick of the Boeing 737 MAX 8 controversy, and as we rode back from the runway our van passed a grounded Southwest MAX 8. Since then, the planes have been moved to a more remote location for storage while the Boeing folks work on a software update.
Once the MAX 8's safety issues are sorted out they will probably share the work on Hawaii flights. But it's anyone's guess when that will happen. For now, the tried and true 737-800 is more than capable to get Southwest from the west coast to Hawaii.
Wrapping up a big day for Southwest
Southwest has celebrated a lot of major milestones during its past few decades of immense growth. But the launch of Hawaii flights is one of the very biggest. Just take a look at the airline's route network and clearly one flight stands apart from the rest:
But putting aside the well-deserved fanfare, will Southwest succeed in Hawaii? Sure, there are factors working in its favor. It's a popular airline with a cohort of die-hard fans. It already has a well-developed west coast presence. It has the planes to make the jump to Hawaii. And by resolutely refusing to charge bag fees or change fees, it's pretty differentiated from the competition.
BONUS: What's Next for Southwest Airlines? An Elite Flyer's Wishlist
At the same time, Southwest will face its share of challenges. The airline's bread and butter is the short-to-medium-distance domestic game, and Hawaii is on the outside edge of their comfort zone for flight times. Routes to Hawaii are long enough that some passengers may get hungrier than what Southwest's onboard "menu" can satisfy. You'll need to bring your own power source, as Southwest doesn't offer outlets. And the airline's decision not to operate overnight flights limits connection opportunities to the rest of the U.S.
Still there's no doubt that Southwest's Hawaiian debut is exciting and big news!
Now it's time for us to hear from you. What do you think about Southwest's Hawai service? Were any of you on one of the first few Hawaii flights? Share your thoughts and experiences in the comments section below.