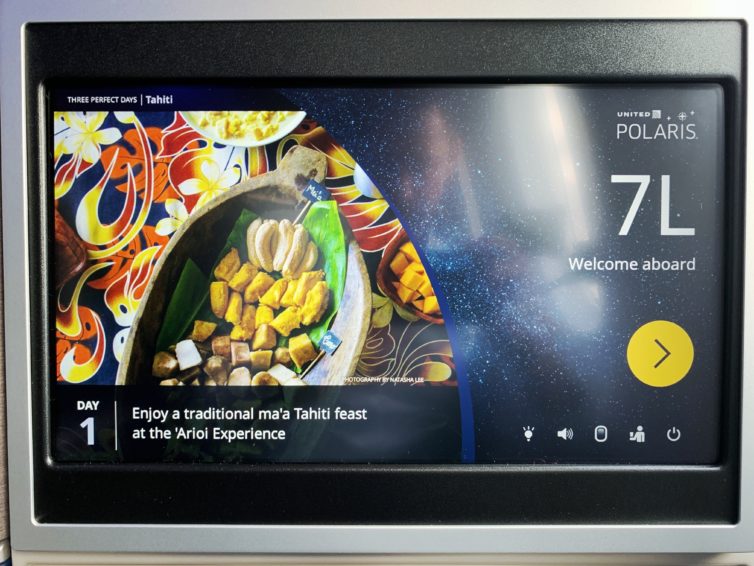 You might remember that we got to fly United's inaugural Boeing 787-10 stretch Dreamliner service from San Francisco to Newark a few weeks ago. There was all the new plane buzz you'd expect. But one feature that deserved its own special mention was the plane's inflight entertainment system. It was redesigned from the ground up to include tons of new features, from a better moving maps for the #AvGeeks (including us!) to live news updates, a movie+map split-screen option, a favorites list, and a trippy "relax mode." Plus, the folks at UA went out of their way to accommodate passengers with impaired vision and/or hearing.
Read on for our report with all the details about United's new screens in the sky!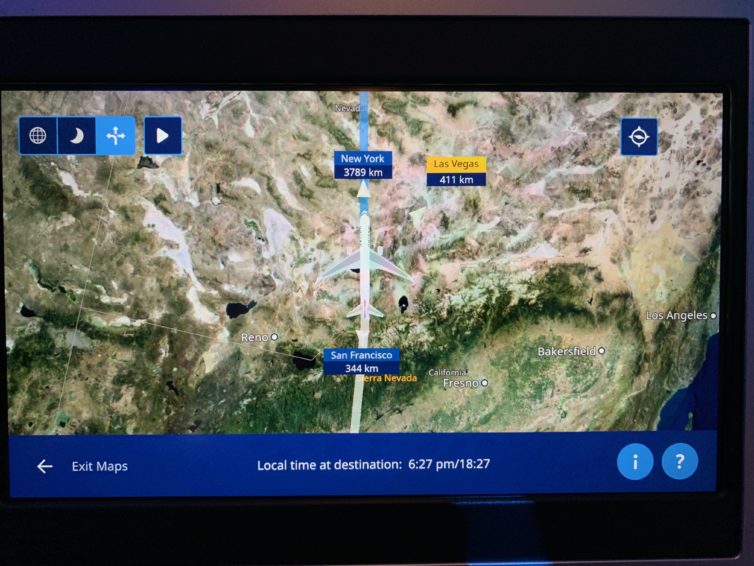 For context, it's been a change-filled time for United's inflight entertainment offerings. DirectTV became free on the 211 737s that have those systems installed. And United unveiled a redesigned mobile app earlier in the year. But the new IFE system on the 787-10 definitely takes the cake.
We were flying in Polaris business class on our 787-10 premium domestic transcontinental flight from San Francisco to Newark. The cabin includes MONSTER 16-inch flatscreens that are sharp, bright, and super responsive.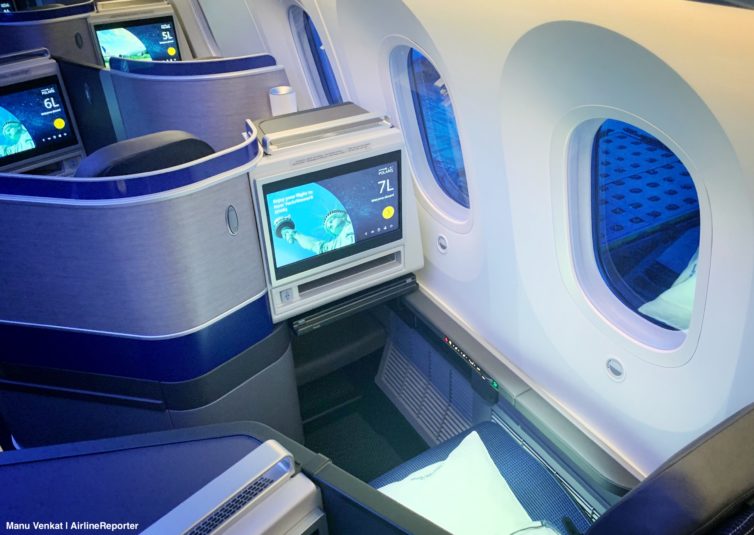 The welcome screen on the new system has a fresher look than previous systems did.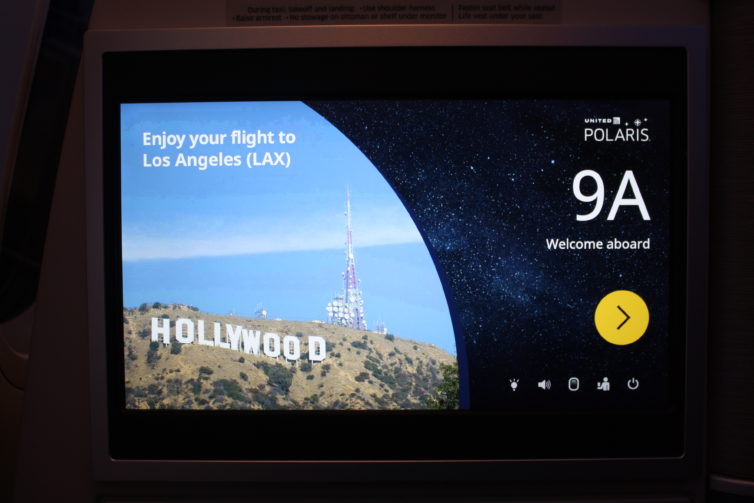 The small icons on the bottom right corner of the welcome screen lead to some useful features.
You can control the transparency of your Dreamliner windows through your screen, as an alternative to using the stiff buttons below the windows.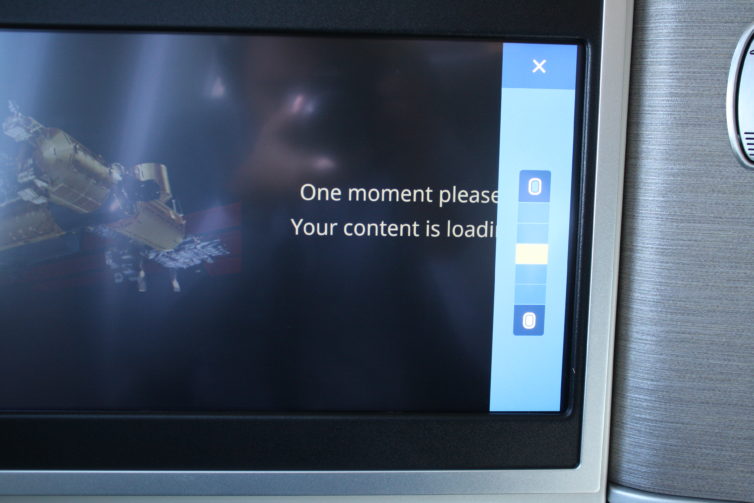 Fun fact: most window seats in odd-numbered rows have two windows to themselves, and hitting the dim button on one window will automatically dim the other.
Do you like being woken up for meals? Or would you rather be left alone to sleep? Well now you can log your preference through the IFE system!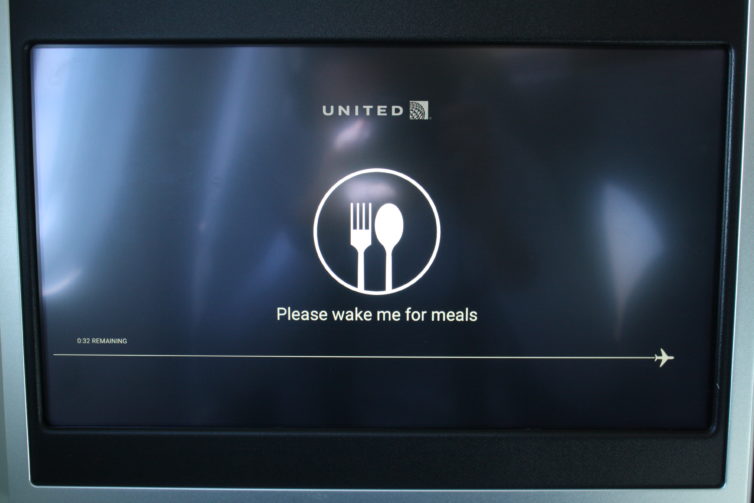 BONUS: Behind the Scenes – How Honeywell is Changing the Flight Deck
We went straight to the flight tracker once we got settled into our seat. You can enjoy the map in fullscreen or in split-screen mode while watching TV or a movie.
From the default view you can scroll around or stay centered on the flight.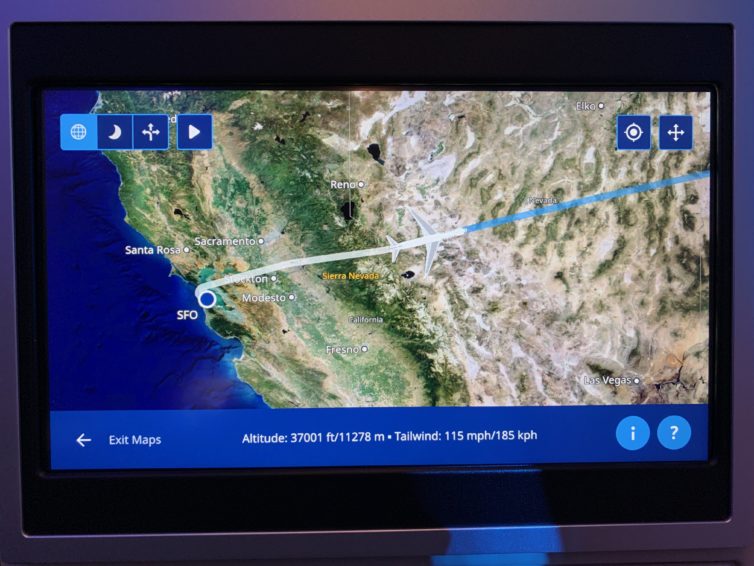 If you're designing a sleep schedule to minimize jet lag, try the day/night mode.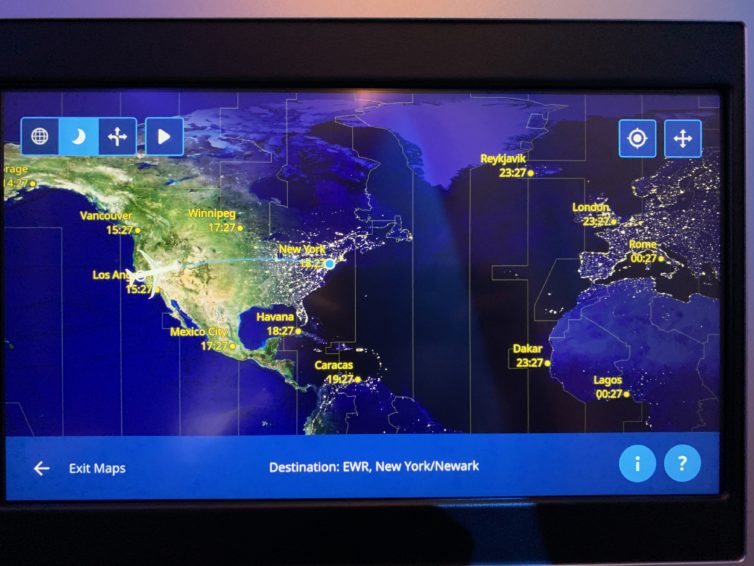 A data dashboard puts a bunch of relevant info on one screen.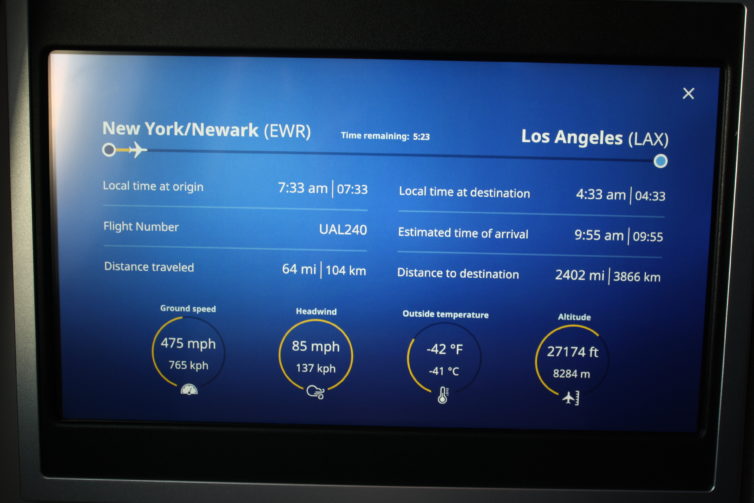 BONUS: Taking a VIP Polaris Flight on United's First 777-300ER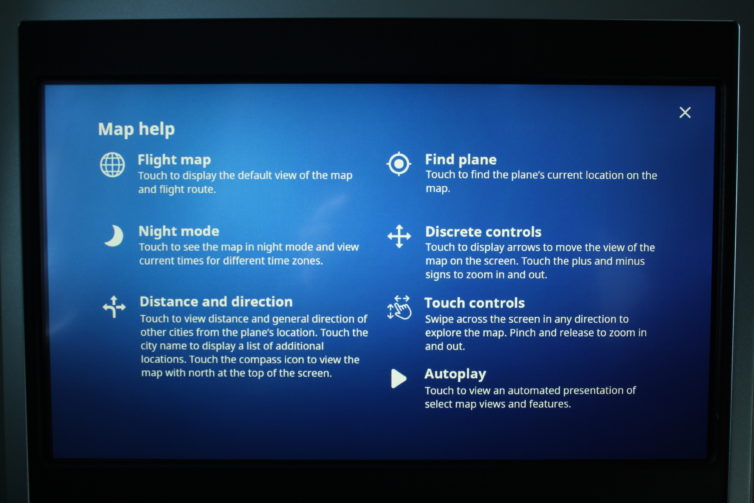 Overall the flight tracker gets the AvGeek seal of approval from us. If only the plane had exterior camera views!
As per usual, the system has a solid library of TV and movies, including new releases. The system can make recommendations based on how much flight time you have left.
Here's most of the new releases available on our flight (in February).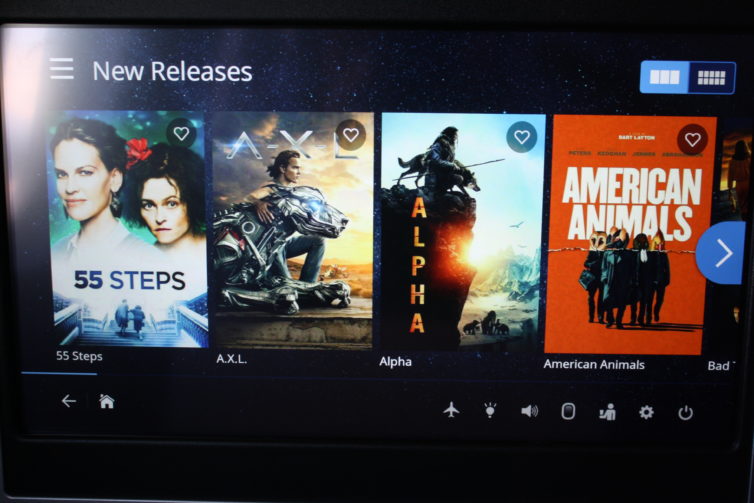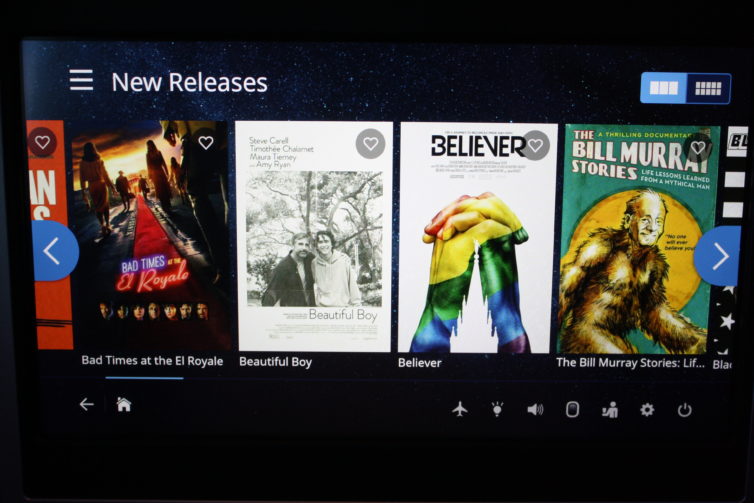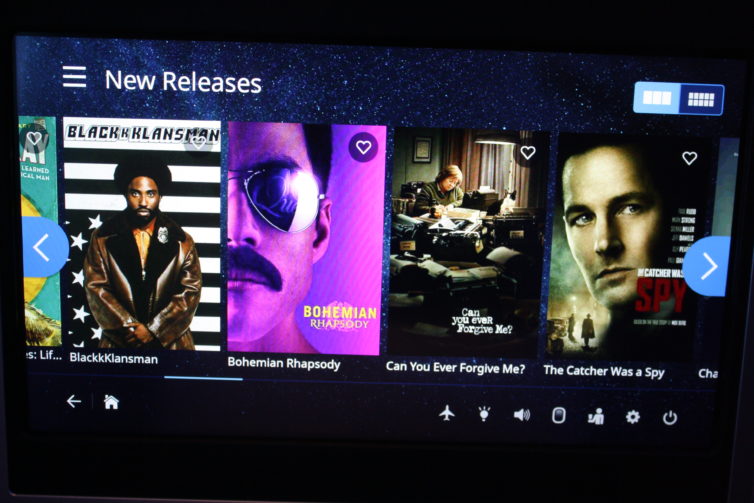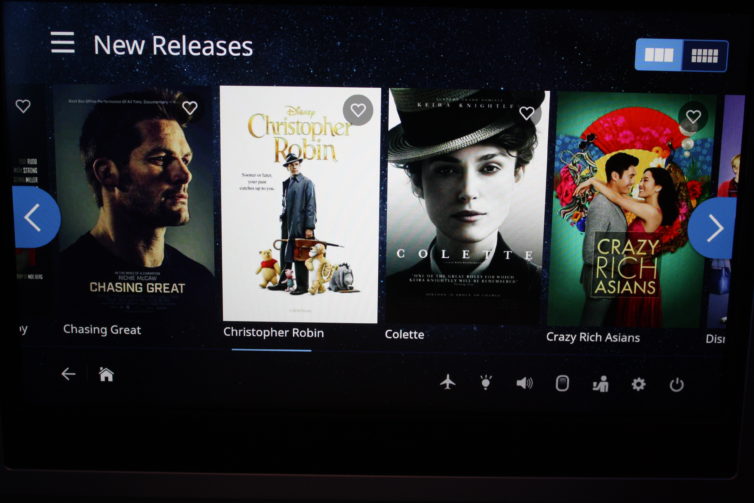 One useful new feature is a personal favorites list, so you can build your shortlist as you scroll through options.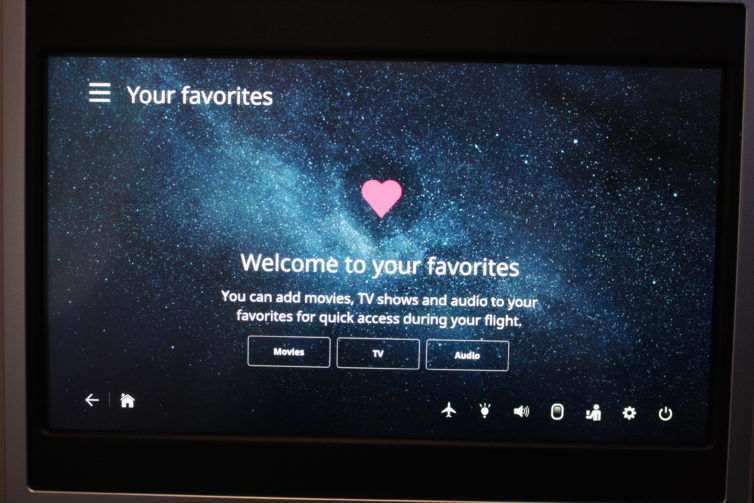 Also new: live news updates.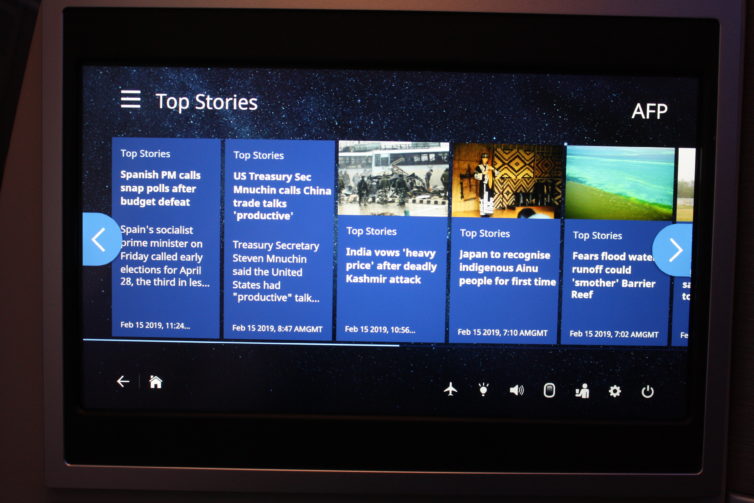 United's Polaris brand is designed in large part to improve inflight relaxation and sleep. Keeping with that theme, the new IFE system has a "relax mode" that pairs calming imagery — like natural scenery — with low-key music options. Your mileage may vary, depending on how much help you need to relax during a flight. Give it a try, but don't be surprised if it's not your thing. Though if marijuana ever gets legalized on a national level I'd expect this trippy feature might see a bit more use than before.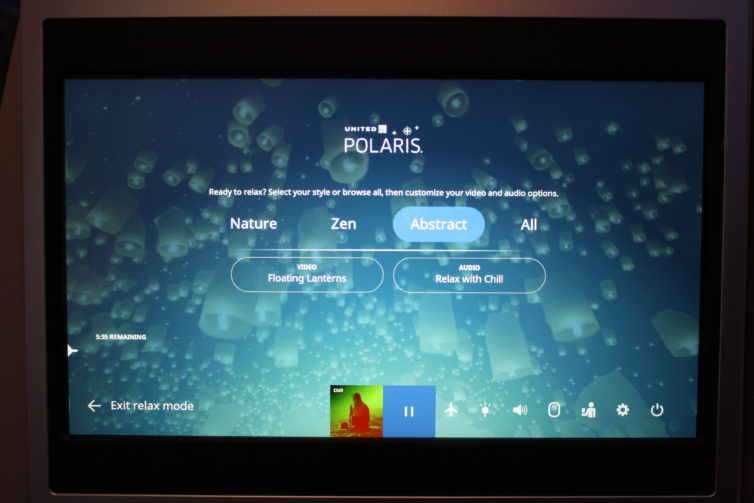 One of the most notable aspects of the new IFE system is actually one that most passengers won't use. United set out to make the new IFE system the most accessible one in the world.
There's lots of options to help passengers with limited or no vision.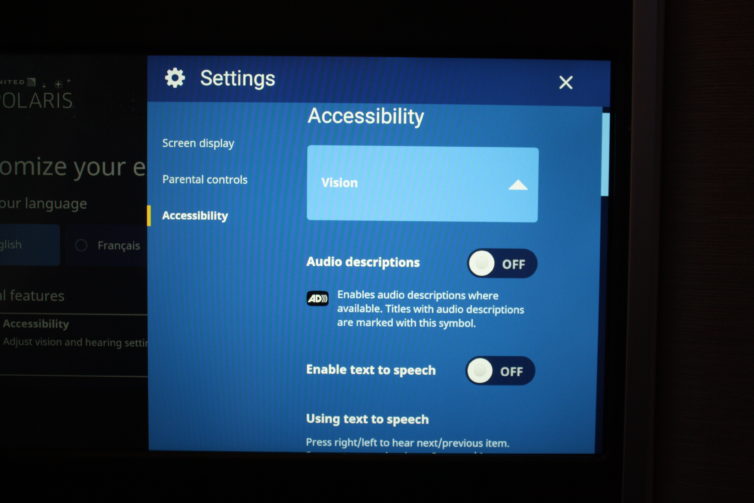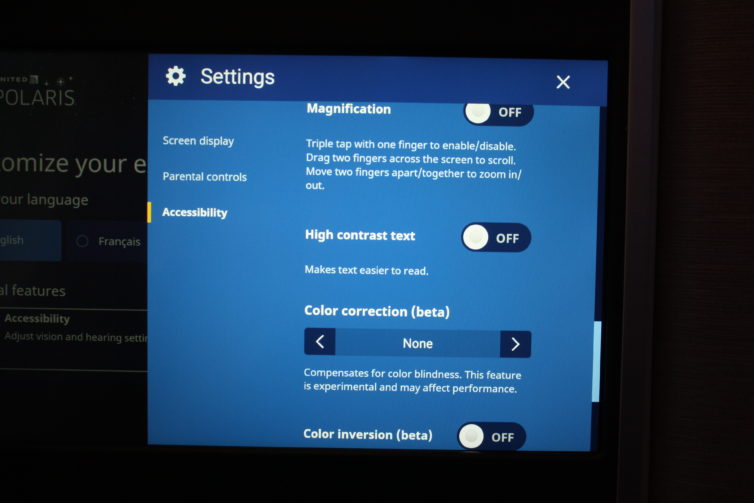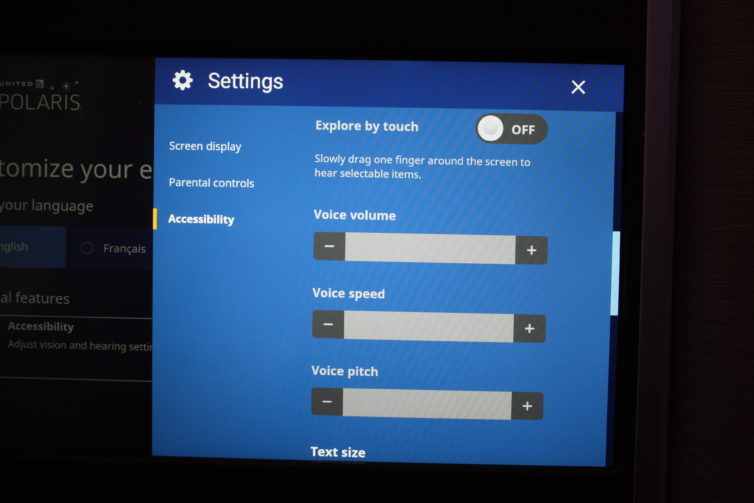 And there are also captions for passengers with impaired hearing.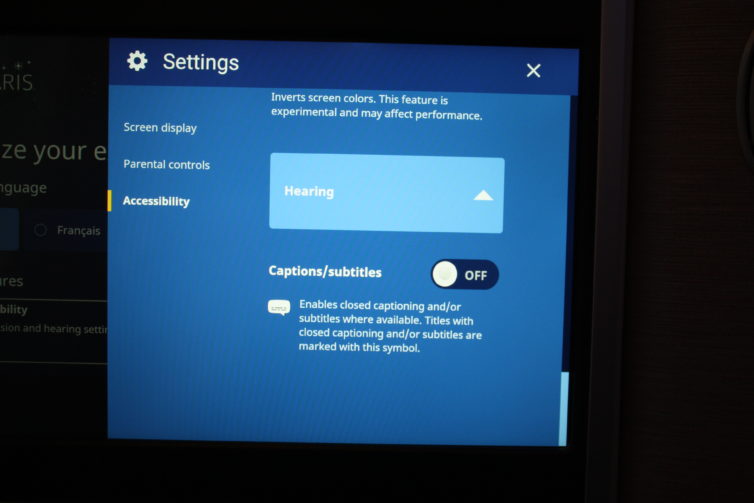 These features are a big deal for the passengers who need them, and we applaud any airline that goes out of its way to help passengers with disabilities.
BONUS: All Wheels Up – Trying to Change the Way Passengers in Wheelchairs Fly
On our inaugural flight the WiFi was having some performance issues. The Panasonic system installed on United's 787-10s is supposed to deliver better bandwidth to keep your browsing speedy. Once the entry-to-service issues are smoothed out, time will tell if the reality matches the hype.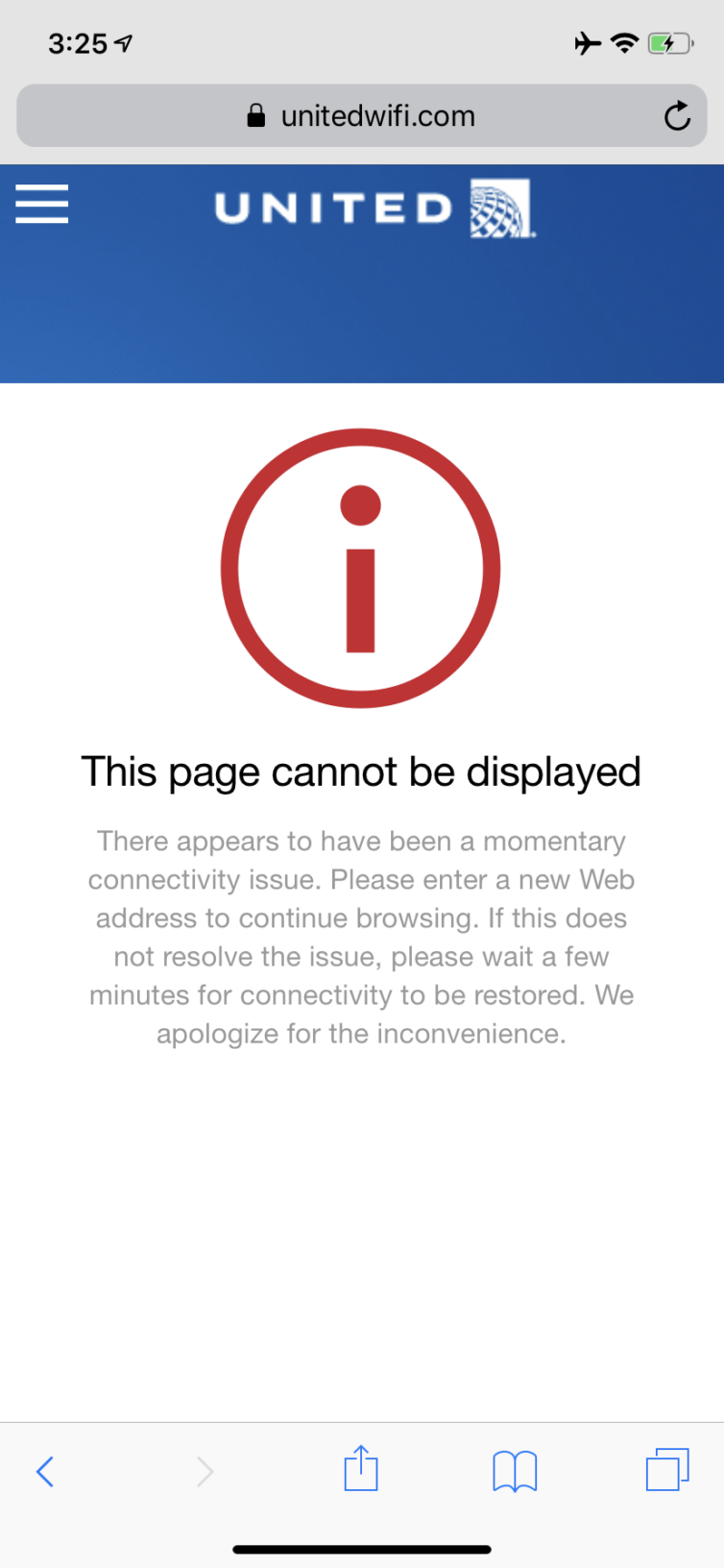 All in all we were plenty impressed with United's inflight entertainment system on its 787-10s. The new features just make plain sense from a practical perspective, and they're all delivered in a sleek and stylish package. No details yet on when these systems will be hitting the rest of United's fleet. For now, it's just the 787-10s.
What do you think about United's new IFE system? Share your thoughts in the comments section below. 
Note: United provided our ticket. All opinions in this story are our own.