Culminating a design process that took more than two years, United Airlines unveiled their new United Polaris Business Class on Thursday morning. Speaking at an event in Midtown Manhattan, CEO Oscar Muà±oz spoke of the airline's renewed focus on the passenger experience, particularly for premium passengers.
This new focus requires across-the-board upgrades to the airline. It means new aircraft, with the 777-300ER, A350-1000, and 787-8/-9/-10 all on order or recently delivered on the widebody side. It means new coffee from Illy on-board, as well as snacks such as the highly touted stroopwaffle.
You see United Polaris is more than just a new seat, it is a new direction for their premium long-haul experience. Sure, the new seat is a big part of it, but United Polaris also includes new on-board amenities and a new lounge experience. Unifying (or uniting, if you will) the entire concept that good sleep is key when flying long-haul.
BONUS: Flying Domestically on the Upper Deck of a United 747-400
At nine airports worldwide, the United Polaris experience starts in the lounge. The new lounges will offer private sleep pods and showers, enabling travelers to rest and refresh themselves before a long flight. They will also feature hot meals served in a restaurant-style setting, as well as premium wines and spirits. The first United Polaris lounge is expected to open at Chicago's O'Hare International Airport (ORD) by the end of the year. Lounges in Los Angeles, San Francisco, Houston, Newark, Washington Dulles, Tokyo Narita, Hong Kong, and London Heathrow airports will follow in 2017.
Once on-board, premium cabin customers on United Polaris flights will experience an upgraded soft product. This includes new bedding developed in conjunction with Saks Fifth Avenue, including a duvet, mattress pad, lightweight blanket, and a selection of pillows. On-board meals will be regionally tailored and developed in partnership with the Trotter Project's worldwide network of chefs. The menus will change seasonally. And the amenity kits distributed to passengers will continue to include products from Cowshed Spa, a partnership that began late last year. Slippers will be available for all passengers, while new pajamas will be available on request on flights over 12 hours.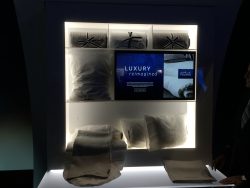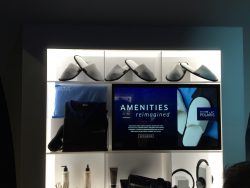 However, United feels that the seat in the premium cabin is truly the king of the whole experience, and they are rolling out a brand-new design. The seating plan features a new concept developed by Acumen Design Associates. Acumen is behind many airline seating innovations over the past 20 years, but they are most noted for developing the first lie-flat seat for British Airways in 1997. This new design combines elements of both the staggered and herringbone configurations that are widely used today. In this configuration, one row of seats face forward, while the next row is positioned  with the passengers' feet angled slightly outward. It's a design that maximizes the available space on board while allowing each passenger access to the aisle.
BONUS: Flying in Economy and BusinessFirst on a United Boeing 787-8 Dreamliner
The seats are arranged in a 1-2-1 configuration, with rows alternating between having the seats closer to the aisle and having seats closer to the window or middle. They are of the popular 'suite' design, with walls and dividers giving passengers privacy from their neighbors. The design of the seats themselves were completed by Acumen in partnership with design firm PriestmanGoode, whose work has been seen in a variety of airline branding and seating projects. Most recently, they were behind the new branding for LATAM Airlines Group. The new seats will be manufactured by Zodiac Aerospace in the UK.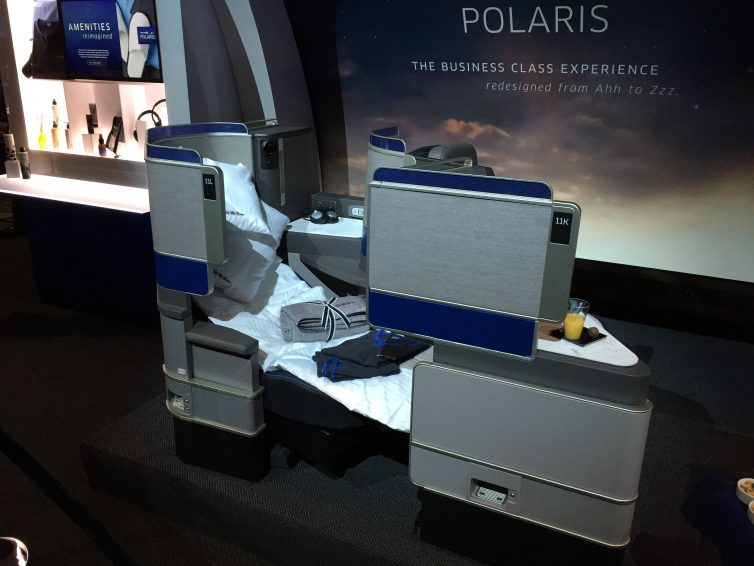 Stepping into the new seats, I noticed some things that I loved and some things that I wasn't crazy about. The first thing that caught my eye was the tray table. It is mounted to a track that is recessed along the passenger's thighs and pulls out from under the IFE screen. Once it has been pulled out at least part way, it can flip open to give an area that is about as wide as a standard economy class tray table but roughly twice as deep. At the edge furthest from you is another little door that flips up to create a stand for a smartphone or tablet with up to a roughly-10-inch screen. Sorry, 12.9-inch iPad Pro owners — your device won't fit. The tray table's construction is substantial, with a fair amount of heft to it. Just about the only thing that I didn't like about the tray was that deploying it from its stowed position was less than intuitive. It actually had to be pushed in slightly to release it. A small label could easily clarify things for passengers.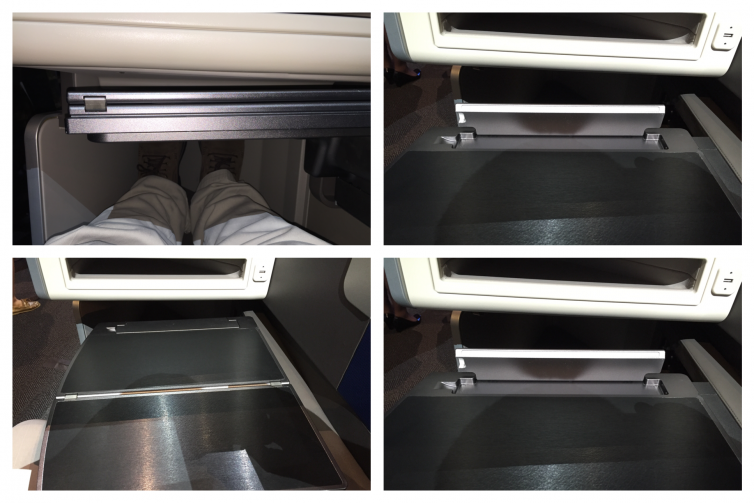 To one side is a reasonably sized table area that could function as a nightstand or a place to hold your laptop during meals. Around its perimeter you'll find the remote for the 16-inch IFE screen, headphone jack, power and USB ports, and a small 'table' lamp with a glass shade. Each seat also has a pop-out LED reading light and a small storage cubby with a mirror on its door. Each seat in the center section is equipped with a motorized divider between the two seats.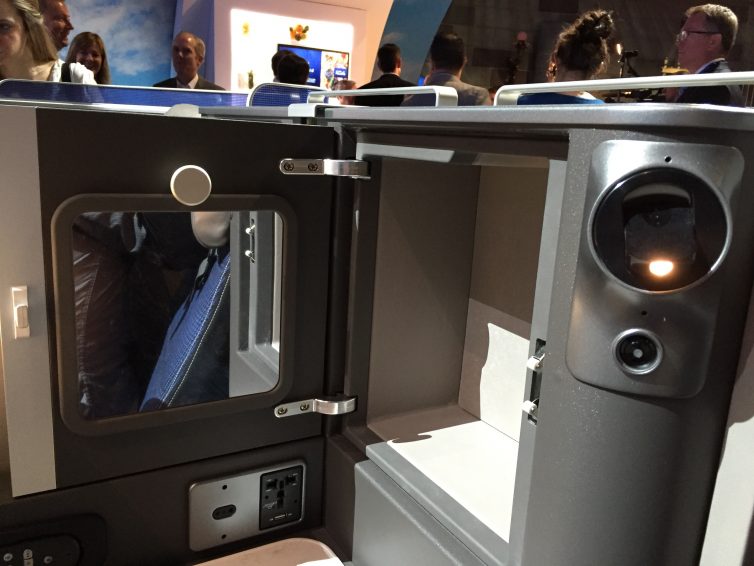 All of the controls for the physical seat are located in a strip placed just above the passenger's thigh. Here you will find controls for the adjustable leg rest and lumbar support, where both the firmness and position are adjustable. There are pushbutton switches all the way forward that control the table lamp and a small "do not disturb" indicator located along the aisle. Finally, towards the rear of the control strip, and closest to the passenger, are the controls for seat recline. Here, they opted not for push buttons, but rather for a semi-circular dial that can be rotated forward or aft in order to raise or lower the seat. In practice this was an excellent choice, as it makes it incredible easy for the passenger to operate his or her seat. I found that the dial was particularly handy when trying to raise the seat back to the seated position.
Then there is the seat's comfort. In the upright position, it seemed to be plenty comfortable, though the claustrophobic might find it a little unnerving — particularly in the seats closest to the aisle. Once reclined, I ran into a slight problem though. Lying on my back, I found the seat width to be slightly too narrow for my 280-pound frame. No matter where I tried to put my arms, it was not comfortable. Fortunately, I am a side-sleeper, and in that position I was plenty comfortable. But if you are stocky and like to sleep on your back or your belly, be ready for a tight fit. One area that I did find spacious enough, while reclined, was the footwell. Depending on the seat, there was either just enough room or more than enough room to fit my size 13s with my shoes still on. On some other lie-flat seats, I've had to either remove my shoes or angle my feet in order for them to fit.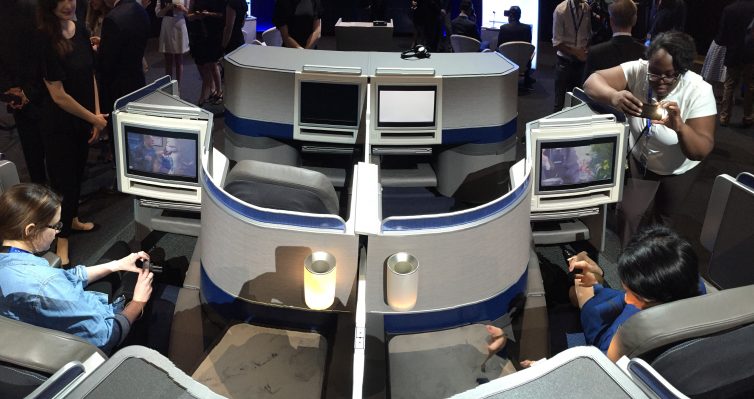 All in all, United Polaris seems like it will be a good on-board product, and in many ways it will be an upgrade from the existing BusinessFirst product. That isn't to say that it doesn't have its shortcomings, with the aforementioned lack of shoulder room topping that list. Of course, we won't know for sure how the new product works on-board until after we've had a chance to fly on it!
Look for United Polaris to enter the fleet on United's upcoming 777-300ERs, with the first one entering service later this year. It will also be used on the new 787-10, and A350-1000 fleets that will be added starting in 2016. United tells us that no decision has been made on adding it to the rest of their long-haul fleet, including the recently delivered 787-8/-9 aircraft.
What will be coming to the 747-400 (until they are retired in 2018) 777-200ER fleets with a Global First cabin is a name and soft product change. Beginning December 1st, that cabin will be known as United Polaris First. The soft product from United Polaris will be used added to those flights for BusinessFirst. And, the 767 fleet will be a mixed bag. That said, you can expect to see the same linens, meals, and amenity kits as the newest fleet types. The only difference will be the seat.
All photos are by Ben Granucci unless otherwise noted.