Earlier this year, I was excited to learn Allegiant would be the newest airline to bring service to my home market here in Kansas City, MO. Allegiant was the last piece of the puzzle to complete the ultra-low-cost carrier (ULCC) trifecta. So, naturally I had to be on their very first flight out.
Just last year Spirit inaugurated services at Kansas City International and in the following months brought with them unprecedented fare disruption across multiple markets. The effects were unlike any I have witnessed in a decade of paying close attention to fare trends in KC. And herein lies the secret with ULCCs; even if passengers never intend to fly with them, they bring normalcy to entire markets with LCCs and even legacies adjusting their own fare structures to keep from losing too much market share.
New airline aside, I'm a bit of an inaugural hound. When the day came, I elected to skip the press conference and focus on becoming the first confirmed booking, which I'm proud to announce I accomplished, while the press conference was still going, in fact.
As I tend to do, I booked the outbound leg, making a mental note to fill in the rest of the details "later" – I wound up scrambling to find a way home. When I realized I was one week from my trip with no way home, I went to my preferred carrier who wanted nearly $300 one way. This, in contrast to the mere $82 (fare + exit row + carry-on) I paid Allegiant outbound. Reluctantly, I looked elsewhere and found similar prices. I soon realized what began as a one-way experiment with Allegiant would wind up being a round trip with them out of equal parts laziness, frugality, desperation, and curiosity.
I arrived at the airport later than I would have preferred. To complicate issues, Allegiant, like their ULCC competitors Spirit and Frontier, do not participate in TSA Pre✓. Thankfully, I cleared security just as the party had begun. I was pleased to find a steel drummer, lots of freebies, excellent beach-themed food, and a sweet airplane cake. After a quick ramp and plane tour with various local media, it was time to board.
The last time I flew Allegiant was in 2013, on an inaugural from the small city of Manhattan, KS, to Phoenix-Mesa Gateway. The plane which serviced that trip was an ex-easyJet Airbus A319 with a half-painted tail. They had literally pulled the plane from the paint shop before the job was completed, with the former carrier's interior still intact. I bring this up only because prior to that it had been a few years since I'd flown on Allegiant. I had long since forgotten what their interior looked like.
Don't bother searching for that story, by the way. The airline pulled the MHK-IWA service before I could write the piece.
Upon entering the plane I was pleasantly surprised by the seats. Leather, not slim-line, and indeed, plenty of padding. Not bad. It gets better… These seats are "pre-reclined." What does that mean? Well, there is a slight angle built right in. Since I say no to reclining my seat, and prefer those in front of me do the same, this is truly good news. Especially since Allegiant, like their peers, is pretty stingy with the legroom.
Of course, for customers willing to pay a little extra, there are a few seats on the plane which provide a bit more legroom. For the outbound flight I paid an extra $18 to lock in seat 25A, part of the exit row. The seat was comfortable and offered plenty of legroom.
Boarding seemed prolonged. Partly because it was likely tough to get passengers to stop partying with great music, free food, and cake, but likely also because of the high number of inexperienced flyers on this particular flight. This is part of what it is like to fly with a ULCC. Sit back, relax, and enjoy the people watching.
Let me pause for a moment to comment on Allegiant's business model. Allegiant likes to say they aren't competing for existing market-share, but rather creating their own demand by courting those who, in the absence of their service, would simply have driven, or not traveled at all. I have heard this bit from the airline over the years and never really bought into it. Until this particular flight.
There were a number of first-time flyers on the inaugural. One passenger who approached me after boarding told me he and his wife planned the trip to see family in direct response to the new low-cost nonstop service. Perhaps there's some truth to the airline's claims after all?
Over the duration of the two-hour flight, a buy-on-board snack service was offered three times. That sounds like a lot, but it was spaced out nicely and with each pass there were many takers. I was surprised at how many $6 Bud Lights were being sold; passengers around me were buying multiples, in fact.
This continued until the plane's supply was exhausted and folks moved on to the more expensive $7 beers. As for me, I elected for a $5 deli snack pack and a $2 can of Coke. This is where Spirit, in my opinion, really outpaces Allegiant. Spirit offers a wider variety with a more "combo" options. My snack pack included a Snyder's 100-calorie pretzel pack, a Biscotti cookie, a Kings Delicious trail mix, some sort of horrific meat stick (I'm a vegetarian) and a smoked Gouda dip. I'm not really sure what the dip was intended for. The pretzels perhaps? It ended up going to waste along with the meat stick.
One fun surprise in the pack was a tiny package of Tic Tacs. The small Tic Tac package was smaller than a single mini pretzel. Cute!
One thing I miss about Allegiant's service is that years ago they sold tchotchkes in addition to food and beverage. Mostly airline-branded items like cards, poker chips, and (a personal favorite) Allegiant-liveried scale models.
The remainder of the flight was uneventful. Upon landing (ahead of schedule) at PIE (St. Pete-Clearwater International Airport) we deplaned via air-stairs onto the ramp and were directed to a door which opened into the baggage claim. PIE gets points for arrival convenience.
A few days in the Tampa Bay Area
There are plenty of attractions for all walks of life in the Tampa area. Aside from gratuitous amounts of time at various beaches, I made time to visit three area museums: The [Salvador] Dalà­ Museum, the Chihuly Collection, and the St. Petersburg Museum of History. While I cannot recommend The Dalà­ Museum, the other two were solid finds and I would gladly visit either again.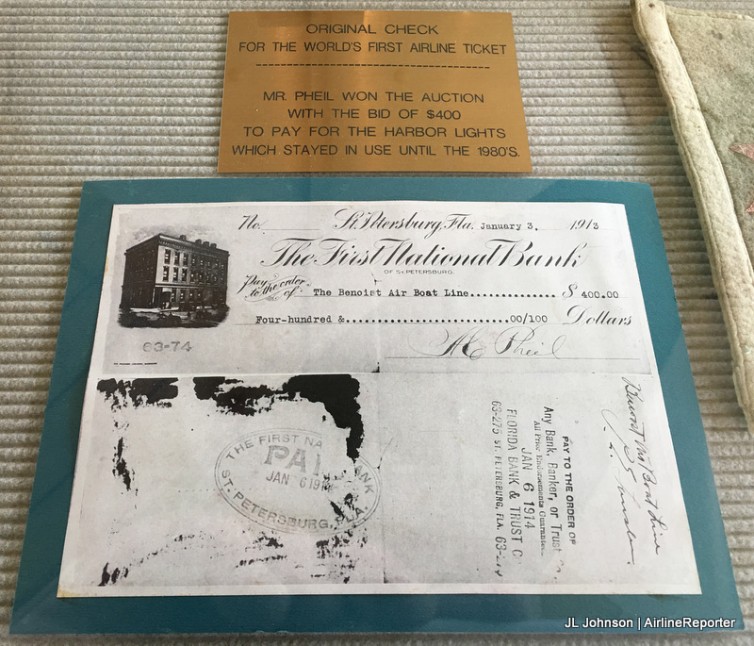 Of particular AvGeek interest, the St. Petersburg Museum of History has a section dedicated to aviation. Did you know the first airline ticket was sold in St. Petersburg? It's true, and upon visiting this museum, you can learn all about the $400 ticket purchased in 1913 for a flight across the bay. Fun fact: $400 in 1913 is equal to $9437.62 in 2014.
The less polished trip home…
Sunday arrived and an incredible three-day weekend was drawing to a close. My trip had been overwhelmingly positive and I assumed the trek home would carry the same theme. I was wrong. PIE airport likes to call their service "Tampa Bay, the easy way" and, from an arrivals perspective, their motto is spot on, but departure was a complete mess. Like my home airport, PIE suffers from being designed for an earlier time and not being suited to modern day security and volumes.
Things started to fall apart when, upon arriving at the small ten-gate airport, I sat in traffic for 25 minutes waiting to return my rental car. Again, this is traffic within the confines of the airport. It turns out PIE has a serious design flaw where a number of lanes from different directions converge on one two-lane road. It made for a huge mess. No stoplight, no one to direct traffic, just a bunch of stop signs and confused motorists.
Once in the small terminal, I learned that there were multiple security checkpoints and none of the secured areas were connected. There existed 8.5X11 sheets of paper taped up near the entrances to each checkpoint which detailed the cities served from each cluster. One problem: Kansas City, MO was not listed on any. This was new service as of only a few days prior, so I assumed it an oversight and looked for a departures board, which I found. However, again the KC flight was not listed. The photo above was taken at 1:35, one hour and six minutes prior to departure, yet no KC flight.
The check-in desks at PIE were overwhelmed; thankfully, I had no need to check a bag. I finally found an airport employee who directed me to the correct security entrance. Once through the entryway, I found a long line of passengers waiting in a maze of divider ribbon sweating and patiently waiting their turn for screening. The area was not well ventilated – it was hot and, frankly, miserable. It is worthy of noting that the TSA staff were particularly nice and upbeat, perhaps because the few fans in the room were blowing directly on them.
Once past security, I entered a holding room which serviced a few gates. There were not enough chairs, and it was loud, hot, and overcrowded. I made my way to the gate I was directed to, but it wasn't staffed. Allegiant crews were hustling to get folks on and off of planes and there was a near-constant stream of announcements in the area as gates competed for airtime. I eventually boarded my flight for KC via a door and gate marked as going to Memphis, which was confusing to say the least. I have to wonder how the infrequent travelers returning home to KC found the correct security screening area and mislabeled gate.
For the flight home I had seat 34F, the last row at the back of the plane with a window view unobstructed by a beautiful JT8D. Boarding for this flight also took much longer than expected; no doubt due to the confusion in the terminal. Thankfully, the APU was running and AC flowed generously. This flight wasn't completely full, so while I did not have a whole lot of legroom, I did have an entire three-seat section all to myself.
I purchased the $5 Wingz Kids Snack Pack, which included a $1 donation to Make-A-Wish, Allegiant's non-profit partner. I bought the pack with intent to get the wings for my kiddo, but they were much higher quality than I expected, and metal. Confession: My kiddo ended up getting the package of Oreos when I arrived home instead.
Once in the air, the service and experience was nearly identical to what was experienced on the way down. The only oddity was that on this flight personal electronic devices needed to be "fully powered off" when departing and arriving. I don't recall this restriction on the flight down – the rule seemed… antiquated.
Conclusion
Overall, I had a positive experience with the airline. I would have never guessed that the weakest link in the passenger experience would have been the small departure airport and staff confusion over a relatively new flight. With all of the various fees (seat selection, carry-on) and buy-on-board, my trip came in at a mere $179. Had I kept it to a carry-on bag, let the airline pick my seat for me, and brought my own snacks I would have spent only $119. That's an incredible price for a three-day weekend at one of my new favorite vacation destinations.