In just a few weeks, because of a lethal invisible enemy, all the world's airlines and aircraft manufacturers have abruptly gone from the best of times to the worst of times. This devastating free fall is the worst in the history of the industry. The culprit, Covid-19, has not only nearly paralyzed the world's economy but has bought the industry to its knees with a near shutdown situation. Indeed, airlines were the first to be afflicted so severely.
The words 'œgood news' and 'œaviation' now don't ever appear in the same sentence or even story. But there is good news to report in this Aviation Airpocalypse. In the spirit of the AirlineReporter brand, we're going to focus on the positive and in many case life-saving efforts airlines and airframers, are making even as they fight for their own very survival.
The worst of times bring out the best in people. And in this dire time, airlines are no exception. Even with much of the country shut down, airline, airport employees, and many from the supporting industries are classified as essential employees in a necessary business, continuing to provide vital air services: Repatriation and humanitarian flights bringing people home to their own coupled with transporting essential cargo.
They do this while putting themselves at risk of becoming infected by the virus. Many consider them second responders, and due to their medical training some flight and cabin crew have become first responders. For that, we owe them a tremendous debt of gratitude. It's no exaggeration to call them heroes too, even as they face an uncertain future.
Here's a roundup of what these companies powered by the human beings who work for them are doing to give back in this global time of war.
And at the end of this story, I let you know how you can also help make a real change!
Airbus
Airbus is purchasing and supplying millions of face masks from China. The large majority of them are being donated to governments where Airbus has significant operations in Europe: France, Germany, Spain and the UK.
The European airframer has completed three of these missions so far with an A350-1000 test platform, an A330-800neo, and a A330 Multi-Role Tanker Transport (MRTT). The most recent mission carried a cargo of 4 million face masks.
And with the worldwide shortage of PPEs (personal protective equipment) for medical personnel, Airbus is involved in designing and manufacturing ventilators and 3D printing visors.
Airbus is deploying its employees, their expertise and know-how and leveraging technology in this fight against the COVID-19 pandemic, for example in designing and manufacturing ventilators and 3D printed visors which are critical resources for hospitals.
American Airlines
American who has partnered with the Red Cross many times over the years, raised more than $2 million to support Covid-19 relief efforts. The carrier's employers and its customers raised more than $1 million for the American Red Cross in the first 24 hours of the campaign a first for a Red Cross partner in the organization's history. One significant contributor for AA's successful Red Cross campaigns is because the loyalty program awards 10 AAdvantage Miles for every dollar donated.
American is a $1 million member of the American Red Cross Annual Disaster Giving Program. They provide AAdvantage miles to provide travel for Red Cross staff and volunteers who provide critical services in times of need.
U.S. armed service members are one of the biggest recipients of American's altruism. AA supported an effort to assembled and deliver 1,000 care packages for U.S. troops returning from duty locations around the world, who are sent into a mandatory 14-day quarantine, plus a one- to two-week demobilization period.
American's Military and Veteran Initiatives (MVI) team collaborated with a number of organizations the DFW chapter of 100 Vets Who Give A Damn (100 Vets) in 2016 co-founded by AA First Officer Cyndi Dawson. The airline then recruiting food and monetary donations from the Robert Irvine Foundation and the Gary Sinise Foundation accomplish this.
AA's Cargo team provided free shipping to deliver the packages to El Paso, Texas (ELP), and Charlotte, North Carolina (CLT).
American Airlines employees at the Miami Hub have transformed one of the closed Admirals Clubs into a sewing factory to create up to 10,000 face masks for their 13,000 fellow AA team-members in South Florida, where American is the third largest private employer.
According to The Miami Herald, Suzanne Peters, the senior manager of Premium Services at MIA conceived of the idea. She offered to round up workers to cut, iron and sew masks made of old American Airlines uniform shirts and other donated cotton shirts. She placed a call out to fellow staff for volunteers, asking them to contribute old uniform shirts, irons, ironing boards and sewing machines. With the airline switching to new uniforms, the old uniforms were perfect for the mission.
The pop-up operation was running from 6 a.m. to 9 p.m. on the first day with about 25 workers per shift. By Thursday afternoon, they had sewn and delivered 600 masks. This grass roots movement is now spreading across the system to other stations.
With much surplus onboard and lounge catering at risk of going to waste, American donated more than 81,000 pounds of food to food banks across the country. They were distributed through its partnership with Feeding America. According to a press release, so far in April, American has donated:
63,000 meals to the Greater Chicago Food Depository.
26,000 meals to St. Mary's Food Bank in Phoenix, Arizona.
4,000 pounds of fresh produce to Equal Heart in Dallas.
1,100 pounds of milk to Minnie's Food Pantry in Dallas.
10,000 food items to the Tarrant Area Food Bank in Fort Worth, Texas
To up the altruistic ante, American donated various supplies to Mount Sinai Hospital in the epic-center of the virus attack New York City; Dana-Farber Cancer Institute in Boston; and St. Jude Children's Research Hospital in Memphis, Tennessee. The list includes
1,000 onboard amenity kits to Mount Sinai. The kits will be distributed to doctors and nurses who are staying in area hotels. The kits include a toothbrush, toothpaste, eye mask, lip balm, tissues and lotion.
2,400 amenity kits to Dana-Farber
5,000 pandemic kits were sent to St. Jude Children's Research Hospital. The kits consist of a surgical ear loop mask, antiseptic towelette, tissues, soap and gloves. This donation will help support physicians, researchers and staff at St. Jude who care for and treat immunocompromised patients with childhood cancer and other life-threatening diseases.
ALASKA
There is a chronic national shortage of masks, gloves and other protective equipment. Alaska transported materials that will be used to create 210,000 hospital-grade masks made by Kass Tailored, a furniture manufacturer in Mukilteo, Washington. The PPEs will be supplied to caregivers at Providence's 51 hospitals across the western United States.
Alaska will carry the precious cargo free to Providence Hospitals throughout Alaska, California, New Mexico, Montana, Oregon, Texas and Washington state.
BOEING
While Boeing has suspended production in Everett, Renton, and Charleston, the beleaguered airframer is doing its part to combat Covid-19.
Boeing is producing thousands of face shields critically needed by hospitals and medical workers in the U.S. to protect them from the virus. Boeing employees are 3D-printing the personal protective equipment (PPE) using additive manufacturing machines in St. Louis, Missouri; El Segundo, California; Mesa, Arizona; Huntsville, Alabama, and Philadelphia, Pennsylvania. Boeing is targeting an initial production rate of several thousand face shield per week.
The 3D printed face shields solution was developed by employees from Boeing Additive Manufacturing, Boeing Research & Technology, Boeing Defense, Space & Security Supply Chain, and HorizonX,  along with support from Accenture, hospitals and universities. On Good Friday, Boeing delivered the first set of 2,300 reusable 3D-printed face shields to The Federal Emergency Management Agency (FEMA) which will deliver the shields to the Kay Bailey Hutchison Convention Center in Dallas, Texas, which has been established as an alternate care site to treat patients with COVID-19.
The Chicago based company has also donated tens of thousands of masks, gloves and other equipment to hospitals in need.
Boeing has offered the use of three of its four Dreamlifters operated by Atlas Air for lift to help transport critical and urgently needed supplies to health care professionals. The President made this announcement at one of his daily press conferences.
BRITISH AIRWAYS
Before Covid-19, British Airways was already experiencing the best of times in celebrating its 100th Anniversary and unprecedented profits and the worst of times with labor disputes. CEO Alex Cruz has been very stark in his warning that the very survival of the IAG carrier is at stake. It may be operating less than five percent of its capacity but the UK flag carrier is stepping up big time to stand with its home nation.
 
With many of their staff idle, BA volunteers are supporting communities across the UK with a company-wide taskforce who will bring their skills and expertise to help the fight against the COVID-19 virus. Prime Minister Boris Johnson called for Britons to volunteer to join in the national response to the virus. Over 750,000 citizens have unselfishly stepped up to volunteer, much like they did during past wars.
BA is dispatching many of its cabin crew, with all their advanced first aid training to work for the National Health System (NHS). Some are working at hospitals and others alongside EMTs with ambulance service and even working as 999 or 111 emergency call operators.
Other volunteer opportunities abound: BA is mobilizing its volunteers to work with its partner at the UK Red Cross, for example, helping out at local food banks and supporting NHS hospitals. They're supporting AgeUK which provides emotional and physical support for older self-isolating people. Instead of loading and serving food in the air, personnel are working for food banks such as The Trussell Trust where duties for staff include sorting and packing food donations, collecting supplies from supermarkets and delivering food to people in greatest need.
The airline is also donating its onboard wash bags, socks and blankets to various NHS Trusts.
But it doesn't stop there: BA is also transporting patients and NHS workers around the country free of charge.
Money raised from BA's customers and colleagues through Flying Start, the airline's long-time partnership with Comic Relief is being used by those hardest hit and most in need, such as those who are experiencing domestic violence or homelessness.
The airline is flying medical supplies in from China for the NHS on special charter relief flights and in belly cargo on scheduled services. A recent 777 relief flight was loaded with much needed ventilators and PPEs. 55 tons of hand sanitizer were carried over several flights from Shanghai to Heathrow.
Besides flying important cargo relief missions, BA and its sister company IAG Cargo partnered with Airbridge International Agencies Pets (AIA) to fly 50 neglected and abandoned pets on a 747 cargo flight from Larnaca, Cyprus to London Heathrow to their new homes.
A variety of charities in Cyprus had rescued the animals, before giving them essential medical checks and finding new homes for them all in the UK. The all cargo flight carried highly trained staff and animal handlers to ensure that the animals received specialist care and attention. In addition to the pets, the aircraft was also carrying items including food, perishables and essential medical supplies.
Once the flight arrived at Heathrow, the animals were transported to Gatwick's Animal Reception Centre, before being safely collected by their new owners '" both private homeowners across the UK and a rescue centre, where they will fine new "furever" homes in partnership with AIA Pets.
DELTA AIR LINES
Delta is renowned for doing things doing things a bit differently, but to generally outstanding results. Prior to Covid-19, Delta was the world's most profitable airline. Now it is burning through $50 million dollar a day in these unchartered waters. Yet, its much-celebrated culture of 80,000 Delta team members is surely being put to use in some contrarian positive ways.
The Atlanta based carrier is providing more than 200,000 pounds of unused onboard and SkyClub perishable and nonperishable to hospitals, community food banks and other organizations around the world to support people in need as well as those working tirelessly on the front lines of the COVID-19 pandemic. Non-profit recipients thus far include long-time partner Feeding America. '‹Delta SkyClubs and stations around their worldwide network are contributing catering as well to various charities and non-profits.
Even with only 10 percent of its capacity still intact, since March Delta has been providing free flights to medical professionals on the front lines of the COVID-19 crisis.
Delta's innovative subsidiary Flight Products, who designed and built the new wireless IFEs on the A220 and A330neo has joined the war effort to manufacture thousands of face shields to protect hospital workers, initially in Atlanta and New York. The carrier is collaborating with Global Center for Medical Innovation (GCMI), a non-profit affiliate of the Georgia Institute of Technology,

Hawaiian Airlines
 With self-quarantines of 14 days required for anyone flying into the Islands, demand for air travel to this once booming leisure destination is scant. The airline has retained two links to the Mainland with HNL-LAX and HNL-SFO. Neighbor Island flights continue on a much-reduced schedule. Even with its schedule slashed by 95%, the ohana spirit is alive and well.
Hawaiian is giving free flights to medical workers on Neighbor Island flights during the month of April to support travel associated with COVID-19 response efforts. They're also partnering with Hawaii's leading healthcare providers to maintain and facilitate the delivery of critical medical services to communities statewide via the intra-island 717 and Ohana by Hawaiian ATR services.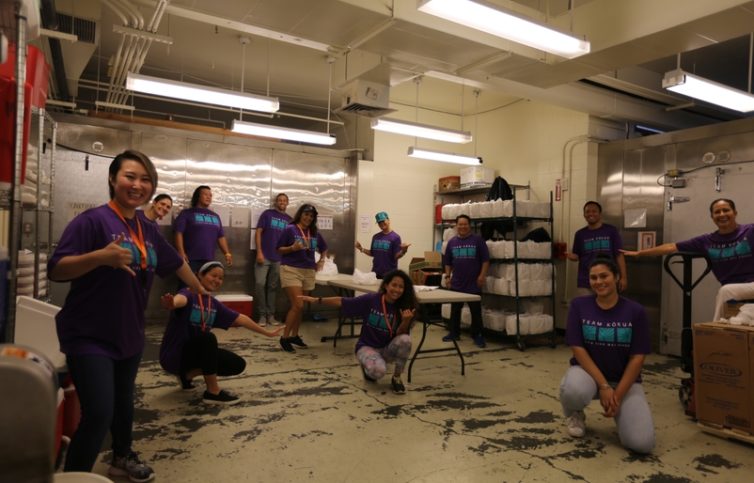 Hawaiian Airlines has a very active all-employee volunteer group called Team Kōkua, which is a Hawaiian word meaning 'œTo help, To aid, To assist. The airline has long supported foodbank charities like Lanakila Meals on Wheels and Hawaii Foodbank particularly over the last 2 weeks, putting in some 134 hours helping Hawaii Foodbank staff sort food inventory over the past two weeks. That number of engagement is only continuing to rise.
The airline has donated 3 pallets (7680 cuplets) of Hawaiian's onboard staple POG juice to the Hawaii Food Bank last Friday. One in eight families in the Aloha State access the Hawaii Food Bank.
When Kristina Gomez, a Hawaiian employee, learned her elderly parents on Moloka'˜i were impacted by the abrupt closure of a main grocery store in the town of Kaunakakai due to COVID-19 cases, she wanted to find a way to help. She reached out out to the leadership team late last week, suggesting the airline set up a transportation service between O'˜ahu and Moloka'˜i to assist the rural island's residents.
Teams with Hawaiian Air Cargo and '˜Ohana by Hawaiian '" our turboprop operations offering passenger service to Moloka'˜i '" worked through the weekend discussing requirements of the proposed service, consulting with local government officials, and obtaining necessary TSA approvals.
'˜Ohana by Hawaiian is providing free cargo transportation of food and household items from O'˜ahu to the rural residents of both Moloka'˜i and Lāna'˜i using its ATR42 turboprop fleet. When Gomez learned her elderly parents who live in Kaunakakai, Moloka'˜i were impacted by the abrupt shuttering of a main grocery store in the town due to COVID-19 cases. Hawaiian mobilized rapidly following the request, and consulting with local government officials, and obtaining necessary TSA approvals, began the operation on Tuesday April 15th.
JetBlue
JetBlue is especially vulnerable to the effects of Covid-19 with its headquarters and largest focus airport at New York JFK at the epicenter of the virus outbreak. The hard-hit airline is operating at 10% of capacity and said it would earn about $1 million in revenue each day in April, compared with $22 million each day during the same month a year ago. Its current reduced operations cost about $10 million per day.
But that's not stopping them from continuing their mantra of 'œBringing humanity back to air travel.' JetBlue is currently providing free transportation and cargo shipments of medical supplies for NGOs. Unusually, they are also providing flights to some students who need help getting to family and friends or a permanent housing situation.
The JetBlue foundation and its Soar with Reading Initiative remains active as well. With most school districts across the U.S. closed indefinitely, parents and teachers are being provided with free tools and tips for schools, teachers, and students in the areas of STEM and Literacy.
Lufthansa
The entire Lufthansa Group has been bought to its knees by the coronavirus. Flag carrier Lufthansa alone has grounded around 700 aircraft of its 763-unit fleet and reduced its passenger capacity by 95% in a fight for survival. Its Austrian and Brussels Airline subsidiaries have suspended flying. Though the German government is likely to provide aid CEO Carsten Spoh said "The spread of the coronavirus has placed the entire global economy and our company as well in an unprecedented state of emergency. At present, no one can foresee the consequences.' Lufthansa is leveraging its resources, particularly with its vaunted Lufthansa Cargo subsidiary.
As an example, A Lufthansa Cargo 777F carried 52,000 pounds of protective equipment from Shanghai. This included eight million masks, packed in 4,000 cartons. The operation continues with 17 Lufthansa Cargo freighters continuously operating to transport urgently needed goods, such as medical supplies, around the world and to Germany. The company has deployed regular cargo flights on passenger aircraft used solely as freighters.
Singapore Airlines
Long known for its charitable endeavors such as its partnership with The Children's Trust, Singapore Airlines is joining the battle against Covid-19 by providing at least 300 cabin crew as "care ambassadors" to work at hospitals in Singapore. As hospital nurses are being re-directed from their original duties to care for Covid-19 patients, the Care Ambassadors are being sent in to fill the void. They provide administrative support in hospitals and attend to patients who require medical care in a non-clinical role.
The airline says examples include attending to call bells, accompanying patients to the washrooms, serving of meals, and collating feedback from patients.
Southwest Airlines
The airline built by LUV has suffered greatly with the grounding of the 737 MAX but despite of this was having an exceptional year. Following Covid-19, their 40 year unbroken streak of profitability is probably going to end, but the Warrior Spirit is fully engaged. Southwest is giving health care workers free transportation. They're also looking at ways to give back in the communities they serve, whether that's providing food for health care workers, or helping a local organization with their needs.
At several stations, have stepped up to start making masks for local hospitals and nursing homes on their own. Donating their time, their machines, their skills, their fabric, all while keeping a safe distance from one another.
 Spirit Airlines
 The Miramar, Florida ULCC has become known for its humanitarian response to natural disasters most notably with Operation Puerto Rico Care Lift and Operation Puerto Rico GiftLift.
Spirit's stock has been the hardest hit of any U.S. carrier, down at one point to 70% YTD. This has perhaps the ability to make it an acquisition target. But in the midst of all this, the airline known for cost control is being very generous through its Spirit Airlines Charitable Foundation. It has partnered with Jack and Jill's Children Center donating $20,000 to aid in meal distributions.
Like it did in Puerto Rico and the Caribbean back in 2017 post Hurricane Maria, Spirit is operating humanitarian flights. To date, they have operated five from Bogota, Medellin, Cali, and Cartagena, Columbia to Ft. Lauderdale. Additional flights are planned beginning April 11th from Panama City, Port-au-Prince, Bogota, and Aruba. According to a Spirit spokesperson: "In our case, the various U.S. embassies in the countries we are serving with these flights have requested our assistance in operating the flights and termed them 'œhumanitarian". The embassies direct people to the flights when they learn of their need, but the embassies do not fund the flights. We operate all flights at-risk and are selling tickets at cost (i.e. the minimal amount necessary to pay for fuel, crew, etc)."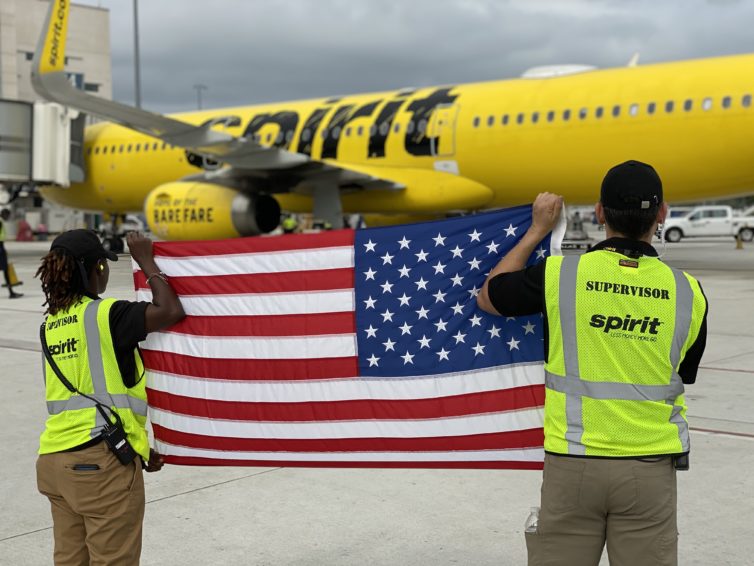 Sun Country
Leisure focused Sun Country, tiny by comparison to most U.S. carriers, was in the midst of a turnaround until Covid-19 struck. The Minneapolis/St. Paul based airline has announced free flights will be offered to healthcare workers traveling through the end of April to assist in the efforts to combat the coronavirus.
United Airlines
United, which has had a stunning turnaround over the last three years by every measure was  even starting to nip at the heels of Delta. With its large exposure to China, United was the first to feel the devastating effects on traffic due to the virus. Under CEO Oscar Munoz and current president / incoming CEO, Scott Kirby, UA was the first carrier to take aggressive action in pulling down its schedule to mitigate some of the damage.
Even amidst of plummeting revenue and passengers with load factors in the low teens and sharply curtailed flying at its massive Newark hub in the epicenter of the pandemic, United is upping its game on being a positive force in its communities.
On Thursday April 9th, United Airlines with its large presence at hubs in San Francisco and Los Angeles announced it had partnered with California Governor Newsom to provide free, round-trip flights for medical volunteers traveling to the state to help in the fight against COVID-19. This includes travel for doctors, nurses and other medical professionals from across the country to help treat patients. At the time of the announcement, there were 18,309 confirmed coronavirus cases and 507 fatalities and more than 2,825 individuals hospitalized, including the 1,132 people in intensive care.
The California campaign joins a similar effort at United's Newark hub. United Airlines partnered with The Mayor's Fund to Advance New York City and a network of medical volunteer organizations, including The Society of Critical Care Medicine, to coordinate travel for doctors, nurses and other medical professionals from across the country to help treat patients in this brutally affected area.
United has collaborated with Flexport.org to ship essential medical cargo to frontline workers in California and New York. So far, millions of units of personal protective equipment (PPE) have been shipped from China to the U.S.
The shipments were transported from Shanghai to two of United's hubs in the US, including San Francisco and New York, with chartered United Airlines Boeing 787-9 Dreamliners and Atlas Air Boeing 747s.
On April 1, the first shipment arrived in San Francisco on a United 787-9 carrying only cargo. Joe Tsai, a co-founder of Alibaba and owner of the Brooklyn Nets, and his wife Clara Wu Tsai, donated 30,000 pounds of PPEs, 1,000 ventilators, 70,000 goggles and 300,000 masks. This life-saving cargo was then transferred onto a United 777 flight to New York, where it was distributed to hospitals, medical centers, nursing homes and state agencies.
And as a gesture supporting its home base of Chicago, 1,700 new Polaris Amenity Kits were distributed to area first responders, hospitals, and nursing staff.
Even in the midst of this Covid-19 Airpocalypse, the airlines are giving back. Whenever the next time you find yourself coming into contact with an airline or aviation related employee, in an airport, in a flight, or encounter one in the wild, please express your appreciation for them. And pass the word to friends and family that the airlines that people love to hate are doing good for the world, even in the industry's darkest hours.
What other airlines are giving back and how? Please let us know in the comments below.

How to Make A Difference in The Fight Against Covid-19?
Caleb and Calder Sloan's Awesome Foundation, named after my late #AvGeek son otherwise known as Mr. Awesome, has raised over $70,000 in donations and matching donations from over 140 generous donors'¦. and counting! For the complete story of Calder 'œMr. Awesome' Sloan, his love for planes (he was named after a 727), and the plane click here.
We are matching your tax deductible donation to a Covid-19 charity of choice up to $500 apiece through April 13th. Every $$ amount helps.
#CoronaNoBuena but it's super easy to make a difference'¦ Any amount counts!