As the main international gateway for America's capital, Washington Dulles is served by a ton of foreign carriers. Many offer lounges for their premium cabin passengers, and a few of them are part of the global Priority Pass network. Dulles' slice of that network got a new addition last year: the Turkish Airlines lounge, which opened in 2016.
I've visited Turkish Airlines' insane flagship lounge at its hub in Istanbul; definitely check out that story, if you haven't already. While its Dulles lounge obviously can't compare in terms of size or perks, it's still solidly above average for airport lounges in the U.S. The food scene is solid, there are showers for travelers looking to freshen up, there are great views of the ramp, and the decor is pretty stylish. However, the crowd factor can be very high. But even so, it does well enough overall to get a thumbs up from me.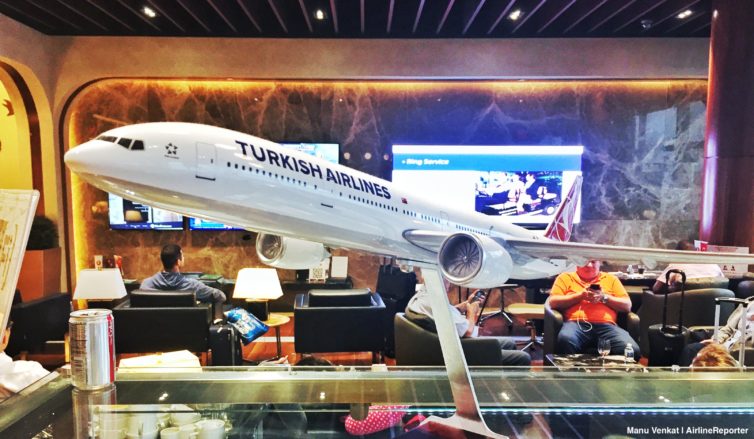 Read on for our detailed take on Turkish Airlines' Washington D.C. lounge.
As with most other international carriers' lounges at Dulles, Turkish Airlines' space is located in the terminal A/B complex. That makes it convenient enough if you're departing from either of those terminals, but less so if you're departing from United HQ at concourses C and D.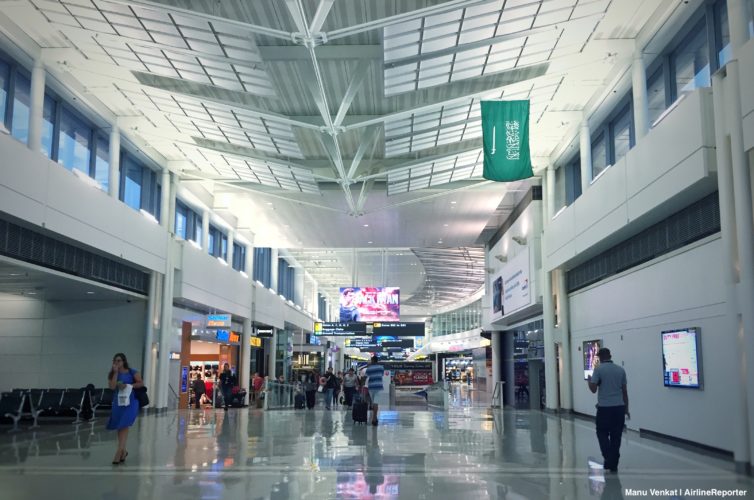 The Turkish Airlines sense of style — with intricate geometric patterns and warm tones — comes through clearly as early as the front door.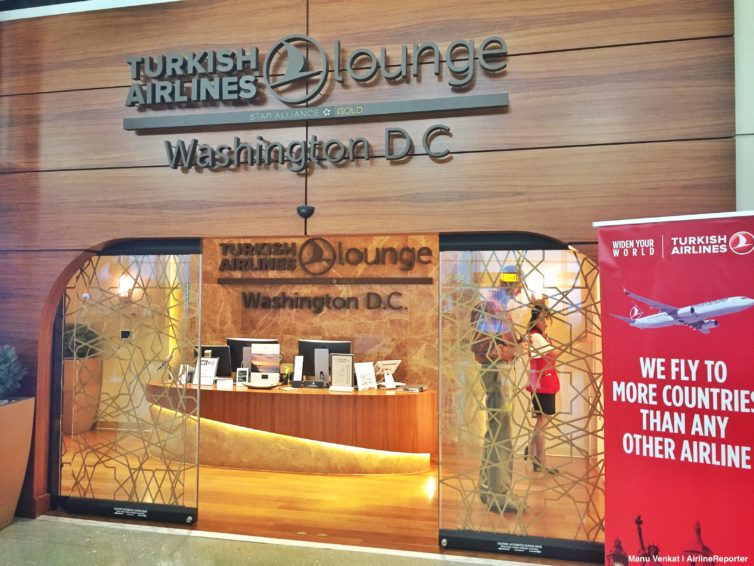 After entering, you hit the lounge's dining and primary seating area. The furniture was nothing to write home about, but I thought the stone countertops and tasteful lighting gave the place a stylish appearance.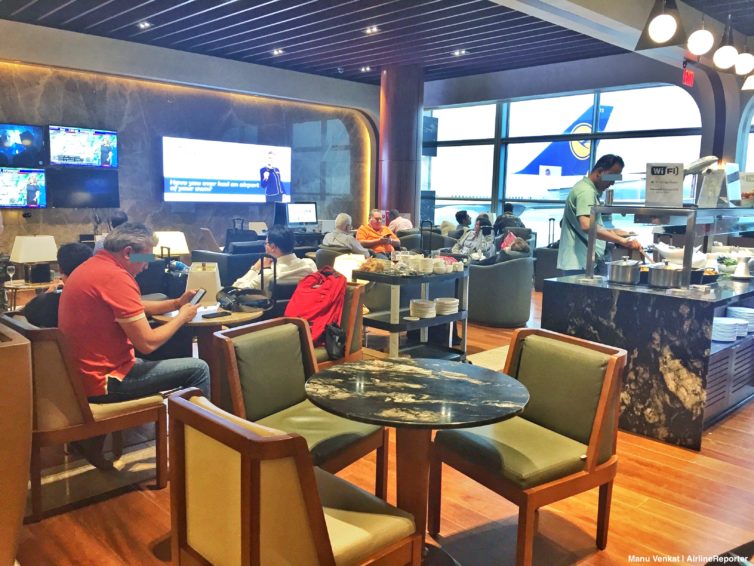 Walk through a narrow corridor along the windows and you reach the lounge's other main seating area.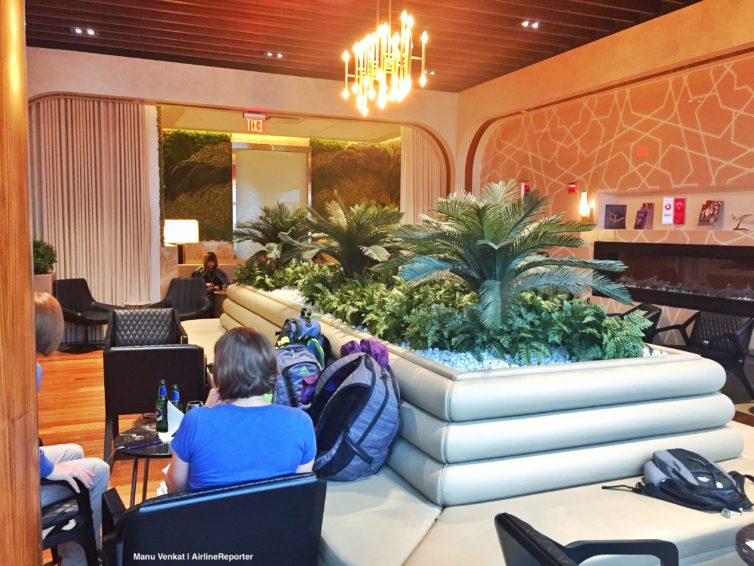 BONUS: Lounging Like an Admiral – Exploring American Airlines' Lounges
I noticed a set of stairs behind some curtains. It wasn't immediately clear to me what was upstairs, but I took a look.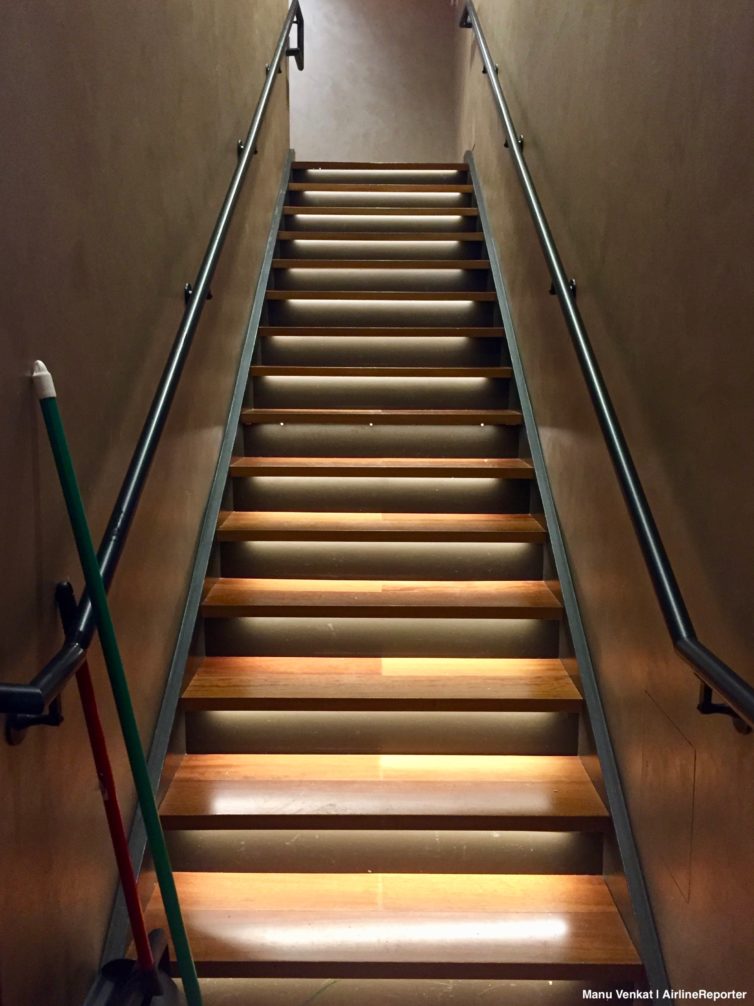 I found a cozy room with a table, a couch, and some assorted seating. If you're struggling with crowds on the main level, this hideout may offer a bit more peace and quiet. Though I imagine it may be used as a VIP area every once in a while.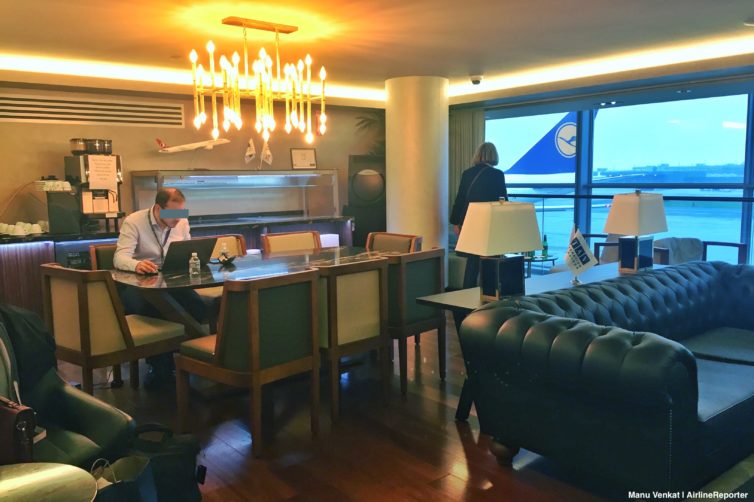 Both upstairs and downstairs, you can find plenty of great views of the ramp thanks to floor-to-ceiling windows.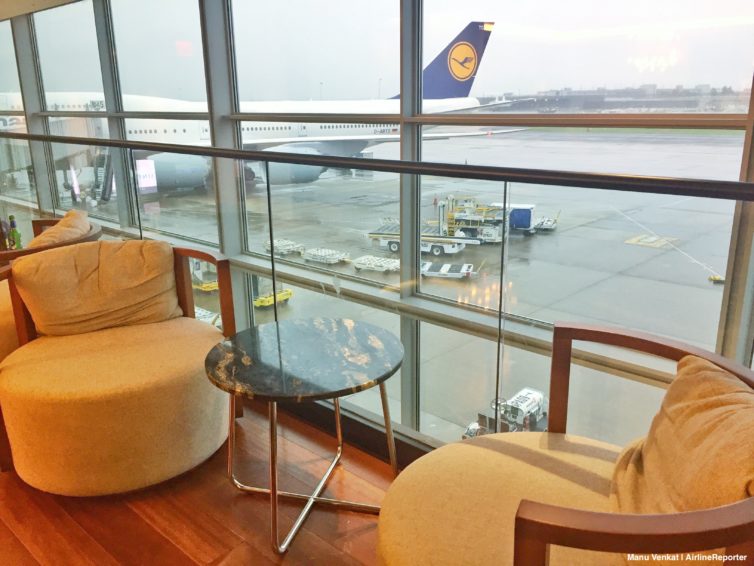 On a counter upstairs I found a model of the airline's long-haul flagship, the Boeing 777-300ER.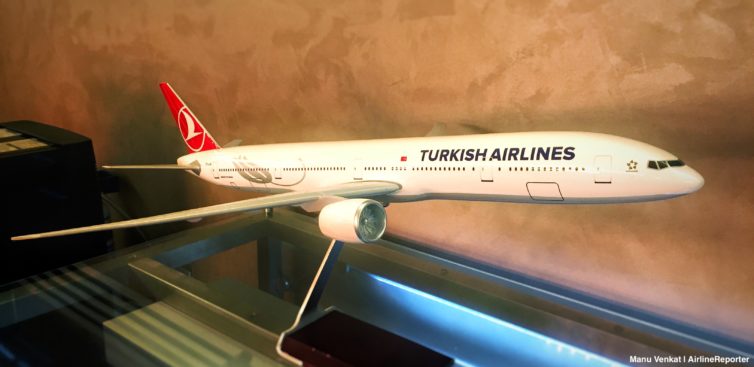 BONUS: Photo Review – Hong Kong Airlines' Club Autus Lounge at HKG
Food & Drink
Back downstairs, I took a look at the food options. There was a second 777 model sitting on top of the self-serve food station.
Espresso machine: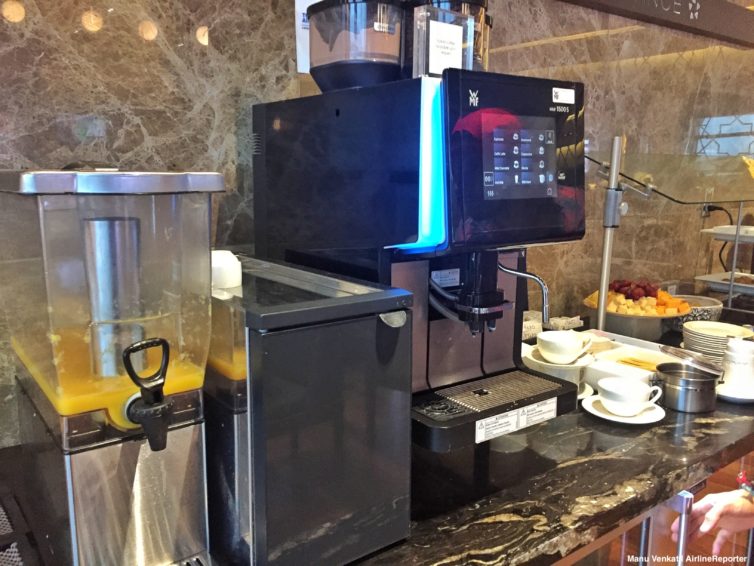 Cheese and crackers: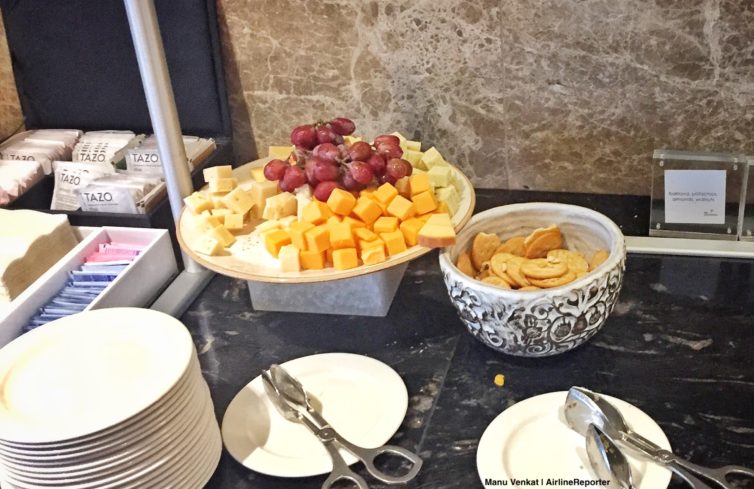 Cookies and a simple, but tasty, rice pudding.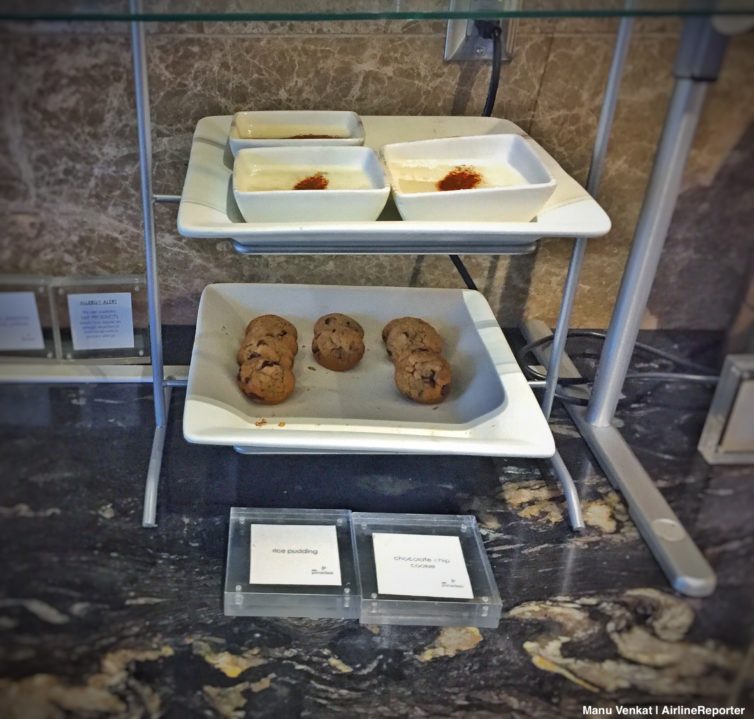 BONUS: A Morning Visit to United's Polaris Lounge at Newark
There was a small buffet of heartier fare in addition to the snacky stuff. I tried some Mediterranean chicken, pasta, and rice to start.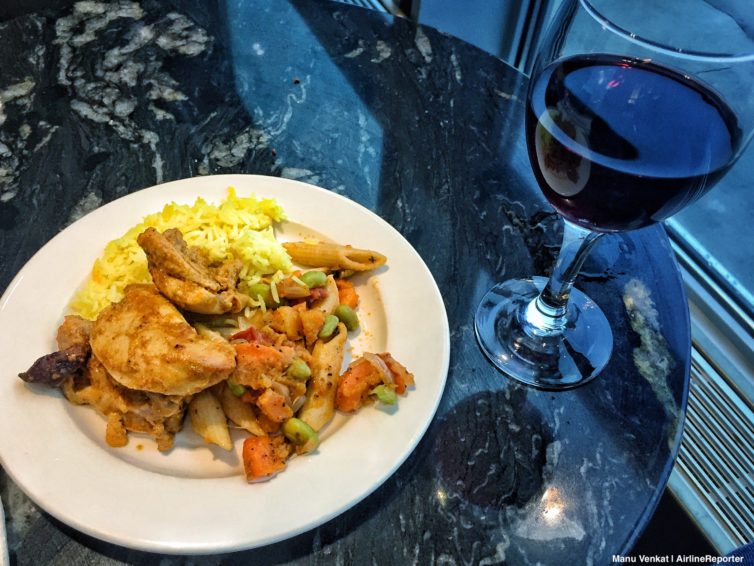 And I followed it up with some couscous and other grains, along with some rice pudding.
The food was good, though no particular dish blew me away.
The bar is located in the second seating area.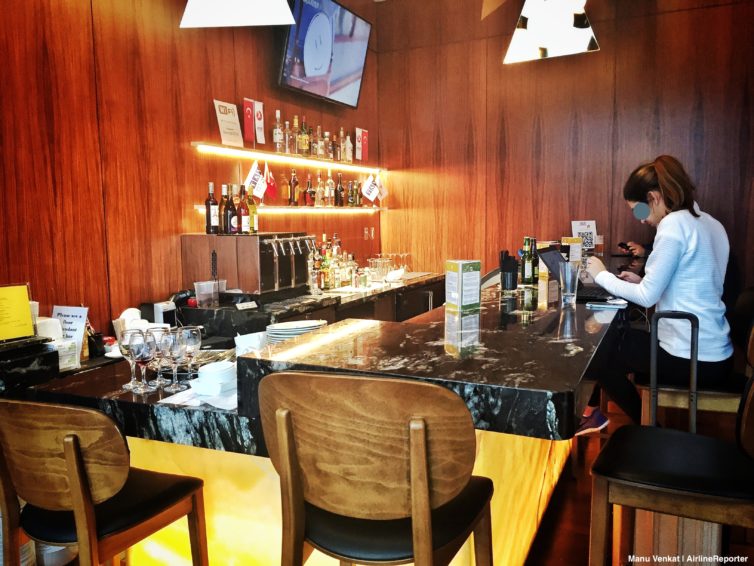 The beer selection includes Efes, a Turkish brand.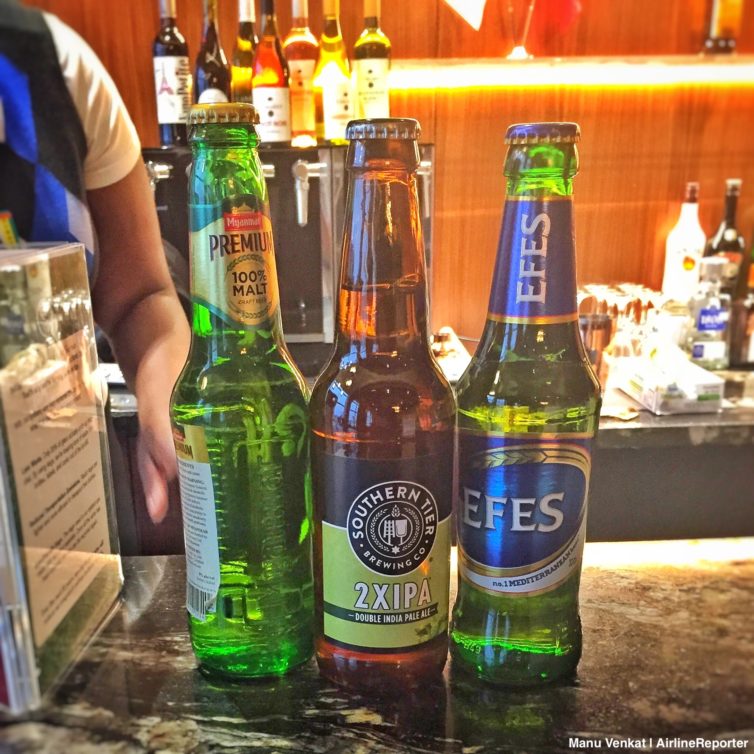 There were a few different reds and whites available on the house.
From a health perspective it's advisable to avoid alcohol before a flight (disclosure: I rarely follow my own advice). Anyways there's soft drinks and water available here too.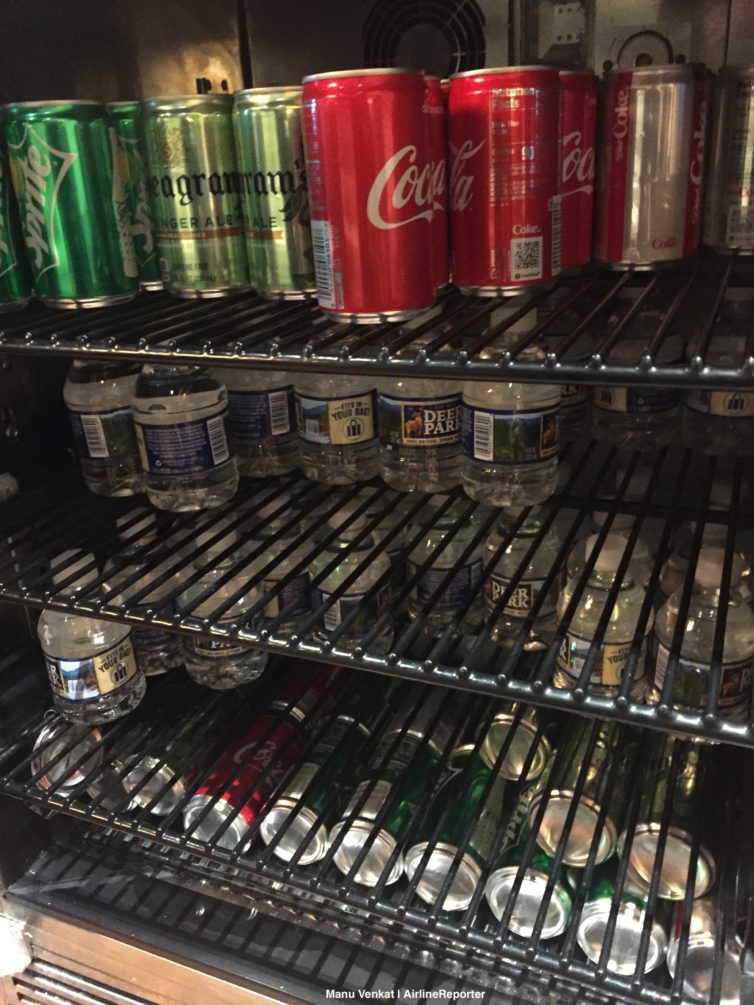 Cheers!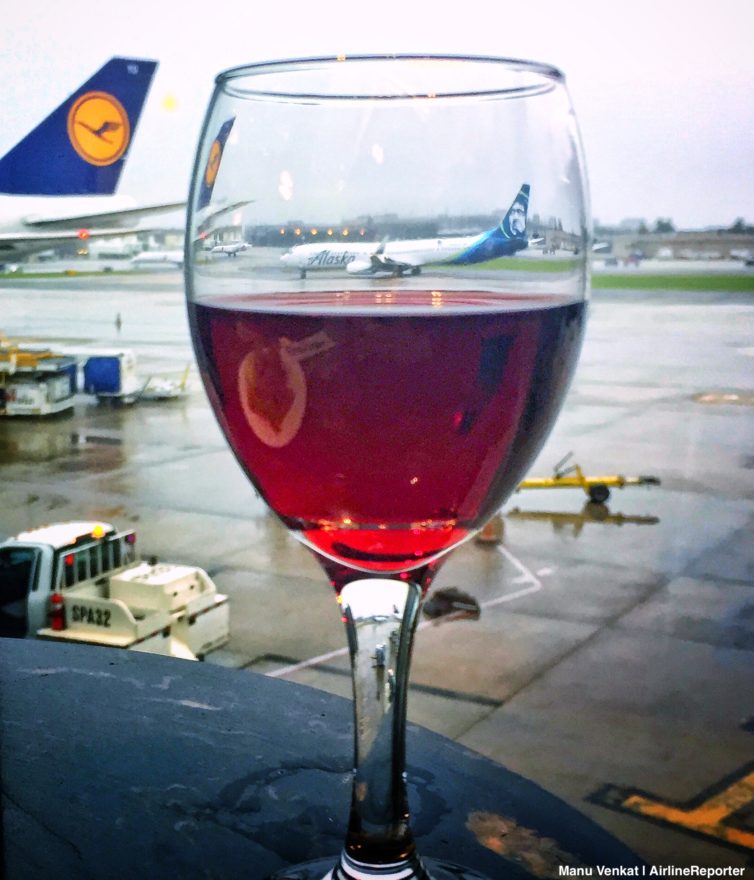 I spent some time looking at the long-haul aircraft operations happening just outside the window. You can't really see the active runways from the lounge, but there's still plenty of interesting stuff to watch, like this Brussels Airlines A330.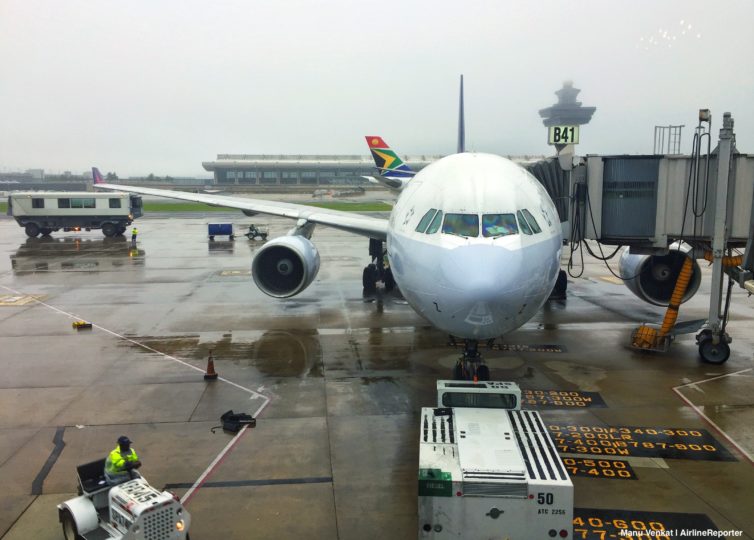 BONUS: Visiting the Smithsonian Air & Space Udvar-Hazy Center at Dulles Airport
Restrooms & Showers
The lounge has a set of single-occupancy bathrooms. The fixtures were in good shape but the room was in need of a bit of a cleaning when I dropped by.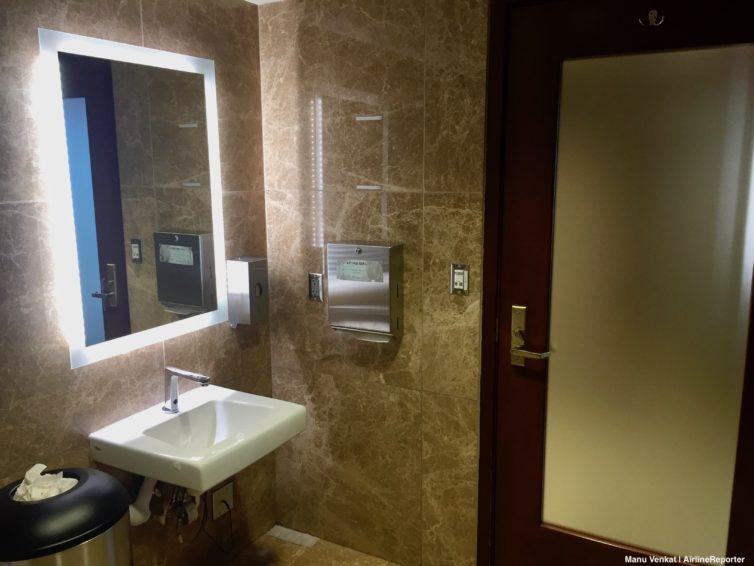 Though I didn't take advantage of the shower, it's there if you need it. I never saw anyone using it.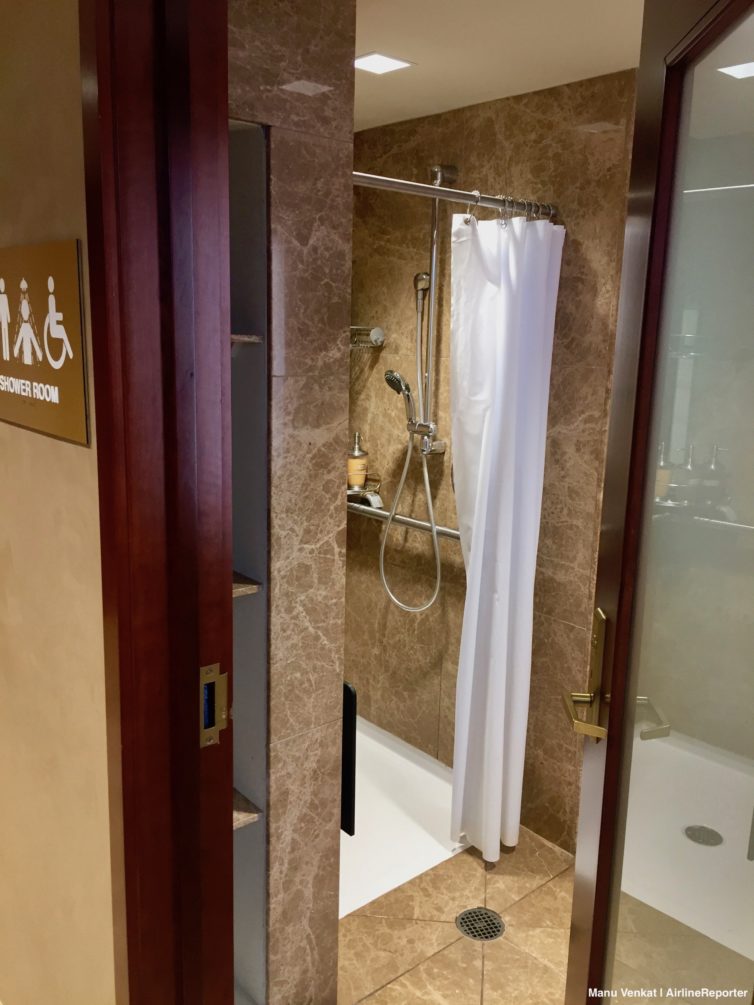 BONUS: Etihad's New Lounge at LAX
The Verdict
All in all, the Turkish Airlines lounge at Dulles is a great place to kill some time. And while I didn't drop by any other lounges during this visit, the opinions online suggest that the Turkish lounge is one of the top Priority Pass options at Dulles. I wouldn't go out of my way to get to the airport very early just to spend extra time at this lounge. But I'd get there early enough to grab a light meal and a drink.
Here's a quick recap of the pros and cons:
The good:
Food: My biggest yardstick for judging a U.S. airport lounge's food is whether it qualifies as a snack or a meal. You can count on coming away pretty full from a meal at this lounge — so that's a win!
Showers: Another checklist item for distinguishing a blah lounge from a good one.
Style: True to form for Turkish, the lounge is easy on the eyes.
Location: Smack in the middle of concourse A+B, it's a convenient option from most non-United departures.
AvGeek appeal: Great ramp views and a pair of 777 models? Score!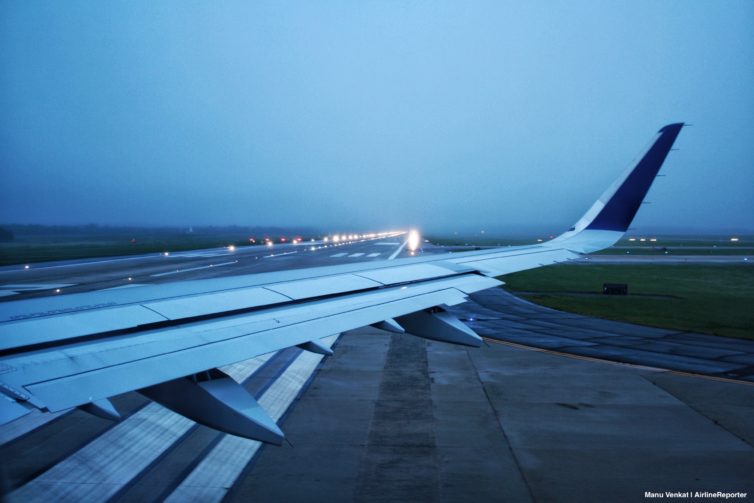 The bad:
The lounge may be a victim of its own popularity. According to the bartender I spoke with, the crowd crush can be MASSIVE during the latter half of the week, especially in the evenings. Be aware that Priority Pass members may be turned away if the place hits capacity.
Now it's time for us to hear from you. Have you been to this lounge, or any other lounges in Turkish Airlines' network? Share your thoughts in the comments section below.