One cubic foot. That's roughly how much volume airlines grant you for the 9 inch x 10 inch x 17 inch "personal item" that goes under your seat. It's a tiny allowance. Sure, you have a bit more space in your bag stored in the overhead bin. But nowadays many airlines are charging you for overhead bin access (THANKS, basic economy). Even if they don't, nobody wants to be that guy who gets up every hour to get things from the overhead bin — especially if you're sitting in the window seat.
So if you fly frequently, you put a lot of thought into what goes into your under-the-seat-in-front-of-you storage. The contents of your inflight go-bag are probably a good window into your personality and priorities when it comes to flying. In the spirit of sharing, I've compiled a list of the five essential things that I always have in my carry-on bag. Some cover the basics necessities, some are for fun, and some are for the AvGeek in me. And once you're done reading my list, let's hear what's on yours!
Heads up: this is not a sponsored article and I have no business relationship with any of the items I mention. Though if anyone at any point does have a desire to give me money for any reason whatsoever, please don't hesitate to get in touch.
1. Foldable water bottle
Planes are dry places. It's not because the folks at Boeing, Airbus, et al have a master plan to turn the human race into raisins. It's because humidity causes corrosion. And nobody likes a rusty plane.
Unlike your average aircraft, the human body does not like to get dried out. So staying well hydrated is critical. But your inflight H2Options can be limited. If you come aboard with nothing you're at the mercy of your flight attendants, who may or may not make their water rounds often enough for you.
So boarding with your own water is the way to go. Standard solid plastic bottles work fine for most people. But if you're really space conscious, then consider a collapsible bottle.
I purchased a Vapur flexible and collapsible water bottle (maybe "pouch" is the better word) before a marathon four-flight itinerary from North America to Europe to Southeast Asia. And on that trip — and every flight I've taken since — it's served me well. When I don't need it, it rolls up to the size of my fist. But after I clear security and hit my first water fountain, it expands to hold a full liter. It's never unexpectedly sprung open or leaked on me after hundreds of refillings — which is important if you have your electronics in your bag as well. Here's an Amazon link.
2. Black hooded sweatshirt
When you're working with limited storage space, versatility is key. And when it comes to versatility, I found that the simple hoodie is the unsung hero of my travel wardrobe. Here's three great reasons why:
When you're flying, layering is your best friend. You may go from a 90-degree summer day outside the airport, to an overly chilled terminal. Then you board a plane that's turned into a toaster after sitting in the sun for a few hours, only to become an icebox after you hit cruise and the air conditioning ramps up.
Climate at your origin ≠ climate at your destination. You may not have had the foresight to pack an umbrella, but at least with a hoodie you're covered in a pinch.
For me personally, the three biggest threats to getting sleep on a flight are: (1) light, (2) noise, and (3) feeling exposed. My trusty hoodie tackles all three. When I'm trying to sleep, I take my hoodie and put it over my front side, with the hood covering the front of my head. The hood blocks out light and even muffles some ambient sound, while the rest of it acts like a blanket. The reverse-hoodie look probably freaks out my neighbors a bit. But it's worth it for a good night's sleep.
3. Two-pronged headphone adapter
If you fly enough and can afford them, noise-canceling headphones are a flyer's best friend. Unless they meet their nemesis: two-pronged headphone jacks. That's why it's worth investing in a simple, cheap adapter, which will ensure you can make use of those amazing headphones you brought.
4. Monocular
There are wonderful views to be had from the windows of a jet. And the views are even better if you can zoom in on specifics, like cities or other aircraft sharing the skies. Most people would think of binoculars, but I find a monocular to provide good views in a much smaller package. After all, space in your go-bag comes at a high premium.
5. Suction cup smartphone mount
What if you're not satisfied with just taking in the views. What if you want to capture them? For your friends? For Facebook? For the Insta?
My personal favorite form of aerial photo/videography is the time-lapse video. But holding a camera or phone still against the window for ten full minutes isn't easy. So I picked up a suction-cup iPhone mount — the type that you might have in your car. I attach it to the window, twist the arm so the phone camera is pointed out of the window, and voila! Steady videos captured with ease.
Here's the setup: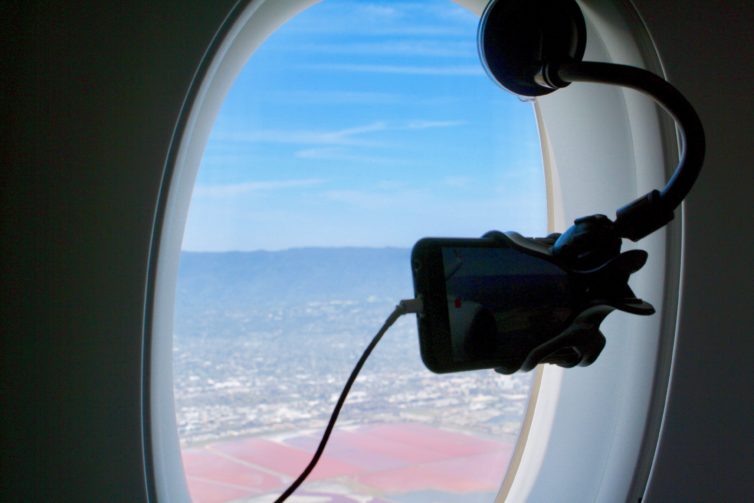 And here's the result:
Honorable mention: a burrito
Compact. Tightly wrapped.Not strongly odorous. Filling. Perfectly edible at room temperature. Yes, all are descriptors of the humble burrito, which makes for the ideal carry-on meal. I get mine with sour cream and guac, which usually registers as a gel in the TSA scanner. Still, the inconvenience is worth the deliciousness.
So what's on
your

must-pack list?

Now for the best part of this article: where you all get to chime in. What do you always have within arm's reach when you're on a flight? Who knows — maybe you'll start a trend! We look forward to seeing your must-pack list in the comments section below.