What other airline delivery event will bring up Trump and "fake news"? Where the CEO says that the US3 (United, American, and Delta) need to "shut up and mind their own business"? And where no one is surprised by any of these comments? Qatar Airways of course!
Last week, Qatar Airways took delivery of their first Boeing 747-8F, and I was excited to go. Not just to see the airplane, but to once again hear what Akbar Al Baker might say. He is known for speaking his mind and providing some entertaining sound bites.
When I arrived at the Everett Delivery Center, the main event room had an interesting setup. Part of the room was ready for a press conference, and the other half had a bunch of tables and chairs for lunch — complete with piano. To one side was a Qatar Airways 777-200F and to the other side was the star of the party; a Boeing 747-8F. Beautiful.
%CODE1%
After a round of photos of the plane, the press conference started. As if perfectly timed, an Emirates 777-300ER took off for a test flight. Although, few in the room seemed to notice.
No matter how you feel about what he says, there is no question that Al Baker is passionate about his country, and his airline. However, he does seem to make some nervous.
Any time he speaks, I like to watch the airline and Boeing PR individuals to see their reactions (anxiety, fear?). You know the look. Trying to keep a smile, while also worrying about what might be said next. No question they earn their paycheck.
During the press conference, Al Baker was asked a political question about the recent blockade. He stated that the event was about an airplane delivery, and not politics. He was right. However, he continued to make it political, talking more about the blockade, the government subsidies, and the US3.
I sort of want to angle it back to the airplane. If you want to start a political flame war in the comments, I guess go for it. At least one person remember to talk about the cool plane, okay?!
The press conference wrapped up with your standard speeches from leadership, some shaking of hands, signing of papers, and then we headed down to the tarmac (yea, figured I already brought up other controversial topics, so I am going full-on and calling it a 'œtarmac'), for the ribbon cutting.
Right after the cutting I heard a noise. Hmm. Could it be? It sure was'¦ the nose was lifting.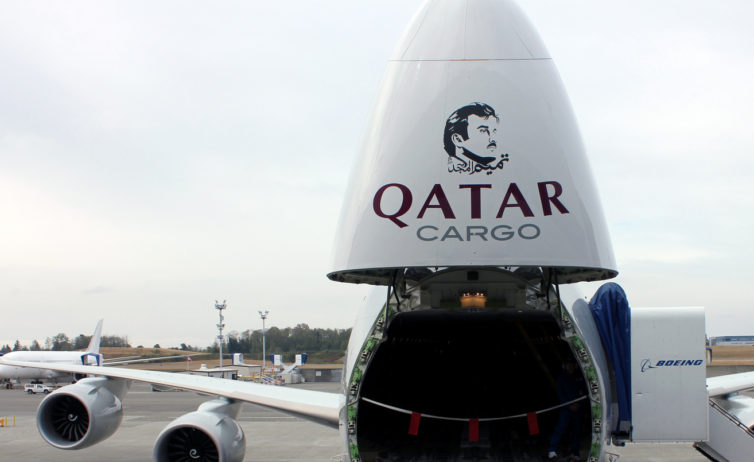 As others took photos of the people at the ribbon, I moved my way to the front of the plane. It was there that I noticed an image of a gentleman on the bottom of the nose '" turns out it is the Emir (leader) of Qatar; Tamim bin Hamad Al Thani.
Then it was back upstairs for a nice lunch, before taking some last shots of the 747. I asked if I could go inside the plane for a tour, but no go. Checking out the inside of a 747F still remains on my AvGeek bucket list. I have the harder-to-get An-124 and Beluga, but the 747F still eludes me.
During the conference, Al Baker did mention that if his two 747s do well, he might look at another. By no means will this save the 747 from retirement, but it will delay it by just a little and I am totally okay with that.