Last month, I attended an ultimate behind-the-scenes airport tour, courtesy of London's Heathrow Airport (LHR). LHR's Digital Communications Manager, Chris Loy, welcomed a select group of aviation publications to showcase its daily operations and on behalf of AirlineReporter I was thrilled to be a part of it.
I always enjoy traveling through LHR, especially Terminal 5 (T5), and revel in what is generally a calm and serene travel experience. This is despite handling more than 75 million passengers and about 1.5 million tons of cargo (the non self-loading variety) per year.
I compare this to the utter chaos that is London's Luton Airport (LTN) while they undergo extensive construction, or the holiday-maker maelstrom that is Gatwick Airport (LGW) during the summer. That said, I have never transited through LHR. Nor have I ever suffered from any extensive flight delays at the airport.
"Yes, transiting is an operational challenge at Heathrow," remarks LHR Filming Coordinator and Airside Safety Officer, Joe Audcent. "The airfield is just so big from one end to another." Chris and Joe would be our intrepid tour guides and I was looking forward to learning more about my hometown airport.
We certainly got the impression of vastness, having ascended 285 feet up the highest air traffic control tower in the UK. It was impressive staring out at the airport's maze-like strips of grass and concrete encircled by the greater London suburbs in the background and Windsor Castle in the distance. The tiny lift to the summit reminded me of a cross between the Eiffel Tower lifts and Captain Nemo's Nautilus.
Speaking of suburbia, many of you will know that the UK is currently engulfed in a fierce debate about increasing airport capacity; LHR is at 98% capacity. It is an emotive issue, dividing public opinion quite sharply and has dogged government policy on runway expansion for many years.
I won't debate the rights and wrongs. However, I personally say build two more runways at Heathrow and one at Gatwick please. I suppose I nailed my colors to more than one mast there – I'm not sure it works, but you catch my drift.
The airport celebrated its 70th anniversary on May 31st 2016 and in that time, it has gone from six runways in an approximate "Star of David" formation, to three runways up to the 1980s, and now the two incumbent 09 and 27 runways.
London Airport (later to be re-named Heathrow), the first official flight to depart from the airport, British South American Airways Avro Lancastrian aircraft, Star Light, 1946 – photo: LHR Airports Limited
A piece of old of the old six runways blends into airfield surface – Photo: Alastair Long | AirllineReporter
My quick snap of the pictorial timeline in LHR's airside ops building is crude, but it gives you a good idea of what launching points the hub used to have. Of course, the runways intersected each other and could never have sustained the sort of modern traffic types and volumes that the airport welcomes today. As Joe explained, operating the original third runway was only possible with a decent southerly wind and without operating the other two runways at the same time.
From a prime position just in front of a taxiway to the runway edge, we were given ample time to stand, sit, watch and photograph all of the colorful liveries take to the London skies. Think child in a sweet shop and you get close to the level of awe and excitement that I felt. I have never been up so close and personal to these winged beasts in motion while not actually being on board. We even got a wave from TAP's flight deck to boot! Easily pleased I am.
This was an aviation safari. In fact, Mr Bridges, was so adept at doing circuits around the airfield, racing alongside little and large aircraft as they jostled for position, that it reminded me of the film Jurassic Park when Sam Neill and those two pesky kids run amongst a herd of dinosaurs, trying to avoid getting eaten by the T-Rex. We didn't get eaten of course, instead we ate a delicious lunch airside at Terminal 2 (the "Queen's Terminal").
We were all surprised about how many 747s were milling about, almost like bison grazing. They're beautiful aircraft, but they don't give off a roar when advancing. Let's perhaps change the analogy to lions. Ironically enough, some of the smaller aircraft were noisier than some of the big birds. The Dreamliner moved like a silent predator though, with its distinctive noise-reducing "crinkle-cut" engine nacelles.
The LHR Airside Operations building, including its roof top, was our next stop. We were privy to observing the control room, where a mere scrap of paper on the runway is likely to set off a flashing red FOD (Foreign Object Debris) alarm on the monitor. Again, I was impressed at the calm atmosphere in the building. Yes, had there been an emergency to manage then things might have looked slightly different.
The sheer volume of traffic movements belies any calmness. Joe recounted a story of how an inbound aircraft inadvertently put a number of aircraft into the holding pattern because, upon landing, the pilots got hopelessly lost looking for their exit and effectively blocked the runway. Out came one of those distinctive yellow safety cars to guide these guys home.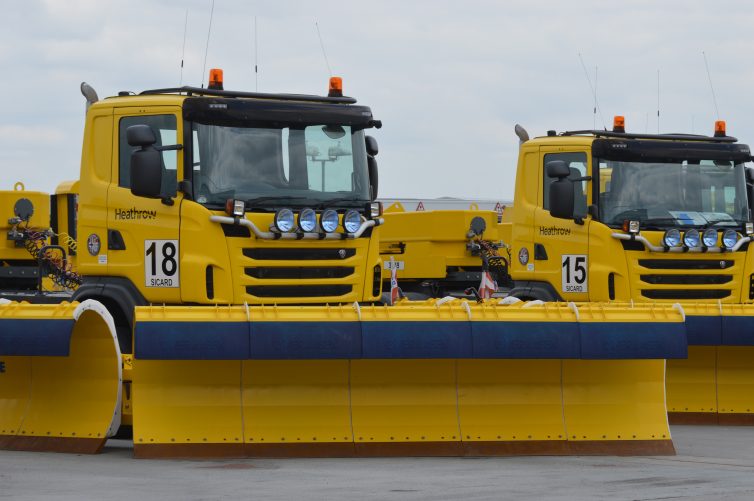 That's not to say that LHR operations have always been smooth. The airport got absolutely slaughtered by the national press in December 2010 when heavier than expected snowfall caused chaos. In the wake of the storm, airport management were accused of chronic underinvestment. For example, the airport at the time lacked heavy-duty runway snowplows. They do not lack them anymore!
Speaking of cool gadgets, we then live-tested the parking stand apparatus (well, one of our party did). With arms out-stretched and walking carefully along the yellow parking line like a driver demonstrating to traffic cops that he's sober, Gary Claridge-King from Airliners.net followed the computerized arrows on screen to ensure an accurate and safe arrival.
As if the airport tour was not exciting enough, we had also been invited to explore the outside and then the inside of an empty British Airways Dreamliner. There to welcome us abroad the aircraft was BA's Turnaround Manager, Declan Casbon, and Corporate PR Executive, Anya Fisher. Standing underneath the composite beast, we could not resist tapping against the airframe to listen for differing sound resonance.

The onboard tour included a sit down in the flight deck and a peek at the fore and aft crew rest areas. However, I spent most of my time in a front row seat up in first class. It had been an early start and I could feel myself literally starting to doze when Chris came along to continue the tour. I thought he might have had to pry me off the seat. Or call the British Transport Police to do it.
The day nearly complete, it was time for a round-up over a few beers at the "Flying Chariot" in the Queen's Terminal. A new television series, "Heathrow: Britain's Busiest Airport" premiered on May 30th on the UK television channel ITV, and new episodes are airing on Mondays. Chris, Joe and many others at LHR have been working hard on this project. This series also provides a chance for a lucky viewer to win an airside tour, similar to this one, through the #votemeairside competition.
I have to say that this was my favorite AvGeek experience. The small group, the ability to take close-up photos, or simply to listen to highly professional individuals talk passionately about something that is more than just a job made it more personal. The day at LHR was the Holy Grail of aviation experiences and I am glad that I could share!