This is the continuation of a multi-part series covering my trip from Seattle to San Jose to Narita to Hong Kong and back as a ANA Ambassador. My flight was provided by ANA, but all opinions are my own. Part1: San Jose to Tokyo on the 787 Dreamliner – Part2: Connecting in Tokyo's Narita Airport – Part3: Tokyo to Hong Kong & Back Again – Part4: A Helicopter Flightseeing Tour of Hong Kong.

What happens when you send two AvGeeks halfway around the world to Hong Kong and let them stay at one of the top hotels for three nights?  A good amount of luxurious shenanigans, of course!
Jason Rabinowitz and I recently had the opportunity to do just that and I wanted to share our experiences, especially related to the Peninsula Hotel Hong Kong. The experience and service began the moment we stepped off our flight.  We were barely out of the jet bridge and there was someone to escort us through the formalities of immigration, customs and baggage.
Once we got land-side at Hong Kong International Airport, the real adventure began.  We were escorted to the 'œLimousine Lounge' where our ride to the hotel was waiting.  What was waiting for us was most certainly a first for me.
The Peninsula Hong Kong has had a tradition of transporting its guests in style.  The hotel has a 1934 vintage Rolls Royce, along with another 14 modern Rolls Royce Phantoms — all resplendent in the signature Peninsula Green.  I would of been happy to use the airport express train, but hey why not ride in style?
While Jason oohed & aahed at Hong Kong (it was his first time to the city, but my second) I explored the inside of the Rolls and even found the mini fridge below the back seat.  We both even gave the on-board WiFi (yes, that's right the Rolls all have free WiFi) a good smashing trying to Tweet and FourSquare during the brief 20 minute drive. I wouldn't have minded the drive being longer.
The service continued once we arrived at the hotel as we were greeted and shown to our rooms.  We were given private escorts and awaiting us at our room was another staff member with a cold towel, some green tea and a plate of beautiful hand made chocolates.  The view from the room was amazing and the rooms were phenomenal.
BONUS:  Watch a video that showcases the technology in the rooms
The hotel had just finished off it's full refurbishment, and they were filled with all the latest in technology.  I had three Android-based tablets that controlled everything inside the room: the TVs, stereos, curtains, alarms, lights, climate control and more.
The free WiFi also allowed me to link in a VOIP phone system to make free international calls and also stream a radio station from the other side of the world to my sound proof room (I tested it and didn't get any complaints).
We spent the next two days being pampered and eating — A LOT!  There was breakfast in The Verandah Restaurant to start the morning. A five course lunch at Gaddi's which is Hong Kong's first fine dining French restaurant. Finally we experienced that quintessential Hong Kong tradition: afternoon tea in 'œThe Lobby.'  All of that was just the first day!
The first morning was also spent getting to try out the Spa at Peninsula for three hours. The fact that two AvGeeks were more interested in hearing the sound of helicopters passing by the hotel versus the more relaxing music should tell you we weren't used to that kind of experience, but I am getting used to it.
During the evening we had some free time and the hotel drove Jason & me in one of their two Mini Clubmans wherever we wanted to go.  We took it for a ride up to The Peak for some amazing night time views of Hong Kong and then it dropped us off in Central so we could jump on the Star Ferry for the best $0.20 USD you can spend.
We had some random adventures through the city that night as Jason and I explored Mong Kok, hunting down roast goose thanks to a FourSquare tip. We had little idea where we were going, but who cared?
After some haggling at the 'œLadies Market' and it was time to head back to the hotel and call it a night!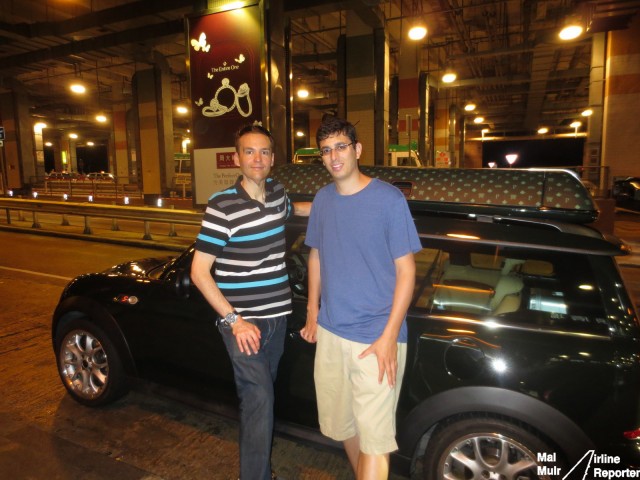 We spent the next morning in Spring Moon with a Dim Sum Class led by Chef Fong Lee Hing.  He showed us the finer arts of dim sum making and proper wrapping.
When it was our turn to have a try, Chef Fong told me that I did 'œreally good.'  Not sure if he says that to everyone, but I will take it.  After a kitchen tour it was time for lunch where we were able to sample some of our creations and a few others as well.
After lunch we had a tour of the hotel which culminated at the hotel's own chocolate room.  Here we met the staff of in house chocolatiers, who could make some of the most amazing artwork just out of chocolate.
We took a Chocolate Connoisseurship class that lead us through not only the history of chocolate but how chocolate is grown and produced.  Chef Coertjens then took us through a full tasting of different kinds of chocolate, allowing us to taste the differences in not only strength (be it 65% or 75%) but also in location — much like a wine tasting.  Just like a true wine tasting we even paired two different alcoholic beverages with specific chocolates that were made to enhance the flavor of the drink.
Jason & I took in some of the local sights in Tsim Sha Tsui during a brief gap in the eating before an amazing and interesting dinner.  Our culinary journey took us back to 'œThe Lobby' for our first course, to Spring Moon for the second course and then to Gaddi's again for our main course. This time, as it was dinner, jacket's were required and we had to borrow some from the restaurant.
We finished the evening on top of the building at Felix where the restaurant and bar have magnificent views of both Kowloon and Hong Kong.  As we ate our exquisitely made dessert, lightning was setting off the surrounding sky, providing a truly magnificent end to two days in Hong Kong.
As we returned back to the airport to start our journey home, the ride in the Rolls Royce allowed me to reflect on two amazing days.  I had never experienced anything like it, and the amazing thing was that everything we did, was open to anyone who was willing to do it [and can obviously afford it].
I had never thought about doing any of those things on a visit to Hong Kong, but I am sure glad that I did.
Note: All experiences, meals and accommodation were provided by the Peninsula Hotel Hong Kong — the views are my own.
This story written by…Malcolm Muir, Lead Correspondent. M

al is an Australian Avgeek now living and working in Seattle. With a passion for aircraft photography, traveling and the fun that combining the two can bring. Insights into the aviation world with a bit of a perspective thanks to working in the travel industry.